Player Analysis: Dani Olmo
Dani Olmo is a 22-year-old Spanish left-sided/central attacking midfielder who currently plays in the Bundesliga for RB Leipzig. Born in Terrassa, Catalonia, Spain, Olmo started his footballing career in 2006 at RCD Espanyol's youth academy where he quickly made a name for himself at a very young age. 
Olmo was snapped up by FC Barcelona in 2007 aged nine, spending seven years at La Masia, growing and learning as a young footballer at an academy that became the first youth academy in 2010 to have trained all three players for the Ballon d'Or in a single year. In 2014, Olmo made a move to Dinamo Zagreb to play first-team football, where he was fast-tracked into the first-team squad, making his debut in February 2015, aged just 16.
This player analysis will delve into Olmo's individual performance, having scored two and created four goals in 14 games RB Leipzig have played this season. The article will also break down why he is so important in making Julian Nagelsmann's tactics a success. 
Early Beginnings at Dinamo Zagreb
Before delving into Olmo's performance this season, it is vital to mention his time at Dinamo Zagreb, where he played for almost six years between the ages of 16-21. Olmo is currently the youngest foreign player to play for the Croatian side and is the fourth-youngest player to play for the club. The time he spent at Zagreb saw him play over 5,000 minutes, making 124 appearances and scoring 34 goals. 
In addition, Olmo won four league titles at Dinamo, having won the Croatian first-tier league in back-to-back seasons during his first two years at the club, then going on to win the league title again two years in a row in 2017-2019. Olmo was favoured in the number 10 role, having the freedom to play just behind the main striker.
There is no doubt that the time spent here shaped him into the wunderkind he is today, being moulded into a prolific attacking player at one of the world's most renowned academies for producing young talent. 
A Deeper Look at the Stats
At the time of writing, RB Leipzig currently sit 2nd in the Bundesliga, having won nine, drawn four, and only lost one. A deeper look at the statistics below for Olmo this season highlights what a crucial player he is for Nagelsmann's attacking tactics to be a success and to continue to improve on the team's already healthy 1.79 xG per 90 tally. Last season, Olmo played 12 games for RB Leipzig after his move from Zagreb and therefore, has played a similar amount of games so far this current campaign. 
The statistics below, based on key attacking principles from last season and this current season, show Olmo has improved significantly in these areas this campaign, having produced double the amount of key passes and assists for shots on target.
In each of his past two seasons, Olmo has been playing in a similar position of attacking midfield but seems to have more of an impact when placed in the right-wing position. It could be argued that the reason for the lower statistics from last season was down to him being new to the Bundesliga, as well as to Nagelsmann's style of play.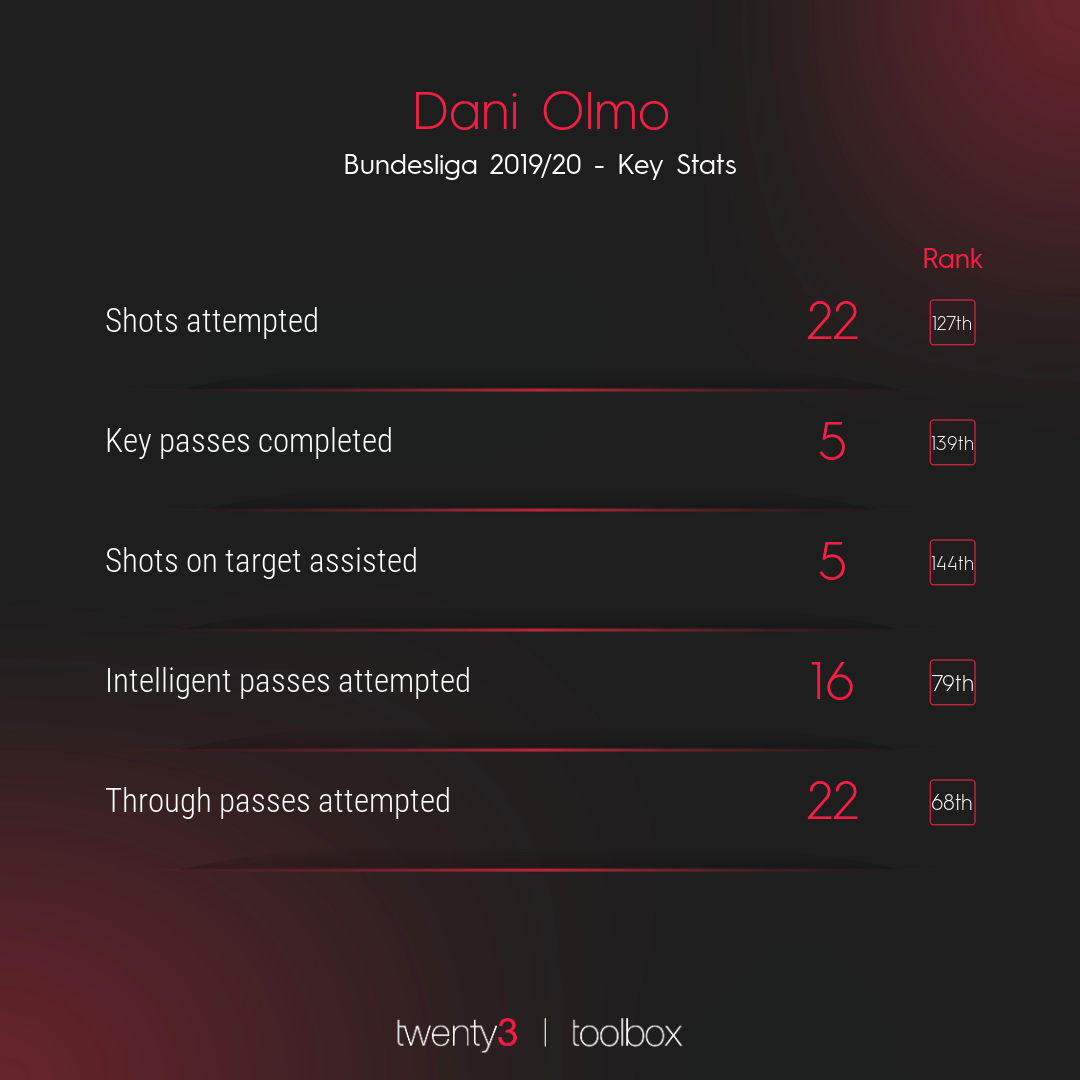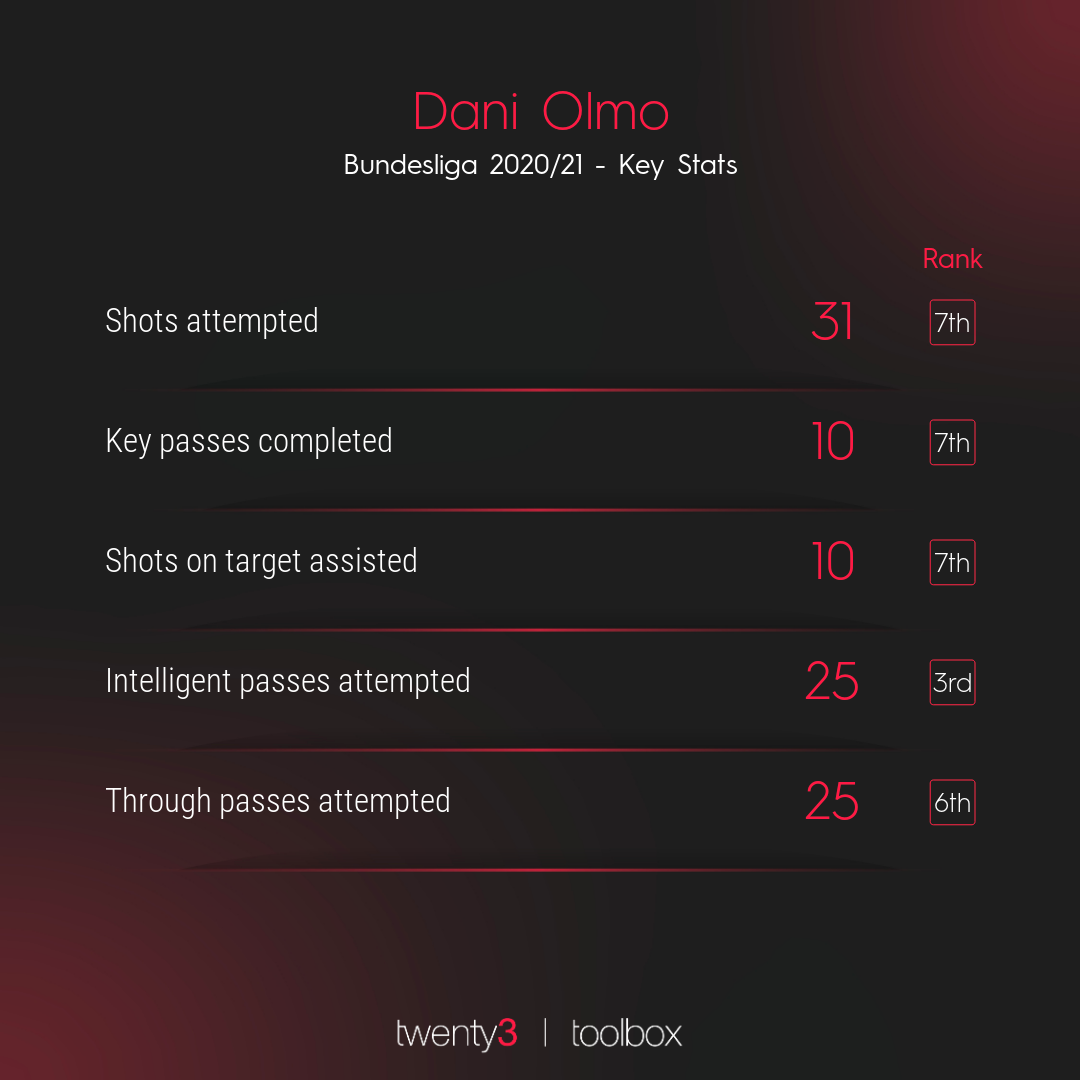 Photo: Twenty3/Wyscout
Alongside sitting in 7th position in the overall league for shots attempted, it also places him 1st in the clubs leaderboard, having made ten more attempted shots than teammate Yussuf Poulsen who currently sits in 2nd place with 21 shots attempted. So far this season, Olmo has made four assists, surpassing his current xA tally of 2.0.
The Catalan currently sits top of the assists leaderboard for his team, with Emil Forsberg behind him in 2nd with two assists. As well as sitting in 7th overall for key passes completed, he is just one behind his compatriot Angeliño, who sits top with eleven key passes completed.
Olmo's current pass completion percentage per 90 is 76.1% and with four assists so far and sitting comfortably in the top ten for many different areas of his passing game, it is clear to see why Olmo is an essential part of RB Leipzig's attacking success, as Nagelsmann likes to attack vertically through quick forward passes.
Passing Precision
There is no doubt that Olmo is a very talented footballer and has a bright future ahead of him. Nagelsmann likes to play Olmo in the central role behind the main striker and this is a very familiar position for him as Dinamo boss at that time Nenad Bjelica used him in this position in his days at Zagreb.
Overall, Olmo has attempted 461 passes so far this season and holds an 81.1% passing accuracy rating. This is one of Olmo's main key strengths of his game and we can see his passing quality below in the home game against Bremen.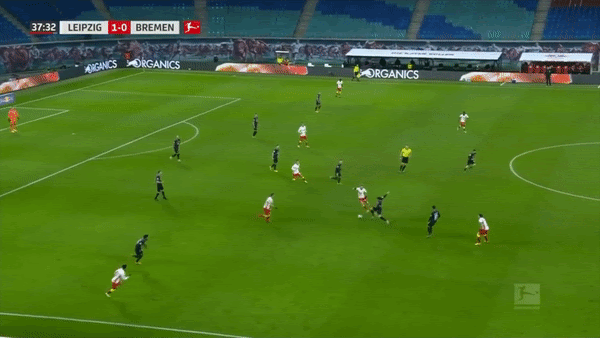 Olmo collected the ball in the central space after Bremen lost possession trying to counter-attack. As the point of attack shifted, Olmo adjusted his body to face the Bremen goal, identified teammates making a run off the ball, and spotted Amadou Haidara making a run behind the Bremen left wing-back Ludwig Augustinsson. Olmo's vision, weight, and timing of this action meant he was able to perform a through ball in between the Bremen defensive line into Haidara's path. 
This example clearly showed why Olmo is a key player in implementing Nagelsmann's tactics. His tactics when out of possession are to press aggressively to regain possession and then attack quickly once they have the ball through fast vertical passes.
RB Leipzig aggressively pressed Bremen which caused them to lose possession and once possession was transferred to Olmo, he made a precise, fast through pass to penetrate the Bremen backline. With Olmo's high passing accuracy it is no doubt that Nagelsmann favours him in this position to try to gain the most success when in possession in the attacking half.
Earlier on in the Bremen game, Olmo once again showed his passing penetration and ability to turn defence into attack with one pass when he collected the ball in his own half under pressure and played a delicious cross-field pass into Justin Kluivert on the left side.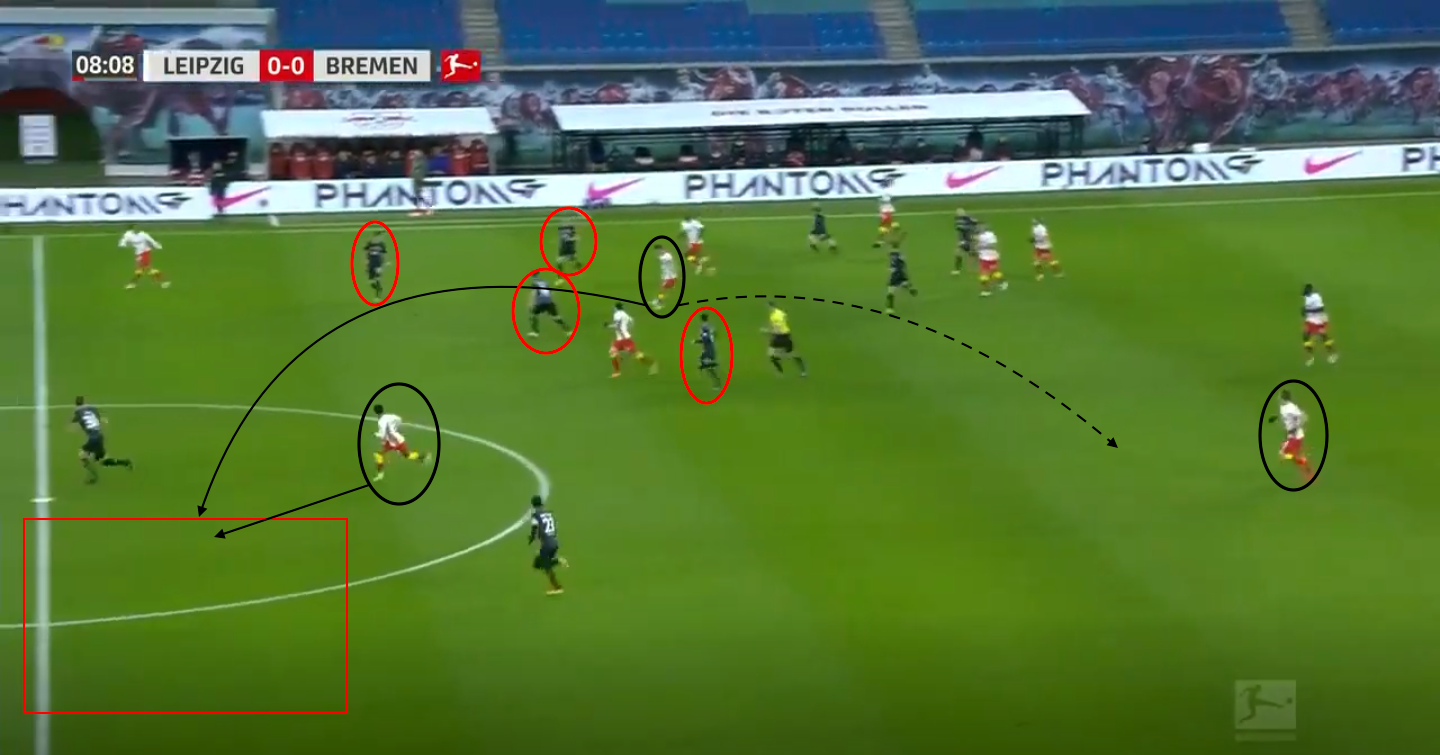 With a 76.3% medium pass completion and 56.5% long pass completion percentage, Olmo can enable his side to effectively transition at speed with one single pass. In this scenario, Olmo has one clear passing option and two obstructed passing lines. Olmo could have played a backward pass to teammate Marcel Halstenberg in space on the left side which was the safest choice. However, Olmo opted for the risky, diagonal pass to Kluivert who made a trigger run into the left-sided half-space. 
With Olmo's passing precision and ability to penetrate when in the attacking transition phase, there is no doubt that he has been a key figure in the success of RB Leipzig so far this season. A look at Olmo's pass map so far this season shows his passing actions heavily favour the attacking half, having attempted 59 passes in the final third and of which, 42 were successful.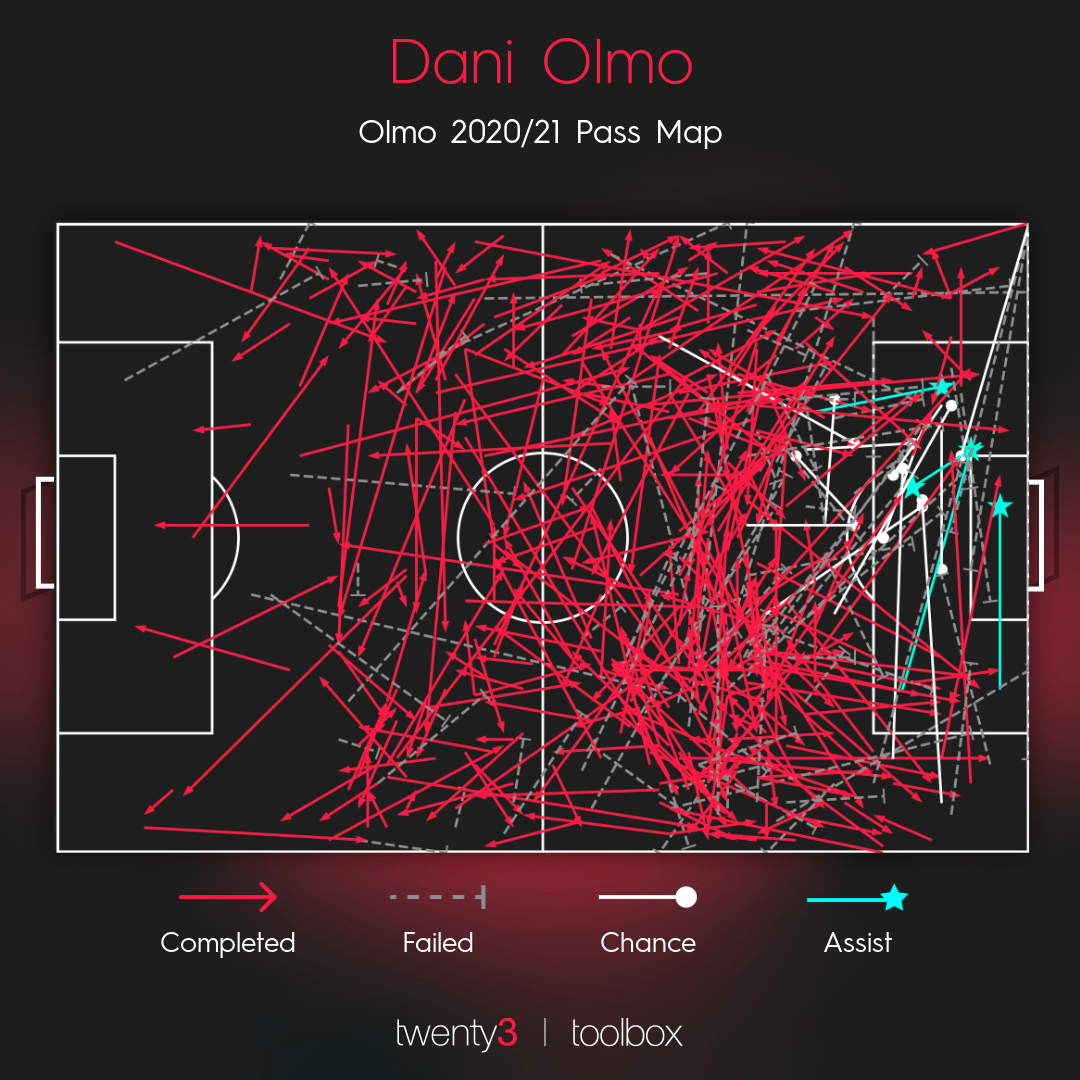 Photo: Twenty3/Wyscout
This map indicates that Olmo's short passes have been more successful than long passes in different areas of the pitch and this can be backed up by the statistics as 87.7% of his 228 short passes have been a success, as opposed to his long pass completion of only 56.5%. So far this season, Olmo has made 451 live passes to a teammate. 331 have been ground passes, and 92 have been passed under pressure from an opponent. Chance creation has mostly been in the opposition's penalty area with the assists all coming from inside the 18-yard box.
Not only can Olmo make passes when facing a teammate, but he also shows awareness of his surroundings by being able to make passes to teammates in advanced positions even when he isn't directly facing them as we saw in the recent game against VfB Stuttgart.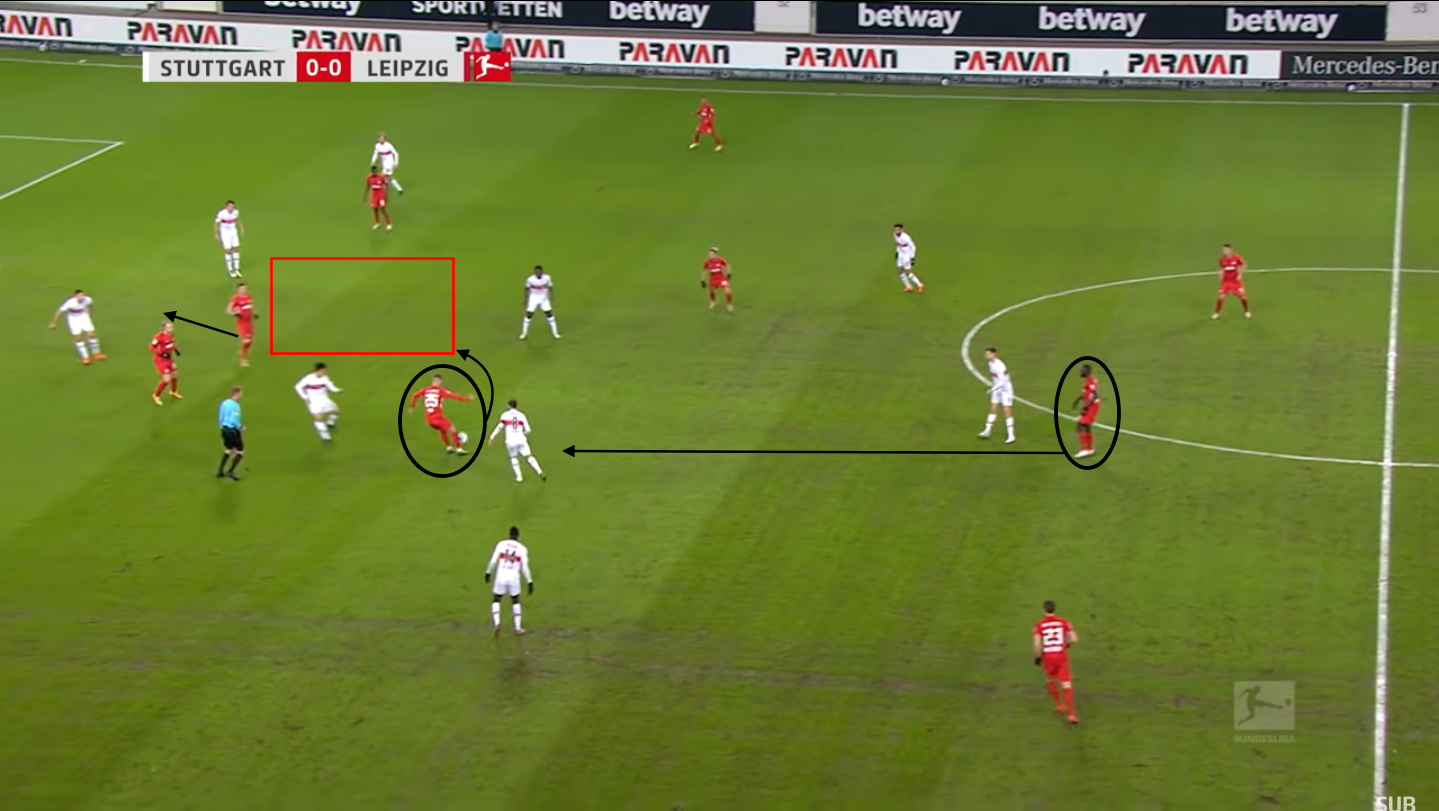 Moments before this image was taken, Dayot Upamecano was in possession and looking for a passing lane to advance the ball into the next phase. Olmo made a run in between the lines to receive and upon receiving played a first-time pass round the corner into the space to take out the defender who was providing the press. 
Olmo flicked the ball into Marcel Sabitzer who then played in Emil Forsberg who won a penalty for his side. Olmo's clever movement in between the Stuttgart lines allowed Upamecano to progress the ball to Olmo who was aware of the surroundings in advanced positions to continue to attack vertically at speed. 
A look into Olmo's four assists so far this season have all come from pinpoint passes to teammates in goal scoring positions. His first assist came on Matchday 1 against FC Mainz 05.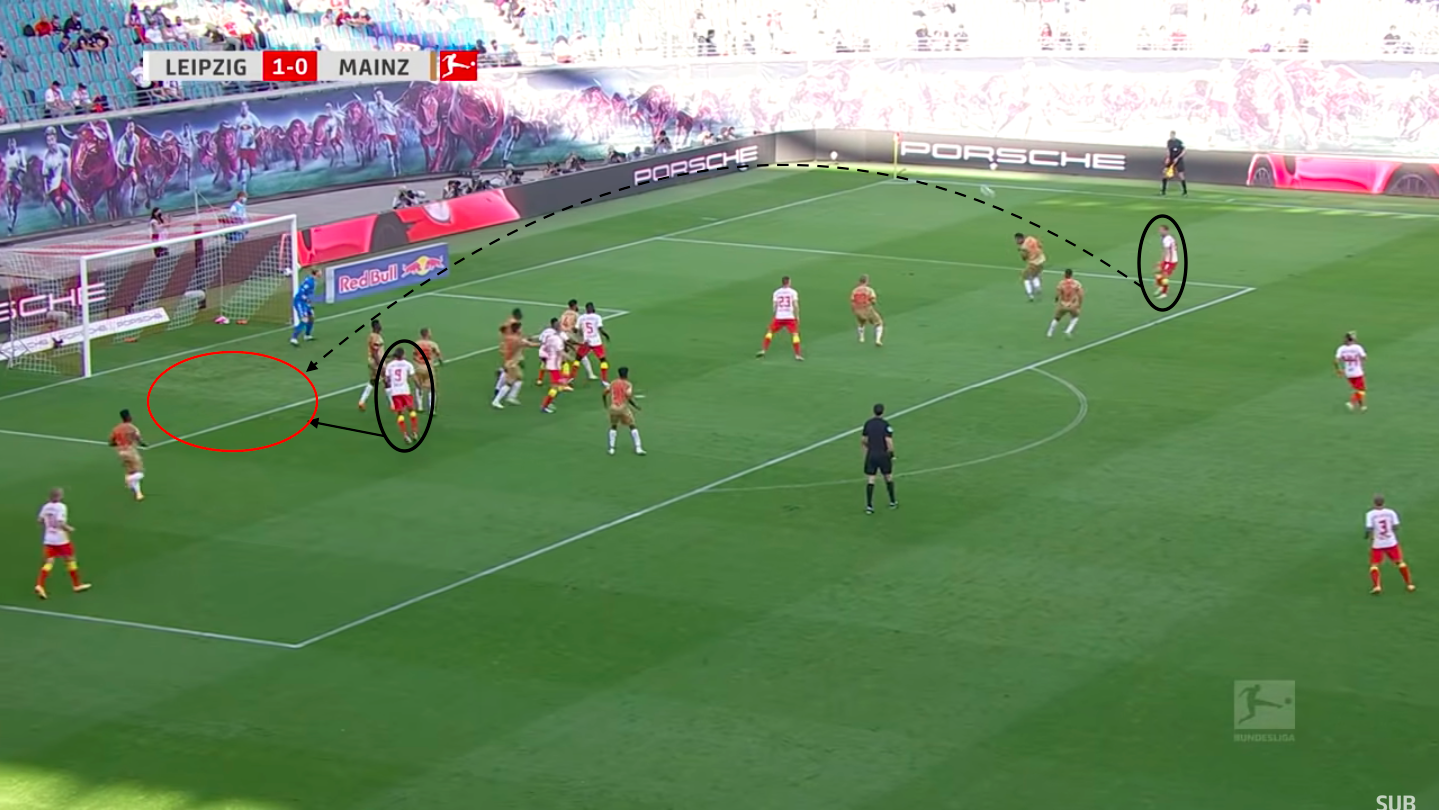 A delicious, meticulous cross to space at the back post by Olmo enabled Poulsen to attack the ball unmarked and head home and further increased RB Leipzig's lead. Olmo achieved an 87.9% pass completion percentage for this game, having completed 29 out of 33 attempted passes in the 68 minutes he was on the pitch for. 
His second and third assist both came in the same game against FC Augsburg with his second again being a cross from the right-hand side of the opposition's penalty area to the far post.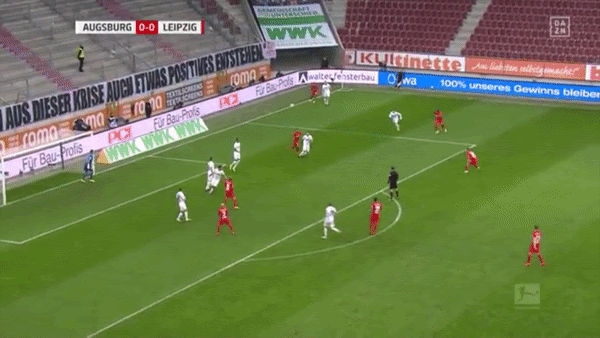 As FC Augsburg tried to clear the ball out of their penalty box the ball fell to Olmo who showed his bravery to beat the FC Augsburg defender and attack the space in behind. A quick change of pace and glance saw Olmo in a position to cross the ball to the back post once again for Angeliño to head home and fire the away side into the lead.
Olmo's third assist of the season came in the same game, setting up Poulsen seconds after setting foot on the pitch with a delightful first time lofted pass for him to volley home and give RB Leipzig all three points.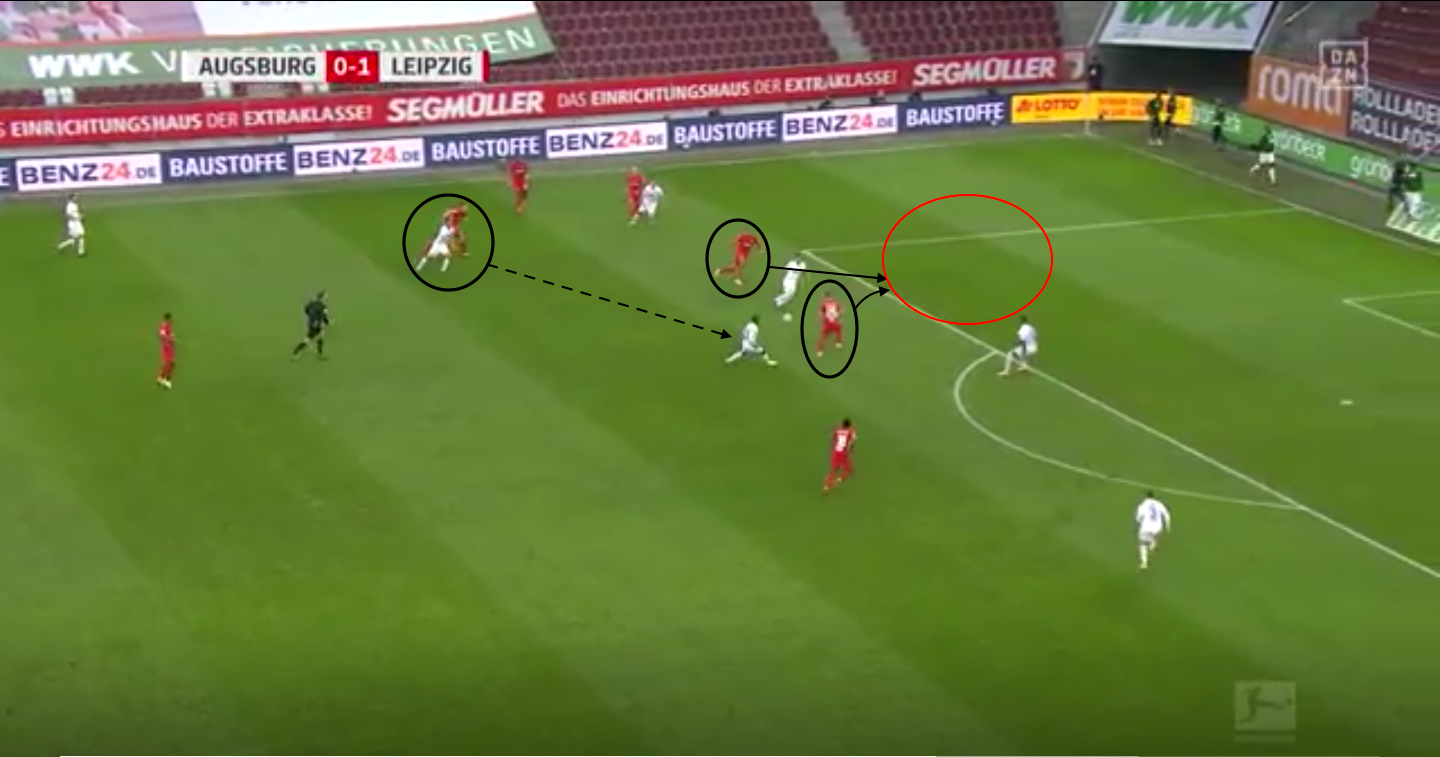 Olmo's fourth and latest assist came in the home game against Arminia Bielefeld, making an unselfish cut-back pass to the waiting Christopher Nkunku to fire into the top corner. This was a game where Olmo achieved an 87.8% pass completion once more. The away side would halve Leipzig's lead via a late goal from Fabian Klos, but they were unable to find an equalizer at Red Bull Arena as Nagelsmann's side held onto the victory.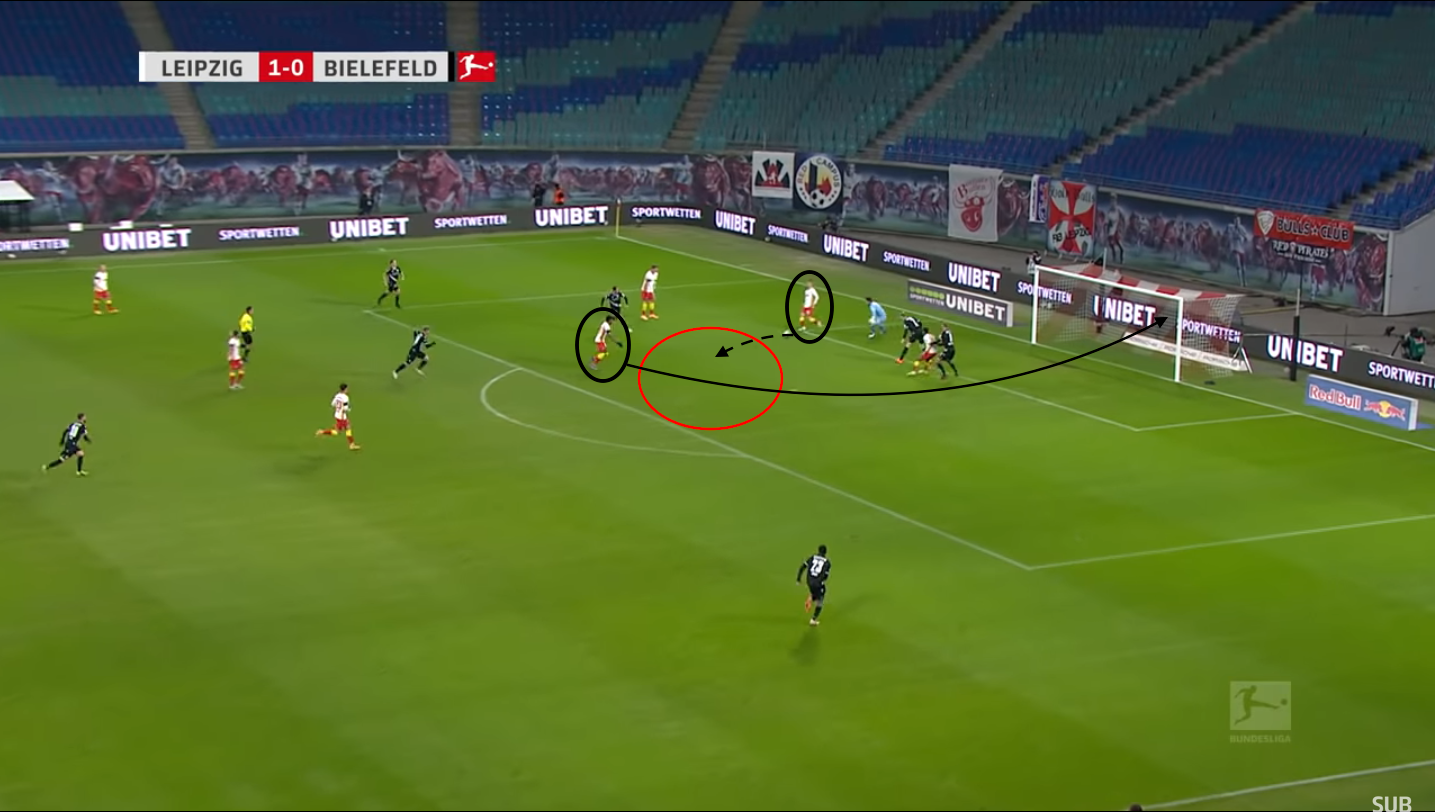 There is no doubt that Olmo is a key player for RB Leipzig, not only to create goal-scoring opportunities for his side with his intricate passing but also being able to implement his manager's tactics through the use of his passing ability.
Individual Quality in the Final Third
In addition to Olmo's passing precision, he is also a player who is very creative in the final third with the ball at his feet, taking on defenders and creating goal-scoring opportunities for himself from very tricky situations. He currently creates 4.74 shot-creating actions per 90 minutes, compared to that of last season which stood at 3.01. So far this current season, Olmo has produced 11 goal-creating actions, creating 1.13 GCA's per 90. 
In the game against Augsburg, we saw Olmo's creativity off the ball to get himself into a position in the box to threaten the opposition goal.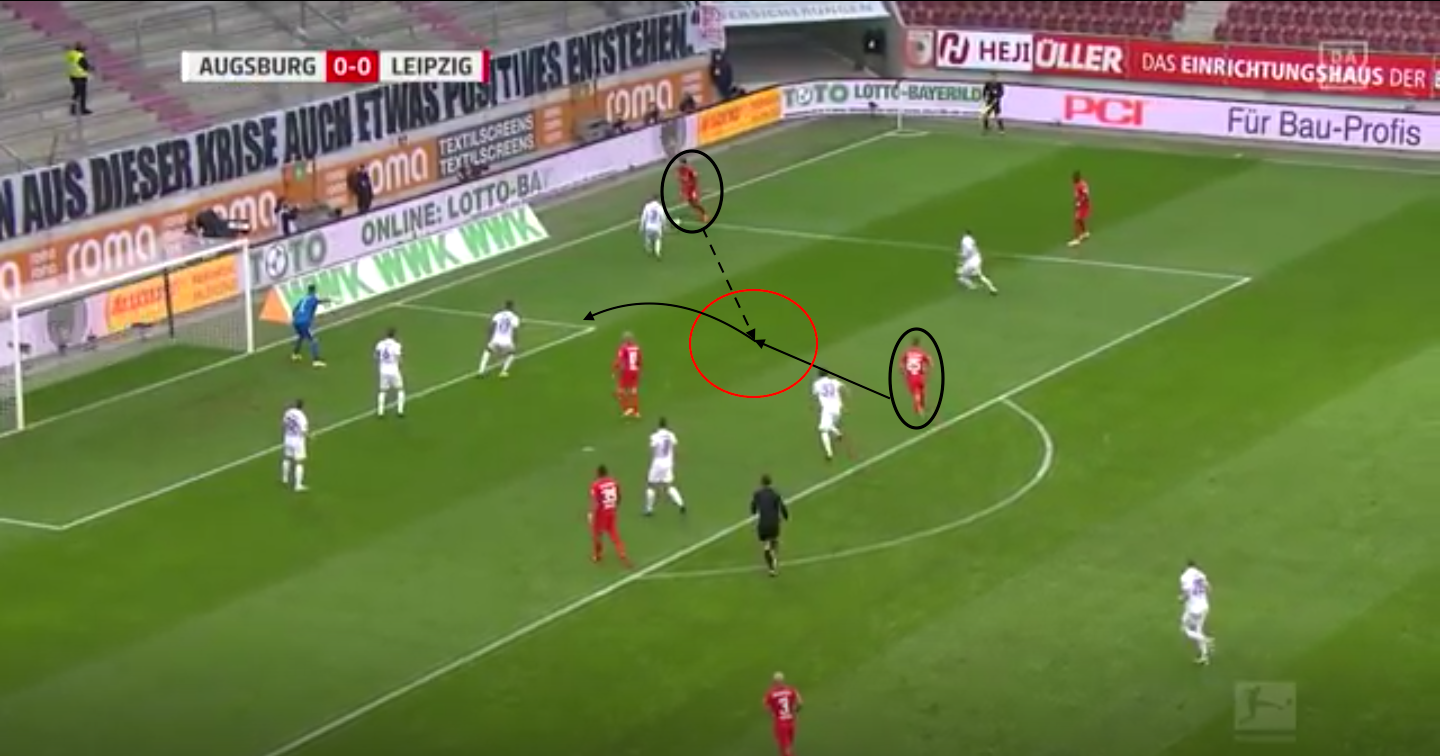 As Nkunku tried to latch onto a deep ball played into the box towards the right-hand side, this was where we saw Olmo's creative side. As Nkunku looked to progress the ball back into the box, Olmo started off on the edge of the box, timed, and arced his run to the near post ahead of the FC Augsburg defender which meant Olmo was able to create a goal-scoring opportunity. 
The reason as to why this scenario shows Olmo so effective in the final third is because it shows he is able to recognise a trigger movement (Nkunku's control and body turn to face the box) which then allowed Olmo to make a double movement in the central space to lose the defender and advance in the half-space to receive to shoot. 
Another example of Olmo's creativity in the final third was in the game against Werder Bremen which saw Olmo net his first goal of the season with some individual brilliance to advance into the box to score.
In this situation, Olmo shows his creativity with and without the ball. Firstly, once the RB Leipzig defensive players progressed the ball to Nordi Mukiele on the right-hand side, Olmo found himself a good distance away from any Bremen player in between the defensive and midfield line. Once Mukiele played the ball into Poulsen, Olmo recognised this as a trigger to make a supportive run into the forward space before any Bremen defensive player could track this run.
Olmo was able to gain possession of the ball on the edge of the box in a 1v1 situation. On many occasions this season, we have seen Olmo make forward runs off the ball to support the lone striker when they have been the target of a forward pass and this is another example.
Secondly, Olmo's creativity when in possession in this scenario should not go unnoticed. His quick thinking to adjust his body to perform the action to beat the Bremen defender 1v1 before any recovery player could close down the space and fire the ball into the corner past the keeper really confirms his creativity and bravery in this part of the pitch. 
Against FC Mainz 05, Olmo's quick movement of the ball and unpredictability in the box enabled him to win a penalty for his side.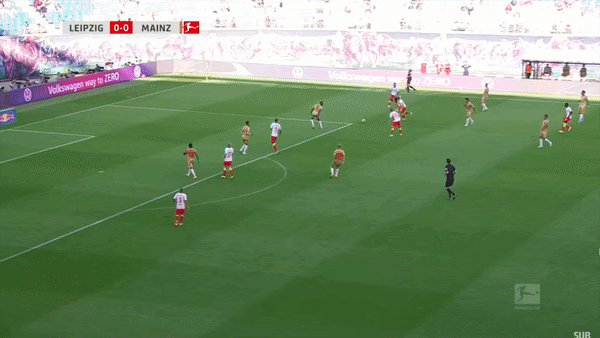 Olmo again timed his run on the edge of the box to make him a passing option for the ball carrier. Once in possession, Olmo was aware that his path forwards was obstructed, so using his creative side, quickly shifted the ball onto his right which caused Mainz's Leandro Barreiro to try and go for the ball but the speed of action caused him to foul Olmo in the box which resulted in a penalty for RB Leipzig. 
His second goal of the season came in Matchday 14 in the away game against VfB Stuttgart. This was another goal inside the box and came from Olmo identifying the space to run into at the back post to get on the end of a cross to volley into the goal.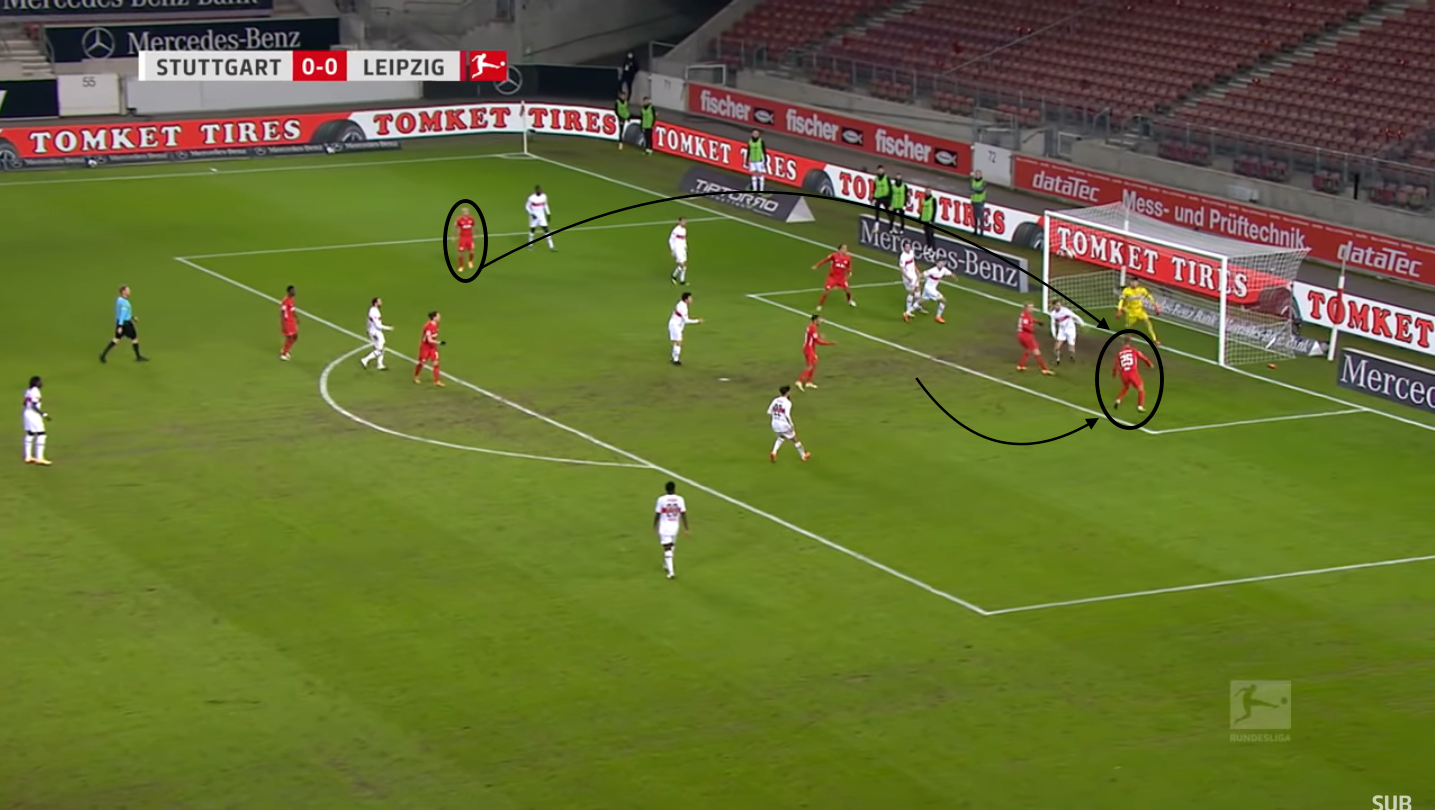 As Angeliño looked for a player in the box to send the ball too, Olmo identified the space at the back post to run into. This allowed Angeliño to play the ball to the far post for Olmo to hit on the volley first time to net his second of the season. 
There is no doubt that Olmo provides RB Leipzig with a major attacking threat in the final third, whether that is clever movements off the ball to create either goal or shooting opportunities, or on the ball to set up chances for his teammates in dangerous areas.
Olmo's Role in the Press
The final part of this player analysis will analyse Olmo's role in RB Leipzig's press when they are out of possession. One of Nagelsmann's most favoured out of possession tactic is an aggressive press to win the ball back as quickly as possible and this requires each player to press intensively when they lose possession. 
This season, Olmo has featured in all of RB Leipzig's 14 matches so far, having played a full 90 in just three of these games. Nagelsmann has fluctuated between a 3-4-3 and a 4-2-3-1 shape so far this season, having used both formations five times each. When in a 3-4-3 shape, Olmo is favoured on the right or left wing areas, whereas when in a 4-2-3-1 shape, he is favoured as the attacking midfielder behind the main striker. 
When RB Leipzig are out of possession in a 3-4-3, the front three have the licence to rotate when providing the press but always press as a unit. Whether Olmo is on the left or right of the three, he stays compact in the unit and goes to press when the opposition player nearest his position is the target of a pass.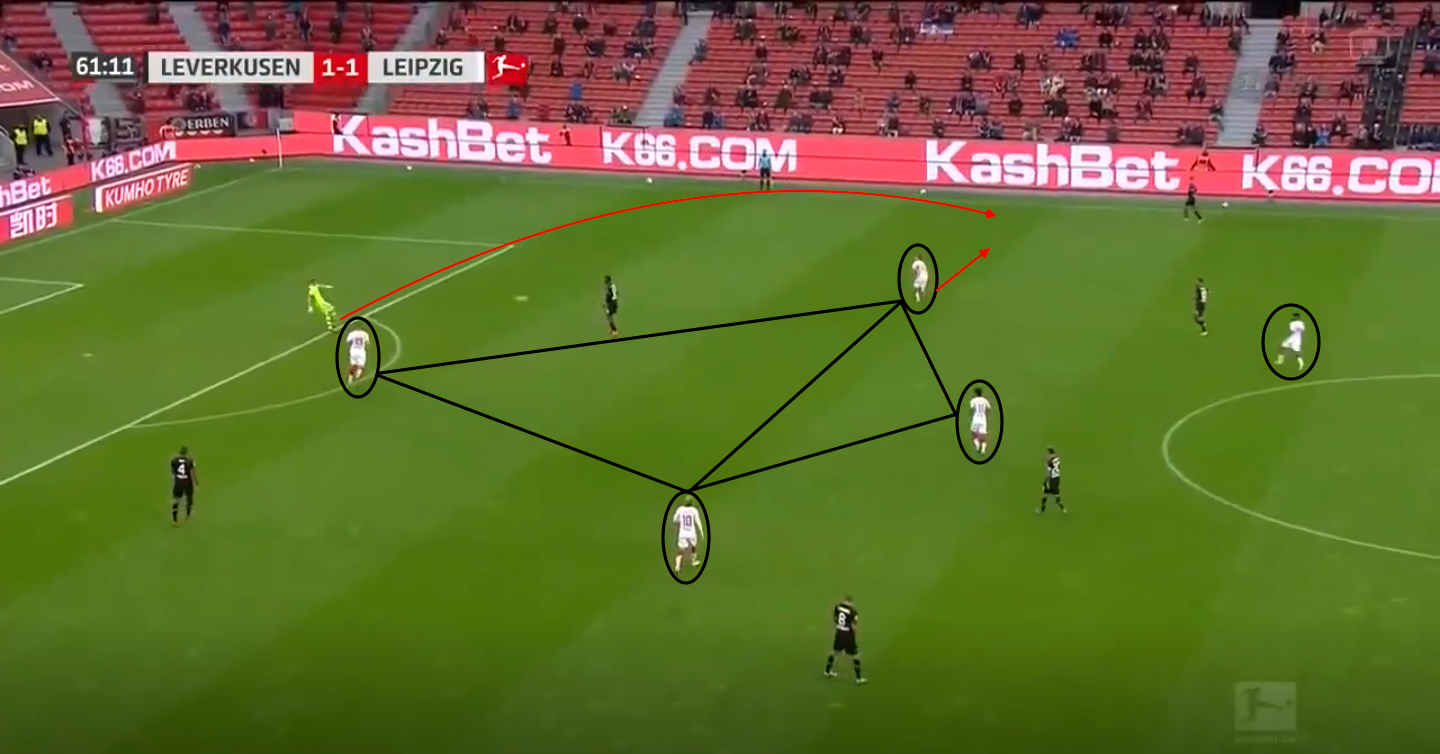 As Leverkusen goalkeeper Lukáš Hrádecký looked to advance the ball up the pitch, the target was the player closest to Olmo on his right hand side, therefore he is the first man to instigate the press, but the front three kept their triangular unit shape with support from behind from the central midfielders.
Against Hoffenheim, we saw Olmo on the left of the three but the pressing role was still the same press when the nearest player in his position was the target of a pass.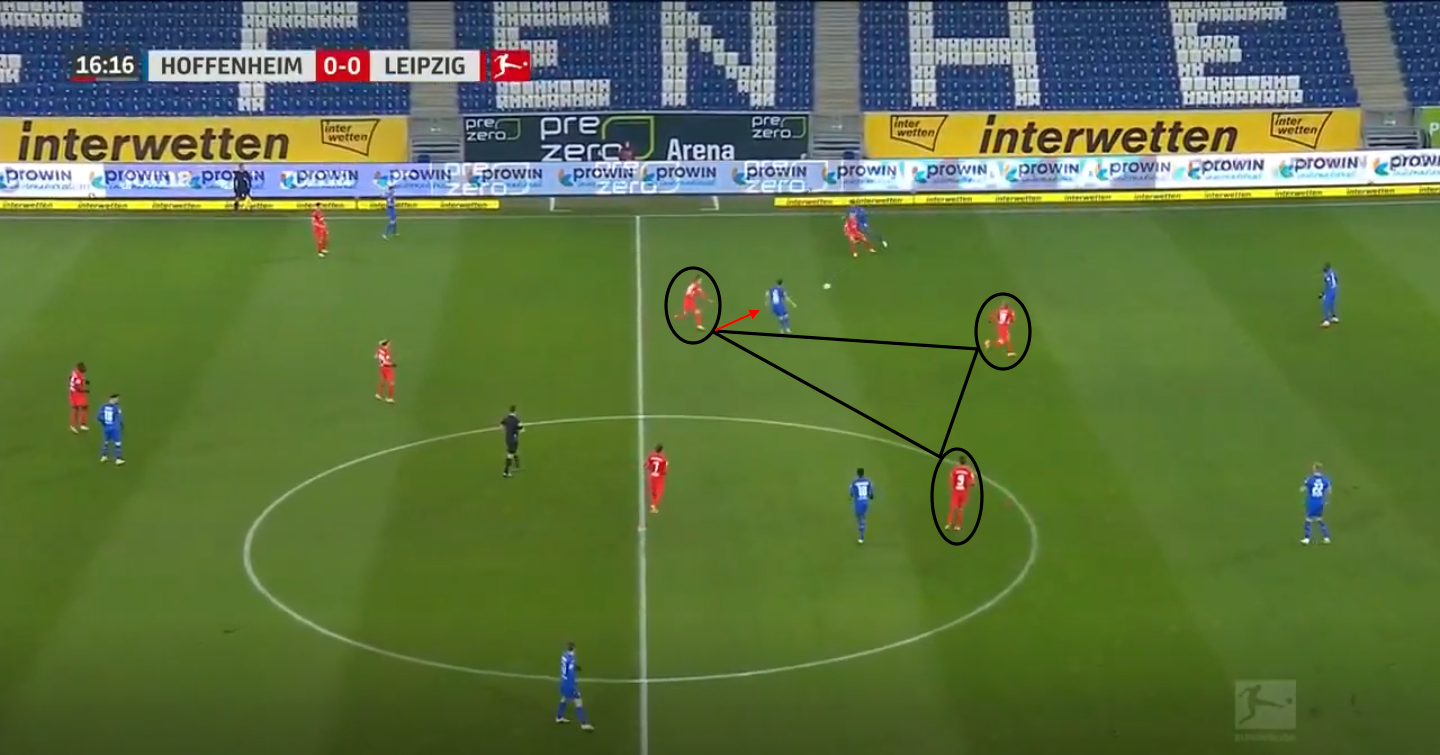 Although RB Leipzig's front three rotated with Poulsen and Forsberg changing roles, Olmo stayed on the left side of the three and instigated the quick press when the Hoffenheim player in his vicinity was the subject of a pass. 
When RB Leipzig set up in a 4-2-3-1 and Olmo is in the attacking midfield position, the attacking players still press as a unit in a triangular shape, with one of the wide men joining the unit to make the three as we see below.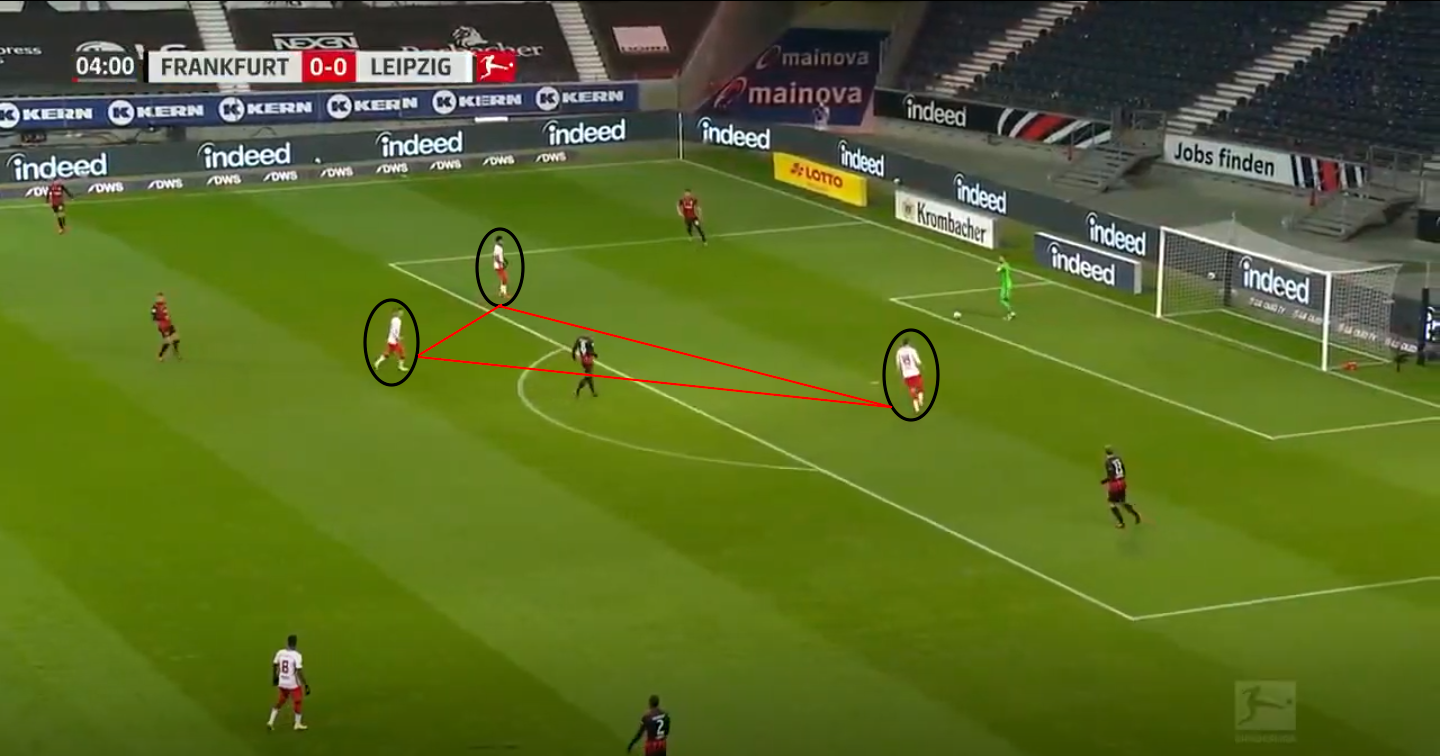 In this scenario, Olmo was holding his position at the tip of the triangle, with the main striker (Alexander Sørloth) and left-sided midfielder (Nkunku) of the three joining to provide the aggressive press. 
Conclusion
At the age of 22, Dani Olmo is a very talented young individual who certainly has a bright future ahead of him. Having grown up in FC Barcelona's academy at a young age and gaining more valuable experience at Croatian side Dinamo Zagreb for nearly six years that arguably shaped him into the player he is today, there is no doubt that he will continue to be on the radar of many top teams across Europe for the foreseeable future.
By: Sam Hough
Featured Image: @GabFoligno / Matthias Hangst – Getty Images