Player Analysis: Daniele Verde
Despite being 26 years of age, Italian winger Daniele Verde has experienced quite a journey throughout his career, having featured for no less than eight different football clubs.
The Naples native came through the Roma youth system before being loaned out to a few clubs around Italy, and then he spent time abroad, playing for Spanish club Real Valladolid and Greek giants AEK Athens.
A move to Spezia in 2020 eventually provided the career breakthrough Verde needed, producing his share of dazzling displays for the club from the Liguria region in northwestern Italy.
In his first season with the Spezzini, he battled with muscular injuries, but he still managed to score six goals and provide one assist in 21 Serie A matches. Throughout the 2021/22 campaign, he was able to stay fit for the duration of the season and he scored a respectable eight goals and supplied six assists.
Verde has provided Spezia with some X-factor and he had been linked with a move to Italian giants Juventus. That speculation has cooled down in recent weeks and the Aquilotti (the Little Eagles) will turn to the diminutive winger for inspiration as they look to survive relegation for the third season in a row.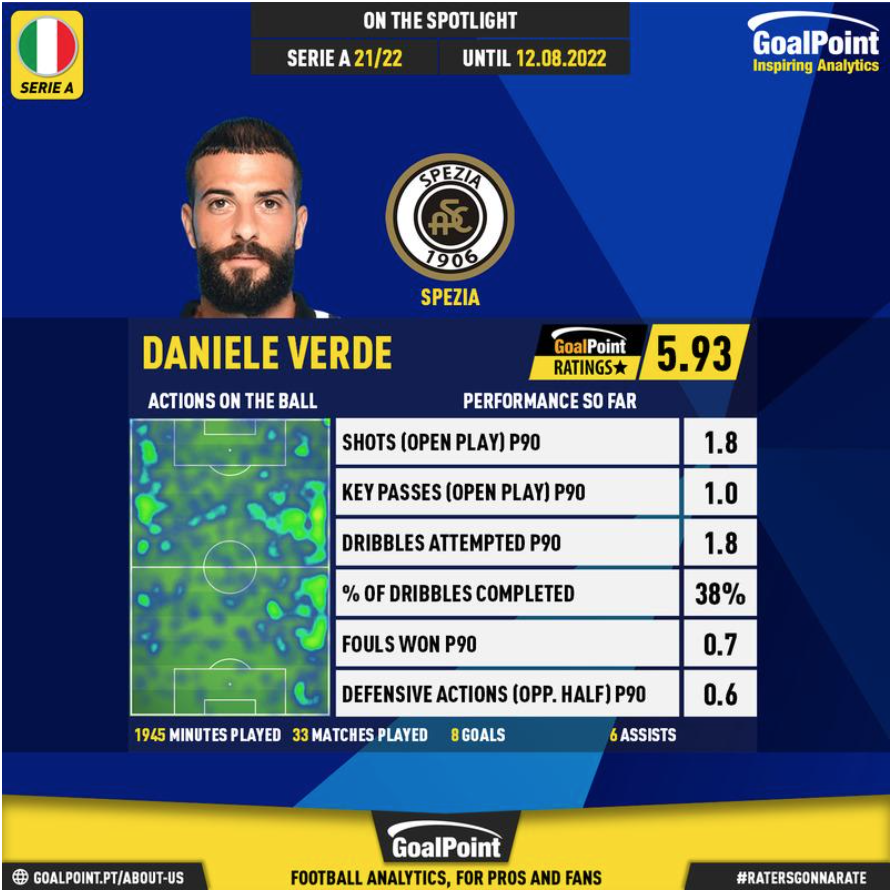 Photo: Goalpoint / @_Goalpoint
Verde has been used on either flank at Spezia, but his preferred position is on the right-wing, and if the heat map from GoalPoint is anything to go by, he is certainly more comfortable on the right side of the pitch.  
The 26-year-old is capable of running up and down the right flank, and he can cut in when necessary. However, when he is forced to play on the left, he has been less eager to drop back into his own half and he would stay further up the pitch.
According to GoalPoint, Verde averaged 1.8 shots in open play, 1.0 key passes, 1.8 attempted dribbles, and 0.6 defensive actions in the opposition half per 90. He also earned 0.7 fouls per 90 and completed 38 percent of dribbles.
Although the diminutive winger is not the focal point of the Spezia attack, he will fancy his chances to score and his involvement in the goals is valuable. Despite his speed and desire to dribble, his dribbling is not always effective and that is one aspect of his game that will need improving.
As we will see, a good result for Spezia will not necessarily come from a vintage Verde performance though and there also have been times in which the 26-year-old has played well despite the result not favoring the Aquilotti.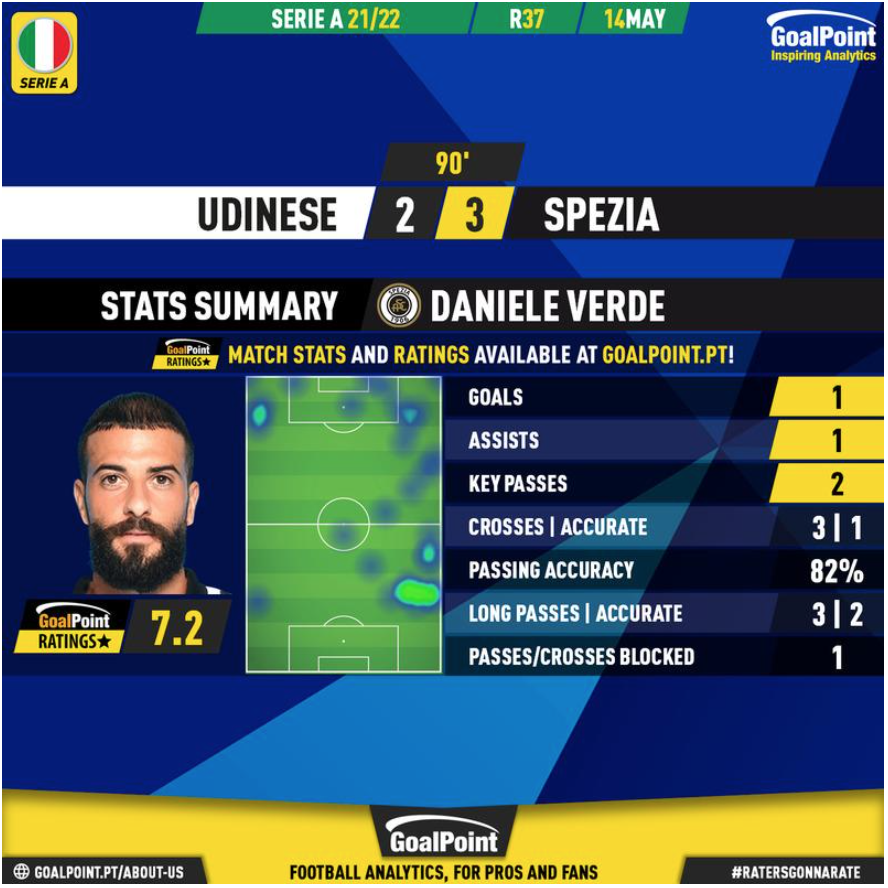 Photo: Goalpoint / @_Goalpoint
Arguably his most decisive display was in Spezia's 3-2 victory away to Udinese in the penultimate round of the 2021/22 Serie A campaign, when he scored with a stunning volley to level the score at 1-1 and he also supplied a low cross for Spezzini captain Giulio Maggiore to score the third goal.  
His passing rate was at 82 percent, two out of three long passes were successful, and he made two key passes. However, his positioning in the game was intriguing. He started on the right wing but the heat map indicates that he was forced to drop back and play like a right-back.
Despite being more present in his own half than the opposition's, he nevertheless made the most of his brief time in the attacking third and the victory was enough to secure Spezia's season for another season.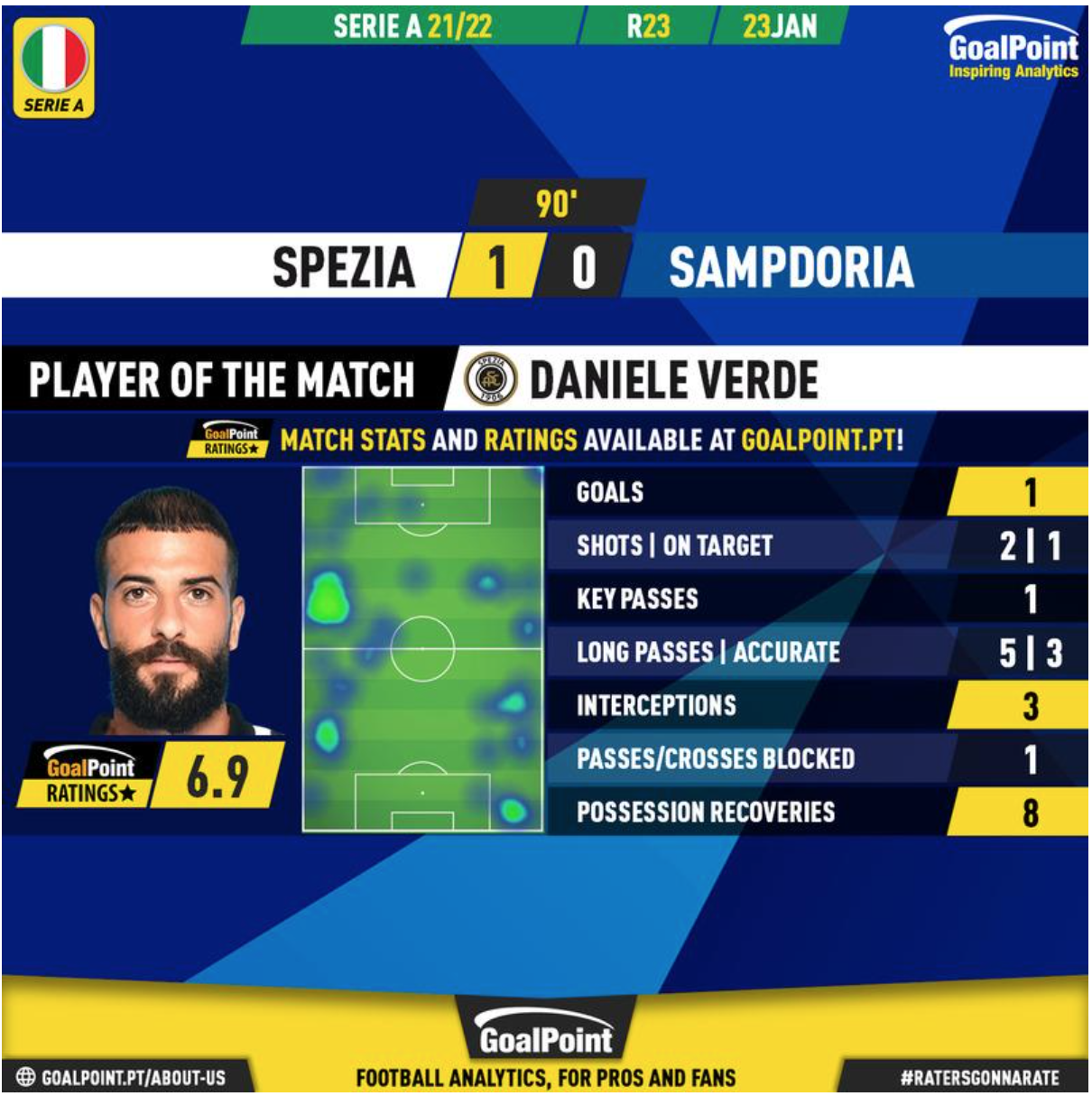 Photo: Goalpoint / @_Goalpoint
Another game in which Verde was decisive was in Spezia's 1-0 win against fellow Ligurians Sampdoria in Week 23 and the Neapolitan scored the only goal of the game with a powerful side-footed volley that Blucerchiati goalkeeper Wladimiro Falcone had difficulty stopping.
Aquilotti coach Thiago Motta decided to put Verde on the left wing and it proved to be a masterstroke as Kevin Agudelo's cross had found the diminutive winger unmarked at the back post. 
As the heat map also indicates, he was often present on the left flank and predominantly in the opposition half. Despite that, he made a valuable contribution defensively, ranking first for possession recoveries with eight and he was also first for interceptions with three.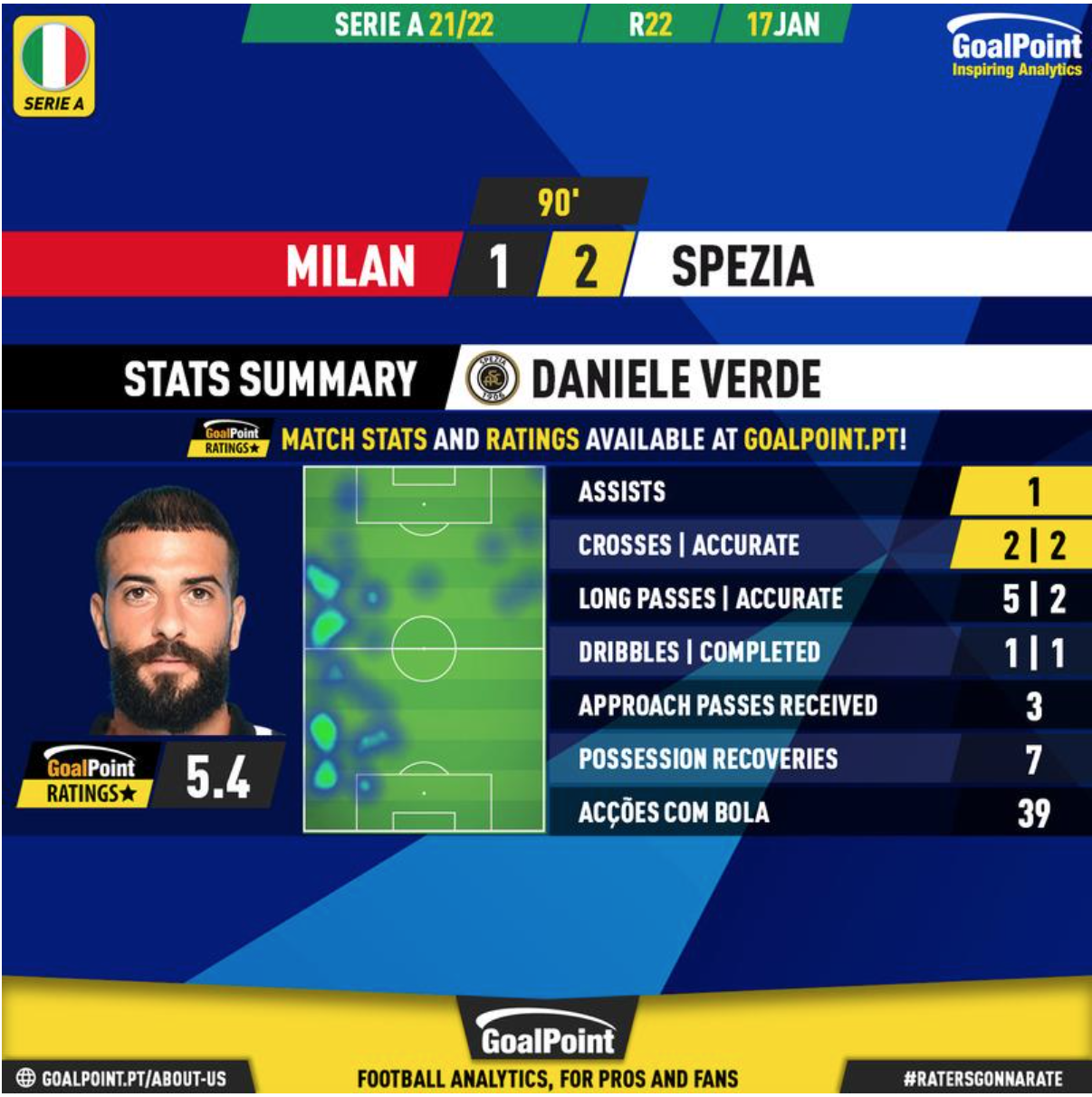 Photo: Goalpoint / @_Goalpoint
One game in which Verde made an important contribution despite not always being effective was in Spezia's surprise 2-1 victory away to eventual Serie A champions AC Milan a week before that Samp win.
The winger played on the left and was able to make a presence in both halves of the pitch. However, only two out of five long passes were accurate, he received three approach passes, and his overall passing accuracy was at 63 percent.
That being said, two out of two crosses were accurate, and one of them was the assist for the equalizer, which was a tap-in from Kevin Agudelo. But for all his contributions in some of Spezia's wins, there have been times in which the 26-year-old has performed gallantly in spite of his team's lackluster performances or disappointing results.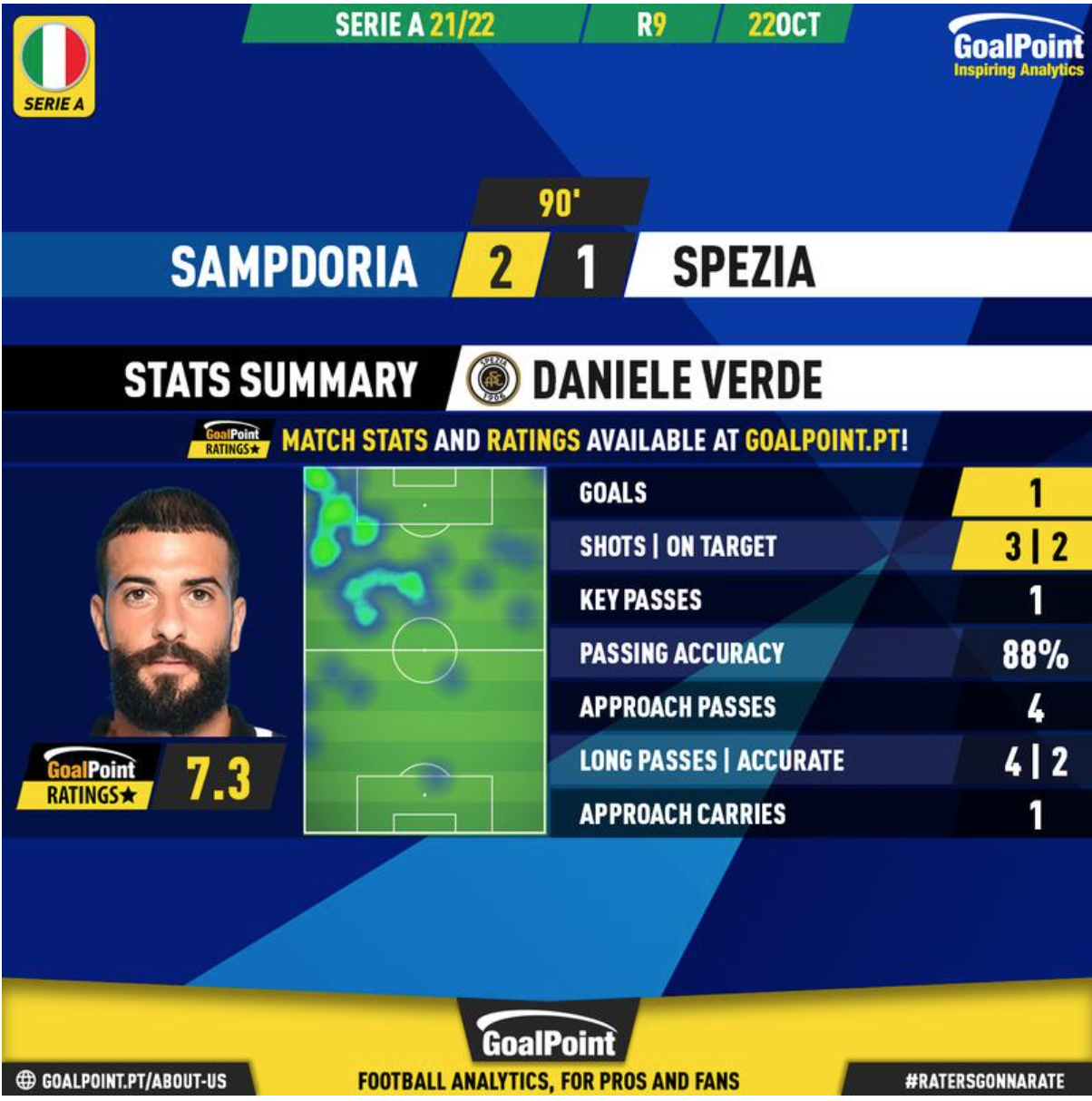 Photo: Goalpoint / @_Goalpoint
Spezia lost 2-1 away to Sampdoria, but Verde was one of his team's bright spots, scoring an excellent consolation goal in stoppage time after he had come off the bench to replace Emmanuel Gyasi on the left-wing.
Although he was present in left central midfield area at times, his presence was made clearer high up the left wing. He had three shots, with two on target, and that goal; had a successful passing rate of 88 percent; made one approach carry, and four approach passes. 
It was perhaps a case of what could have been if Motta had decided to use Verde from the start. Antonio Candreva starred for Il Doria, forcing Gyasi into scoring an own goal and then scoring the second. Maybe if Verde started the game, he could have applied more pressure on Samp right-back Bartosz Bereszynski and forced Candreva to drop back more.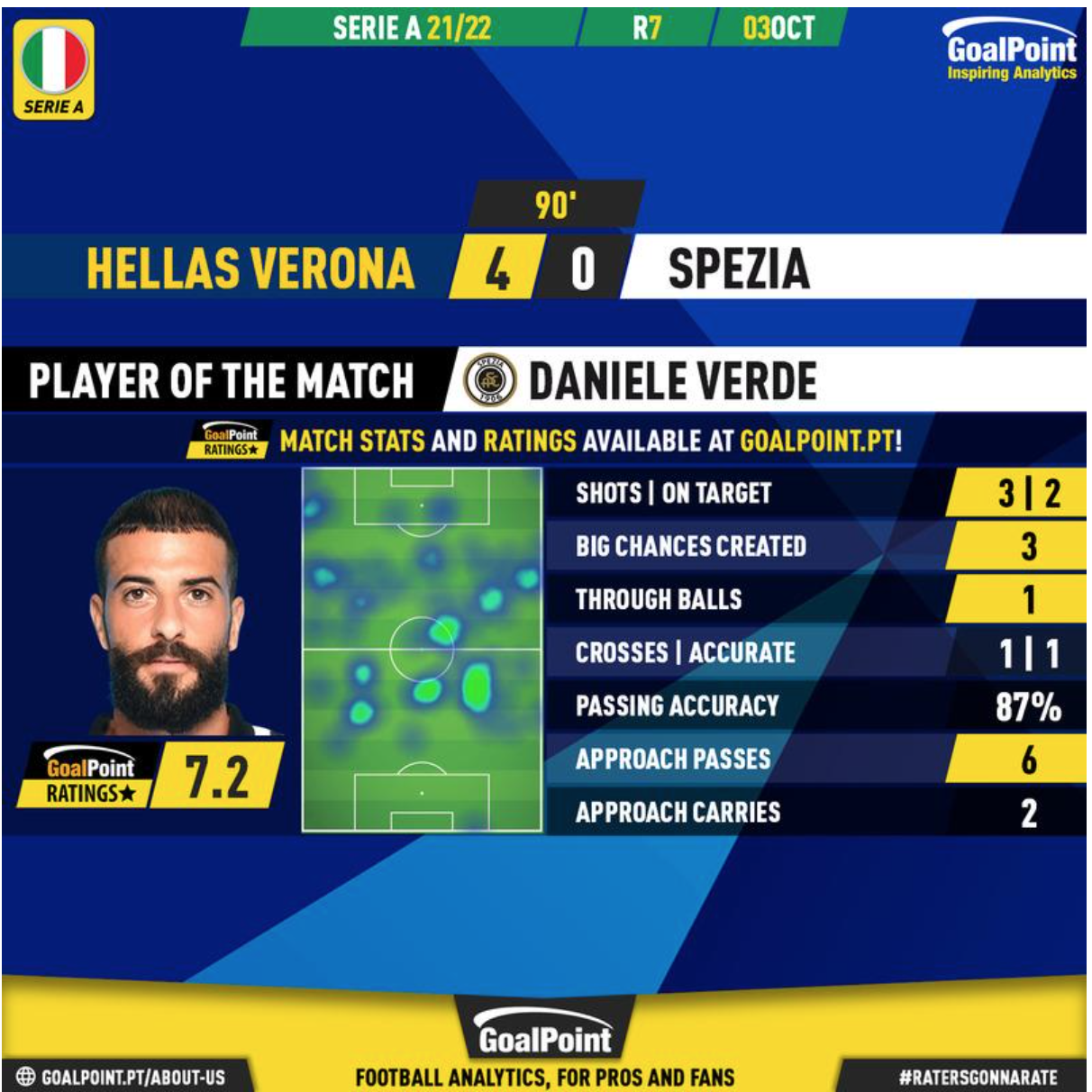 Photo: Goalpoint / @_Goalpoint
One of Spezia's worst defeats of the season was in the 4-0 thrashing by Hellas Verona in Week 7. However, the score flattered the Gialloblu, who scored with all four shots on target and the positioning from Spezzini goalkeeper Jeroen Zoet was amateurish at best.
Verde was all over the ground trying to earn the ball and create something for his team. He had three shots with two on target, created three big chances, made one through-ball, and six approach passes, ranking first in all of those categories, but his teammates were wasteful in their shooting and they could not atone for the deficiencies of their goalkeeper.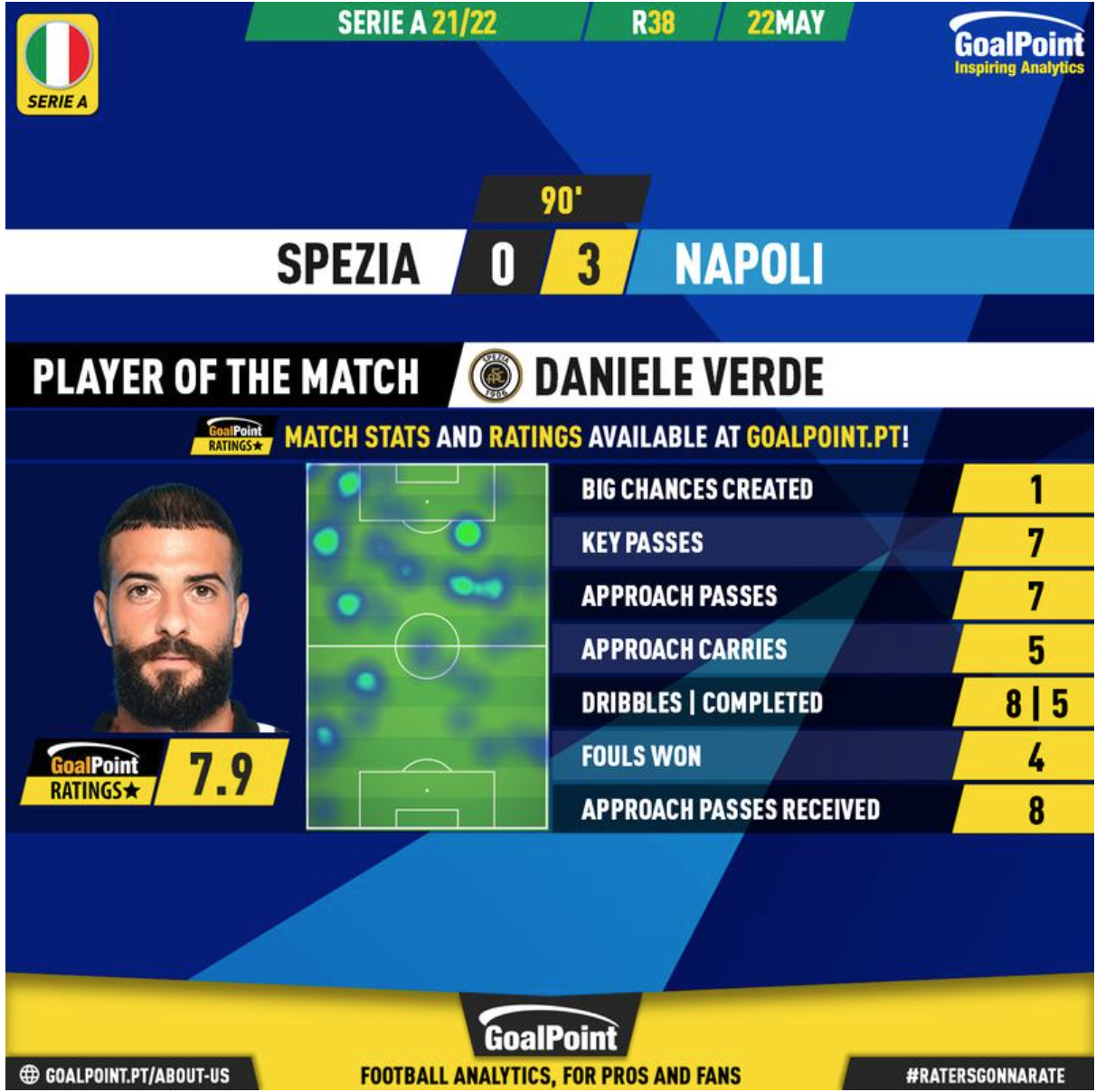 Photo: Goalpoint / @_Goalpoint
Verde also performed admirably against his hometown club despite Spezia losing 3-0 to Napoli in the final round of the 2021/22 season. Truth be told, neither side had anything to play for and the away side in particular treated this game as a training session. That being said, Verde did what he could to stage an unlikely comeback and ranked first in many categories.
The 26-year-old made seven key passes, seven approach passes, five approach carries, received eight approach passes, fouled four times, and completed five out of eight dribbles. Perhaps if there was more at stake or if his teammates shared his enthusiasm, Verde's performance might have stood out more than his individual statistics.
Conclusion
Daniele Verde is at a stage in which most footballers are starting to peak. After struggling to establish himself as a senior footballer in a number of places, he has found a sense of purpose at Spezia. 
However, the versatile winger is not someone to analyze purely on statistics. He has become an important player for a club that made its debut in Serie A in 2020/21 and he can influence its survival hopes in many ways. 
If the games covered have shown anything, a coach can get a mixed bag from Verde, but there are times where the Spezzini need to support one of their flair players better than they do. 
By: Vito Doria / @VitoCDoria
Featured Image: @GabFoligno / Emmanuele Ciancaglini / Getty Images