Tactical Analysis: Vincenzo Italiano's Spezia
When Spezia coach Vincenzo Italiano submitted his coaching thesis in September 2020, he wrote about the need of all his players to be directors of the play.
"Having been a midfielder, a playmaker, I made myself more and more aware of the fact that this could still be an advantage from tactical point of view. The thing I noticed most was the lack of an alternative to a 'closed' game source, marked out, as in my case.

The recurring difficulty from other roles in field, in taking the place of the playmaker or the midfielder, perhaps for a short time involvement, for example, of the defenders, who are very often involved in thinking 'only' how to defend and not (also) how to set up the game. Now that I am a coach by profession, I necessarily consider it fundamental that the players I coach are (or become) 'all directors', all 'constructors' of the game, regardless of their role."
Former AC Milan and Italy coach Arrigo Sacchi proposed a similar philosophy years ago, but while Sacchi became a staunch 4-4-2 man, Italiano has preferred the 4-3-3 formation. His Spezia squad is equal 14th in the Serie A table with Fiorentina and Benevento on 26 points in as many games and it has shown that it can compete in Italy's top flight.
The Aquilotti have registered some impressive results in their first season in Serie A such as holding Atalanta to a scoreless draw, defeating Napoli 2-1 away, and winning 2-0 against then-league leaders AC Milan. Despite a host of unknown names and players arriving on loans from other clubs, Italiano has remained faithful to his attacking philosophy and encouraged his team to press opponents as well as dictate the play.
Choices in Personnel
Italiano does not have a set XI that he has used continuously throughout the 2020/21 campaign but he has players that their own unique characteristics. Jeroen Zoet was bought from PSV Eindhoven but Ivan Provedel has been the preferred choice in goal. 
At right-back, Italiano can choose between a more modern full-back like Salva Ferrer, or a traditional option like Luca Vignali, who does not advance from the defense very often. Martin Erlić, Claudio Terzi, Riccardo Marchizza, and Julian Chabot are usually the four choices for the two center-back spots. Simone Bastoni is the preferred choice at left-back. Originally a midfielder, the 24-year-old was converted into a left-back by Italiano and he has impressed with his marauding runs down the left flank.
In midfield, Matteo Ricci operates as a deep-lying playmaker and Giulio Maggiore operates as one of the box-to-box midfielders. Tommaso Pobega can also operate in Maggiore's position and he has contributed with three goals.
As the right central midfielder, Nahuel Estévez effectively performs two roles. He can play as a box-to-box midfielder and run up and down more central channels but he can play as a wide midfielder too. The Argentine is capable of breaking the lines, making late runs into the box, supplying through-balls, and bending crosses.
Up front, Emmanuel Gyasi is one of the mainstays in the Spezia attack and he can play on either wing. Diego Farias, Daniele Verde, and January signing Riccardo Saponara have played in wide roles as well while there are two traditional options in the center-forward role in M'Bala Nzola and Andrey Galabinov. If a traditional center-forward isn't used, Italiano has used Colombian winger Kevin Agudelo as a false nine when he has not been playing as a right-winger.  
Defending in a Block
Spezia is a team that can defend either in a deep block and in a mid-block. Italiano implements his 4-3-3 formation and the team is compact in its shape. It squeezes the space and gives opponents little space to play in.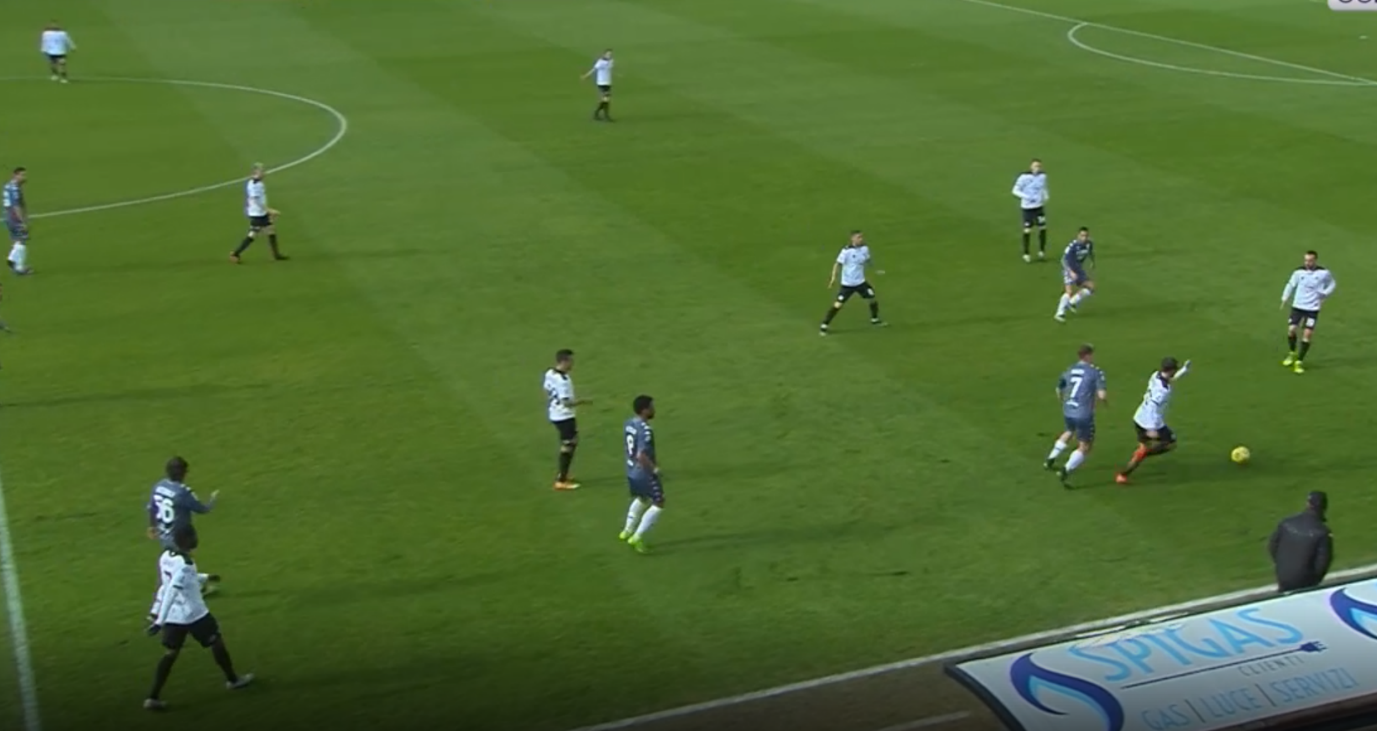 In the above screenshot though are nine of the 10 outfield players for the Aquilotti in their own half. Benevento goalkeeper Lorenzo Montipò took a goal-kick and aimed for his team's right flank, which was Spezia's left in the first half. Italiano's team lined up in a mid-block but his players quickly created an overload on their left quickly. There were a few aerial challenges but eventually, the Spezzini were successful in regaining possession.
The above screenshot shows Spezia in a 6 v 4 situation on the left flank against Benevento and the Aquilotti were able to move the ball quickly from their own half. Simone Bastoni easily spun away from Stregoni striker Adolfo Gaich and quickly passed the ball to Léo Sena, who then found right-back Salva Ferrer.
The switch from Bastoni to Ferrer was quick and was an example of how the Ligurian side can switch the ball from one wing to the other. It also shows that once they gain possession of the ball, Spezia move the ball quickly, the players spread out quickly, and make runs to create different passing options.  
Utilising the Wings
Spezia are a team that does create overloads on the wings but the Spezzini can still work their way towards the goal even without multiple numbers present on the flanks. One such attack in the 1-1 draw Benevento in Week 26 illustrates how a ball towards the left corner becomes a dangerous scoring chance.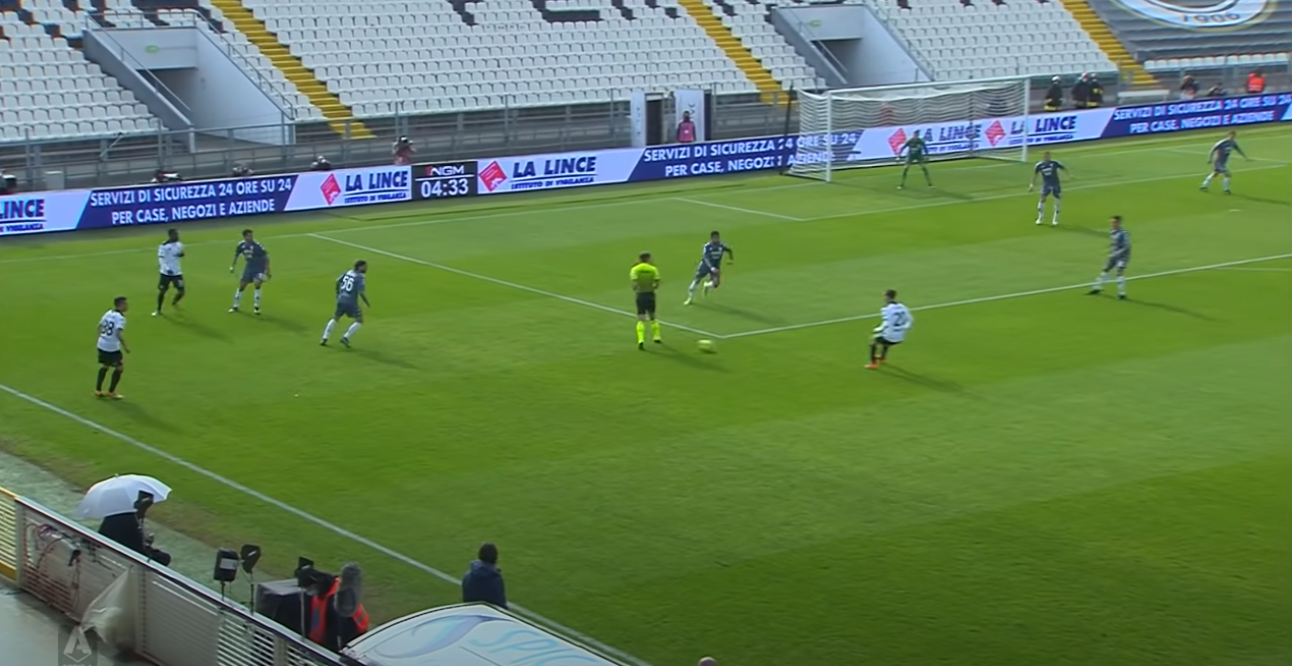 Emmanuel Gyasi receives a long pass from one of his defenders and controls it down. A Benevento defender tries to close him down and Léo Sena is the Spezia winger's closest teammate. 
Simone Bastoni, the Aquilotti left-back, had made a diagonal run as the long pass was in the air. As he runs towards the penalty area, Gyasi passes him the ball. Then, Bastoni passes the ball to Matteo Ricci, who notices the Gyasi running into the box and he plays a through-ball to the Ghanaian-Italian winger.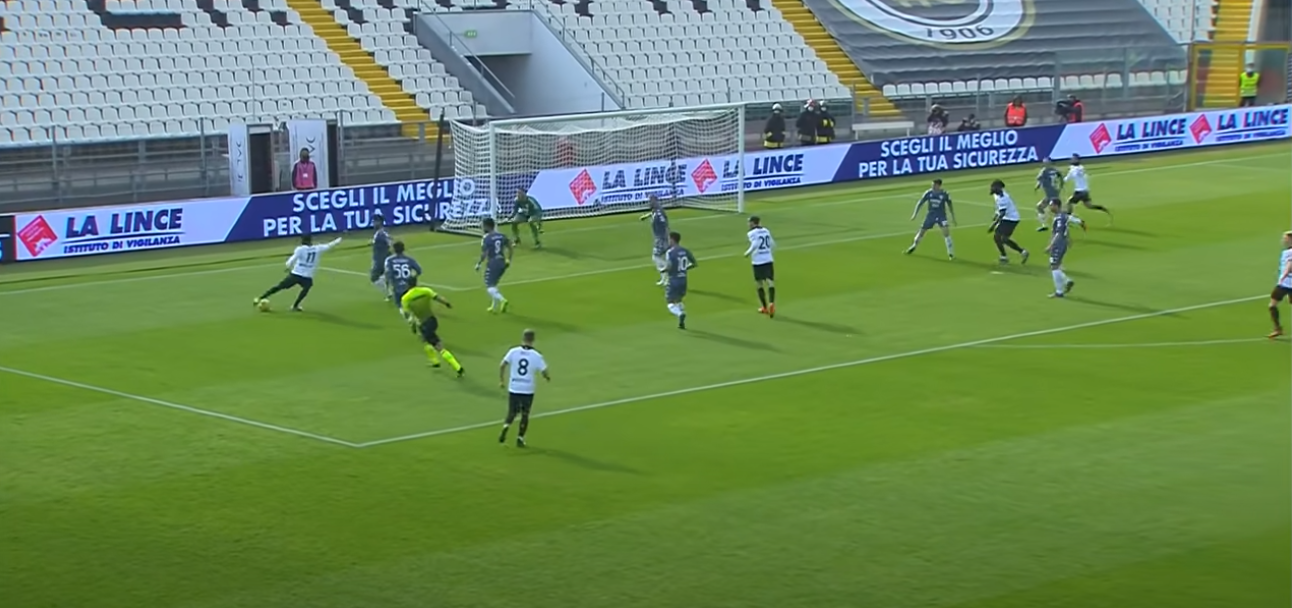 The 27-year-old forward then swerves to his left and takes a shot that flashes across the goal. M'Bala Nzola could have turned the ball in but Stregoni defender Federico Barba was able to get to the deflected ball before the Angolan-French striker.
This combination play is a fine example of how Italiano utilizes the wings without resorting to traditional wing-play. Gyasi draws the opponent in but he had teammates who offer support and move the ball quickly. They are also smart enough to track his run and it probably would have resulted in a goal if Gyasi placed the ball elsewhere or if Nzola had changed the direction of his run.
Construction of Attacks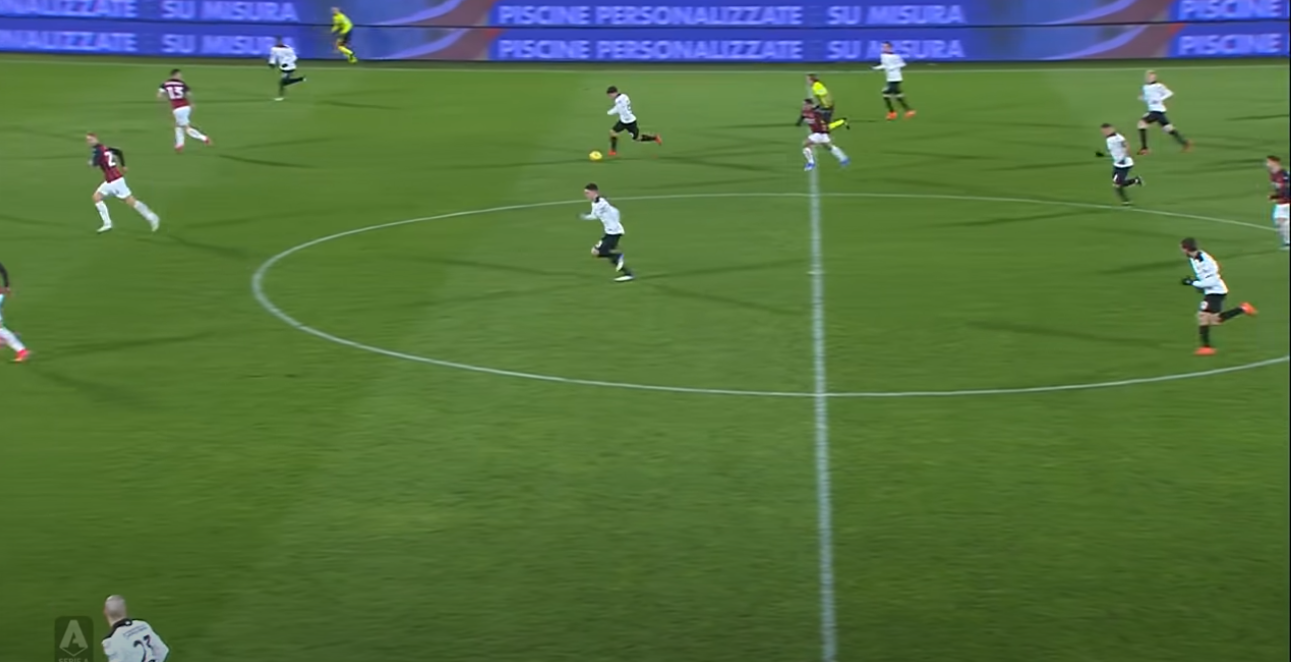 The above screenshot is of the counter-attack which resulted in Spezia's opening goal in its victory at home to AC Milan. Eight Aquilotti players are advancing and Kevin Agudelo, who has the ball at his feet, orchestrates this particular move.
The Colombian starlet had dropped back to retrieve the ball and he did so by dispossessing Rossoneri left-back Theo Hernández. In the screenshot, the player to the left of Agudelo is Giulio Maggiore, who eventually scores the goal. As the Colombian continues dribbling, he passes to Emmanuel Gyasi on the right-wing, who then cuts the ball back to the 22-year-old.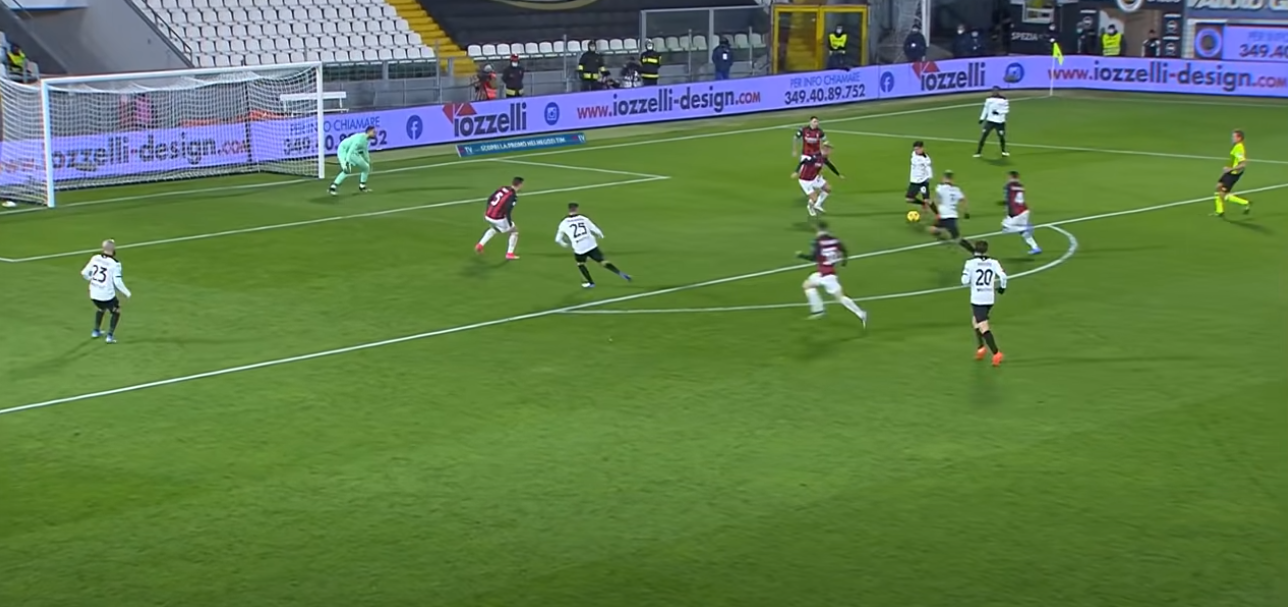 As Agudelo controls the ball, four AC Milan players attempt to apply pressure on him, but Matteo Ricci makes a late run into the penalty area and the Colombian lays the ball off to him. The quartet of Rossoneri quickly turn their attention to Ricci but they are not able to close him down effectively. The Spezia midfielder's touch is heavy but Alessio Romagnoli's slide tackle inadvertently turned into an assist Maggiore, who had continued his ran towards the far post.
This quick transition was one of the finest examples of Spezia's football under Italiano. The Aquilotti players broke quickly, there were multiple passing options, the passing movement was slick, and they knew which were the right spaces to run into.
Conclusion
Spezia has been another provincial Italian club that has demonstrated that the whole is greater than the sum of its parts. Vincenzo Italiano has created a team that is capable of surviving relegation and also entertain neutrals. His ability to build something special with limited resources should attract some of Italy's bigger clubs in the near future.
By: Vito Doria
Featured Image: @GabFoligno / Nicolò Campo / Light Rocket