Player Analysis: Ethan Ampadu
Hailing from Exeter, England, Ethan Ampadu has been a Chelsea player since 2017 when he joined from Exeter City at the age of 16 for a fee worth 2.8 million euros. Ampadu has been involved in a meager 12 appearances for Chelsea since his transfer. He has been a part of the 'Cheslea F.C loan army' and has had stints at R.B Leipzig, Sheffield United and Venezia. 
His loan spell at RB Leipzig wasn't much of a success as he appeared in only 3 Bundesliga games and started none. This spell at the German club worsened when he picked up a back injury in late February which saw him miss the remainder of the season which was delayed until June due to the coronavirus pandemic. 
Things got better for him the following season when he joined Chris Wilder's Sheffield United. He appeared in 25 Premier League games and started 6 out of 8 world cup qualifiers for Wales. Although Sheffield United got relegated, Ampadu gained valuable experience in the Prem, considered as the toughest and most physical league in Europe. 
After starting 3 games at the Euros'21 for Wales and missing the 4th due to suspension, Ampadu joined the newly promoted Italian Serie A club, Venezia. Plenty of game time came his way in Italy where he appeared in 29 Serie A games including 26 starts. 
Chelsea suffered off the field in the past season due to the sanctions imposed by the UK government. The sanctions led to the departure of a defensive leader in Thomas Tuchel's side with Antonio Rudiger joining Real Madrid on a free transfer, whilst Andreas Christensen moved to Barcelona on a free.
Ampadu is stuck in a dilemma — remain at Chelsea and fight for a place or join another club on loan after RB Leipzig, Sheffield United or Venezia as he looks to pick up regular minutes ahead of Wales' first World Cup since 1958. Let's take a look at what makes Ethan Ampadu such an intriguing prospect at 21 years of age, and why he could be crucial to Wales' hopes of getting out of Group B.
Versatility
Taking data from the past two seasons into account, Ampadu has displayed his exceptional versatility by playing across multiple positions on the pitch. The highest of these being at the centre back position, followed by the defensive midfield and central midfield respectively. His spell at Venezia also saw him play as a right back on 2 occasions and as a right midfielder on 1 instance. 
Out of the 25 games he has appeared in as a centre back, 21 of these were at Bramall Lane. On the contrary, the majority of his appearances at Venezia were in the DM role, the no. of games being 16. 
This versatility can massively help Thomas Tuchel, who has an aging Thiago Silva at the heart of his defense and no traditional defensive midfielder at his disposal. Ampadu potentially is a decent backup for Silva as well as an option for Thomas Tuchel if he wants to experiment with 4 at the back with a DM and two 8s.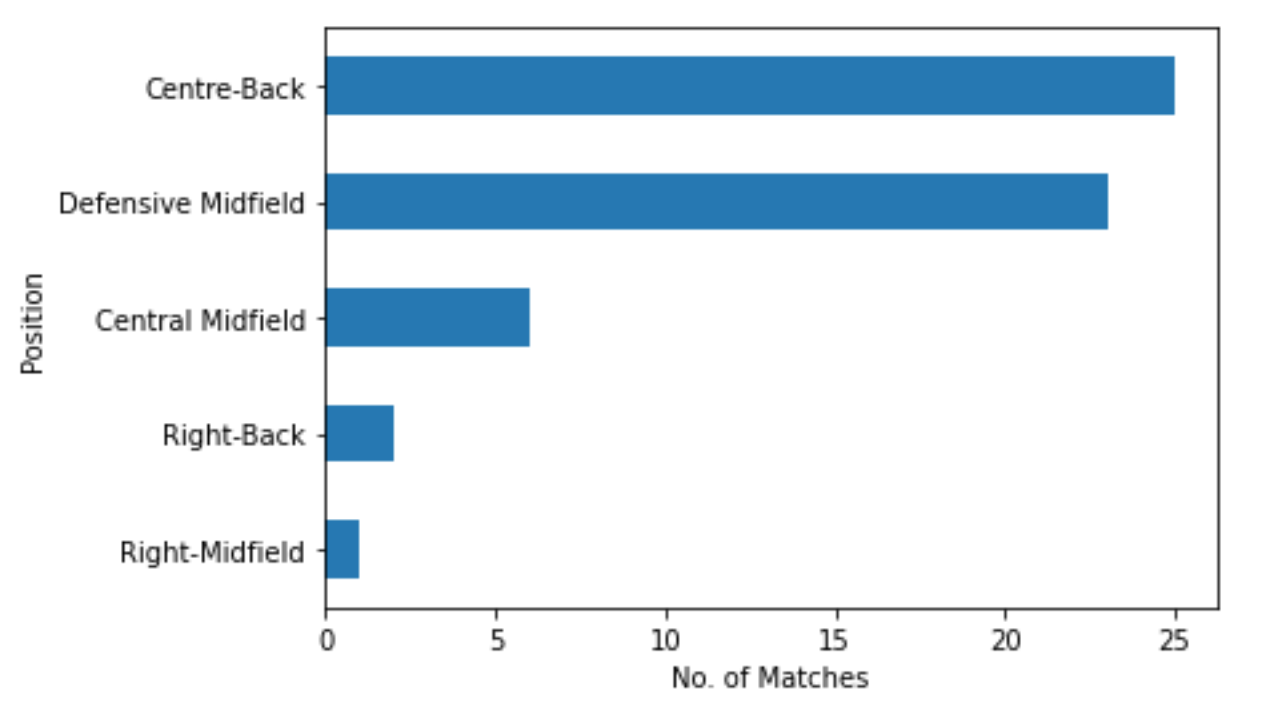 Defensive Attributes
Ampadu's press numbers indicate his high work rate and successful pressing capability, features that are essential to play in the Chelsea setup. Out of all the midfielders and defenders who played at least 1500 minutes in the Serie A last season, Ampadu falls in the upper class that is well above the average in pressures per 90 and successful pressures per 90.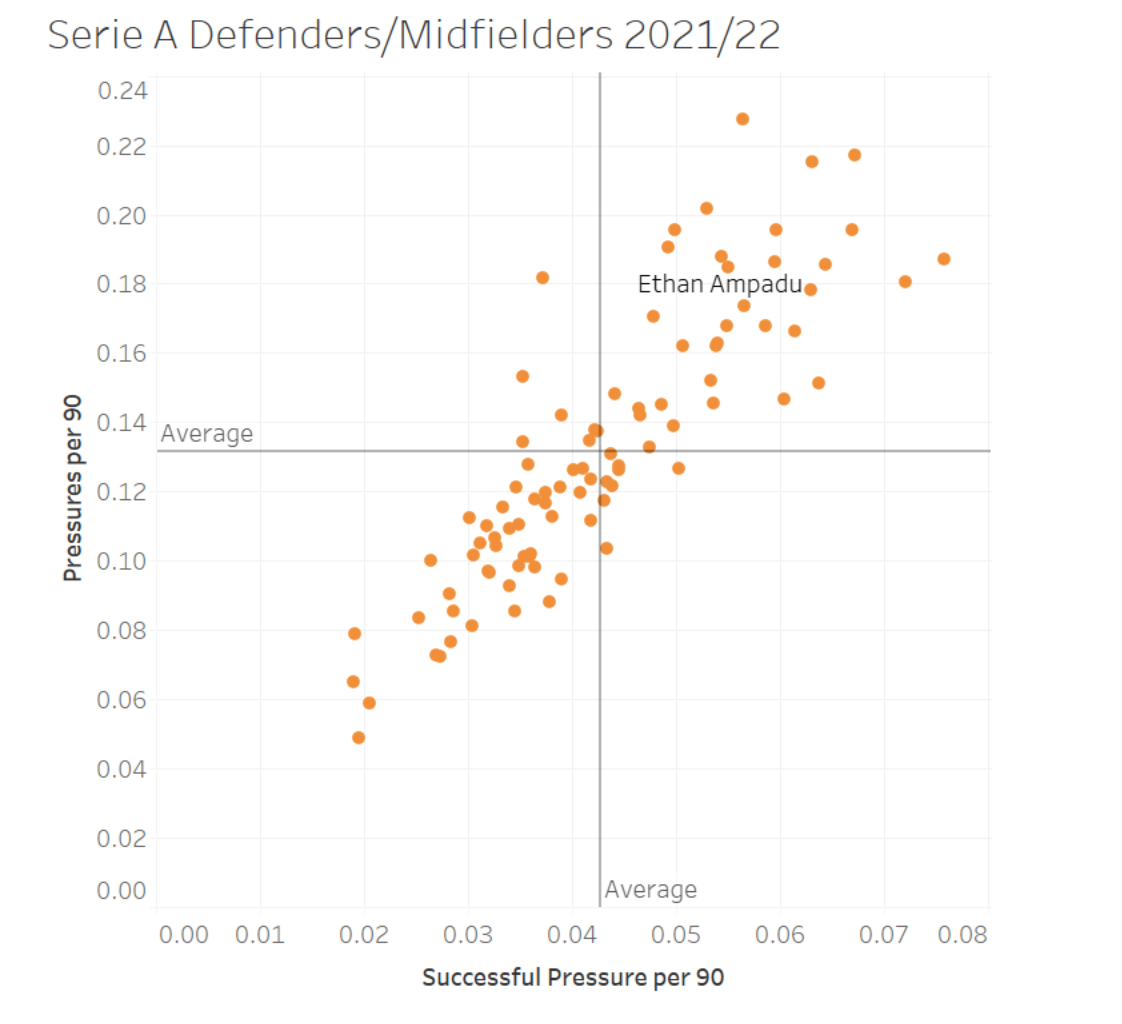 His tackling is not far behind either, with a total of 76 tackles attempted and 43 of them being successful throughout the Serie A last season. In tackling, Ampadu enjoys company with the likes of Adrien Rabiot, Marten de Roon and Marcelo Brozovic to name a few.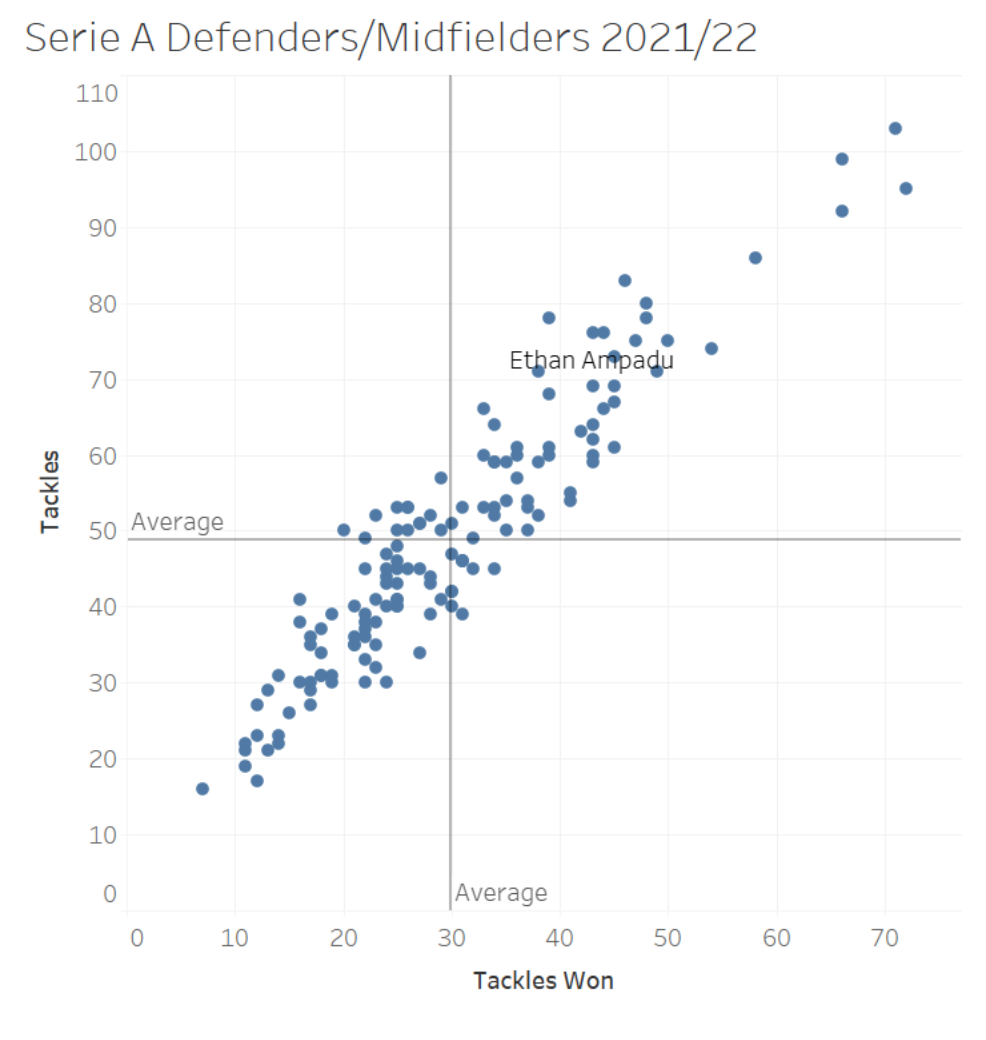 To add to this, Ampadu falls in the top 10 for the most tackles in the defensive third with a total of 44 tackles. 
Looking at the number of blocks and clearances, Ampadu once again falls in an elite category surrounded by the data points of new Chelsea teammate Kalidou Koulibaly, Milan Skriniar and former Blue Fikayo Tomori.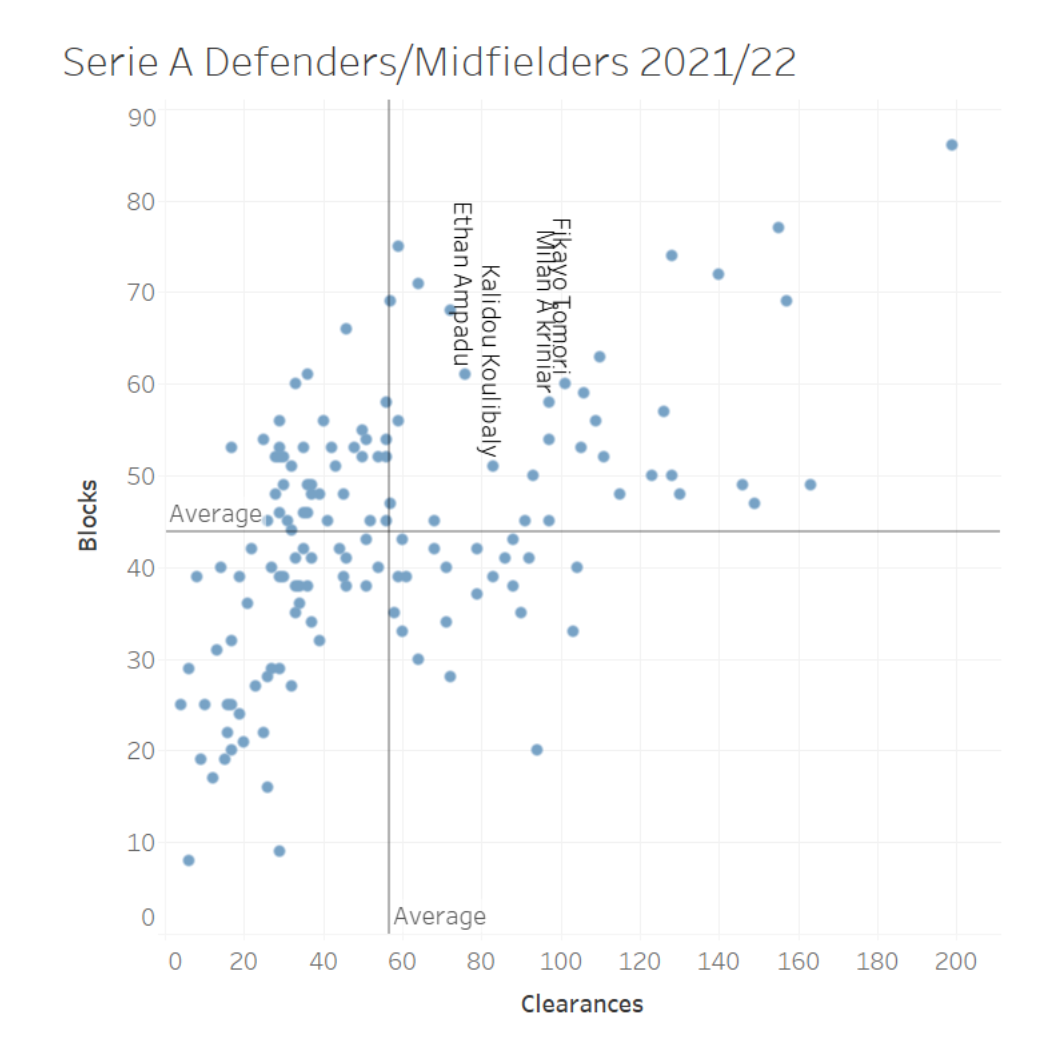 Ampadu does a decent job when it comes to interceptions as well. He had a total of 55 interceptions in Serie A last season, the highest being 117 for Milan Badelj and 115 for Matheus De Ligt's replacement at Juventus; Gleison Bremer.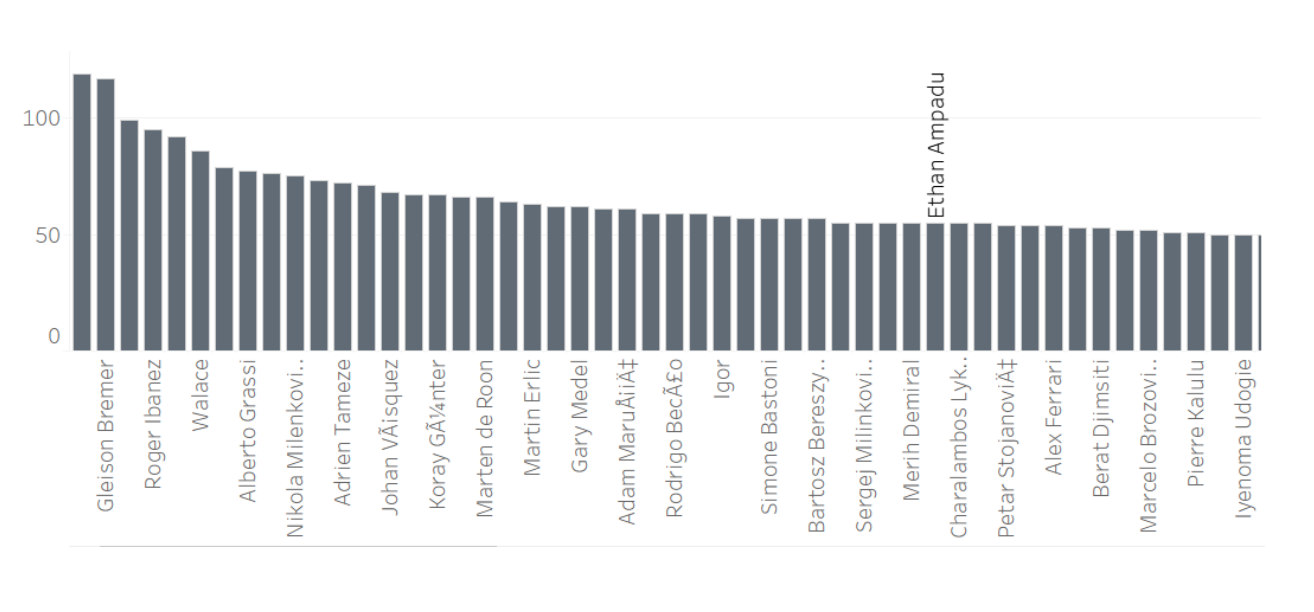 Passing
Chelsea completed 23,179 passes in the 2021/22 Premier League season, bettered by only Manchester City and Liverpool. 2622 of these passes were by Thiago Silva who played at the Centre-Centre Back position in Tuchel's back three. 
Ampadu attempted a total of 1156 passes in Serie A last season and completed 866 of these, resulting in a 75 percent pass accuracy. This accuracy is not as high as the other players in the dataset, a possible reason being a considerable amount of players who played the entire season at the defense.
However, the progressive distance of the entire passes made by Ampadu also barely misses out from the average i.e 6838 yards. 
Out of all the teams in the Premier League last season, Chelsea completed 4th most long passes. Taking a look at Ampadu's numbers for long passes, it is observed that his long pass success % falls well below the average of 65.27%, at 53.30%. 
Given the intensity of the Premier League, if Ampadu plays he will have to encounter a lot of pressing by the opposition. Ampadu does well in this regard having completed 185 passes while being pressed by the opponent in the Italian league last season, the average being 163 for the midfielders and defenders who played at least 1500 minutes.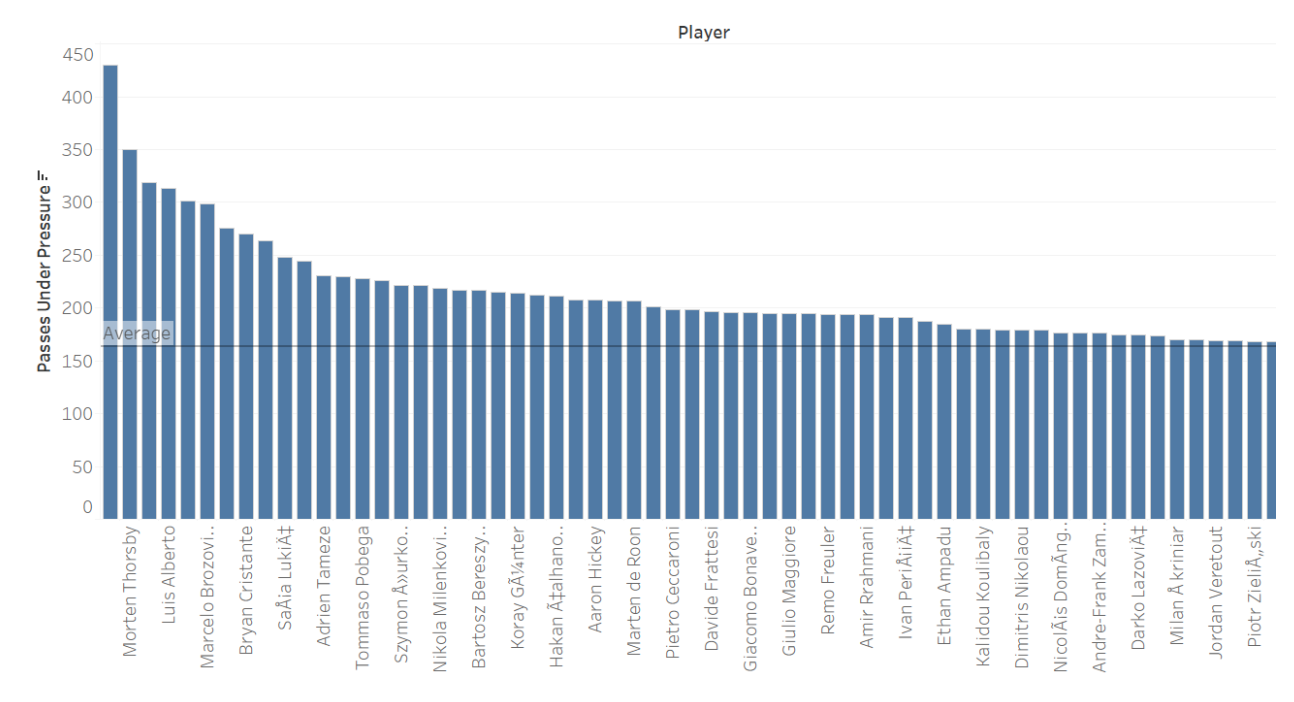 Possession 
Since the arrival of Thomas Tuchel, Chelsea have become a more possession-based side, keeping an average possession of 62.2% last season in the Premier League; only Manchester City and Liverpool had more. Playing in Chelsea's backline or midfield will require Ampadu to be exceptional with and on the ball. 
When it comes to carries per 90 and the total distance the player moved the ball while controlling it (any direction) per 90 minutes, Ampadu's numbers are on the lower side as compared to the other players in the dataset. This potentially indicates that Ampadu does not keep the ball at his feet as much as the other players.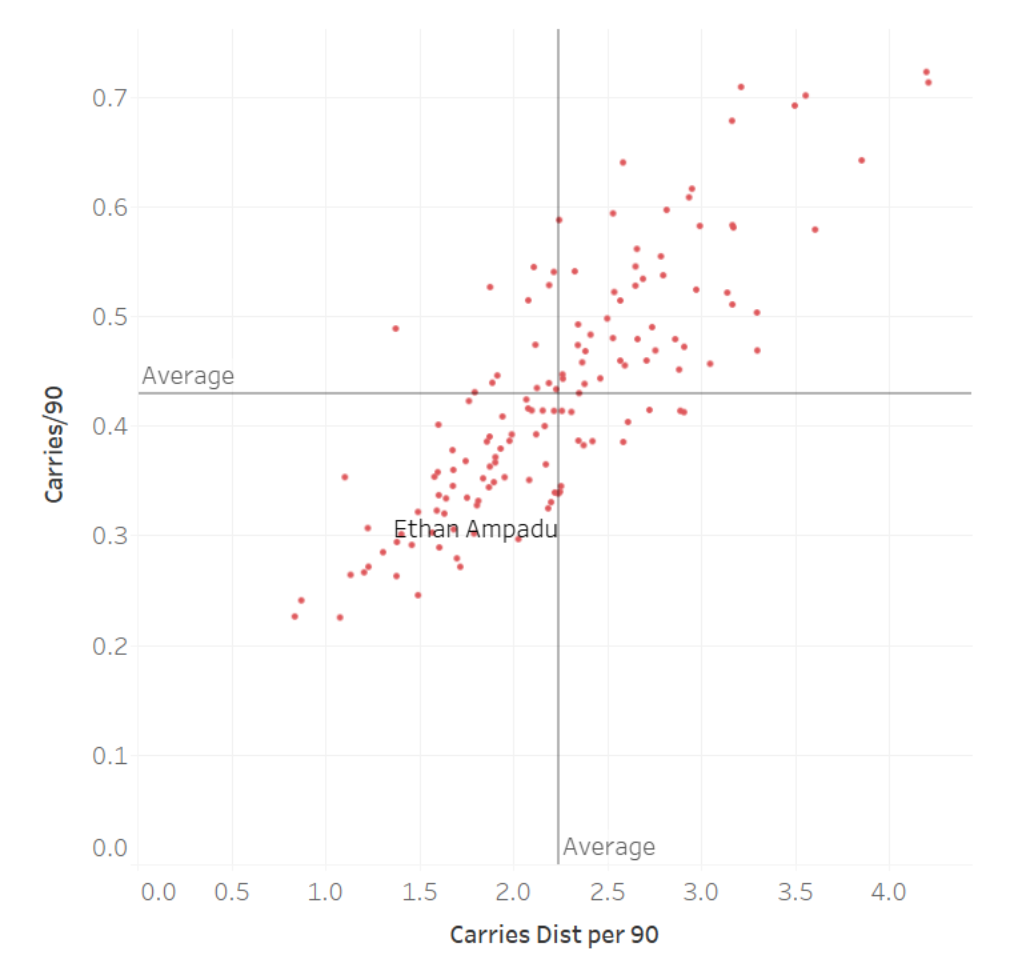 Although it generally is not expected of a center back or a defensive midfielder to progress towards the opposition's goal as compared to the other players on the pitch, it is worth taking a look in order to obtain a further idea of Ampadu's profile.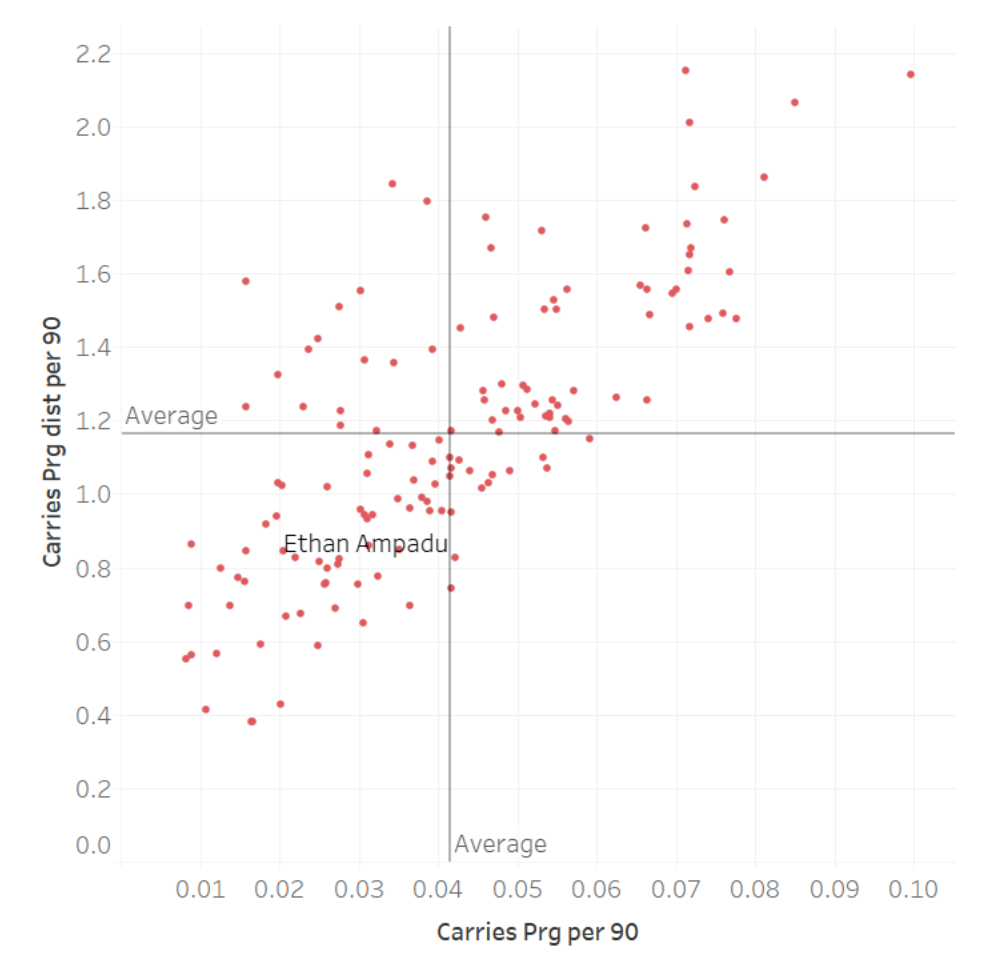 In the graph, the Y-Axis is the total distance in yards the player moved the ball with his feet towards the opponent's goal per 90 whereas the X-Axis is the no. of carries that move the ball towards the opponent's goal by at least 5 yards per 90.
It can be argued that the average for both measures is high because of the midfielders in the dataset. However, even out and out defenders like Milan Skriniar, Matheus De Ligt and Alessandro Bastoni outscore Ampadu in this regard, keeping in view that Ampadu played the majority of the games as a DM. 
Conclusion
Chelsea are still chasing another center-back signing after Kalidou Koulibaly's arrival, with Leicester City's Wesley Fofana heavily linked, whilst they have yet to complete the signing of a defensive midfielder: as such, Ethan Ampadu could stake out semi-regular minutes in either position, providing a solid rotational piece in what looks to be another congested schedule of fixtures for the Blues.
Thomas Tuchel has deployed Ampadu at the middle center back position in pre-season and considering his defensive skillset and his ability to play multiple positions on the pitch, he could provide an option for Tuchel to switch to a back four in between games and offer a solid, balanced profile at the back following Levi Colwill's loan departure to Brighton.
It remains to be seen whether or not he goes out on a fourth loan spell, with Serie A side Spezia reportedly interested, but should he choose to stay at Stamford Bridge and fight for his place, don't be surprised if Ethan Ampadu becomes a useful rotational piece for Tuchel's Chelsea in the build-up to the 2022 FIFA World Cup.
By: Mohammad Haris / @m_harriisss
Featured Image: @GabFoligno / Darren Walsh – Chelsea FC