In the 17th minute of Spain's 2022 FIFA World Cup qualifier against Sweden, the ball ricocheted out to Gavi deep in his own half. An array of yellow shirts swarmed the La Masia product, trying to press and harass the 17-year-old – probably backing their chances against a midfielder that has barely touched manhood.
With all the swagger of a player in his prime, he shielded the ball while shrugging off the Swedish player, leaving him sprawling around on the floor like a toddler. Then, in a desperate action, another yellow shirt hung his leg out to try and dispossess the Spanish midfielder, but it was too late for that.
Gavi did not even view that as a challenge, the midfielder saw this as simple as a hurdle; something to get over but one that he just jumps over with ease, and he danced around the attempted tackle. In one magnificent action, he put the ball onto his right, then back onto his left, before leaving the Swedish player for dust and driving his side up the pitch. 
This is a classic Barcelona product: love the ball, protect the ball, demand the ball. Don't fear pressure, embrace it. Back your technique, vision, and team that you will keep the ball moving in the right direction. Gavi, at only 17 years of age, is not just the next La Masia product. He will be the next worldwide phenomenon. 
This might appear a big statement for someone that has only played 14 games at club level, but one that will make sense if you watch the youngster. Despite having relatively little experience for Barcelona, he has already played four times for Spain. There is no limit as to what Gavi can become.
Positional Sense
As is customary of a Barcelona product, Gavi's tactical understanding of the game is already at very high levels, especially in his positional sense. He always has an eye for where the space is to generate passing opportunities and overloads. Typically, he is a player who thrives in the middle of the pitch, but you will see him take up different zones throughout the pitch, adapting to his teammates and where he believes he can hurt the opposition. 
This is what makes Gavi the future of Spanish football: his true identity is still yet to be discovered. He can become a six, an eight, a ten, or a wide player. His technical ability, mixed with his dynamism, means he has a lot of wiggle room to be tactically versatile. 
Let's look at his fantastic performance for Spain against Sweden where he started on the left of a midfield three. In the image below, Gavi has offered himself as a safe passing option on the left touchline. It's a simple movement, but it's a very tidy bit of positional play.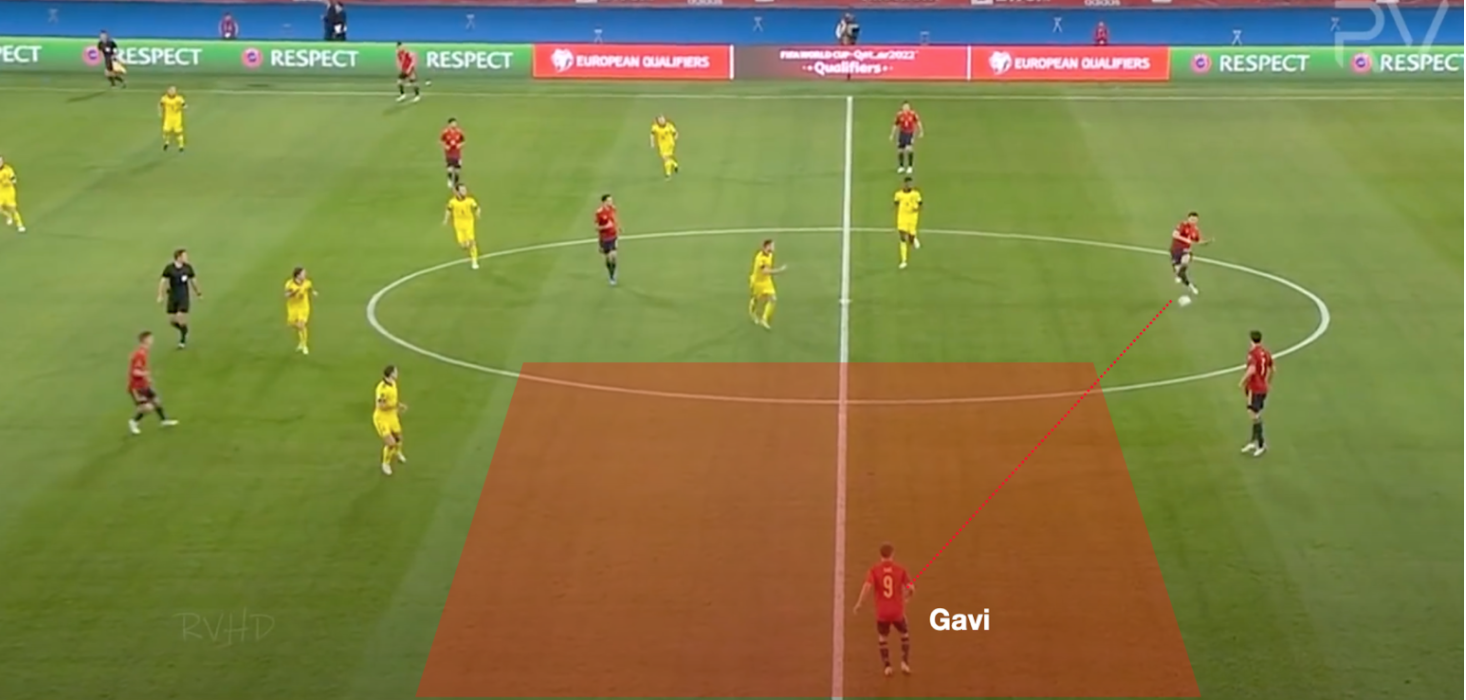 Jordi Alba, at left-back, has moved forward high up the pitch – warranting attention from Sweden's players. This, as a result, has left a big amount of space which Gavi has spotted and taken up. 
Gavi, due to his dynamism, will warrant attention which means he can draw Sweden players out of their block. It also allows Alba, in this example, to stay high and keep width.  It's a simple action but shows he is willing to drop into deep areas in the first phase of the build-up to progress the ball; a dangerous asset to have for a top side who will come up against solid deep low-blocks often. 
Now, what makes Gavi's positional sense so valuable is that he is comfortable, and very good, at taking up spaces beyond a first press and between lines. He has noticed the potential line-splitting pass and has situated himself perfectly between the two Sweden players to make the pass for Alba as easy as possible.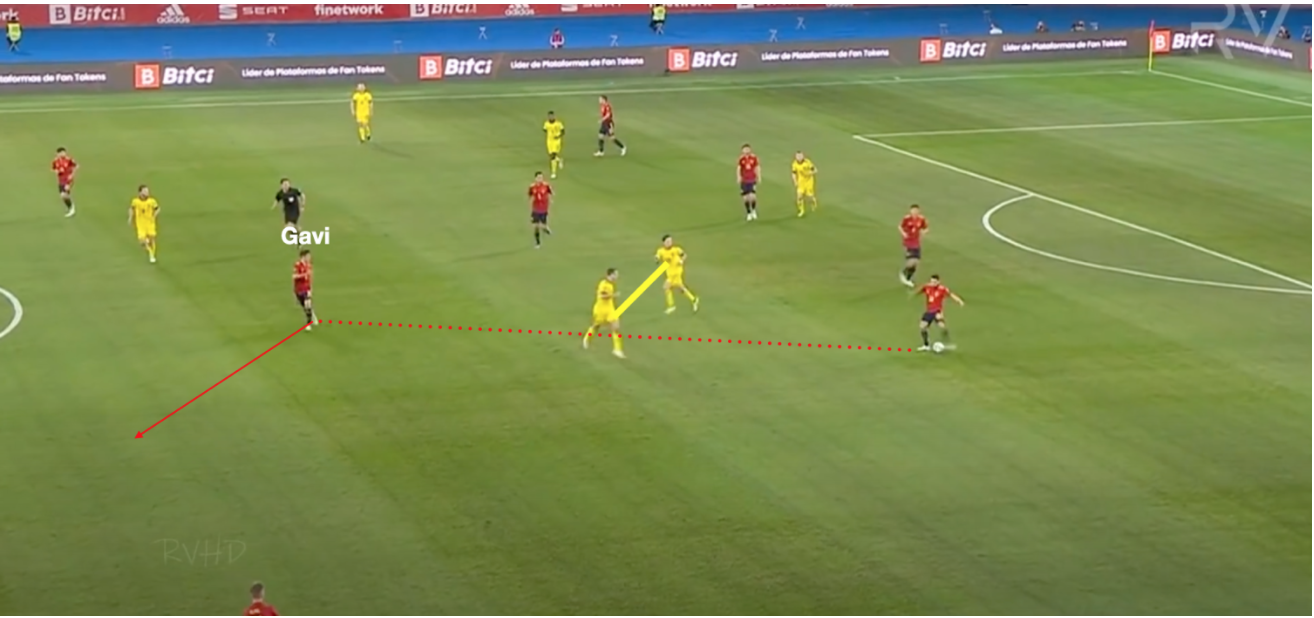 Below is another example of a similar situation, but this time in a much more advanced position in the pitch. Again, he has situated himself beyond two Sweden players, perfectly in their blind spot and where he can receive the pass. 
He is the dangerous 'square' between centre-backs and midfielders where chaos can now begin: defenders jump out, midfielders squirm back. At 17 years old, to be able to pick up different zones across the pitch effectively is so eye-catching.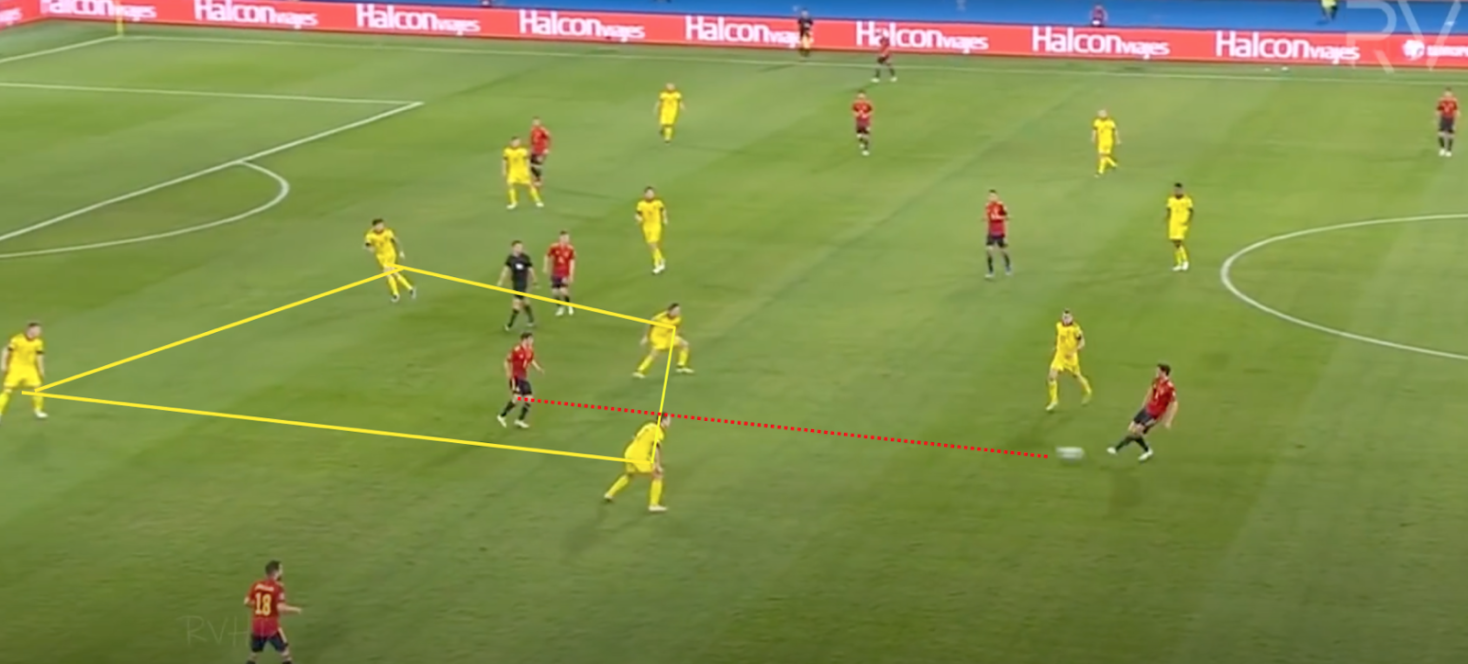 Most deep-lying midfielders don't have the ability to play between the lines and vice versa. Possibly even more baffling is that he has even played for Barcelona on the right-hand side of a front three. Against Granada, like a winger in his prime, he put in a great ball for Ronald Araujo who levelled the game. 
On the Ball
Alongside the positions he picks up, Gavi is very smooth and slick with the ball. In typical La Masia fashion, he is good at recycling possession and progressing the ball through forward dribbling or a penetrative pass.
Gavi is extremely press resistant. He does not panic or allow pressure from the opposition to stop the flow of his game. In fact, he almost invites in it, backing his technical ability to get out of the situation and keep the ball flowing. A classic La Masia student.
In the example below, Gavi is being pressed intensely from behind with a player in front of him also ready to step in. Instead of trying to buy a foul or panic, he already has eyes for the unvacated space ahead of him and how to get there.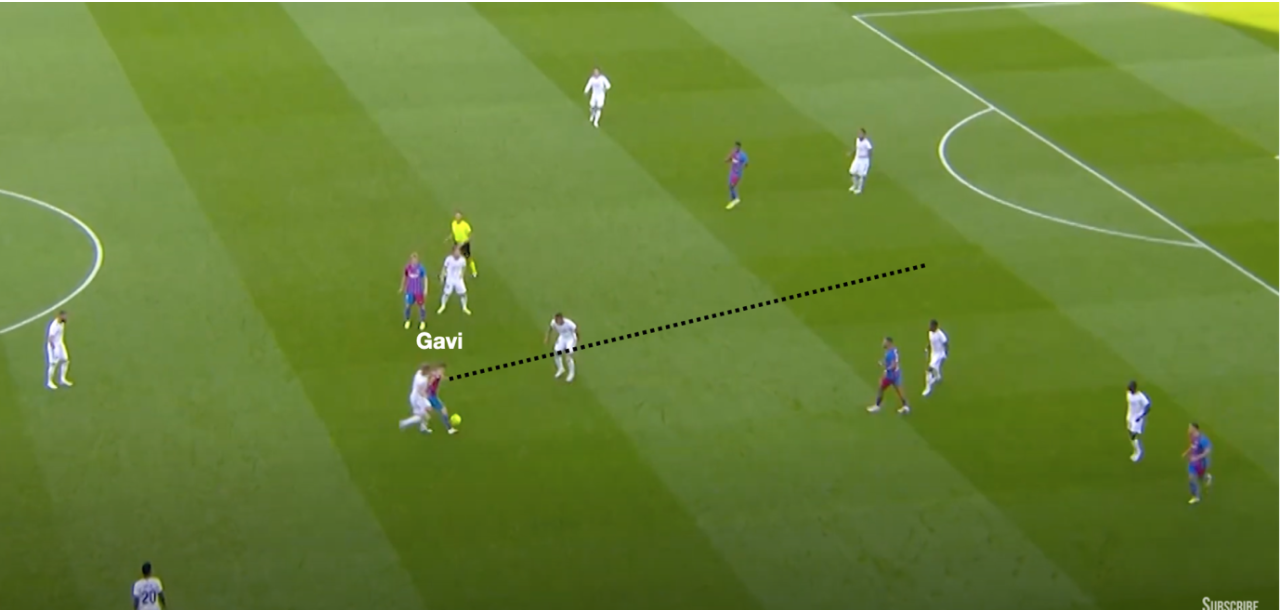 The 17-year-old does well to roll into Memphis Depay's path, who flicks it around the corner……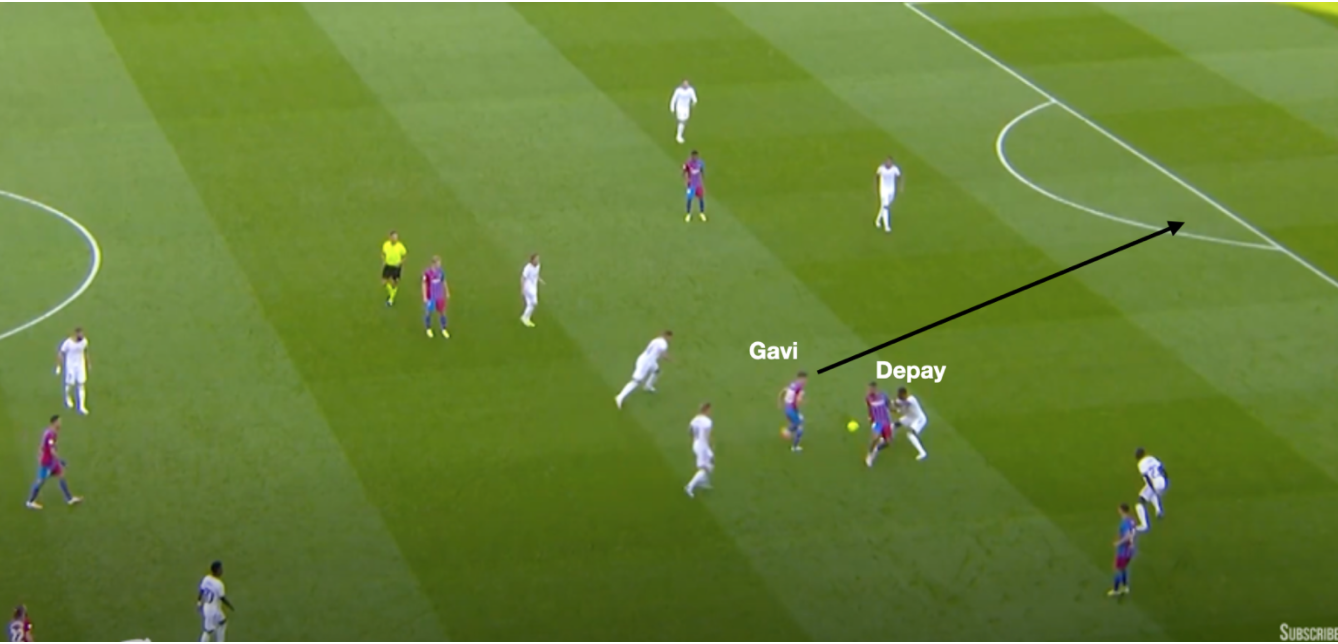 Which then leads to this position below, where the opposition are stretched and extremely vulnerable. Barcelona have three runners; they are in a good position to create a very dangerous chance, all due to Gavi's forward-thinking decision-making under pressure.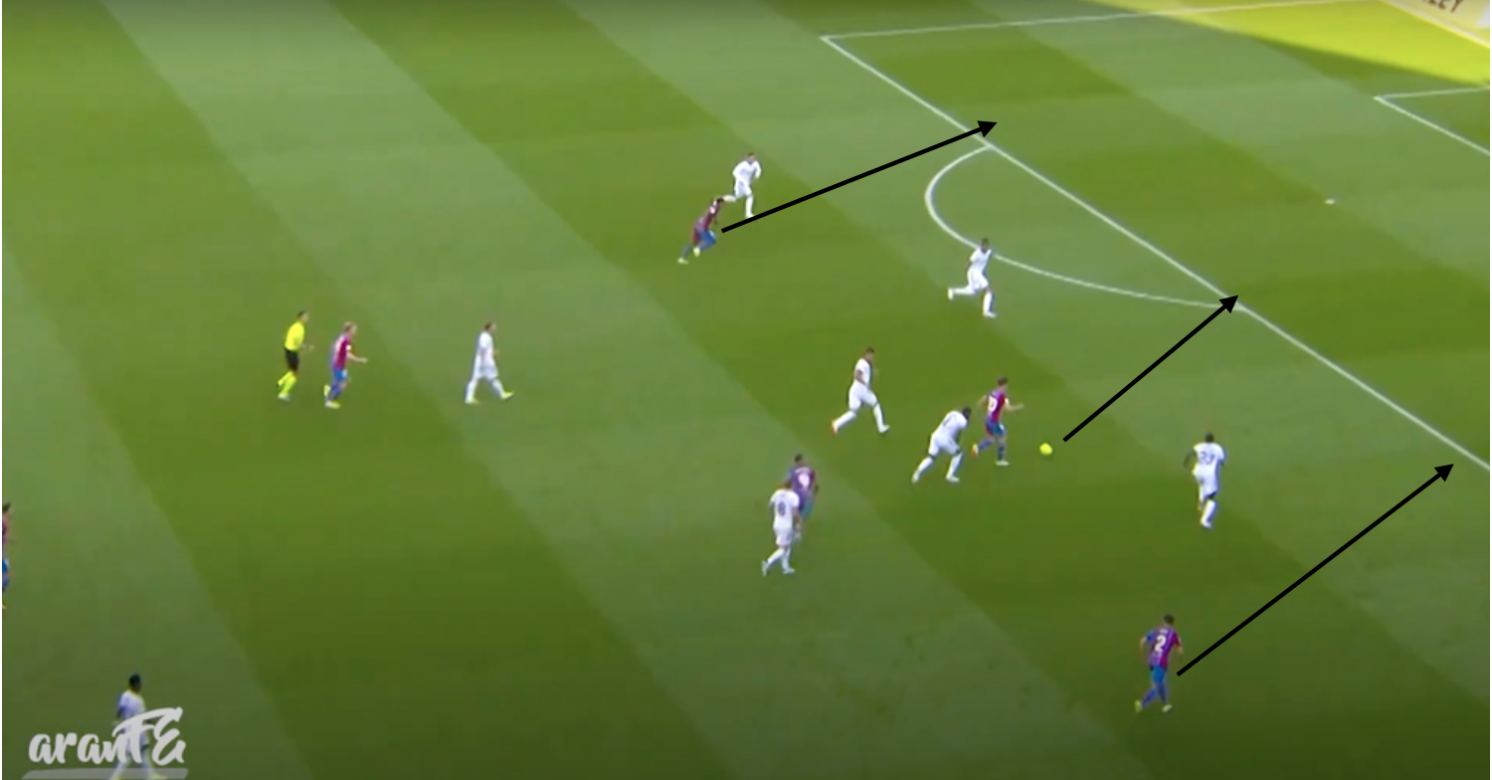 Photos won't do Gavi's progressive dribbling justice. Here are two examples below, including the outrageous bit of footwork mentioned at the start of the article:
Quick feet from Gavi ⚡️🇪🇸@HisenseSports | #EQSkills | #WCQ pic.twitter.com/DQ05I5iJUY

— European Qualifiers (@EURO2024) November 15, 2021
🤔 How good is Gavi?@FCBarcelona | #UCL pic.twitter.com/hc61WmHvic

— UEFA Champions League (@ChampionsLeague) November 8, 2021
This sort of ball-carrying also sets him apart from other youngsters. It will start meaning that the opposition will double up on him, as he can drive his side 30-40 yards up the pitch: a trait which should not be looked over. 
Of course, Gavi also has the ability to pick out a pass. He is very comfortable at playing cute, short passes in more give-and-go sequences to progress the move forward. Gavi also switches the ball out well to keep the tempo ticking and stretch the play. Against Greece, in a World Cup qualifier, Gavi left the game with not one misplaced pass. 43 out of 43.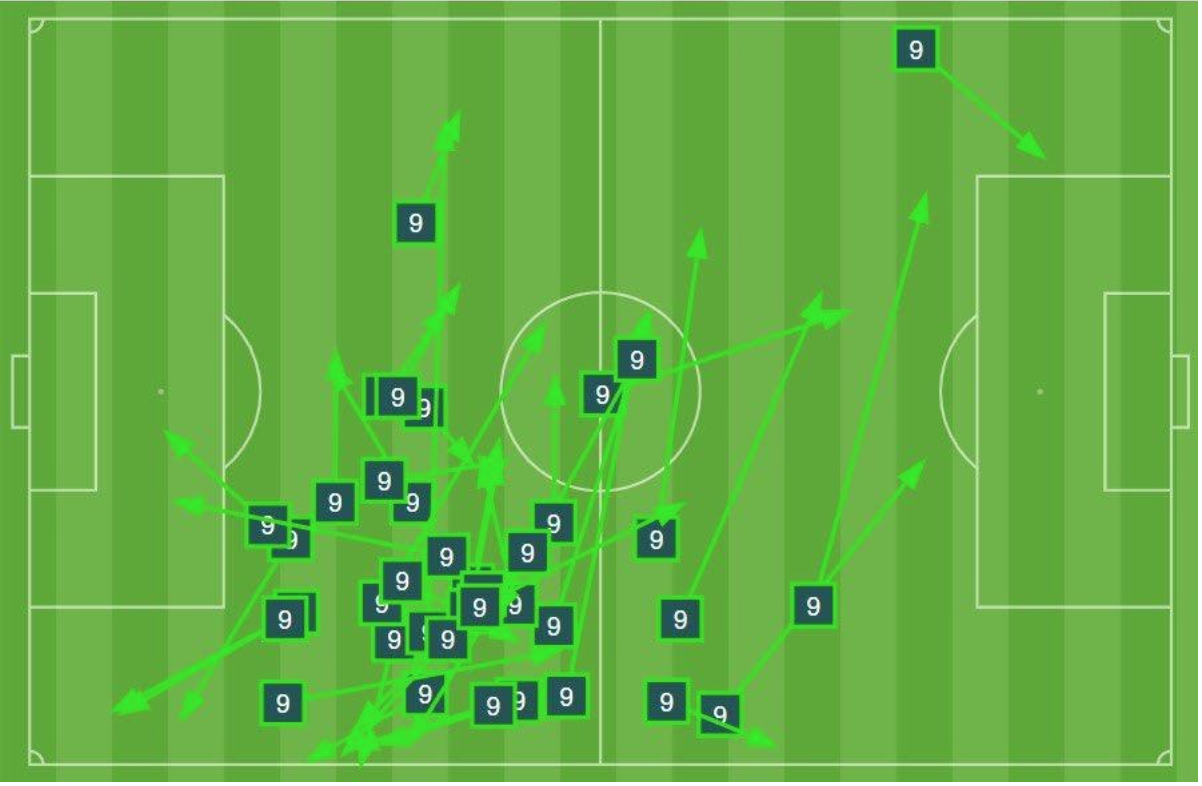 Photo via @AlexTruica on Twitter
It is also worth mentioning that Gavi is very two-footed. He is very comfortable to shift the ball onto both feet, which is a useful asset – it means he can create more angles and opportunities with his passing and dribbling.
Off the Ball
This is where Gavi really does start to stick out like sore thumb. His work off the ball is so impressive; the 17-year-old will often get himself around the pitch, winning duels, and stopping potential attacks. Against Sweden, he won more duels than any other player (10/15). A timely reminder that we're talking about a player here who is merely touching adulthood: he was born in 2004. 
Below is an example. Sweden could potentially be in a good situation; they are pass the midfield line with only the defence in front of them. Spain's defensive line is quite high so a runner behind  could be very dangerous.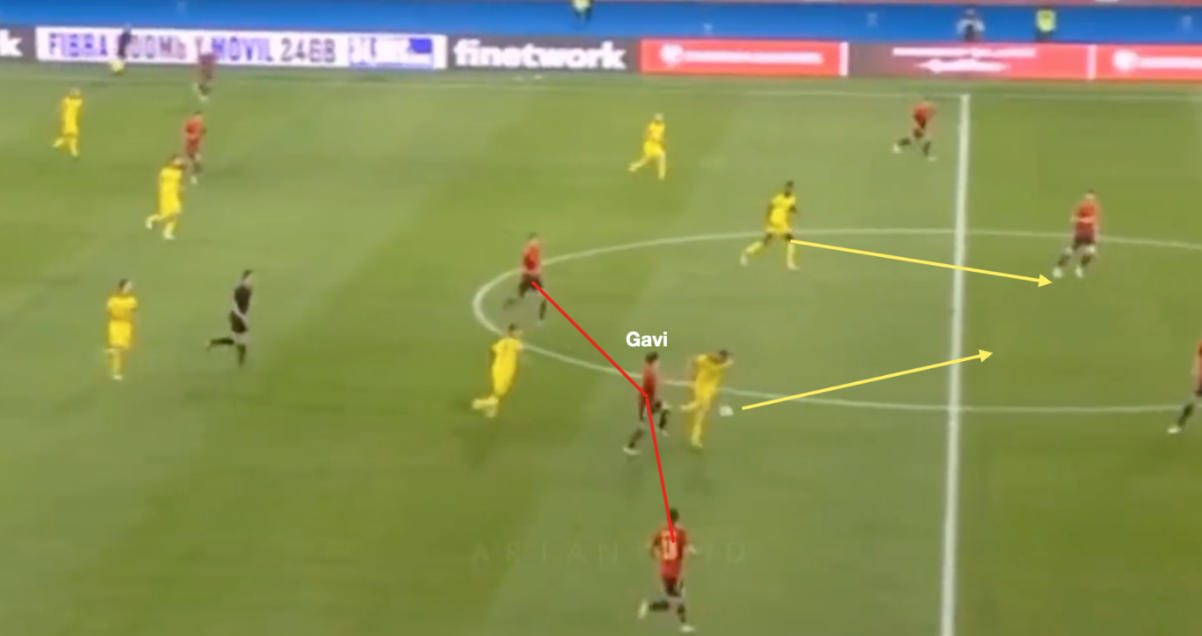 However, there was no need to worry when Gavi is on the case. Just after that photo, he conjures up all his tenacity to lunge in and steal the ball away: an excellent bit of defending that surprisingly isn't a rare sight.
In the two images image below, Gavi stops a certain goal. Barcelona should concede here, the ball is in the box and there is a player that, with the right pass into his feet, can't miss. Again, the 17-year-old just gets in front and pokes the ball away from danger: another brilliant bit of work off the ball.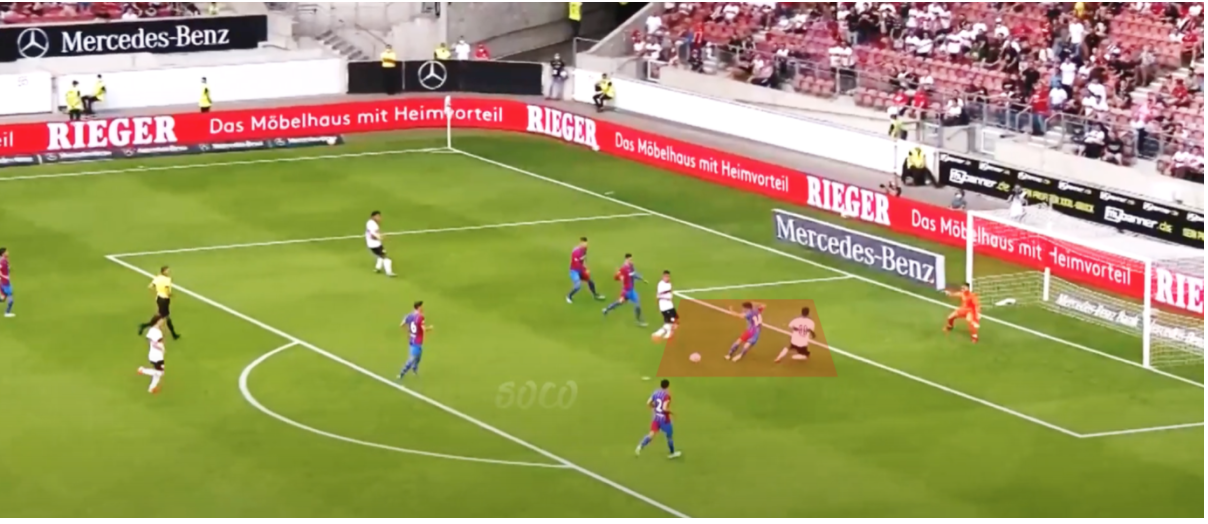 Despite being a staple of a La Masia artist in his work on the ball, the 17-year-old has a rather refreshing bit of grit, aggression, and tenacity with his defensive work that you rarely see with players so technically gifted. He is unsurprisingly high for progressive passes received and carried, but he also holds impressive numbers in blocks and pressure per 90 minutes.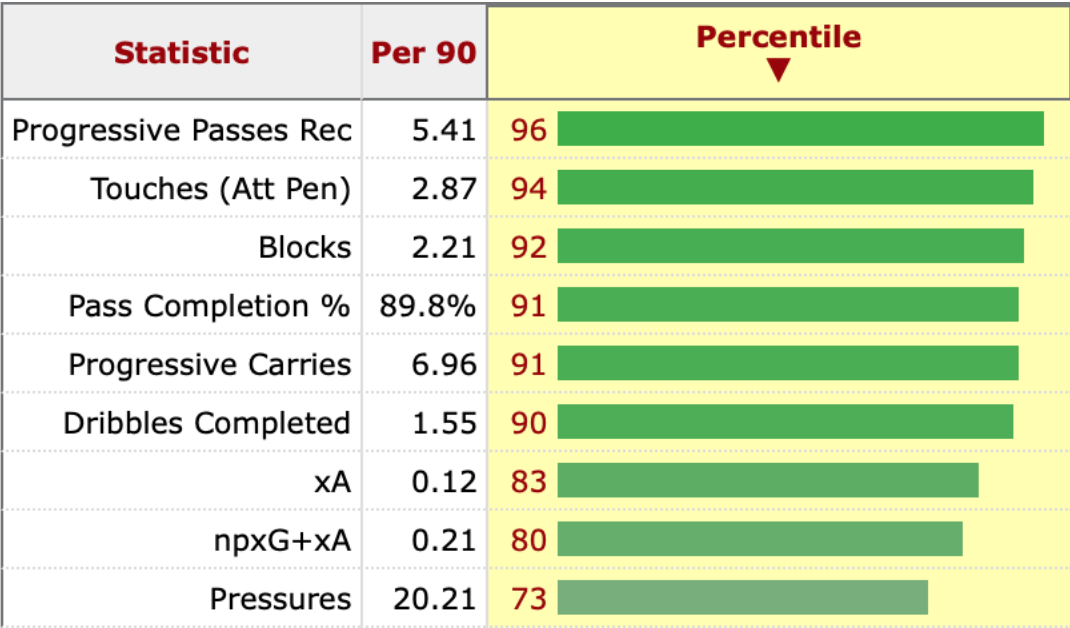 Photo via StatsBomb by Fbref
This all leads to the point that Gavi could work in a high-energy pressing outfit. Gavi truly has it all. His development has only just begun but you feel now under new manager Xavi – the king of La Masia and one of the best midfielders of all the time – you feel like the 17-year-old is destined for the stars. 
By: William Furness / @w_furness1
Featured Image: @GabFoligno / Fran Santiago – Getty Images