Player Analysis: Gianluca Scamacca
Serie A has enjoyed a resurgence in recent seasons, with Atalanta and Roma impressing at different levels in Europe and AC Milan, Inter Milan, and Napoli engaging in a tightly contested title race this campaign.
Among the many reasons for the league's rise has been a crop of exciting, young Italian talents playing across the division. 23-year-old Sassuolo striker Gianluca Scamacca is arguably among the most unique and talented of these Italian prospects. 
Playing as a lone striker in either a 4-2-3-1 or 4-3-3, Scamacca has netted an impressive 16 goals in 36 Serie A appearances and ascended as one of the most well-rounded center-forwards in Italian football.
His 6′ 5″ frame gives him a unique physical and aerial threat compared to most defenders which he uses to full effect. He wins 55.7% of aerial duels, placing him in the 95th percentile among forwards in Europe's top five leagues.
The Underlying Stats Behind Arsenal's Progress Under Mikel Arteta
Such dominance is a reflection not merely of Scamacca's physical build, but also of the intelligence with which he uses his body. He is unafraid to be physically abrasive and uses his arms and upper body to hold back defenders and create space to win aerial duels.
His movement and anticipation of the flight of balls are excellent, allowing him to arrive in the optimal position to win headers be it from goal-kicks or crosses. Scamacca also has superb chest control, giving him an added way to make long balls stick. 
To complement his range of aerial abilities, the 23-year-old is a superb ball striker. He releases his shots quickly, rarely requiring many touches of the ball to control it and create an optimal shooting angle. Scamacca is also an incredibly powerful shooter, capable of scoring from a wide array of areas across the pitch.
It's one of the reasons he has taken free-kicks for Sassuolo and is encouraged to come outside the penalty area to receive the ball. At times, he can be over eager to let loose from distance and consequently takes shots from suboptimal positions. However, Scamacca's shooting technique and ability are generally an invaluable asset to Sassuolo's attack. 
Despite Scamacca possessing some traits of an orthodox target-man, he is surprisingly skillful and creative. The numbers do not necessarily bear this out: he didn't record an assist in Serie A and is below average for metrics such as progressive carries, carries into the penalty area, shot-creating actions, and progressive passes.
He may not be the kind of forward who can create chances for teammates. Rather, Scamacca's creativity shows through his ability to improvise when finishing chances or dropping deeper to link play.
In situations where other strikers of his physical mold would lack the balance, agility, and technique to resist opposition challenges or get a shot off, the Italian shows an exhilarating range of skill which makes him unpredictable.  A good example of this is his first goal against Genoa during Sassuolo's 2-2 draw with them in October.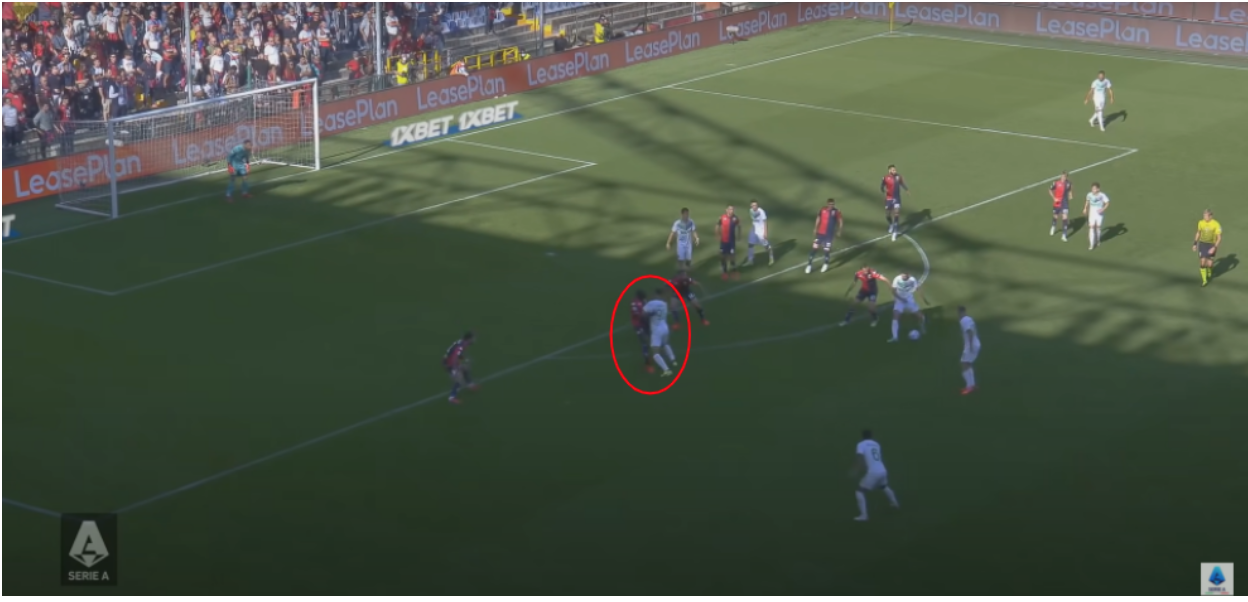 As the ball is being circulated at the edge of the box, Scamacca can be seen fronting up against a defender to attack the space between two of Genoa's defenders and pose as a passing option for a teammate.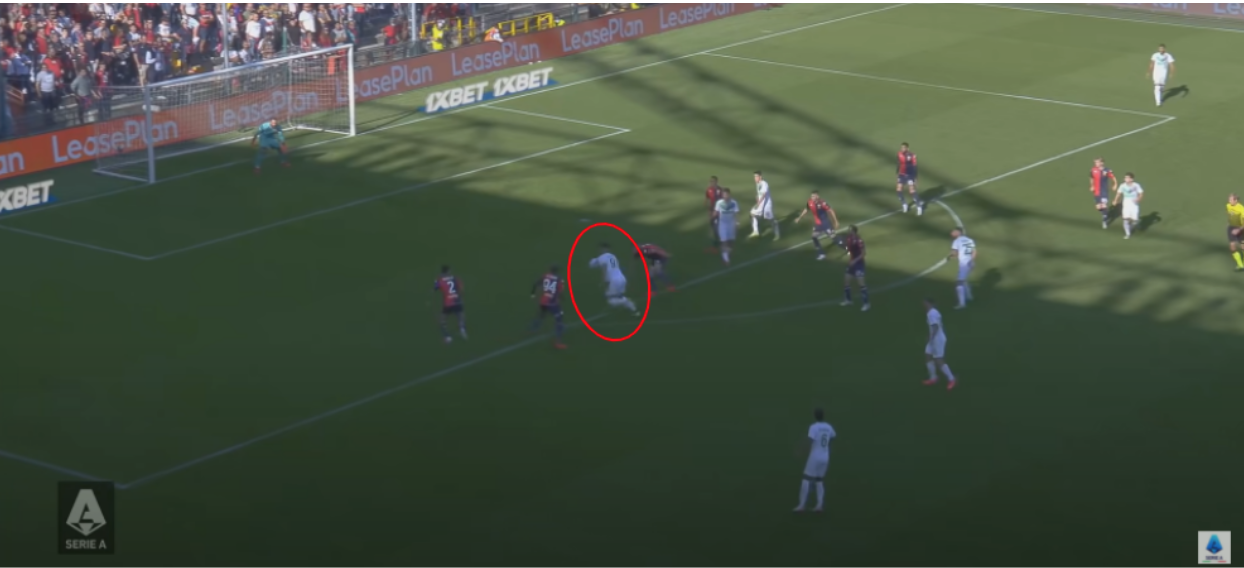 Here, we can see Scamacca successfully exploiting the space he created with his physicality and then controlling an imperfect pass with his chest.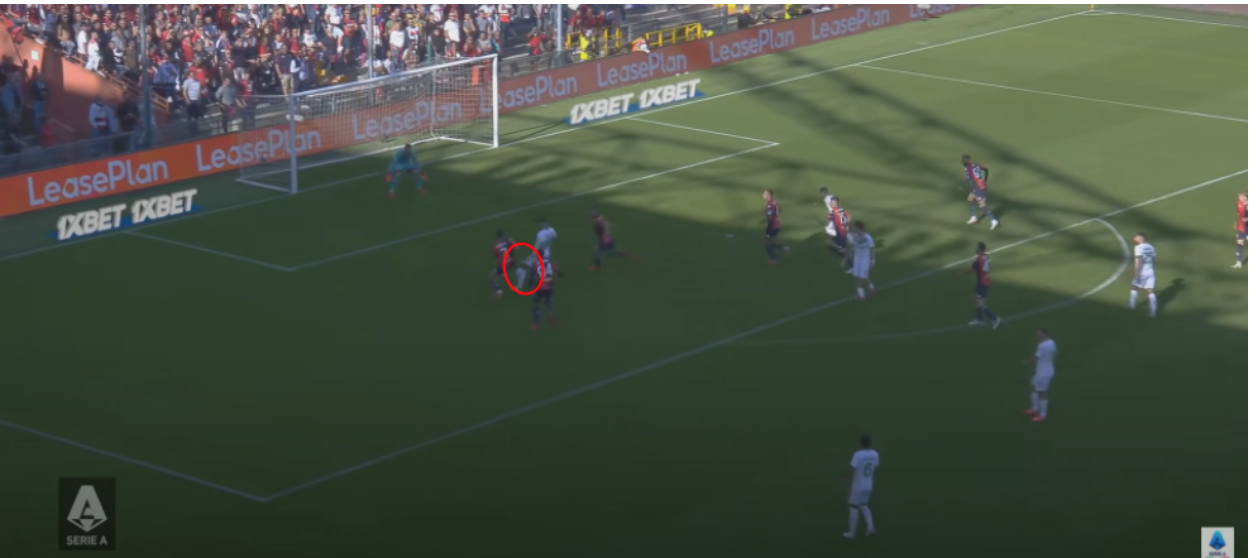 This is the part of the goal that is extraordinary. Knowing he is being closed down on either side, Scamacca successfully controls the ball from his chest, opens his body, and uses the top of his foot to lift the ball over the Genoa keeper to score. The power he generates from the lift is uncanny, particularly in the circumstances from which he is striking the ball. 
Having the vision and ability to execute that type of strategy, combined with the physical and technical traits he showed to arrive in that position in the first place, is what makes Scamacca such a unique and exciting player. His Sassuolo career thus far is littered with instances of surprising innovation and skill that confound opposition defenses and inspire fans. 
The last noteworthy aspect of Scamacca's play style is his defensive work rate. He works incredibly hard out of possession, either shifting across to cover passing lanes into midfield or harrying center-backs. He is especially strong at stopping opposition central defenders from carrying the ball forwards, anticipating when they will, and closing down space superbly. 
Scamacca is still an unpolished forward. He is prone to giving the ball away and can sometimes go through periods within games and across a season where he fails to influence the game as much as he could. Yet he is a truly unique striker whose versatility could propel him to the highest echelons of the game. He's rugged and combative, yet possesses a subtle yet decisive amount of deftness and skill. 
He has recently extended his contract at Sassuolo, which is likely the best place for his development in the short term. In his eventual move to another club, he would likely do best for a team that utilizes a direct, counter-attacking approach where his aerial dominance and improvisation could thrive. For now, Gianluca Scamacca remains one of the most fun and interesting attacking prospects in Serie A. 
By: Vishnu Anandraj /@vishnua711
Featured Image: @GabFoligno / Getty Images