Player Analysis: Ianis Hagi
In Romania, this is the order: God, Sarmales, Hagi. Many know too well the experience of collapsing under the pressure of a legendary father. Marcus couldn't scratch the surface of Michael's legacy, and Enzo, Luca, and Theo have miles to go to before they're considered alongside Zizou. However, pressure can make diamonds, Steph with years still left, has eclipsed all that Dell achieved, and Cesare is now in the shadow of his son, Paolo "Il Capitano."
Bettering the "Maradona of the Carpathians" resume is a near-impossible challenge, one that Ianis should keep out of his mind. What he does have at the tender age of 22 is the relevant skills and appropriate conditions in Glasgow to spring himself into the upper echelons of world football and into the eternal folklore of Romanian football.
Ianis Hagi broke out under his father's tutelage at Viitorul Constanta in Romania's Liga 1, where he made his debut as a 16-year-old in the 2014-15 season. Operating and developing in the first team's peripheries at Viitorul, Hagi had shown enough to be subject of a £1.8 million transfer to legendary Italian club Fiorentina. He spent just over 18 months toing and froing between the first team and the U-21s.
After the uninspiring Italian adventure, Viitorul threw a lifeline to Hagi, which saw him return to his father and home, whilst Fiorentina turned a profit of £700,000. The return proved fruitful and a critical turning point in his young career. A productive 18/19 campaign saw him chalk up 14 goals and 8 assists as Viitorul finished third. Perhaps more important than the numbers was Hagi's reintroduction to the transfer rumour mill, which saw him linked with German giants Bayern Munich and Borussia Dortmund.
That sort of move never materialised, but Hagi did leave Romania off the back of his successful campaign and impressive U-21 Euros, landing in Belgium with KRC Genk, which saw Viitorul pocket £4.23 million. Hagi arrived in Belgium with great expectations, related both to his family name and his recent form. After a stop-start six months saw, the Romanian was loaned to Rangers with an option to purchase, as the Glasgow club needed reinforcements during a title challenge and an unfinished UEFA Europa League campaign.
After limited minutes due to a truncated season, Hagi's purchase option was taken up by Rangers, which saw him join the club for £3.15 million in July 2020. With Ianis's history dealt with, let us look at why he is quickly becoming a fan favorite and an influential cog in this Rangers side, who are making a push to finish the Scottish Premiership season unbeaten and improve on last season's Round of 16 finish in Europe.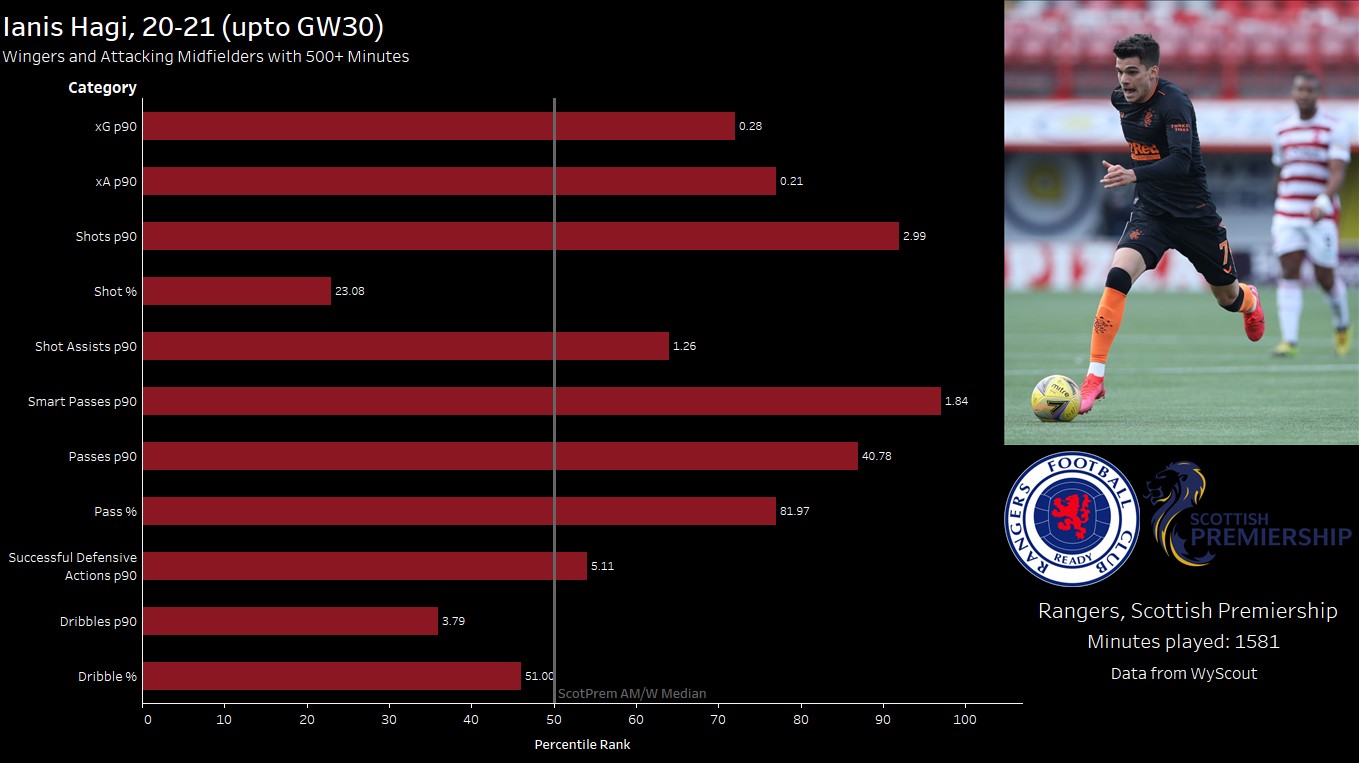 Defensive Contribution
A key characteristic of Steven Gerrard's system is the expectation of forwards to defend from the front and to remain as active and involved out of possession as in. Hagi has played behind the striker in a 4-2-3-1 but is seen most on the right of a 4-3-3, Gerrard's modus operandi.
Rangers do not deploy an aggressive Gegenpress reminiscent of German football, but instead a narrow and structured press, with the levels and intensity fluid, depending on the game's situation. The photo below is from last season's UEL campaign, where Rangers defeated Braga in the Round of 32. This photo is a perfect example of Hagi's positioning amongst the greater team press.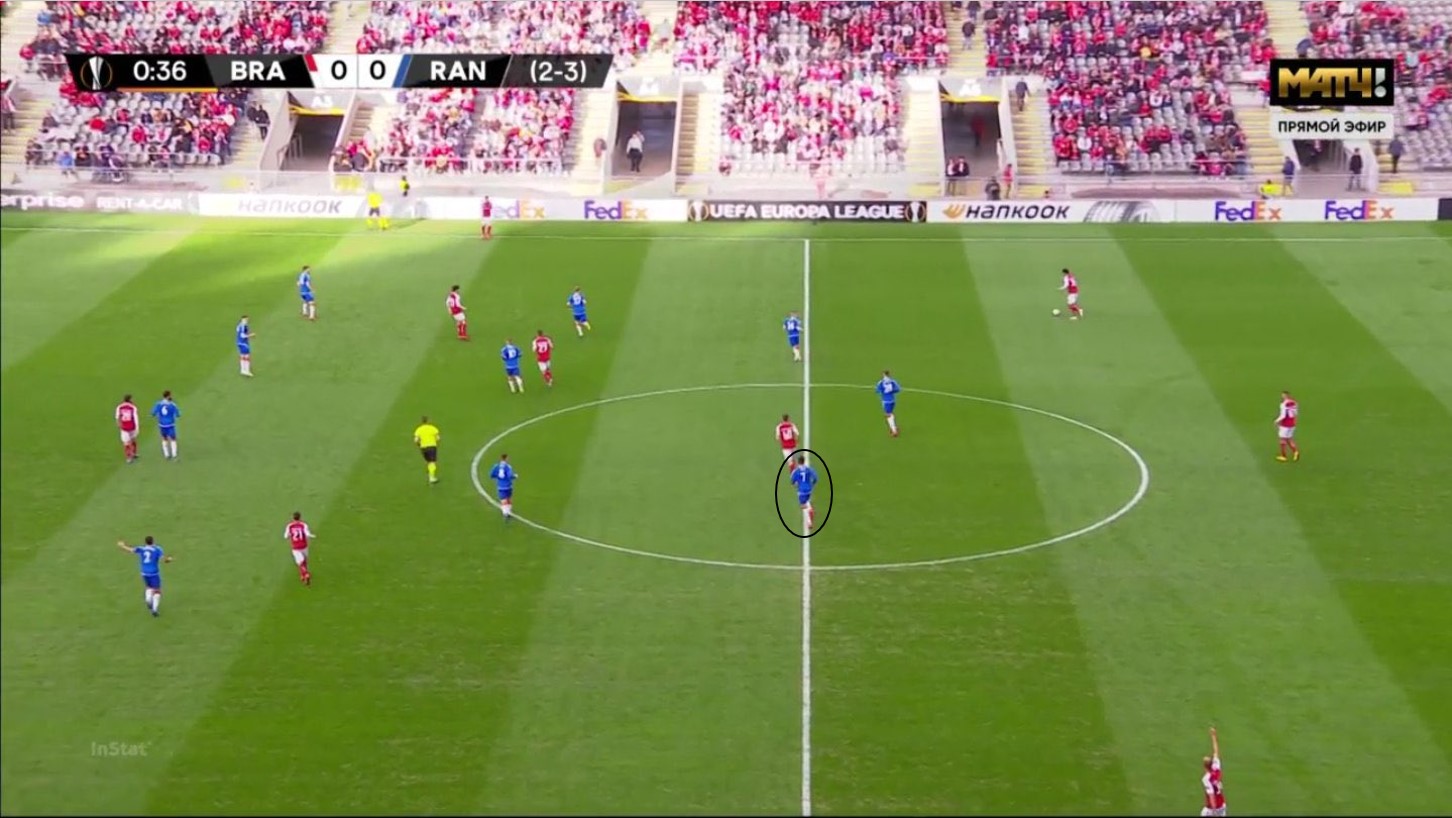 He is often tasked and seldom refuses to chase lost causes and engage in defensive duels with opposition fullbacks and midfielders. A prime example is found in the same match as the photo above. Hagi chased a dead ball with Braga defender Michel Silva, winning and lifting the ball over the defender's incumbent tackle, squaring it to Ryan Kent for a shooting opportunity.
Typically, Hagi challenges opposition left-backs and is a crucial instrument in breaking down opposition counterattacks, where Hagi's sneakily effective tackling, reminiscent of a fishhook, is utilised. Another addition to his growing multiplicity of skills. The photos below are examples of his nuisance and the pressure that Hagi applies to defenders in really any area of the pitch, with the middle and right photo showing the aforementioned fishhook style tackling.

This tackling style, when done right, allows for Hagi to kickstart counter attacks or distribute in the same action as the tackle; his name goes into the book. Overall, this technique proves useful for Hagi; however, he should only use it when appropriate, something he has struggled with, in an attempt to ward off unwanted cautions.
Hagi does not have the required frame to be a definite aerial threat, so he does not influence penalty box affairs from opposition corners. Like most wingers, he would be better placed outside the box as a lynchpin for ensuing counterattacks.
Passing 
One of the central motives for bringing Hagi to Ibrox was to address the challenges Rangers experienced attempting to break down stubborn low blocks in the Scottish domestic game. Not limited to intimate spaces and intricate passing, Hagi has also been pivotal in open play build-up, proving a vital out ball, often deferred to by Alfredo Morelos on the counterattack to add width.
Hagi's ambidexterity, touch, and timing have all been put to good use. Though one player cannot be expected to beat two compact blocks of four or five by themselves, Hagi has proven effective in picking the lock. Hagi has both been an architect and a wall when it comes to breaking down defensive lines.
What I mean by a wall is exemplified in the photo below and to the left. This match was a preseason friendly against Coventry in which Rangers ran out 2-0 winners via goals from Joe Aribo and Connor Goldson. In the image below, Hagi has received the ball straight from teammate Aribo and plays it first time to Morelos.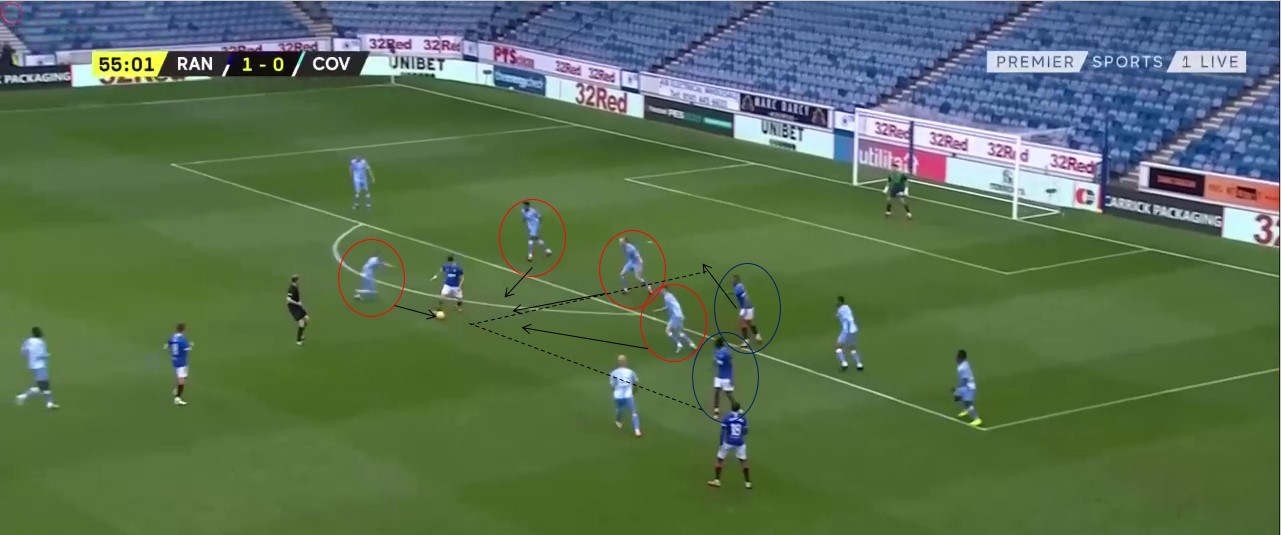 Hagi realises that a mix of his gravity and his position in relation to the goal has attracted several Coventry defenders. Instead of taking a touch and releasing, he releases it immediately; when done successfully, as seen here, Morelos is given far more space and time to get off a shot, compared to if Hagi had taken a touch or two before playing it to the Colombian.
The Romanian effectively plays first-time balls due to a mix of his touch, two-footedness and spatial awareness. When playing the architect role, He is often found threading the needle, playing high-risk, high reward passes into the Rangers runners' feet. This approach bodes well with Rangers, as they are afforded plenty of possession domestically, so Hagi is allowed to fail, as Rangers will have plenty other chances within the 90.
Despite setting up on the right side of a front three, the fluid nature of Gerrard's front three allows for Hagi and his fellow attackers to assume several positions within the 90, resulting in Hagi spending lots of time in the central channels, especially during long spells of possession.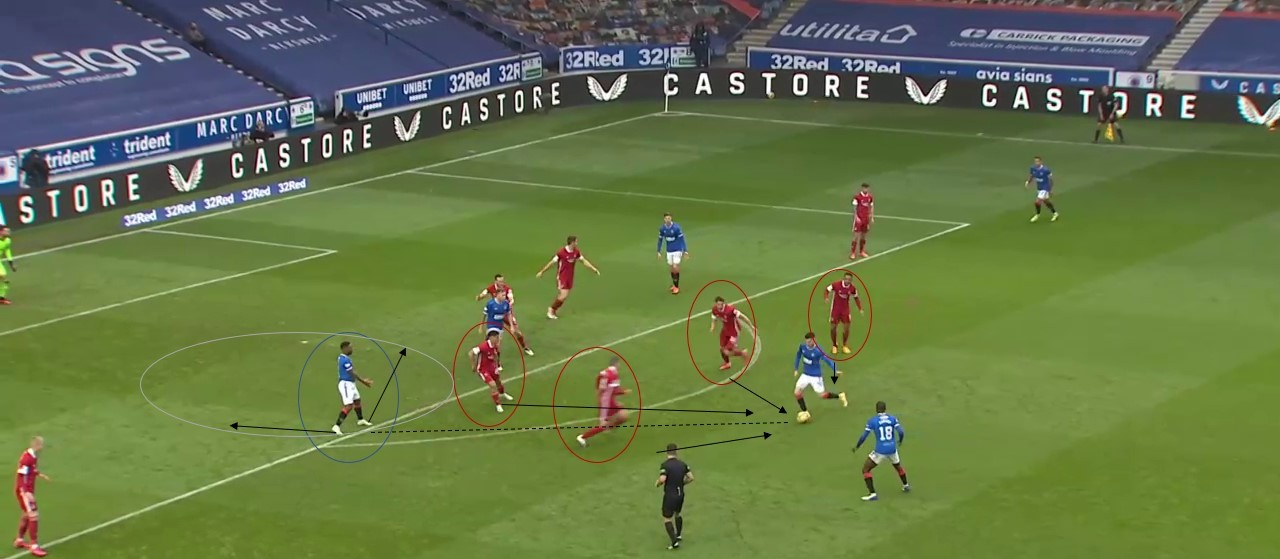 Hagi's passing repertoire is brought out in transition play as well as when play is stretched, allowing for significant space for the Romanian and the runners to manoeuvre in. The photo below is an excellent example of Hagi's approach when there is an abundance of space. This image is from Rangers' group stage match against Standard Liège this season, which saw Rangers collect three points at the Stade Maurice Dufrasne.
Upon receiving the ball, Hagi has progressed the ball to attract Standard's defenders to then slip in one of the two runners. Ryan Kent and Ryan Jack are both offering runs; however, Kent is man-marked whilst Jack is relatively free. Given the two options, often players fail to think quickly enough and end up losing possession; however, Hagi is a quick thinker and is rarely found taking too much time on the ball.
The pass is eventually played to Jack; however, a poor touch means that the play results in nothing. Regardless of the lack of end product to the scenario, this is another example of Hagi's gravity and propensity to play progressive searching balls, undoubtedly a positive trait.
Hagi's passing, regardless of space or scenario, is progressive and adventurous; this does lead to the occasional scenario where Hagi is found playing a forward pass too early into the possession or avoiding the simple pass for the Hollywood ball. With Gerrard as his coach and an accomplished mentor in Steven Davis, the minor kinks in his otherwise impressive passing range should be ironed out.
Dribbling
Hagi's dribbling is not reminiscent of a traditional winger. Compared with Rangers' other wide man  Ryan Kent, Hagi is slower, less direct, and less adventurous. Hagi dribbles far more like a midfielder than a winger, preferring fewer, smaller, intricate touches over the long direct runs characteristic of the position. This is partly due to Hagi's lack of pace; he is by no means slow but does lack the speed of many of his positional peers.
His trickiness was exemplified against England in the 2019 UEFA European Under-21 Championship. His use of a scoop turn helped him beat Fikayo Tomori, a larger and quicker defender, then slotting it past Dean Henderson from over 25 yards. England would equalize shortly after via Tammy Abraham, but Romania sealed a 4-2 victory in Cesena via a late brace from Florinel Coman and would eventually top the group after a stalemate against France.
The 22-year-old's ability with both feet helps when dribbling at the opposition as the defender cannot push him to his weak foot; as for Hagi, a weak foot does not exist. He utilises a mixed bag of skills, which often let him buy space or bypass the defender. Often Hagi is seen shifting the ball with the outside of his left foot; this gives him space and often sets up a shooting opportunity, with this move preceding many of his goals.
Another positive aspect of his dribbling and movement is his ability to manipulate his body and the ball in tight spaces. Against Scotland's low blocks, this skill is particularly appreciated as Hagi is seldom afforded space and often doubled by opposition defences. Currently, Hagi compares negatively to fellow attackers in Scotland when it comes to dribbles p90 and dribble success, both below the 50th percentile, with players such as Ryan Kent ranking ahead of him.
However, although this is slightly concerning; enough flashes of quality prove to balance it out, but his consistency must improve. If it doesn't, and this becomes a reoccurring flaw in his game, he could be used in a deeper role, where expectations for dribbling are lower, however still important, especially when it comes to breaking presses. Hagi is still young and has ample time to develop skills before people write him off for the rest of his career, and ball-carrying is certainly on top of the relatively short list.
Shooting
Hagi loves to shoot, a blessing but often a curse to his teammates and fans alike. Hagi is in the 90th percentile for shots p90 but is concerningly found in the bottom 30th percentile for shot accuracy. This is more a representation of where he shoots from, not his genuine shooting ability. Hagi often attempts long-range piledrivers, which, at best, go in but often disrupt the flow of attack.
His ability to shoot with both feet makes him a difficult proposition for opposing defences as he can have a go from any angle. Despite being in Glasgow for just over a year, Hagi has already developed a signature move. St Johnstone and infamously Braga have fallen victim to Hagi's characteristic left-footed driven shots. Often after a few precursory dribbles, Hagi arrives at a spot and attempts to find the bottom corners.
The goalkeeper usually knows exactly where he is aiming; however, it's impossible to save when done correctly. When Hagi isn't scoring from outside the box, his preferred method is first-time finishes. Hagi is often found in favourable positions, making late runs into the box, requiring him to just tap it into the corners.
When his strikes are not going in, Hagi can be frustrating. His eyes light up when a sliver of space is offered, finding it too difficult to turn down the opportunity for a shot on goal. Like most, these long-range strikes usually end up wide of the mark. His shooting isn't reliable; however, what is reliable is the fact that he will try again, something equally frustrating and promising.
Using the Touchline: A Deep Dive Into Rangers's Pressing Scheme
The Romanian provides a useful option from dead balls. When behind a ball, Hagi offers both feet, infamously scoring a brace of penalties against Sint Truiden, one with each foot for Genk. Due to the formidable options of James Tavernier and Borna Barišić, Hagi has seldom found the opportunity to strike dead balls; however, he has the quality and versatility to take over the reins permanently at Rangers
It's unlikely that Hagi matches the output of his father. However, the legendary Gheorge, at 22, had just made his move to Steaua București and was 25 when he left his homeland. If Hagi can continue to impress in Scotland and develop an enviable trophy cabinet, perhaps at 25, like his father, he may get his big move.
At this point, it makes sense for Hagi to stay at Rangers. He is yet to set the league on fire but has shown top-level potential in stretches this season. A few more years around a qualified coaching team and a respected supporting cast should help Ianis propel his career trajectory back to what it was suggested years ago.
By: Patrick Caskie
Featured Image: @GabFoligno / Ian MacNicol – Getty Images