Player Analysis: James Sands
Gregg Berhalter has gotten a lot right throughout his spell as U.S. Men's National Team manager. With a generation full of talent unbeknownst to long-time United States fans, Berhalter has the privilege of the deepest player pool a U.S. manager has ever had. Encouragingly, he's given lots of this young generation debuts and put his trust in players like Borussia Dortmund's Gio Reyna and Valencia's Yunus Musah before their 18th birthdays. 
With a deeper player pool comes the berating from fans to give chances to more players who have the talent to play at the international level. James Sands was one of these players. Though not as young as Reyna or Musah, Sands made his debut for the United States in the 2021 Gold Cup at 21-years-old where his nation took home the gold medal.  
Sands was the first homegrown in New York City FC's history, an academy which has produced Gio Reyna and Borussia Monchengladbach's Joe Scally. The three played in youth tournaments together, and while Sands is their senior, they all played up age groups to help NYCFC win back-to-back u19 Development Academy trophies, the top youth tournament in the United States at the time. Sands will likely join Reyna and Scally in Europe in an upcoming window.
Despite displaying talent from an early age and making his debut for his club at just 17-years-old under Patrick Vieira, Sands' time in New York is much different to that of Reyna and Scally. Reyna left before signing a professional contract, while Scally made just six appearances across all competitions for the first team before leaving for Germany. To the contrary, Sands has made himself one of the first names on the NYCFC team sheet for a third consecutive season.
Much of what has already been said speaks little to Sands' level, yet Gregg Berhalter answered fans' pleas and gave Sands his debut this summer. Whether or not the U.S. manager expected to give the 21-year-old 90+ mins in every game bar the opener, Sands proved he was good enough, and earned every one of those minutes.
The Gold Cup gave an opportunity to plenty of players, and with World Cup Qualifiers coming up, Sands has put himself in the discussion to make future squads. With positional flexibility and expanded rosters for the qualifiers it is not unlikely James Sands will reunite with former academy teammate Gio Reyna, and maybe even Joe Scally who will be fighting to make his USMNT debut before Qatar 2022.
Style of Play/Statistical Analysis
James Sands is a case of very specific positional versatility and the stats that follow will back that up. Since his debut in 2017, Sands has almost evenly split his time as NYCFC's deepest midfielder, and as a center back for the club. While Sands can play as a center back in a back four or a back three, he's certainly more comfortable centrally in the latter.
The 2021 Gold Cup was a great showcasing for Sands' versatility in this sense. In his opening two starts (the final two of the group stage) Sands played in a three at the back formation with two wingbacks. However, with an injury to Walker Zimmerman, a center back partner of Sands', Berhalter decided to switch back to a formation many USMNT fans have seen under their manager with a backline of four for the three remaining games.
Due to his time as a midfielder, Sands is very comfortable stepping into the middle third of the pitch as a center back. Deployed centrally between Alex Callens and Maxime Chanot for NYCFC, Sands is in the top 16% of all MLS center backs in total carrying distance, and even higher in the more important stat of progressive carrying distance.
This part of Sands' game is vital to his current club for a number of reasons. Stepping into the midfield will often lead to a shift of balance in your favor centrally. This leads to the 21-year-old in the 93rd percentile of fouls drawn among all MLS center backs. He ranks in the same percentile in touches in the middle third of the pitch.
Another thing you'll often hear about James Sands is how well he reads the game, and it's been like this since he was a teenager. While there are no direct stats that can back this up, it's this feature which allows him to occupy the correct spaces in this central center back role. Without a strong interpretation of these spaces, a player in this role can often get caught out of position.
Here's an example of Sands orchestrating a ball progression after the three center backs took turns in possession with seemingly no motive to progress play. Sands picks up possession from his right center back partner before shifting it horizontally and directing the pass to a midfielder checking towards him.
Sands then steps between the midfield and forward line of Canada, makes himself available, collects the ball and plays it through the space now vacated by the midfielder who checked. No player took more than two touches, and the ball was progressed behind 6 Canadian players all orchestrated by the 21-year-old.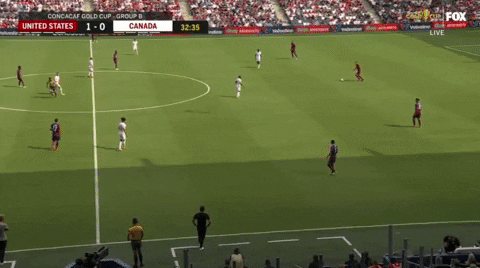 In the same game, Sands had another moment where his spatial recognition allowed for a progression of play. In this instance, it is his fullback who is in possession and did not have many great options. Sands recognizes the situation, makes himself available, collects the ball and once again sends the USMNT into the final third.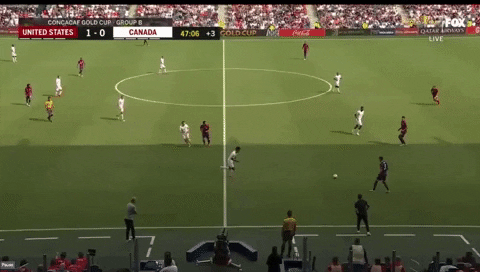 Plays like this explain why he excels statistically in passes under pressure (98th percentile in MLS) and live-ball passes that lead to a shot. In MLS in 2021, he is in the 92nd percentile in this category. His passing has improved since his debut as a 17-year-old. This was a concern for many critics in Sands' teenage years.
Sands is in the top 7% of MLS center backs when looking at completion of long passes. This is nice tool for a defender who gets a lot of touches on the ball. Gregg Berhalter, like Sands' club NYCFC, aims to build play from the back. Having a center back who can unleash a pass accurately across the pitch adds to dynamism in this system.
Sands is also more than just a ball-playing defender who aids in ball progression. He recovers the ball for his side more than 9 times per 90, good for the top 12% of MLS center backs. He's also relatively strong aerially, and a great tackler. His time in MLS has allowed him to grow from a young midfielder to a dominant center back both in and out of possession.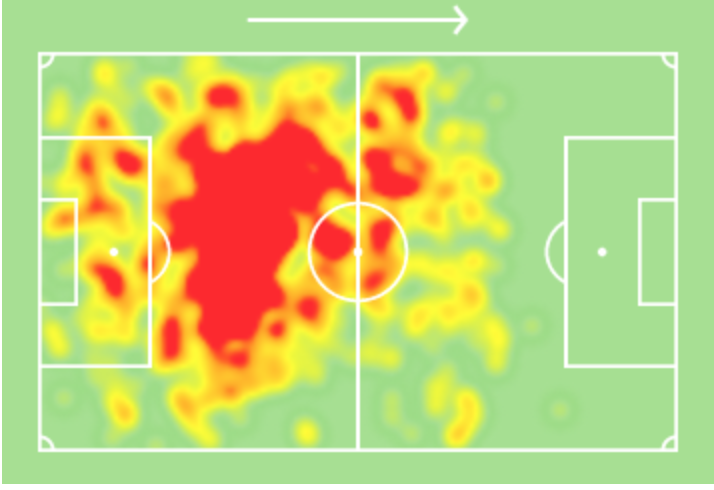 James Sands' heat map [SofaScore]
Conclusion
James Sands has proved his value for years at club level, and in his first chance to do so for the United States he exceeded expectations. With lots of important USMNT games coming up, Berhalter will need to use a good portion of the player pool he has been put in charge of. Sands has earned a chance to have a say in the qualifiers which determine if the United States will head to Qatar at the end of 2022.
Prior to that, Sands will likely join Gianluca Busio and Sam Vines, two young USMNT players who made their way to Europe after the Gold Cup. He'll be among many young MLS players who make the jump and aim to join Berhalter's men on their mission.
Prior to that, he'll finish out the season with New York City FC, where his positional flexibility has helped the club become one of the favorites to win MLS Cup. It would be the club's first ever trophy at senior level, with Sands' academy trophies all the club has in the trophy cabinet thus far.
By: Jay Stucchio / @JayStucchio
Featured Image: @GabFoligno / Icon Sportswire