Don't Stop Them Now: How Rayo Vallecano's Feel-Good Tale Has Made a Neighborhood Dream
Wherever you look in La Liga, there is a new story unfolding; Real Madrid are recovering from a Super League, debt-laden malaise to top the division by a distance, while city rivals and current champions Atléti are struggling to keep pace in 4th.
Andalusia is thriving, with Sevilla and Real Betis storming the league in 2nd and 3rd respectively, as Barcelona find themselves in 5th spot following a summer and season of turmoil. Villarreal and Athletic Club are underachieving, Getafe are 16th despite beginning the campaign with seven straight defeats, while Levante prop up the rest without a win so far.
With so much going on, you would be forgiven for missing the most astonishing of all tales, as something truly special is happening at La Liga's smallest club.
Rayo Vallecano are currently sat 6th in the league (spending the winter break in 4th), and are only a point behind Barcelona. They have made a mockery of those (myself included) who tipped Los Franjirrojos for an immediate return to the Segunda – but there was good reason for that.
Last season, Vallecano spent every matchday from 24 to 36 in 6th – the final play-off position – before a late wobble saw them fall down the division with just four games left to play. Three consecutive wins before a defeat to Lugo on the final day saw them limp over the finish line, with Sporting Gijón also falling to defeat to gift Rayo the final play-off spot.
While a final day defeat can often halt momentum, Rayo showed nothing of the sort – swatting aside Leganés (a side they failed to beat in the regular season) 3-0 and 2-1 to set up a final battle with Girona.
Despite a 2-1 defeat at the Campo de fútbol de Vallecas in the first leg, Vallecano rallied and shut out the Gironistes – winning the return leg 2-0 to secure a dramatic return to the big time. Many felt this summer that this was a side who had been promoted ahead of time, and while their league position doesn't reflect it, there is plenty to suggest that was a fair assumption.
Nine of the eleven players who have featured the most this term helped drag the club out of the Segunda, they have won just one away game so far and their stadium – while charmingly compact and close to the pitch – is falling apart, and is in desperate need of further renovations following a temporary closure in 2018 due safety concerns.
Perhaps its greatest ever night was hosting one of the final original Queen concerts in 1986, but if you need to find Somebody To Love, Rayo Vallecano are a team to admire.
While they live quietly in the shadow of two of the most successful clubs in all the land and abroad, Vallecano are tucked away in the south of Madrid, often forgotten by onlookers or neutrals, discarded as the 'third club' of the country's capital – but they wouldn't have it any other way.
To their fans, Rayo doesn't represent the glitz and footballing glamour of the wider city of Madrid, but the righteous, working-class neighbourhood of Vallecas – home to 300,000 inhabitants. 
As such, the club represents their visions – not the other way around; they want players to care and fellow fans to represent them. While they're based in such a large catchment area, where players may want to break free to the larger, more illustrious academies, they let it happen.
Likewise, Rayo aren't in the business of trying to coax players from the Madrid clubs to theirs – unless they care about Rayo. If you can't beat them, you certainly don't join them.
Their fans have been known to take new signings on a tour of the neighbourhood to show them what it's all about, showcasing how this club is the pride of the local area that is passed down through generations, from father to son, and forever after.
Rayo are a left-leaning club who pride themselves on a moral obligation to support social inequalities or everyday battles within society. They've been known to support the occupation of refugees, while initiating campaigns to combat racism, homophobia and children's rights.
In 2014, Rayo earned praise when they came to the aid of sweet, 85-year-old local lady Carmen Martínez Ayudo, as the former cleaner was evicted from her Vallecas home through no fault of her own.
The club stepped up, offering to pay her rent for the rest of her days, so that she doesn't feel 'abandoned' and able to 'live in dignity'. There are undoubtedly many more tales like this one – but they rarely make the media.
The club made more headlines a year later, releasing two revolutionary shirts, with their home kit adorning a coloured sash. Each colour was in support of seven different issues, namely; people fighting Cancer, disability rights, depression, environmental issues, homophobia, as well as domestic and child abuse.
Their third shirt that year featured a pink sash and ribbon, referencing the battle against Breast Cancer, with £5 of every sale going to one of the above causes. They are a club embroidered with good people and kind souls, and those who don't follow suit are made to know about it.
Club President Raul Martín Presa has been in the eye of the storm for a while, battling with fans for the lack of a season ticket scheme, inflexible ticket office times, the signing of Roman Zozulya (a Ukrainian footballer who is purported to hold far-right views), and his overall running of the club.
Their women's side refused to play for the opening 30 seconds of a November clash with Real Madrid, citing a huge lack of facilities including a qualified medic, as well an inability to originally register players as employees following the division turning professional.
While their ground is crumbling to pieces and in desperate need of renovation, Presca instead opted to invest in NASL side Oklahoma City – a project which folded just over a year later.
In April, fans visited the stadium, donning hazmat suits and armed with cleaning products to cleanse the ground following the visit of Santiago Abascal and Rocio Monasterio – the leaders of far-right party VOX, invited by the brainless Presa. With this soap opera raging on in the background, it makes their current standing all the more impressive.
They've done it with a tightly-knit squad, blended with an overriding sense of experience, football fight and know-how, mixed in with players entering their prime or formative years.
Attacking midfielder Óscar Trejo skippers the side and leads the division in assists with eight, Randy Nteka's niche versatility and determination has proved useful while Fran and Álvaro García work hard down the left and are two of the players to have covered the most distance in the division so far.
Álvaro is the side's joint-top scorer with five, sharing the accolade with shock summer arrival Radamel Falcao – returning to Madrid eight years after departing Atléti at the age of 35. 
While El Tigre isn't quite the animal he once was, his initial time back in Spain has been a roaring success. Of his five goals, four have come in wins, two were winners against Barcelona and Athletic Club and his record of a goal every 69 minutes is the best in the division – owing to just six starts this season.
The Colombian's megastar status perhaps doesn't initially link him to the community of Vallecas, but Falcao wanted to return to Madrid and has brought excitement to the neighbourhood – crucially with the ability to match.
He is joined by fellow Manchester United alumni Bebé who ensures that, along with the García's, Rayo make the headlines from the left-wing both on and off the pitch. All of this is brought together by a gaffer in his managerial infancy, but one who is no stranger to La Liga.
Ronaldo and Real Valladolid: Understanding O Fenômeno's Purchase of a Modest La Liga Club
Andoni Iraola played over 400 times in La Liga for Athletic Club, totalling over 500 games for the basque side's senior and youth teams in all competitions – with only Markel Susaeta playing more games for Los Leones.
During his time at both the 'old' and 'new' San Mamés, Iraola spent time under the tutelage of Marcelo Bielsa and Ernesto Valverde – with facets of his managerial approach clearly manifesting during his time under both coaches.
They play the game through what is best described as 'organised chaos', with Iraola himself saying he prefers 'too much chaos to too much organisation', nods to the two aforementioned coaches he spent time under in Spain.
They begin games fast; scoring plenty of early goals and have the defensive solidity to see the result out. Rayo are like a hurricane; they press and win the ball back quickly – a stampede of committed Rayoistas catapulting towards their opponent, putting them under pressure from the off.
Only Getafe make more pressures in La Liga, while only Celta Vigo win the ball back more often. The aforementioned Falcao winner against Barcelona is a great example: Rayo pushed up the field and left very little space for Sergio Busquets to pick a pass.
The Spaniard dallied on the ball – allowing the ever-impressive Trejo to pick his pocket and slide the forward in. Six touches after winning the ball back, Vallecano had scored.
However, if they can't regain possession, then they are quick to revert to shape – it's not quite as gung-ho as a Bielsa team and perhaps tighter at the back than the Argentine has been renowned for playing when in full flight, but there is certainly inspiration there.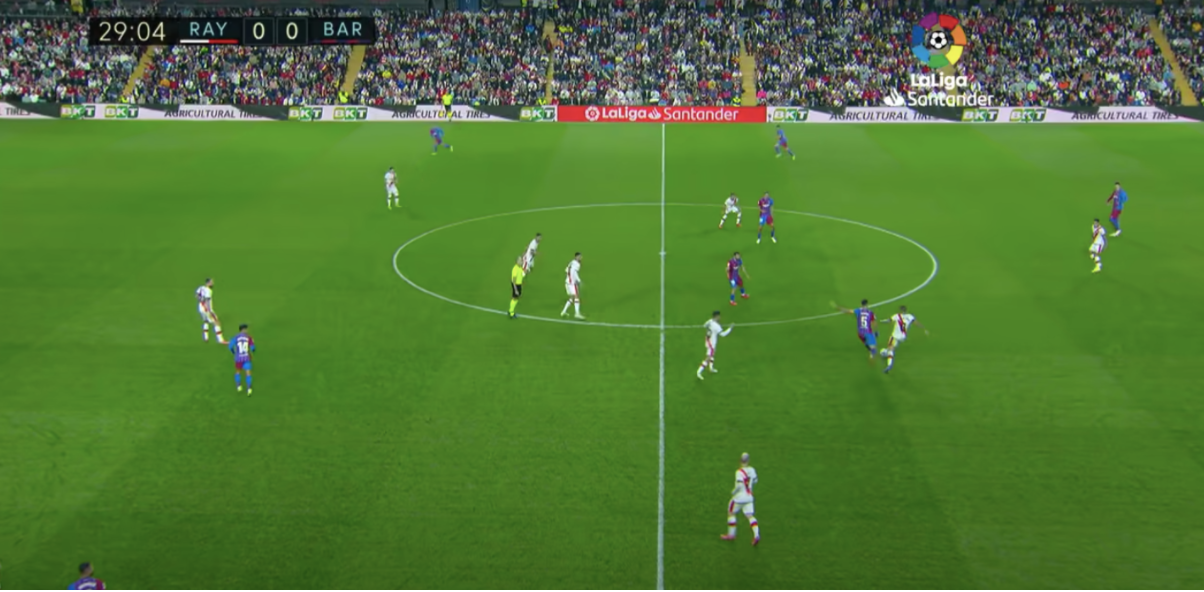 Iraola has somewhat flown under the radar himself; he is unassuming, casual and fitting to the surroundings he finds himself in – earning a reputation as an endearing speaker, and an honest coach.
The former Spanish international has admitted his side could fall away come the second half of the season as the going gets tough in the league and acknowledges plenty of their points have been picked up against the sides further down La Liga. But do they deserve to be where they are at this stage? 
They are yet to take a point off of Real, Sevilla, Betis or Atlético, but were edged out by both Los Blancos and Los Verdiblancos by a single goal, while their 3-0 defeat to Sevilla on opening day was marred by a 16th minute Luca Zidane red card.
Their away form has been an issue, with their win at San Mamés being their only victory on the road so far. But putting a positive spin on it, they aren't far off. Four of their seven away defeats have been by the odd goal, and almost all of the hardest away trips on paper are out the way, with only Barcelona to come from the current top eight. 
If you were to check which of football's great coliseums has the best home record across Europe's five major leagues so far this term, you would assume Anfield, the Allianz, San Siro or the Santiago Bernabéu – but alongside the Parc des Princes, you have Estadio de Vallecas, rising as high as anyone with eight wins and a draw from nine games.
They have conceded just three goals at home all season – watertight levels which even the mega-rich PSG can't match, all while the ground crumbles and shakes, boasting just three boisterous stands packed to the rafters. Leaving home ain't easy as a newly promoted side, but they have the most formidable of all fortresses in their neighbourhood.
Away from home, Rayo have let in 17 goals – placing them in the bottom five in the division for that metric, but their total of 20 conceded overall has them joint fourth (although xGA does have them down in 12th and closer to 24).
At the other end of the pitch, despite not having an out-and-out goal getter, Rayo have netted 26 times this season – the joint-seventh best in the division with xG ranking them 8th with 24.5.
The numbers suggest that Vallecano give as good as they get, but are genuinely excellent on home soil – only Athletic Club have a smaller xGA against at home and one would predict they won't lose many games in Vallecas, even with some of the big boys coming to town in the second half of the season.
Rayo may well drop into mid-table as the season progresses – but that would still be a monumental achievement. Since 2015, the most points needed to stay in La Liga has been 39, while the average in that time has been about 35.
Los Franjirrojos have already amassed 30 – just two shy of their previous La Liga total back in 2019, with a healthy 14-point cushion between themselves and the current bottom three. 
When Rayo find the back of the net at home, The Final Countdown blasts out at the Estadio de Vallecas, and while Iraola's team aren't heading for Venus, they could well land themselves into Europe instead. 
Props to you if you found the ten Queen song references throughout the piece!
By: James Pendleton / @jpends_
Featured Image: @GabFoligno / Quality Sport Images / Getty Images