Player Analysis: Jesper Lindstrom
As Marcellus contemplates the future with Horatio, he proclaims that there is "something rotten in the state of Denmark", whether that be a hint to some sort of fraternal backstabbing at the crown level or an overly pessimistic De rød-hvide fan, that decision is yours to make. Even those who are most opposed to a successful Danish national team must admit that the nordic nation produces a remarkable number of skilled and intelligent offensive orchestrators.
An origin or credible reasoning is difficult to pinpoint; however, in modern Danish football, you need not look further than the pipeline at Brøndby, the club where both the legendary Laudrup brothers perfected their craft. When you look out with the team from Vestengen, Danish clubs continue to produce top-end attacking midfielders, with the likes of Christian Eriksen, Mikkel Damsgaard and Andreas Skov Olsen carrying the flag into the 2020s.
Shifting back to the club in Yellow and Blue, the late 2000s and 2010s were not kind, as Denmark's second greatest club fell to new lows, as the club survived the dangerous mix of on-field regression and off-field squabble. As the club flirted with bankruptcy in 2013, there was a change of ownership at the Copenhagen club.
Despite fresh hands, Brøndby still had its fair share of internal turmoil, with "oscar-gate" perhaps the pettiest and most high-profile. It was no secret that Brøndby were in dire need of a facelift, which finally came, as in 2016 the board of directors presented "Strategi 6.4", a promise of internal transparency, on-field improvement, and youth development.
Fast forward to 2021, and Brøndby Stadium witnessed a group of their own hoist the Superliga trophy above their heads for the first time in 16 years, with no player immortalising the club ethos than star attacking midfielder 21-year-old Jesper Lindstrom. It seems that yet again, Brøndby has a budding attacking talent on their books which is set to take on the outside world, so let's see if Lindstrom has the potential to live up to those who forged the path.
Stylistic Features and Tendencies
Lindstrom is an incumbent member of the ever-growing society of so-called "positionless" players. This trend has been discussed to no end in Basketball as an era of point-forwards, and even point-centres dominate the basketball landscape, with Luka Doncic and Nikola Jokic ensuring that these oversized playmakers remain relevant for decades to come.
However, positional flexibility has never been a foreign concept in football; instead, it has long been embraced and championed, as player's who can play multiple positions in general terms are more valuable, especially within the non-elite ecosystem.
Lindstrom follows a relatively well-trodden path of the progressive type who can deputise out wide, in the centre or further forward, think Dusan Tadic or Jack Grealish. This is evident after a single glance at the territory he inhabits on a positional basis on the graphic below.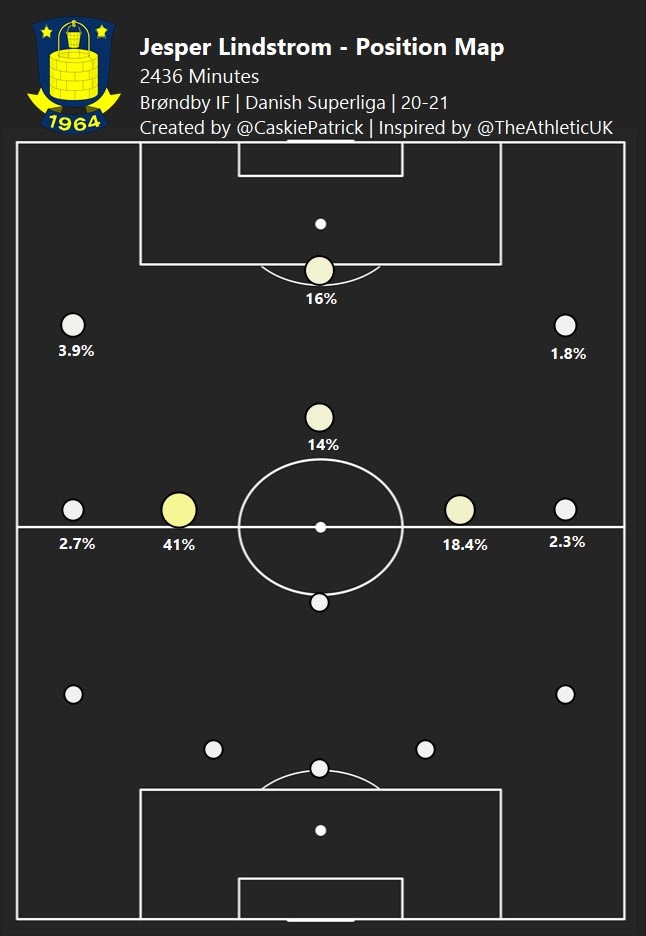 A picture begins to emerge that Lindstrom is a central midfielder with a slight proclivity for the left and is a viable option further forward. It's essential to understand the system that Lindstrom plays within Brøndby, which have been the 3-5-2 and 3-4-1-2.
59.4% of Lindstrom's minutes at centre-mid saw Lindstrom play as part of a duo with Lasse Vigne in front of the safe hands of Josip Radošević. Often when Brøndby decided to use the 3-4-1-2, Lindstrom would be the advanced midfielder sitting behind the strikers; he spent 14% of the 20/21 season here.
The third and final position that Lindstrom would deputise in was at ST, most often to the left of Mikael Uhre or Simond Hedlund. Though this positional map is valuable and gives us an insight into where Lindstrom is set up to play pre-match, let's look at where Lindstrom actually plays.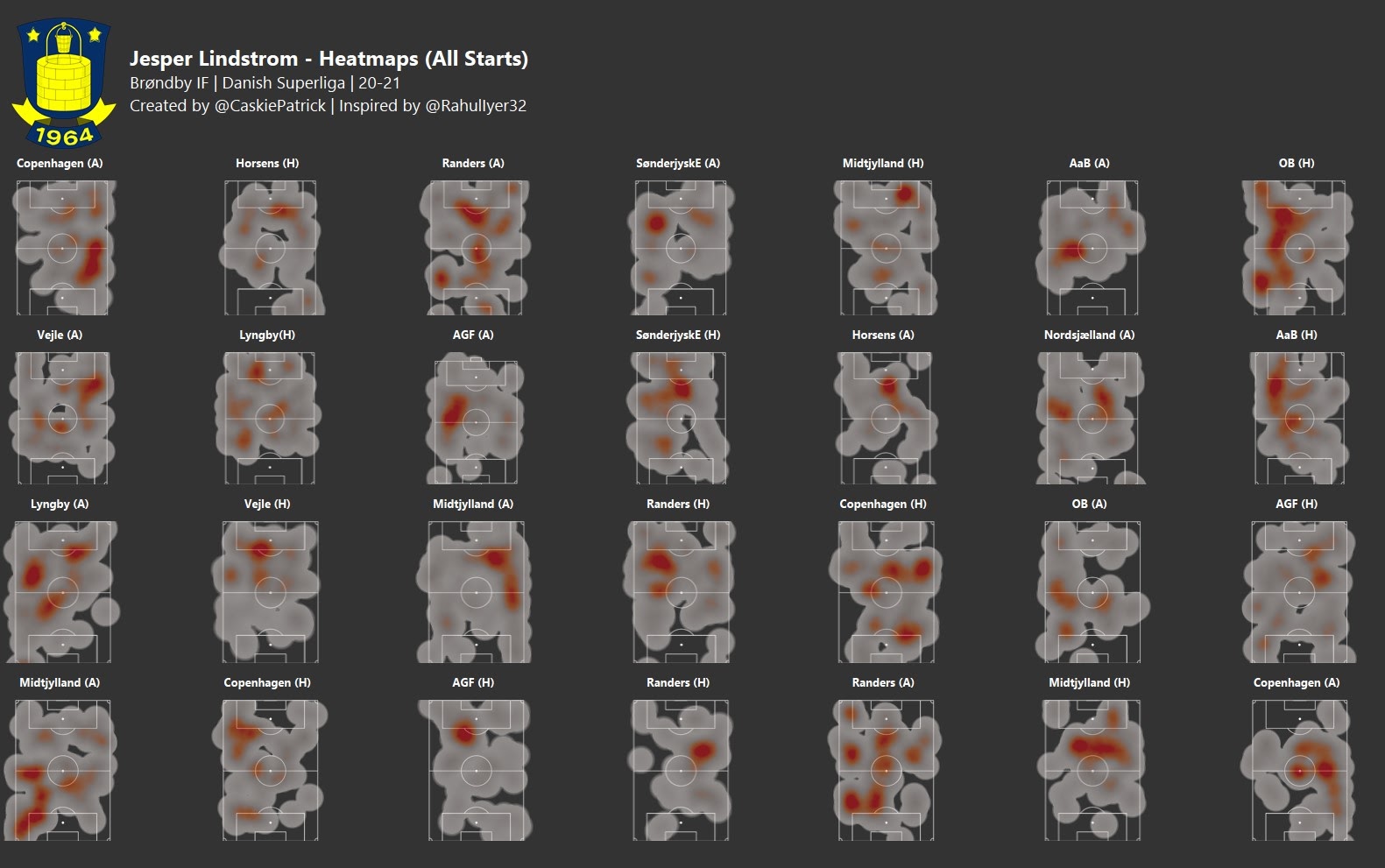 The series of heatmaps above detail Lindstrom's activity in all of his 27 starts this Superliga season. What is apparent is that nothing is, and that there are few trends. It seems almost impossible to find two matches that resemble each other.
However, what you can tell is that when facing heavy hitters such as Midtjylland and Copenhagen, Lindstrom is pushed back, whereas he is afforded more freedom when against the league's fodder. Like the position, the map suggested Lindstrom spends extensive time in and around the centre circle and further forward. The overall picture painted is that Lindstrom is a busy player who covers a majority of the pitch yet does most of his work in the opposition half.
Video Analysis
Let's look at some clips that epitomise everything that Lindstrom does well so far in his career and highlight the skills that separate Lindstrom from the pack in Denmark. Though Lindstrom is primarily a midfielder, as we have seen already, it is his goal-scoring and activity in the final third that has whet the appetite of clubs and scouts continent-wide.
Considering the nature of Lindstrom's most recent season and his goalscoring exploits, we will look at both goals he scored as a striker and a midfielder, showing off the versatility of Lindstrom's effectiveness regardless of position. Let's start by looking at his "striker-style" finishes.
Credit & Source: YouTube
The clip above shows Lindstrom pull off a prototypical striker's finish, arriving late at the back post to tap the ball in. The timing of the run and the tenacity to get in front of the Lechia defender are encouraging and shows off Lindstrom's intelligence and timing. The finish may appear basic, but the pace of the ball and the number of men in the box coupled with the game scenario makes the supposed ease a significant compliment to Lindstrom.
Credit & Source: YouTube
The clip above is an example of Lindstrom performing any centre-forward's bread and butter task, slotting a 1v1 past an on-rushing goalkeeper. Lindstrom has good pace and seemingly doesn't lose much of it when the ball is between his feet, thus proving a valuable asset to a counter.
In the clip, we see Lindstrom receive the ball on the counter and, with one good touch, extend his distance from the closest defender whilst putting himself in an opportune shooting set-up. Lindstrom pulls the trigger from just inside the box, cooly placing the ball under the keeper to the opposite corner. Though this opportunity is not presented often to Lindstrom when he plays further back, we must acknowledge that he has relevant 1v1 skills, even if they are hidden for prolonged periods.
Credit & Source: YouTube
Another key asset of a strikers game is their ability to bring something to the table in the event of a cross, elevated or not. To the best of my knowledge, I think Lindstrom is yet to score a header in his professional career. Nonetheless, his quick feet and intelligent positioning allow him to carry a threat when the ball is crossed; you need not look further than the first video to prove this point.
To further this point, the video above shows Lindstrom and his smart positioning. Though this is just one example, Lindstrom has scored three goals in the Danish Superliga with an almost mirror image set up. The pattern sees Lindstrom slow down and stay around the edge of the box, waiting for a cut-back, then placing it first time past the goalkeeper. This action is standard when Lindstrom plays further forward and in the midfield, expect Lindstrom to continue to do this in the event of a step up.
Credit & Source: YouTube
Lindstrom is far from static when around the box, despite his effective use or lack of use of movement in the previous clip. The Dane hovers around the final third, waiting to pick up the ball and use his superior technique and touch to beat defenders.
This is seen in the clip above, where we see Lindstrom beat the Aarhus defender with a decelerated turn which buys him ample space in the penalty box to strike it with his weaker left foot past the goalkeeper and into the goal. Even though spins are not a cornerstone of Lindstrom's game, the confidence and technique required in the clip rub off quickly when you watch the Brøndby midfielder.
Credit & Source: YouTube
Excitingly, Lindstrom's goal threat doesn't drop off significantly when he plays a deeper role; instead, he relies on a different skill set to make the most of the increased space. The most significant change is Lindstrom becomes increasingly shot happy when he is given more freedom.
Though many of these fail to hit the target, which is slightly concerning, it forces defenders to consider what Lindstrom will do next, shoot, dribble, or pass. The clip above shows the perfect marriage between Lindstrom's ability to navigate outside the box and his striking ability.
Here, we see Lindstrom flick it past one defender, buying him the requisite space to either pass or try an effort on goal. In this instance, Lindstrom's choice to shoot pays off as it results in a goal; however, Lindstrom's trigger happy nature is a valid piece of criticism.
Credit & Source: YouTube
In deeper positions, Lindstrom's tenacity and intelligence allow his side to quickly transition forward, occasionally with the midfielder being the man who wins the ball. Though not necessarily the best tackler, Lindstrom is enthusiastic off the ball and has canny judgment regarding disrupting passing lanes. The clip above shows the marriage between out of possession tenacity with Lindstrom's on-ball ability, which ultimately leads to the optimum outcome.
Credit & Source: YouTube
If it's Lindstrom's goal scoring that has attracted suitors, it is his playmaking that will keep them enamoured with the Dane. Lindstrom acts both as an essential cog in the build-up and is often delegated the responsibility of the final ball.
When playing upfront in tandem with a partner, Lindstrom is asked to do more of the latter. The clip above shows off Lindstrom's non-scoring value as a striker. Though it may appear simple, the sequence is indicative of an intelligent forward who has the team's priorities central to his ambitions, an invaluable duality.
Credit & Source: YouTube
Even when space is limited, Lindstrom is capable of producing and creating for teammates. His quick feet and agility mean that he can navigate tight spaces; coupled with his intelligence, Lindstrom is able to slip in teammates whilst in the box or when crowded by the opposition. The clip above shows this well: Lindstrom attracts the Braga defenders, and despite their intentions, he slips it to a teammate who, with the space generated, gets a shot off close to goal. 
Credit & Source: YouTube
When we look at the opposite situation, where space is abundant and running at defences directly, Lindstrom continues to impress and show impressive qualities. In the clip above, we see Lindstrom's ability to thread a pass between multiple defenders. The weight and location of the pass are reminiscent of a playmaker years senior of Lindstrom, which is ultimately one of the recurring themes.
Credit & Source: YouTube
Much has been discussed about Lindstrom's final ball and his passing range concerning chance creation; however, when he plays deeper, his passing range is helpful in the early stages of possession. His ability to time the ball appropriately comes in handy when switching the ball or playing balls whilst in and into crowded areas. The clip above shows this clearly, as we see Lindstrom initiate a dangerous transition with a lofted switch with his weaker left foot.
Let's switch up the roles from the previous video and look at Lindstrom as a receiver. This is most often in transition as his skills on the ball and vision make him the first option as an outlet. In the clip above, we see Lindstrom take down an aerial ball with ease; he then manages to navigate a defender from behind with a Ronaldo chop before opening up the attack and playing it wide. Lindstrom's spatial awareness is on full show here. This ability, mixed with his passing range, makes Lindstrom a progressive monster, an invaluable tool in any situation.
We have looked at Lindstrom's ability to orchestrate and finish attacks through video. Though these are his most elite skills, Lindstrom is also an active defender who though not technically the best, is enthusiastic. Additionally, Lindstrom's ability to beat his man in open play is perhaps as impressive as any of his skills. However, A lack of accessible video footage has prevented me from showing both of these skills, but hopefully, the statistical analysis portion can make up for it. 
Statistical Analysis
The video portion of this analysis has shown that Lindstrom stands out in Denmark; however, a clip is just that, an isolated piece of video that shows a singular event. Let's see how Lindstrom fares on a statistical basis; let's have a look at his tendencies and see how he compares with his peers.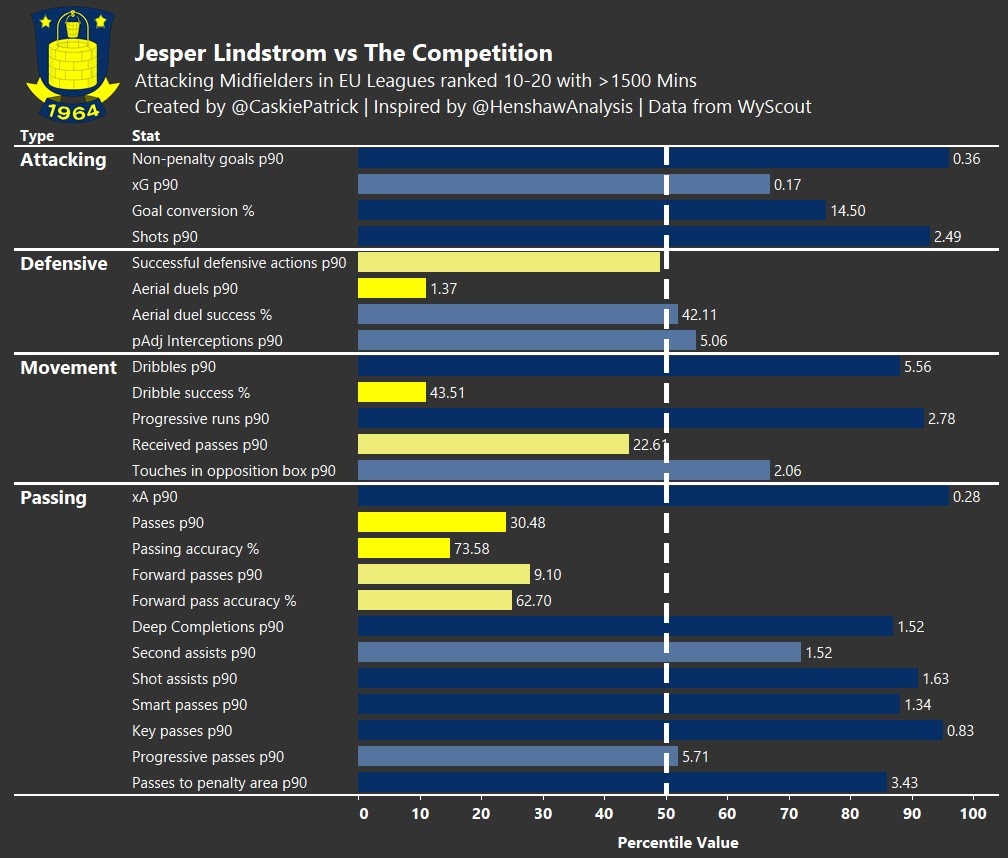 What is immediately apparent in the graphic above is that Lindstrom is far too good for this level and that even now, as a 21-year-old, his floor is in the top 5 leagues. The colour gives it away; the number of statistical categories that Lindstrom ranks in the 80th and 90th percentile is impressive, with his defensive output the only area below average.
Lindstrom excels in all the cornerstone stats for a midfielder or forward; he shoots a lot (2.49 p90), scores a lot (0.36 npg p90), dribbles often (5.56 p90) and creates chances (0.83 key passes p90) and assists (0.28 xA p90) at an almost unrivalled rate. It's not that the Dane excels in one category; rather, he has such a mix of high-level attacking skills that his profile only points one way, even more so when you also consider his age.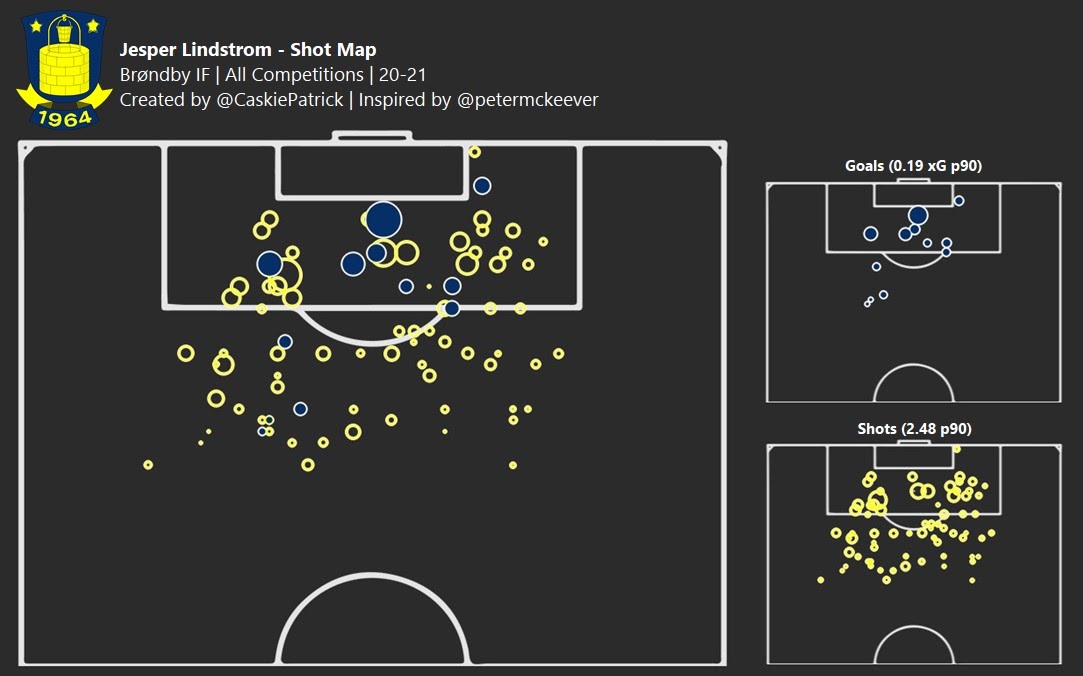 Lindstrom's scoring/shooting stats are those which are most consistently excellent, so let's look a bit deeper. First, let's see where Lindstrom shots from and how he manages high and low-quality chances. The first thing that sticks out is that Lindstrom likes long shots and can score them.
With the increasingly analytical approach to football, Lindstrom may be encouraged to pass on these opportunities for a higher quality strike; regardless, he can score from a distance; though, it will be interesting to see if his teammates and fans have the patience. Despite his ability, I think that he needs to become less shot happy from distance in the event of a step up.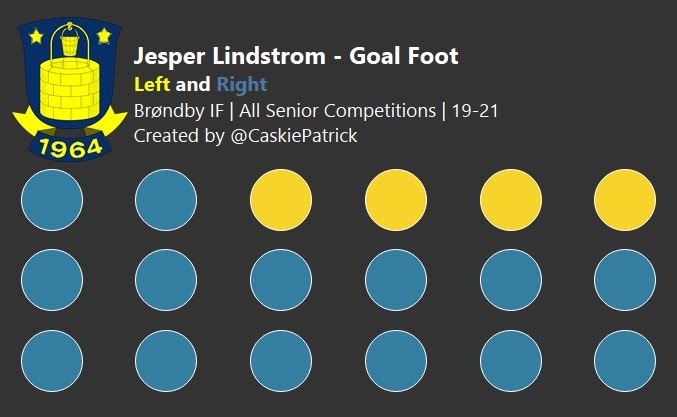 From the previous clips, we have seen that Lindstrom is capable with both feet when it comes to passing and dribbling. Despite this, as the graphic above suggests, his right foot is preferred almost always when shooting.
Goals with his head appear nowhere, which is true; as mentioned earlier, Lindstrom is yet to score a header in pro football. This shouldn't be much of an issue when he plays as a midfielder, as this is far from a vital skill, and no team should expect him to play the domineering aerial threat role in a two up top.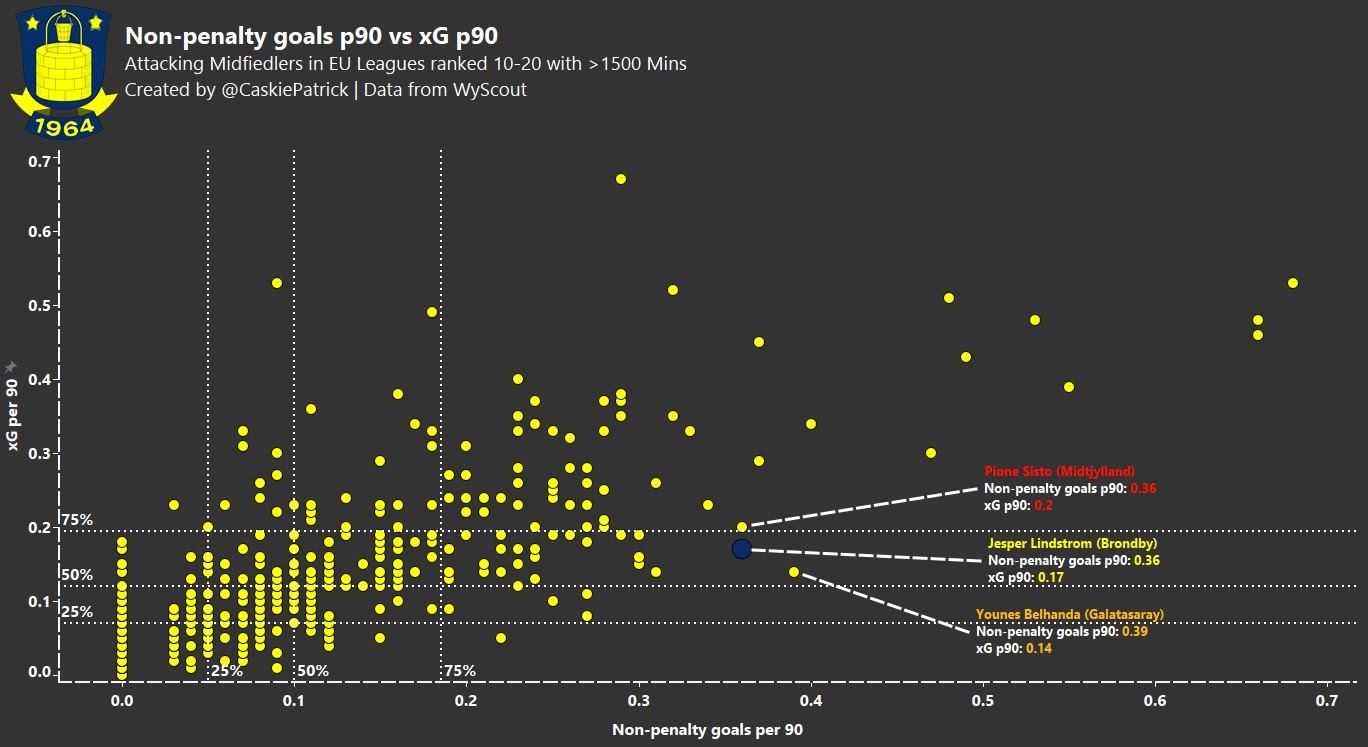 When we compare Lindstrom's exploits this season with similar players in similar leagues, he comes out favourably, as seen in the chart above. Despite an xGp90 in and around the 65th percentile, which is good in its own right, his npg p90 is in the 90s, showing that he is a dangerous finisher who ran hot this season.
Let's move on and now have a look at Lindstrom's role in setting up goals for teammates. As the statistical overview graphic suggested, Lindstrom is a very effective passer. Despite a below-average number of passes p90, he ranks in the 80th+ percentile in metrics such as xA (0.28 p90), Key passes (0.83 p90), Shot assists (1.63 p90), and Deep completions (1.52 p90). This clearly shows that Lindstrom is an ambitious passer, and fortune favours the brave in the 20-21 season.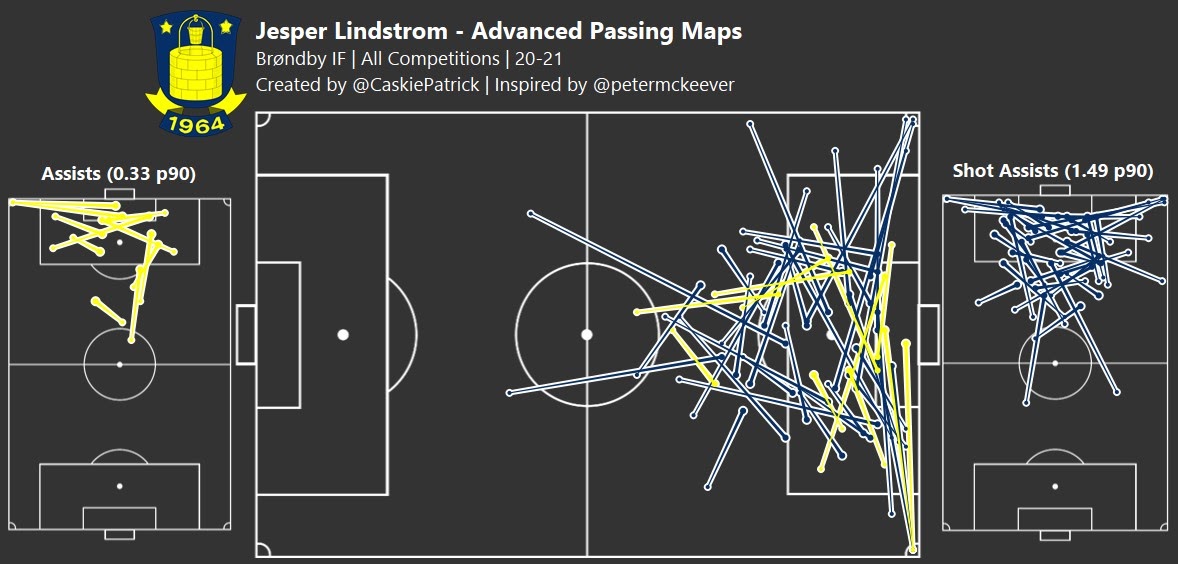 Above is a graphic that shows the locations of Lindstrom's shot assists and assists in the past season. We can immediately tell that Lindstrom sets up teammates from wide positions often, whether this is after a marauding dribble or a corner. However, we also see that the origin of some passes is quite deep.
This shows us that Lindstrom mixes up his angles and depths and is a valuable creator throughout the opponent's half, not just one who plays decisive passes into the box or only makes the easy pass to an open teammate 30 yards from goal.
When you isolate just the assists, this furthers the idea that Lindstrom is best on the left as the vast majority of his passes that materialise into goals come from the left side of the pitch. The main criticism that can be fronted to Lindstrom is that he is often overly ambitious with his passing, much like his shooting, and he is better off playing the simple pass to a teammate than trying to find an assist with every pass.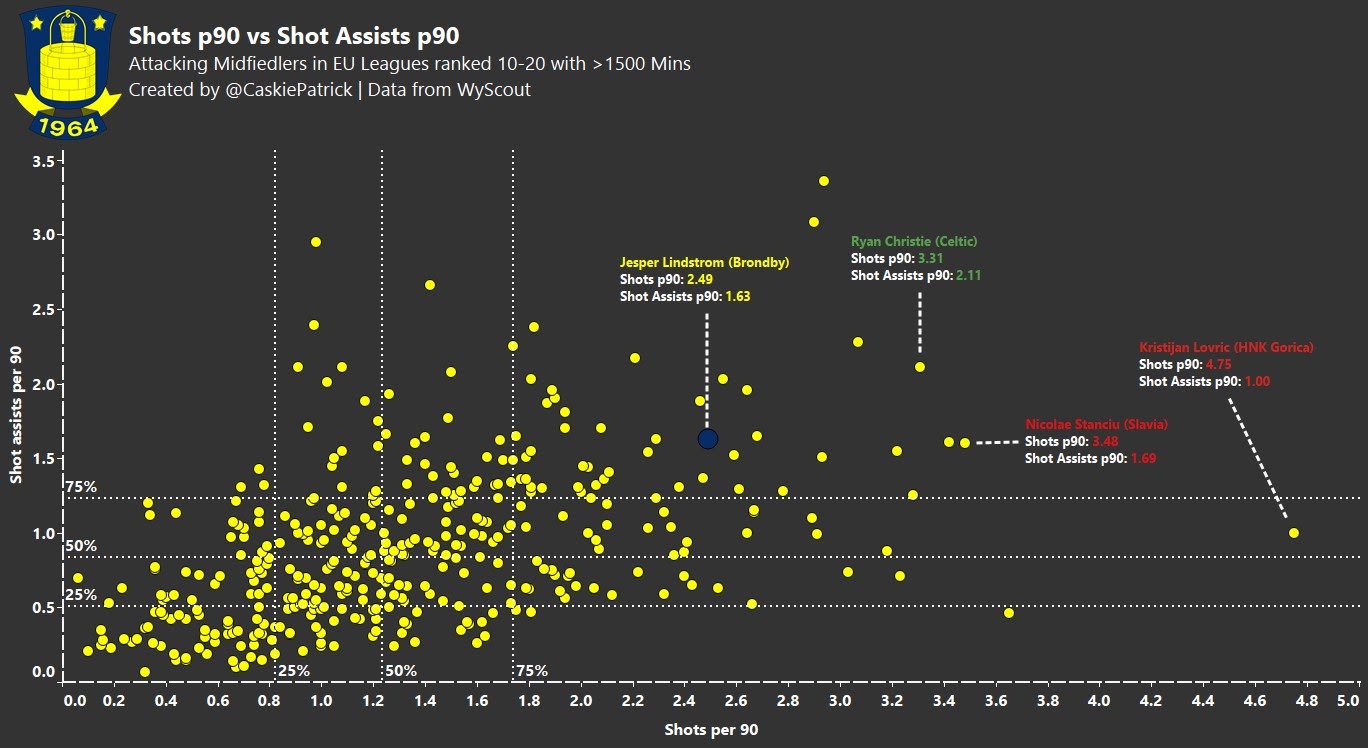 Individually the stats and videos have confirmed that Lindstrom can create and finish chances at a level far higher than expected. For example, the graph above shows that Lindstrom is in the upper right quadrant when shots and shot assists are graphed against each other, also known as the optimal quadrant. What we see is that Lindstrom takes shots and sets up shots at a rate above the 75th quartile, impressive!
Even more impressive is when you consider that Lindstrom is scoring more and getting more assists than many of his peers in the same quadrant despite fewer shot attempts and shot assists, suggesting that the quality of his output is higher than the competition.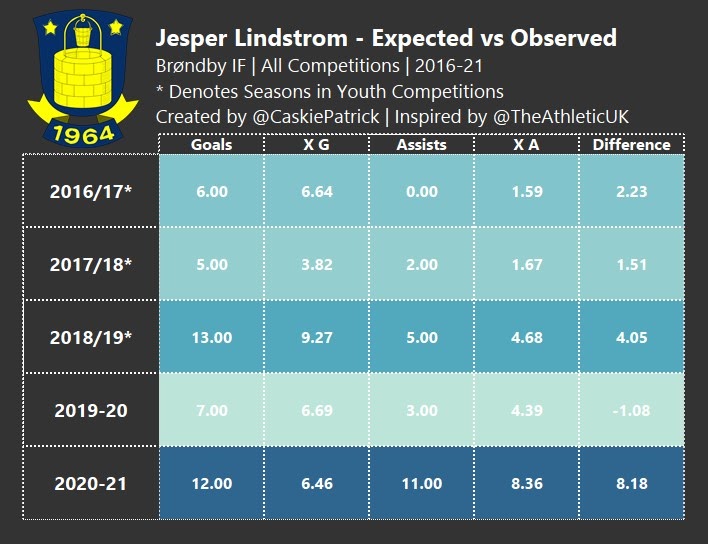 To conclude our look at Lindstrom's shooting and passing stats, let's see if he has been over or underperforming relative to what is expected of him; this can give us an insight into his form and what to expect in the event of a step up. Brøndby have enjoyed a magical 20-21 season. This is evident when you see that Lindstrom has overperformed both his xG and xA considerably, suggesting that he and his teammates are finishing chances way beyond the rates expected of them.
This is a plus and a compliment to the squad. Furthermore, Lindstrom's expected numbers remain impressive and suggest that even when he and his teammates don't get the rub of the green, he is an elite talent. Additionally, the jump in quality between the 19/20 and 20/21 season is encouraging and, if repeated in 21/22, should see Brøndby rake in a solid 8-figure fee for their man.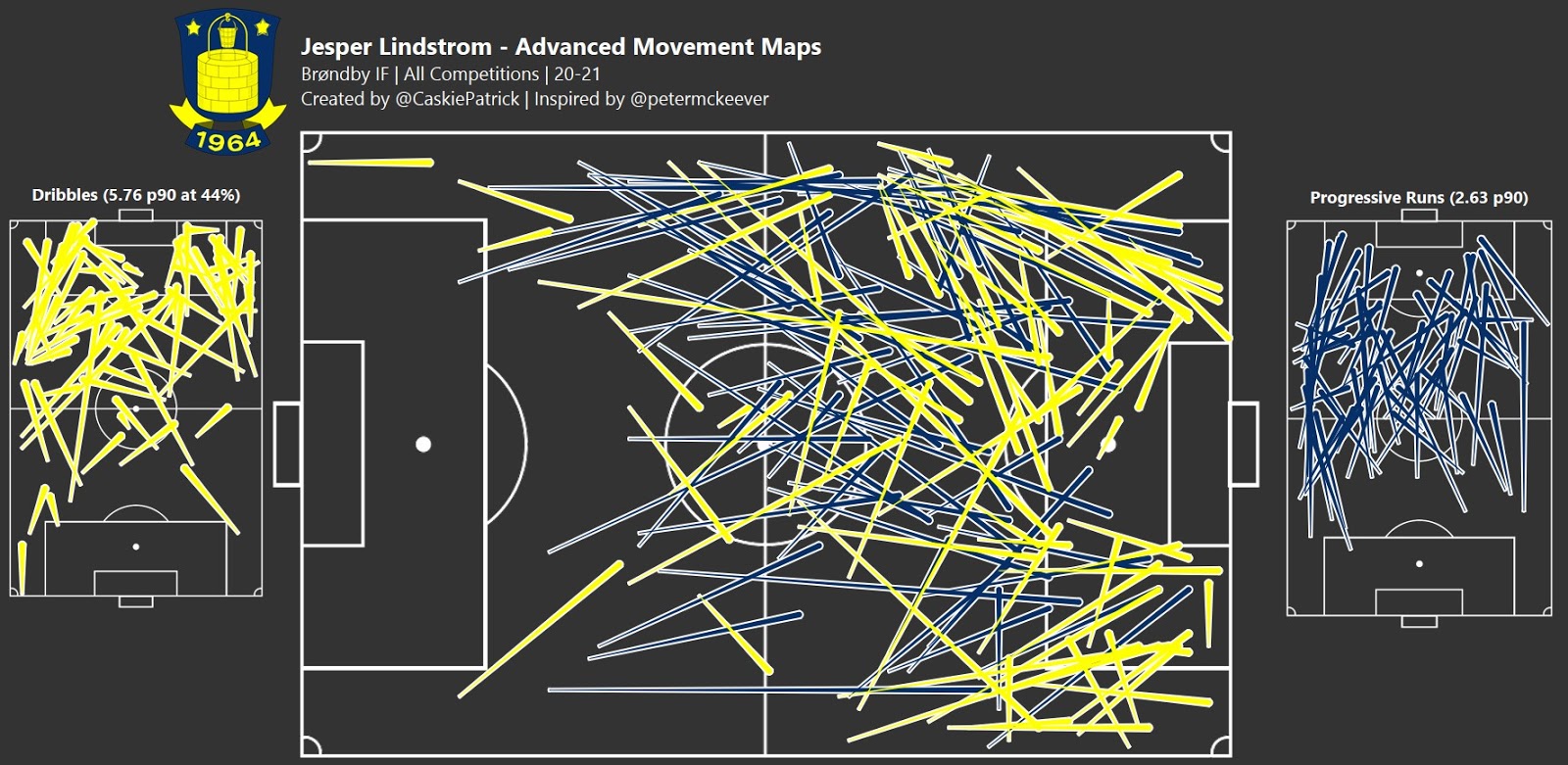 I have addressed two of the three cornerstones of Lindstrom's game; let's move onto the third, his movement. Lindstrom's spatial awareness was touched on earlier in the video portion, so this will focus on Lindstrom's progressive movement on and off the ball. The above visual shows Lindstrom's successful dribbles and progressive runs in the 20-21 season.
The first thing that you see is that he is everywhere, quite literally. Despite this, the key takeaways from the visual are that Lindstrom often receives the ball in deep positions and is tasked with moving the ball from his half to the oppositions. He is also expected to break into the opposition's final third from inside their box, perhaps the most difficult dribbling task.
Finally, we can see that the destination of choice is deep on the left side of the box, making complete sense when you consider the earlier pass map and that many of Lindstrom's assists came from that same area. When it comes to Lindstrom's on the ball movement, there are two key areas of improvement. One is ball retention, mainly due to his slight figure; however, he can and should do better to protect the ball.
Another one may just be a pet peeve of mine, but Lindstrom dives too much for my liking; he tries to get close to the opposition and ride any lunge for the ball, clean or not, trying to win a freekick. I somewhat admire the gamesmanship; however, this blatant disrespect of the game and his fellow professionals should be avoided.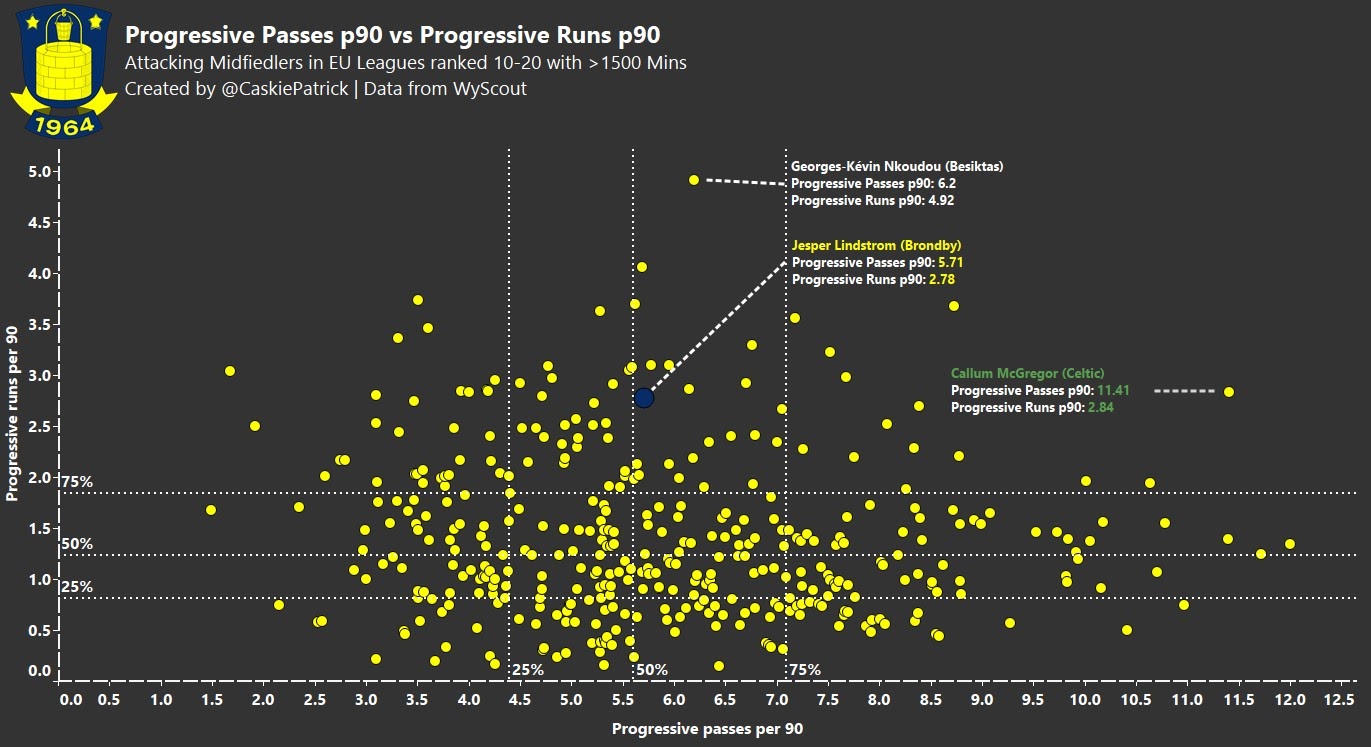 When Lindstrom's dribbling ability is coupled with his effective passing range, Lindstrom turns into something of a progressional outlet, evidenced by his favourable comparison with his peers regarding progressive passes and runs p90 in the graph above.
Finally, let's look at how Lindstrom fares statistically regarding the least glamorous aspect of any midfielder's game, his defensive output. The graphic below suggests, much like the movement graph, that Lindstrom is active all over the pitch but has a slight tendency to the left side, which is expected when you consider the earlier heatmaps.
In addition, Lindstrom occasionally acts as impromptu LWB in a 5 when his teammate Blas Riveros has made his way up the pitch, which in all likelihood considerably boosts his defensive output. The most important thing up to now with Lindstrom's defensive exploits is that he has the required enthusiasm out of possession and that the relevant skills should come as he plays more high-level football and as he trains alongside elite teammates.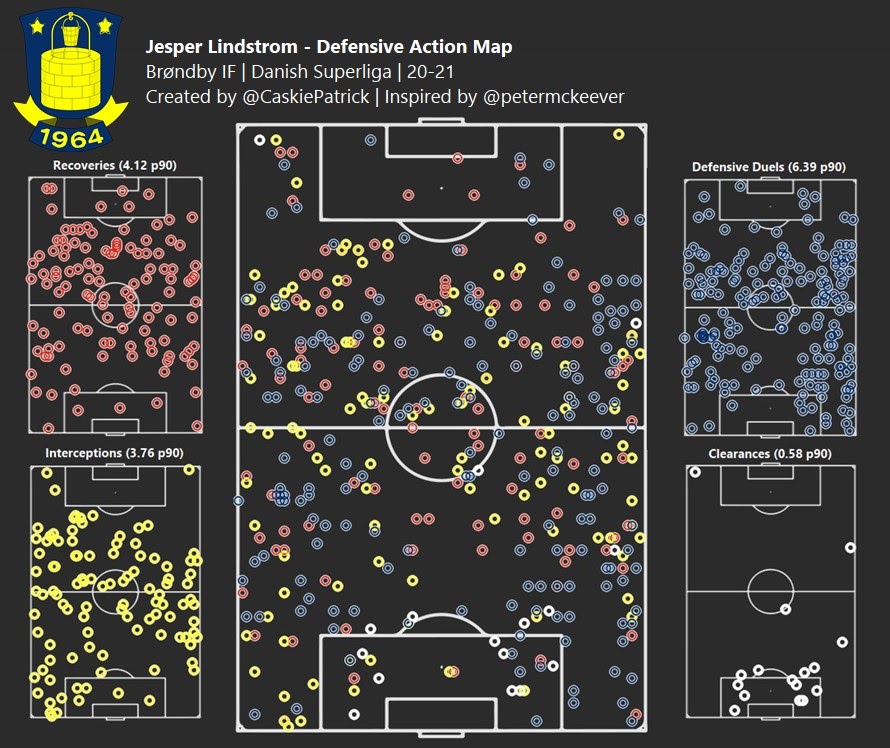 Though he is far from the most effective defender in the midfield, he is far from poor, as the graph below shows. Lindstrom projects towards the middle of the pack, which is fine, as his other skills and tendencies do the heavy lifting.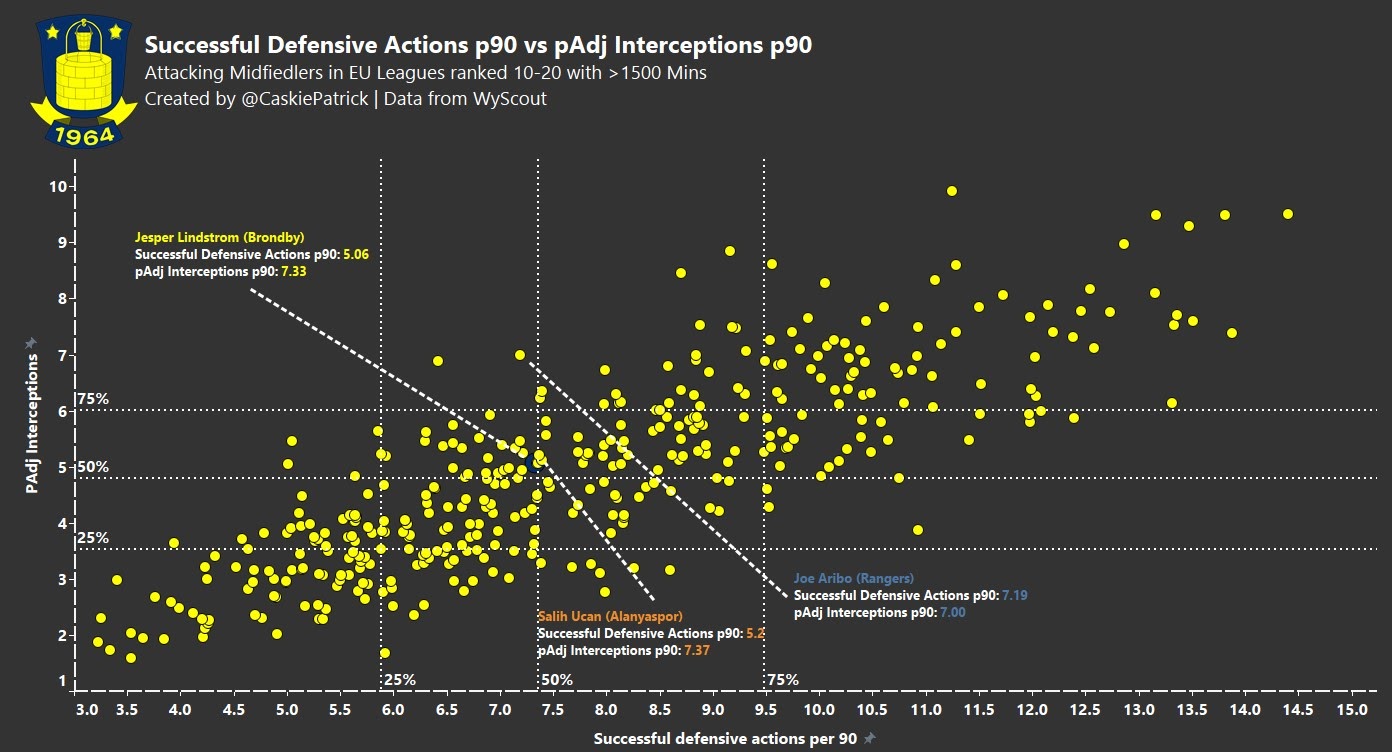 Comparisons with Continental Peers
It's all well and good shouting to the rooftops that Lindstrom is a top talent, and for its worth, he is, regardless, to get an excellent idea of what we are dealing with, it is essential we compare Lindstrom to his peers in and around the level he plays at.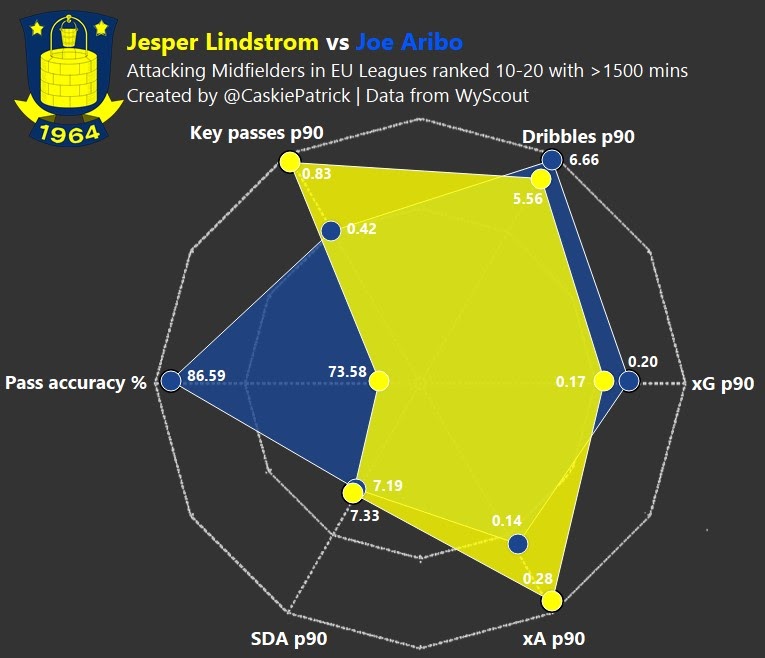 Above is a radar comparison between Lindstrom and Rangers midfielder Joe Aribo, who, like Lindstrom, can be found in the midfield, wing, or even deep as an impromptu wingback. They compare similarly, though it appears that Aribo is slightly more assured in the pass. However, Rangers are comparatively far more dominant in the Scottish Premiership than Brøndby is in the Superliga.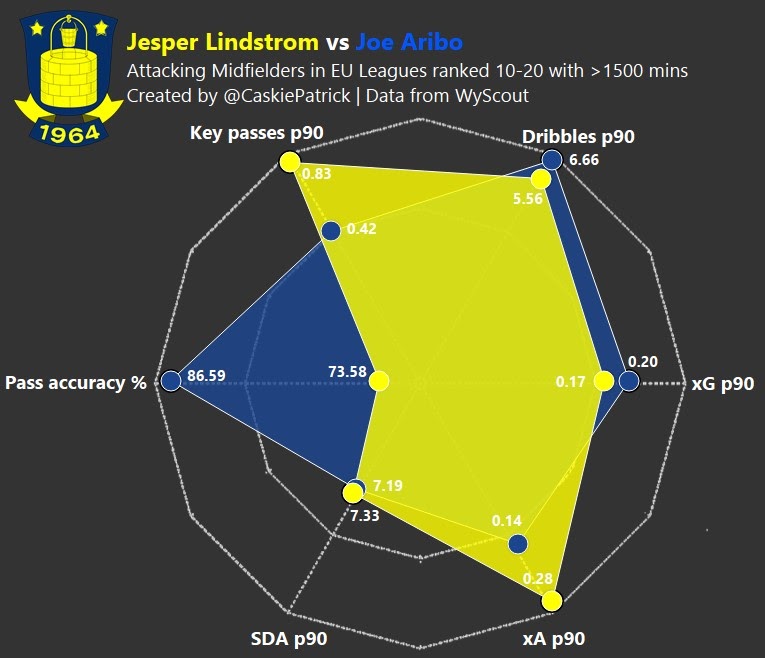 The next comparison is with an equally effective young midfielder, Lovro Majer. The radar above suggests much like Aribo, Majer is a more accurate passer than Lindstrom, whilst also carrying more of a goal threat. Lindstrom dribbles more and slightly edges the creative aspect. Like Aribo, Majer's Dinamo Zagreb are a far more dominant team compared to the rest of their league than Brøndby and the Superliga.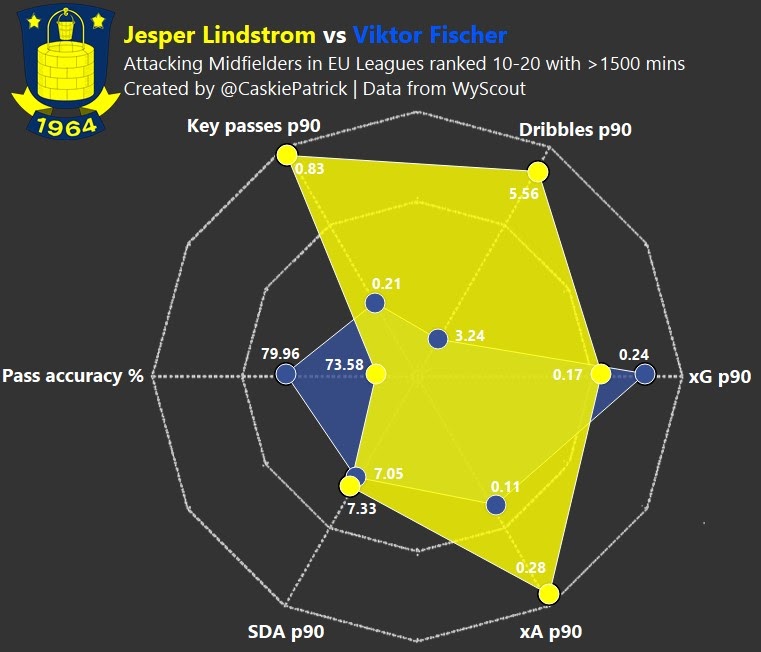 Finally and perhaps the precautionary tale for Lindstrom is FC Kobenhaven's, Viktor Fischer. At 27, most expected this left-sided attacking midfielder to be cutting it at a top-level club after being a success at Ajax; however, he is back in his home country and performing just alright. 
What's Next?
Lindstrom still has some maturing to do physically and mentally; however, he is on track to be the latest Superliga export to move for big money to pastures new. Whether he stays for another season and tries to help Brøndby win back-to-back titles or moves to a top 5 league is up to him and his agent, as he will undoubtedly have a plethora of exciting offers.
Lindstrom has all the workings of a top-level success and a player who enjoys a long spell at the top both for his nation and club; however, he should keep this Danish saying in his mind, "Det bedste er det godes fjende" (The good is the enemy of the best).
By: Patrick Caskie / @CaskiePatrick
Featured Image: @GabFoligno / Chris Ricco – UEFA