Player Analysis: João Pedro
João Pedro has never had it particularly easy. In 2002, his father, an accomplished player in Brazil, was sentenced to 16 years in prison, leaving his mother to raise him on her own. She managed to save enough money to send her son to private school, making sacrifices in order to give him the best chance at life possible. This upheaval didn't stop the young João from following in his family's sporting footsteps. Initially playing as a defensive midfielder like his Dad, he caught the eye of Brazil's top clubs, signing for Fluminese at 14.
Having struggled to find consistency early on, fate would strike, as the team's striker was moved to the U20 squad, leading the coach to trial João Pedro as a central striker. This, it seems, was a masterstroke, as João bagged an astonishing 38 goals in a single season at youth level.
By the age of 17, he was already being tracked by some of Europe's top clubs. After making his breakthrough into the first team at Fluminense, Premier League Watford took the plunge. Spending just £3.6m in January 2020, Pedro was something of a low-risk gamble. Since then he's experienced relegation, finding himself in the EFL Championship within 6 months of arriving.
The EFL is of course a different beast. A physical challenge, lots of games coming thick and fast, with aggressive, strong defenders. This is a challenge João Pedro didn't shirk. Seeing it as an opportunity to get consistent minutes and win promotion back to England's top level.
This has been proven by 9 goals in 20 league starts. Perhaps not electrifying form, but impressive for a 19-year-old with just 60-odd games as a professional. I sat down and watched Watford's game against Bournemouth on Saturday, to take a deeper look.
Out of Possession
When Watford are without the ball, João Pedro can perhaps be described as a "passive presser". He will try to cut off passing lanes when the opposition defenders are looking to play forwards and will often press them when they move onto their weaker foot.
More impressive is his positioning here. He takes up good positions around the halfway line when Watford are defending deep. He opens up his body and will move to stay available for a quick counter-attack, should they win the ball back.
He's also trusted to come back at set-pieces, usually put on the near post from corners. This paid off against Bournemouth, as he won the first ball on two occasions. Perhaps this is something picked up when playing as a defensive midfielder in his youth.
Attacking Movement and Positioning
João Pedro is a pacey player, so when space is afforded to him he will sit on the shoulder of the last defender and look for the ball in behind. There is more to his game than that, however. In this game, he consistently came deep to link play and was effective at creating overloads. He received the ball into feet and created space for himself, keeping his head up and quickly making good progressive passes.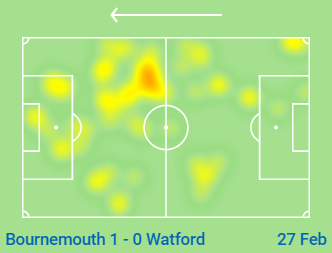 Photo: SofaScore
When doing this he seemed to target the right half-space, as shown by his individual heat map above. This allowed Watford to create overloads in these areas and meant other players could run beyond him, creating dynamic attacking moves. This intelligent movement may stem from his experience playing as a wide forward in a front three on occasion, as he knows how to help the wide players and where they'll want him to be.
In the box, João Pedro makes good runs to get into dangerous areas. Timing his runs to the near post and anticipating the cross well. This was the source of Watford's best chance, at 0.32 xG. As shown in the image below, Pedro's well-timed movement gave him a close-quarters shooting opportunity, closed down well by the keeper Asmir Begović and headed just wide.

On the Ball (Passing and Dribbling)
João Pedro showed his ability to shield the ball and resist the opposition press, winning 7/14 ground duels, the highest of any player on the pitch. Again perhaps a glimpse of his past life as a midfielder. As mentioned before, he is able to create time and space for himself, wriggling out of tight areas. He keeps his head up, looking for the pass and is able to play the ball quickly, with either foot.
This two-footedness is one of the attributes which surely separates João from the rest in his age group. It not only allows him to access multiple passing angles but means he's a threat from almost any area of the pitch, increasing his "gravity" and drawing players towards him.
Once he's engaged a defender, he's unafraid to take them on. Possessing flair and close control, as well as good balance and a quick turn of pace. He's able to dribble with either foot, at one point leaving Bournemouth's "destroyer", Ben Pearson, chasing shadows and picking himself up off the ground. This may be seen as a stereotype of Brazillian attackers, but it's a huge tool in Pedro's locker. To demonstrate this in a tough-tackling league like the Championship is testament to his quality and character.
Finishing
So far this season, João Pedro has outscored his xG. Scoring 9 in 20 starts in a league like this is not to be sniffed at, but his ceiling is far higher.

With higher quality service on a consistent basis, Pedro could surely generate far higher xG. He possesses impressive pace and physical presence, allowing him to get into good positions. He is also 6ft, meaning he's capable enough in the air, winning roughly 40% of his aerial duels. His intelligent movement is one of his best assets but must be developed further. Of course, only 22/48 shots being on target is something for him to work on as well.
Perhaps with an attacking midfielder playing in behind him, this would relieve the burden of linking play, allowing him to torment defenders and make more runs in behind. This aptitude for final third runs was demonstrated in the victory against Blackburn Rovers on February 27. Breaking free from his marker, the ball came to him after a challenge in midfield. 1v1 with the keeper, he looped the ball over him under pressure to score an excellent goal.
In Saturday's game, however, he demonstrated that his finishing is still far from perfect. In the earlier example, Pedro was closed down quickly by Begović, and wasn't quick enough to get to the ball sooner and test the keeper. This, along with a poorly chosen shot off target from 20 yards, summed up his afternoon, just three shots to his name. This was a match where he could've had more of an impact, had he taken his chances when they came.
Conclusion
João Pedro is having a good season and will be pleased with his progress. Watford are in contention for promotion straight back to the Premier League, with Pedro starting almost every game. He can still improve in all aspects of his play, particularly finishing and final third decision making. He also has some way to go in terms of his physical development and needs to get stronger.
He won't back down from a challenge, however. Perhaps shown on Saturday, as he was sent off in the closing minutes of the game, when the match descended into something of a pub brawl, with Jack Wilshere also dismissed. This example of poor discipline is something he'll have to learn to reign in of course.
It must be said though, that it's this same fight that has got him this far. From the turbulence growing up, to finding himself in a foreign county, relegated, amid a pandemic, in and out of lockdown. It would have been easy to give up, many 19-year-olds might've. But he's shown that he's bigger than that.
He's now been thrown into the deep end in the Championship. So far he has stayed afloat, and from what we've seen over recent weeks, he's starting to learn how to swim.
By Oliver Haines / @OTG_UK
Featured Image: @GabFoligno / Charlotte Wilson – Offside
Images courtesy of Sofascore.com, Infogol.net, Watfordfc.com, Sky Sports.