Player Analysis: Jonas Wind
From Erling Haaland to Alexander Isak, we've seen plenty of young Scandinavian strikers impress in Europe's top five leagues over the past few seasons. The next player to emerge on that list could very well be Jonas Wind, who at 21 years of age, looks set to become a key player for the Denmark national team this decade.
The son of former goalkeeper Per Wind, Jonas began his career at Avedøre Sports Association before moving to Rosenhøj Boldklub, where he would soon become the youngest player to in club history to win the Youth Player of the Year award. He quickly attracted the attention of the biggest club in the nation — Copenhagen — and joined the club's FCK School of Excellence in 2012.
Wind continued to impress at the youth level for club and country, scoring eight goals in nine matches for Denmark's u-19 side, before signing his first professional contract on his 19th birthday. He made his professional debut two weeks later, coming off the bench in a UEFA Europa League match against Atlético Madrid. On April 26, 2018, he was awarded the club's prestigious 'Granen' award given to their best young talent.
Over the next two seasons, Wind registered 19 goals and 10 assists in 49 appearances, including an extra time goal to seal a derby victory over Brøndby and a Panenka penalty kick against Red Star Belgrade. His breakthrough performance, however, would come on August 5. İstanbul Başakşehir came into the second leg with a slim one-goal margin, and Copenhagen needed to turn around their fortunes in Denmark.
The first major action came in the fourth minute. As Guillermo Varela weighed up a cross, Wind stepped in front of Júnior Caiçara to head home the equalizing goal. The Dane later put his side ahead on aggregate with a penalty goal, before providing the assist for Rasmus Falk's third and final goal. Copenhagen headed to the quarterfinals, where they would narrowly lose to Manchester United in Cologne.
It's been more of the same for the towering center forward, who has grabbed 7 goals and 1 assist in his first 13 appearances for Copenhagen this season. Denmark manager Kasper Hjulmand gave him his maiden call-up to the national team in October, and the following month, Wind grabbed a goal against Belgium and Sweden.
As De rød-hvide prepare to take on Finland, Belgium and Russia in Group B of next summer's European Championships, Hjulmand has a joker up his sleeve in the form of Wind. The Copenhagen native has been in fine form this season, and can provide a physically imposing yet technically gifted profile in the mold of Edin Džeko or Alexander Sørloth.
Standing 1.9 meters tall (6'3″), Wind is a superb header of the ball (0.27 headers per game), able to play with his back to goal and hold up the ball before passing it towards his onrushing teammates. Furthermore, his mobility and athleticism allows him to win loose balls and arrive in advanced positions to receive the ball (13.36 passes received per match).
The Danish striker also boasts the technical efficiency to leave defenders in his dust (1.36 dribbles completed out of his 1.64 dribbles attempted), whilst he is also a willing runner who can help lead the press from the front. Perhaps the most impressive asset of his game is his physicality and positional intelligence, which enable him to win physical and aerial duels and regain possession in the final third (3.9 duels won per game).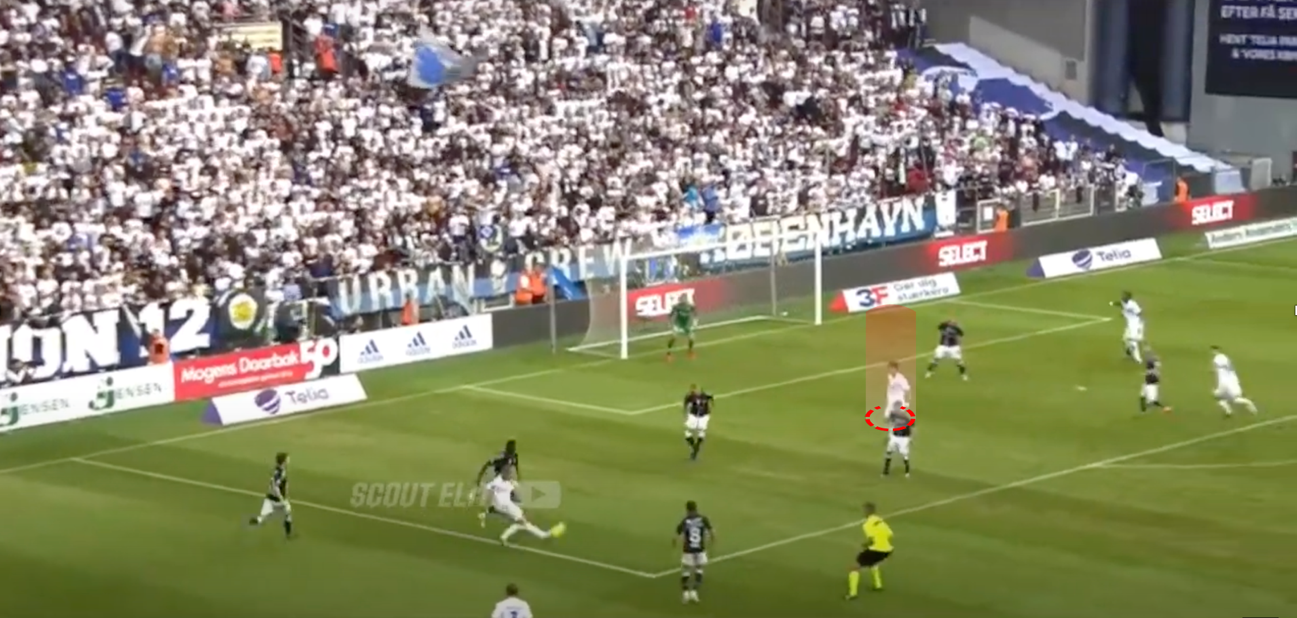 Photo: Scout Elite
Let's take a look at a few examples of Wind's positional intelligence. While his teammates combine on the sideline, Jonas is discovering which space to occupy. As Viktor Fischer plays a pass into the center of the box, Wind advances to the defender's blind-side, receives the ball in space, turns towards the goal, and scores.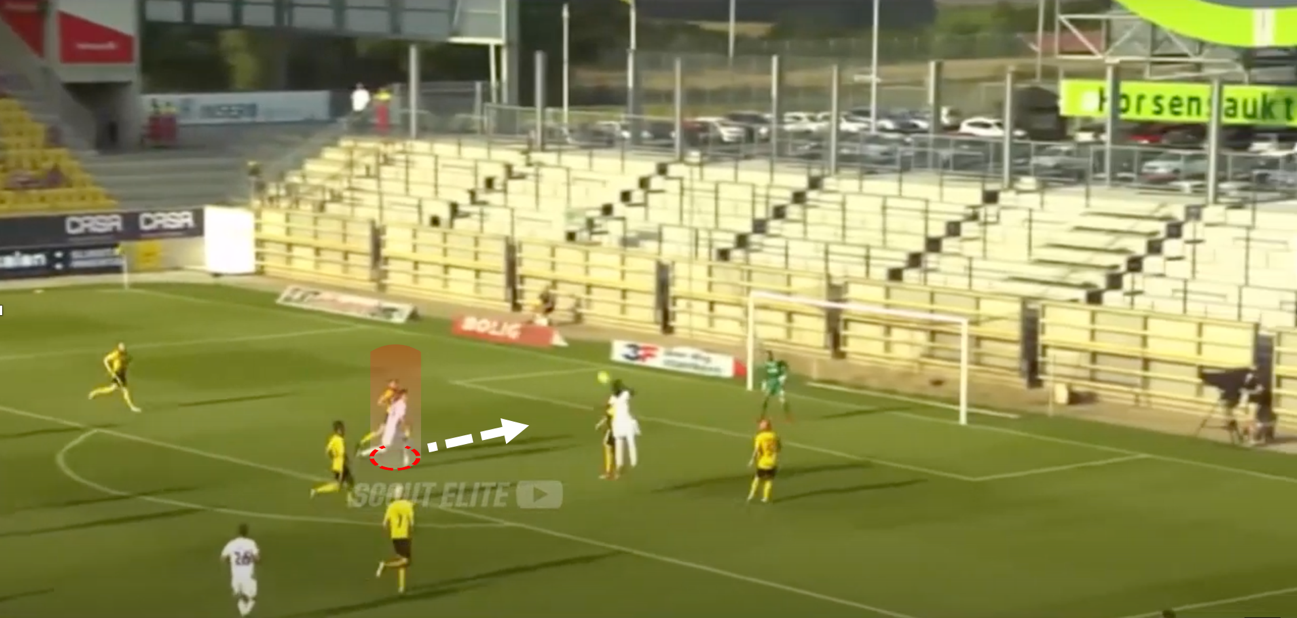 In this example, Dame N'Doye wins an aerial duel and heads it into the path of Wind. Before the Senegalese striker even made contact with the ball, however, Wind was already attacking the empty space. He controls the ball with his chest, beating his opponent with his torso strength, and although his initial shot was saved, he followed up with the effort and slotted the ball into the back of the net.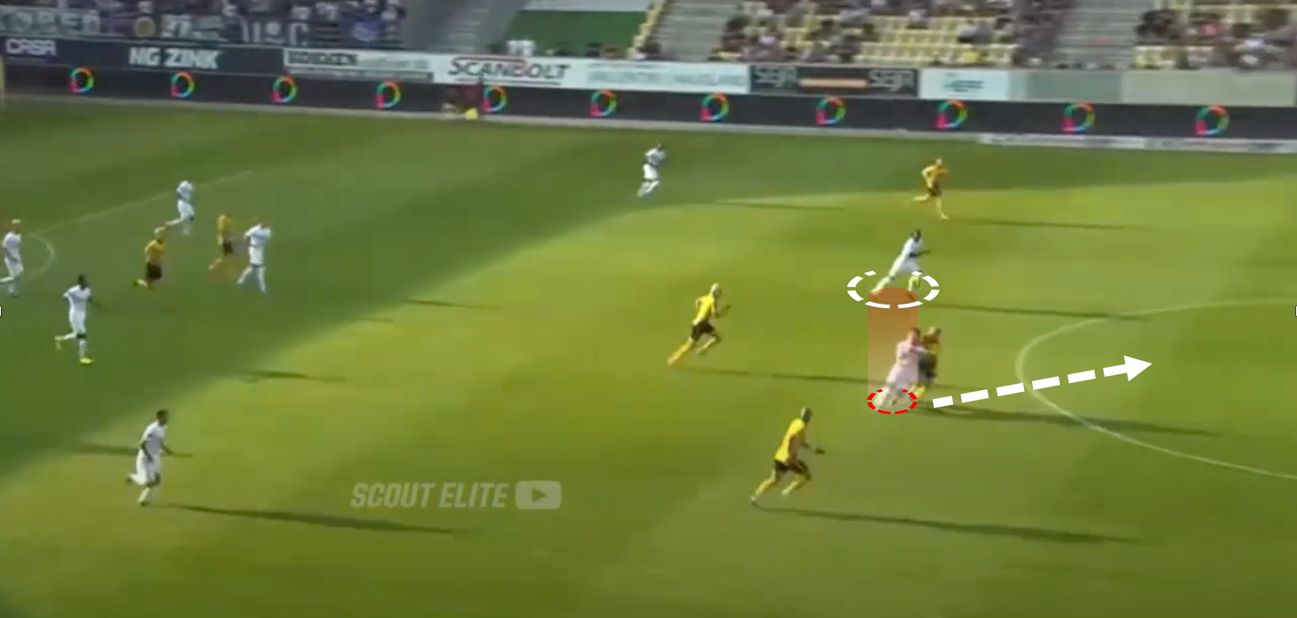 Once again, Wind is tasked with controlling a long ball from defense and threading together the counter-attack. He executes the job to the best of his ability, getting his body in front of the ball and outmuscling the opponent, before quickly rotating his body, and taking one touch to play N'Doye into space at the center circle, and the Senegal forward makes no mistake with the finish.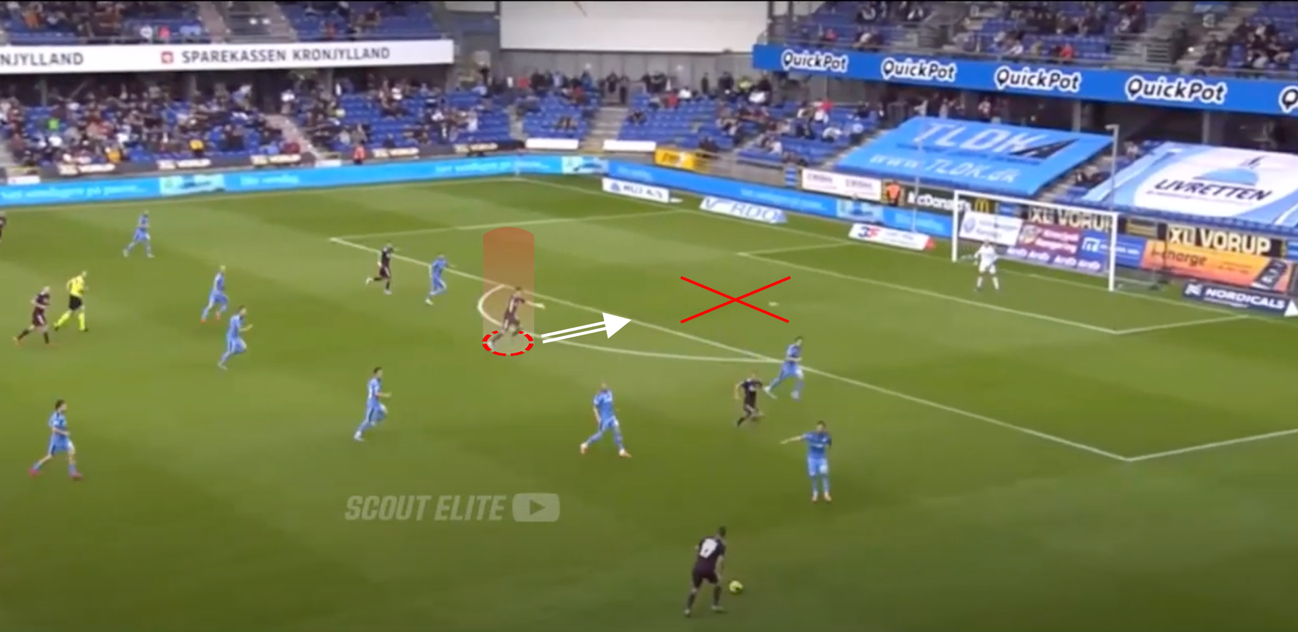 In this example, Copenhagen circulate possession on the left flank before switching the play to the right. As Karto Bartolec weighs up a cross, Wind does not take his eye off the ball for a split-second. Whilst he originally asked the Croatian defender to play a ball to his feet, he adjusted his run, exploited the empty space, and headed the ball down into goal.
Despite his bulky size, Wind boasts the mobility to receive the ball in various areas of the pitch and create havoc on the counter-attack, as seen below with his heat map from this season.
Photo: SofaScore
Perhaps the biggest question mark regarding Wind is his long-term health. In the past four seasons, he has suffered three injuries that have sidelined him for a total of 57 matches. These injures mostly pertain to his knees, and if he continues to suffer knee injuries, he will lose a great deal of the explosiveness that makes him such a dangerous forward.
Whilst he was linked to Fenerbahçe and Galatasaray last summer, if he keeps performing at this rate, Wind might just be able to secure the move to Europe's top five leagues that his talent deserves. At 21 years of age, Jonas Wind has what it takes to become the attacking talisman to spearhead the next generation of Danish talent.
By: Jaime Silva
Featured Image: @GabFoligno / Lars Ronbog – FrontzoneSport