Player Analysis: Kalvin Phillips
In their first Premier League match in 16 years, with a breathtaking match against defending champions Liverpool, Leeds United have shown that they came to play football with love and fill the hearts of the spectators with the beauty of football. Leeds's free-flowing football, holding the ball possession and constant attack gave immense rejoicing to the crowds.
Leeds finished ninth in the table after displaying entertaining football. Where the other two teams Fulham and West Brom promoted with them became relegated to the second division. This success of Leeds owes to the contribution of several players in the team.
One of them is Illan Meslier keeping the goal post guarded by making brilliant saves throughout the entire season, or Patrick Bamford, who scored seventeen goals in the season, or a great skillful football player Raphinha.
There was another player who didn't get deserved attention due to playing in defensive mid. He is none but Kalvin Phillips, the player who handled the responsibilities of maintaining the midfield with utmost devotion. 
Although there was a slight fall in his performance after he got injured twice in the season altogether Phillips's performance was tremendous. Either his visionary long ball supply or ball recovery, both are astonishing. Phillips has been the mainstay of Leeds midfield.
Position and Role 
Argentine mastermind Bielsa throughout his managerial career at Leeds United has always been preferring 4-1-4-1 formation where Kalvin Phillips plays his role as a central defensive midfielder staying as a pivot in front of two center backs.
When opponents have the ball, Phillips acts as a shield ahead of two center backs. Though in most of the matches Phillips has freedom in man-marking, sometimes he is also seen marking the key player of the opponent. The major role he has to contribute when not in possession is to make the opposition's passing zone congested by covering as much area as possible.
Phillips's high work rate and immense physicality allow him to play full 90 minutes with the same rhythm covering the maximum possible ground area. That's why he is regarded as the engine of Leeds United's midfield.
In the offensive phase, Leeds's 4-1-4-1 formation converts to 3-3-1-3. This time Phillips drops deep to help defensively by forming a three-man backline and allow the other two center backs to move more widely.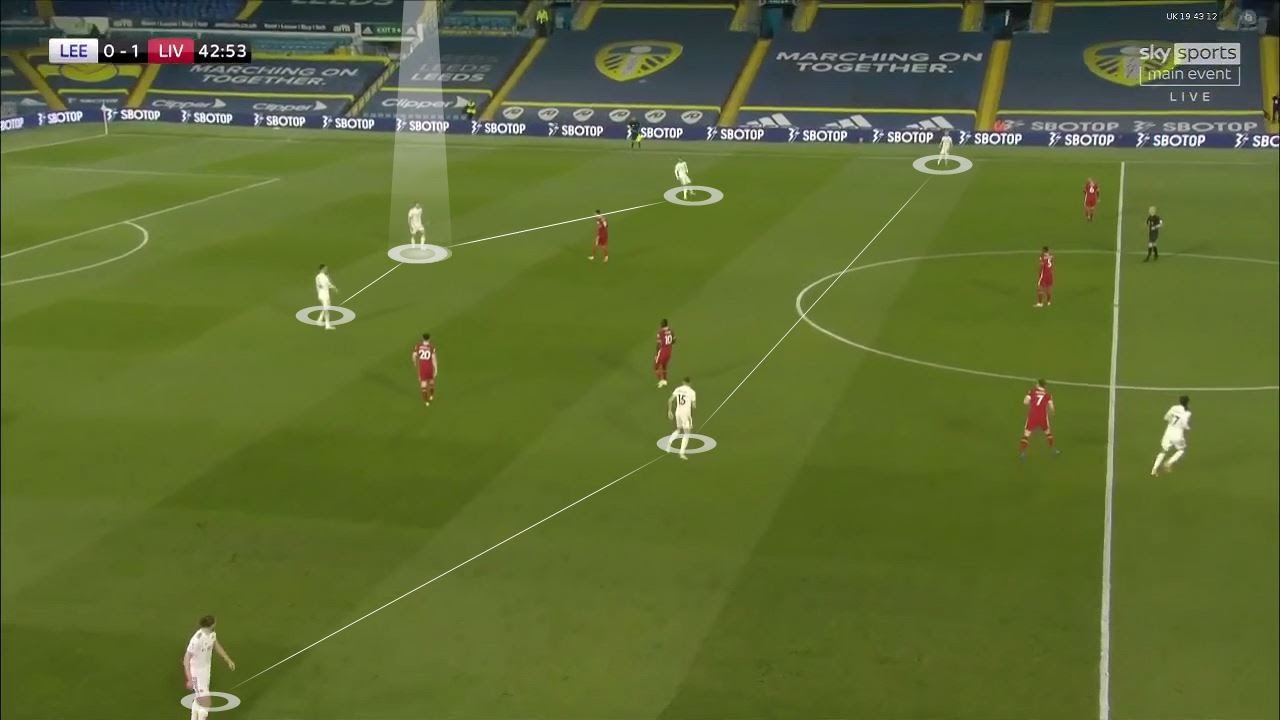 Therefore two fullbacks get the opportunity of playing high up on the pitch to participate more in the attack. What he does mainly while being at a three-man backline is to help at build-up by quick passing with other midfielders.
In general, he is not seen progressing forward by carrying the ball. As he has great excellence at circulating long balls accurately, at the build-up phase he is often seen giving the diagonal long ball to Raphinha or Jack Harrison at the wide area. Phillips's activity map with the ball has been shown in the picture below.
Photo: smarterscout
As the majority of Leeds's players stay upfront while losing the ball at offensive transition, a huge free space is created at the defensive half. During this time he tries hard to destroy the opponent's counterplay by tackling the opponent's ball carrier aggressively or regain the ball possession by intercepting. In this regard, more explanations with examples and different matrices will be given in the latter parts.
Build-up Involvement
Leeds United usually builds from the back. They switch their formations according to the opponents' formation. In this aspect Bielsa follows a specific strategy: If opponents play with one center forward, Leeds sticks with two center backs. But when opponents play with two center forwards, they play with three center backs. Hence Leeds can easily create numerical superiority in their defensive area with an extra man.
When Leeds plays with two center backs in the initial build-up phase, Phillips usually positions himself in front of them and creates a diamond shape with the goalkeeper. For this diamond shape, every ball carrier has lots of passing options in front of them. Therefore they can comfortably progress the ball forward beating opponents pressing.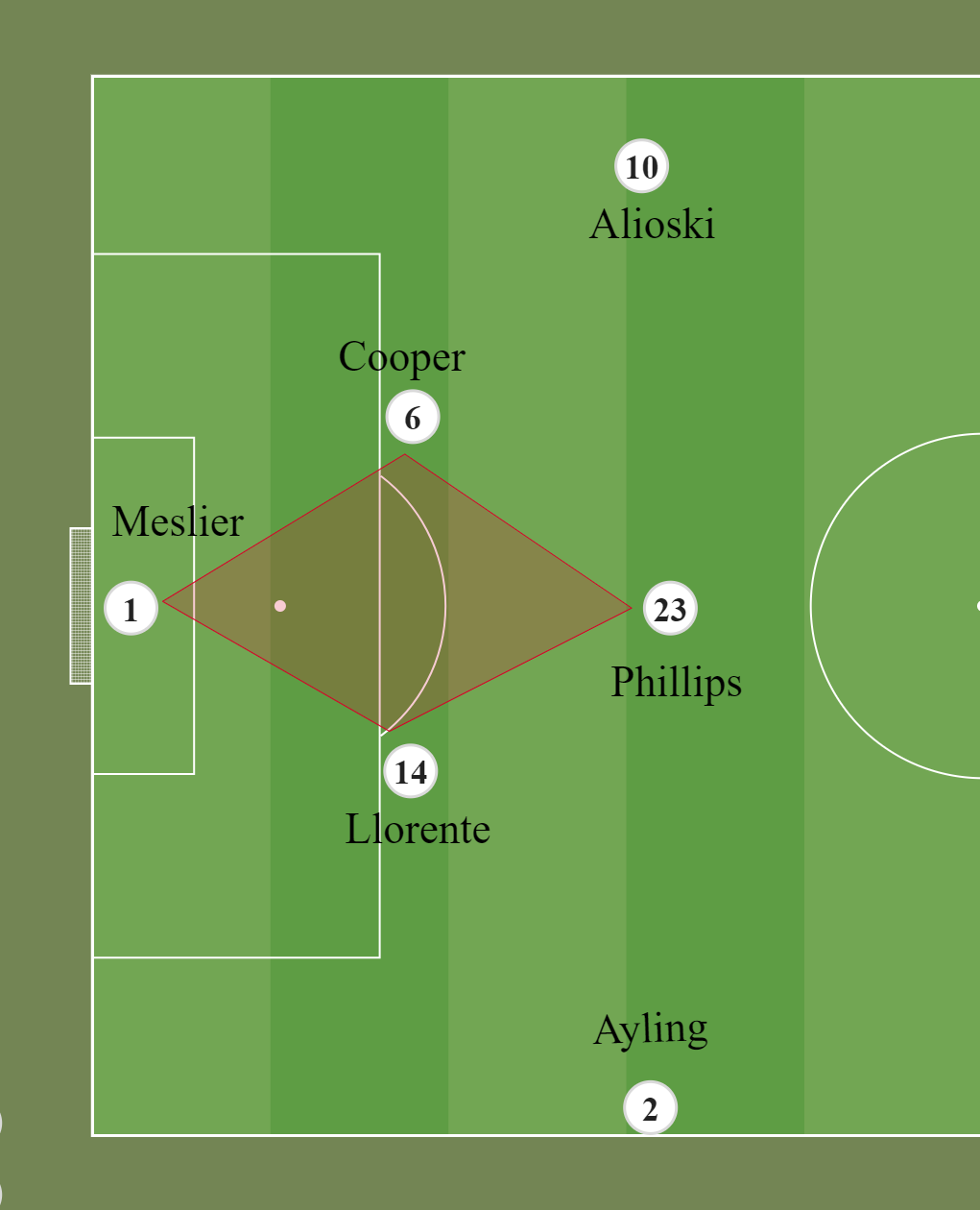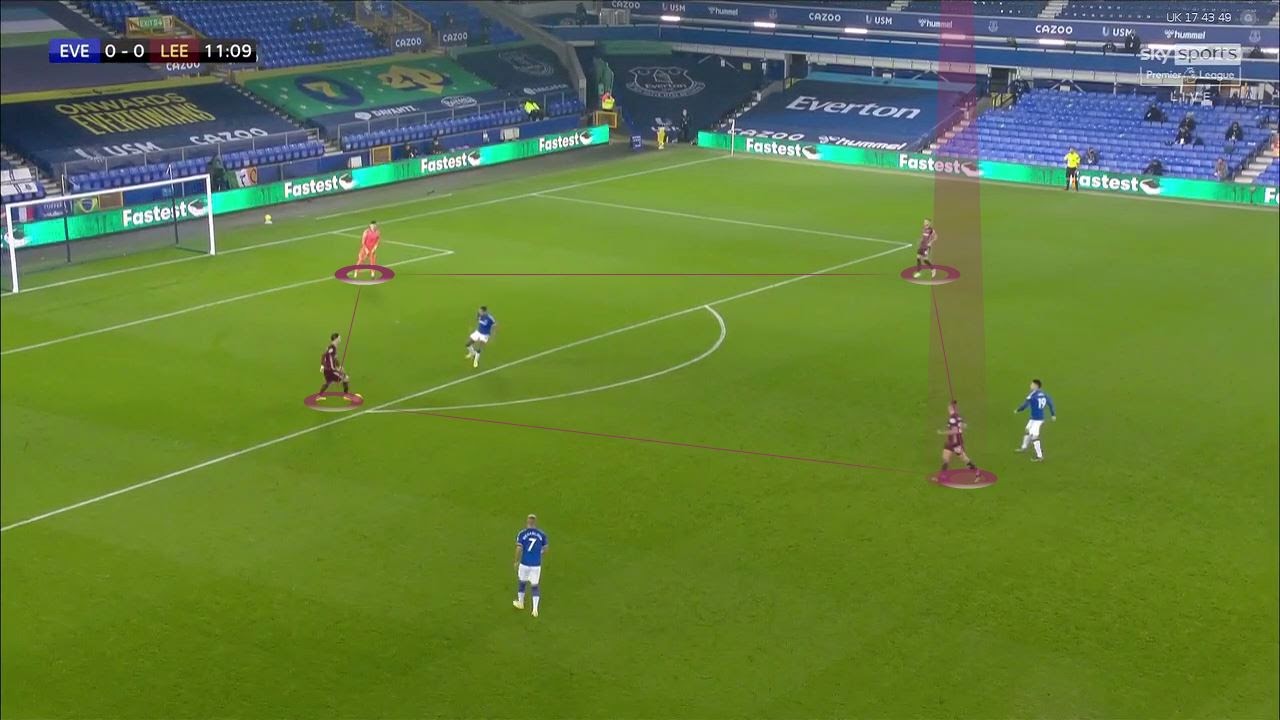 In the above mentioned image, we can see in the initial period of building the play from the goalkeeper, Phillips drops deep and creates a diamond shape. But while playing with three at the back, a noticeable change is observed; the middle center back takes his position deeper than the two wide center backs and Phillips creates a diamond shape with them. Below is a visualization where Phillips creates a diamond with three center backs.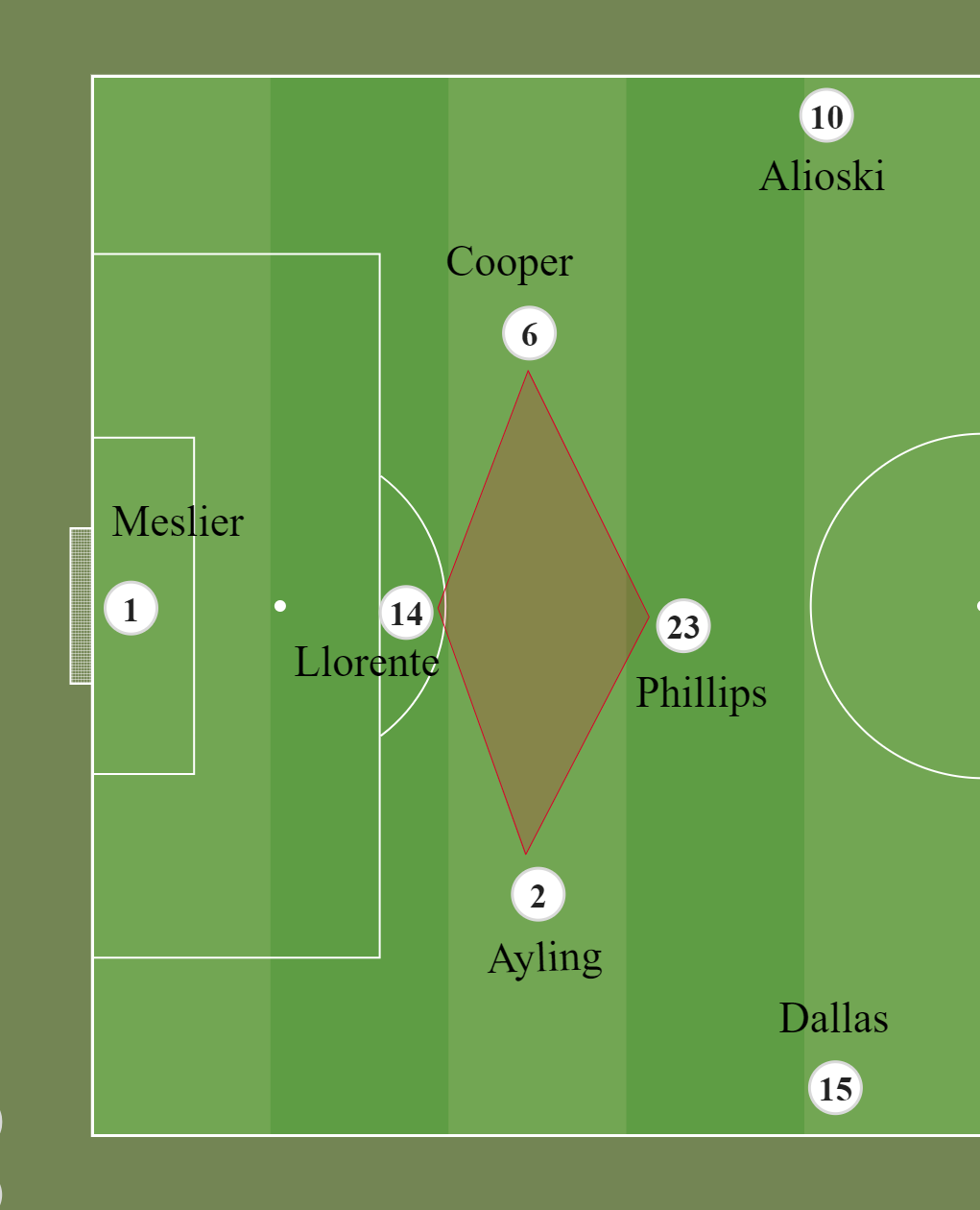 In the secondary phase of build-up Phillips plays a very significant role. He retains the flow of build-up by making quick passes and creates triangles with two box-to-box midfielders. Phillips often delivers long diagonal balls to wide areas from the center half area. Leeds' players are pretty strong in the aerial balls, their impressive display of winning the second ball impulses Phillips to play more long balls towards the wide areas. 
Observing the graph given underneath, we can see the comparison of long passing abilities of the midfielders who have played at least 1000 minutes in the premier league last season. Phillips's long ball ability has been quite impressive, attempting 16.6 long passes per 90 with 71.7 percent accuracy.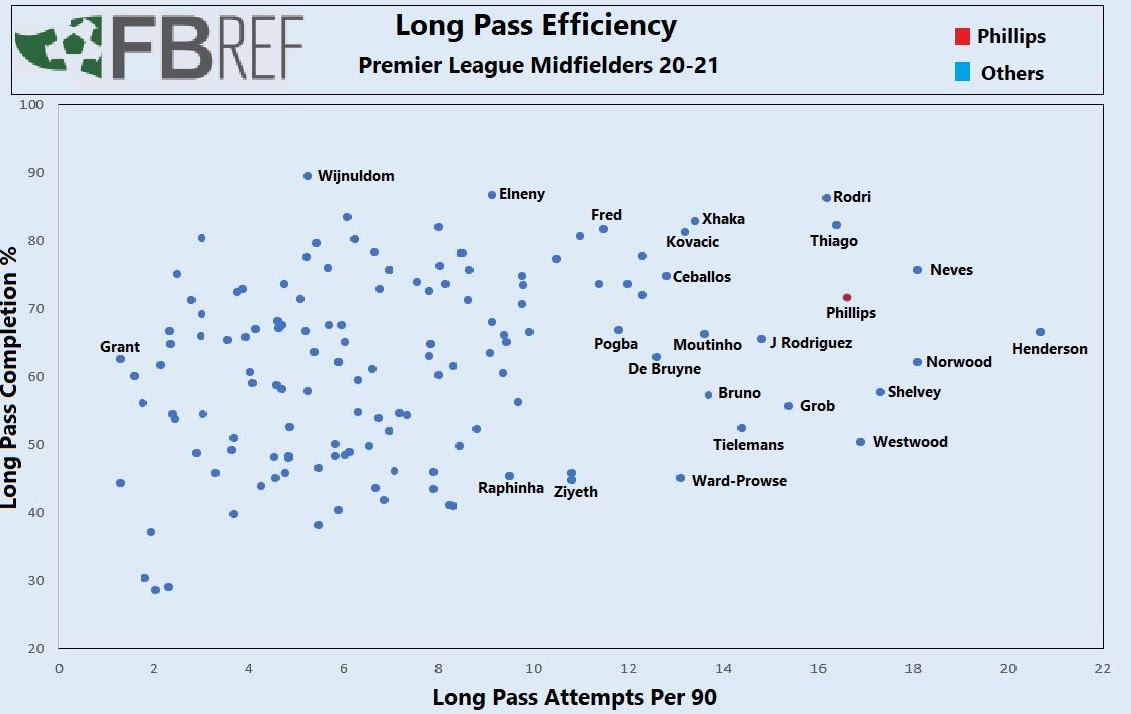 From the plot shown above, we can distinguish Rodri, Thiago Alcântara and Rúben Neves have better variables in long pass efficiency than other midfielders. Phillips is next to them in these matrices. James Rodríguez and João Moutinho have identical attributes with Phillips in these matrices.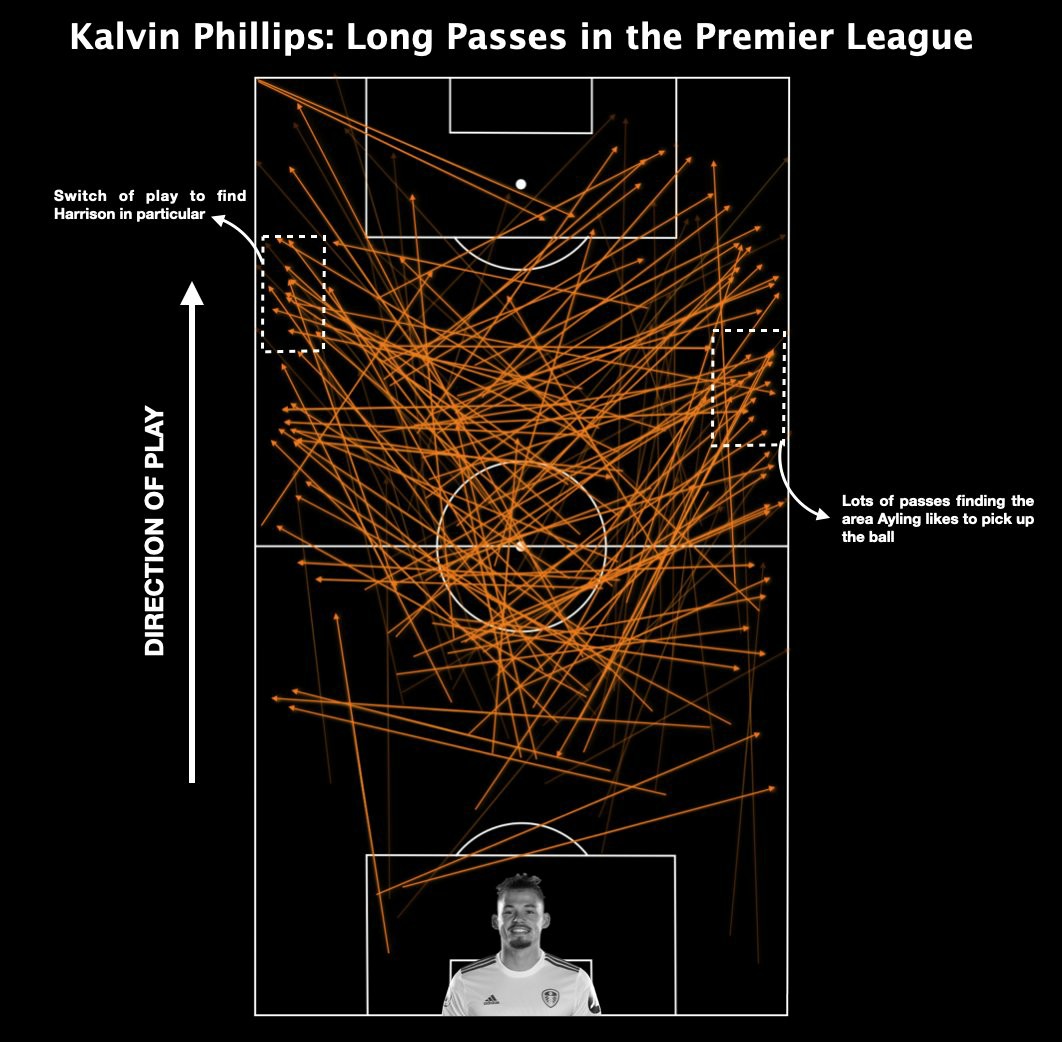 Photo: @FocusOnLeeds
We can picture the directions of Phillips's every long pass of the last season in the visualization above. If we perceive here, Phillips often delivers long passes towards Harrison in the left flank or Ayling in the right flank from the central area. Meanwhile, other wide players make forward runs towards half-spaces and hence create a 2v1 situation in the flanks.
Phillips has been excellent in long ball circulations throughout the season. But among all of his noteworthy performances,  the match against Everton in Goodison Park where Leeds won by 0-1 would be mentioned especially. Phillips has attempted 29 long balls with 93.1% accuracy in that match.
Outstanding long diagonal ball towards Raphinha from center-half area to left-wing.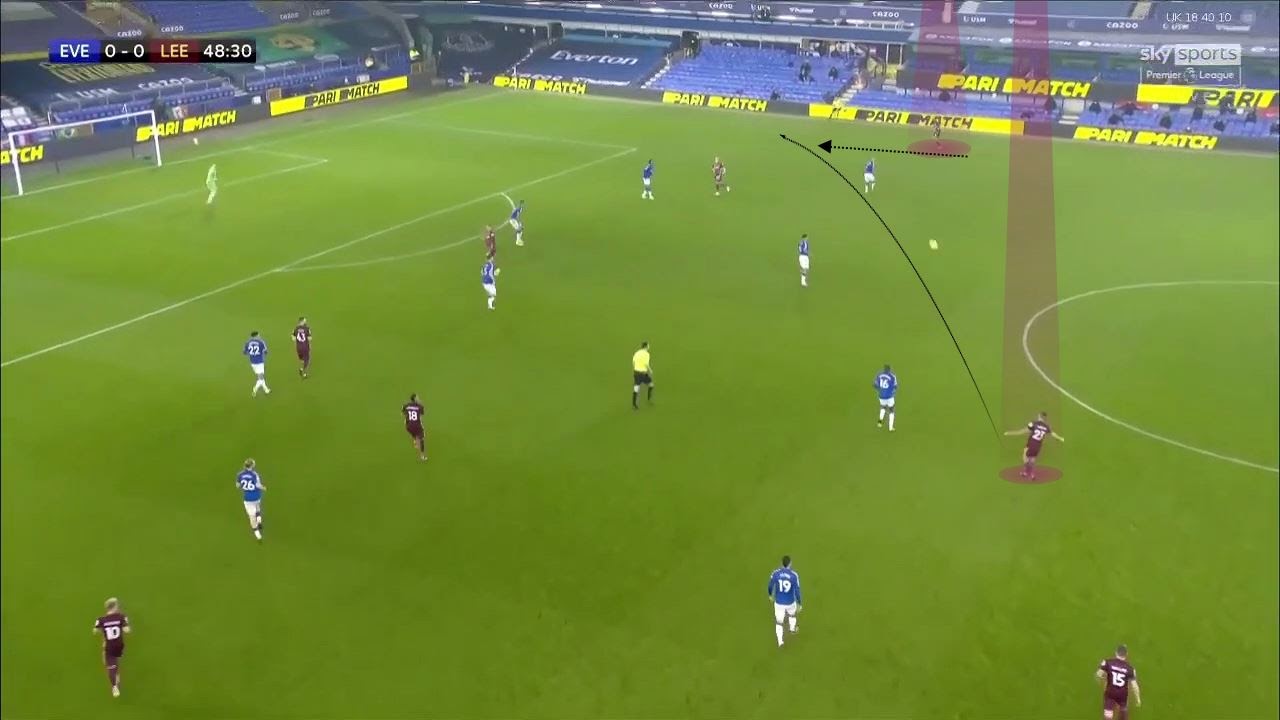 When Phillips received a pass from Ezgjan Alioski, Harrison positioned at right halfspace at the opponent's third and Luke Ayling stretched the line. From there Phillips delivered another superb long ball towards Ayling at free spaces in the right-wing.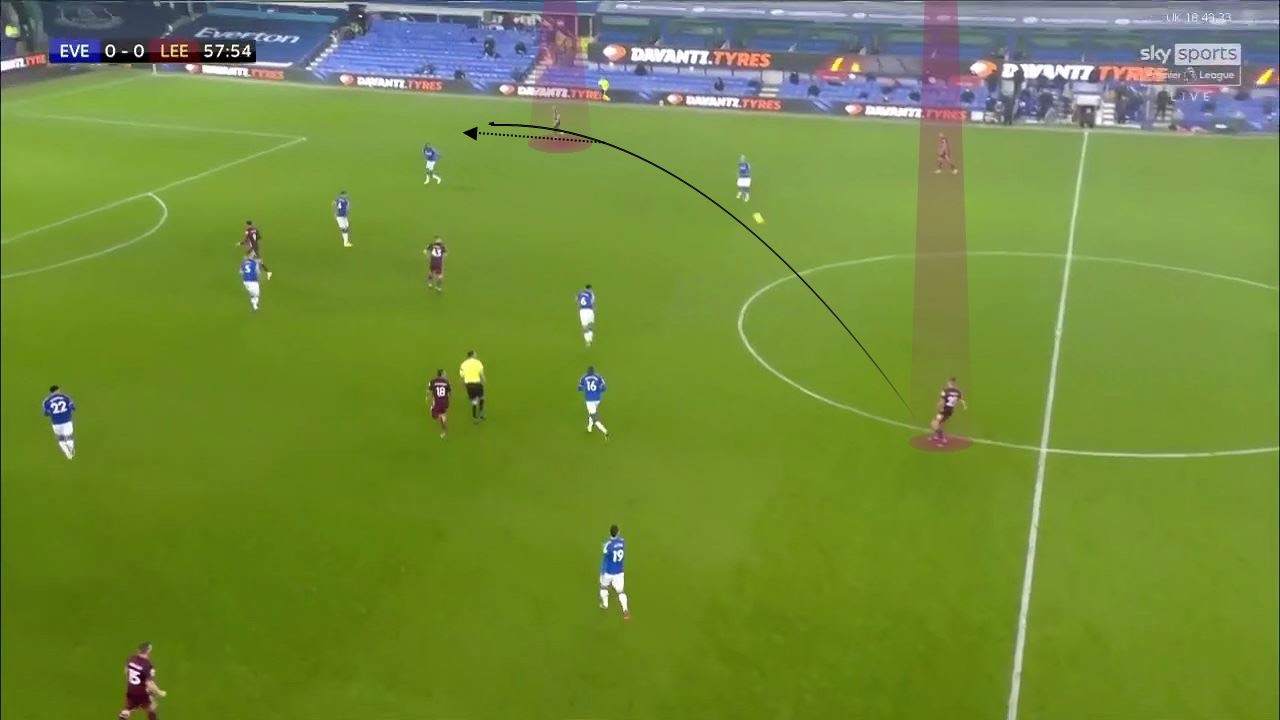 Again a visionary diagonal long ball from Phillips to Harrison in the right flank. In almost every match Phillips has been seen circulating long balls, among these there are some which completely exposed opponents' defense line. Below is an example of these.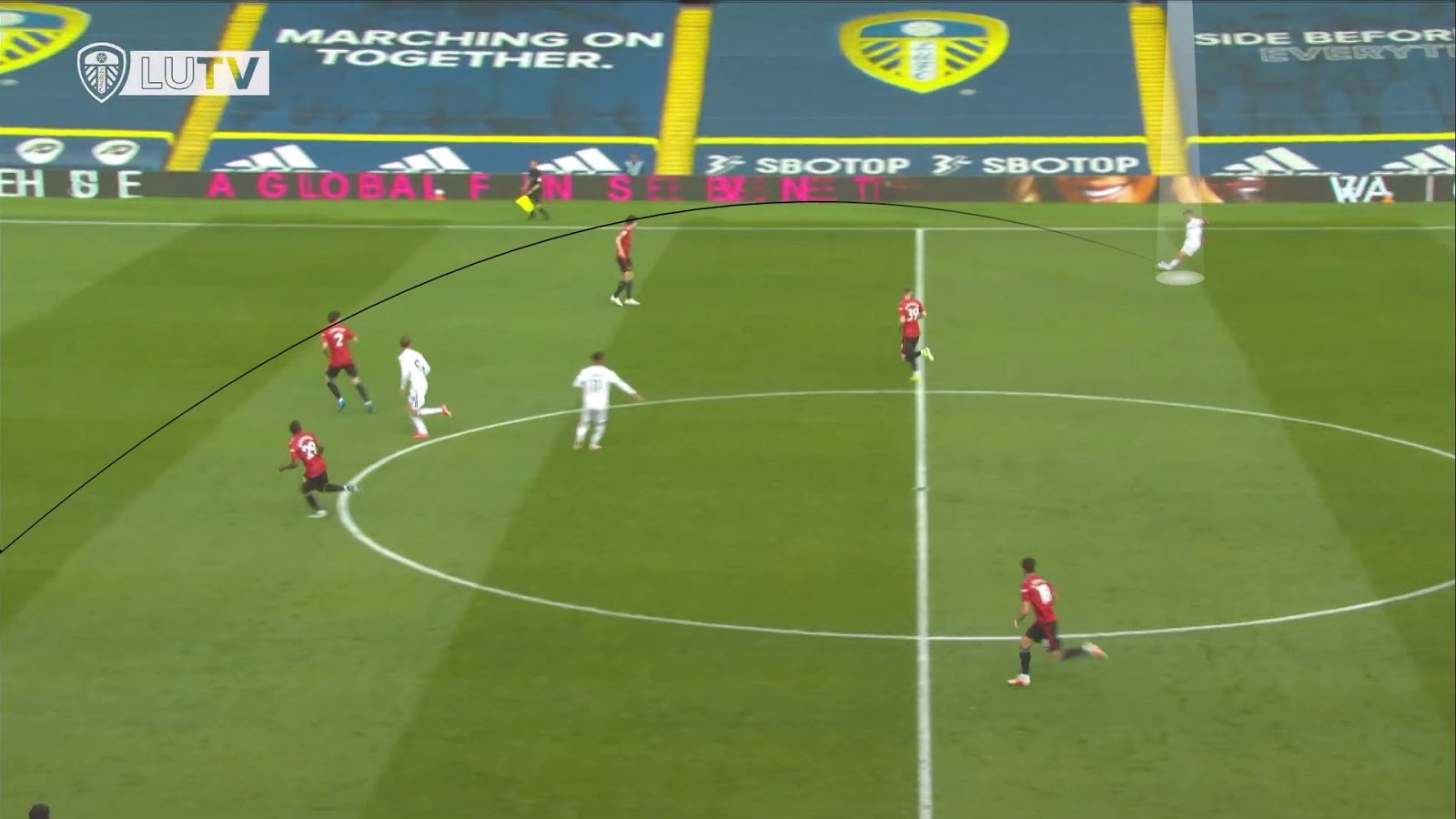 Phillips's long ball switched from right half-space since Manchester United's defenders were very high up on the pitch.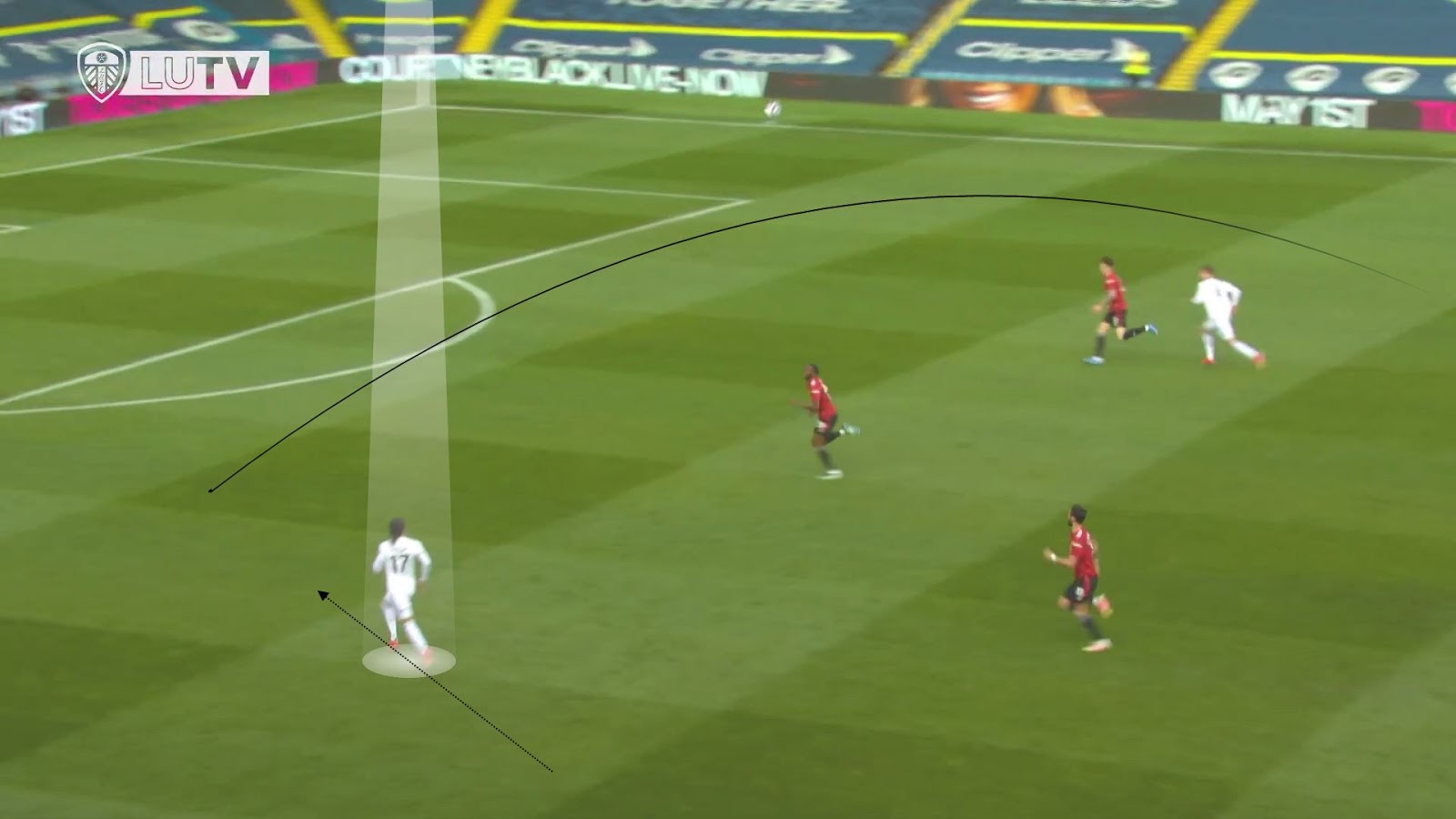 As Manchester United's right-back Aaron Wan-Bissaka moved to the center area, their right side totally got exposed. From Phillips's long pass, Hélder Costa found a huge space on the left side and got a chance to create a good goal-scoring opportunity.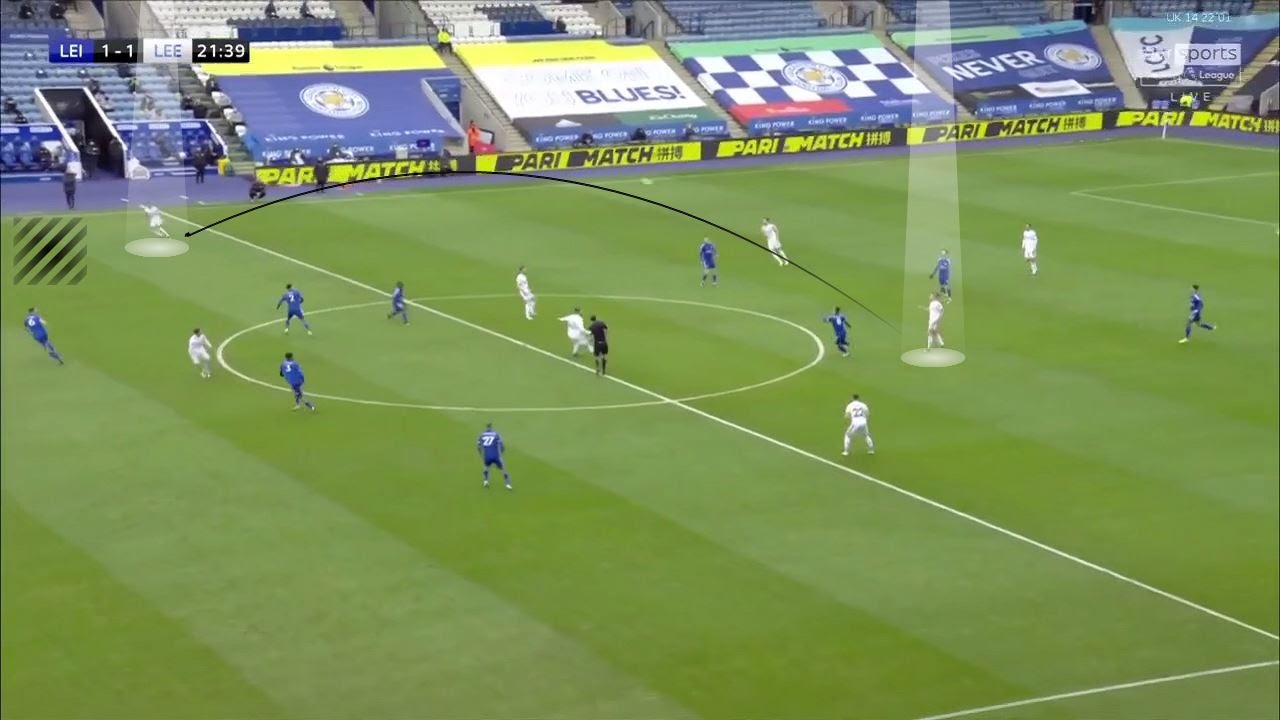 Phillips's long ball towards Raphinha from the center area against Leicester City. Leicester's right back James Justin pushed high up to intercept Liam Cooper's long ball and hence Phillips quickly served the ball at right free space to Raphinha immediately after getting the ball. 
Pressing and Defensive Contribution
Leeds is such a kind of team who loves to keep the ball possession in their control. Hence whenever they lose the ball, they try to regain possession quickly with their high intensive pressing. Pressing efficiency of Premier League midfielders in the 2020-21 season has been given below, where the x-axis and y-axis represent press attempts per 90 and press success rate respectively.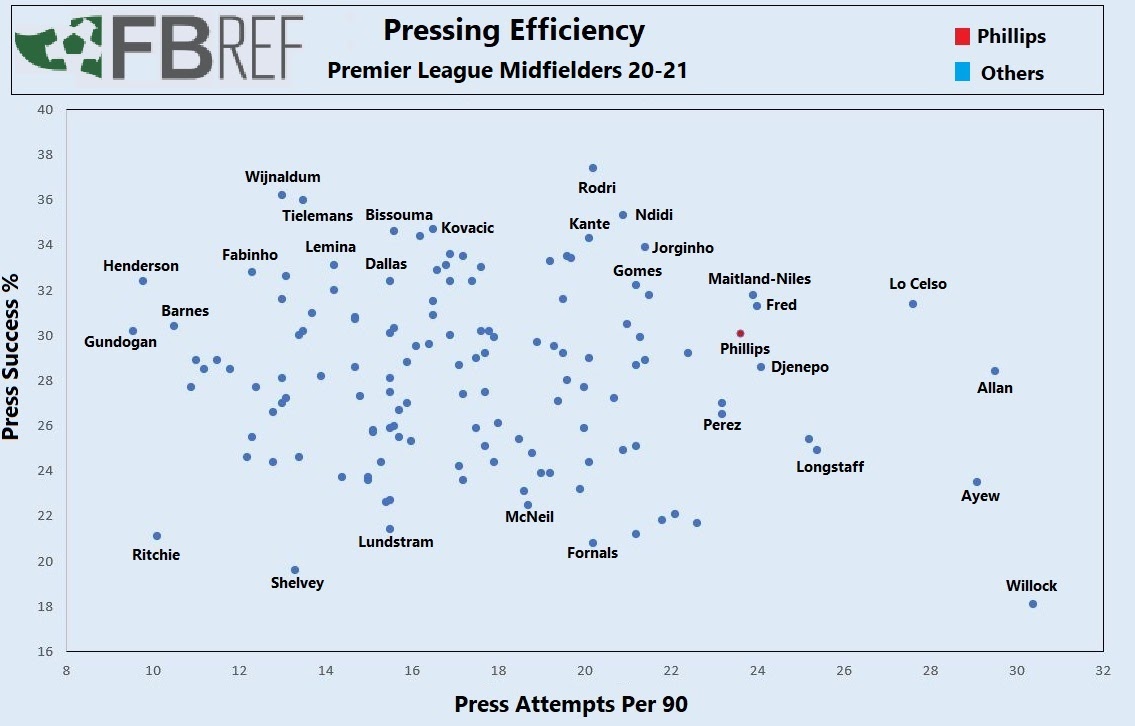 According to the graph, Jordan Ayew, Allan and Joe Willock have the highest press attempted rate per 90, so they are considered aggressive pressers. Considering the pressing success rate, Georginio Wijnaldum, Rodri and Youri Tielemans can be said to be effective pressers.
As reported by the graph, Phillips has attempted more presses than any other Leeds midfielders. So Phillips can be regarded as an efficient presser.  From the underneath visualization, Phillips's 2020/21 season's defensive activities have given.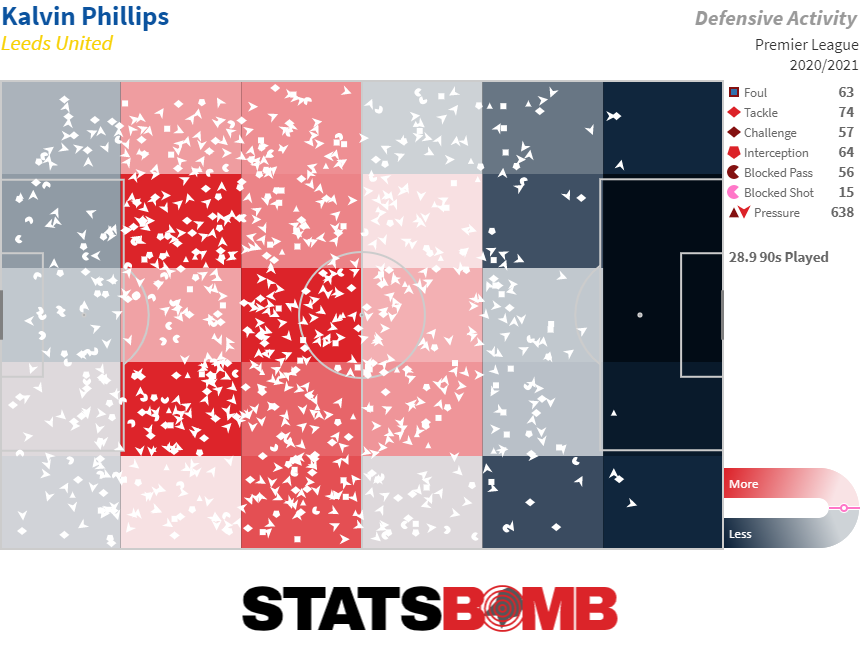 Photo: StatsBomb
Phillips has usually attempted more pressure in his defensive half than the opponents' half. But he often tries to anticipate the ball in the opponents' half. In the attacking phase, every player of Leeds stays in the high line except their two center backs and Phillips, so whenever they lose the ball, Phillips is seen pressing the opponents to recover the ball and prevent their counter.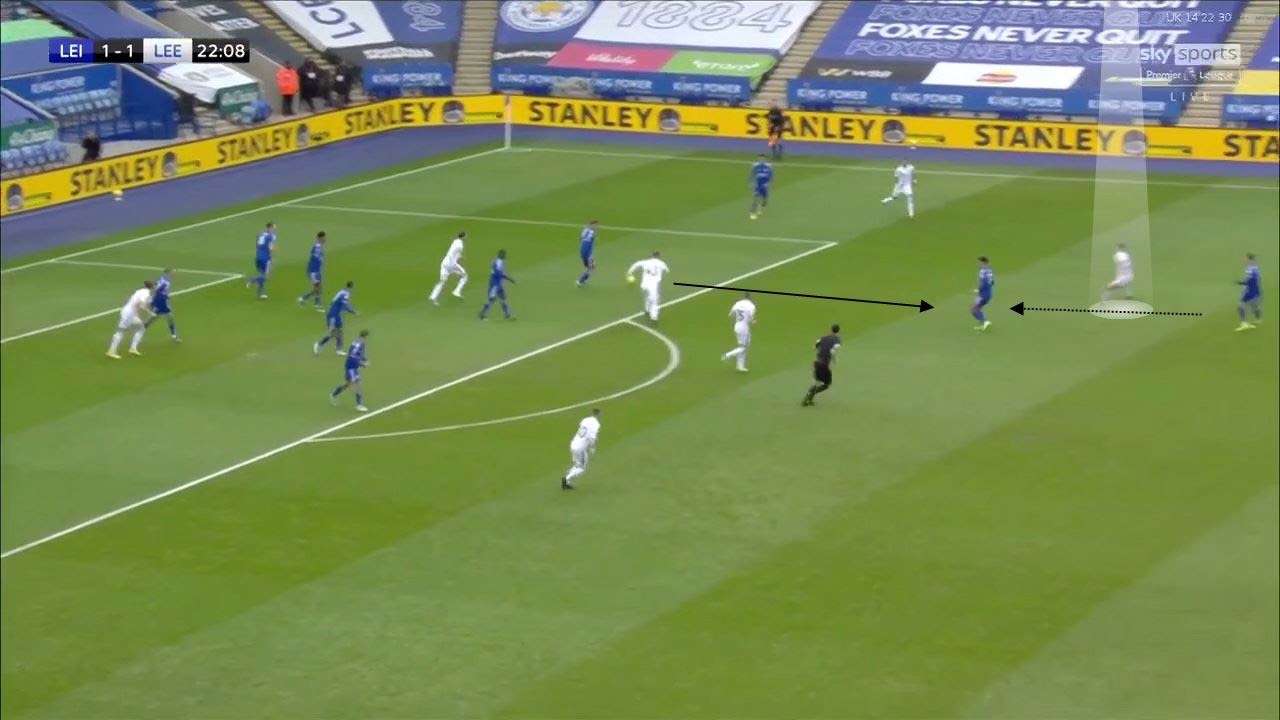 Here Harvey Barnes blocked Raphinha's cross from the right-wing and immediately passed it through Ayoze Pérez. However, Phillips's quick interception from behind destroyed Leicester's potential counter-attack opportunity.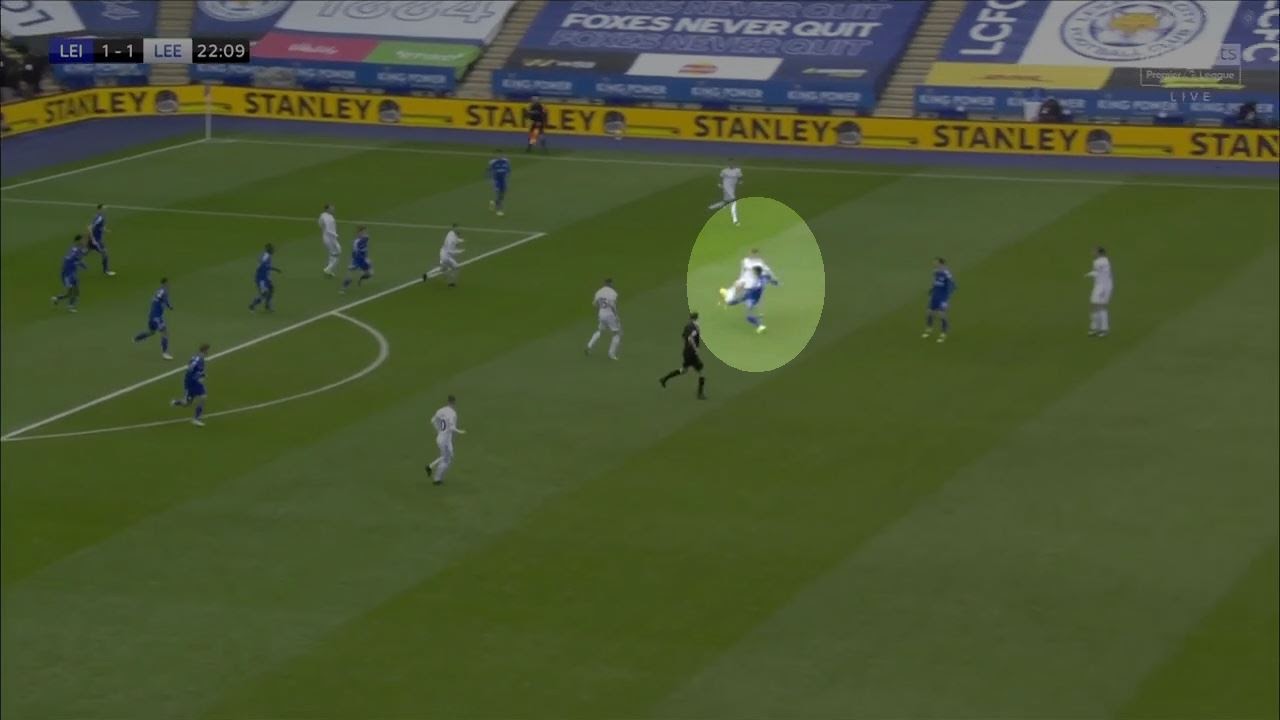 Against Crystal Palace, after Stuart Dallas's shot being deflected, the ball came to Ayew, and then Phillips quickly pushed high and pressed Ayew to recover the ball. Phillips's positioning brilliance, opponents' movement reading skills, and physicality help him destroy opponents' counters and regain the ball.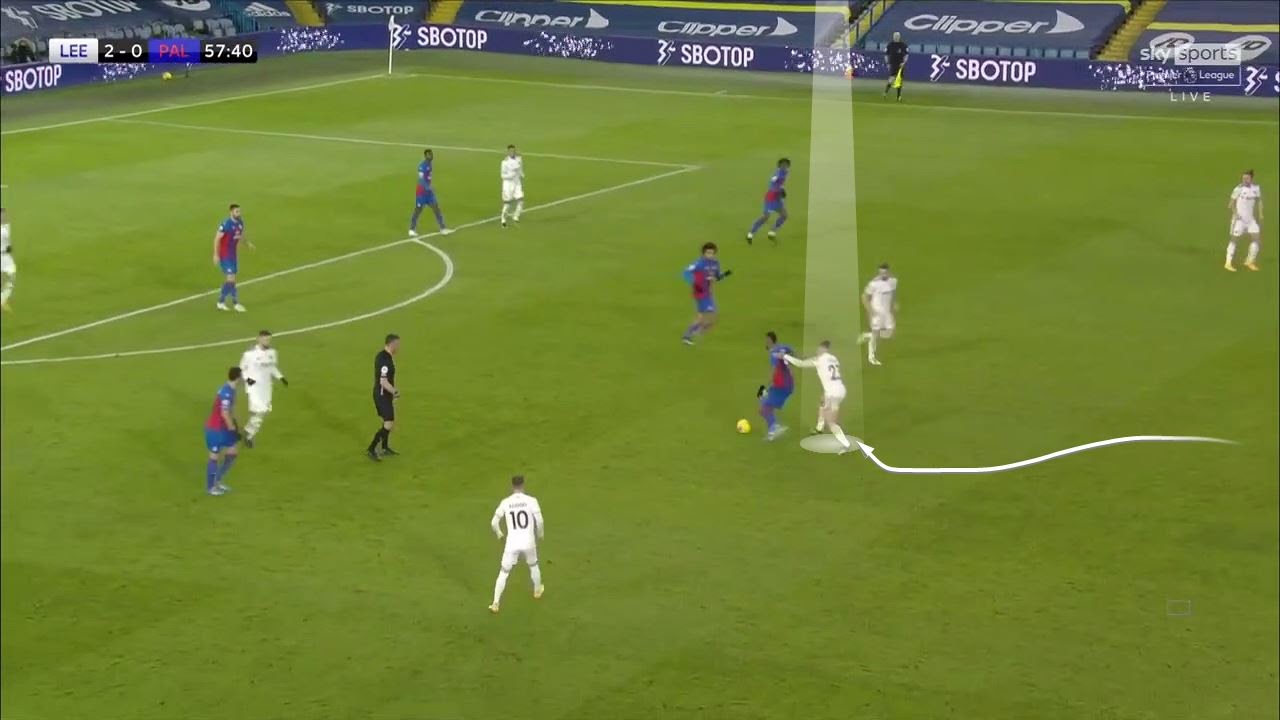 As a quality ball player after regaining possession, he insists on keeping the ball rather than clearing it away. Let's notice the example below, as Diogo Jota is trying to move forward to half-space from the left flank by carrying the ball.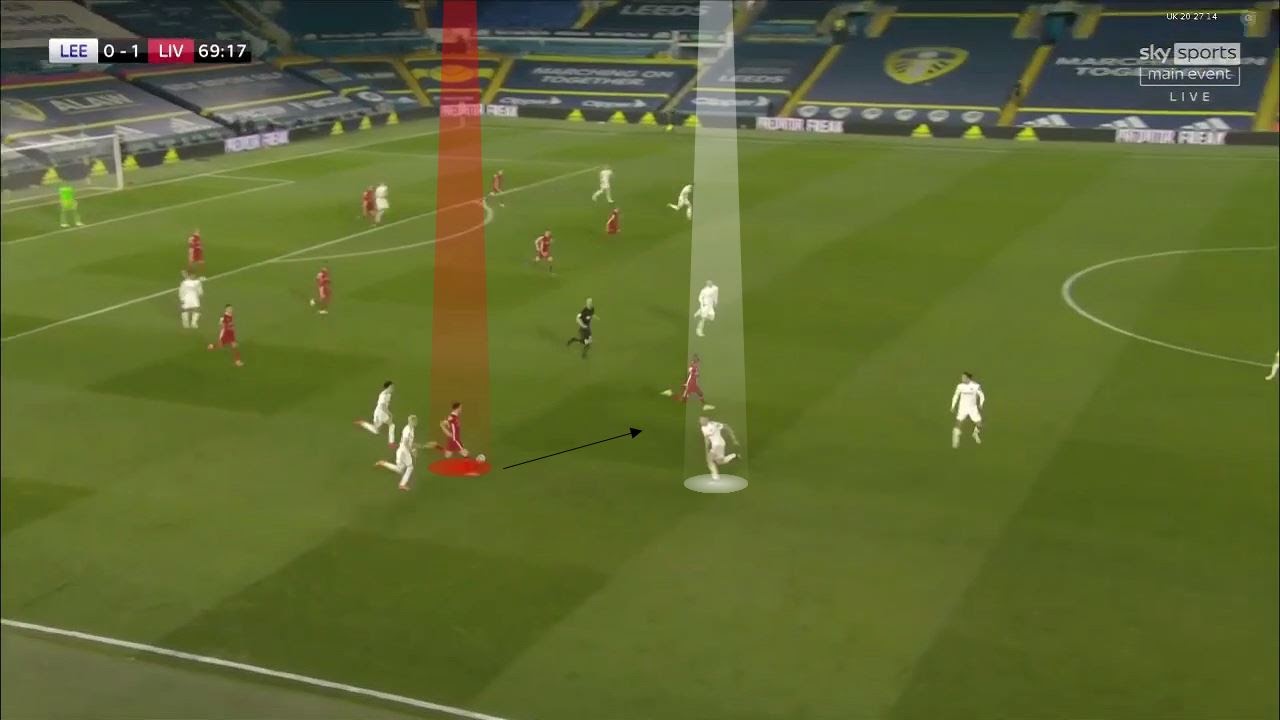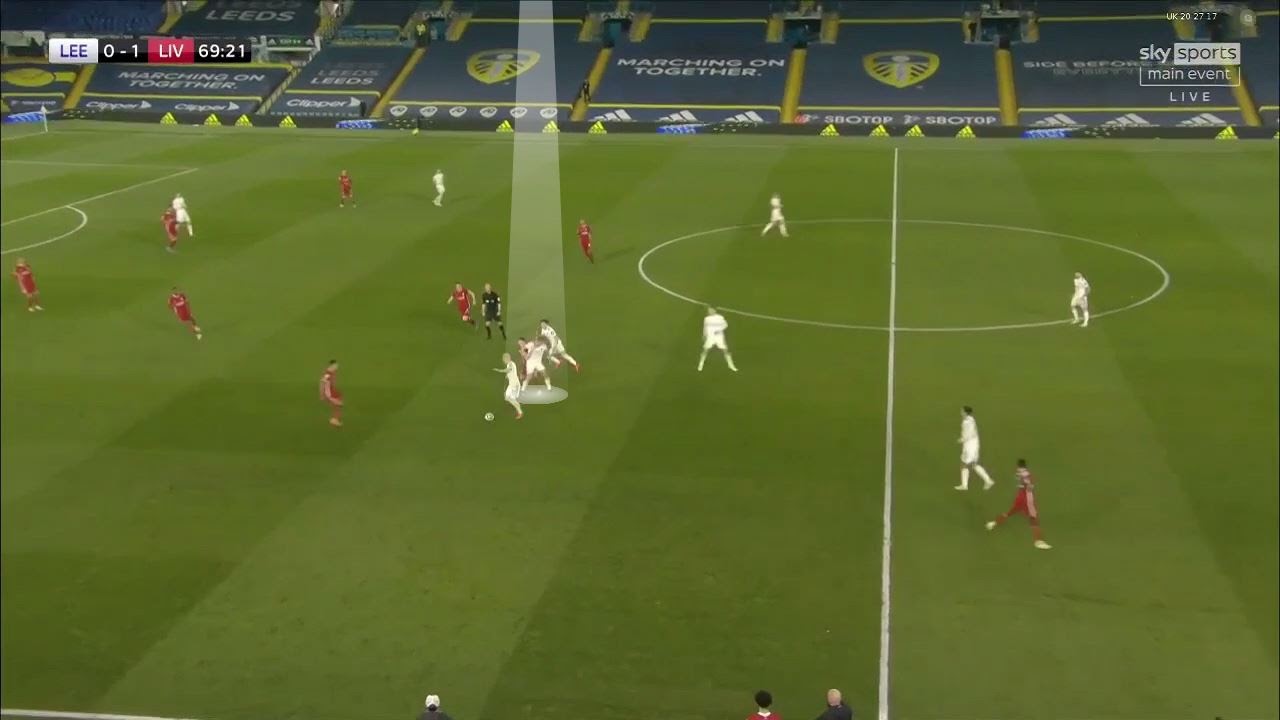 Meanwhile, Phillips hinders him by blocking his running path. Even though Phillips hasn't directly recovered the ball from Jota, he has blocked him using his physicality. Hence Ezgjan Alioski has got enough time to take the ball to his feet. 
The below images are an impressive example of Phillips's positioning sense and ability to predict the opponents' pass flight to intercept the ball. Though initially, Phillips was far away from Roberto Firmino when Jota had the ball, as soon as Jota attempted the pass, Phillips quickly moved towards the ball.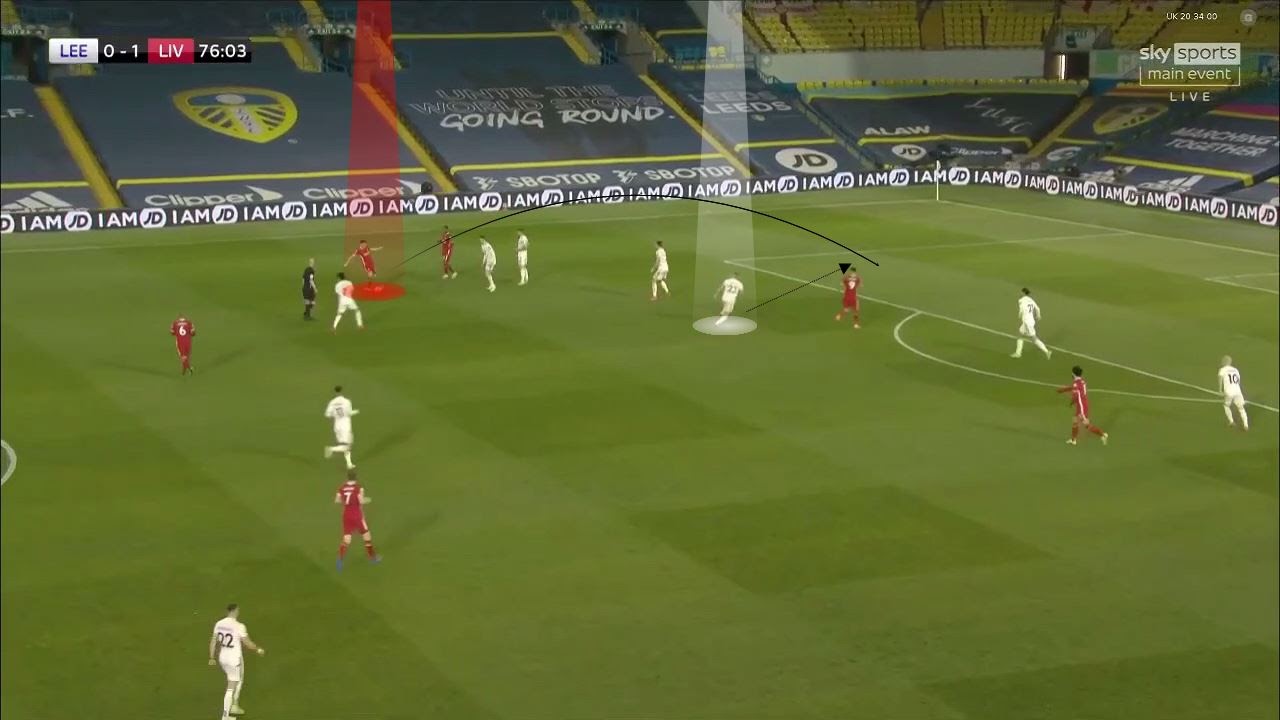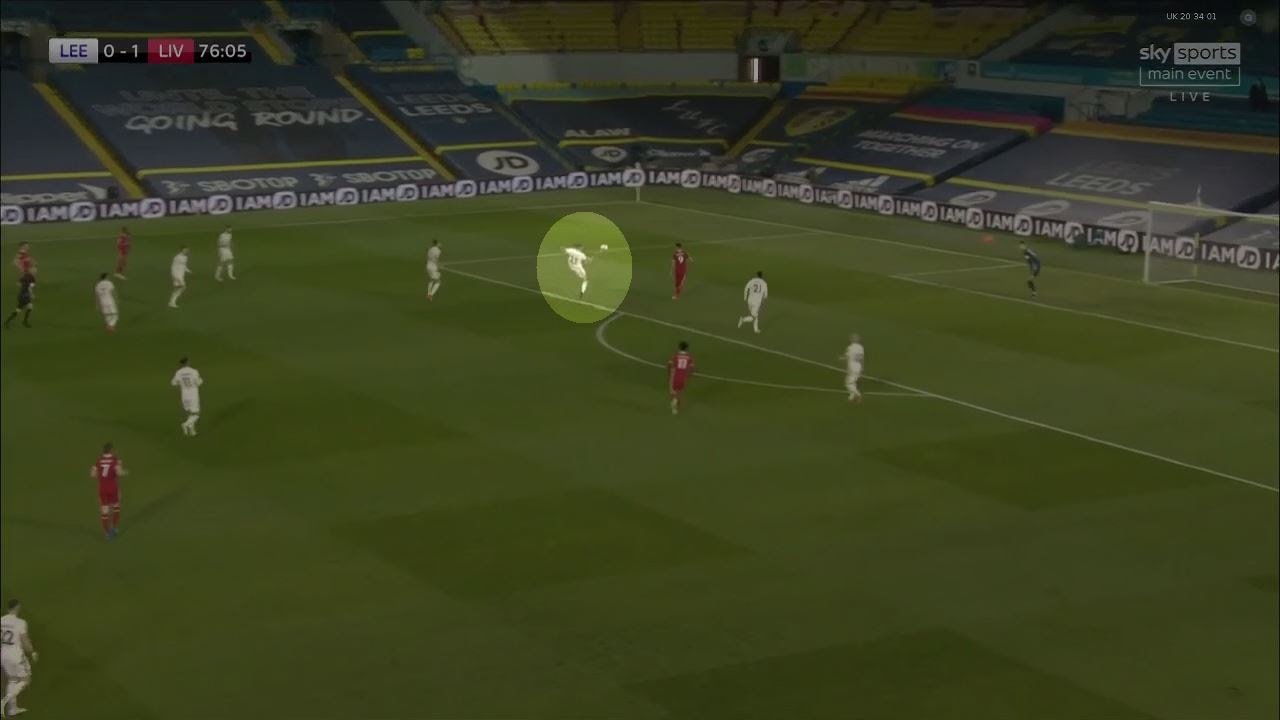 If Jota's pass successfully reached Firmino, he would have been in a 1v1 situation with Illan Meslier. But Phillips's excellent positioning sense didn't let the ball come to Firmino. Phillips's strong ball interception ability not only helps the defense but also creates opportunities for attack.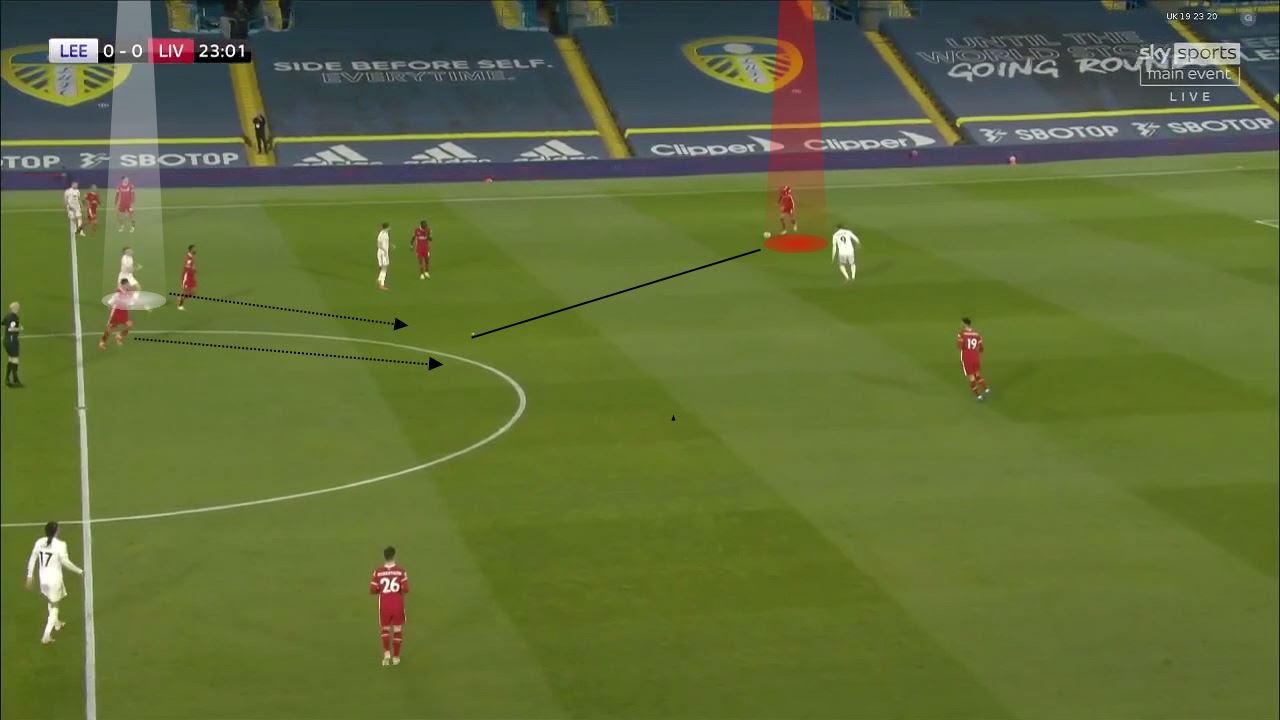 Here in this example, Fabinho made a pass towards Firmino but Phillips immediately came from behind and intercepted the ball.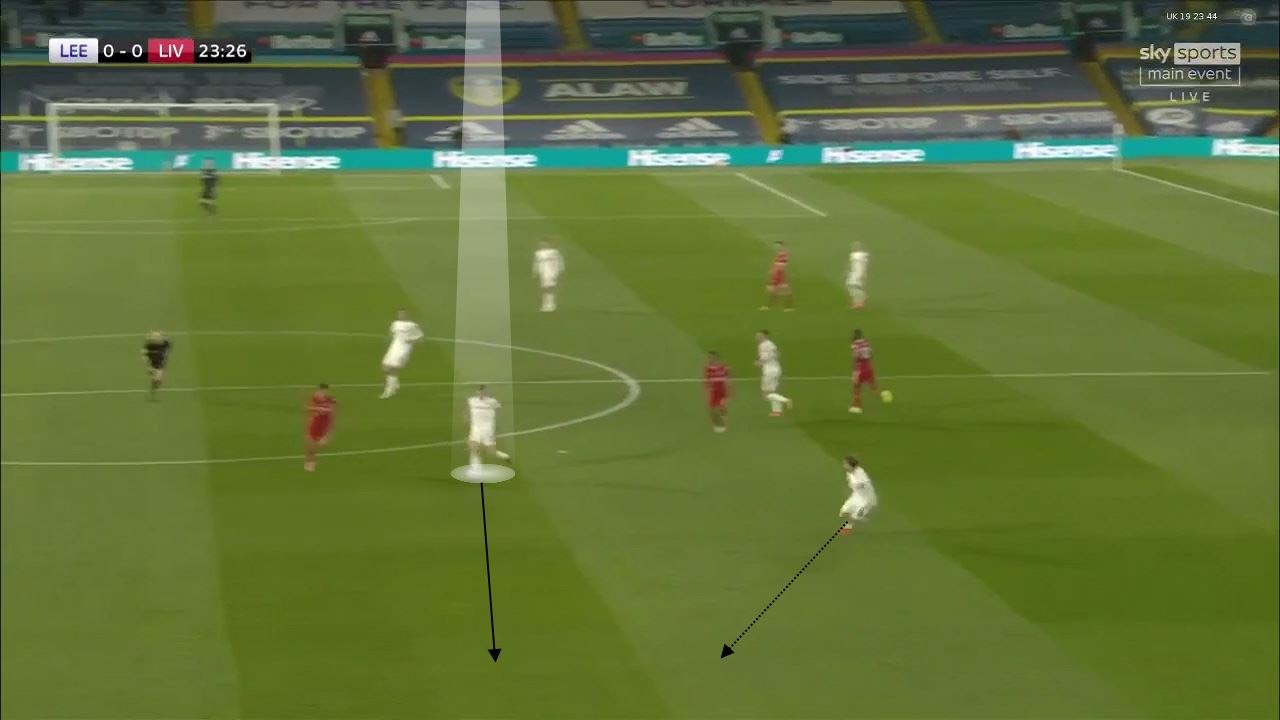 Liverpool's whole defense line completely got exposed due to Phillips's ball interception. Taking the opportunities of it, Phillips had made a quick through pass towards Bamford, which created a goalscoring opportunity. But unfortunately, Bamford couldn't find the net even from that close range against Alisson. 
Since both fullbacks of Leeds push very high in the offensive phase, a huge free space is created in the wide areas of their defensive third. As a result, when they lose the ball, the wide areas get exposed and the oppositions get the golden opportunity to make the best use of it. At this time, Phillips comes to cover the area with his work rate.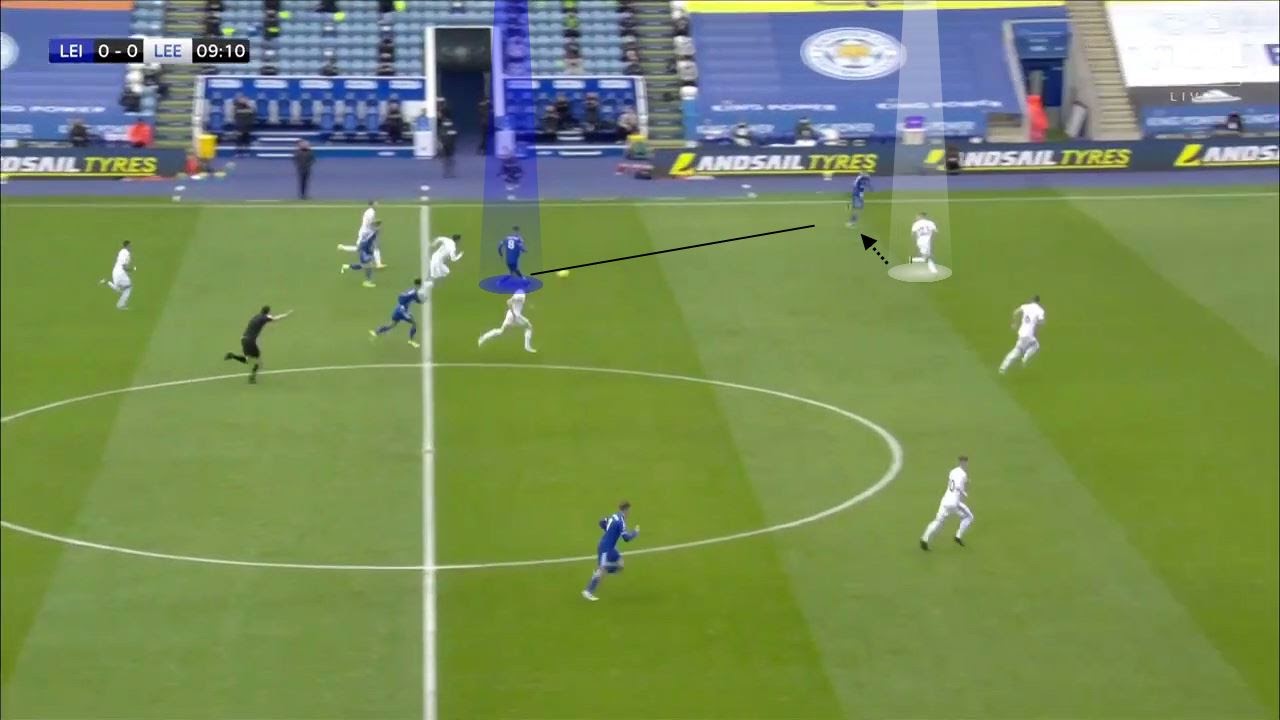 In this example, Leeds's right back Luke Ayling was in the highline during Leicester's attack and consequently, Leeds's right side was entirely uncovered. Immediately after that Tielemans gave a through pass towards Barnes. Quickly moving towards Barnes, Phillips prevented Tielemans's pass from reaching its target and destroyed a potential counter.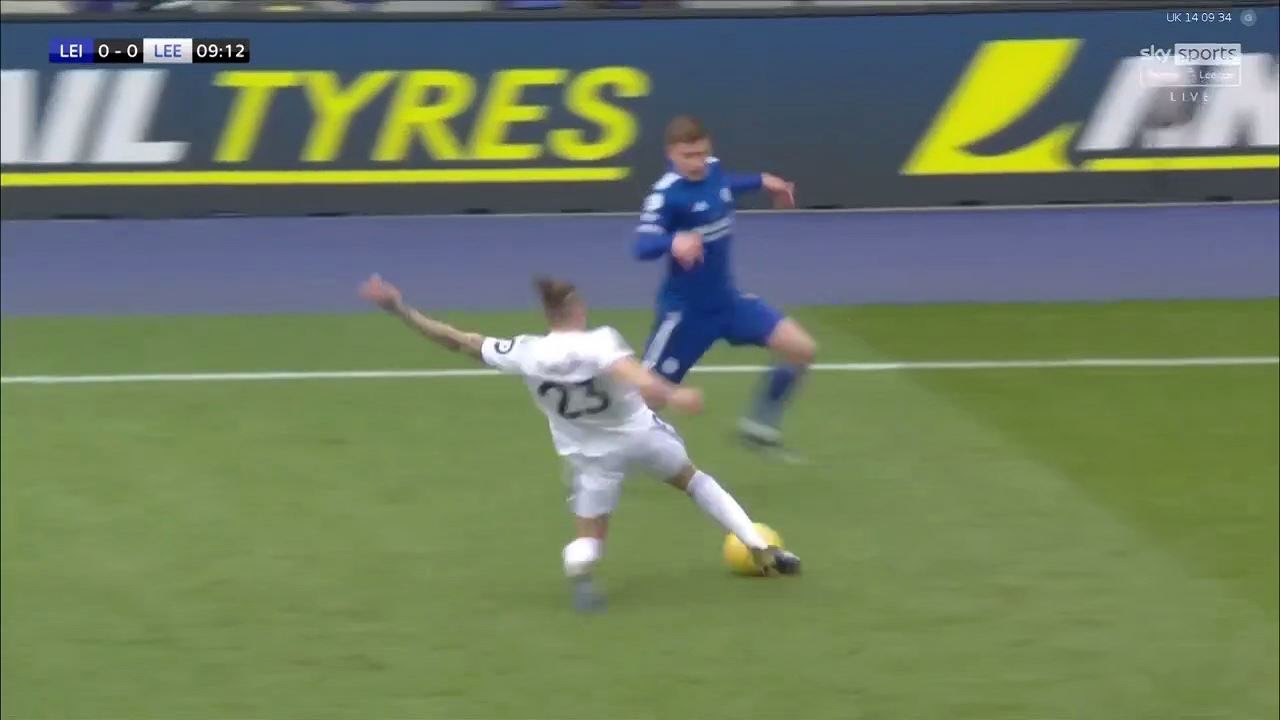 In the 2020-21 season, Kalvin Phillips's performance was amazing for Leeds. Phillips played his role incredibly well but his contribution was underrated. After the successful Euro campaign, Phillips will try to continue this performance with Leeds throughout the next season.
By: Amartya Das Dip  (@amartyadasdip)
Featured Image: @GabFoligno / Laurence Griffiths – Getty Images