Player Analysis: Kelvin Yeboah
General Support for the Red Bull project is a reasonably untenable position in countries like Austria and Germany, where a precise cut and dry footballing culture has flourished and become the envy of many on the continent. Though many are disappointed with the divergence of power in Austrian football towards the Bull, there have been some rewards reaped by the greater ecosystem, dare I say, "trickle-down economics.'
You can debate the health of the heart of Austrian football post the invasion of the energy drink brand; however, the strength of the alpine dollar has grown, and the legitimacy of an early pit-stop in Austria is increasingly attractive for young players everywhere. No doubt a majority of talent is centralised in Salzburg, however as a whole, the Austrian Bundesliga has improved, evidenced by the UEFA rankings, and as a result, we are witnessing far more talent on Sky Sports Austria than a decade ago.
How Red Bull Salzburg's Academy Revolutionized Austria's National Team
As a result, the prices which Austrian clubs can demand for their prized talent has increased; seven of the ten record departures have come since 2018, no doubt some success stories within that pack. The latest talent to catch my eye is not from the streamlined talent factory in the northwest, but rather south-eastern Austria's premier club, Sturm Graz.
Since his arrival, Christian Ilzer has rejuvenated the club and has made them a proper force within Austria's footballing landscape and genuine challengers for a first title in over a decade. The jewel in the crown is 21-year-old Ghanian/Italian Striker Kelvin Yeboah, nephew of once Leeds forward Tony Yeboah.
Yeboah has caught headlines after his blistering start to the 21/22 campaign, which is already proving to be an improved second act to his breakout 20/21 season. Let's have a look at what Yeboah offers and decide whether or not he may be the latest talent to trade the Alps for a top 5-league.
Statistical Overview
I will go into more detail when we deal with the specifics of Yeboah's game; however, before that, let's look at his general statistical profile and how this compares against players in similar situations. The graphic below shows us how Yeboah profiles when it comes to what I see as the extended group of metrics which are pivotal to gauging a striker's level and style.
If we begin to work our way down the graphic, we can see that Yeboah has an impressive profile in an attacking sense. The immediate interest is that despite having a very high shot accuracy, he has a low goal conversion %. As we will discuss later, his shot placement leaves much to be desired even though a majority of his shots force a save; this is further reflected by the fact that he underperformed is impressive 0.47 xG by 26%.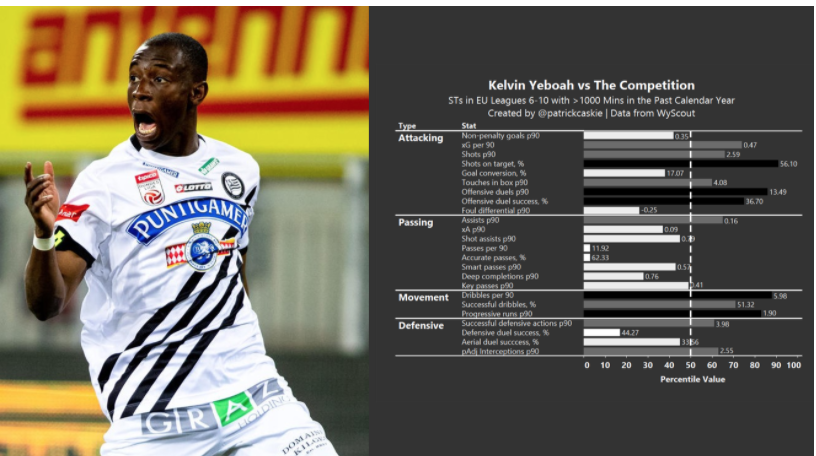 Beyond this, Yeboah is very active in offensive affairs, evidenced by his high quantity and quality of offensive duels p90 and his touches in the box p90. As we move down and look at his passing stats, they appear almost paradoxical.
Despite the passing p90 and accuracy being of concern, he can produce decent creative stats. This suggests that he has no problem in aiding and abetting chance creation; but, is slack in the basics, which can be seen as a massive underlying fault or something that can, for the best part, be ignored given the creative production.
Let's move on to his Movement, which, as you will discover later, is perhaps his standout attribute both statistically and visually. This is likely a result of two things, his ability and the fact that he plays as the "mobile" forward in a 2 for Sturm Graz. Regardless of tactical responsibilities, it takes a unique talent to put up both the quality and quantity of dribbles and yardage that Yeboah does.
Beneficial for the Italian is that this should be a skill that translates well to any potential transfer move, no doubt a skill he will lean on throughout his career, regardless of where and what he goes on to do. Finally, when we look at the defensive section, Yeboah doesn't profile as a defensive forward. Considering the high press that Sturm Graz employs (7.74 PPDA), these numbers are likely slightly inflated; regardless, Yeboah's prospects will not be determined by his ability in the tackle.
Position and Role at Sturm Graz 
Yeboah's career is still very much in its infancy so we could still see some positional divergence and maturing, however based on the sample size we have up to now, Yeboah is a centre-forward and not much else, not that there's anything wrong with that. He has limited minutes on the right wing, which makes sense given his heatmap below and also the fact that he has a natural preference for the right side when playing in a two.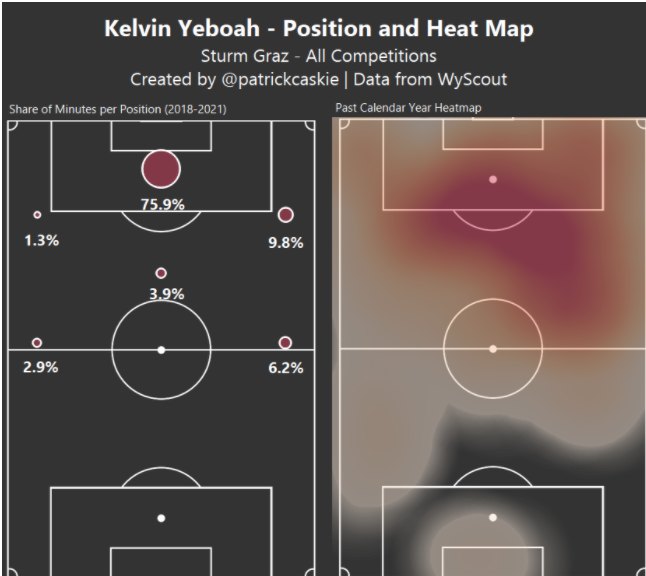 The image below sums up the primary responsibilities entrusted in Yeboah while at Sturm Graz. Usually, the team sets up in a 4-3-1-2 with the most common pairing of Kiteishvili behind Jantscher and Yeboah.
Jantscher, the older and less mobile of the pair, will stay deeper and be used more in link-up play, whilst Yeboah is expected to be the runner/carrier who goes beyond the backline or comes deep to pick up the ball and progress it up the pitch.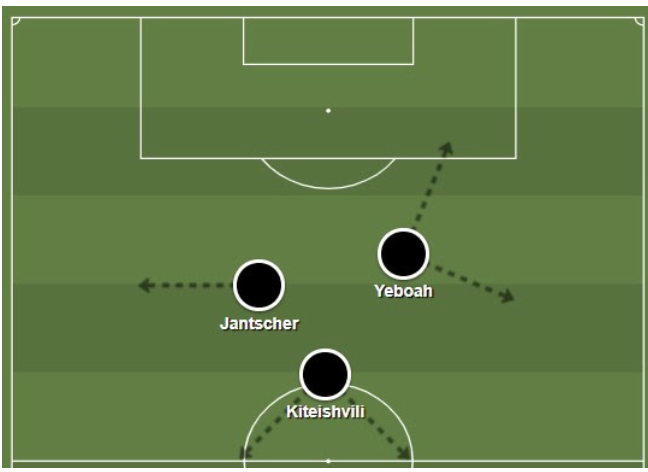 Defensive Contribution
The beeswarm below provides some approachable perspective towards Yeboah's defensive contribution at Sturm Graz in the past year. In terms of actual attempts/duels, he is fairly active, however as mentioned earlier, almost all forwards in Austria have inflated stats compared to their compatriots in other leagues.
His success is very low, most likely since he almost always comes in as second best; that is just the nature of taking on a defender as a pressing forward. In the air, his success rate is decent, which is helpful in both offensive and defensive situations, even more so, considering that he is a striker.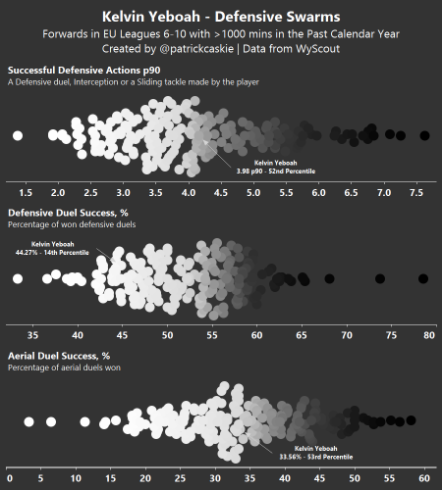 Yeboah is asked to do a lot of general harassing and pressing off the ball. The image below shows one of the most common manifestations of his instructions. Yeboah is asked to spearhead the press and challenge the opposition's fullbacks when on the ball or receiving the ball. The Italian's pace is most effective when attacking blindsides, as the defender is often obliviously overwhelmed by Yeboah's intents.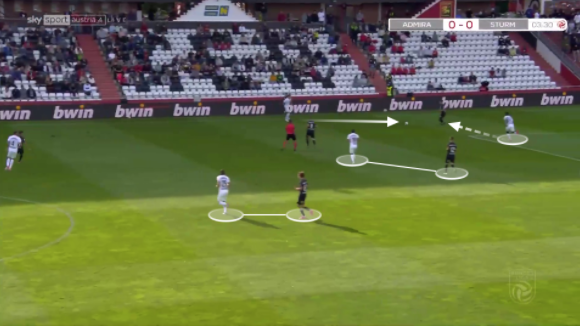 In general terms, his impressive physical tools go a long way in ensuring that he has a fighting chance in duels. Due to his youthful nature, he comes off as quite uneconomical when it comes to his energy use; however, you would expect that he will correct this minor inconvenience given more playing time and experience.
Ball Carrying, Dribbling, and Movement
Yeboah's ability to move with both the ball at his feet and without is perhaps the single most exciting and dynamic aspect of his game. He has an excellent balance of raw power and speed mixed with touch and finesse, which at least in Austria makes him incredibly difficult to track, jockey, or tackle. This skill is on full show throughout the 90; however, it is most useful in two specific situations.
First is when Sturm Graz requires an out ball to get them into the opposition's third, and secondly, getting from the peripheries into the opposition box and into areas of real vulnerability. The stats below are impressive for any player, let alone a young striker making his way. Yeboah in all three metrics below dribbles p90, dribble success, and progressive runs finds himself in the 70th percentile or above, emblematic of his ability on the ball.
There is a triad of relevant information regarding dribbling; the first, which was discussed above, is what, next we will discuss where and later how. The two graphics below provide relevant information as to where Yeboah receives the ball and where he initiates his dribbles, successful and unsuccessful.
What is pretty apparent is that in terms of reception, Yeboah is active across the front line but has a slight favour for the right side which extends quite deep. When it comes to dribbling, the right-sided tendency is developed. Interestingly, Yeboah's take ons are well dispersed around the opposition half; however, it appears that the most common action is starting a dribble just outside the box and attempting to navigate his way into it.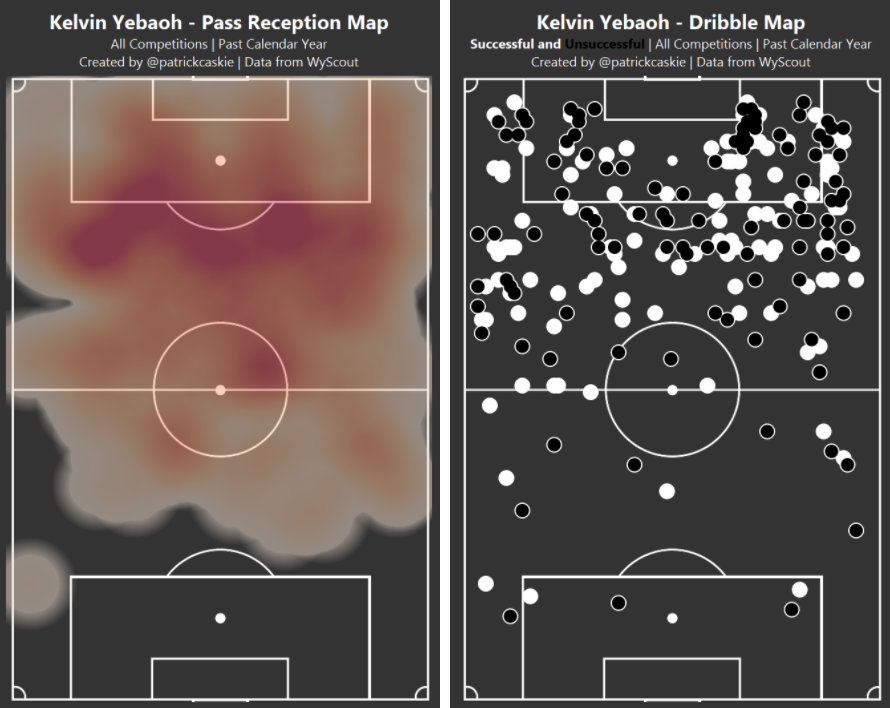 Yeboah has a few "signature moves", which are often used to beat his man. The image below represents a familiar situation for Yeboah as he has the ball deep in the opposition's corner with a lack of depth to play with.
Often from a standing start like the image below, Yeboah's explosive speed allows him to beat defenders with relative ease. Here we see a mix of that speed and good touch as he nutmegs his man and, with serious momentum, enters the opposition's box, forcing a defensive rotation and creating an open avenue in the box. 

If Yeboah is effective in tight spaces, he relishes the open space, which is where he comes alive. Yeboah has a good nack go judging a pass on its merits; this combined with his acceleration, makes him a very effective option in the counter. The image below depicts this. Here, Yeboah judges the trajectory of the ball correctly and can take it down well.
He then spins the defender before illegally being taken down, resulting in a caution for the defender and a decent free-kick for his side. Yeboah is consistently able to replicate this because he can track the ball for its entire flight and still be in contention to win it upon its landing due to his speed.
Inherently, this will become more difficult when he plays against smarter, stronger, and faster defenders. However, given that he is still a relative newcomer, the more football he plays, the better he will become at this skill, a frightening thought for defenders continent-wide.
We have already established that Yeboah has a proclivity for the right side. Despite playing centrally, Yeboah often drifts wide to pick up the ball and challenge either the fullback or widest centre-back. This situation appears in the images below, as we see Yeboah run after a wide through ball.
The second image shows him deploying his favourite move, an in to out, outside of the foot scoop, which often is the precursor to a cross or shot. Yeboah utilises this move a lot, and similar to a point-guard hesitation move, this is his go-to first move when attempting to break down and beat a defender.

No doubt the primary beneficiary of Yeboah's ability to navigate the pitch is himself, though an underappreciated side effect is that his fullbacks often enjoy vast space to operate in. The image below shows this, as the fullback on his side is often just an afterthought as multiple defenders shift their focus solely on Yeboah.
The example below shows the optimal set-up for Sturm Graz, as here Yeboah's gravity pulls both defenders towards him, leaving an easy layoff to the LB, who is then given time and space to whip a ball in for his peers..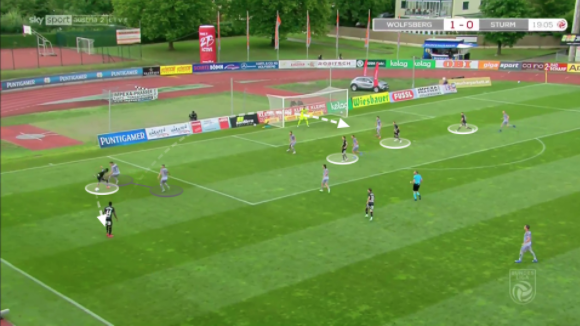 Creation and Link-Up
If there were a stick to beat Yeboah with, then it would be his less than impressive passing ability. When I talk about the unimpressive passing ability, I am not alluding to a player who can't play a simple pass, but rather a player who is found for his less than stellar passing game, evidenced by the swarms below.
Yeboah's basic passing stats are concerning, he is in the 1st, and 3rd percentile for passes p90 and pass accuracy. To put it plainly, of his roughly 12 passes p90, only 8 end up at the feet of another teammate, not great reading.
Despite this, his xA p90 number is somewhat respectable, as are his other creative passing metrics like key passes and shot assists, as discussed earlier. Yeboah is pretty decent at crossing the ball, and quick one-touch flicks, both central to a striker, link-up play; however, asking him to go beyond that is too much.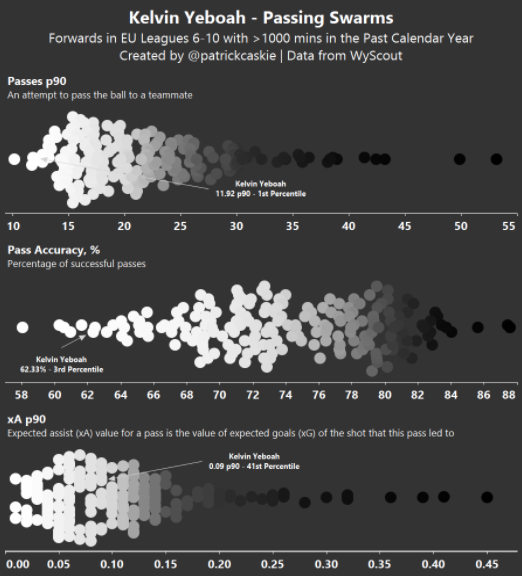 As mentioned earlier, both Yeboah's tendency to drift wide and his ability to beat players means that he is often found with space on the wing. As a result, he finds himself crossing the ball quite often and is pretty decent at it.
The image below shows Yeboah beating a defender with his trademark outside of the boot scoop before playing a low cross into the box for his teammate to tap in. This happens when everything goes right; however, due to whatever reason, this is less often than he would like; regardless, crossing is an ability that Yeboah has and does refer to relatively often.

As mentioned earlier, Yeboah gets pass marks when it comes to traditional striker link-up play as he is quite effective at flicks and first touch passing. The image below shows the fruits of the quick interplay when Yeboah is involved, as here we see him play it quickly back before darting off to chase the first time chip.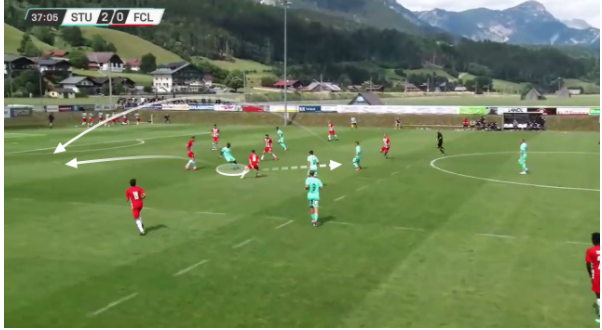 I detailed how Yeoah is valuable on the counter; however, this is mainly in the capacity of a dribbler or as the finisher; when it comes to facilitating the counter, his passing leaves a lot to be desired, which is a result of a technical deficiency and poor decision making. Below we see Yeboah beat the final defender with great dynamism before attempting to play his teammate in but ballooning it into the keeper's hands.

The serious problem is not Yeboah's inability to thread difficult passes or pull of clever flicks. Instead, the most significant concern is that he often fails in the simplest of tasks. Alluded when we discussed his pass accuracy, it is incredibly low.
The image below is an all too common occurrence as here we see Yeboah pick the wrong pass. I can't reasonably deduce the cause of the problem, as he is somewhat accurate when striking and crossing the ball. If pushed, I would suggest that it has all to do with decision making and not technique, and hopefully something that will filter away the more he plays and learns.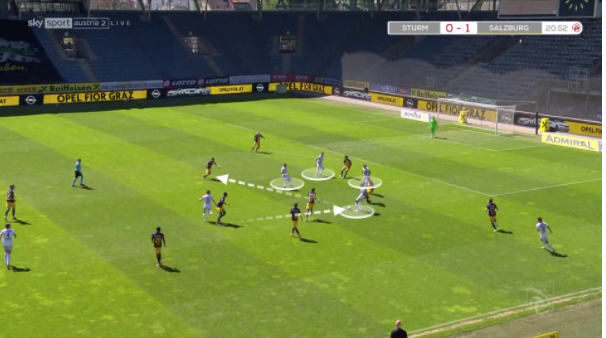 Goal-scoring
Let's look at the most critical and glamorous aspect of striker-play, goalscoring. The swarm below corroborates the view that Yeboah is a threat in front of goal and is not performing to his current capacity as his 26% underperformance of xG would suggest.
Despite this underperformance, his shot accuracy and goal conversion are high, which, as suggested earlier, would lead us to believe that he is good at getting shots on target but is not clinical enough, which is a view I hold.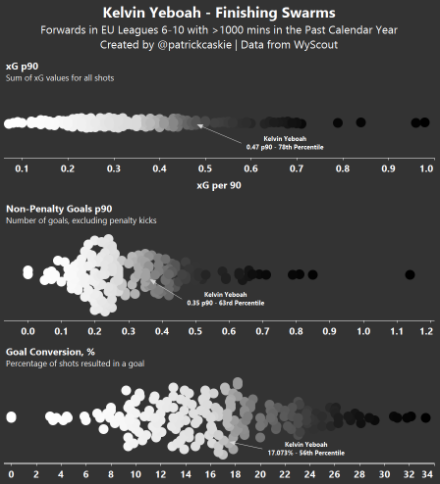 The shot map below provides us with two key pieces of insight. First is that Yeboah is very much a penalty box striker, and second, like most right footers, he prefers to take aim from the left side of the box. A majority of Yeboah's shots are in and around the penalty spot, an encouraging feature that suggests that he doesn't settle and often finds himself in favourable positions.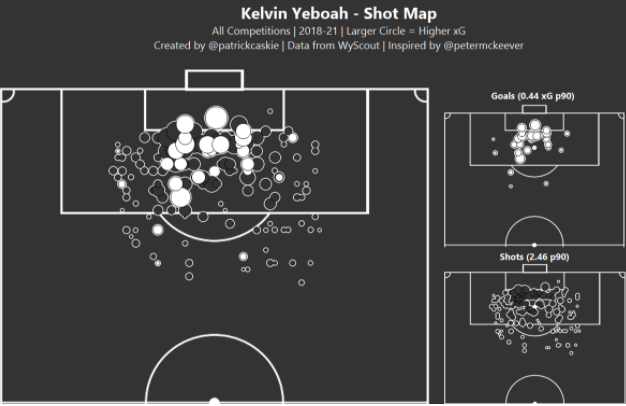 The image below is the second act to an earlier image where we saw Yeboah link up with his midfield, here we see him slot it past the Liefering GK. This is without a doubt the bread and butter scenario and finishes for Yeboah as his game makes it so that he has a disproportionate of 1v1 opportunities.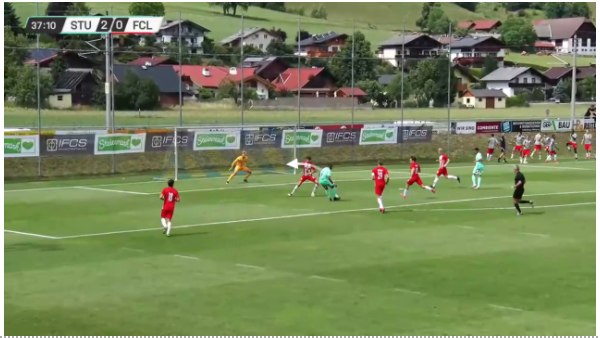 I talked about his ability to receive take advantage of well placed lofted through balls earlier; here we the extension of that. Yeboah takes the ball well before finding himself 1v1 before calmly chipping it over his right shoulder and into the open net.

Another example of this scenario occurred against Mura in the UEFA Europa League playoffs, where Yeboah was able to beat the last defender to a loose ball, before charging towards goal and dispatching past the goalie's right knee right into the bottom corner.

What should be apparent is that many of Yeboah's skills blend well together, not least his movement and finishing, as highlighted above. Below we see an example of his dribbling ability buying him space to get a shot off. Yeboah's quick bolt to the left gives him the freedom just metres from goal to unleash an attempt on goal, which he takes on with his weaker left foot with a goal the end result.

Yeboah can score goals; there is no doubting that; however, he is frustratingly inconsistent in front of goal. His underperformance of his xG is corroborated by some underwhelming misses. Yeboah often has fashioned his own chance by his impressive movement just to stick it right at the goalkeeper. Far too often, he fails to find the corners instead, finding the keeper, as seen in the images below. 

This is equal parts frustrating and concerning, as this isn't a one-time occurrence. He needs to improve his finishing, especially when it comes to 1v1s, which, as mentioned earlier, he gets plenty of. There has been a marked improvement in this regard so far in this young season, as he has managed ten goals from 6.1 xG, a 38% overperformance and 66% improvement from the prior season.
Decision-making
Yeboah's poor decision making is his single greatest criticism and goes a long way when explaining some of his other deficiencies. A lot of the groundwork which Yeboah puts in is all too often thrown away by a sub-optimal decision; a few examples are found below.
First, we see Yeboah brilliantly beat his man by playing it around him and sprinting after it. He then finds two relatively open options in the box; however, instead of playing it to them, he keeps dribbling before running into the wall of three black shirts in front of him.
This is excusable in isolation; however, it never is just in isolation, as he needs to make a concerted effort to play with his head up more often, especially in and around the box.

We see a similar predicament in the image below, as again due to Yeboah's tunnel vision, he is unable to identify the viable runner he has on the opposite wing. Instead, he is easily dispossessed by a defender before he makes it to the penalty box.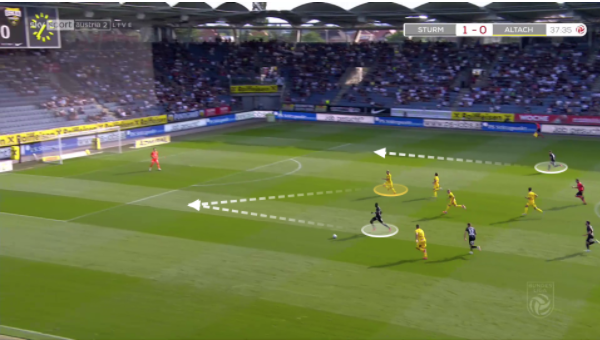 The other form Yeboah's poor decision making manifests itself in is shot choice, specifically shooting far too early into the possession or when other avenues of attack are available and present themselves. All strikers are naturally selfish so picking out examples of this was somewhat difficult as I gave Yeboah the benefit of the doubt when it came to choosing to shoot.
Nevertheless, the three examples below are amongst a series of scenarios where Yeboah undoubtedly chose the wrong option. A far too common slight is that of Yeboah attempting far too many shots when he was available runners. Though we have highlighted that he is not the best facilitator, this doesn't excuse a lack of self-awareness.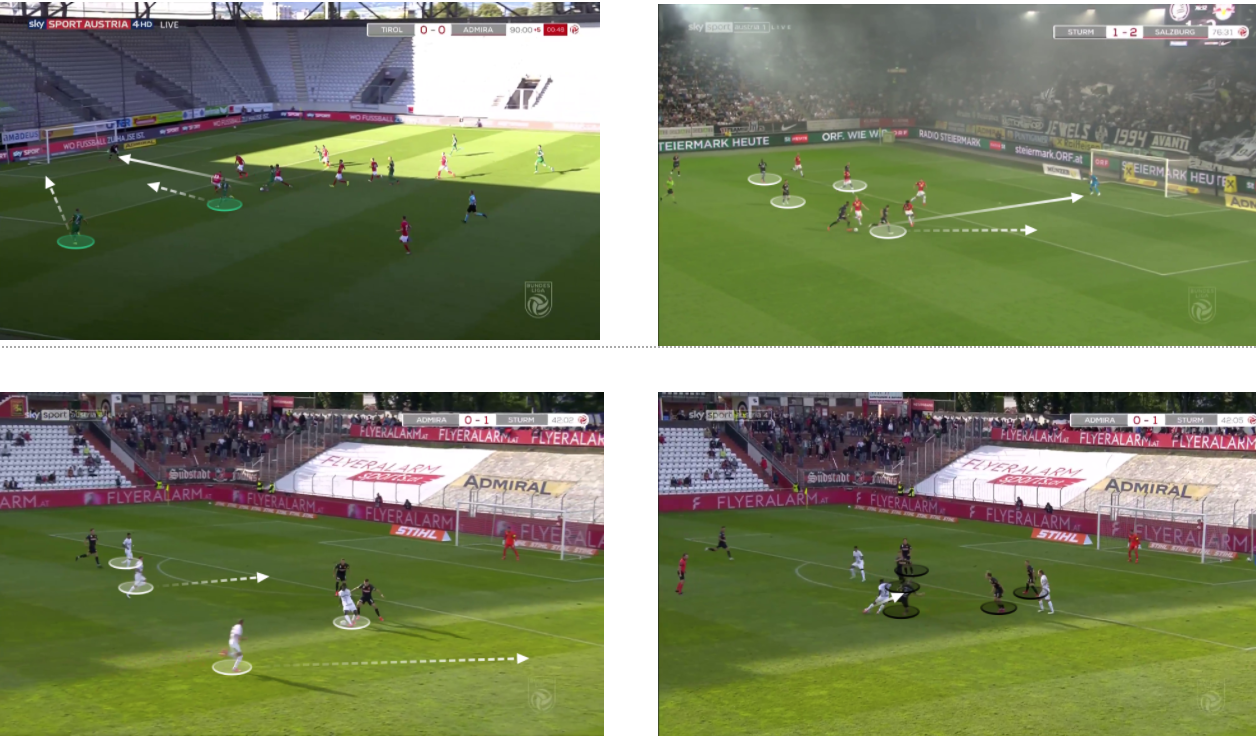 Yeboah's youth makes it so that the questions over his decision making are less pressing, as he still has plenty of time to develop, and it's difficult to blame a young striker for being shot happy and wanting to get his goal tally up.
The coming 18 months will be of vital importance as during this period, this will go one of two ways, either he will work his way out of the habit, or this will become a long-term issue that will hinder his potential. I would back Yeboah to improve here as it seems that he is a hard-working and brave forward who doesn't want to move backwards by standing still.
Comparisons with Peers and Forecast
In the past few years, the Austrian Bundesliga has proved to be a productive breeding ground for forwards, with Patson Daka, Erling Haaland, Munas Dabbur and Shon Weissman all-dominating before getting their moves to the top 5 leagues. This means that viewers of the Bundesliga will have a pretty good barometer for what makes quality forward and what separates those who go on to dominate and those who fail to replicate their Austrian form in their new home.
This summer, we saw the departure of two top strikers from Austria in the form of the Iconic Patson Daka and Tirol loanee Nikolai Baden Fredriksen, landing in Leicester and Arnhem, respectively. Daka was an anomaly in Austria and far from a reasonable measuring stick.
Obviously, Yeboah comes out worse when compared with the Zambian; however, he comes out better than Daka when it comes to dribbling metrics, something that shouldn't surprise you. Compared with the Dane, Yeboah is the more active striker and has a more all-around game, whereas Fredriksen is the superior finisher.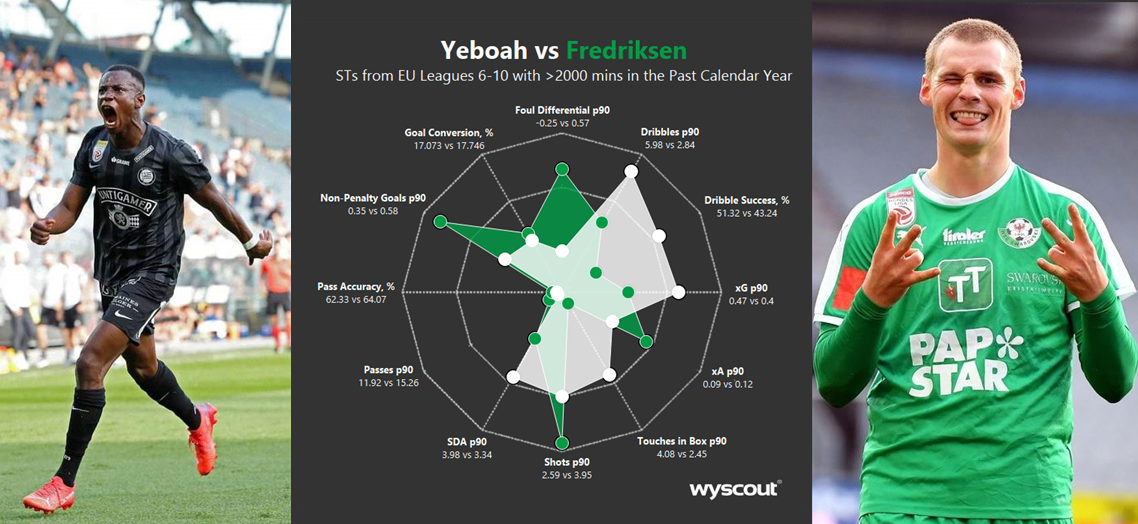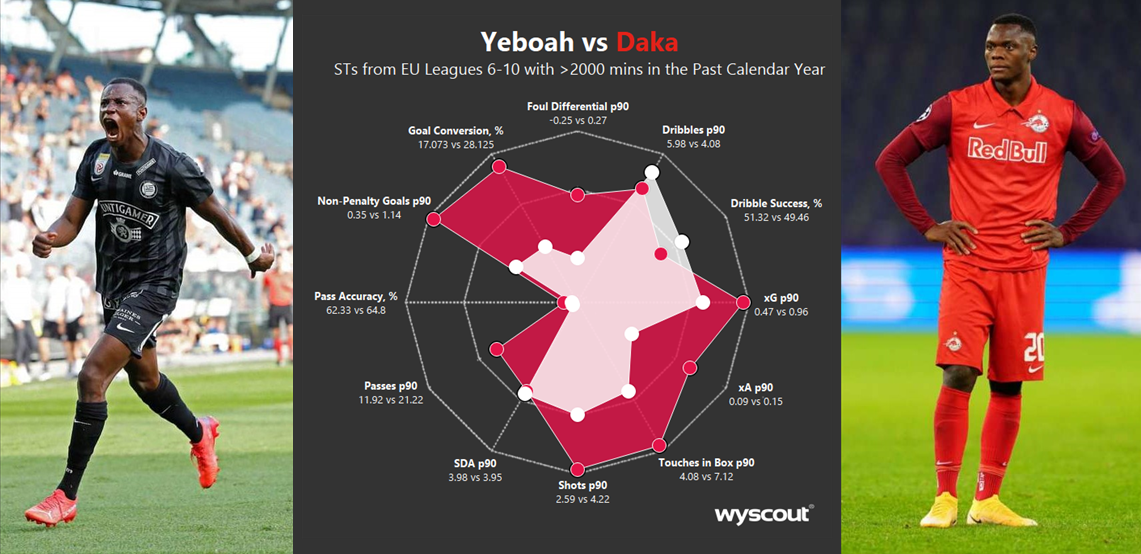 The 21/22 season will go a long way in deciding whether Yeboah can come close to emulating the Daka trajectory or, like Fredriksen, is still yet to show enough for a top team to take a chance. In truth, if forced to give a prediction, I expect Yeboah to move upon the completion of this season, though, not to a Leicester or a Vitesse.
Instead, to a team somewhere in between the two, who would offer a perfect stepping stone to bigger things for the Italian. Feyenoord came in late this summer, but nothing materialised, though a move like this (Feyenoord/PSV/Brugge/Gent) would suit the forward.
Here he would be afforded time to develop yet would still compete week in week out in a competitive league whilst also getting the mid-week outing in the UEFA Champions League or Europa League. If Yeboah kills it this season, I wouldn't be surprised to see him back in his native Italy playing Serie A football; however, I expect the former route to be the more likely.
By: Patrick Caskie / @CaskiePatrick
Featured Image: @GabFoligno / DeFodi Images