Player Analysis: Luca Pellegrini
Italy has been a production line of defenders for decades, and with a new generation emerging, it is not surprising that there are some promising talents who can feature in the Azzurri defence in the future.
Left back is one of those positions which the Italians have been blessed with talent. Starting from Renzo De Vecchi at the turn of the 20th century, Umberto Caligaris and Luigi Allemandi in the interwar years, Giacinto Facchetti in the 1960s and 70s, Antonio Cabrini in the 1980s, and Paolo Maldini in the 1990s and 2000s, Italian coaches have been spoiled for choice in this role.
Current options Cristiano Biraghi and Emerson Palmieri have not performed with great consistency or reached the levels of their predecessors and there is a 21-year-old who could challenge for their spots in the senior squad in the future.
When nostalgic Serie A fans hear of the name Luca Pellegrini, they might think of the sweeper who played for Sampdoria in the 1980s and early 90s during Il Doria's golden age, but now their city rivals Genoa have a Luca Pellegrini of their own.
While the former Sampdoria defender originated from Lombardy, the Grifone starlet is originally from Rome. Although his position is a defensive one, his interpretation of the role is anything but that due to his marauding runs along the left flank. You could even say that he shares more similarities with traditional Brazilian left backs than Italian ones because of his style of play.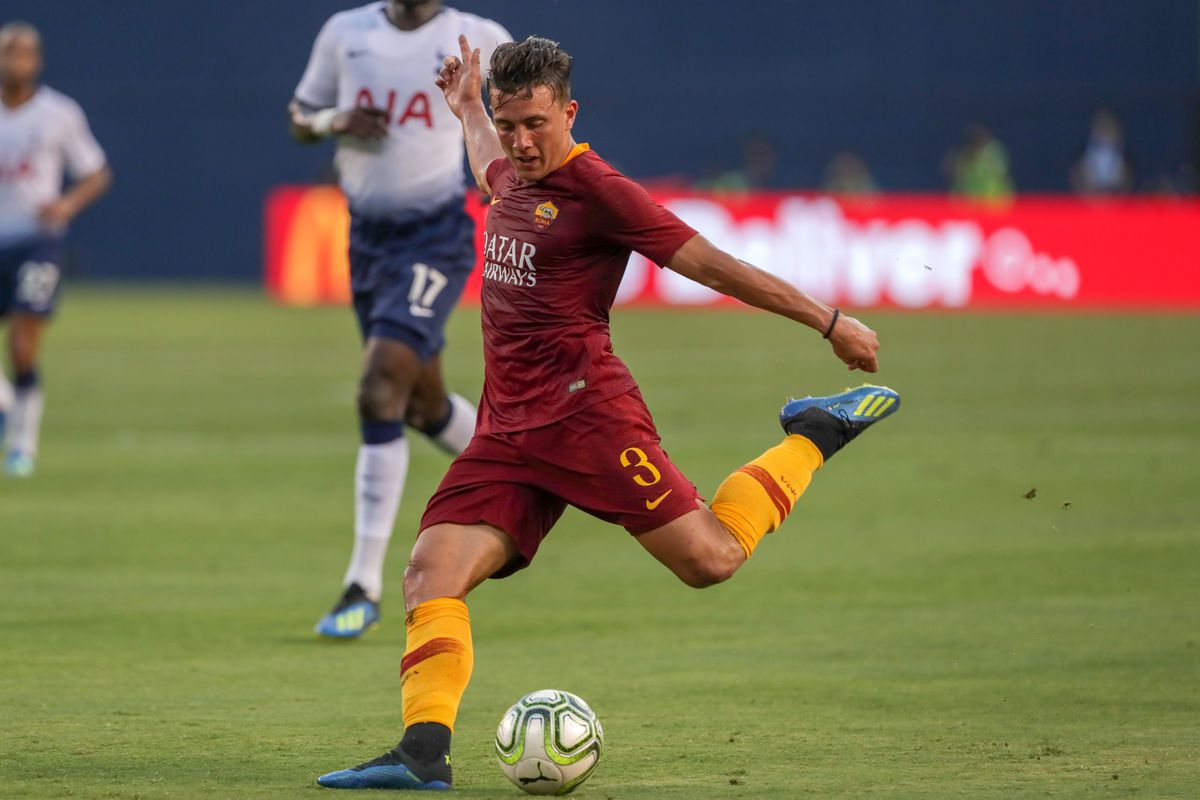 Photo: Kent Horner/Getty Images
22-year-old Pellegrini has joined Genoa on a one-year loan from Juventus and it will provide him with another opportunity to gain more playing time and match experience. He has been reunited with Rolando Maran, who was his coach for a majority of his appearances at Cagliari.
Pellegrini is a player with incredible pace, the desire to take players on, and the ability to deliver good crosses. His defensive work needs a lot of improvement though as he can be beaten one-on-one and he has a tendency to make rash challenges. He was guilty of these flaws when he featured in Serie A matches at Roma and was not able to establish himself as a regular starter. 
La Vecchia Signora had purchased the left back from the Giallorossi in the summer of 2019 for €22 million after he had impressed on a six-month loan in Sardinia and he returned to the Isolani for a season-long loan spell.
Cagliari played some exciting football in the early stages of the 2019/20 Serie A season, and the Sardinian club was also in the position to qualify for the Champions League before going on a winless streak of 11 matches, which resulted in Maran being sacked in March.
During that campaign, Pellegrini featured in 24 league matches and provided six assists. Two of them came in a dramatic 4-3 victory against Sampdoria in Round 14, a match in which the strengths as well as the weaknesses of the promising left-back were displayed. 
He gave away the penalty which Fabio Quagliarella converted for the Blucerchiati after fouling Manolo Gabbiadini but then he became one of the inspirations for the comeback with two assists from the left flank. He crossed with his right foot for Joao Pedro to pull it back to 3-2 and his cross with his left foot allowed Alberto Cerri to make it 4-3 with a header.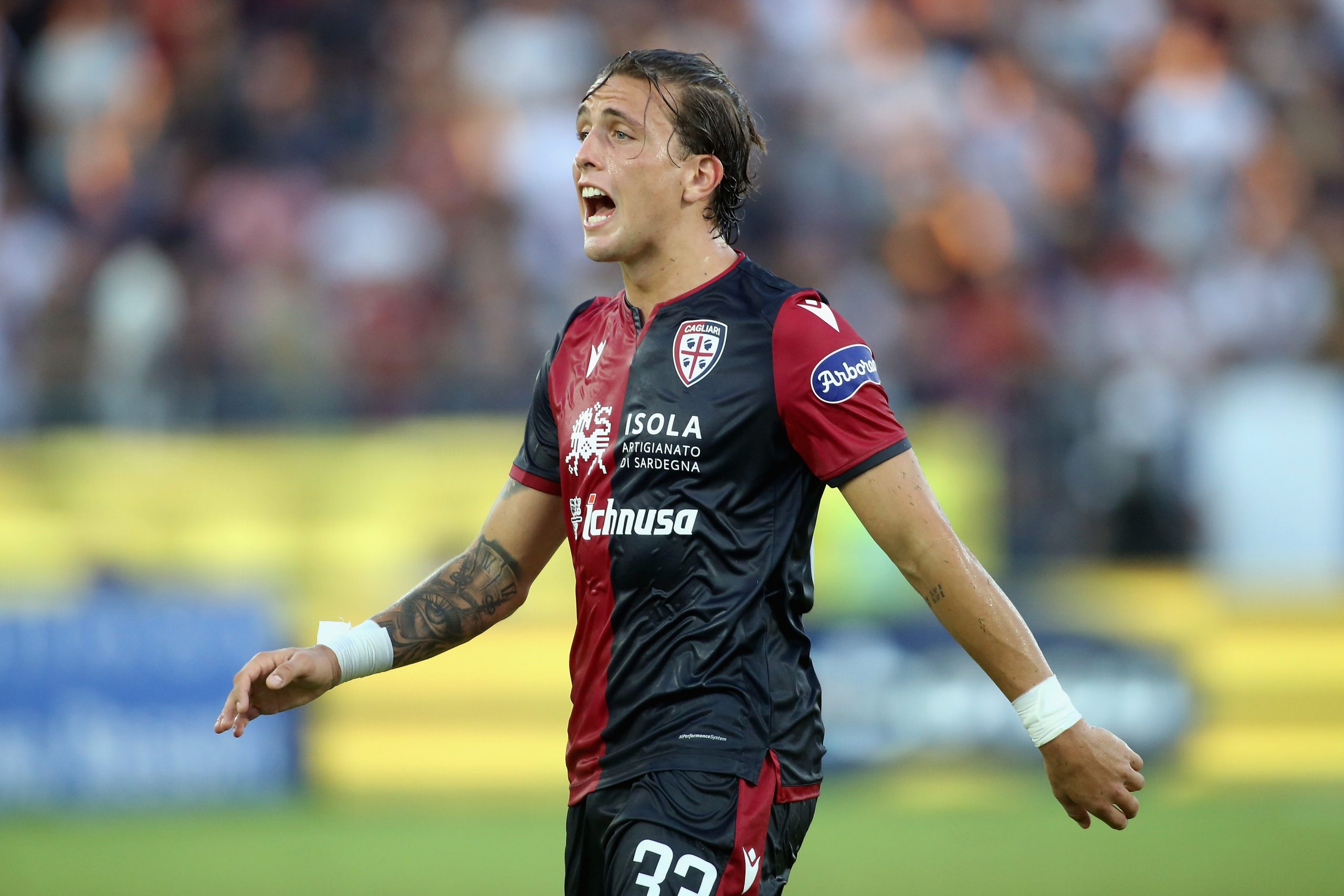 Photo by Enrico Locci/Getty Images
His form at Cagliari brought much pleasure to his coach in the Italy Under-21 squad Paolo Nicolato, who believed that regular playing time was beneficial for the left-back and other youngsters in his age group.
"Pellegrini is a very interesting player, who has always been deployed as a starter with excellent performances in a team like Cagliari that plays well and which represents one of the surprises of this start of the season," Nicolato said at the Galà del Calcio Triveneto in November 2019.
"He has remarkable physical skills and certainly he is a youngster destined to have a great career. I want to add that every player of his age, and I am also referring to the various youngsters like Nicolò Zaniolo, Nicolò Barella and Alessandro Bastoni, must be allowed to grow without pressure.

"In general, I can underline that for him, as for the others, it is important to play continuously, especially as a starter like he has been, because the experience that you get on the pitch, especially when it comes to very young players, is fundamental for growth."
From the Under-16 level, Pellegrini has represented Italy at youth level and worked his way upwards, while Nicolato has coached him in the Italy Under-18 and Under-20 teams and now he coaches the Genoa starlet in the Under-21 squad.
Due to the attacking mindset that Pellegrini possesses as well as to accommodate Alessandro Tripaldelli in the team, Nicolato used him as a mezzala sinistra – or left central midfielder – in the 3-5-2 formation instead of the left wing-back role during the 2019 FIFA Under-20 World Cup. Even if he had to track back, he would not have had the same defensive duties as a conventional left back.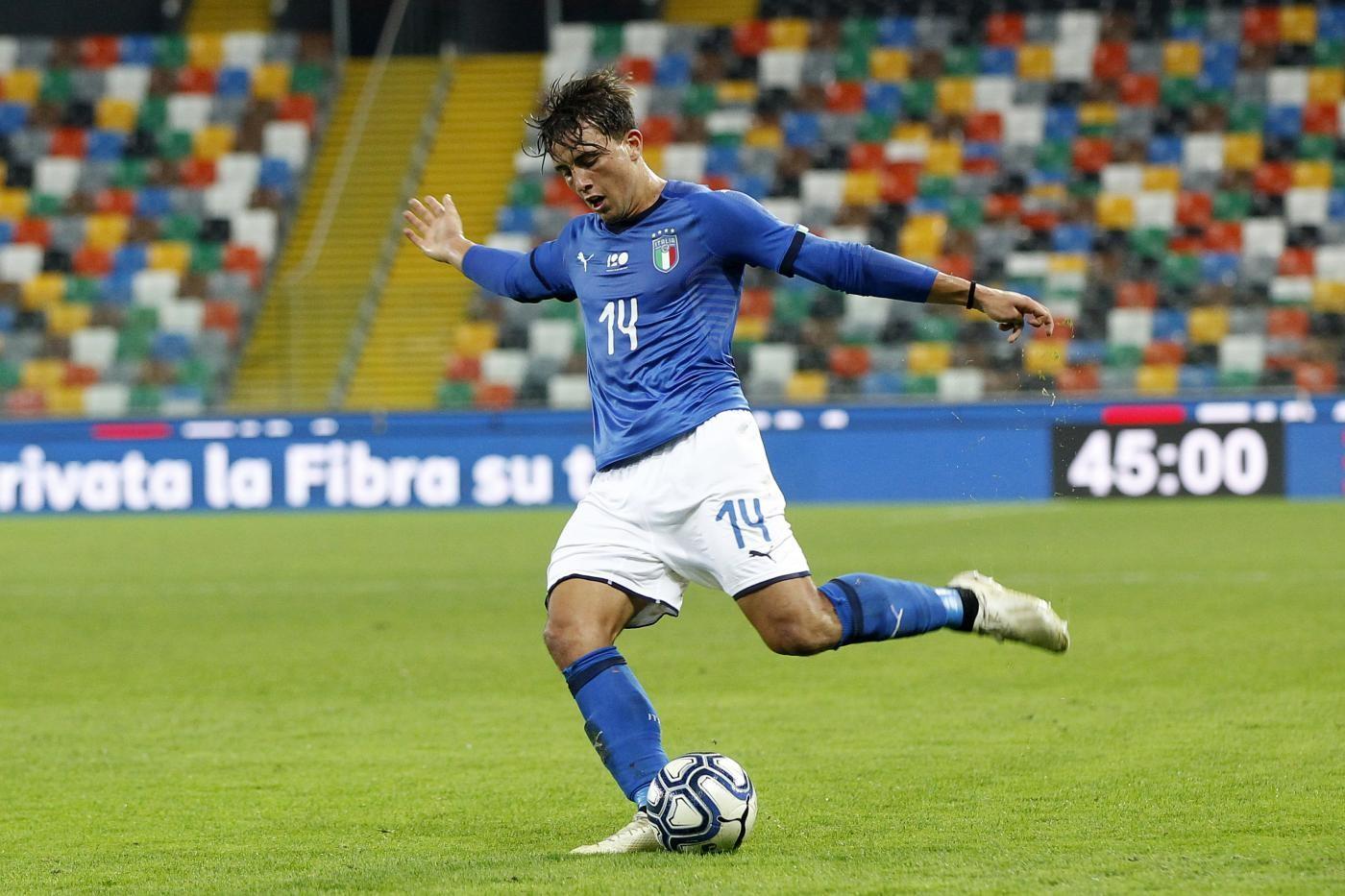 Photo:LaPresse
Since Nicolato has been appointed the Azzurrini coach, he has moved away from the 3-5-2 and implemented the 4-3-3 formation that Roberto Mancini uses in the senior squad. Pellegrini has been used as left-back in a back four and that will probably be his position from now on.
In Genoa's first two Serie A matches of the season, Maran has used the 3-5-2 formation and it should allow Pellegrini to play his natural attacking game. The Roman youngster featured for 54 minutes in the crushing 6-0 defeat to Napoli before he was substituted. 
Unfortunately, Pellegrini was one of the 11 Il Vecchio Balordo players to have contracted COVID-19 soon after. Once he and his teammates have recovered, he will probably be utilized in the left wing-back role while either Davide Zappacosta or Paolo Ghiglione will play on the right.
It will probably be another season of struggles for Genoa but they have made some shrewd purchases thanks to new sporting director Daniele Faggiano. It is up to the volcanic Rossoblu president Enrico Preziosi to give Maran time to mold these players into a competitive team and the Roman left back can be a key role in any victories they collect.
If he can improve on his defensive game, Pellegrini has the potential to be great left back and one that can serve Italy for many years.
By: Vito Doria
Featured Image: @GabFoligno / Vincenzo Izzo / Light Rocket