Luke Shaw's Revival at Manchester United
"I'd heard other players talking about dark times when they were trying to get back from bad injuries." Those were the words of Luke Shaw the man himself from his interview with The Guardian back in 2016 where he spoke about his mental well-being, after being sidelined for 10 months from a double fracture on his right leg following a tackle from PSV's Héctor Moreno. 
Redemption. If there was ever a word to describe Luke Shaw's career at Manchester United it would be that. The left-back went from being a constant scapegoat under then-manager José Mourinho to being one of the most important players in father-like figure Ole Gunnar Solskjær's system and being considered one of the best full-backs in world football.
Ever since bursting onto the scene at Southampton at the age of 17, many tipped Luke Shaw to be the next big thing after Bale's astronomic rise from the academy. Both technically gifted as well as blessed with blistering pace from a young. Everything from his youth appeared to point Shaw to be the legitimate heir to his idol Ashley Cole in England's starting line-up one day.
Shaw's performances didn't go unrecognized and after a record-breaking fee that made him the most expensive teenager at the time there was a real belief that Shaw was destined to be an England great but after an exciting and promising start, the England international was subject to constant criticisms over commitment issues and poor performances by many and injuries started to be a constant correlation with Shaw's time at United. 
In the space of 11 months, two events in Luke Shaw's life on and off the pitch transformed his career. Firstly, in November 2019, Shaw became a father for the first time. Then, in October 2020, Manchester United spent £15.4m to bring Alex Telles from Porto to Manchester.
The obvious thing to point out is that both of these events could easily have affected Shaw's career negatively. Being a dad especially with the high-profile lifestyle of Luke Shaw can come with its difficulties and responsibility but Solskjaer believes becoming a dad turned Shaw into a man.
Even though Brazilian international Alex Telles was signed with the ambition to become United's first choice, that never seemed the case with his added competition, it seemed like Shaw's performances have reached new heights, and is finally approaching the potential he was set out to reach as a teenager. 
This player analysis will delve into the improvements of the full-back and ultimately how he has become one of the best full-backs in Europe.
A Role in Offensive Responsibility
It's becoming more and more common for a full-back to be fundamental to a team's build-up, but at United, that is definitely the case, with Shaw having a key role in building the play for Solskjær's side. Firstly, he's become an excellent ball-carrier, constantly pushing United up the pitch with powerful, driving runs from deep performing the modern role of an inverted full-back.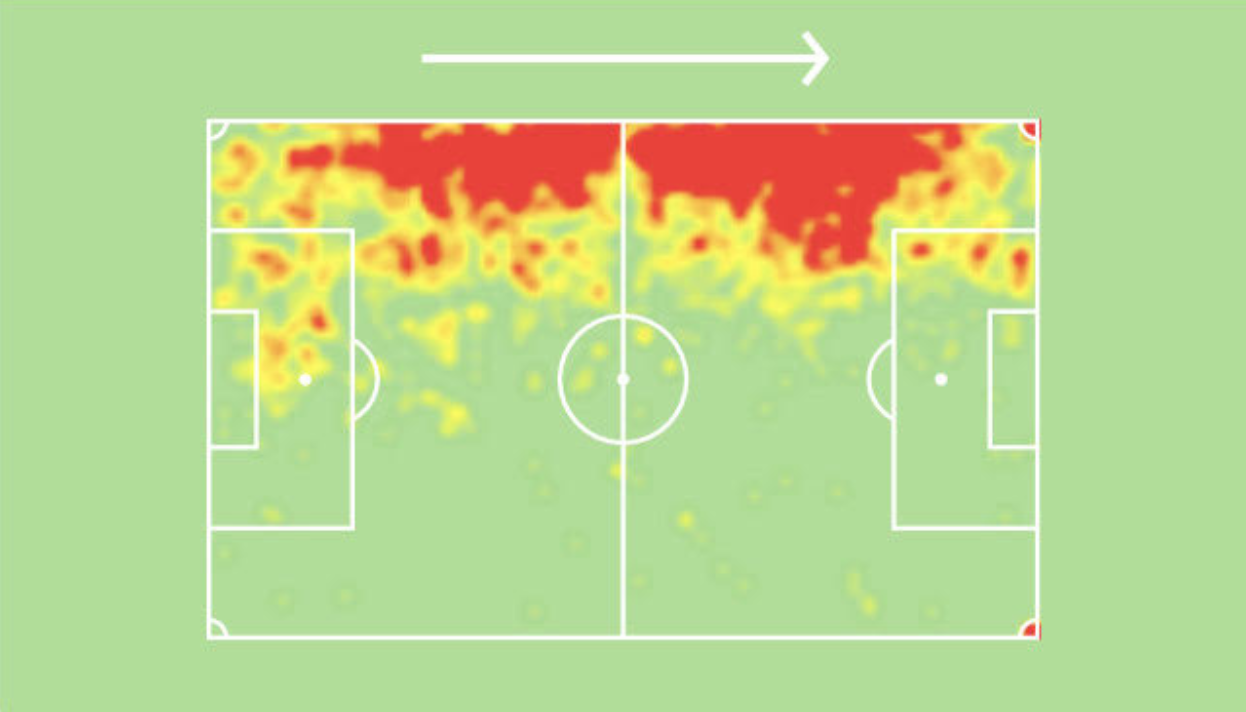 Luke Shaw's 2020/21 heat map [SofaScore].
Shaw makes 3.18 carries into the final third per 90, placing him in the 99th percentile among other defenders in Europe's top five leagues according to [FBRef] and averages an immense 7.34 progressive carries per 90, more than other world-class full-backs like Andrew Robertson and Jordi Alba by combining his close control and dribbling it allows him to shift the ball quickly from the left-hand side. In a team that can sometimes struggle with ball progression from deep without the presence of Paul Pogba in the middle, that role has become all the more important.
In terms of shot-creating actions per 90 minutes, Shaw is behind only Bruno Fernandes at Manchester United with 3.59 shot-creating actions, once again ranking him in the top 99th percentile among defenders. He is completing more dribbles than at any point in his career (1.22 to be exact) and is also now his club's designated corner taker.
Shaw's development as an attacking outlet is not purely an individual refinement but his blossoming relationship with Marcus Rashford. With Rashford solely used as a left wide forward in a 4-2-3-1, it provides Shaw with the perfect opportunity to attack in two clear ways. Shaw provides width when Rashford comes inside (this happens a lot) and if Rashford holds the width, Shaw will come inside. He times his overlaps and underlaps really well.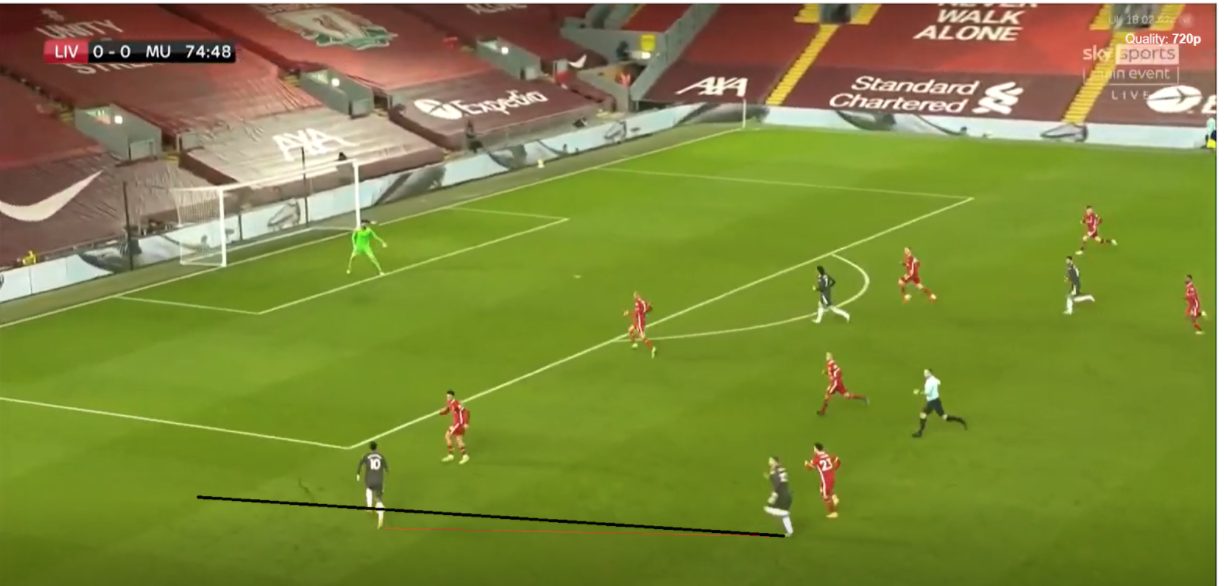 Shaw offers off-the-ball runs and over/underlaps the left-winger more often than ever before, he also does so with a lot of intensity. Here is an example of this, Rashford picks up the ball in the left half-space and begins to dribble at Trent Alexander-Arnold, forcing the full-back closer to goal, Shaw created a 2v1 situation by making an overlapping run.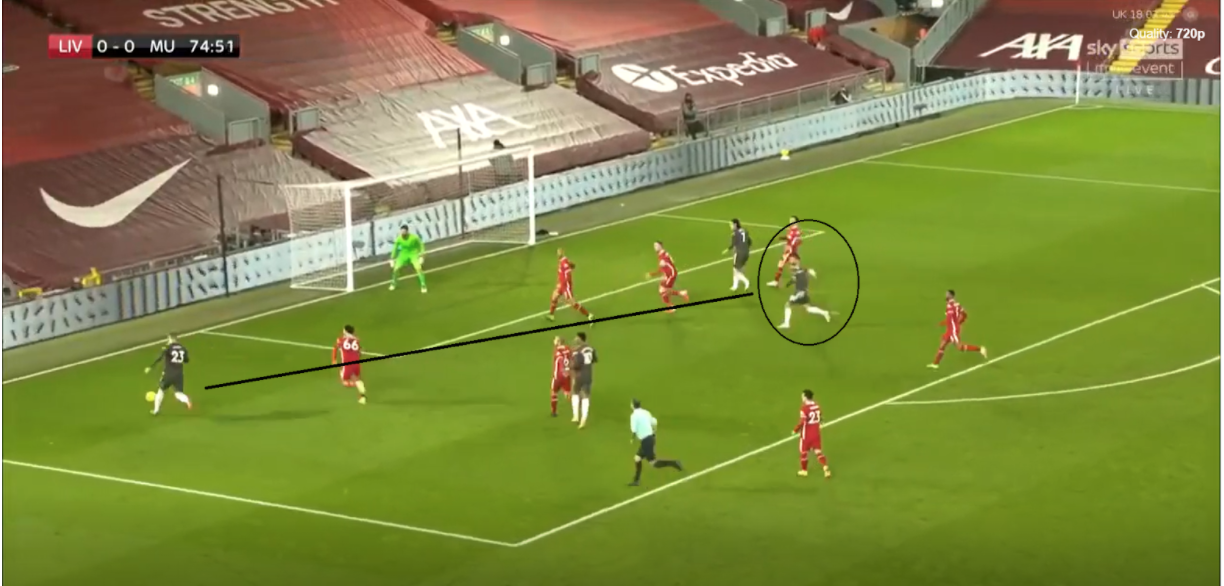 He received the ball from Rashford, before cutting the ball back to Bruno Fernandes whose close-range shot was saved well by Alisson. This phase of play also highlights the improvement of Shaw's decision-making, it would've been audacious for him to try to pick out Edison Cavani but in the frame, you see he's closely being marked by Roberston but the intelligence Shaw shows to pick out Fernandes in acres of threatening space shouldn't be understated. 
A Refined Defensive Game
Shaw is not an aggressive full-back like his compatriot on the other flank in Aaron Wan-Bissaka. Rather than move forward to engage a wide forward or winger, Shaw prefers to tuck inside and maintain the space, to shuttle opponents infield where Unites's defensive midfielders Scott McTominay and Fred lie waiting.
This is a calculated approach and clearly works; Manchester United only conceded 29 goals from open play last season – set-piece defending has been the bigger problem. Last season, Shaw tackled 54.5% of the dribblers that he has faced, placing him in the 85th percentile among other defenders according to [FBRef]. Shaw has shown his defensive qualities at left-back but most impressively at a short period at left center-back in a back 3. 
Shaw's development as a defender is also a reflection of his budding relationship with United captain Harry Maguire both cementing their roles on the left of United's defense as well as England on the international stage and that was seen throughout the European Championship. Harry Maguire is just as purposeful when carrying the ball. Usually, Maguire drives on the left or passes inside, which has probably been one of the most frequent build-up patterns for United.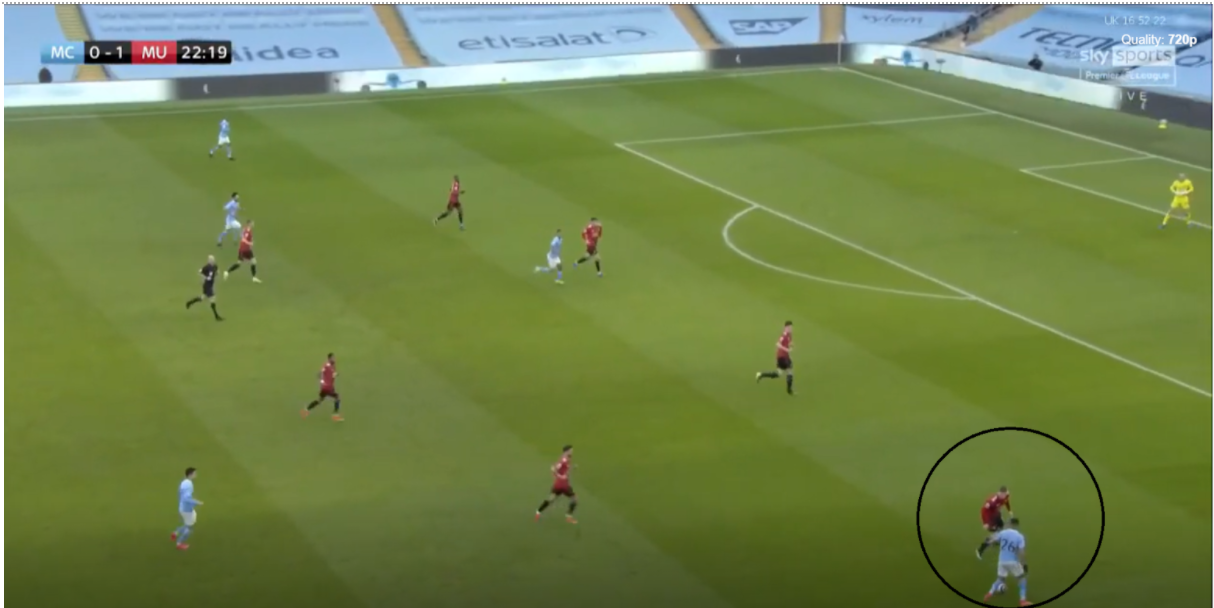 He is generally good at blocking space and is intelligent at knowing when to commit to a challenge however, he has shown some lapses of concentration in transition but his recovery pace has got him out of potential danger on his side. 
In this example above, he gets into a 1v1 with Riyad Mahrez. The Algerian wants to come inside on his stronger left foot but because of the intelligent body position, Mahrez can only go on the outside lane. 
Conclusion 
This wave of confidence reflects well alongside United's overall direction under Ole Gunnar Solskjær. Shaw has peaked at the perfect time, after a brilliant tournament with the England national team in the summer. With the start of the new season, Luke Shaw's redemption is taking place at precisely the right time.
He seems poised to become England and Manchester United's left-back for years to come, and that's good for all parties involved. The expectation for Shaw is to show the consistency that has been asked of him. His improvements in all areas of his game have been evident and he is now a complete player, who is crucial to the way that Manchester United plays. Long may his renaissance continue.
By: Raphael Adelugba / @RaphaelAdelugb0
Featured Image: @GabFoligno / Martin Rickett – PA Images