Player Analysis: Luke Thomas
As Brendan Rodgers enters his fourth year as manager of Leicester City, this could finally be the season he finally breaks into the top four. Leicester mean business – they have secured the services of talented youngsters in Patson Daka and Boubakary Soumaré, as well as senior heads such as UCL winner Ryan Bertrand.

However, Rodgers may be depending a lot more on the Leicester local Luke Thomas. The starlet, who has been at the club since 2008, has made it through the ranks. Ever since his debut against Sheffield United in July 2020, he has impressed Leicester fans, pundits and most importantly, Rodgers.
Although Thomas has achieved 14 appearances in the league, he has given Rodgers a good headache – whether to stick with Timothy Castagne (who did miss 17 games last season) or to take a punt on the naturally left-footed Luke Thomas.
No matter what decision Rodgers makes, Thomas is a serious talent and possesses great composure on the ball and provides defensive solidity. Furthermore, he creates necessary overloads by taking up high and wide positions on the pitch to stretch the opposition. Like many promising young players, there is always room for improvement – in this case, Thomas' involvement within the final third in possession. Let us take an in-depth look at Luke Thomas:



Position
Rodgers is a tactically fluid manager, but his go-to formation tend to be 3-4-1-2 or 4-2-3-1. This means Thomas is employed as a left wing back or left back.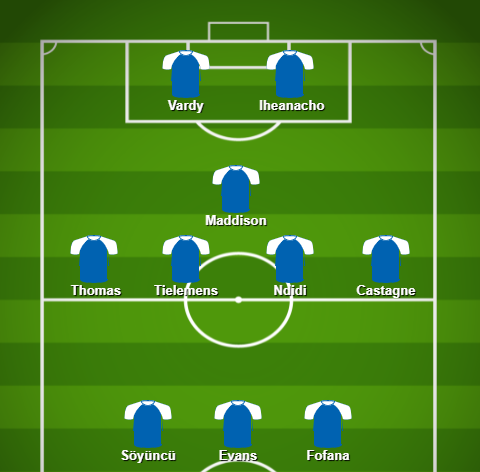 As we analyse Luke Thomas as a left wing back, he fulfils the role of two positions – a fullback and winger. Thomas' dynamic movement off the ball is crucial to Leicester City's transitions into the attacking third, especially when the attack switches from the right flank to the left. This is shown in the image below versus Manchester United. 
In the build-up to this image, Axel Tuanzebe naively offsets the disorganisation of the backline by attempting to close down Wilfred Ndidi which leaves the half-space exposed. To cover up for Tuanzebe and the space behind him, the whole backline shuffles to the right and Brandon Williams chooses to follow suit in fear of Jamie Vardy. As a result, this leaves Thomas unattended and is left to execute an exquisite finish for his first-ever Premier League goal.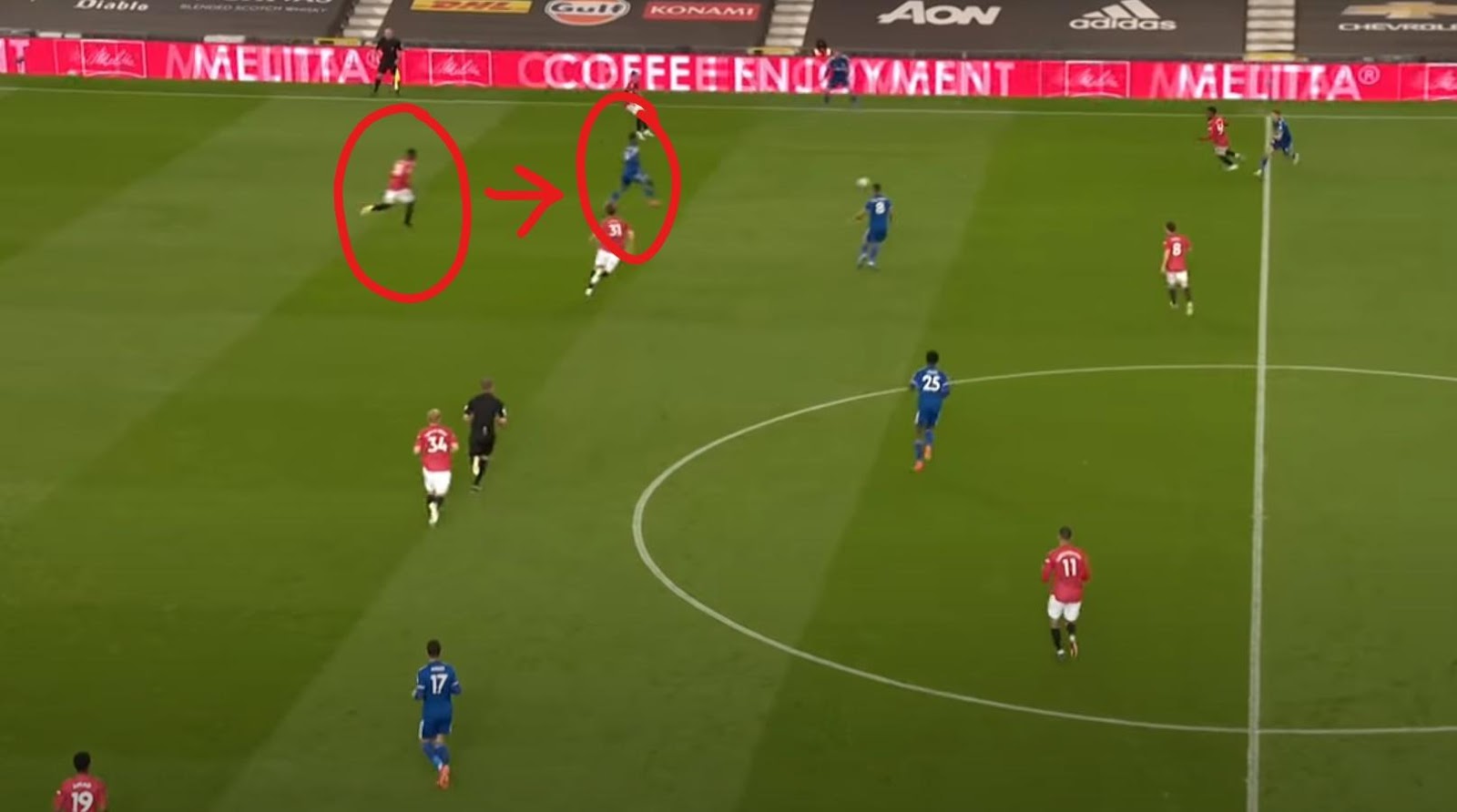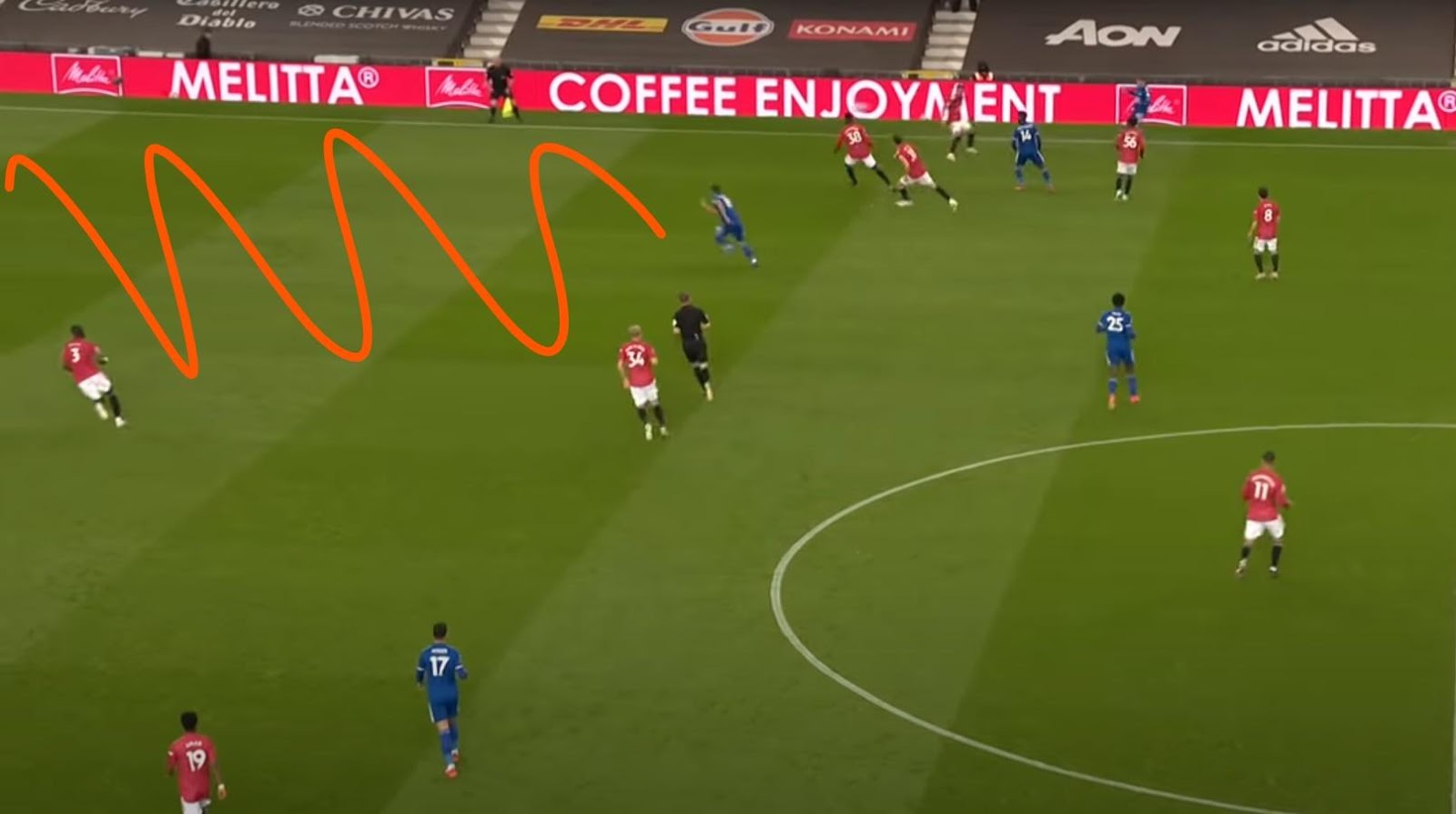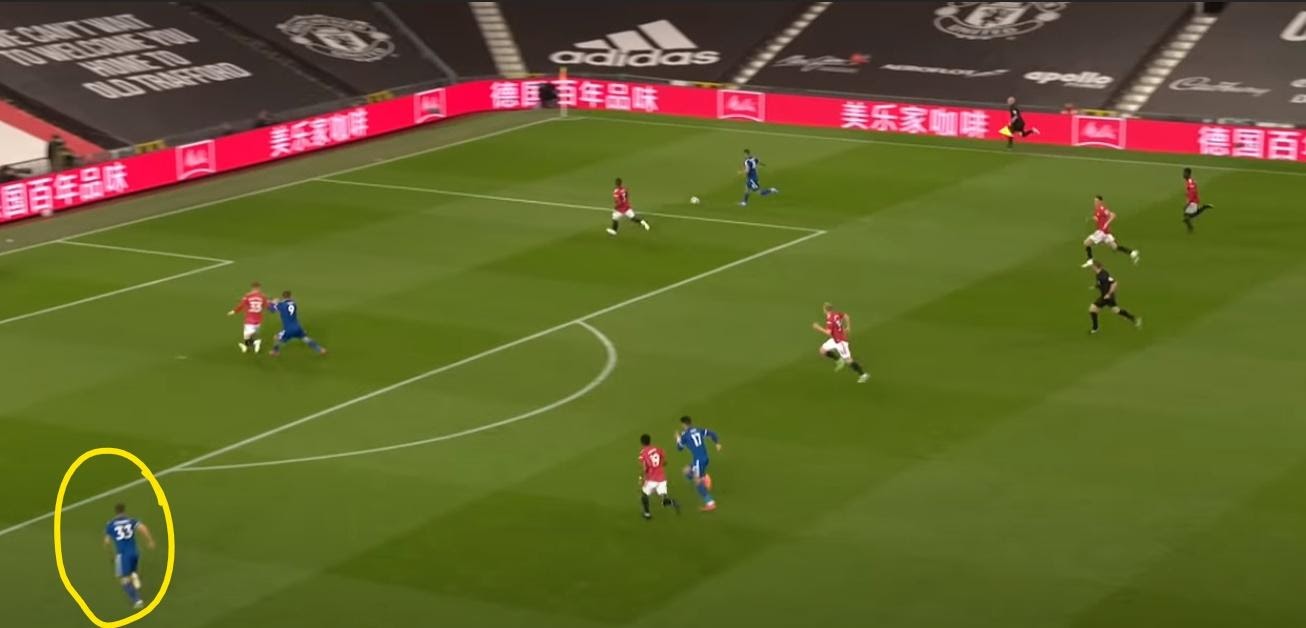 In terms of defensive solidity and out of possession, Thomas' positioning within the provisional 5-4-1 shape provides efficient cover and allows him to pressurise the opposition wingers/inverted forwards into passing backwards or sideways. Additionally, when possession is regained, Luke Thomas is quick and can stretch the pitch by providing an outlet on the counter-attack.
Strengths
In an era where modern wing backs/fullbacks can neglect their defensive duties, Thomas proves to be particularly good at applying pressure towards the opposition. Completing 15.98 pressures per 90 minutes, this is the 2nd highest for a player under the age of 21 after Crystal Palace's Tyrick Mitchell. He also achieves 2.62 blocks per game and 6% of his defensive actions lead to an attempt on goal.
This bodes well for a player his age, as he has a good understanding of defensive principles – which can only further improve with time. Moreover, especially within the games against Manchester United and West Brom, Thomas looked composed on the ball. He can create questions for the opposition by stretching the pitch and enticing wingers into creating pockets of space behind them.
Weaknesses
As Thomas is very good with his off the ball movement, an area of improvement would be his progressive ball carries within the final third. With only 3.46 progressive carries per game, a player with his level of composure on the ball should be able to actively contribute more. This increase in attacking output could eventually result in more byline and cutback crosses.
Similarities
Luke Thomas reminds me Juan Miranda, who currently plays for Betis. Both the same age and defensively good for their own age, but improvement needed in creating shot actions from an attacking standpoint.  From the Premier League, Thomas is like Matty Cash of Aston Villa. Cash possess high energy and is defensively committed when needed – just like Luke Thomas. If he can mirror a season like Cash's 2020/2021, I would consider that a successful campaign.
Will Luke Thomas Get His Chance?
Interestingly, Leicester City has the most depth within their fullback positions, yet they have experienced the most injuries. Former Austria captain and Premier League winner Christian Fuchs has swapped the East Midlands for North Carolina, and with Fuchs gone, there is the opportunity for Luke Thomas to establish his place.
Timothy Castagne has not yet returned to contact training since suffering a horrific injury in Begium's opening Euros match against Russia, whilst James Justin continues to be sidelined after suffering an ACL injury in February. Ryan Bertrand has arrived on a free transfer from Southampton, but at 32, he's far from a long-term solution.
At 20 years of age, Luke Thomas is a promising, homegrown defender that is honing his skills under one of the Premier League's top managers is Brendan Rodgers. His strengths and skills have afforded him the chance to become a regular and fan favorite for the Foxes, but it remains to be seen if he can follow the footsteps of Ben Chilwell and crack into Gareth Southgate's England team.
By: Gil Kasi / @Gilliankas1
Featured Image: @GabFoligno / Plumb Images / Leicester City