Tactical Analysis: Diego Simeone's Atlético Madrid In Possession
Following the previous article of Atlético when in possession, we will now delve deeper into analysing when they have the ball. This season, they have moved from a more direct approach to a more possession-based style that tries to dominate the game.
This is due to them now having very technical players who would not be comfortable employing a direct football approach. They need the ball at their feet to create danger and this includes players such as Luis Suárez, João Félix, Ángel Correa, and Thomas Lemar among others.
Tactical Analysis: Diego Simeone's Atlético Madrid Out of Possession
Building With Three at the Back
The first change they have made is them starting the build-up with three players. In a 4-4-2 in previous years, you would only have two centre-backs responsible for building up. However, it was not their strength and Atlético did not mind playing it long from the goalie.
Having 3 players behind gives you a numerical advantage most of the time in the first phase of the build-up. This is because rarely are teams ever going to press with three forwards from the start. Therefore, these players have a superiority over the two strikers or lone striker that teams usually have. 
They have two ways of forming three players when building up. Either they start with three centre-backs from the start, or a midfielder drops into the defensive line to help. Generally, Atlético move into a sort of 3-5-2 when building up.
This tactic means that the wing-backs are not needed to help in the build-up as their teammates already have superiority. Thus, they can move up and stretch the pitch as wide as possible. For example, in the example below vs. Red Bull Salzburg, the central midfielder Koke has dropped into the defensive line to form a makeshift back three and allow the wing-backs to push high up the pitch.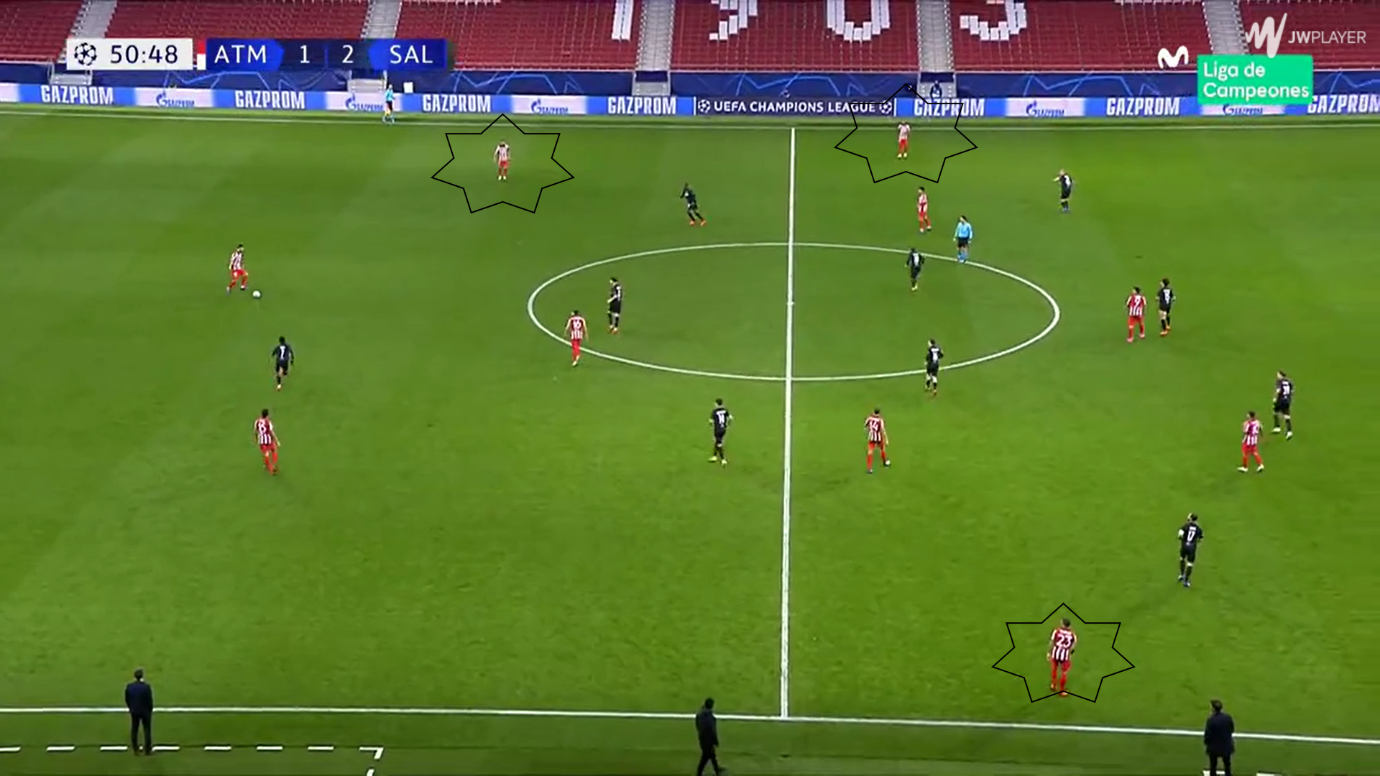 What does having the wing-backs so high generate? This tactic stretches the opponent team which then allows more spaces through the middle. By having them so high, the opponents now have to worry about them too and if they become too closed in, the wing-backs will always have a lot of space.
This is exactly what Atlético is looking for because they want their technical players to receive through the middle, which is the most dangerous place to attack from. The ideal possession for Atlético consists in the 3 players starting the build-up to find a player through the middle, for him to then turn around and create danger. 
When Atlético build with three centre-backs, the midfielder that would normally have to drop deep to aid in the first phase of possession can now be another option through the middle. The players that are generally options through the middle are two central midfielders, Félix and sometimes Suárez. This happens when Atlético start with three centre-backs.
If they start with two centre-backs, the options are lessened as there is a midfielder who has to drop deep to help in the build-up. Nevertheless, regardless of how many centre-backs there are, there is always a midfielder who is in between the defensive line and the players looking to receive passes through the middle. This midfielder's role is to create passing angles with the 3 players building up and so assist in the build-up. 
The example below shows the points made above. In the game against Real Madrid, Atlético started with three centre-backs. We can see the usual midfielder who is the first link between the midfield and the defence. Moreover, we can observe the amount of Atlético players that are behind Real Madrid's defensive line, looking to receive dangerous passes and turn to create danger.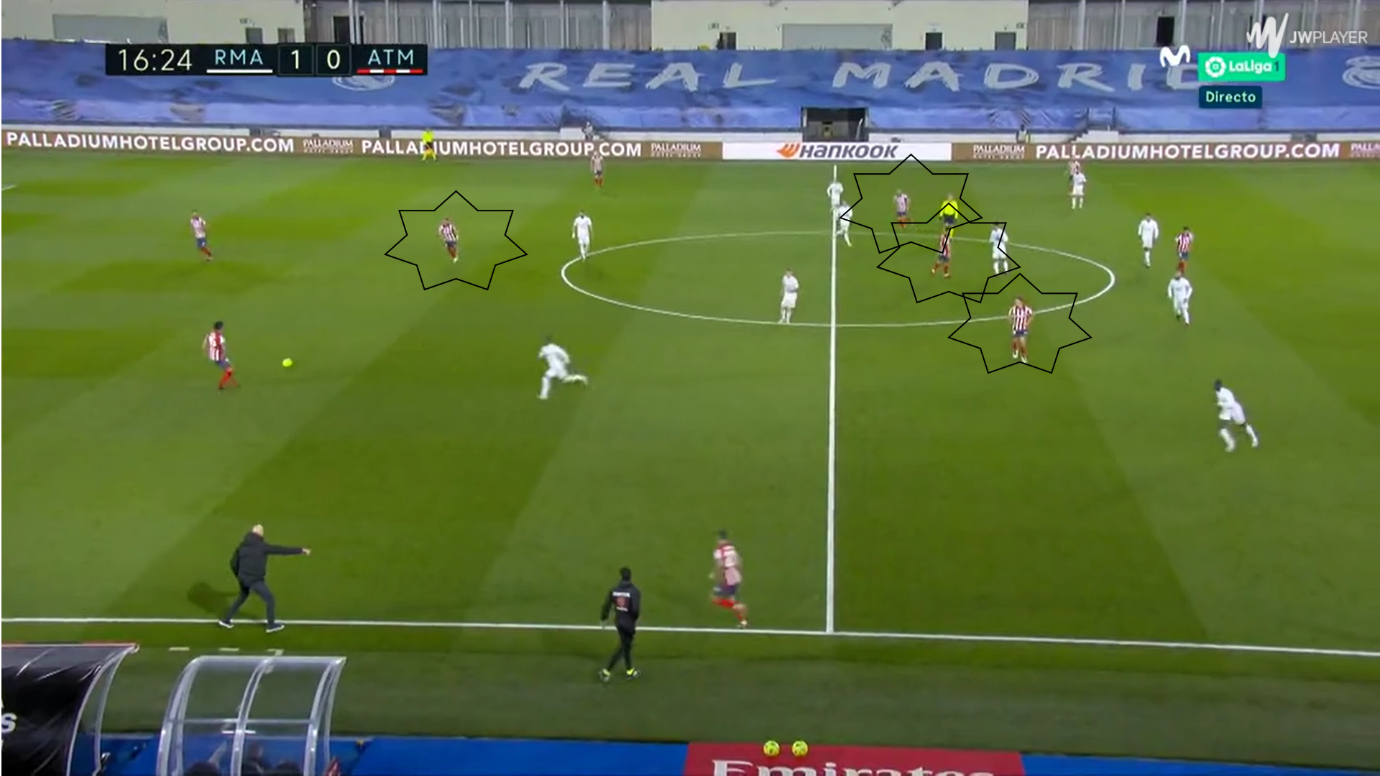 As mentioned before, having high wing-backs stretched out the opponent team to allow more spaces through the middle. However, since the opponent team obviously prefers to protect the middle rather than the wing, the wing-backs are usually in space.
Therefore, if Atlético are ever struggling in the build-up, they know that their wing-backs will be free most of the time. Making this long pass to a wing-back is also a good attacking option because they are quite high, which means that as soon as they control it, they have the chance to cross it in.
This possibility mixed with having a proficient striker like Suárez who makes very smart movements in the area becomes a great asset to have. Below is an example of a long pass made to Kieran Trippier when the Atlético midfielder was being pressed in the build-up.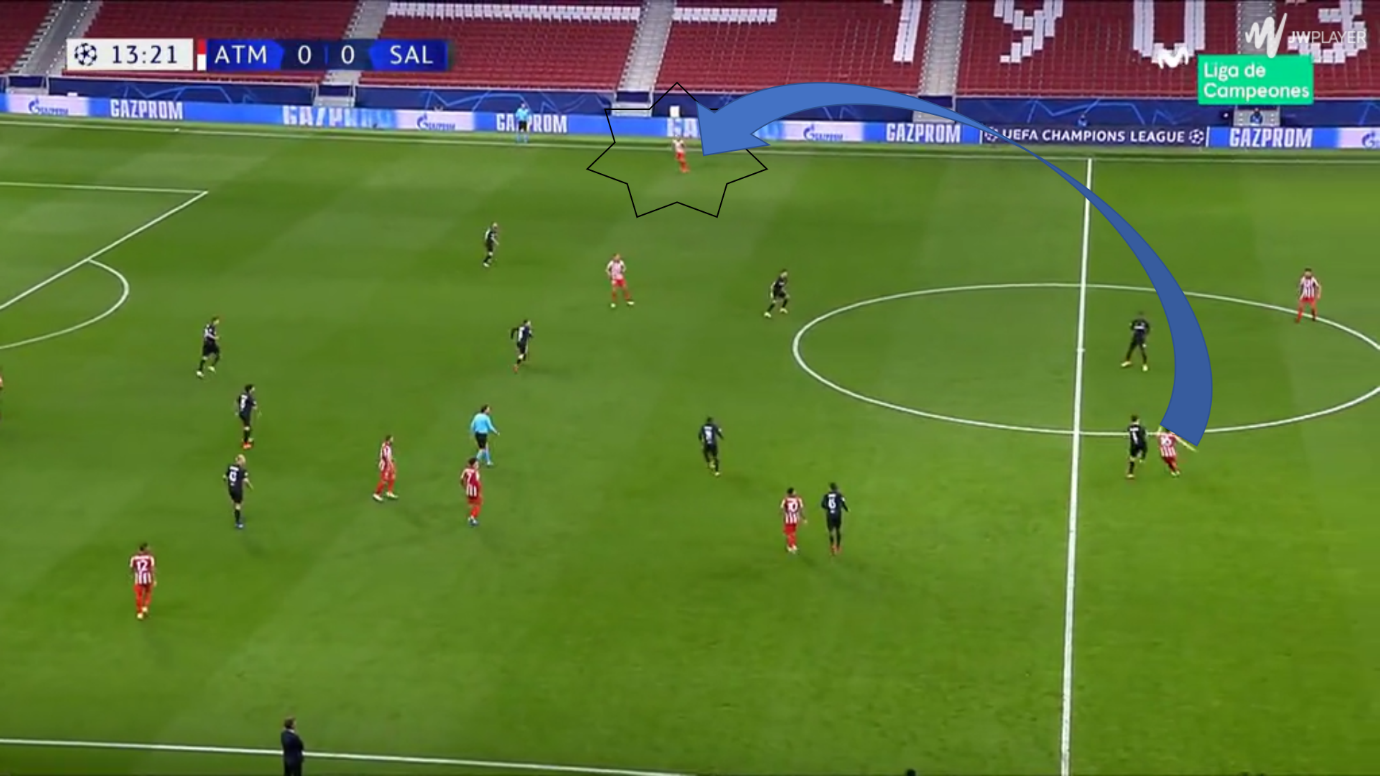 Atlético's centre-backs have had to adapt to this new style of play as they are now responsible for the team's build-up. There are two centre-backs in the team who are especially good at passing and these are Stefan Savić and Mario Hermoso. 
With these two, the passes made through the middle are strong and accurate, perfect to make the play go on. However, it is not enough for the centre-backs to be good passers. The players who are in between the lines also have to be well-positioned.
They have to analyse the situation and find the pockets of space in the middle. The example below shows this well. A forward that is between lines sees there is space between the two opponent midfielders and so moves into this position at the same time as the centre-back makes the pass.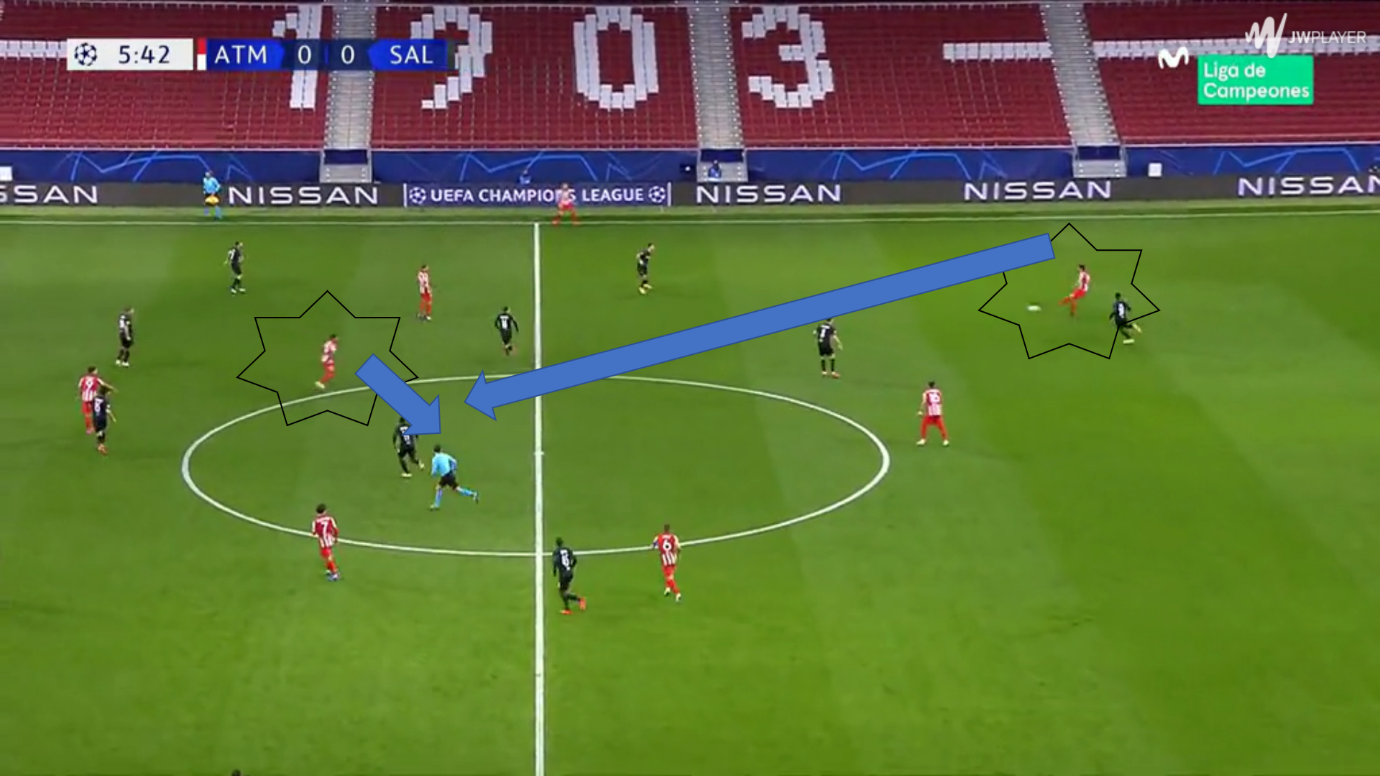 Even though Atlético are trying to build-up from the back this year, it does not mean that they do not try a more direct approach sometimes. By having two mobile strikers who can make smart runs in behind, this option is very possible and can surprise the opponents. Below is an example of Suárez chasing a through ball. The only disadvantage is that the Uruguayan has lost the speed he had in his prime years at Liverpool and Barcelona.
Additionally, making these long balls in behind is beneficial to the build-up in the future because now, the opponent centre-backs will be more hesitant to coming up from their position and pressing a player if he receives between the lines. This will then potentially give the players receiving in between the lines more time and space.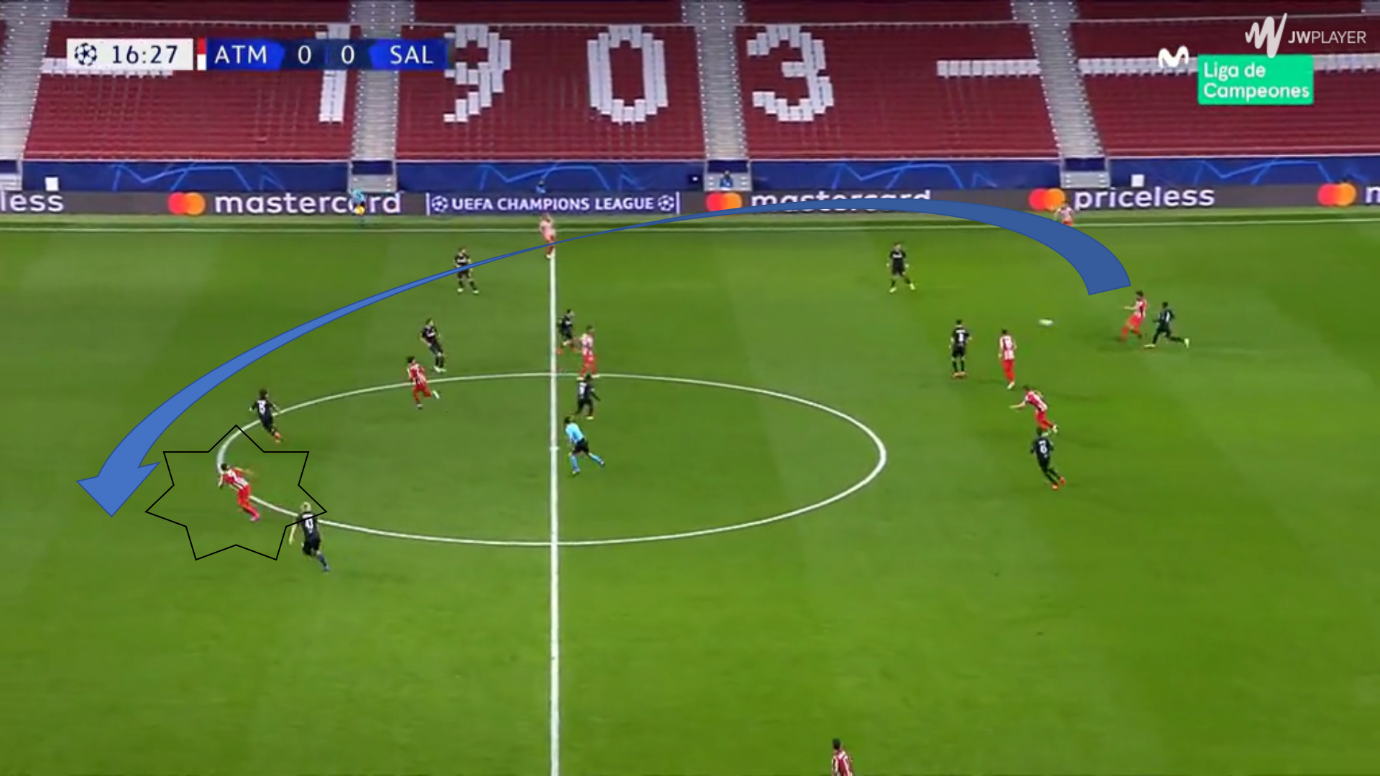 Lastly, another great asset that Atlético has is their midfielder Marcos Llorente. He is a flexible player who can play in many positions. He is usually played in the midfield because he has a high work rate, is technically good, and can surprise the opponents with his attacking movements.
Llorente is a player who likes to get forward which is proven by his 9 goals so far this season. His runs in behind and offensive mentality often catch the opponents unexpectedly. Since Atlético plays with no wingers, he is responsible for making the runs in behind as if he was the right-winger. 
These moves from deep are effective and we can observe below how he is running behind the defence and has an advantage over Casemiro, who is chasing him. Overall, Llorente provides Atlético with many options during games but his most important attribute has to be when he attacks from deep.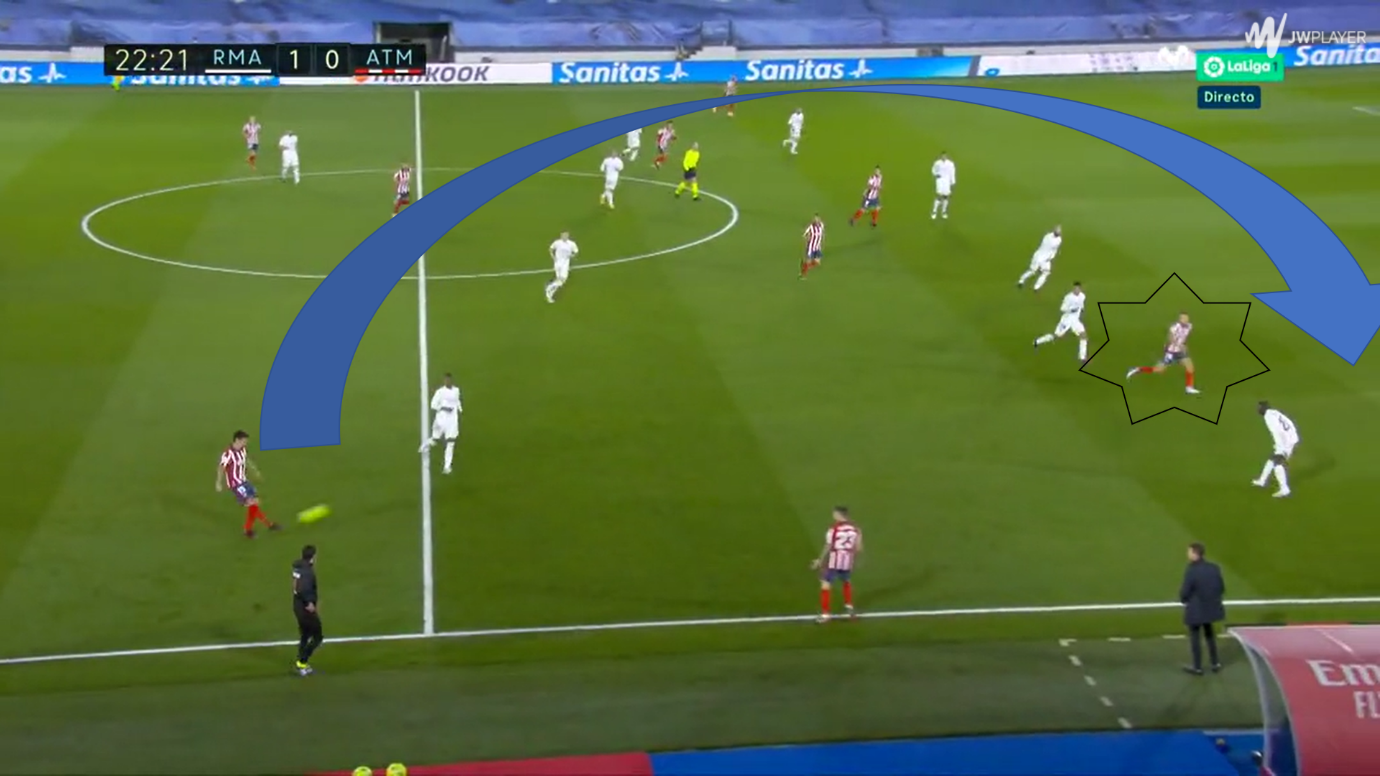 It has been a mediocre February for Atlético Madrid, who have drawn to Celta Vigo and Levante, lost to Levante at the Estadio Wanda Metropolitano, and succumbed to defeat to Chelsea in the first leg of their UEFA Champions League Round of 16 tie. However, the Rojiblancos still sit three points clear at the top of La Liga with one game in hand, although they'll need to navigate a tricky schedule that will see them travel to Getafe and Villarreal, host Marcelino's resurgent Athletic Club, and take on crosstown rivals Real Madrid at home.
After maneuvering their domestic matches, they will face off against Chelsea at Stamford Bridge, who will be without Mason Mount and Jorginho due to suspension. Whilst they parked the bus in Bucharest, Atlético will need to attack and set out on the front foot in London. Diego Simeone has proved that he is a flexible manager who is capable of playing possession-based football, but he will be forced to prove his merits in this regard as Atleti enter the home stretch of the campaign.
By: Jaime Fernandez Valencia
Featured Image: @GabFoligno / Anadolu Agency