Player Analysis: Mason Greenwood
Manchester United have a culture of promoting the youth to the first team. Earlier many of their academy graduates have left a big impact on the footballing world. Sir Bobby Charlton is distinguished for his legendary status at the club and the impact he had on English football.
Ryan Giggs, David Beckham, Gary Neville, and Paul Scholes are the key names of the many world-class talents United has produced over the years in their famous Class of 92′. In recent years Marcus Rashford and Scott McTominay have come through the ranks – to become first-team regulars for the Red Devils. The next in line is the eye-catching 19-year-old forward phenom, Mason Greenwood.
He's not just a rising star for club but he's also the talking point of all the conversations surrounding England's new golden generation – even though he only made 1 senior appearance, there's an expectation that he will be an important and exciting figure for the Three Lions. 
The addition of Edinson Cavani and Cristiano Ronaldo in the past two seasons and having a manager who was an expert finisher back in his playing days like Ole Gunnar Solskjær will only benefit Greenwood in the long run. It's been an impressive start to the season for the teenager – racking up 3 goals in 5 Premier League appearances. Also continuing his unusual but impressive trend of overperforming his xG (1.0). 
Tactical Role at Manchester United 
Greenwood is an intriguing forward when it comes to his exact position, he plays the majority of his minutes off the right in the modern inside forward role, in Solskjær's 4-2-3-1 formation. But he occupies a lot of central space that he might as well be the focal point of the attack. He drifts into the central positions more often to get involved with the build-up play.
With striker intentions, Greenwood tends to tuck inside coming into the final third with the center-forward. This tendency gives Manchester United's attack more dimension. His inside movements allow him to pull the opponent's left-back thus opening a huge space for Aaron Wan-Bissaka on the right flank.
Uniteds' system is left-sided oriented when it comes to ball progression – which disadvantages Greenwood when it comes to his involvement in build-up play. A lot of the time, he is asked to be a blind runner, and get on the end of chances that approach the box, That includes knockdowns, one-twos, as well as making runs from the channels and wider areas, as seen on the graph below.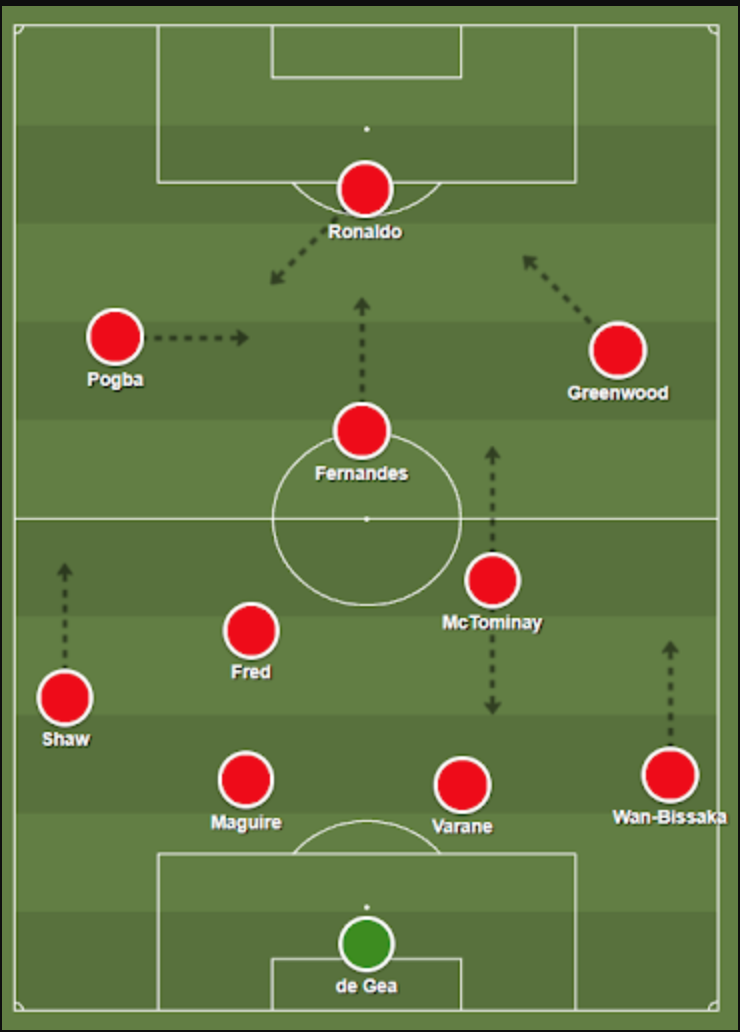 Manchester United 21/22 [@chunhang7] 
Finishing (obviously)
"Mason is one of the best if not the best finisher I have worked with and seen. He is so calm. He knows where to finish if it is on the training ground, here, or in his garden at home. Those were the words of Mason Greenwood's manager Ole Gunnar Solskjær about who is the best finisher at the club and the Norwegian was in no hesitation in putting Greenwood's name right up there.
This is an area where Greenwood's game is renowned for. If you looked up finisher in the dictionary a picture of Mason Greenwood would appear – A natural-born finisher with ice-cold composure. The teenagers finishing is possibly the best that Manchester United has seen in recent times.
Greenwood is unique from other attackers and his style of finishing is the best thing one can appreciate – Greenwood is very crafty with his movement to isolate a defender 1v1 (especially when on the right-hand side where he drifts into play). Once the ball is switched to him, he is ready for a direct take-on.
This involves a quick shift to either his left or his right and an instant shot – it concurrently puts the defender off balance and creates a better shooting angle. So far this season, he has three Premier League goals from an xG of 1.0. In his debut season, he scored 10 league goals from an xG of 3.6. Things quite downed last campaign with seven goals from 7.4 xG.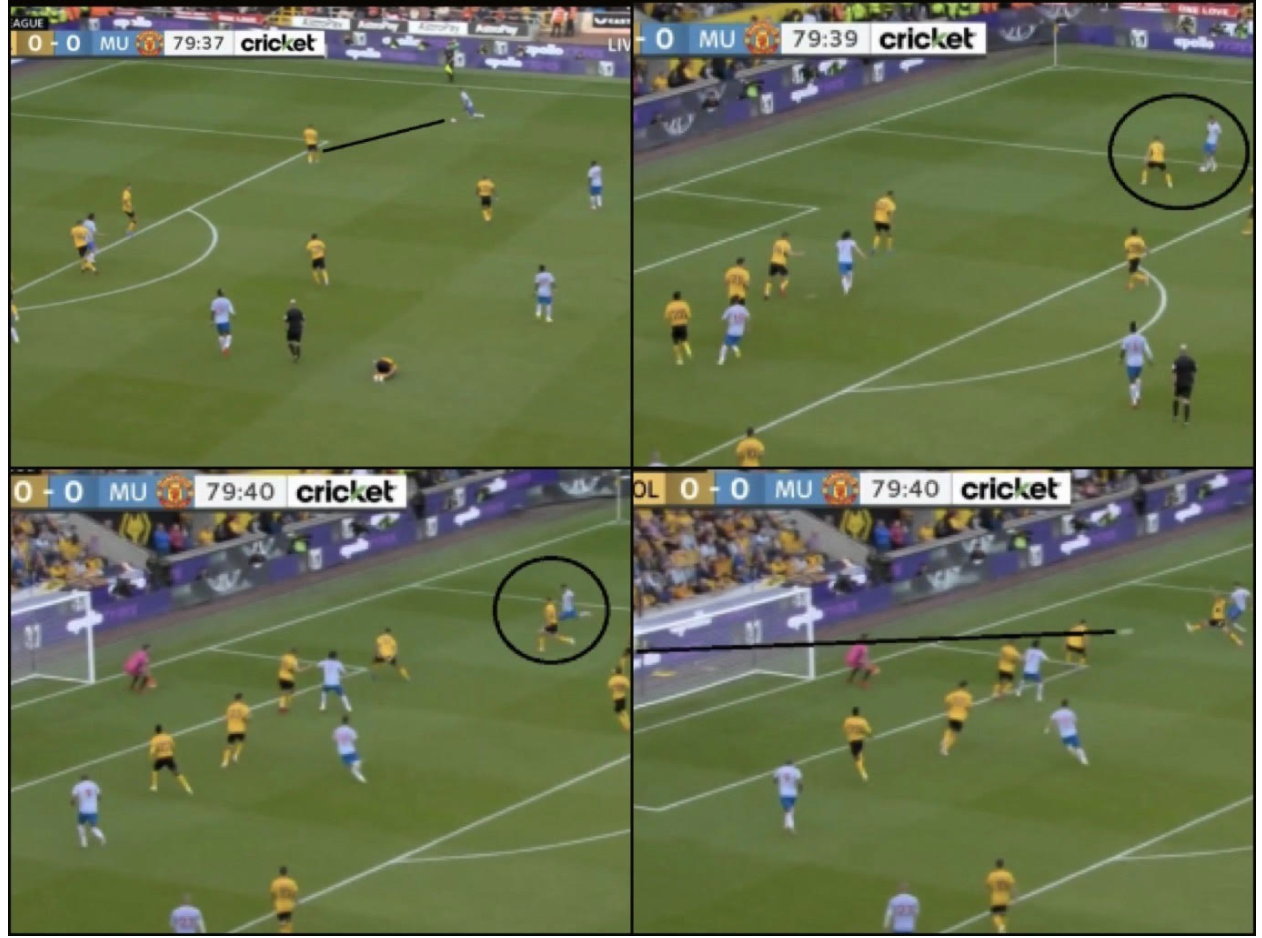 The image above is a clear representation of how good Greenwood's finishing is – specifically how he makes his own shots. In image 1 Greenwood gets the ball on the right-hand side and has a chance to take Wolves left-back Fernando Marçal 1v1 and obviously, he relishes it.
In image 2 once he gets into the box he stands up his opponent and decides whether to go left or right and in Image 3 he does his trademark stepover and shifts the ball to his right and in Image 4 he takes his shot off quickly and catches the goalkeeper José Sá off balance.
The ability Greenwood has with the power on either foot makes him an undeniable threat once he enters the box and instantly puts goalkeepers on alert. The level of control Greenwood exudes when in shooting positions allows him to execute such good shots.
Progressive Play 
This is an area of Greenwood's game where he has significantly improved – It's coincided with the physical development of Greenwood which has been impressive on its own but it fast-tracked his ability and confidence on the ball and wanting to progress the play. Greenwood has transitioned into a fantastic dribbler. He's completing 1.85 dribbles per 90 – which just highlights the courage to not shy away from the ball and take on players.
 He has also become valuable in possession for the Red Devils completing 6.09 progressive carries per 90 and 1.79 carries into the penalty box – which ranks him in the top 90th percentile for forwards in Europe's top 5 leagues. He's also improved his link-up, building a strong understanding with Bruno Fernandes (coming inside) and Aaron Wan-Bissaka (on the outside).
Mason Greenwood often drops from his position to help his teammates in the build-up phase. Either dropping into the midfield or appearing in between lines his movements make United have better link-up options in possession. Greenwood is also able to find his teammate in space – tendency to come off the right onto his stronger left foot, switching play to his unmarked teammate on the other flank.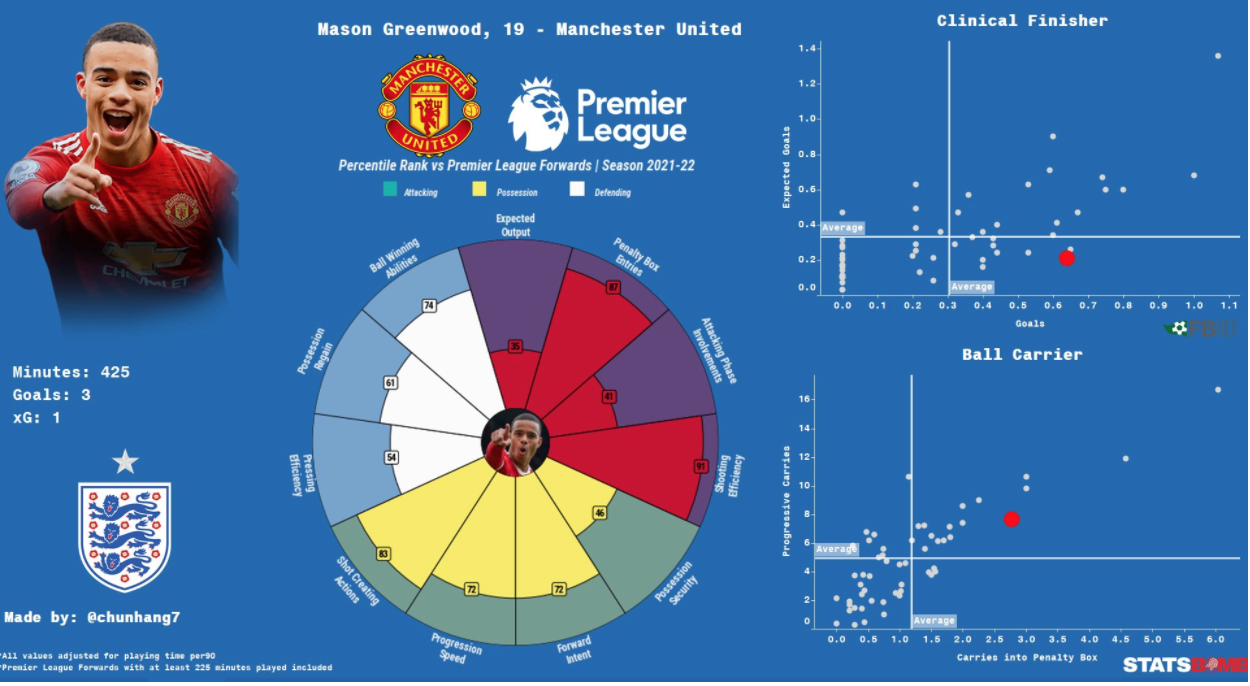 Mason Greenwood 21/22 season [@chunhang7] 
Conclusion 
Mason Greenwood's breakout to world football has been remarkable to watch so far. His footballing intelligence is extraordinary at such a young age and this has helped him contribute to United's frontline on and off the ball. Greenwood's rate of almost one goal contribution in every two games is something special for an 18-year-old. His football IQ, amazing pace, and of course his magical left (and right) foot finish have been the reason for his meteoric rise.
Moreover, he has been United's key in unlocking a deep blocking system. It will be very interesting to see what Greenwood could be in the future (with Cristiano Ronaldo not looking like slowing down anytime soon) and whether Solskjaer can make the best use of him in the coming years. At 19 years old, Manchester United has an extraordinary talent on their hands.
By: Raphael Adelugba / @RaphaelAdelugb0
Featured Image: @GabFoligno / Nick Potts – PA Images
Credits to @chunhang7 for help with visuals.