Every Premier League Club's Brightest U-21 Talent: Part 1
More and more young players are beginning to forge their way in England's top flight, with the days of starting XI's with an average age of 30+ becoming a thing of the past. This season has seen the trend of youthfulness in the Premier League continue, with managers forced to use the full depth of their squads with the unending amount of fixtures in these early months.
In this article, I will look at the most promising U-21 talent at every club across the Premier League's current top 10, each capable of becoming a star over the coming years. This is the first part of a two-part season, with the Premier League's current bottom 10 available in the coming days.
Liverpool
Name: Curtis Jones
Date of Birth: January 30, 2001
Position: Central Midfield
Jürgen Klopp's side has been debilitated by injuries this season, with key players suffering long spells on the sideline. Although a hurdle that Klopp must overcome to retain the Premier League title, the injuries have provided an opportunity for many fringe players in the squad to take up a bigger role.
One such beneficiary is 19-year-old Curtis Jones, who has made 15 appearances already this season, cracking the 1000-minute mark before the new year. With Thiago, Jordan Henderson, and Naby Keïta enduring long spells on the sideline, Jones has picked up the midfield mantle, with his engine and intelligence in possession allowing him to seamlessly fit into Klopp's system.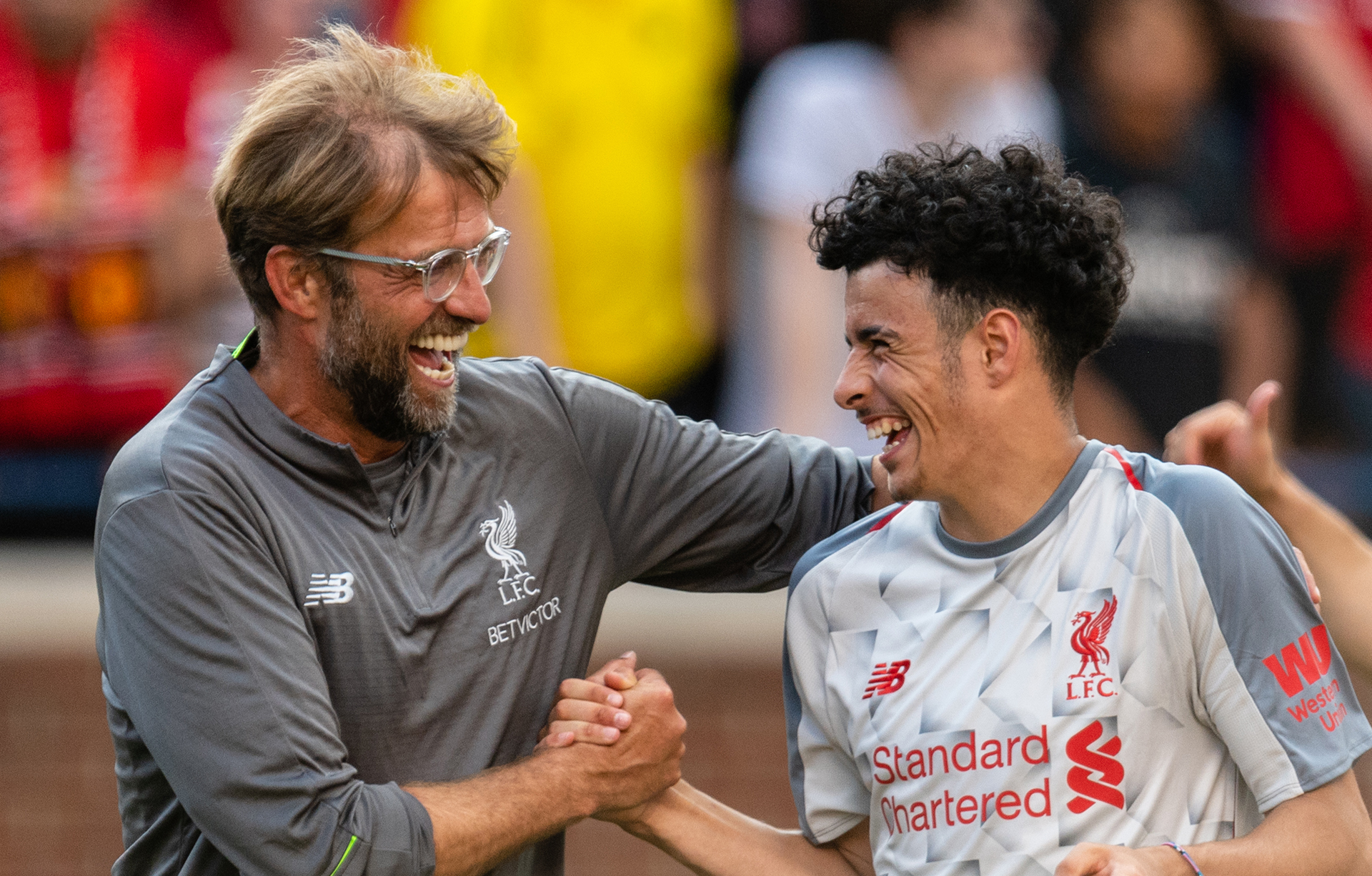 Photo: Jason Miller/Getty Images
Donning the number 17 that Steven Gerrard wore throughout much of his early career for the Reds, comparisons are already being made between Liverpool's long-time captain and the club's next big midfield talent.
Having joined LFC when he was 9 years old, Jones understands what it means to wear the Liver Bird on his chest, with his derby winner versus Everton providing the footballing world the first signs of what an extraordinary talent he is. Although Jones won't hit many strikes as sweetly as his stunner versus The Toffees, this element of the 19-year old's game is perhaps what makes him stand out against the other talent available to Klopp.
Jones is not afraid to take a shot from distance and has a knack for spotting dangerous areas where he can move into to find possession with a shot on goal. Although predominantly a box to box midfielder, Jones has many qualities that could see him play higher up in Klopp's side, with his ability to sense dangerous positions and link up play going forward making him even a possibility as a false 9.
His ability in attacking areas was particularly pertinent in Liverpool's most recent win over Tottenham. In a massive match that was capable of defining the trajectory of both clubs' seasons, Jones took hold of the game, making an astounding 105 accurate passes in the match, failing to find his teammate on just 7 occasions.
This is even more impressive when looking at the positions Jones took up, largely occupying the left flank deep into the Spurs half. An ability to maintain composure in areas of the pitch with large opposition pressure is a skill that makes Jones stand out against many players in his age bracket and is why Klopp has been counting on the Scouser in Liverpool's title defence.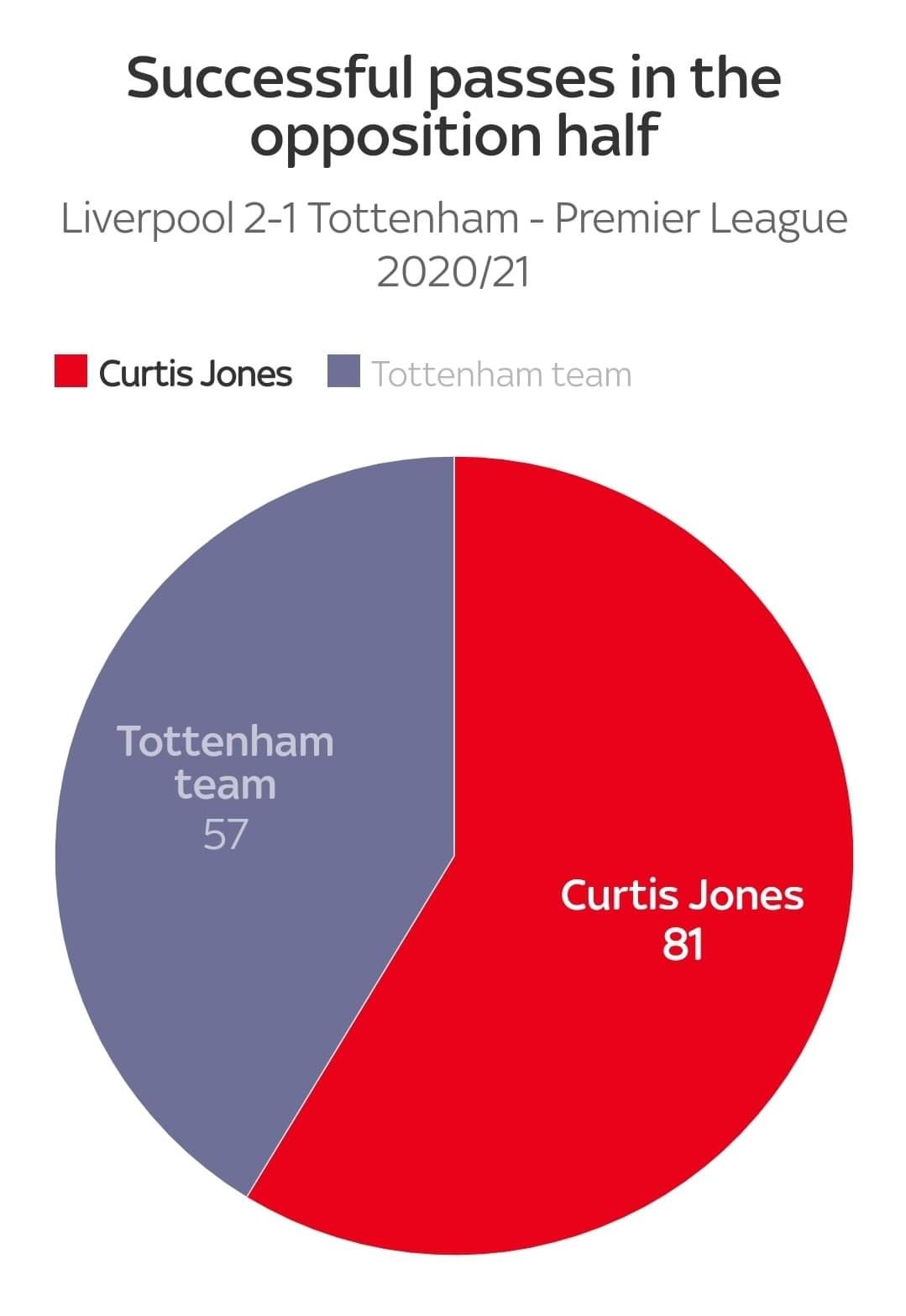 Although the statistic is a little misleading, with Tottenham manager José Mourinho opting for a counter-attacking system that saw Spurs amass just 24.2% of possession, it nevertheless epitomizes Jones' presence in Liverpool's game going forward, with the 19-year old a focal point of the title holder's attacking game this season. [Sky Sports]
Tottenham Hotspur
Name: Japhet Tanganga
Date of Birth: March 31, 1999
Position: Center Back
José Mourinho's side has progressed by leaps and bounds this season, surprisingly joint top of the table before succumbing to defeat to Liverpool midweek. With Tottenham's only defeats this season coming against the two Liverpool clubs, it is becoming harder to dismiss Spurs' title candidacy.
With Europa League fixtures added to a packed domestic fixture list, almost the complete depth of Tottenham's squad has been required. This has provided opportunities for many young players in Tottenham's squad to showcase their talents, one being highly rated English defender Japhet Tanganga.
Perhaps the biggest benefactor since Mourinho has come in, he became a key fixture in Spurs' squad before Project Restart, starting 6 of the 8 fixtures between Matchdays 22-29. Although back trouble and various injuries have seen him miss 16 matches this season, Tanganga is capable of becoming a cornerstone of Tottenham's backline for years to come.
Standing at 1.84m and with a stocky build, Tanganga is an aerial menace, capable of dealing with the physical battle of the Premier League at his ripe young age. In a defense that was leaking goals when Mourinho came in, Tanganga became a key figure in turning things around, keeping two clean sheets in his first three matches in the starting XI, with the single goal coming against a high-flying Liverpool side.
Although best in the center of back 4, the 21-year-old defender has displayed his abilities to compete all across the backline, with the 21-year-old having appeared in all the 4 positions in Mourinho's defense so far. He showed this in Spurs' EFL Cup victory over Middlesborough last season, marauding forward as a right back, constantly producing dangerous moments, and was even named MOTM.
He also demonstrated his versatility by delivering an impressive performance at left back in Tottenham's 2-0 victory over Manchester City last February, where his cautious approach nullified the threat of Riyad Mahrez. Having signed a contract extension until 2025 as a result of his impressive performances in the second half of last season, Tanganga is set for a big future in this new era of Tottenham.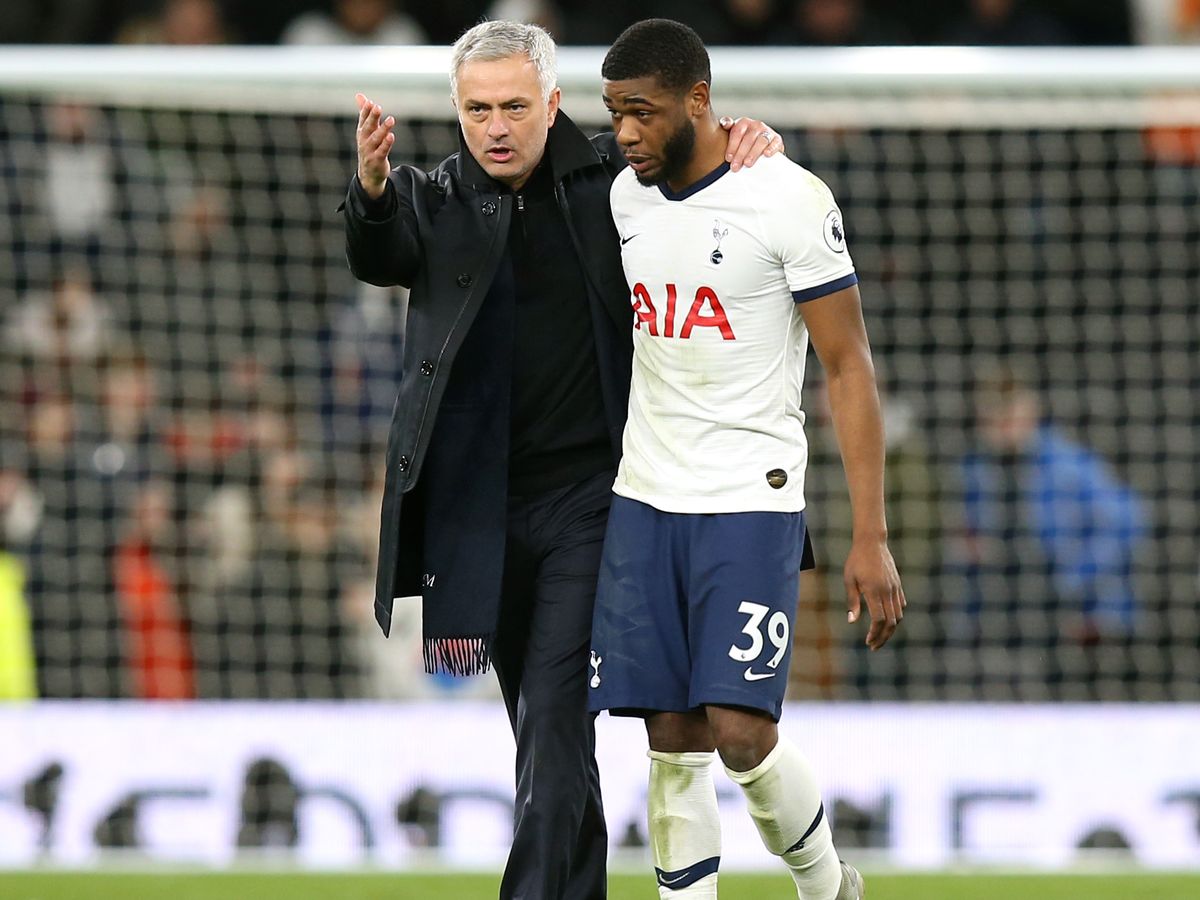 Photo: Mark Leech/Offside/Offside via Getty Images
Back in the thick of things after returning from injury, the England youth international has played every minute of Spurs' last three UEL group stage matches. Although Mourinho has been less rewarding in Premier League minutes this season, Tanganga is nevertheless knocking on the door, ready to grasp an opportunity in similar fashion to last season.
Southampton
Name: Ibrahima Diallo
Date of Birth: March 8, 1999
Position: Defensive Midfielder
Southampton have continued their fantastic form from project restart last season, sitting remarkably in 3rd place after 13 matchdays. In his second full season in the dugout, Austrian manager Ralph Hasenhüttl has turned Southampton into a pressing machine, 16 places higher up the table than where they were at the same point last season.
In Hassenhütl's two and a half years at Southampton, the former Leipzig manager has been able to call on numerous academy graduates and youngsters to help in his rebuild following Mark Hughes's disastrous tenure. The likes of Will Smallbone (20), and Michael Obafemi (20) have already begun to leave a mark on the first team, whilst James Ward-Prowse has established himself as one of the best midfielders in the league this season, even becoming the captain of his boyhood club following Højbjerg's departure over the summer.
The Hassenhütl era hasn't only relied on internal academy graduates, with the notable signing of Ibrahima Diallo, another youngster with a big future at the club. Signed from Stade Brest for €15 million, Diallo has featured in 6 matches so far this season. Having arrived only in October, Diallo will require time to settle in a foreign country and Hassenhütl's demanding style, but early signs show a player of real promise.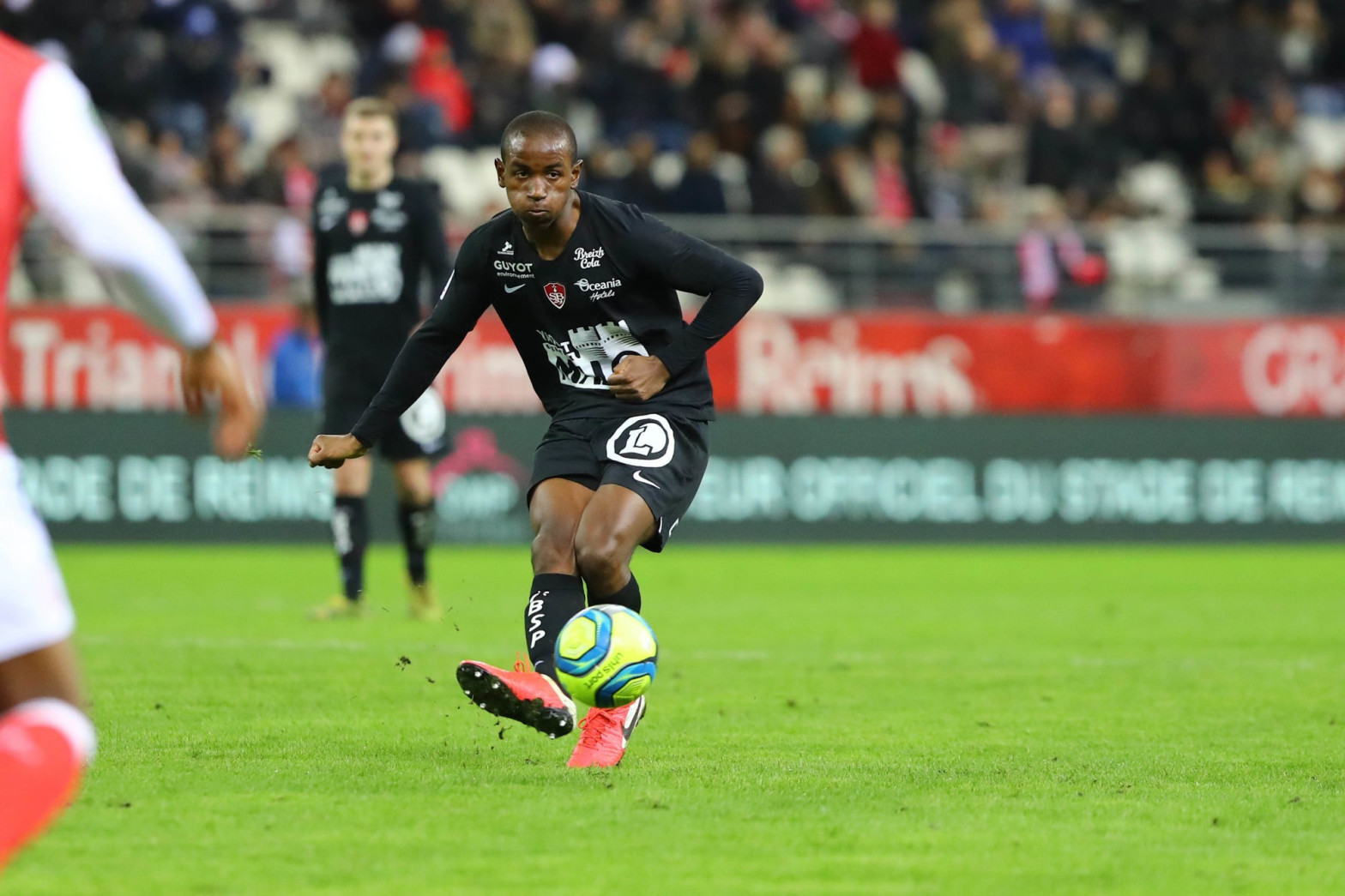 Photo: Valentin Desbriel/Icon Sport
Nominally a defensive midfielder, Diallo is adept in and out of possession, with his physical strength and impressive pace, making him more than ready to lay his mark on the Premier League. Diallo is also adept at running with the ball, drawing defenders onto him and gaining his side useful yards up the pitch.
One thing the French youth international could improve on in order to reach the very top is his ability in the final third. With just 1 assist and 0 goals in 19 appearances in Ligue 1 last season, Diallo will need to bring more attacking threat if he wants to garner a starting spot in Southampton's competitive midfield.
All in all, Diallo is on track to make a big impression on the Premier League, with Southampton winning the race for his signature ahead of numerous other big clubs around Europe. Hassenhütl will need to be patient with a player who just turned 21 last March, but Diallo's 19 appearances in France's topflight last season already speaks volumes of a player capable of making an immediate impact in The Saints push for European football.
Leicester City
Name: Wesley Fofana
Date of Birth: December 17, 2000
Position: Center Back
Wesley Fofana has arguably been the signing of the summer in the Premier League, coming into an injury-riddled backline at Leicester and maintaining The Foxes push for Champions League football with his consistent performances.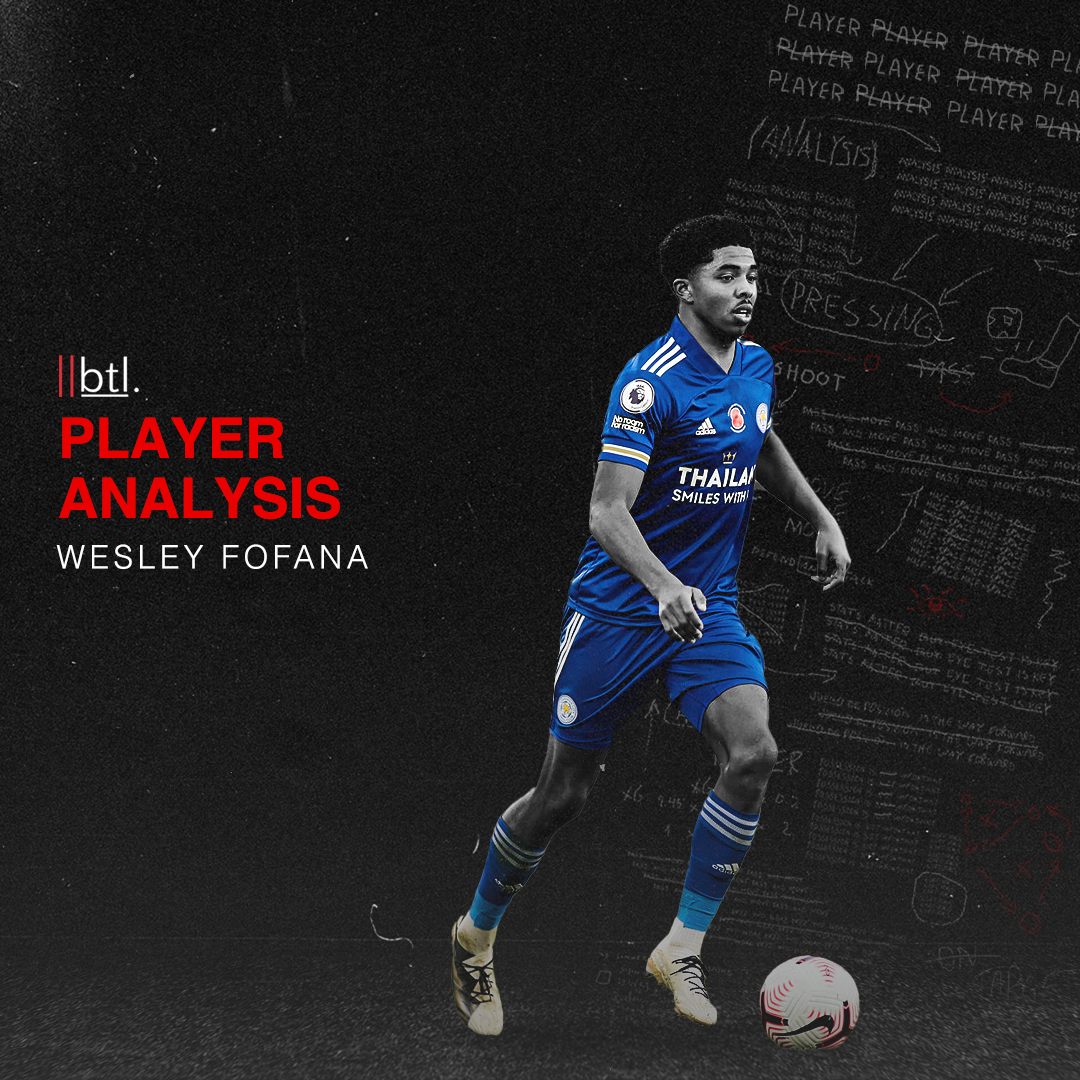 Photo: @GabFoligno / Plumb Images – Leicester City FC
Although Fofana's price tag of €35 million made him the second most expensive signing in Leicester's history, few thought the Frenchman would be capable of hitting the ground just as quickly as he has. Since Çağlar Söyüncü's abductor injury on Matchday 4, Fofana has played every minute of Premier League action, helping Leicester remain in touching distance of the top of the table.
Leicester boast the second-best defensive record of any side in the top 6, a product of the French youngster's own quality against the ball. Fofana's best assets are in his ability to snuff out danger, with his aerial presence and defensive anticipation world-class for his age. With a 72.92% win rate on aerial duels last season for Saint-Étienne, Fofana led Europe's top 5 leagues in his ability to contest headed challenges in his favor.
While this statistic has slightly dropped off in the Premier League, Fofana has still shown his ability to hold his own in a league renowned for its physicality. His defensive solidity is not just showcased in the air though, with the French youth international's timing in challenges immaculate. He leads the Premier League's center backs in successful defensive actions, a statistic that looks at all defensive duels, interceptions, and sliding tackles.
Fofana has shown on countless occasions to make the right decision, whether it be to get in front of his man, or sit off and look to intercept a through ball. Even on the few occasions when Fofana has been beaten, his long strides and recovery speed have allowed him to rectify his errors, although this is becoming less and less of a necessity as Fofana establishes himself in the Premier League.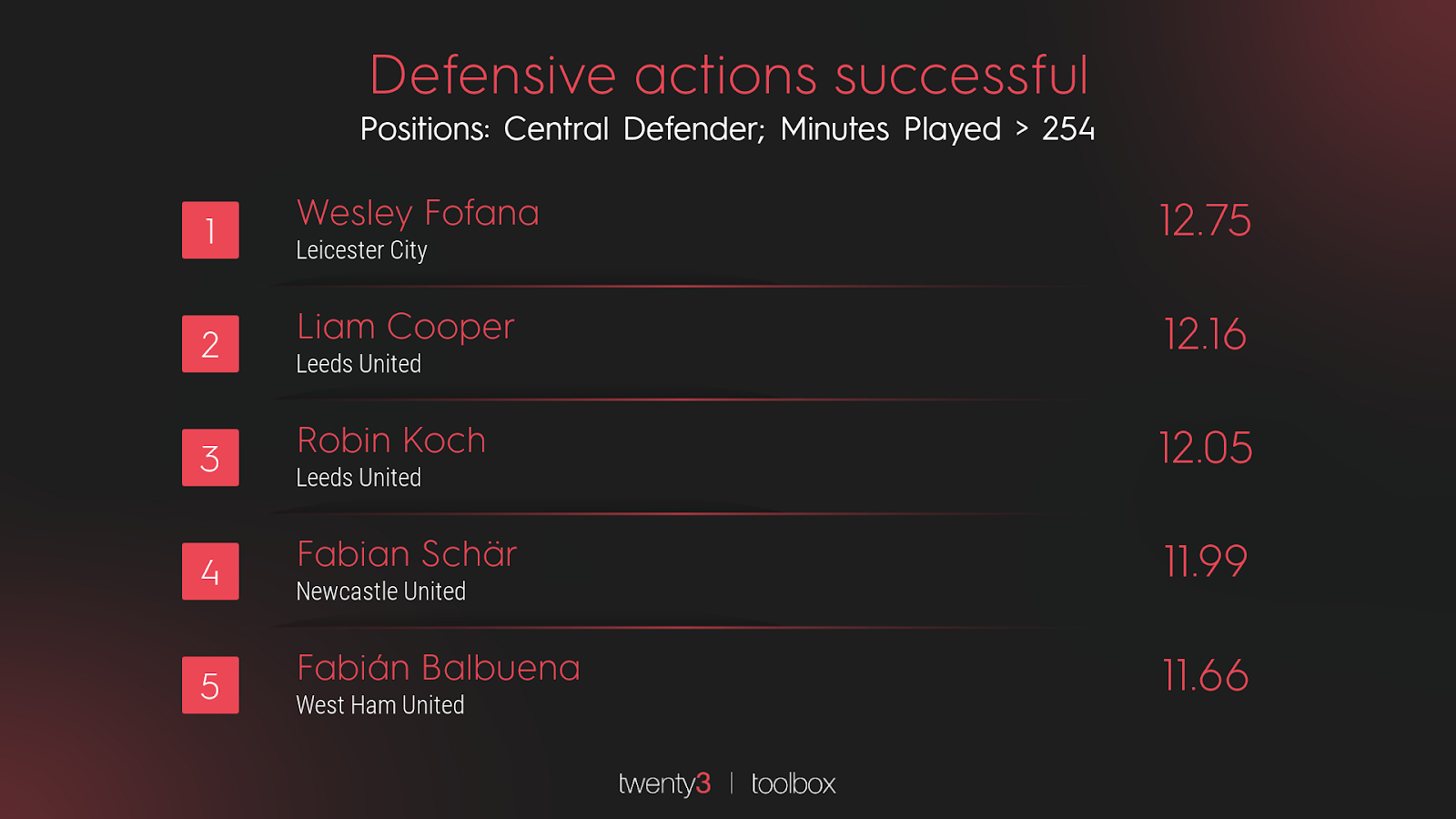 Photo: Twenty3 / Wyscout
Although Fofana's best attributes shine in his ability out of possession, the teenage center back is no mug with the ball at his feet. Particularly since Leicester's switch to a back 3 this season, Fofana has flourished, becoming the key outlet in possession as Ndidi remains sidelined through injury.
With 6.22 completed final third entries per 90, Fofana ranks 6th best of any Premier League center back, behind players of world-class pedigree like Virgil Van Dijk and Thiago Silva. Whether it be through a progressive dribble up the field, or an incisive ball through or behind an opponent's midfield, Fofana is capable of producing calm displays under opposition pressure to become the catalyst for Leicester's attacks.
Everton
Name: Niels Nkounkou
Date of Birth: November 1, 2000
Position: Left Back
Carlo Ancelotti has laid down a marker in his first full season at Everton, sitting in 5th place in the table, just 5 points behind city rivals Liverpool in the top spot. Although Ancelotti has raised the standard of multiple players, most notably Dominic Calvert-Lewin, whose 11 goals in 13 games leads the Premier League, summer additions have been what has really taken The Toffees to the next level.
The likes of Abdoulaye Doucouré, Allan, and James Rodríguez have all come in this summer, giving Everton an entirely new look in the midfield that has provided the platform to challenge towards the top of the Premier League. Although these three have rightfully so been awarded much of the plaudits as terrific summer deals, one acquisition that we have yet to see the best of is 20-year-old Niels Nkounkou.
Signed in July from Marseille for just €270,000, Nkounkou is seemingly the long-term heir to his countryman Lucas Digne's on the left side of defence for The Toffees. With strength and a great engine to get up and down the flank, Nkounkou has been recently compared to former OM fullback Benjamin Mendy, who could easily be amongst the best in the world were it not for recurrent injuries that have plagued his spell at Manchester City.
His set-piece delivery and crossing have also been noted as a strength in Nkounkou's game, an attribute that Ancelotti has set a lot of weight on this season, with Calvert-Lewin leading the league in headed goals (4). Nkounkou is far from a finished product, however, something that we saw in the youngster's only start from this season, a 2-1 defeat away to Newcastle United.
Poor positioning and a lack of awareness towards Newcastle's counter-attacking threat from Nkounkou could have cost Everton throughout the match. Firstly, when Nkounkou failed to track back and allowed Allan Saint-Maximin a dangerous shot on goal, and once more when Nkounkou was drawn out to the Newcastle winger, leaving a large gap between him and the Everton RCB which the home side exploited.

Nkounkou is attracted to Newcastle's right-winger, although a larger threat is created by the gap he leaves between him and Michael Keane (Everton's RCB). Nkounkou must work on his decision-making in these situations if he is to make it at the highest level.
Nkounkou will have to work on his defensive awareness and tactical understanding if he wants to garner more minutes this season. However, his physical profile and attacking impetus will make him a great understudy to Digne on the left side of Everton's defense, and one for the future under Ancelotti.
Manchester United
Name: Mason Greenwood
Date of Birth: October 1, 2001
Position: Right Winger
It is safe to say that Mason Greenwood hasn't had the best start to the 20/21 season, with the United winger sent home early from an England camp after breaching COVID-19 regulations, and scoring just 1 goal across 486 minutes of Premier League action. Yet throughout all of this it is easy to forget that the youngster is still just 19 years old, a teenager who has already left his mark on England's most successful club.
With 5 goals and 1 assist in United's final 8 Premier League fixtures, Greenwood became an undroppable figure in Ole Gunnar Solskjaer's side, with his goals and performances sealing top four for United. Largely deployed on the right side of the attacking trident, Greenwood looks to exploit central areas, forcing his way into shooting positions and freeing up wide areas for Aaron Wan-Bissaka to use.
With a wand of a left foot, Greenwood is perhaps the best natural finisher out of the preferred attacking trio of Greenwood, Anthony Martial, and Marcus Rashford. This was particularly evident when analyzing his XG (expected goals) from last season, a stat that looks at the quality of a goalscoring chance. Greenwood's XG from last season was only 3.39, meaning that the shot positions that he found himself in should have warranted about 3 goals.
Ultimately, he completely smashed his expected goals metric, scoring 10 Premier League goals, a staggering 6.61 more than his shot positions had warranted. This speaks of an elite finisher, who is able to turn what is a difficult chance from a long distance or tough angle into a goal.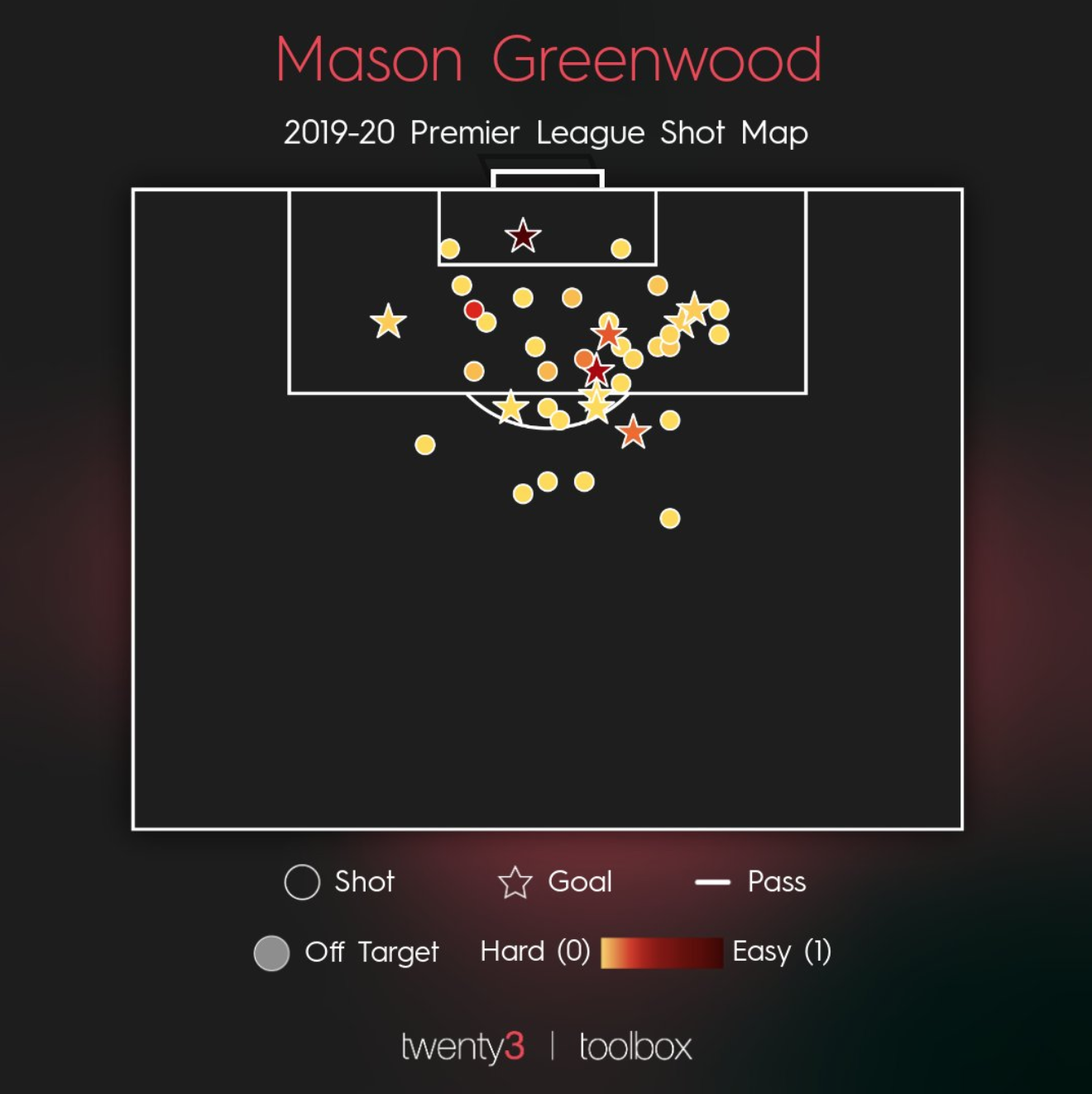 Greenwood's goal map from last season in which just one of his ten domestic goals had a higher than 15% chance of going into the net. Clearly finishing isn't what Greenwood needs to work on to become a more routine scorer. Rather, his movement in and around the box needs improving, so as to find himself in more goalscoring situations like the large green circle on the top of the 6-yard box.
However, the statistical anomaly that was Greenwood in 19/20 is a two-sided sword, with his ability to score from low percentage chances a seemingly unsustainable over performance. Greenwood's one goal this season shows that in order for the youngster to continue to hit double digits, it is not finishing which he needs to work on, but rather getting into more dangerous areas.
This will allow him easier opportunities where a brilliant strike isn't as necessary. With Edinson Cavani joining the club this summer, Greenwood has the perfect role model in this respect, a player who has made a career out of his instinctual runs into the box in which he meets the ball at precisely the right moment to give him easy strikes at goal.
Chelsea
Name: Kai Havertz
Date of Birth: June 11, 1999
Position: Attacking Midfielder
One could probably find at least 10 players under 21 from Chelsea alone who could go on to become Premier League starters in the coming years, such is the talent at Frank Lampard's disposal. However, it is hard to look past Kai Havertz, whose €80 million price tag speaks for itself when it comes to the German internationals' ability to be amongst the best in the world in the next few years.
Capable of playing all across the front four, Havertz is at his best when given a free role, able to drift wide and find pockets to pick up possession and unlock opposition defenses. With an incredible vision of the field and ability to unlock space in congested central areas, Havertz has all the attributes to become the next German great at Chelsea following Michael Ballack's departure a decade ago.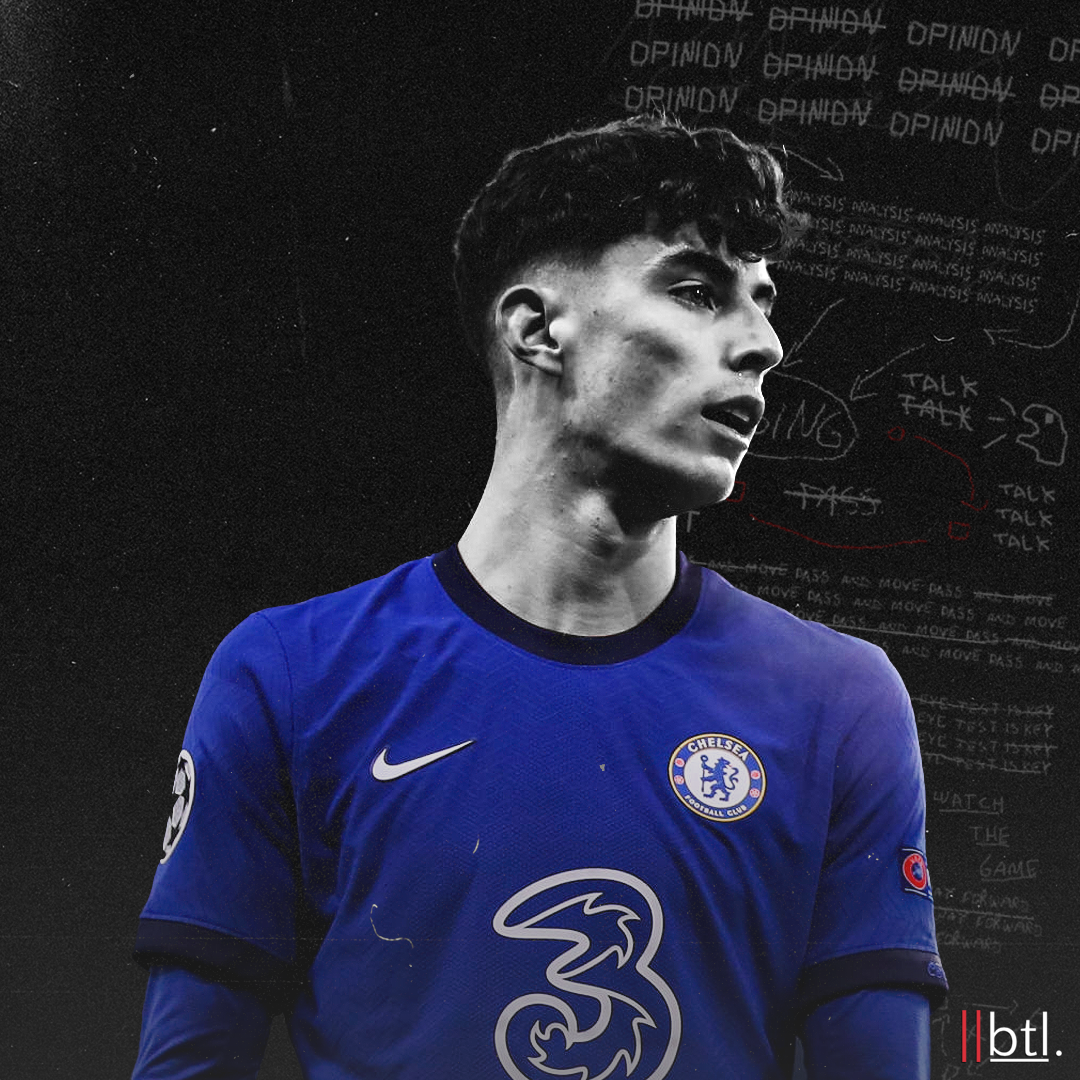 Photo: @GabFoligno / Marc Atkins – Getty Images
Finding space in dangerous areas of the pitch is just half of the Havertz package though, with particularly last season the 21-year-old midfielder showcasing his ability in front of goal. With 10 goals and 5 assists in his final 17 Bundesliga matches for Leverkusen, Havertz truly made the step up from future talent to current world-class midfielder.
Perhaps most impressive were the ways in which Havertz scored these goals, 3 coming with his right foot, 3 with his left, 3 with his head, and one from the penalty spot. Regardless of where defenders forced Havertz to shoot from, the young German was capable of pulling off an immaculate finish, raising the difficulty of defending against him to another level.
As with many young players first moving away from the comforts of their boyhood club, things haven't gone completely smooth, with Havertz's first couple months at Chelsea a disappointment when compared with his tremendous form at Leverkusen. With just 1 goal and 2 assists in 694 minutes of Premier League action, Havertz hasn't yet been able to show why Frank Lampard personally phoned the young star to get him to sign for Chelsea.
However, with less than a week of preseason and few extended periods on the training pitch with Chelsea competing on a midweek basis, it is understandable that Havertz has needed time to adjust to Lampard and the Premier League's demands.
Havertz has all the talent to become one of the best players in the Premier League, let alone the world, and a slow start to life in North London is no reason to question the German's immense talent to be the cornerstone of this Chelsea side for years to come.
West Ham United
Name: Declan Rice
Date of Birth: January 14, 1999
Position: Defensive Midfielder
West Ham proved to be one of the easiest sides to choose a U-21 talent for, with one player standing head and shoulders above the rest. That would namely be Declan Rice, who not only has 10 full international caps for England but has captained West Ham in their last 11 Premier League matches.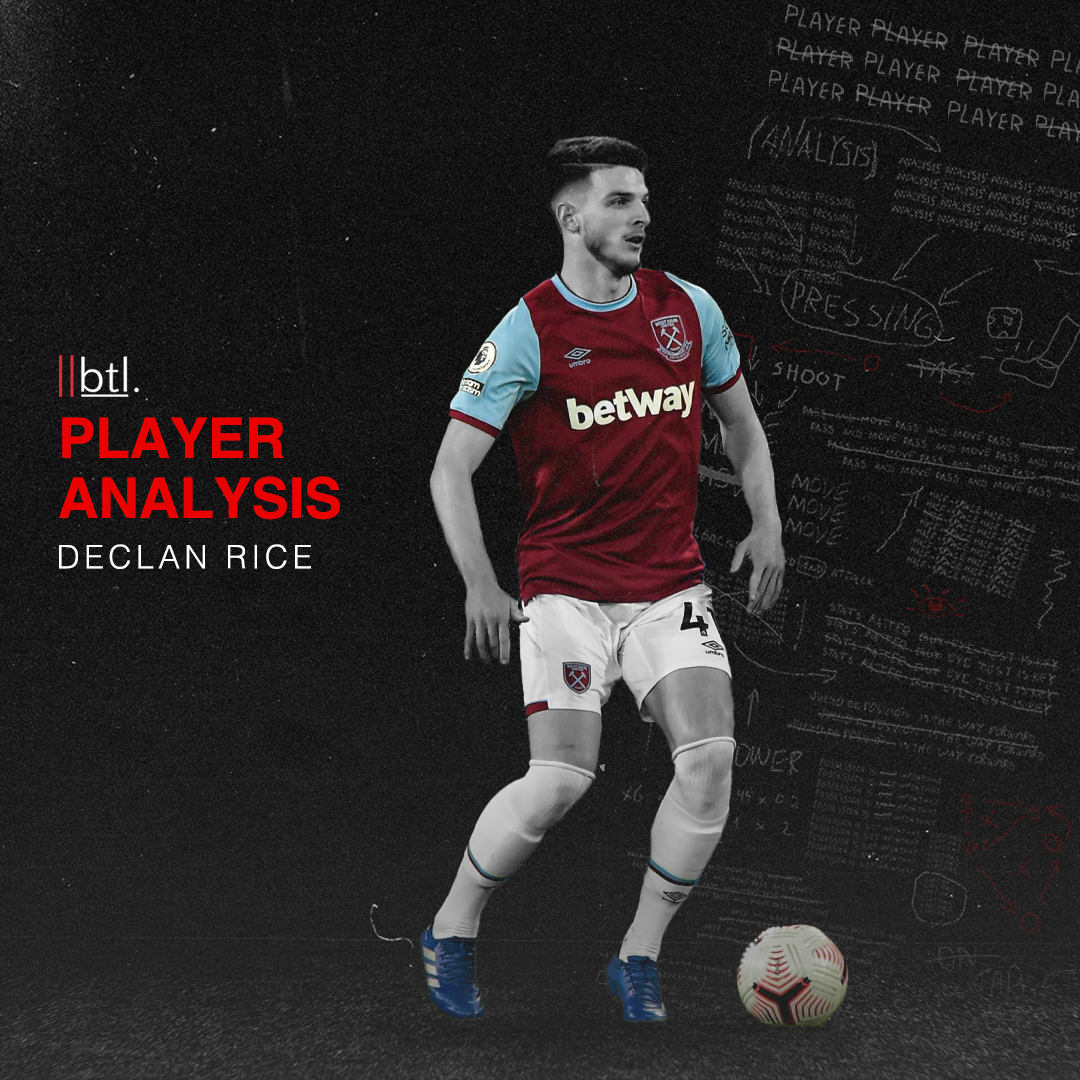 Photo: @GabFoligno / Arfa Griffiths / West Ham United
Considering what Rice has already achieved, it is hard to remember he is still just 21 years old, playing every minute of the Premier League so far for a resurgent West Ham side who find themselves 8th in the table, 3 points off the final Champions League spot.
Not the flashy attacking midfielder or blistering winger that earns the headlines through individual actions, Rice has forged his way into the England squad and leadership role at West Ham through consistent performances week in week out.
Whilst many of his peers are just venturing into men's football, Rice has already amounted 111 Premier League games before his 22nd birthday, playing with a composure and assuredness well beyond his years. Sitting as the deepest point in West Ham's midfield, Rice is the tempo setter, helping to win possession back and progress the ball forward through simple passes that alleviate pressure and break congested areas.
The midfielder's defensive reading of the game is what allows him to stand head and shoulders above much of his competition. With 18 interceptions so far this season, West Ham's captain ranks 4th best in the Premier League, just 7 behind Chelsea's N'Golo Kanté in first. Alongside this, his 51 duels won in the opposition half is the 6th most in the league, showcasing a player who is far more than just a battering ram who sits in front of a backline.
If Rice continues to provide the consistent 8/10 performances he has shown throughout his young career, it is only a matter of time before the Englishman signs for an established top 6 side in the Premier League. With Lampard already naming Rice as his biggest wish to reinforce Chelsea's midfield and backline, West Ham will find it hard to keep hold of their young captain when the season comes to a close in May.
Manchester City
Name: Ferran Torres
Age: February 29, 2000
Position: Right Winger
Manchester City have looked a shadow of themselves selves under manager Pep Guardiola this season, having failed to shake the disappointment of their defeat to Lyon in the Champions League quarter-finals in August. City sit in just 8th place in the league, with 5 fewer points and remarkably 17 fewer goals than at this point last season.
Following another key departure of the old guard with David Silva returning to Spain, The Citizens have continued their desire to rebuild with a new generation, with a summer window that saw €163.30m splashed out on 8 players with an average of 21.9 yrs. One of those new additions is the immensely talented Spanish winger Ferran Torres, who at just €23 million looks to be a steal compared to some of the other business City have done in the past.
4 goals in 5 Champions League appearances and a scintillating hat-trick in Spain's 6:0 drubbing of Germany in the Nations League have provided more than a glimpse of why Torres is regarded as such a special talent. Capable of playing from either wing and as two-footed as they come, Torres offers countless ways to hurt opposition defenders. His ability as a provider is what stands out the most, with the Spanish winger's 0.74 key passes per 90 second only behind Lionel Messi for all wingers in the 19/20 La Liga campaign.
The ability to drive at pace and intent whilst maintaining a complete overview of better-positioned teammates is a crucial trait at Manchester City, and one of the reasons why an immensely talented player like Leroy Sané, and more recently Mahrez have found it hard in Guardiola's system. With David Silva's departure, getting Torres up and running will be crucial to getting City's domestic season back on track, with the barely 20-year-old winger capable of easing the creative burden on Kevin De Bruyne.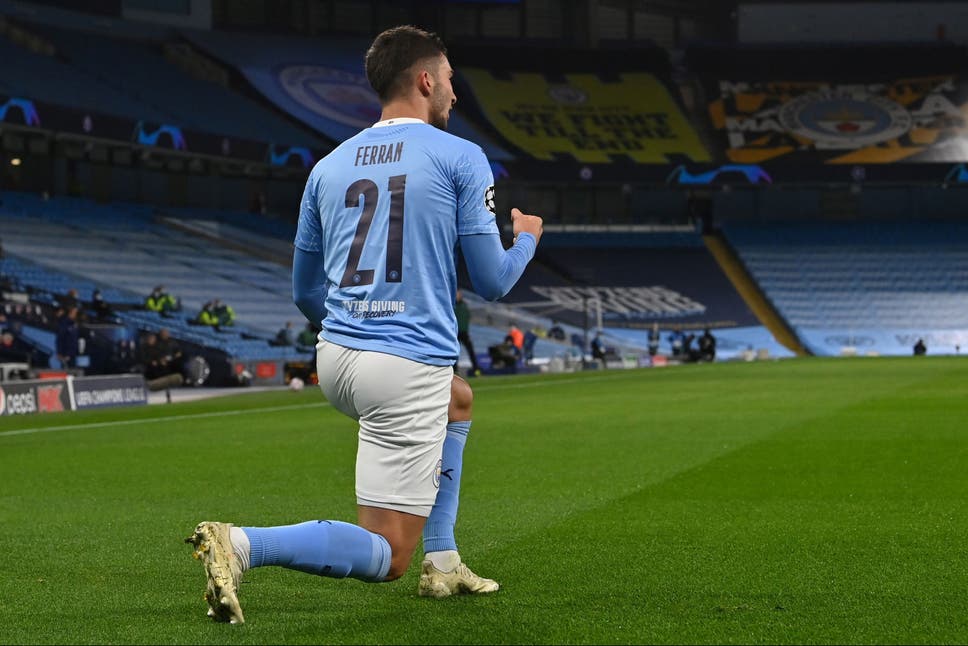 Photo: AFP via Getty Images
One area which Torres has lacked since arriving in England is his crossing ability, failing to deliver one successfully although he has attempted 12 this season. City are by no means renowned as a side who lump balls into the 6-yard box, however well-placed crosses from De Bruyne particularly have been a huge weapon in City's arsenal over the past seasons. If Torres is able to deliver of similar quality, Guardiola will truly have a weapon on his hands, and Torres will offer another tool to hurt oppositions with.
Given the number 21 that was previously donned by city legend 'El Mago' Silva, it is clear why Torres was brought into the club. Although he has only scratched the surface of his full capacity, (with 1 goal and 1 assist in 423' minutes of Premier League action leaving a lot of room for improvement) the early signs show a player of immense talent.
Wolves
Name: Pedro Neto
Date of Birth: March 9, 2000
Position: Left Winger
The score is tied 1-1 as Wolves and Chelsea head into the final minute of added time. Wolves mount their final push, as Pedro Neto picks up possession just inside the Chelsea half. With an incredible change of pace, the 20-year-old Portuguese winger leaves Kurt Zouma in the dust, before a brilliant cross-body finish leaves Edouard Mendy no chance in the Chelsea goal. 3 points for Wolves.
That was the story last Tuesday night, with Neto's solo goal once more showing everyone why Wolves had dished out almost €18 million for a player who had played only 85' minutes of professional football. He has proven to be a perfect fit for Wolves, not just for his Portuguese background and Gestifute connections, but his direct attacking style and willingness to track back and break up opposition attacks a perfect fit for Nuno Espírito Santo's demands.
Particularly these defensive attributes have impressed his manager over the past few weeks, with Neto winning the second most attacking duels of any player in the league this season, only behind teammate Adama Traoré.
Having hit a wall last season with Wolves' 3-4-3 the Portuguese manager switched to a 4 at the back from matchday 9. This has been a change that Neto has profited from, flourishing in the past weeks and scoring 3 goals in the 5 matches since the tactical modification. With a more defensive fullback behind him, Neto is given more freedom in attacking moments, able to stay higher up the field and exploit stretched opposition defenses as he did in his winner versus Chelsea midweek.
Neto has been a frightening prospect for opposition defenders, beating his man on 69 occasions already this season. He is at the top of this statistic for all under-23 players in the top 5 leagues in Europe, even beating out Kylian Mbappé.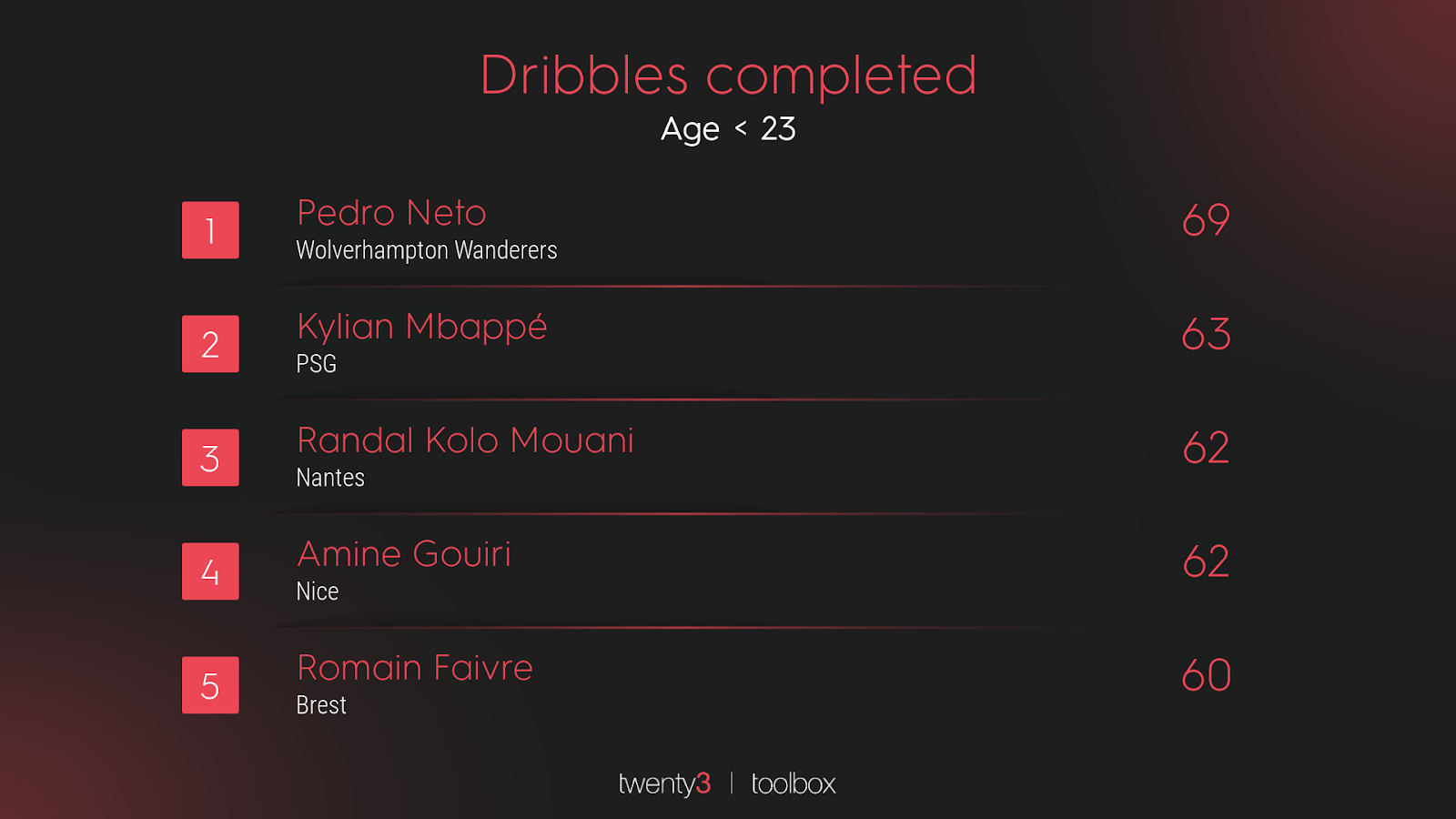 Photo: Twenty3 / Wyscout
This has once again manifested itself on the stat sheet, with Neto's 69 dribbles completed once more only behind Traoré and England international Jack Grealish. Although the two Wolves forwards have combined for just 4 goals in total this season, it is clear to see what an attacking presence Traoré and Neto bring into the Wolves side every time they lineup together on the wings.
Those 4 goals incidentally have all been scored by Neto, with each strike coming at a crucial moment for the West Midlands side. Not just the goal against Chelsea midweek, but also the opener against Arsenal, a late equalizer against Southampton, and the only goal in a 1-0 win against Fulham speak of a player whom Wolves can rely on in key situations. It is striking how much of a development Neto has undertaken since joining the side last summer, flourishing into one of the most underrated young wingers in all of Europe.
Having already hit the 1,000 minute mark after just 13 matchdays, Neto is slowly becoming an irreplaceable figure in attack. With more minutes than in all of last season, he has made the largest developmental step of any player in Wolves' highly talented roster, with many sources close to the club still sensing that much more is to come from the 20-year old gamechanger.
By: Adam Khan / @XxAdamKhanxX
Featured Image: @GabFolgino / Malcolm Couzens – Getty Images / SOPA Images – LightRocket / Rice – Sebastian Frej – MB Media – Getty Images – Greenwood
Note: Since the article's publication, Wolves have dropped to 11th in the Premier League following a 2-1 defeat to Burnley on Monday, whilst Aston Villa have moved to 9th in the table.