Player Analysis: Matthew Olosunde
Matthew Olosunde, a product of the New York Red Bulls academy via Manchester United's academy has just recently signed for EFL Championship side Preston North End on 30 June 2021 on a two-year contract. 
Olosunde, a flying wingback in his time at Rotherham United since he joined the Millers following his release from Manchester United. In which across two years at the club Olosunde accumulated 64 appearances. Including 22 starts in the EFL Championship season of 2020/21, with another 10 appearances appearing from the bench.
It is a move that both suits Preston North End and Olosunde himself, with Preston searching for a player that could fill the right-wing back role that had been left by Darnell Fisher who departed for Middlesborough within the January Transfer Window. Leaving Preston having to play Liverpool loanee Sepp Van den Berg as a wing-back for most of the remainder of the season.
How Olosunde Will Fit In Frankie Mcavoy's System
Since taking over Preston North End following the departure of Alex Neil on 21 March 2021, Frankie McAvoy accumulated 17 points in his eight games in charge, an average of 2.13 points per game. So, it became no shock when McAvoy was offered and accepted the permanent position of Preston North End's Head Coach. 
McAvoy within his eight games in charge started playing a 3-5-2 system with wingbacks being on either side of the 3 central midfielders. Ryan Ledson, Preston's player of the season was a critical player within this system, playing as a 6 alongside Ben Whiteman. Whiteman played slightly more advanced than Ledson, however in defensive situations Whiteman dropped alongside Ledson forming a double pivot. 
With Ledson and Whiteman dropping inside, Olosunde and the left wing-back will drop alongside the 3 centre-backs creating a temporary 5 back. This will create a U-Shape, therefore forcing the opponents to play the ball sideways due to Preston's defensive third being overloaded and pressuring the pockets of space that the opponents attacking players will find themselves within. 
If the opposition then tries to progress further into Preston's defensive third, a low block will most likely be used, squeezing out any further space of opponents compacting them. Which will force them backwards to reset the play.  Although they could also set a pressing trap, forcing the play outside due to the centre of the pitch being covered. In which if the ball is then played out to the right, Olosunde will then press them intensely.
As due to the play being in a wide area the opposing player will find it harder to escape pressure due to less options being available than a player being central. When Olosunde puts the player under pressure, other players will then be able to cover the other options for the opposing player. Which will then likely end up in an overturn in possession.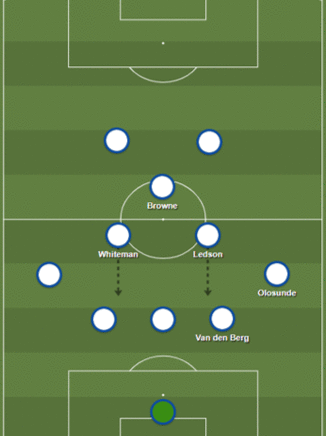 FIGURE 1: How Olosunde would work in Preston's defensive rotation and the pressing trap set.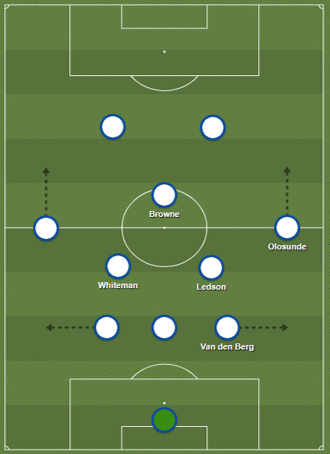 FIGURE 2: Olosunde in Preston's attacking rotation, showing Whiteman and Ledson covering the space left by him and the left wing-back. Olosunde will then either play on the wing to stretch the defensive line out for more area for other attacking players to exploit in the final third. Or inverted to exploit the pocket of space left open by the two strikers pushing the opponent's defensive line back, therefore generating space. 
How Olosunde Compares with the Best Right Backs in the Championship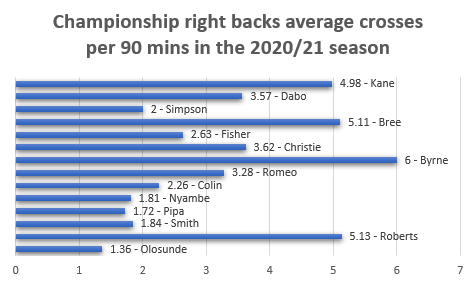 FIGURE 3: Olosunde compared against other right backs in the Championship for average crosses per 90 mins within the 2020/21 season.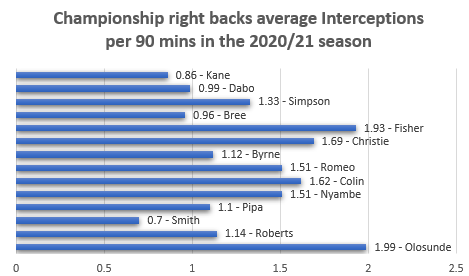 FIGURE 4: Olosunde compared against other right backs in the Championship for average Interceptions per 90 mins within the 2020/21 season.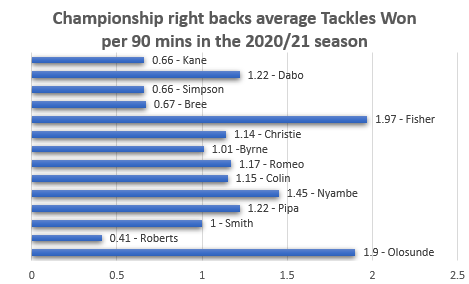 FIGURE 5: Olosunde compared against other right backs in the Championship for average Tackles Won per 90 mins within the 2020/21 season. 
As seen by these comparisons is that Olosunde focuses his game more towards to the defensive side in which he is the highest in Interceptions per 90 mins and second highest in Tackles Won per 90 mins. They are both fantastic stats, given that Preston can use a pressing trap out wide, Olosunde has shown through these stats that he is more than able to be the missing link that Preston needed to fit into their defence. 
Albeit Frankie McAvoy guided Preston to five clean sheets out of his eight games in charge. If Olosunde carries these statistics into playing at Preston, it will allow Preston to carry on the great defensive work that had been seen in the latter end of the season.
At 6'1," Olosunde is more than able to hold his own in aerial duels, winning 64.18% of 2.9 aerial duels average per 90 mins, alongside winning 62.34% of 10.34 defensive duels per 90 mins. A much higher average than most championship right-backs. Olosunde also finds himself in 7.44 offensive duels per 90 mins, winning 43.02% of the offensive duels, an average of 3.20 offensive duels won per 90 mins.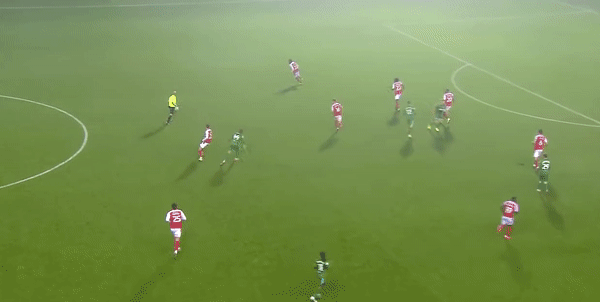 FIGURE 6: Olosunde with an assist against Preston, he intercepts the stray pass from Brad Potts before skipping past Joe Rafferty. He then drives inside into a 10-role due to an overlapping run from Daniel Barlaser which pulls Jordan Storey towards him, leaving Olosunde running at Ryan Ledson and Paul Huntington.
Freddie Ladapo runs in between them, with Matt Crooks pulling off at the back post for Olosunde to find him to make it 2-1 Rotherham.  All comes from Olosunde intercepting the ball and then driving into the pocket of space left open centrally by forward runs from other Rotherham players. An inverted wing-back role perfected by Olosunde. CREDIT (Rotherham United YouTube Channel)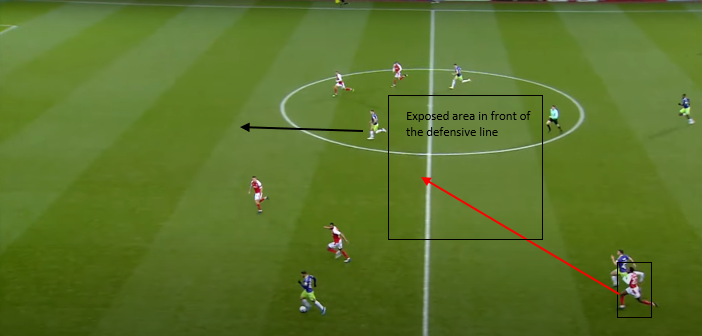 FIGURE 7: Olosunde finds himself out of position on the counter-attack from Bristol City. Due to Rotherham overcommitting, there is no midfielders in this play, therefore Olosunde tracks back into a 6 role to try and contain the pocket of space in the middle of the park due to Michael Ihiekwe having to cover as a right back with Olosunde leaving his role open.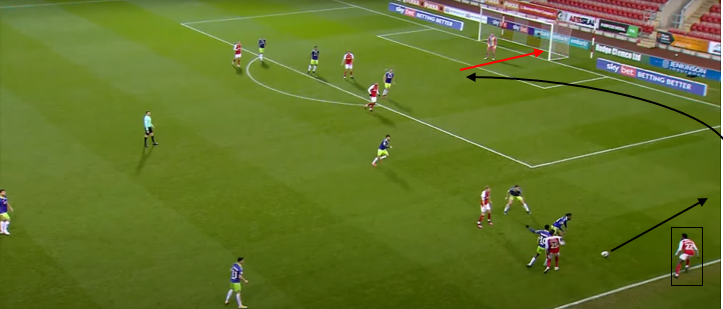 FIGURE 8: Olosunde in a more advanced position, beats the pressing trap from Bristol and makes a run down the right wing before crossing the ball onto the edge of the 6-yard box for Michael Smith to score. A great cross from Olosunde, 1.36 on average per 90 mins with a success of 26.32%, room for improvement but clear signs that the quality is there.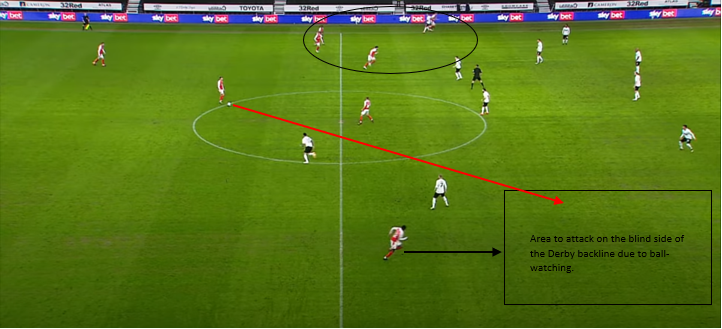 FIGURE 9: Directly from kick off against Derby County, an overload by Rotherham down the left flank, gains the interest of the entirety of the Derby team, overloading to isolate. Olosunde seeing this attacks the space left open for an opportunity to receive the ball in which he does, beating Lee Buchanan in an aerial duel, backing up his 64.18% percentage of winning an aerial duel. Although Buchanan recovers to knock the ball out of play after the aerial duel, Olosunde still managed to pull Rotherham into the final third within the first few moments of a game.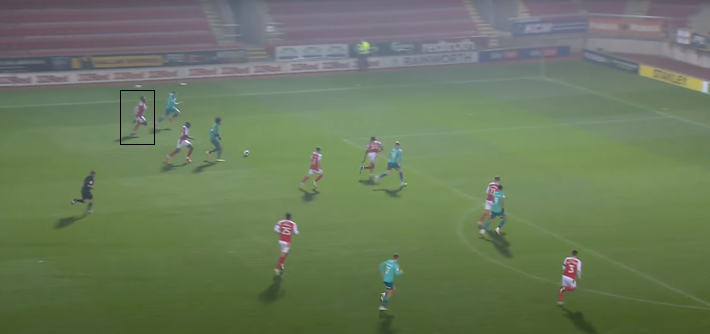 FIGURE 10: Olosunde out of position due to a loss of possession further up the pitch, however due to both of Rotherham's central midfielders also overcommitting forward. It leads to space in behind Olosunde being exposed, which then leads to an equalizer from Bournemouth. One thing to watch if Olosunde is further up the pitch is whether Ledson or Whiteman fill in his position to allow for a recovery from an over committal, therefore stopping a goal.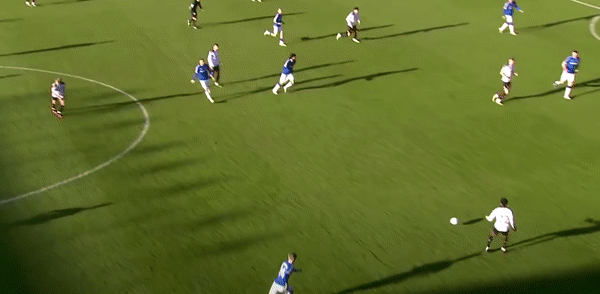 FIGURE 11: Olosunde against Everton in the FA Cup at Goodison Park, cuts inside of Lucas Digne before skipping past him effortlessly, a clear show of his ability of dribbling, seeing as in the Championship, Olosunde averages 3.24 dribbles per game. A big positive in his game that could see Preston use effectively. CREDIT (The Emirates FA Cup YouTube Channel)
Olosunde signing for Preston under Frankie McAvoy's system just makes sense. Allowing returning loanee Sepp van den Berg to cement a more central role in the back-line with Olosunde occupying the role out wide. Playing as an inverted wing-back could also see Van den Berg potentially overlap Olosunde to cause the opposition more problems due to Van den Berg playing the latter end of the season in the right wing-back role for Preston.
Plenty of options to choose from for McAvoy with Olosunde and his various roles. Improvements can still be made on a few aspects of Olosunde's game such as ball progression, but at 23 years of age, this can come through as well as a change of systems between Rotherham and Preston. A very clever signing by Preston and one that will help maintain the fantastic defensive record under McAvoy, as well as being able to change his role to positively affect the attacking side of the game.
By: Oliver Hargreaves / @TownEndAnalysis
Featured Image: @GabFoligno / Dave Howarth – CameraSport