Player Analysis: Maxence Lacroix
VfL Wolfsburg are having a tremendous season, sitting in fourth place currently above the likes of Borussia Dortmund, Bayer Leverkusen, and Borussia Mönchengladbach.
There are multiple different reasons for this, one being their impressive defensive performances which have seen them concede just 19 goals this season, the second-lowest in the division [RB Leipzig, 18]. They also have just 24.9 expected goals conceded for the season, the fifth-lowest in the Bundesliga.
A major influence in their solid defensive unit has been the purchase of Maxence Lacroix in the summer from FC Sochaux-Montbéliard in Ligue 2. He was brought in for just £4.5 million and has been an integral member of the Wolves' backline, forming a partnership with the experienced John Brooks.
The Frenchman is just 20 years old but has helped improve the Wolfsburg defence this season and this player analysis will help to show the qualities that the centre-back has. All statistics throughout the analysis will be provided by Fbref.
Defensive Style and Attributes
Lacroix has a clear defensive style being the aggressor in the Wolfsburg backline, as he will often step out of the defensive line and look to try and intercept the ball when opposition midfielders are progressing or the forwards are dropping between the lines to receive.
This is complementary to the style which Brooks has, where he is more conservative and tries to read the game instead due to his higher game knowledge but lower recovery speed. While Brooks looks to drop and sweep in behind, Lacroix is aggressive and attempts to stop the attack at the source most of the time. 
Below, we can see a chart that includes all Bundesliga defenders with 900 minutes played or more. It shows both the number of pressures they make per 90 and the number of tackles and interceptions they make per 90. Also, the darker the circle, the more successful they are with their pressures. 
The chart helps to show the different roles that Lacroix and Brooks have in the Wolfsburg backline. Lacroix has both a higher amount of pressures and a higher amount of tackles and interceptions per 90 – from the chart, his interceptions and tackles per 90 stand at 4.04 while he pressures an average of 11.3 pressures per 90, with a 38.7% success rate – this is impressive from the centre-back.
Of course, this data is only a slight indicator of the kind of roles the players have due to the implications within defensive statistics, nevertheless, it still gives us an indication of their roles. The following in-game examples are better indicators of both Lacroix and Brooks' roles.
The example below against Hoffenheim helps to further show the roles of the two centre-backs but also shows the recovery pace that Lacroix possesses to make his style viable in a league where transitions are so prominent.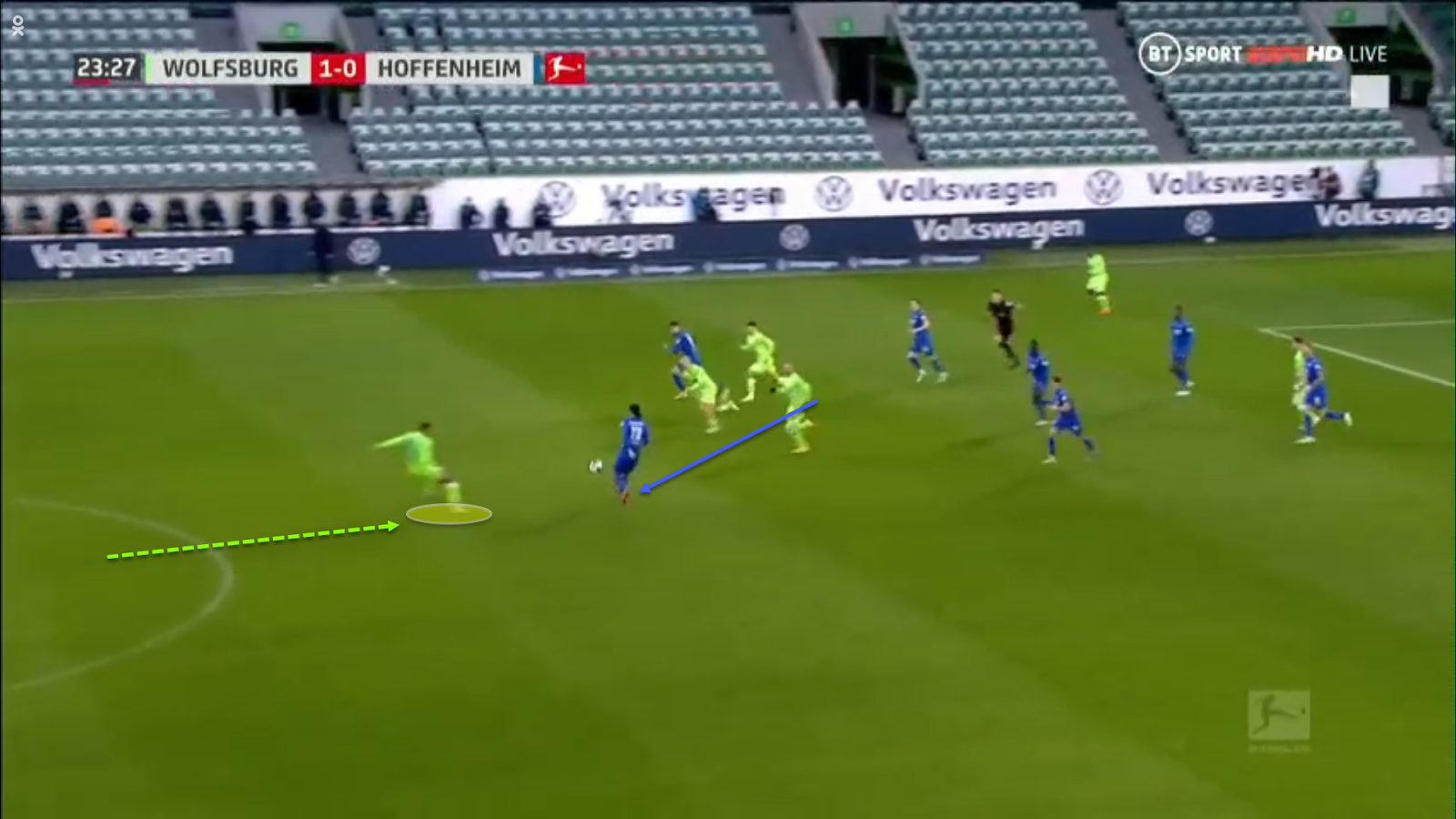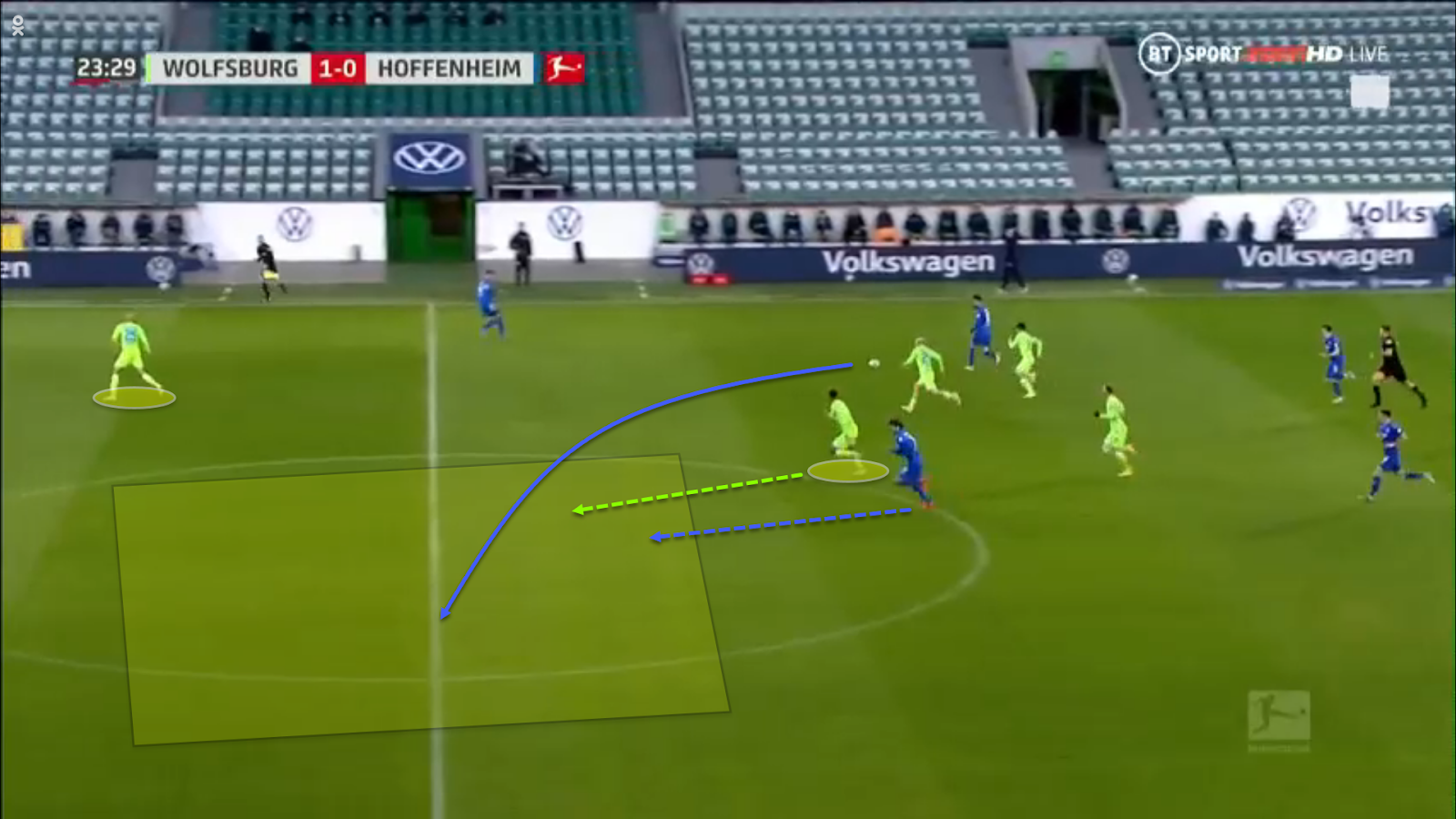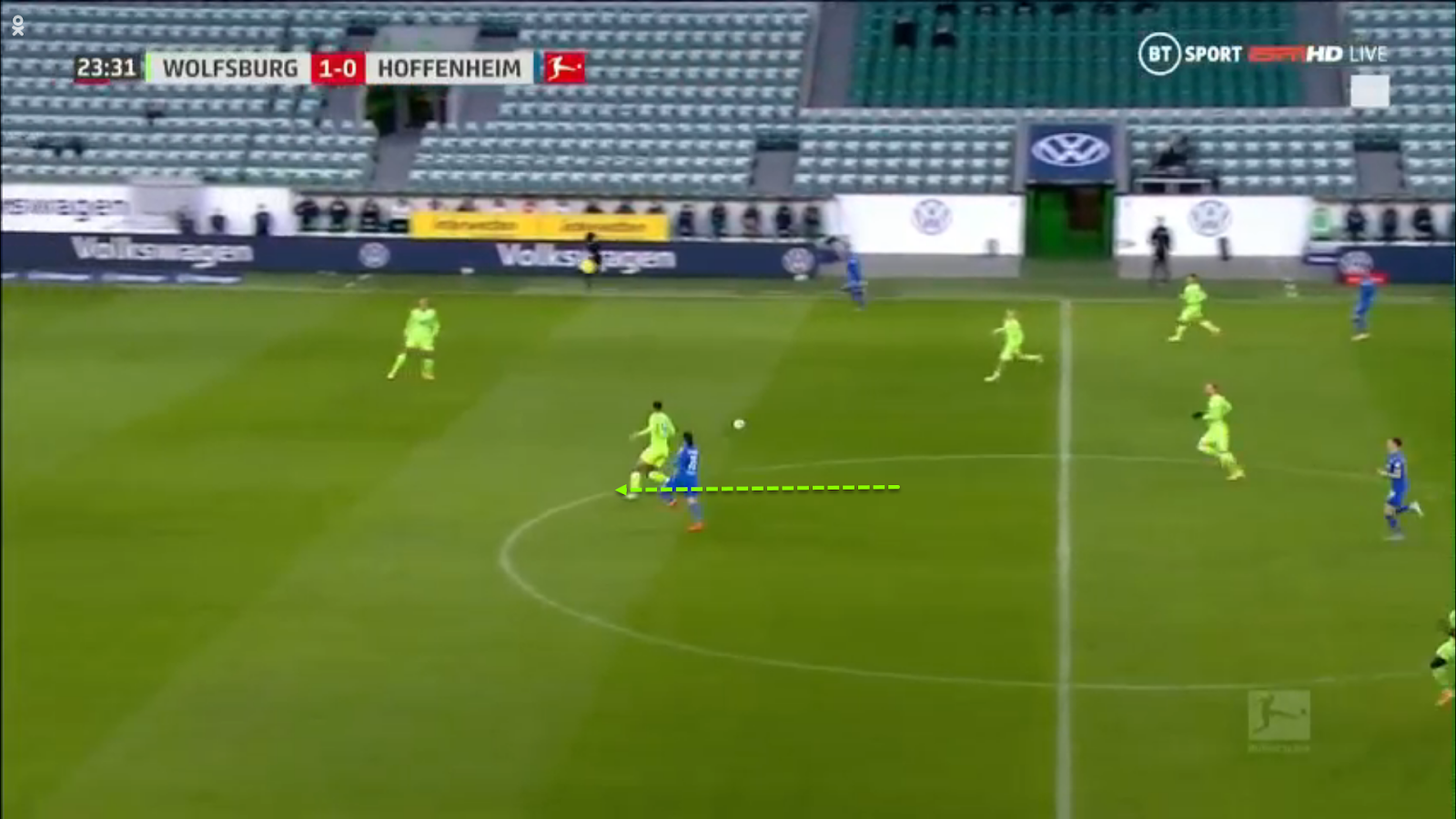 Lacroix initially sprints out to engage and accept to create a turnover as the opposition look to progress; while he does this we can see Brooks in a deeper position, looking to sweep anything played in behind. The 20-year-old doesn't get possession and then has a large space in behind him which he needs to cover and he does so with relative ease, cutting out the pass to the running forward.
While this aggressive nature can create problems, which I will analyse later, Lacroix has the appropriate skills to perform the role well and it works well for Wolfsburg. Below are two examples that demonstrate Lacroix's aggressive nature while defending.
In the first instance against Werder Bremen, the opposition inside forward had drifted infield and positioned himself in a good space between Wolfsburg's lines. He is about to receive a pass into his feet but Lacroix has read the pass and has been able to intercept the ball before it can get to the man. He then can complete a short carry and then pop the ball off for his teammate.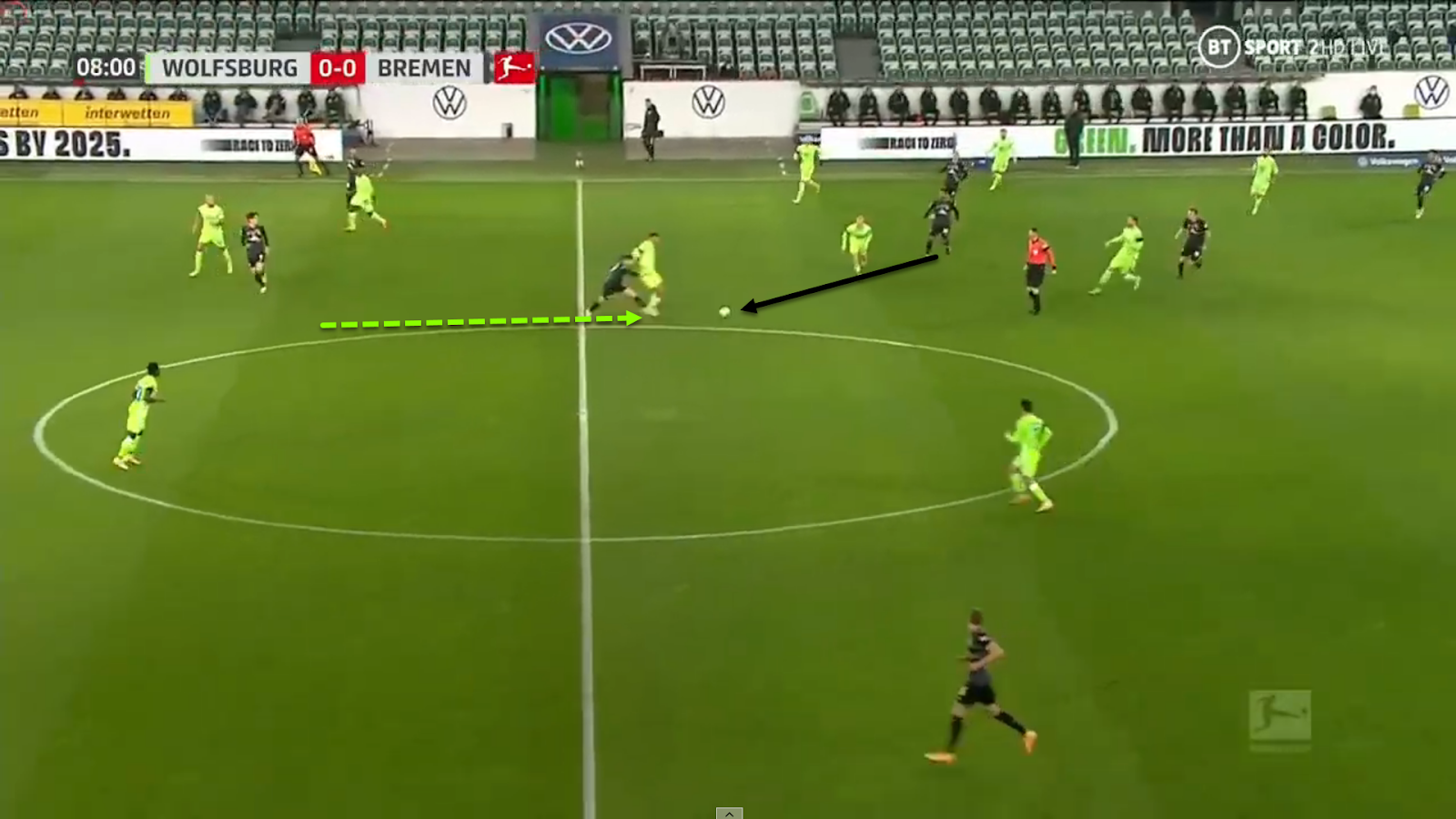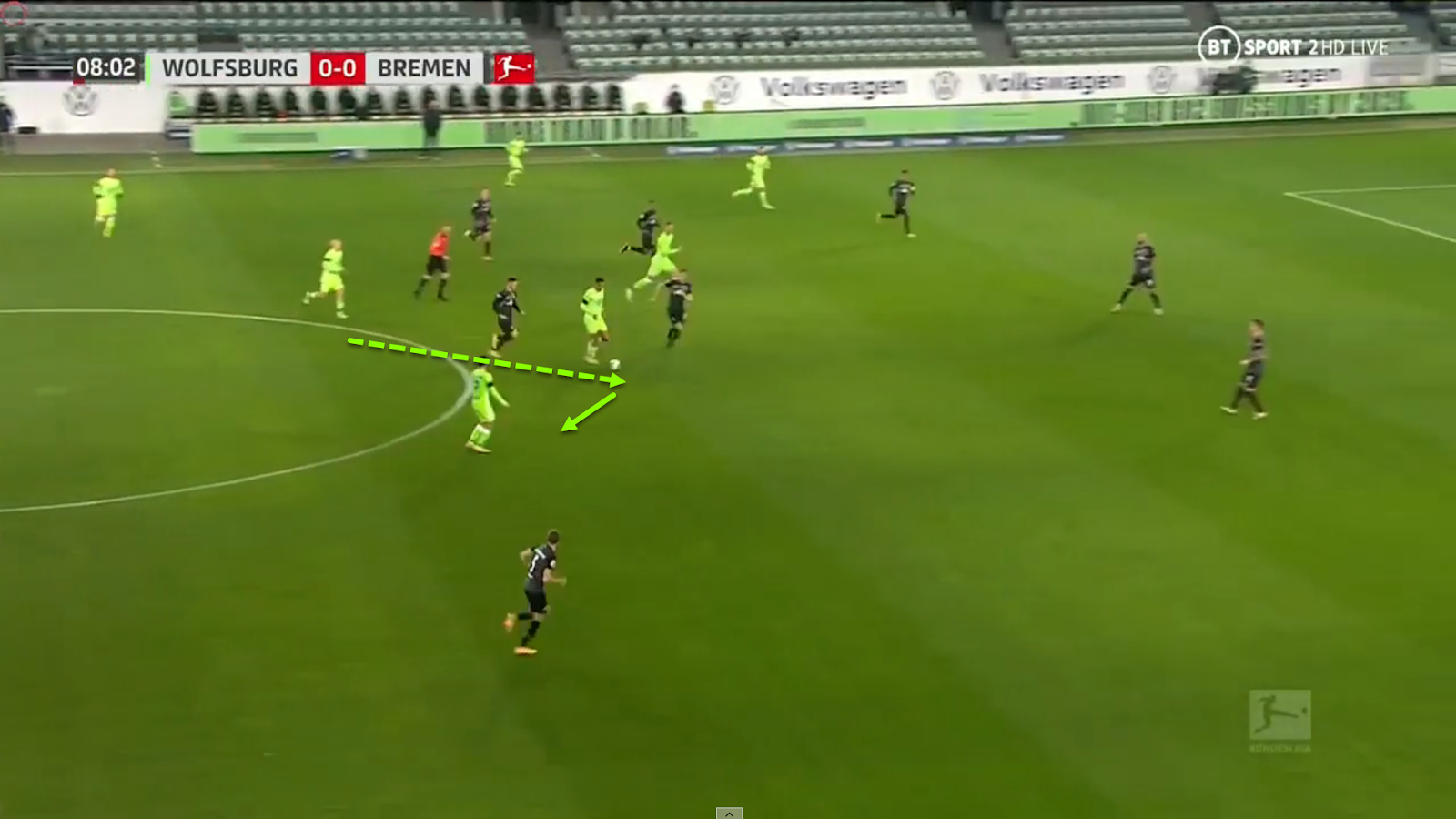 In this second example against Eintracht Frankfurt, again an opposition player is positioned between the lines. Lacroix is assessing the situation and can read that the ball is about to be played to him, so he explodes into a short sprint so that he can intercept the pass and create not only a turnover but also a possible transition for Wolfsburg.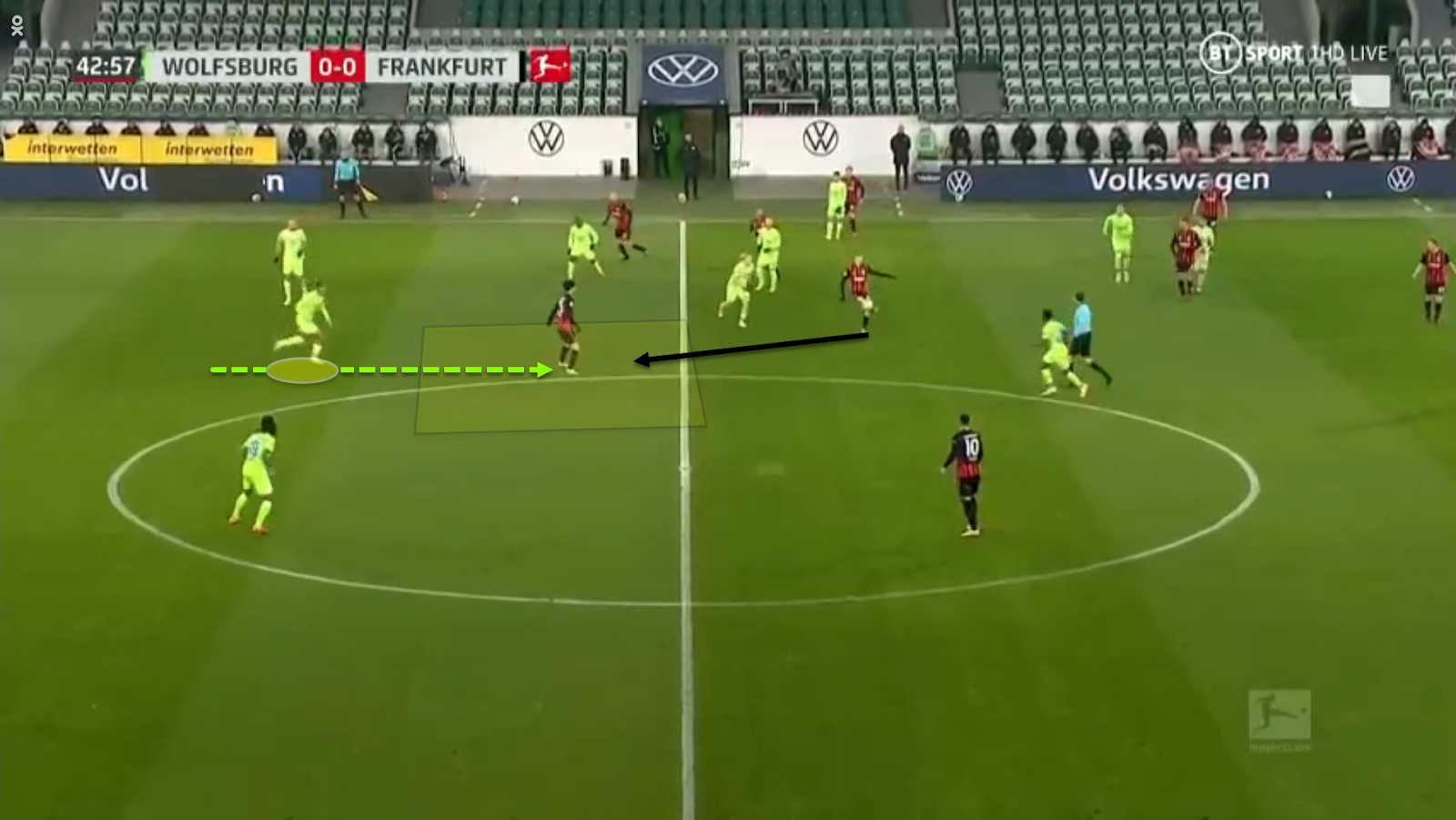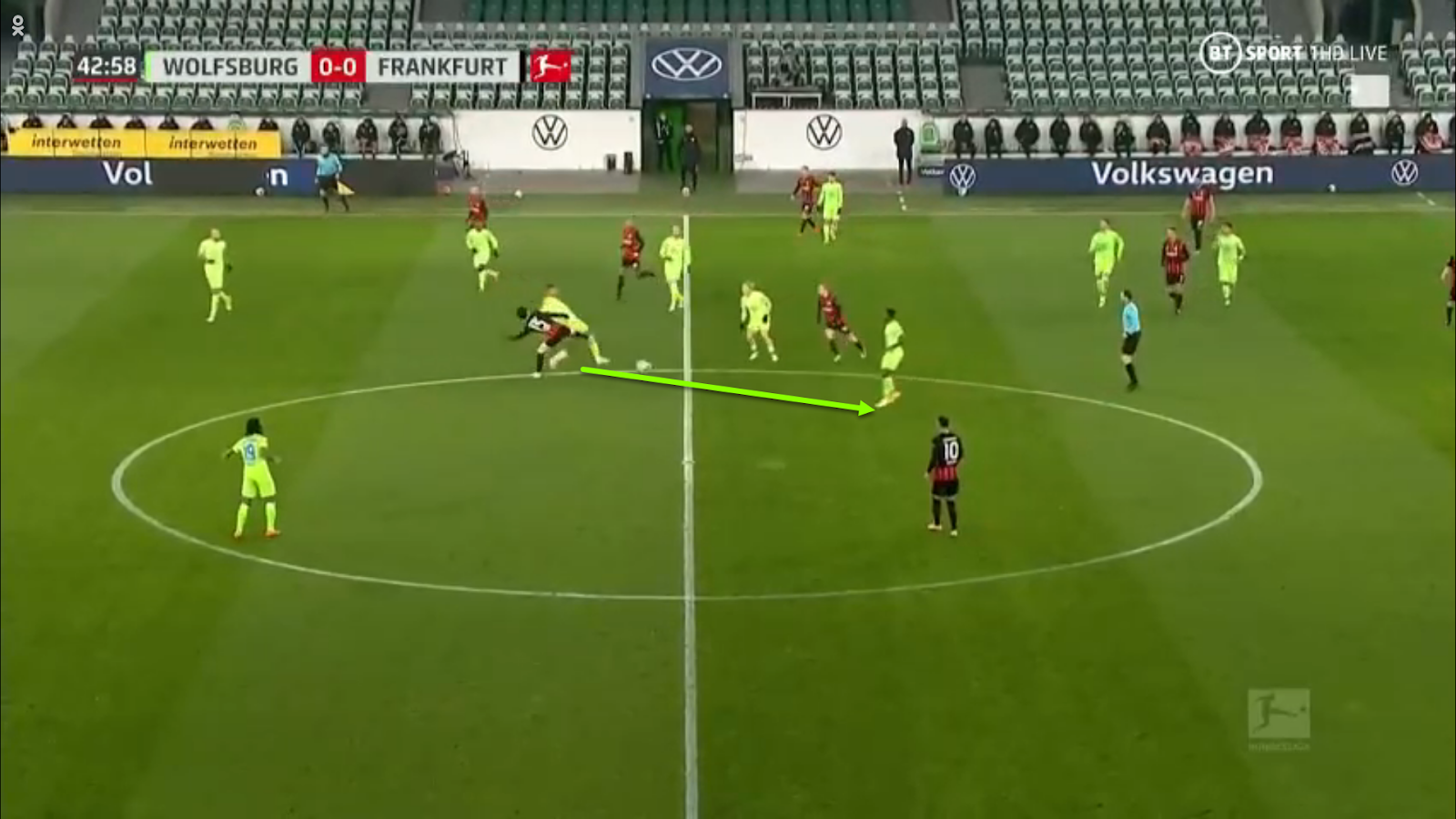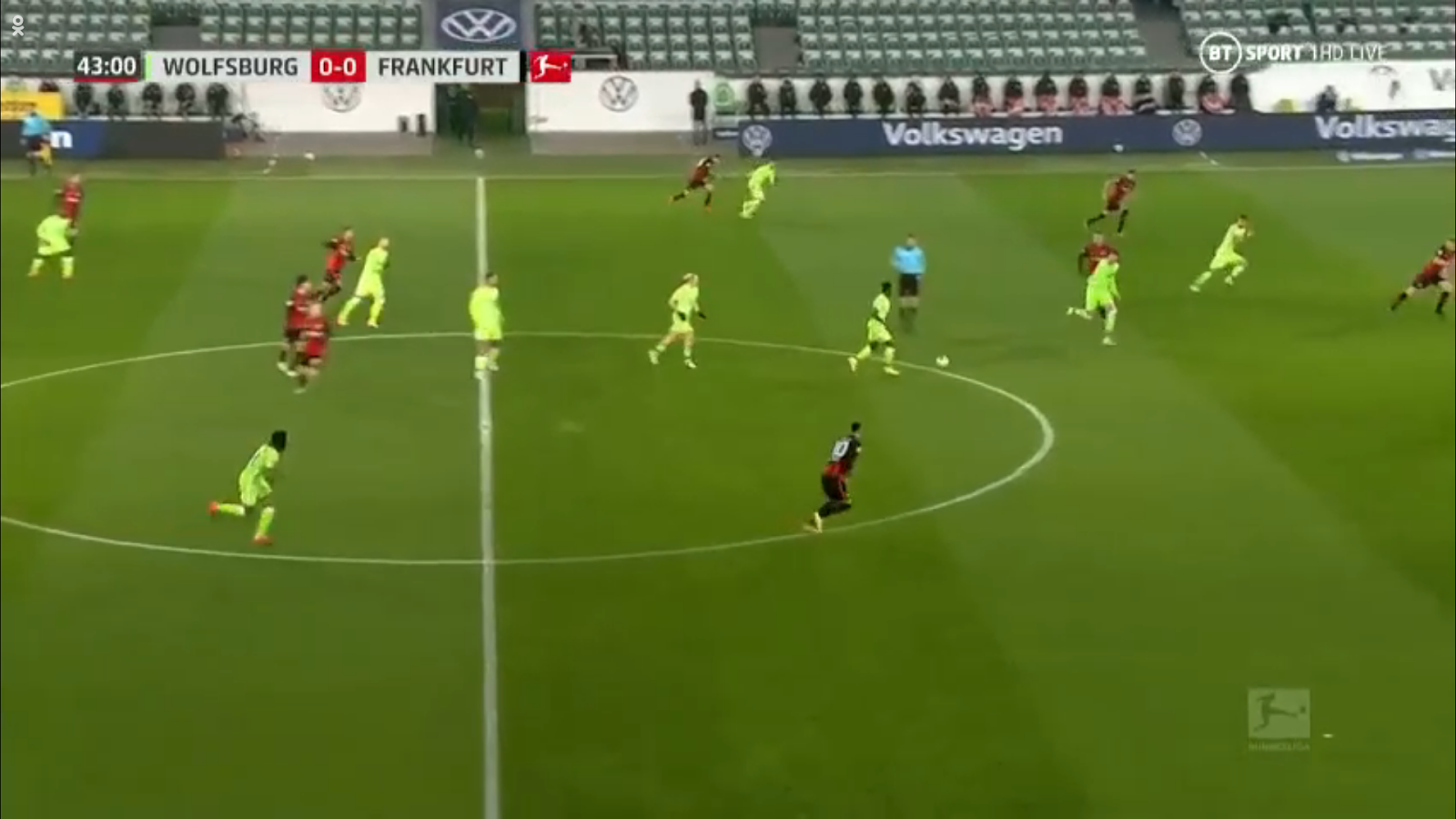 Lacroix is not only a good defender on the front foot but is also a solid defender when in his own area, averaging 2.49 blocks per 90 this season alongside the high number of tackles and interceptions. This is partly thanks to his quick acceleration, that he can block potential shots or passes in and around his box. 
The images below against RB Leipzig show a good example of Lacroix's quick acceleration proving to be an asset inside his own area, where Brooks has been bypassed and Lacroix is able to quickly shift across to slide tackle the onrushing forward player.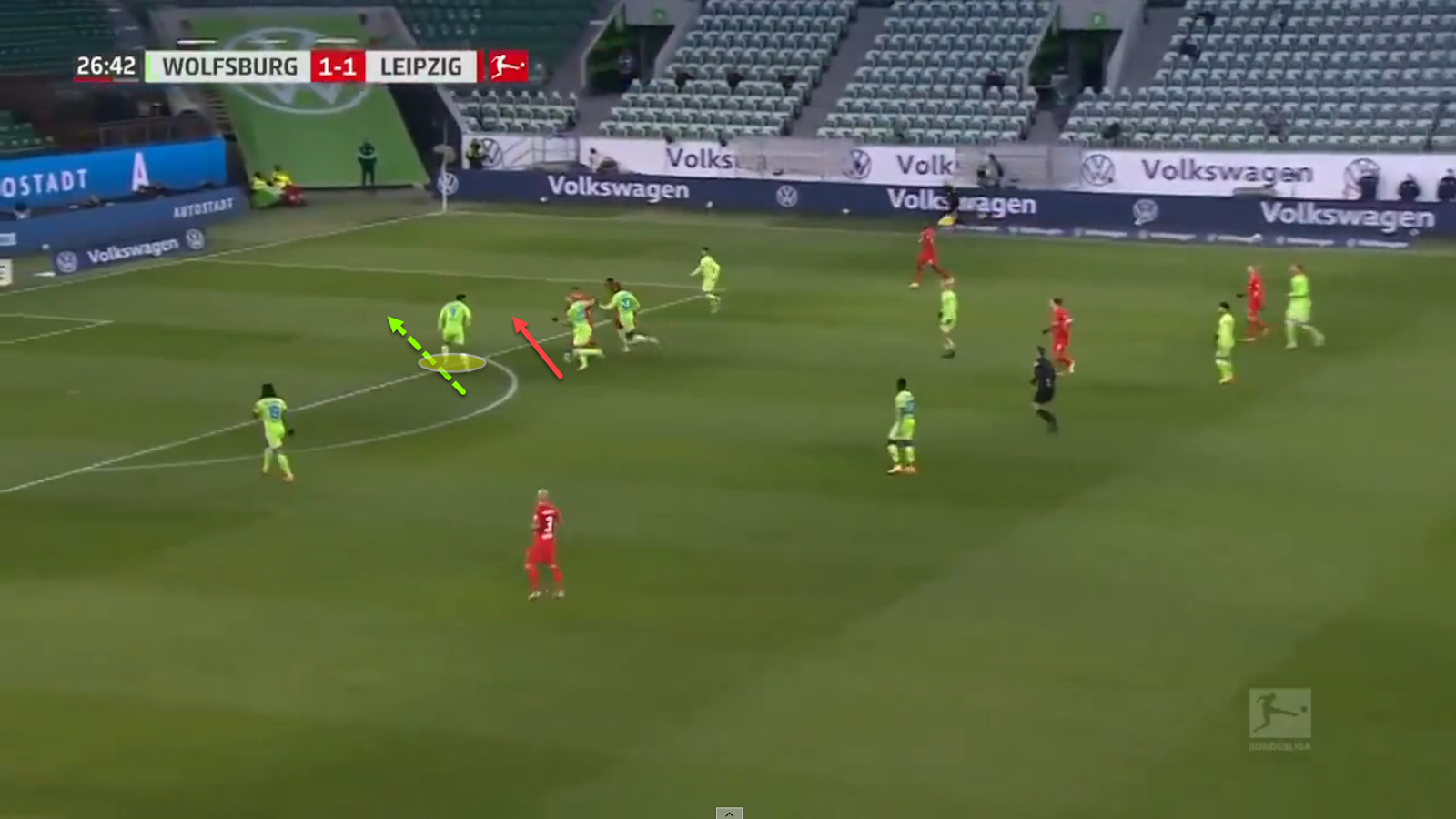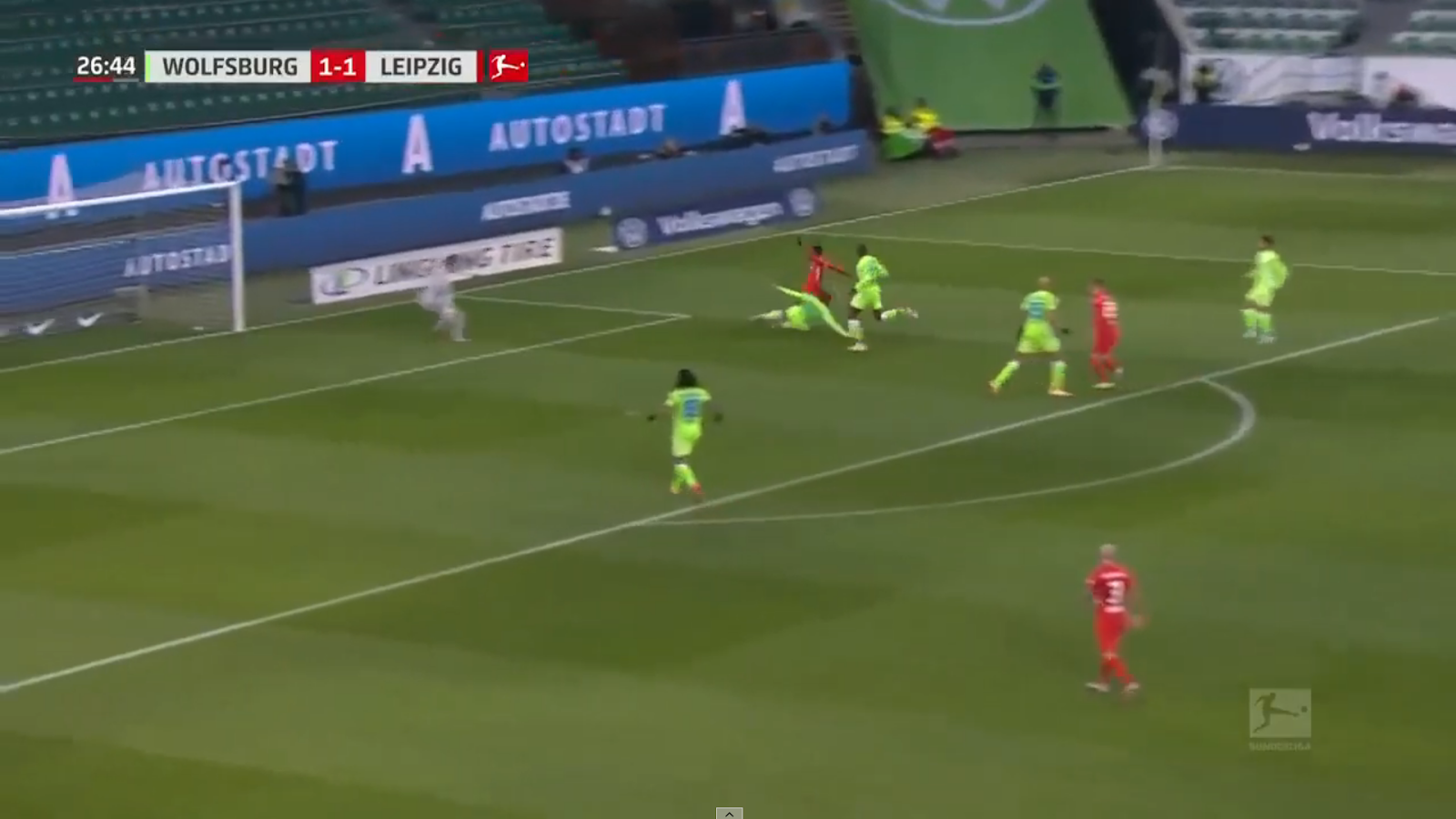 Again, here is another example of the centre-back making an important contribution inside his own area. The Wolfsburg side are in defensive transition and Lacroix has to make a decision of whether to cover the front post runner or the far post runner, he initially decides the far post runner; making strides towards the back post.
This was until the cross was made to the man at the front post and Brooks does not get there. Lacroix quickly sprints across while the striker chests the ball down and is able to block the attempted volley brilliantly. The ability to get across when he was initially moving to cover the back post is very impressive and a great attribute for a defender to have.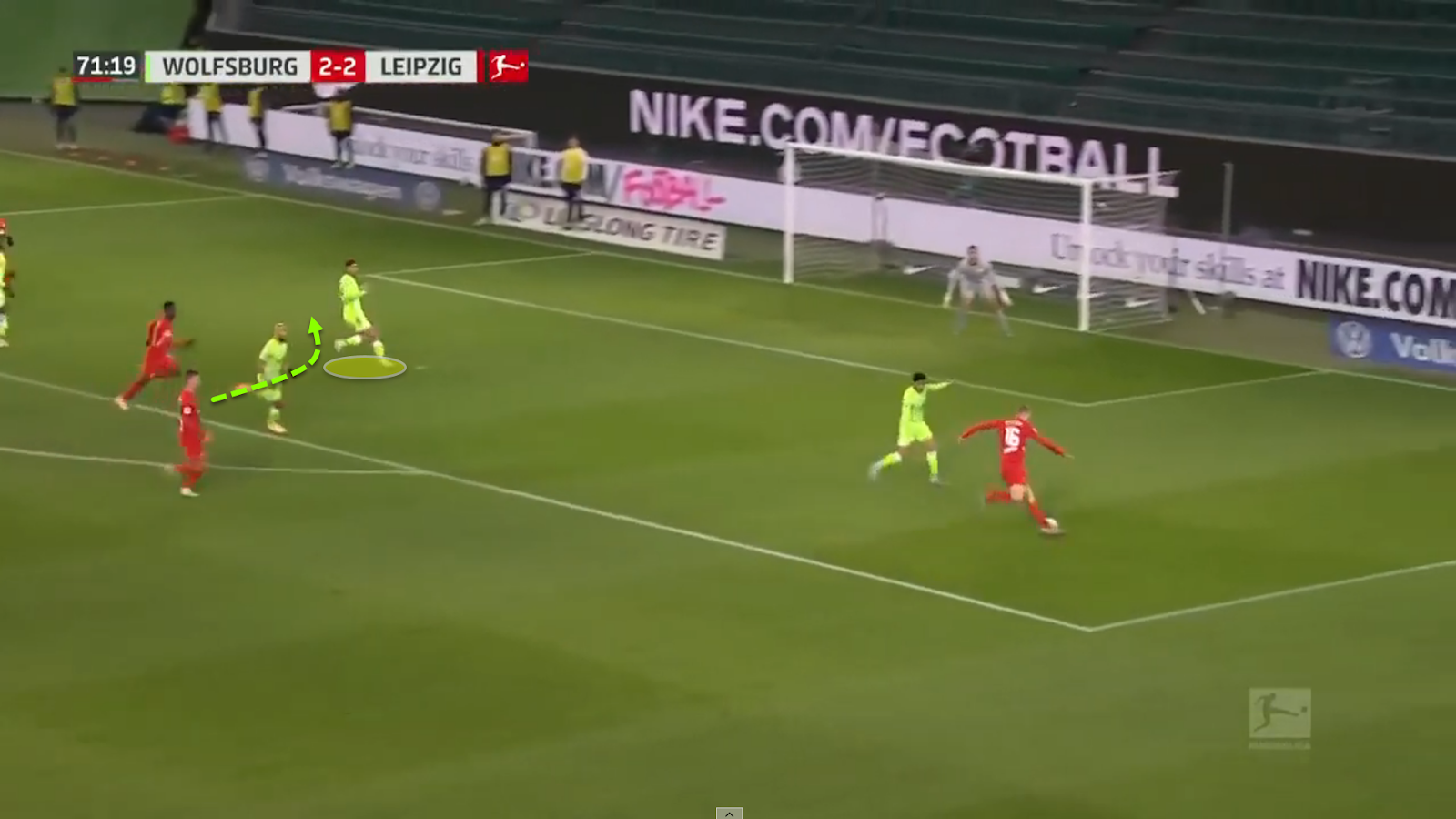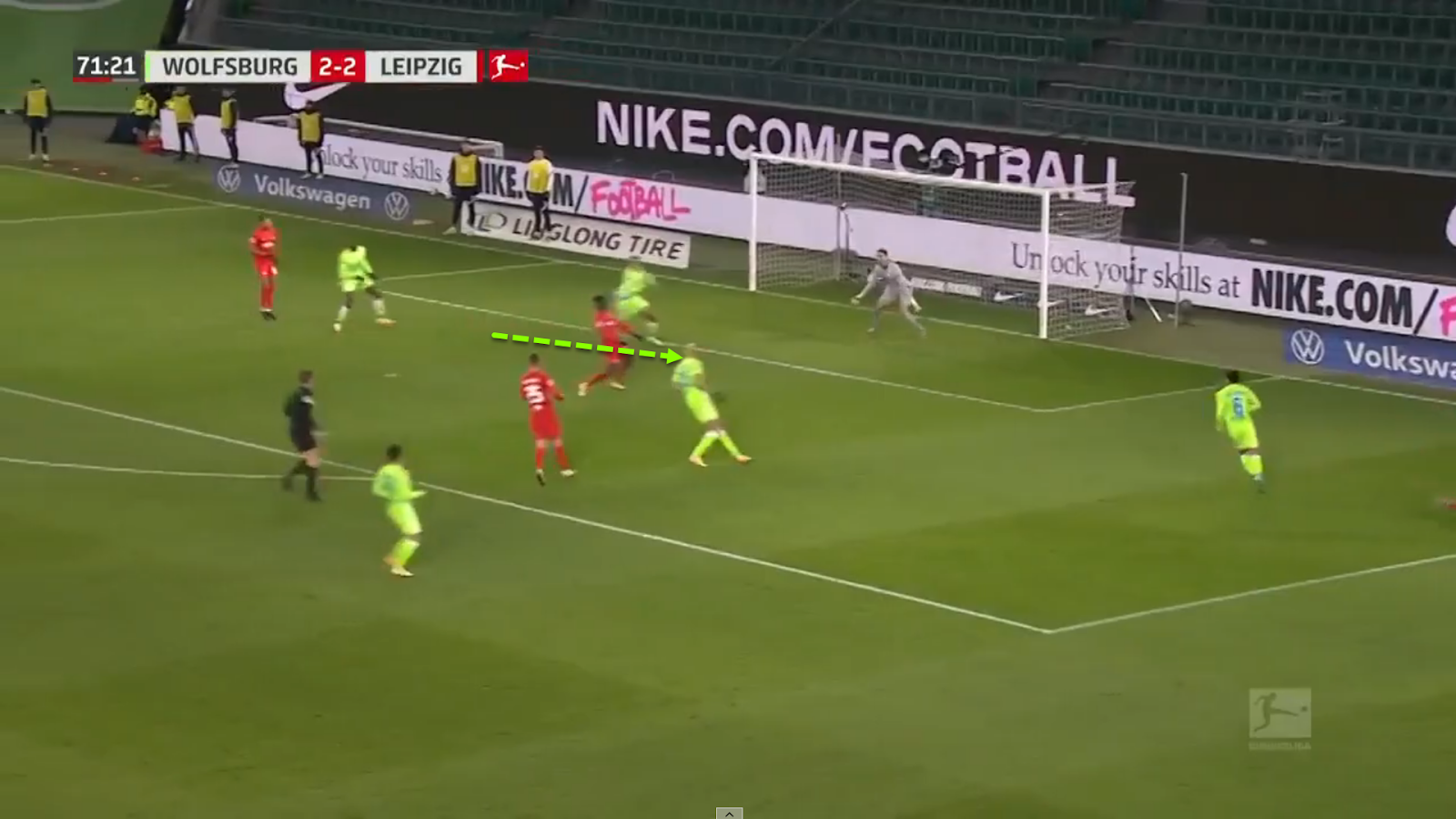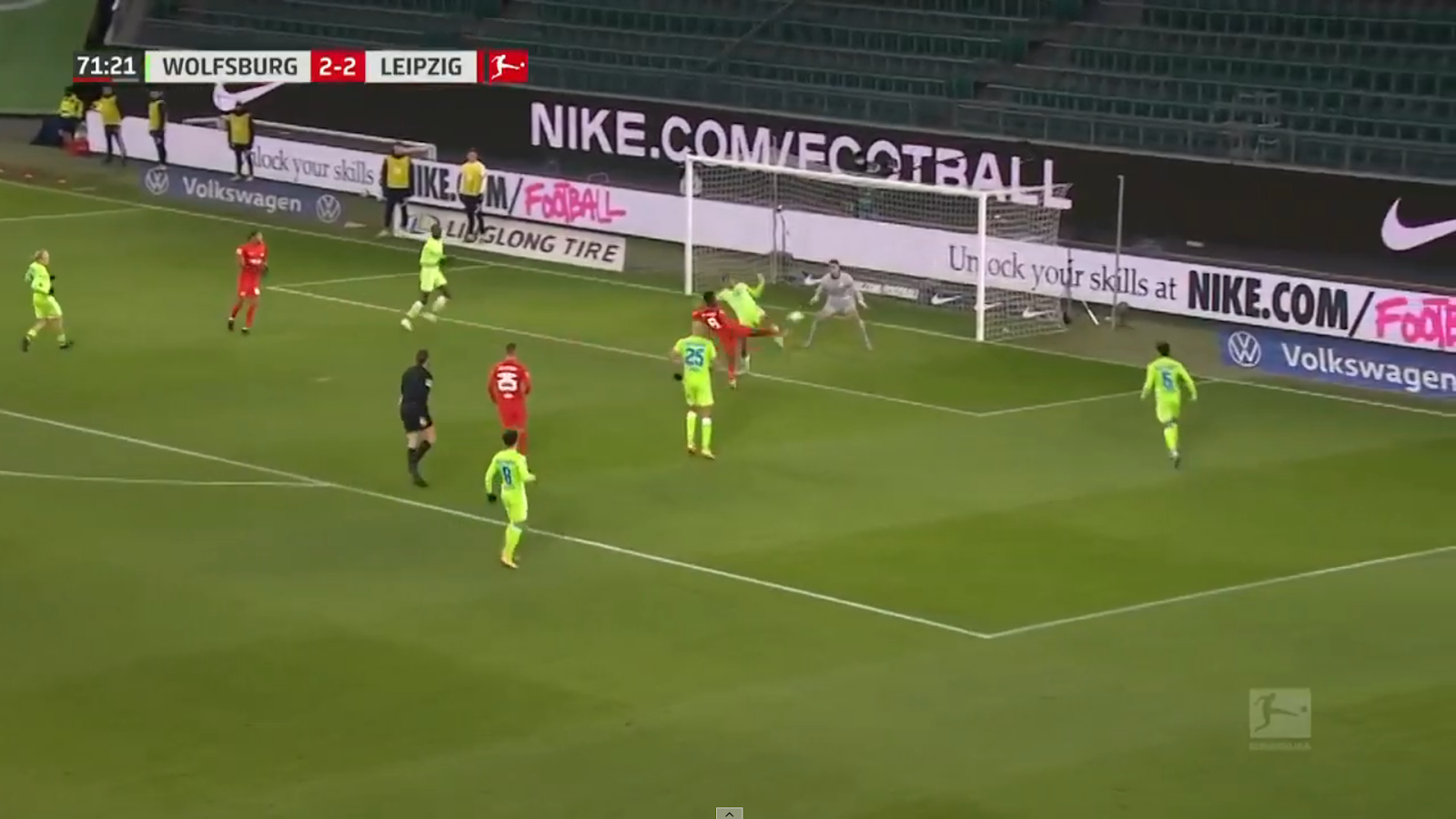 Defensive Weaknesses
Of course, at just 20 years of age, Lacroix is not a perfect defender and has areas to work on to become a top player. The main two weaknesses in Lacroix's defensive game are his defending in wide areas, usually when isolated one-on-one and knowing what situations to be aggressive in. 
With the Wolfsburg full-backs having the licence to get into attacking positions, it is only natural that the centre-backs will have to cover wide areas in defensive transitions at times. However, Lacroix is not so confident in wide areas and will sometimes mistime his challenges, get beaten easily by the winger, or foul.
The French defender tackles just 40% of the dribblers he faces and is dribbled past an average of 0.99 times per 90. He is also not very confident when in possession in wide areas and this can lead to a loss of possession through either a dispossession or a misplaced pass.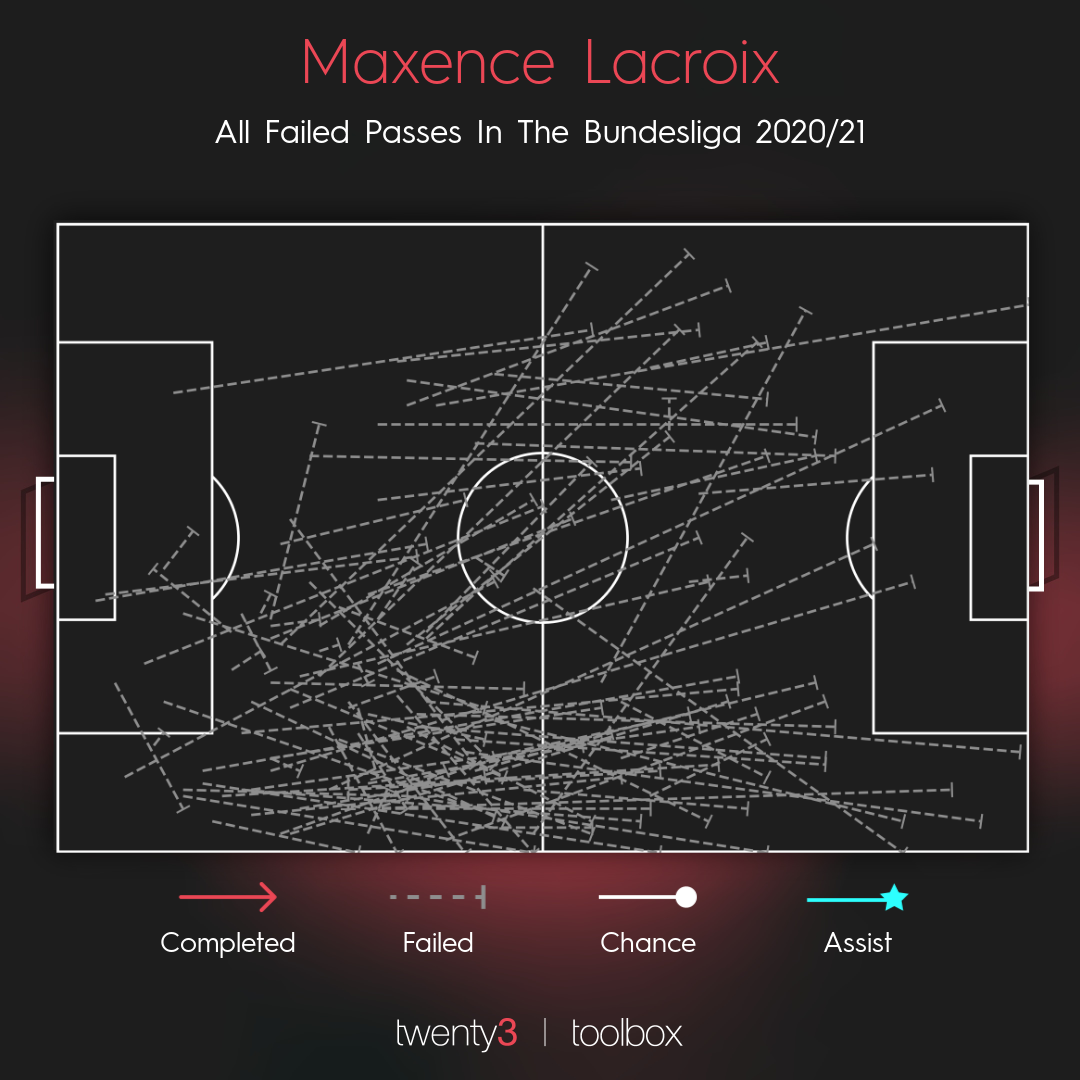 Photo:  Twenty3/Wyscout
The above graphic shows every single misplaced pass that the defender has made in the Bundesliga this season and there is a large crop of passes made in that wide right area, which helps show his struggles when operating in wider zones.
In the example below, we can see that Lacroix dwells while the ball is coming back to him after a blocked clearance. He has an onrushing forward-looking to pressure him and tries to take a touch on the ball to play out instead of clearing, he then isn't strong enough in the duel and is dispossessed and this leads to the opening goal of the match. Lacroix needed to assess the situation and deal with it better than he did.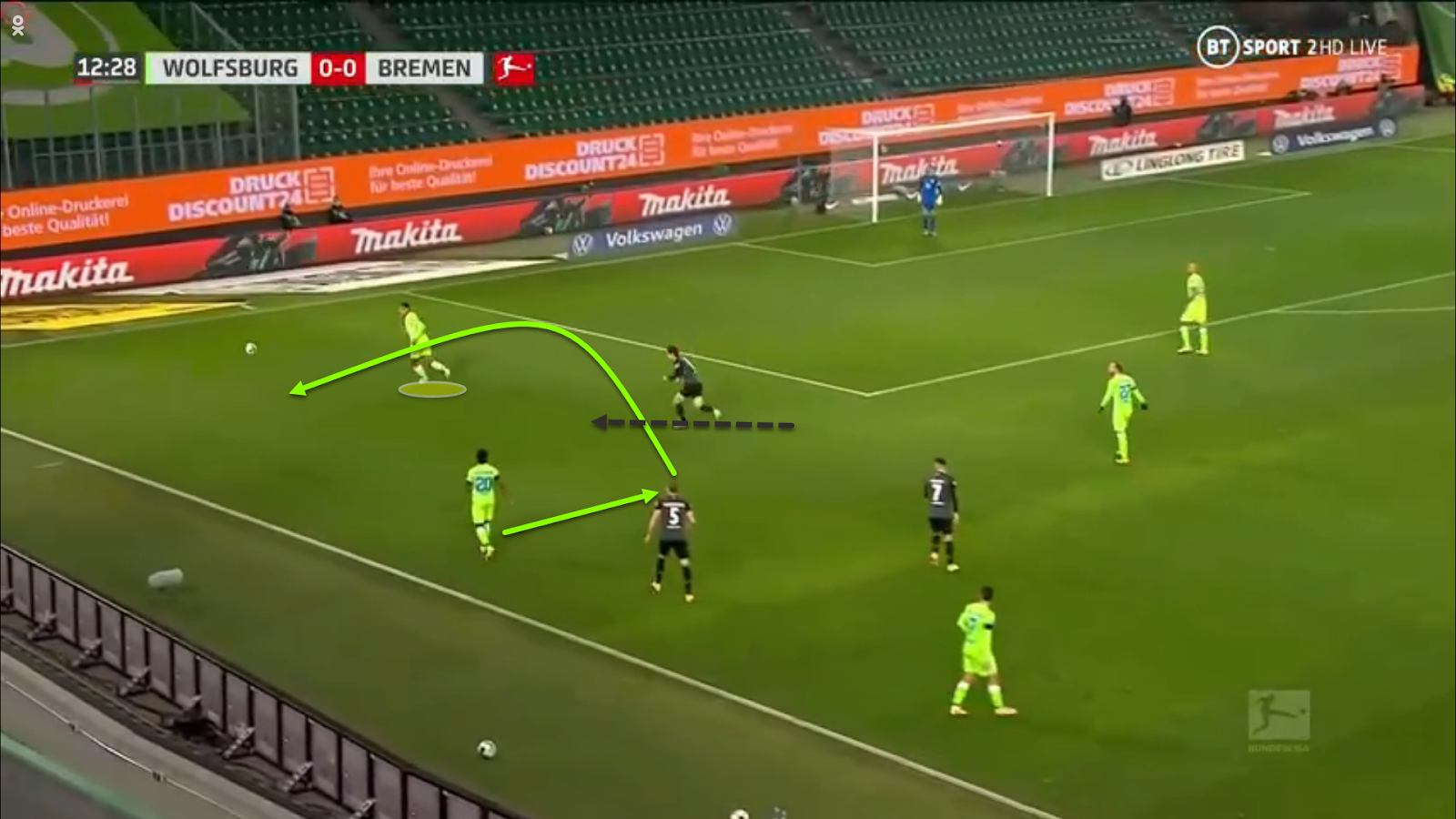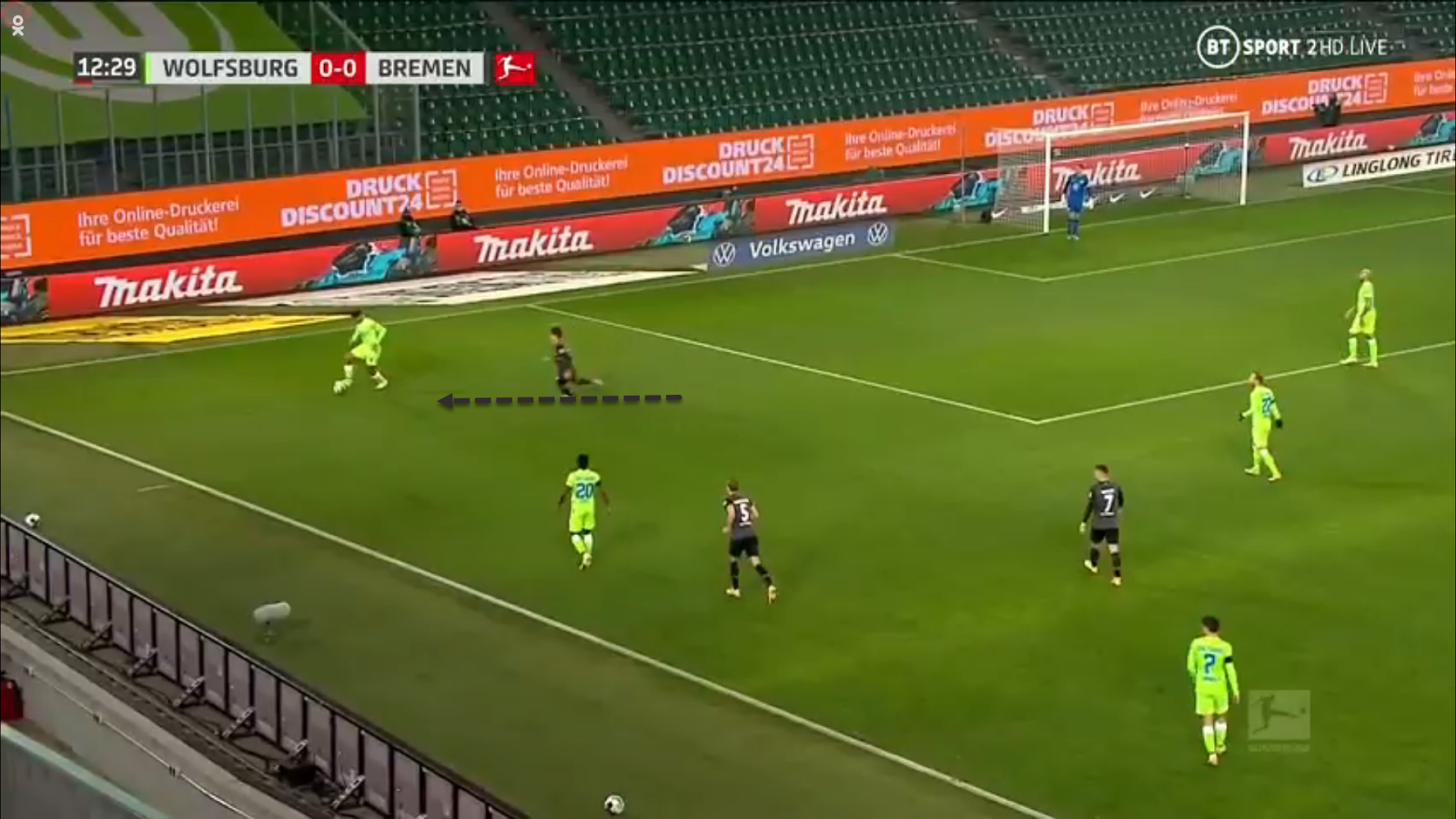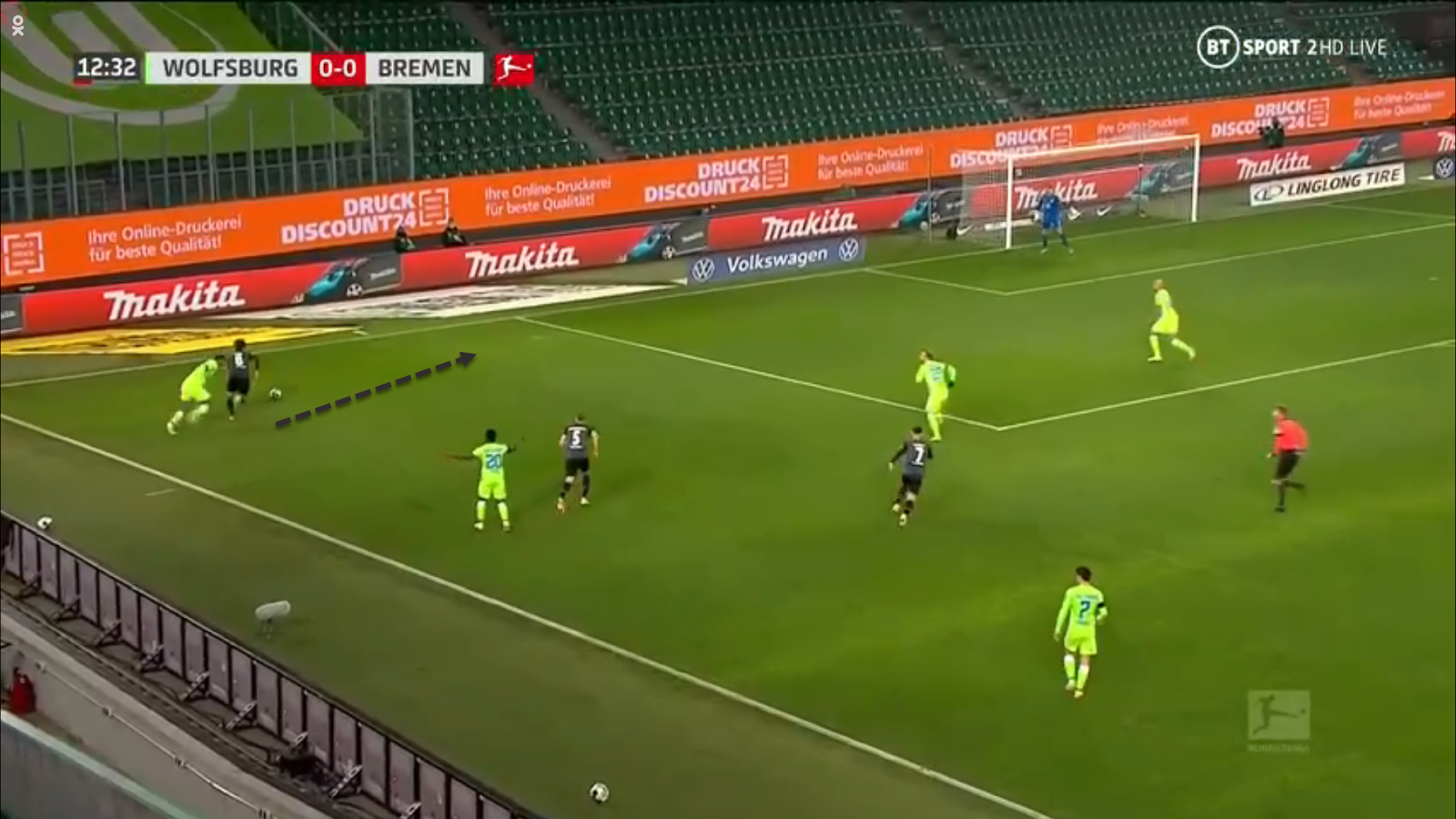 Below is another example where Lacroix is isolated in a one-on-one with the opposition winger and he fails to tackle so the winger can run through into the Wolfsburg third. The defender can defend very well when the opposition is not set and facing him, but he needs further improvement when the opposition is dribbling at him.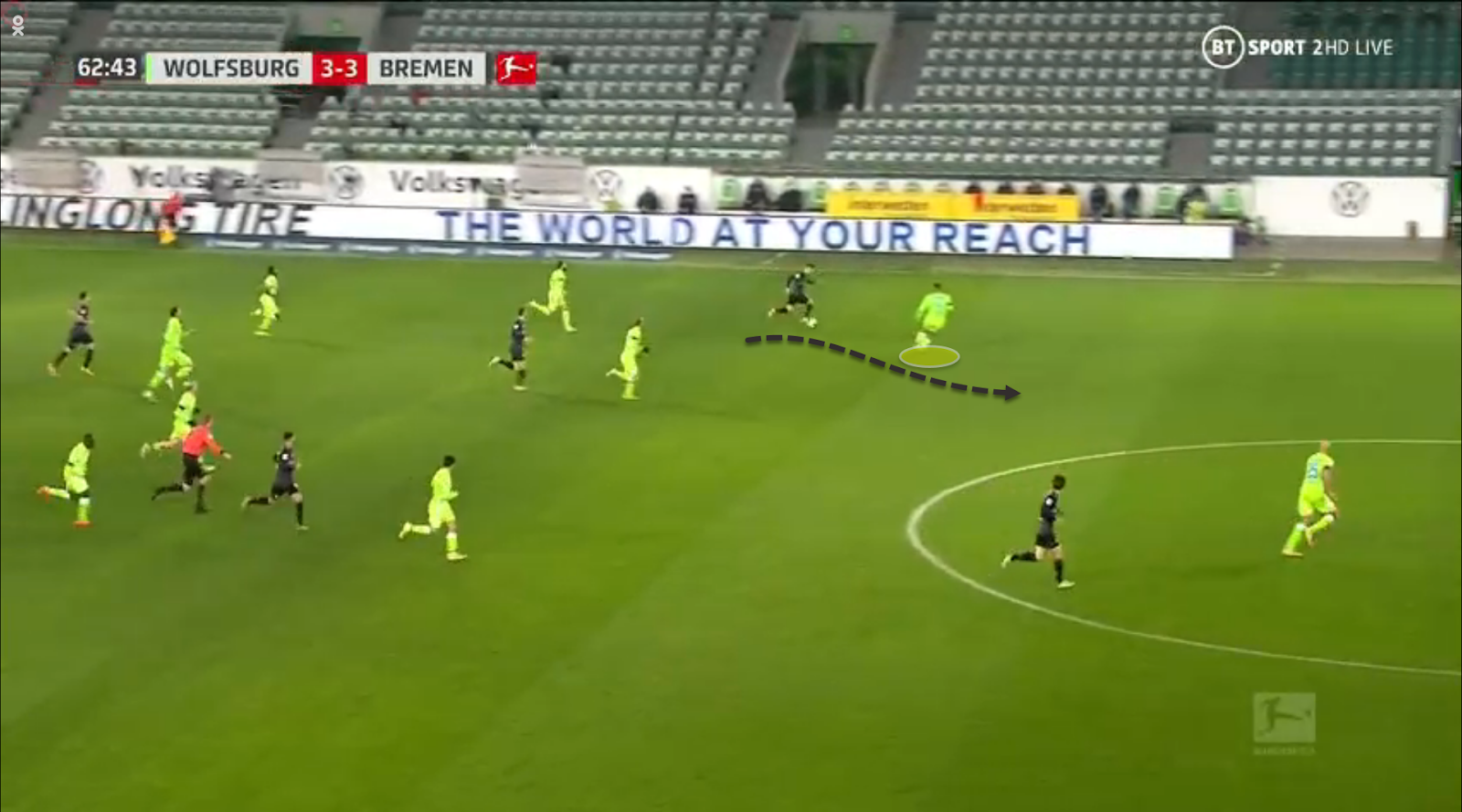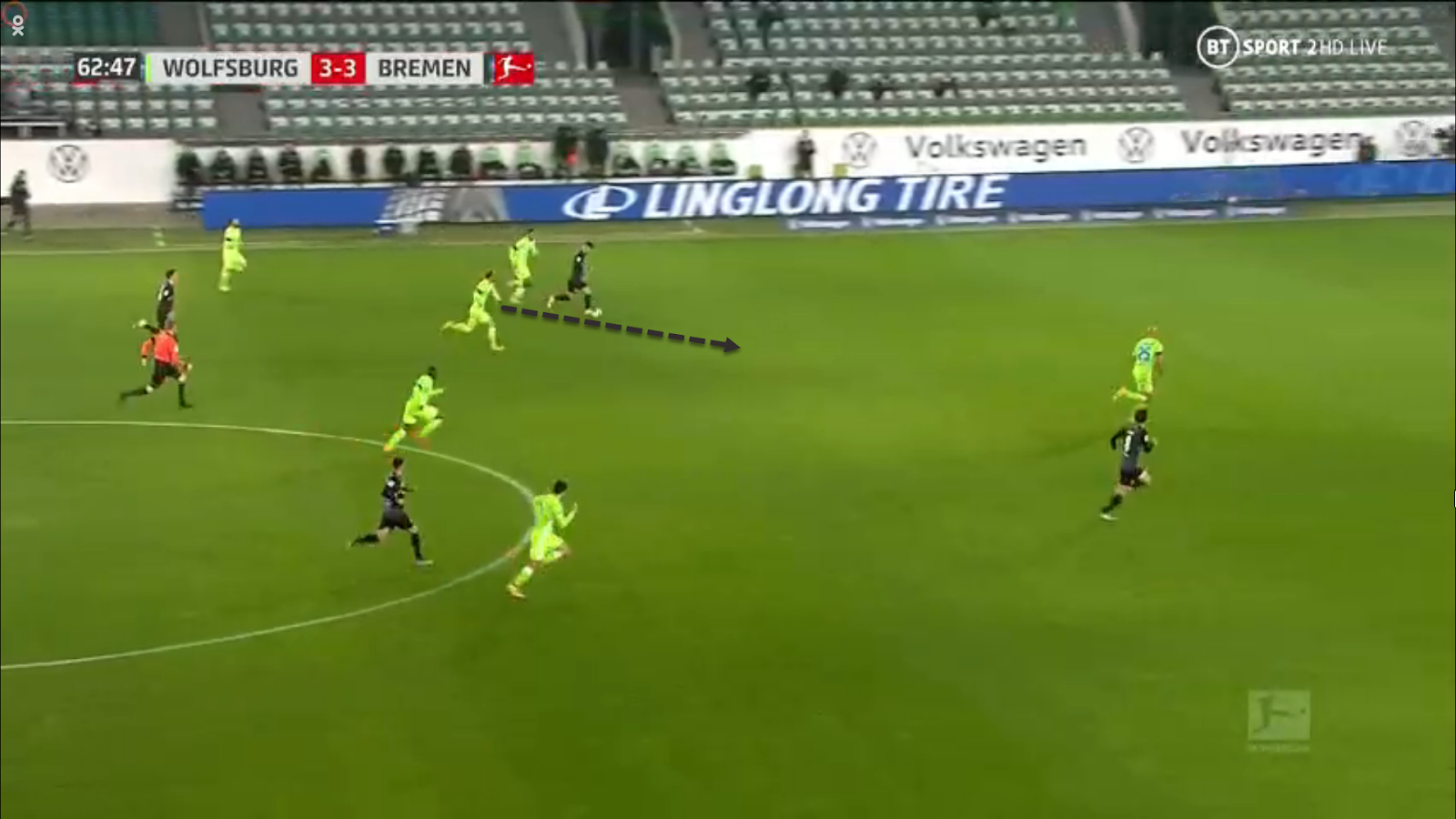 The other aspect where Lacroix should look to improve is in his reading of the play. Since he is the aggressor, it is important that Lacroix realises when to be aggressive and when to drop back because he will not get there, and then space will be exploited. It is natural that he will make these kinds of mistakes at just 20 years of age, but it is important to improve upon them as against better players and teams, this aspect can be exploited greatly. 
Here, against RB Leipzig, Lacroix attempts to intercept or at least pressurise the opposition midfielder who is receiving the ball into a back pass. Instead, because of a great first touch and pass from the midfielder, Lacroix is played out of the game. Leipzig can then exploit the space in between Brooks and Kevin Mbabu with a pass into that lane and then because Brooks had come across, there is space for a pass across goal leading to a great chance and a goal for Leipzig.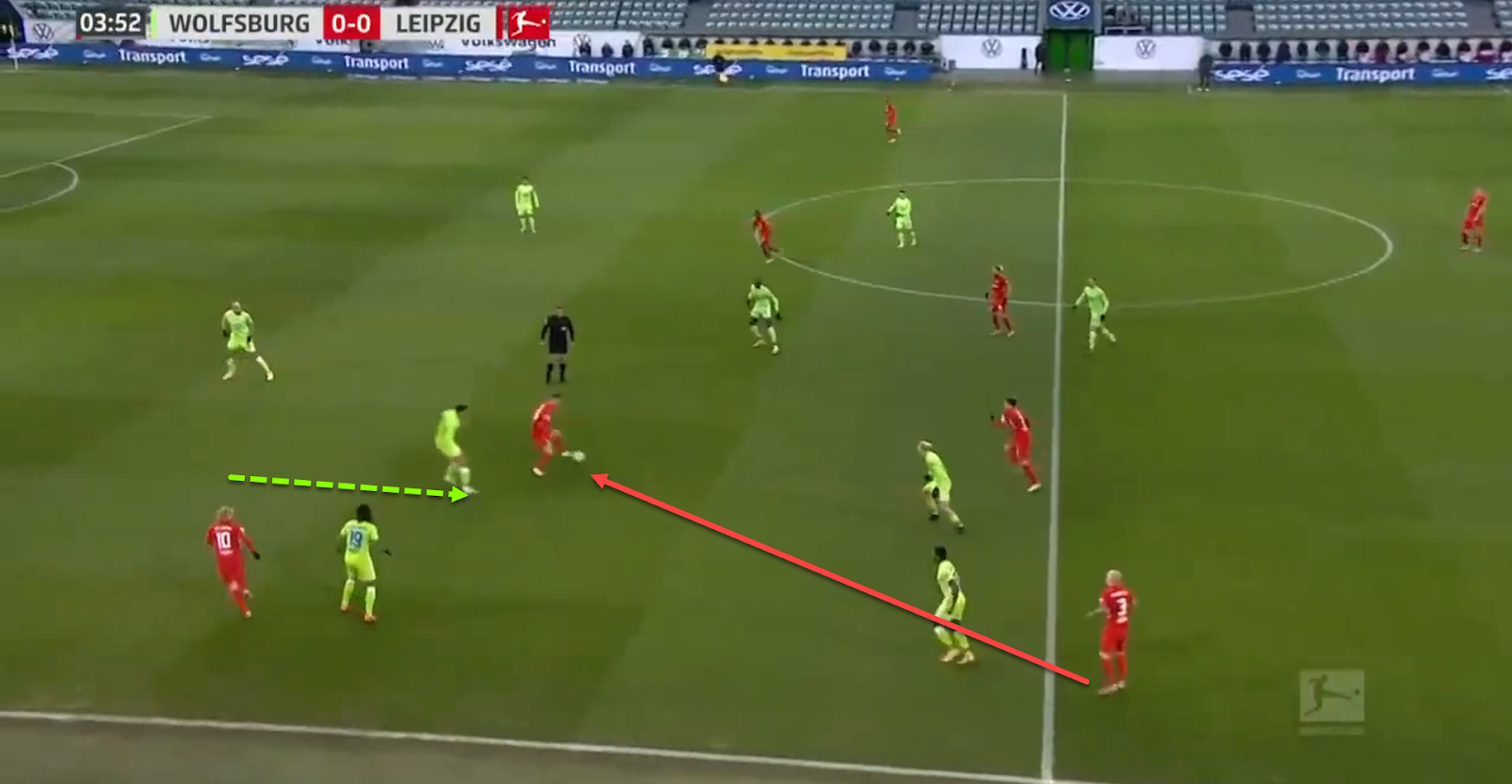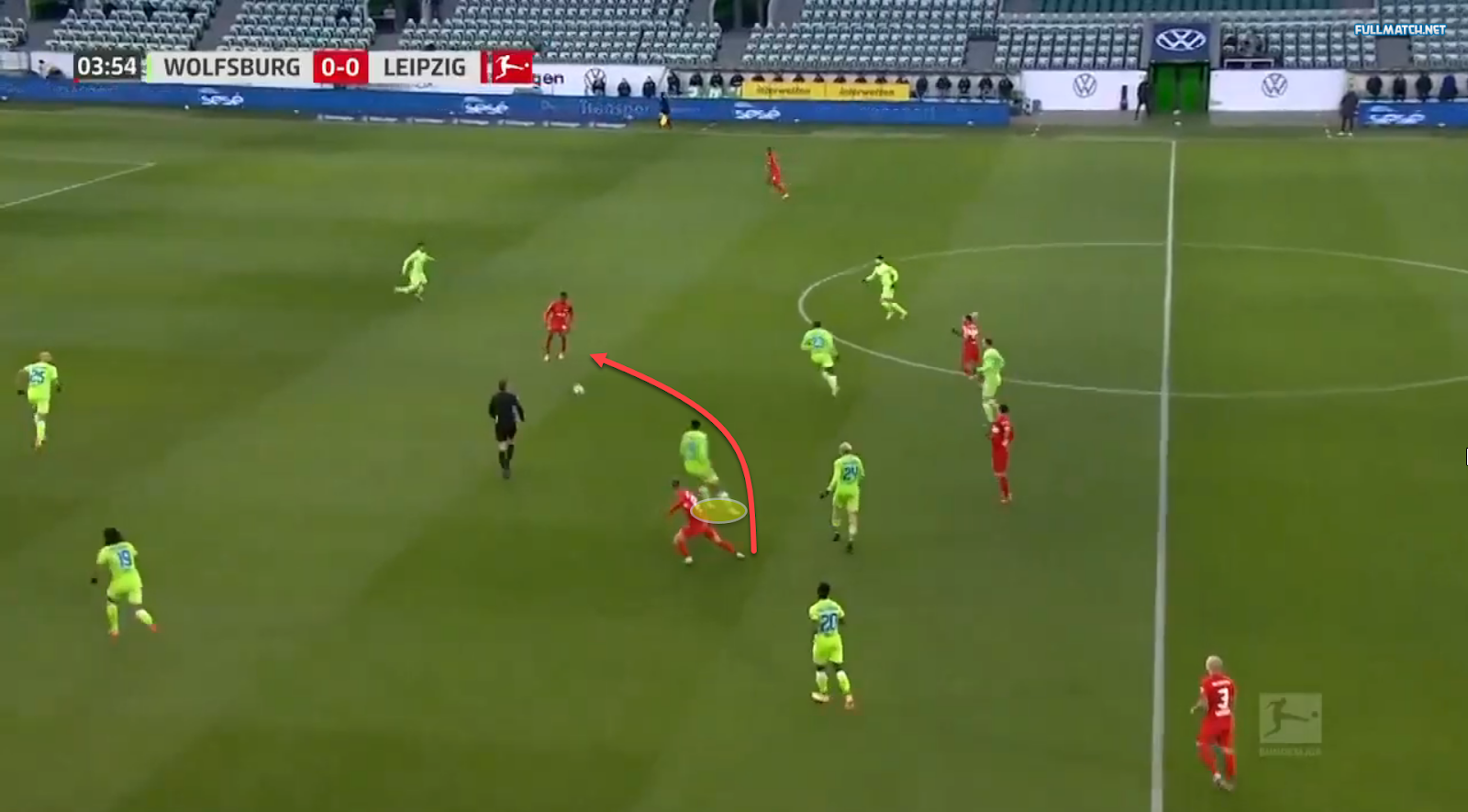 Of course, when being the aggressor in a defensive partnership, you will, sometimes, be exploited. Yet, Lacroix just needs to try and make these situations as scarce as possible and he will be able to do so with a better understanding of when to be aggressive and when not to be, which will more than likely come with experience and game-time.
Ability on the Ball
Lacroix is a comfortable passer of the ball and can often find progressive passes through breaking the lines. At Wolfsburg, he does not have to progress the ball all the time as both Brooks and Maximillian Arnold are important in the build-up, as well as both full-backs. This allows Lacroix to have less of a crucial role in the build-up, yet he still contributes well, playing 3.7 progressive passes per 90.
Here is a radar that shows the passes made by Lacroix and to which players. It is clear that while he is quite safe in possession, playing to both his full-back and Brooks mostly, Lacroix is also a very capable passer and likes to play into the half-space usually to the winger.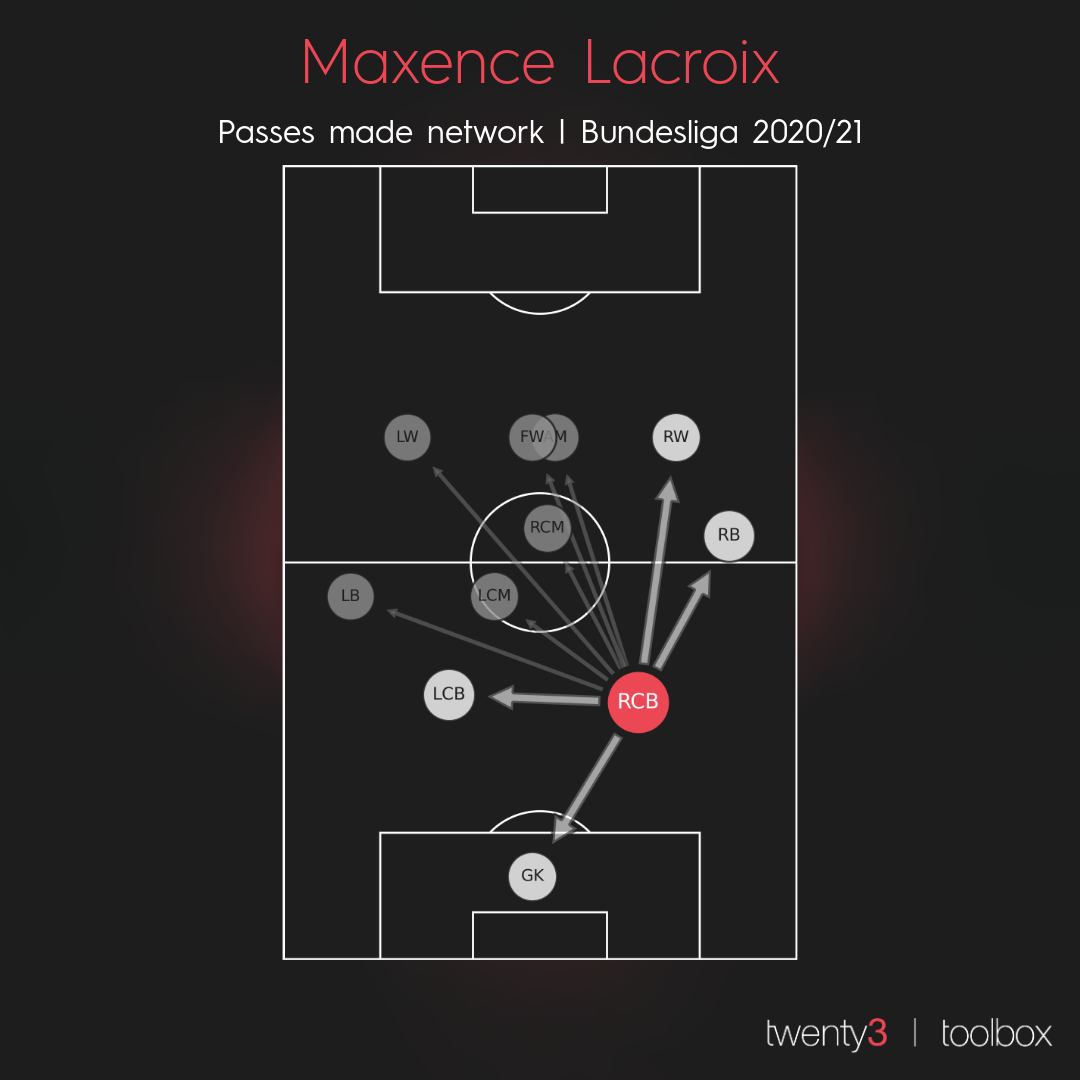 Photo:  Twenty3/Wyscout
One impressive aspect of Lacroix's passing is that he is more than comfortable at playing slightly reversed passes into midfielders and forwards feet. This allows him to progress the ball with the opposition thinking he will play into the full-backs feet. Both his body shape and execution of his passes are impressive in this kind of situation and it is a skill that not many centre-backs can perform to a high level. 
The example below shows the passing ability that Lacroix has. He opens his body up when he receives to deceive the opposition into thinking he is playing into his full-back, and then reverses the pass straight into his winger's feet, who is operating in the half-space.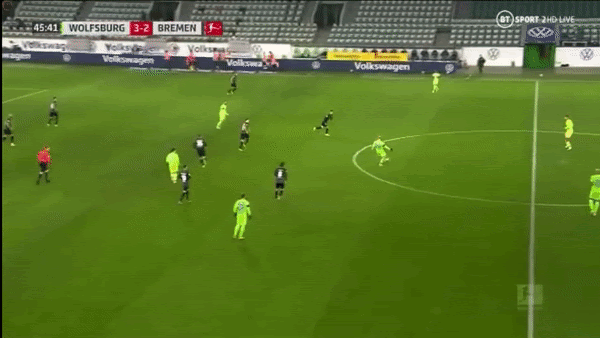 Here is a second example of this kind of progressive pass from the French centre-back. After taking the ball past the opposition striker; he is able to find a pass into the advancing midfielder, who has moved into the half-space.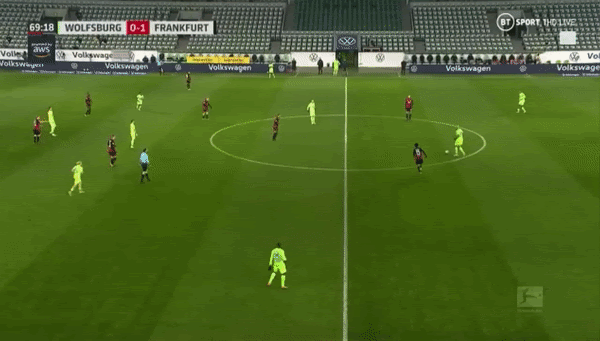 While Lacroix makes just 2.26 progressive carries per 90, he shows that he has the athleticism to carry the ball forward, as shown in the previous example; but improved technique as he develops will be important if he is to add good progressive carrying to his repertoire. His comfortability in playing these passes is great and it suggests that he can become a top progressive passer from the back as he develops. 
The defender also averages 12.4 long passes per 90 this season, and while that could be due to the tactics deployed at Wolfsburg, who have a brilliant hold-up striker in Wout Weghorst, it shows that he is already a competent long passer – with a 66.9% completion rate.
He often plays long passes into the right flank for either the striker or winger to run onto and even when the pass is not successful, they are usually played into an area where Wolfsburg can then counter-press to try and win the play higher up. He can also switch the play but does this less often. The pass map below, showing Lacroix's high passes and launched passes shows this.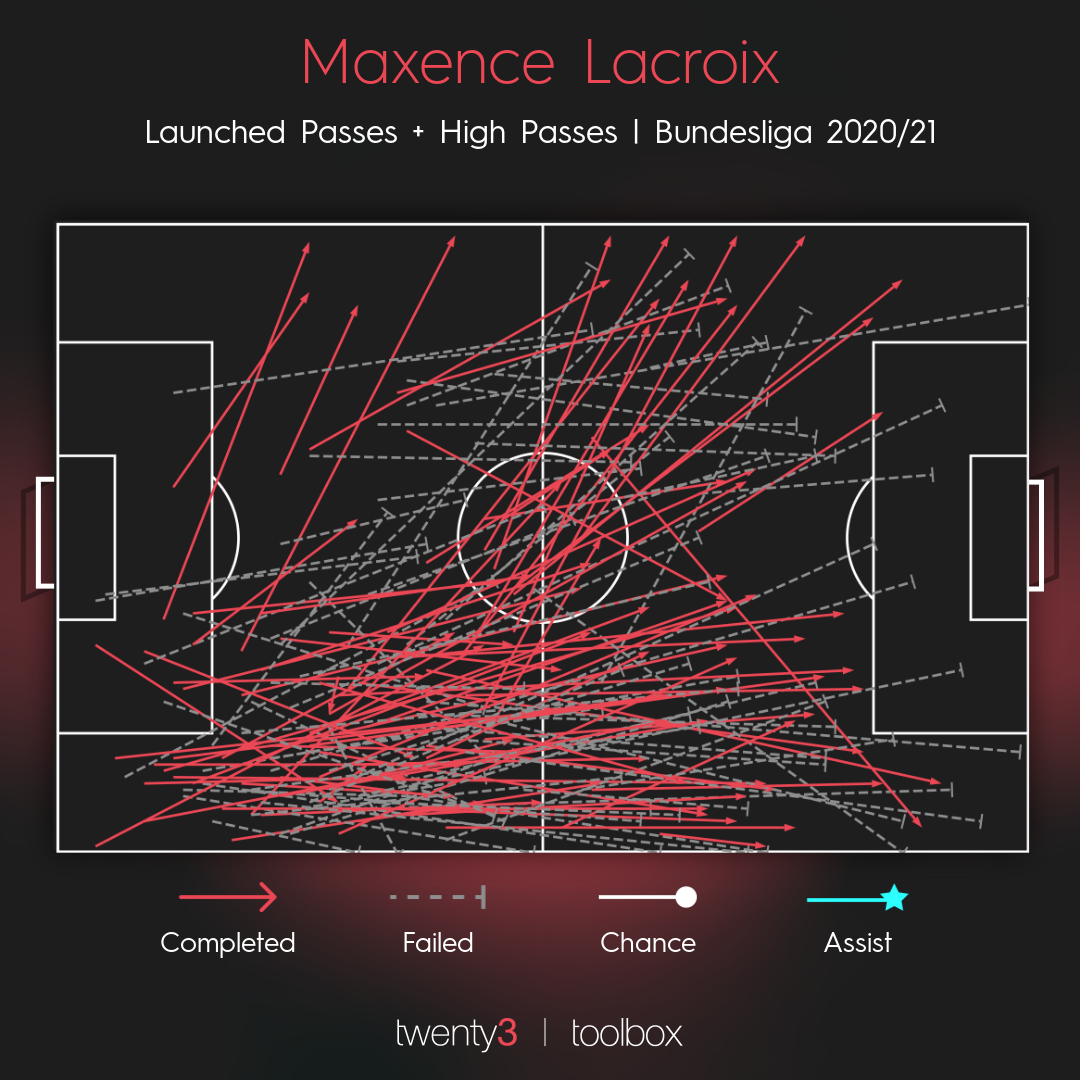 Photo:  Twenty3/Wyscout
The example below is a good example of the kinds of long passes that Lacroix plays. He receives and then looks to turn the opposition defence by playing into the space behind them on the flank. It was a great pass that allowed Mbabu to chase and ultimately win a corner, even though it wasn't successful as Mbabu didn't receive the ball, it was put into a good area which caused problems for the backline of the opposition.
Conclusion
This analysis has helped show the profile, strengths, and weaknesses of one of the most exciting young defenders in Germany at the moment. Maxence Lacroix has already shown great qualities this season and at just 20 years old, will certainly develop his game further. It will be very interesting to follow his development as a defender and he could also potentially help Wolfsburg to finish in a Champions League place at the end of the season.
By: Cain Smith
Featured Image: @GabFoligno / Oliver Hardt – Getty Images