Tactical Analysis: VfL Wolfsburg 2020/21 Season
Three years after winning the DFB-Pokal and finishing second in the Bundesliga, VfL Wolfsburg found themselves in the relegation play-offs at the end of the 2016/17 season. They defeated Eintracht Braunschweig to retain their place in Germany's top flight, but despite bringing in the likes of Divock Origi, Ignacio Camacho and John Brooks, they found themselves entrenched in another fight for survival during following campaign.
Journeyman manager Bruno Labbadia took charge of the club on February 20, 2018 following Martin Schmidt's dismissal, and narrowly kept them up after beating Holsten Kiel in the relegation play-off. Bolstered by the arrivals of Wout Weghorst from AZ Alkmaar and Daniel Ginczek from Stuttgart, Labbadia led Wolfsburg to a sixth-place finish, with Die Wölfe qualifying for a spot in the 2019/20 UEFA Europa League group stage.
However, on March 12, 2019, Labbadia announced his decision to step down at the end of the campaign. Faced with a coaching vacancy, the Wolfsburg board announced the hiring of 44-year-old manager Oliver Glasner. With the assistance of sporting director Jürgen Werner, Salzburg native had taken LASK Linz from the Austrian second division to the UEFA Europa League, earning plaudits for his team's aggressive, high-pressing style of play.
Photo: @GabFoligno / sport.ORF
The following season, Wolfsburg finished seventh in the Bundesliga and advanced to the Europa League knockout round before losing to Shakhtar Donetsk in the Round of 16. After nine games, Wolfsburg currently sit fifth in the league, just five points off the top spot. With Glasner at the helm, Wolfsburg are eyeing qualification to to the UEFA Champions League for the first time in six years.
Wolfsburg's Build-up
One of the most impressive aspects of Wolfsburg's play is their progression into the final third. They have several different build-up strategies which help them to advance the ball and maintain unpredictability in possession, as well as adapt to the opposition they're facing.
The first of their build-up strategies is to create wide triangles, and then once the opposition have been baited into the wide area, they play the ball centrally for players like Maximilian Arnold and Xaver Schlager to penetrate the unsettled defensive shape of the opposition through direct, vertical passes.
In the below example against Hoffenheim, Maxence Lacroix, Ridle Baku and Schlager create a triangle on the right side in their own third. This not only gives them a numerical advantage in the build-up, with only two opponents pressing the ball, but the pass from Lacroix (CB) to Baku (RB) draws the pressers into the wide area and allows Baku to find Schlager (CM) with space to turn and run into. The Austrian midfielder looks to play progressively here once in possession, but due to no clear vertical options, he chooses to switch the play.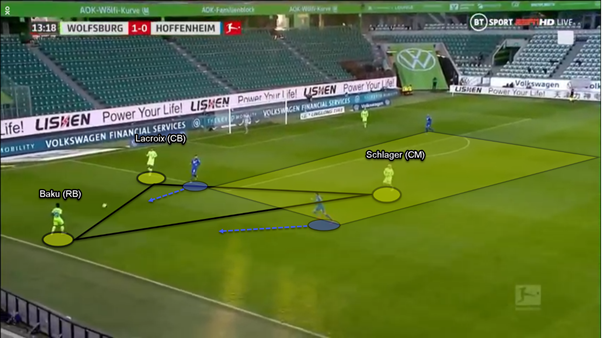 This build-up strategy is usually effective thanks to Renato Steffen and Josip Brekalo, who are more than willing to run through the channels from start to finish and exploit space on the wings. Moreover, their 6'6″ target man Weghorst is apt at winning long balls, allowing them to directly progress the ball in central positions.
On this occasion, Wolfsburg build with a triangle on the left side of the pitch with Brooks, Jérôme Roussillon and Schlager, enabling the latter to run into space centrally and play a vertical pass to Steffen, who is making a run in behind Hoffenheim's defense. Steffen's initial shot was saved by Oliver Baumann, but Weghorst converted the rebound to double Wolfsburg's lead.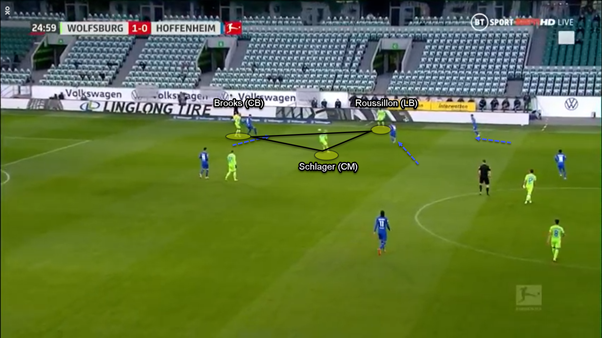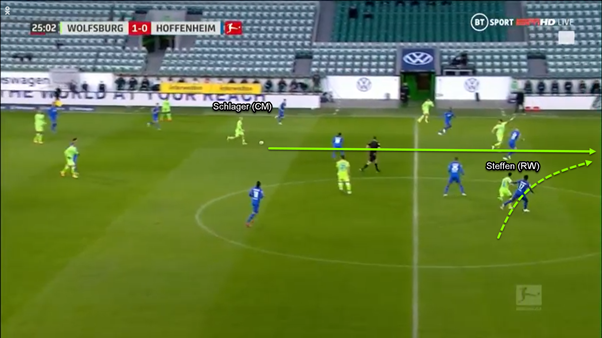 Wolfsburg are also able to build their play through long passes from deep. This is a useful build-up strategy against top sides as it is both risk-averse and effective, with Weghorst able to win the bulk of his aerial duels, having won 63.3% of his aerial duels in the Bundesliga this season.
The Dutch striker also boasts an impressive technical ability that enables him to win long balls, hold up the ball, and progress the ball into the final third to his onrushing teammates. In this example against Freiburg, Koen Casteels plays a long ball to Weghorst, who beats Dominique Heintz in the physical duel and lays the ball onto a teammate.
However, when looking to play long, Wolfsburg are not always going to win the initial duel, but they have a solid counter-press which they use after they play long to help them regain possession. They have averaged 168.5 pressures per 90 with an impressive 33.6% success rate.
In the below example, Weghorst connects on Casteels's pass, but his header deflects backwards into the path of Hoffenheim defender Kevin Akpoguma, who is quickly closed down by Maximilian Philipp. Akpoguma barely dishes the ball off to Ryan Sessegnon, who is forced to boot it long after being closed down by Steffen.
Thanks to Wolfsburg's counter-pressing structure, they were able to force Hoffenheim into coughing up possession, and they were even able to regain possession and create a chance as their opponents were not in a settled defensive shape.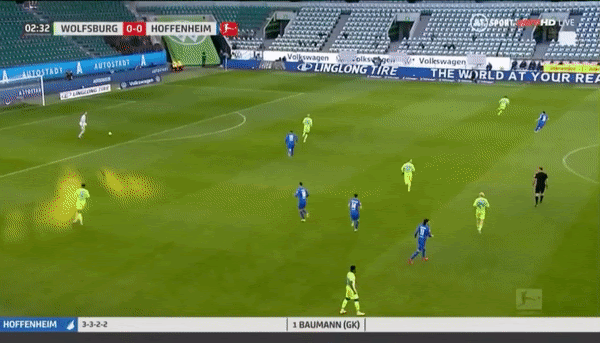 Out of Possession
Out of their 14 matches this season, Wolfsburg have lost just one match — a Europa League play-off against AEK Athens. A key reason behind their formidable record is their defensive stability; Wolfsburg have conceded just eight goals in nine Bundesliga matches, the second-best record in the league behind RB Leipzig, who have conceded six goals thus far.
When out of possession, Wolfsburg look to set up in a 4-4-2 mid-block, with the attacking midfielder moving into the frontline with Weghorst. This will often turn into an asymmetrical 4-3-3 when the opposition look to build on one of the flanks, which will trigger the Wolfsburg winger on that side to step up into the front line.
In this example against Freiburg, Brekalo stays slightly deeper on the left whilst the right winger, João Victor, steps into the first line as Freiburg look to build up through their left flank.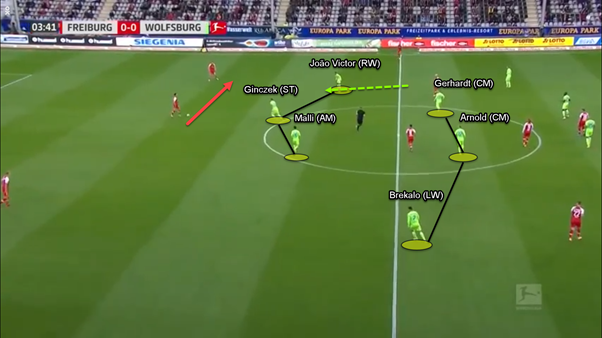 While Wolfsburg have a solid mid-block out of possession, they also are a high-pressing team and have clear pressing triggers which help them to regain possession or limit the opposition in progressing the ball. The other main triggers help to pressurise when the ball enters wide areas, or when there is a backwards pass in the opposition's second or first phase of play. 
The below example demonstrates one of Glasner's pressing triggers that commonly occurs when Wolfsburg are in a settled mid-block and seek to prevent the opposition from moving the ball into an advanced wide area. With Schlager temporarily off the pitch to receive treatment, Wolfsburg are set in a 4-4-1, with Steffen in a narrow position to limit central progression and force a pass to the wide man, who Wolfsburg can then press.
As Sessegnon receives the ball on the left flank, Steffen quickly closes him down, ensuring that the pass inside to midfielder Diadié Samassekou is inside his cover shadow. Weghorst also continues his run so that he can stop the backwards pass and limit Sessegnon's passing options. This intelligent pressing from the Wolfsburg pair created a turnover in possession.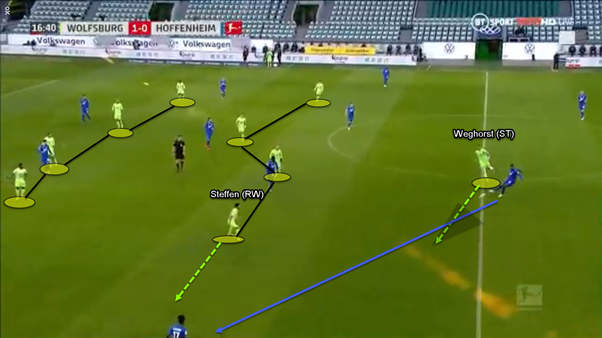 Another pressing trigger occurs whenever the opponent play a backwards pass in the first or second phase of play. The aim of this trigger will not necessarily be to tackle the ball carrier but to encourage them to play long in order to force a turnover.
The below image against Hertha Berlin exemplifies this trigger. Hertha right back Peter Pekarík takes a throw-in and plays it backwards to Dedryck Boyata, which triggers Philipp's press onto the Belgian center back whilst Brekalo and Weghorst press the left-sided center back — Omar Alderete — and Pekarík.
Steffen is in a narrow position so that he can pressure Lucas Tousart if the French midfielder receives a pass, or move towards left back Maximilian Mittelstädt if Boyata decides to switch the ball. Pekarík's throw-in triggers this aggressive press and ultimately leads to Boyata playing a long ball.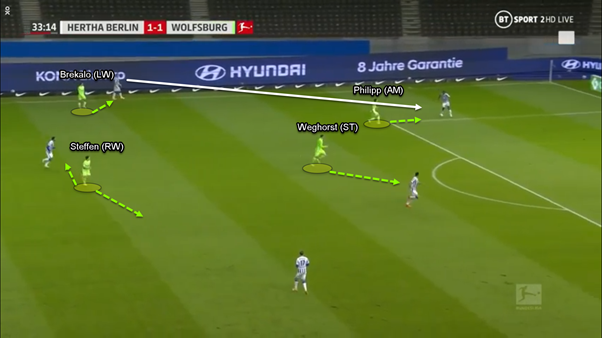 In addition to the pressing traps and their mid-block, Wolfsburg have the individual quality in defense to challenge the toughest of rivals. The summer purchase of Lacroix from Sochaux for €5 million has been a massive reason behind this, with the 20-year-old forming a solid pairing in defense with Brooks.
Lacroix is the aggressor of the two, advancing from the backline to step forward and tackle the opposing forward, and he has the pace to recover on defense and allow Brooks to sit back and sweep up danger. In this instance against Hertha Berlin, Lacroix steps off his line and challenges Jhon Córdoba on the ball, whilst Brooks sits behind in case Córdoba can evade the press and find Dodi Lukebakio in space.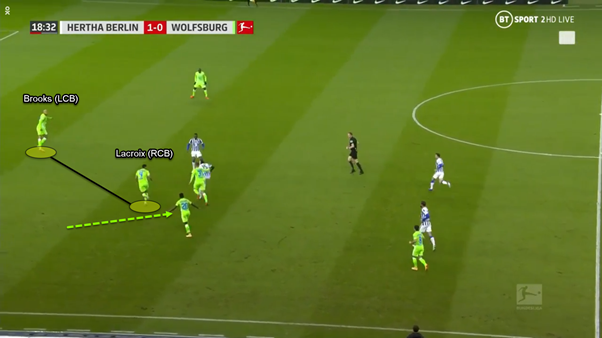 Role of fullbacks in attack
One of the biggest factors behind Wolfsburg's attacking dynamism is their fullback pairing. Roussillon has been a force at left back since joining from Montpellier in 2018, whilst Kevin Mbabu has delivered an impressive output after arriving from Young Boys in 2019. However, Mbabu has been sidelined since suffering a knee injury on September 3 in a UEFA Nations League match against Ukraine.
With the Swiss defender out of action and backup right back William recovering from an ACL rupture, Wolfsburg purchased 22-year-old Ridle Baku from Mainz for a fee of €10 million. Able to play in midfield or defense, the German youth international of Congolese descent has filled in admirably at the right back position.
When Wolfsburg attack, their fullbacks will maintain width whilst the wingers move into inverted positions close to Weghorst. However, they do not simply hold the width and not receive possession, the ball will often go out to the full-backs – either in a situation where they can combine with a winger or where they need to cross into the box.
The image below against Werder Bremen shows an example of the role of Wolfsburg's fullbacks in attack. Initially, Roussillon is in a slightly deeper position, offering assistance in the build-up. Once the ball is played straight into the second phase by Brooks, Roussillon turns and offers himself as an option in behind the opposition defence.
After Schlager finds Roussillon in behind the defense, the Frenchman plays a first-time cross which is perfectly hung towards the back post, and Weghorst heads home the go-ahead goal. Wolfsburg would prevail with a 5-3 victory, with substitute Bartosz Białek adding to their lead in the 95th minute.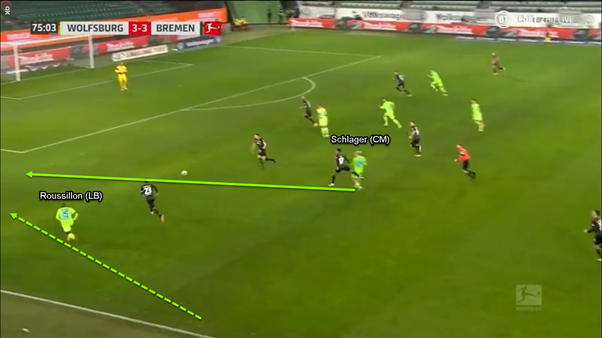 In the below example against Borussia Mönchengladbach, Wolfsburg's fullbacks combine in the final third to help execute the attack. After Brekalo receives possession, he plays the ball straight to Baku, who is quickly moving into the final third.
This allows the Croatian winger to sprint into space behind Ramy Bensebaini, who is out of position, and Baku plays a return ball into his path. After Brekalo's cross is blocked, Baku adjusts his run and is the first to react to the loose ball. He beats Florian Neuhaus to the ball and slides it into the path of Weghorst, who equalizes.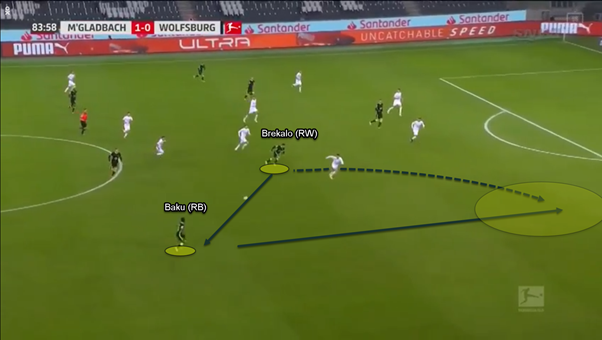 Conclusion
Two years after narrowly staying up in the Bundesliga, Wolfsburg are making a strong push for Champions League football under Oliver Glasner. With Borussia Dortmund, RB Leipzig, Bayer Leverkusen and Union Berlin competing for top four, it remains to be seen whether or not they will return to Europe's premier competition, but it is undeniable that Glasner's arrival has given them the shot in the arm that they so desperately needed.
By: Cain Smith
Featured Image: @GabFoligno / Maja Hitij – Getty Images