Player Analysis: Mohamed Camara
Red Bull Salzburg are renowned for the plethora of players that have benefited from their development system over the years. Sadio Mane, Enock Mwepu, Dayot Upamecano and Erling Haaland are just a few names who have been signed, developed, and sold on by the Austrian club. Malian international Mohamed Camara is the latest Salzburg player to catch the eye of the footballing world. 
Camara started his career in the youth system of AS Real Bamako who play in the top tier of Malian football. Here, he was scouted by Red Bull Salzburg and signed for the club's development team (who play in the Austrian second tier) FC Liefering.
The 22-year-old is a prime example of why the Red Bull development pathway is so successful. At Liefering he got his first taste of first-team action, making 35 appearances and scoring 4 goals in total, between 2018-2020.
Evanilson: The Young Brazilian Striker Making a Name for Himself in Portugal
After spending the second half of the 20/21 season on loan at TSV Hartberg, Camara broke through into the RB Salzburg first team upon his return, where he has remained ever since. The Malian has been perpetually linked with a move to Leeds United which would see him reunited with Jesse Marsch, this article will look into why football fans and journalists alike are taking notice of the Salzburg man. 
Biography
Name: Mohamed Camara 
Age: 22
Height / Weight: 174 cm / 68 kg
Position: Defensive Midfield / Central Midfield
Nationality: Mali
Contract Expiry Date: 30/06/2025
Preferred Foot: Right
Having played almost 3000 minutes of club football throughout the 2021/22 season, it is fair to say that Mohamed Camara has cemented himself as a key player for Salzburg. The dashboard below shows his stats per 90.
He is a very progressive player who rarely holds on to the ball for more than two touches, making it incredibly difficult to dispossess him and ensuring that he is always ready to bring others in to play. He is very active defensively as expected with Salzburg's high-pressing style.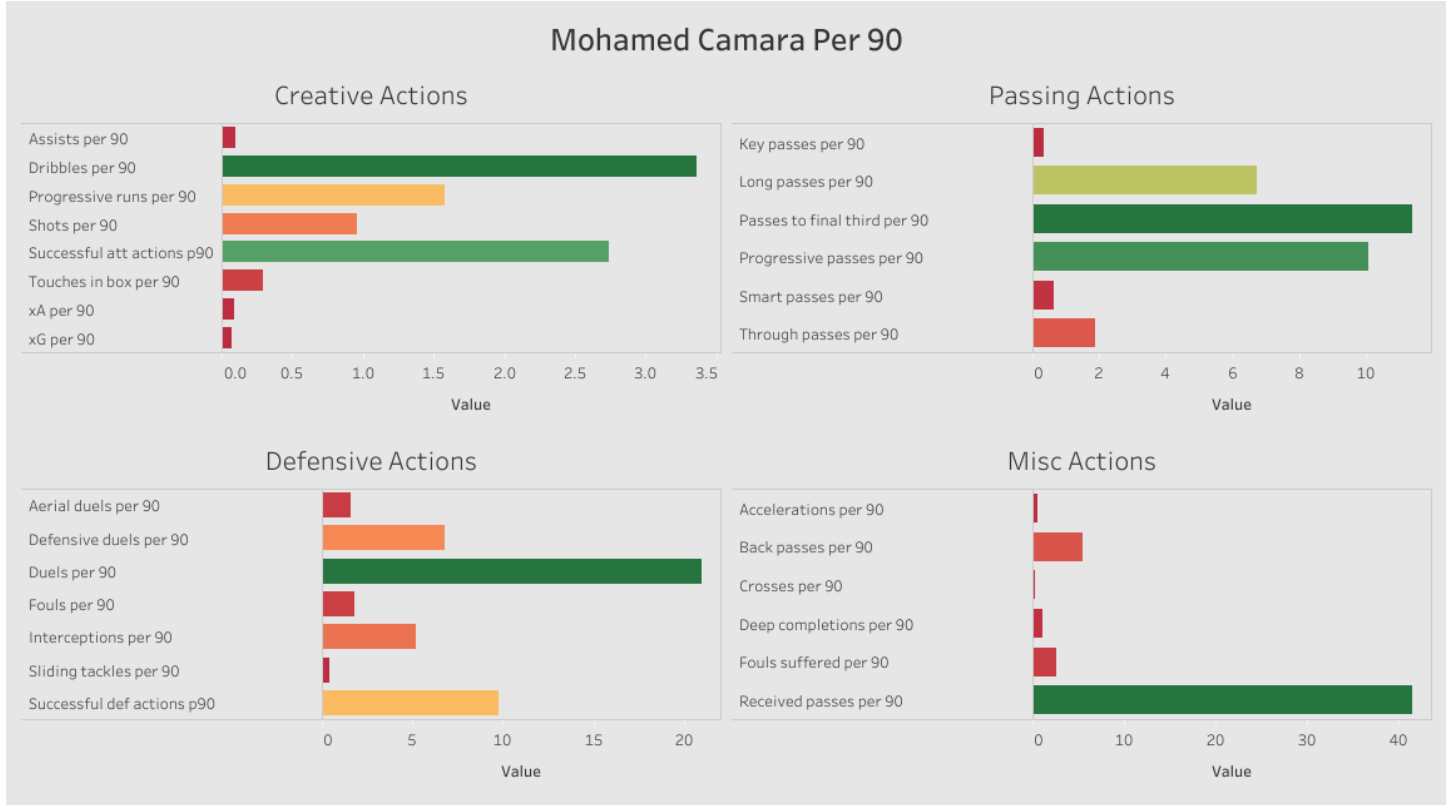 As mentioned above, Camara is extremely dynamic in the defensive phase of play. He is very comfortable when engaging in the well-known Salzburg press. He demonstrates good awareness with his positioning and can often be seen taking a step back to sit deeper which enables him to read the play and make an interception.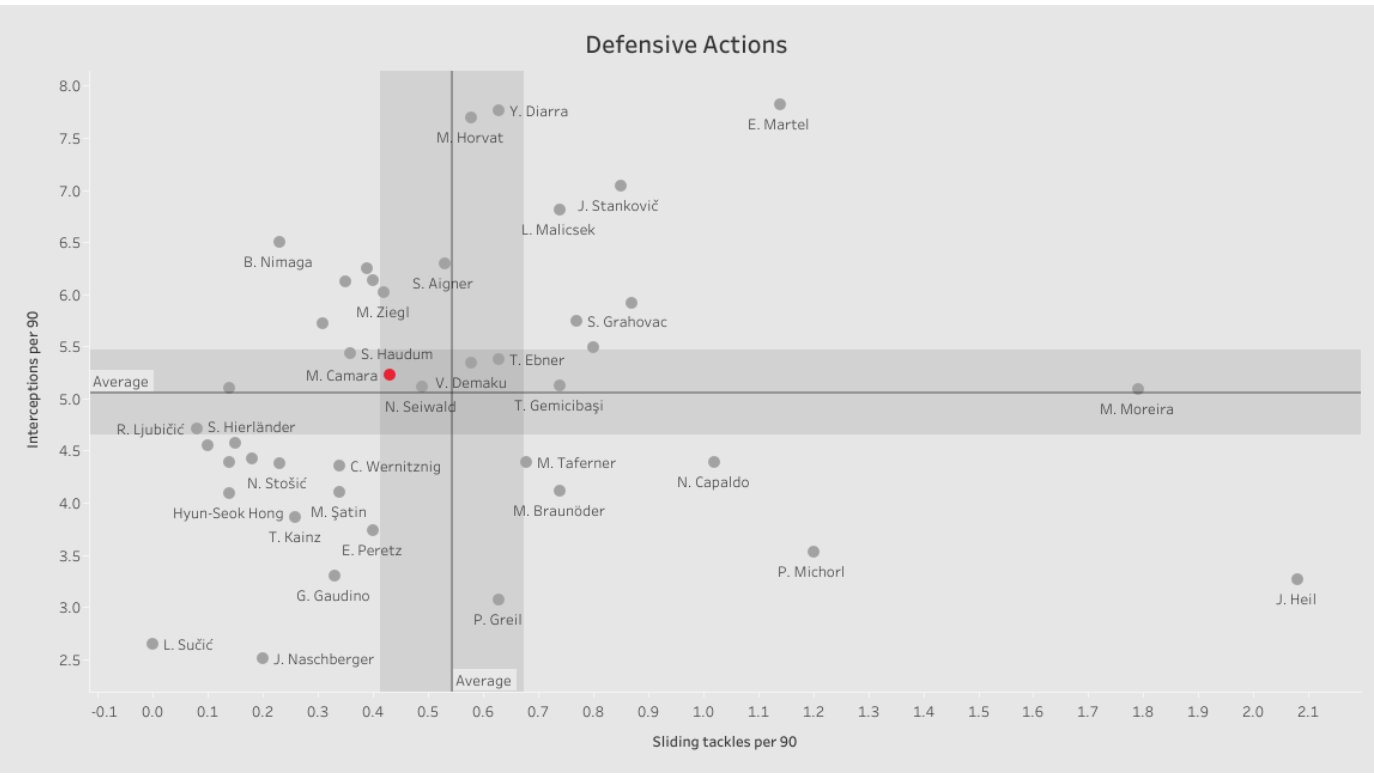 The Malian averages 5.2 interceptions per 90 which is a clear demonstration of his ability to read the game and make the right decisions defensively. Camara is comfortable playing in both a double pivot and as a single pivot. As Salzburg look to play out of defence, he is often the first port of call for the defenders to pass to.
Whilst Camara is not the biggest in terms of stature, he is a tenacious player who is always willing to engage in duels on the pitch. As the scatterplot below shows, he participates in approximately 21 duels per 90, with a success rate of 57% which places him above average in both metrics.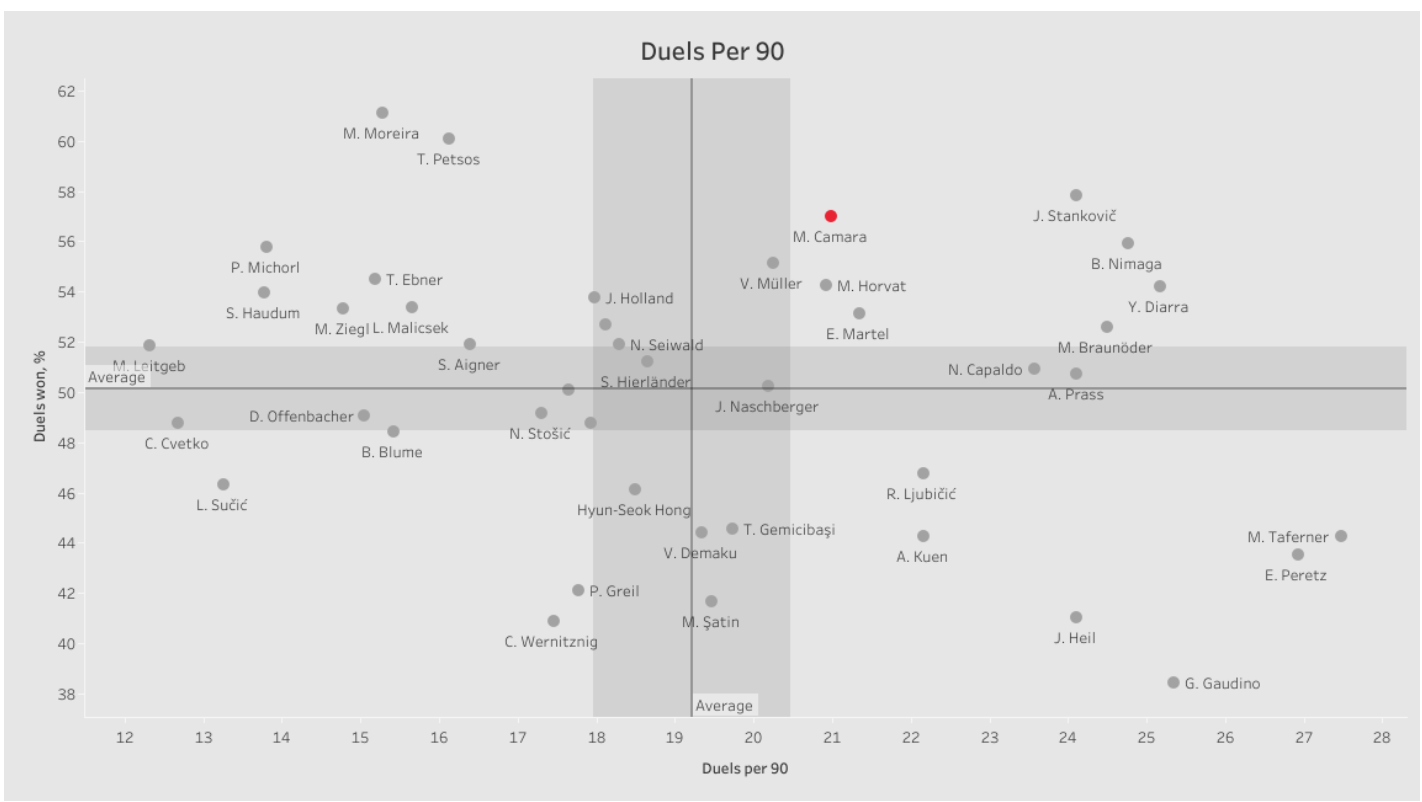 The 22-year-old is one of the best ball carriers in the Austrian Bundesliga. His team frequently look to him to progress the play and transition from defence into attack. He produces approximately 3.2 dribbles per 90 which show he is capable of running with the ball.
He doesn't make that many progressive runs per 90, what tends to happen is that Camara will receive the ball, often on the half-turn and then take a couple of touches, using his low centre of gravity to create enough space for him to play a progressive pass through the lines.
Camara averages over 10 progressive passes per 90, with the second-highest passes into the final third, whilst it must be acknowledged that these stats are influenced by Salzburg's domestic dominance, they are still impressive and show what a great passer of the ball Camara is.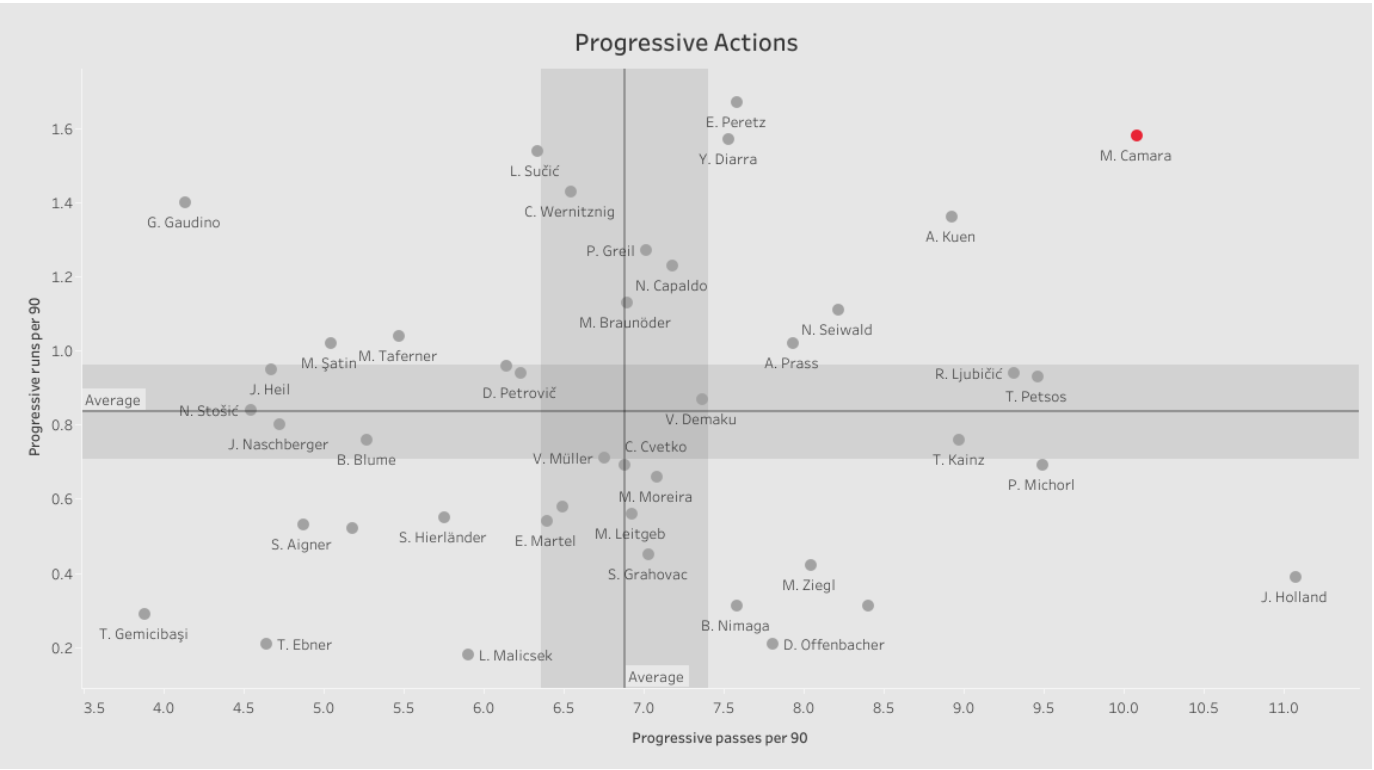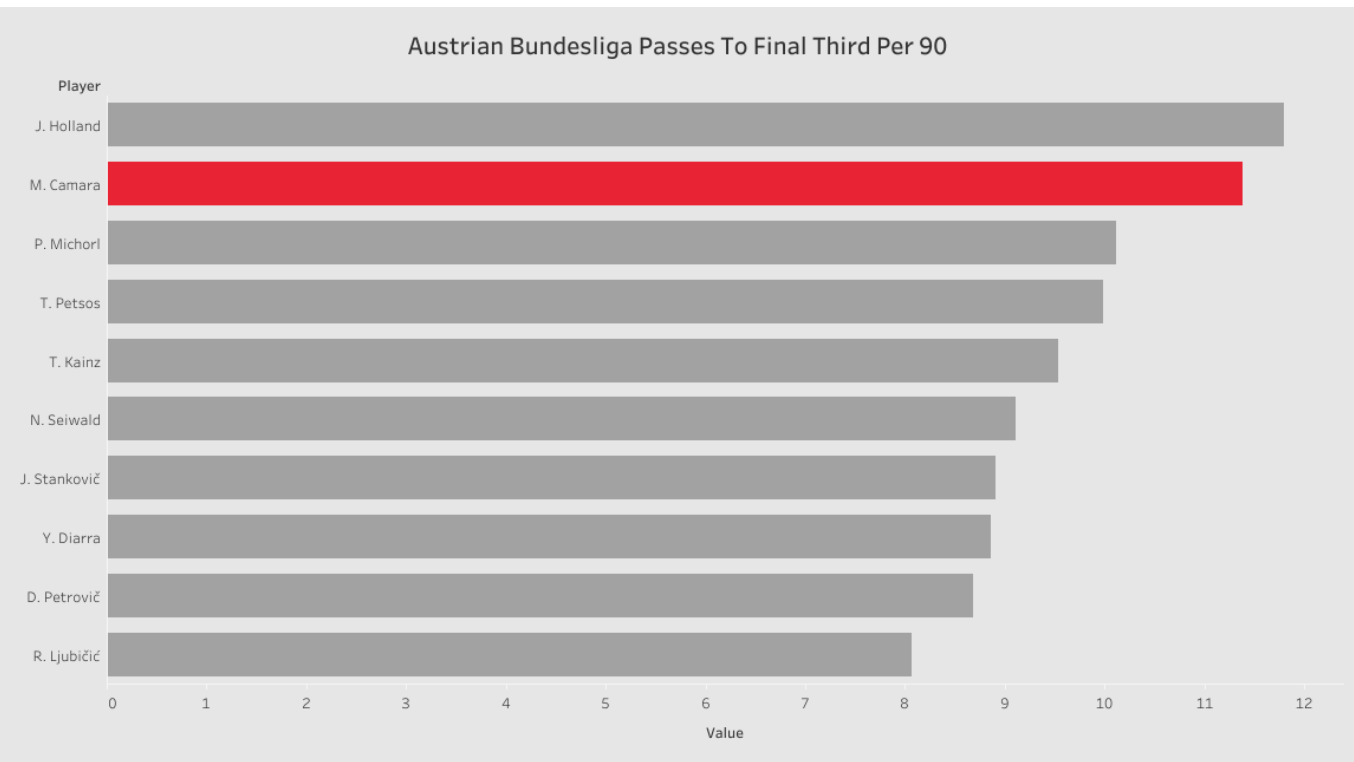 The Salzburg man possesses an exquisite range of passing, he is able to play short passes into feet quickly to keep the play moving or he is able to look up and play long-range passes in order to switch the play or launch a counterattack.
He makes 61 passes per 90 which is the highest of any player in his position in the Austrian Bundesliga. At Salzburg, he is able to offer defensive cover and act as a typical Defensive Midfielder in terms of shielding the back four and covering for the marauding full backs.
However, this passing ability also means that Mohamed Camara has some playmaking skills to his name, he is able to split defences with his passing and has an exceptional vision when it comes to picking out a teammate for a pass.
As expected, when playing mostly as a defensive midfielder the Malian averages less than one shot per 90. While Camara has many strengths, shooting ability is an area where he could improve. Unafraid to have a go from distance, these efforts rarely translate into goals which currently doesn't prove costly as RB Salzburg are one of the best teams in their league.
Should Mohamed Camara make a move to a team playing at a higher level, he may need to improve on the quality of his decision-making for the rare occasion he does venture into the final third.
There have been a few clubs linked with Mo Camara, the most common one being Leeds United who are currently led by his former manager and keen admirer Jesse Marsch. The American is known to be a huge fan of his former player so a reunion could potentially be on the cards.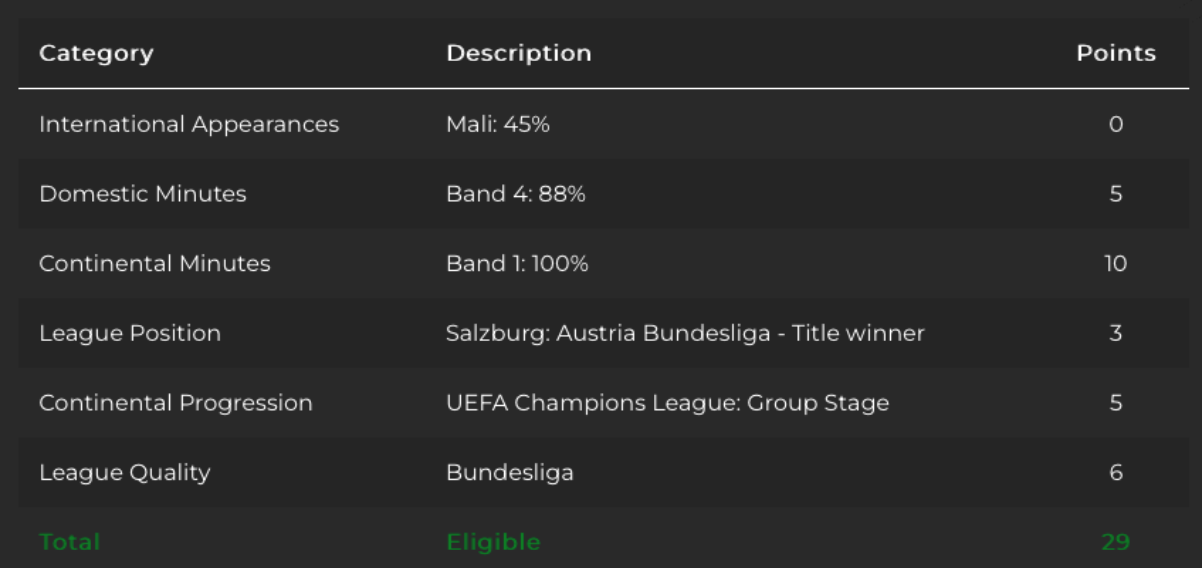 As it stands, the Salzburg player would qualify for a work permit should a club in England decide to invest in the sought-after midfielder.
However, it is unlikely that RB Salzburg will want to let him go just yet, contracted until 2025 it is more likely that the Austrian champions will want to keep him for another year to develop him further in order to command a larger fee next summer.
On the whole, Mohamed Camara is a quality player, a little rough around the edges but at twenty-two, he has plenty of time to improve. The RB production line rarely fails to produce exceptional players and it looks like Salzburg's Malian international could be the next one up.
Another year in the Austrian Bundesliga will probably serve him well in terms of development but make no mistake, he will be playing at the top level sooner rather than later. 
By: Bethany Limb / @bethlimb
Featured Image: @GabFoligno / Martin Rose / Getty Images