Player Analysis: Noa Lang
You always hear stories about "the one that got away" – well in Ajax's case, Noa Lang might be that one. The 22-year-old took like a duck to water on loan with Club Brugge, winning the Belgian Pro  League in his first year and has since completed a permanent €6 million move to the club at the beginning of this summer window. 
However rumours have already begun swirling around the future of the Dutch star, with Marcelo Bielsa's Leeds and Julen Lopetegui's Sevilla said to be interested – and it comes as no surprise after the season he's had.   He contributed 14 goals and 8 assists in his 24 league appearances – picking up the Belgian Young  Footballer of the Year award last season, etching his name into history alongside previous winners such as Vincent Kompany, Youri Tielemans and Axel Witsel. 
With a tendency to drift, a desire to drive, and that silky creative swagger in his play, his footballing stock is ever-increasing.  It begs the question, why would Ajax let go of such a talented player? Joining the Amsterdam academy at age 14, Lang rose up the ranks there and became a record-breaker straight away – becoming the first player to score a hat-trick on their league debut for Ajax in over sixty years in their 5-2 win over FC Twente.  
But things quickly spiraled due to rising tensions between himself and Erik Ten Hag. During a Dutch Cup game against Telstar FC, in which Lang scored 25 minutes into proceedings, the young winger seemed to fall into dispute with Dusan Tadic at half-time and later was on the receiving end of a berating from his 51-year-old manager. Since moving to Brugge, the winger has taken responsibility for his actions, but still questions his treatment from ten Hag.  
"It is clear that things were not right between the trainer and me. Everyone loved me at Ajax, except for one person. Many people think I am a funny, cheerful little guy who can also play football well.  However, not everyone could do with that. The moment I indicated that a transfer would be better, I  was no longer in the trainer's plans. 
"I wanted to be loaned, but he was so angry that he wanted to sell me. Not the management, but the trainer got his way. No, I never spoke to him again and I don't want to. I felt so at home, but was driven to the exit. But my departure was certainly not only the fault of  Ajax. I have had my stupid moments, I did not behave well."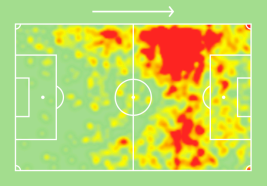 Photo: SofaScore
Along with the sea of red down that left side, Lang's positional heat map from last season proves his ability to drift along that front line and pick pockets of space to create opportunities for himself and his teammates. His versatility on either flank brings even more allure to his play – and for the Dutch  u21 side he's even employed in a more central position. 
In a side complemented by talents such as Justin Kluivert and Myron Boadu, two players willing to make runs in behind, Lang is able to pick the pockets of space in front of the penalty area to thread the passes through.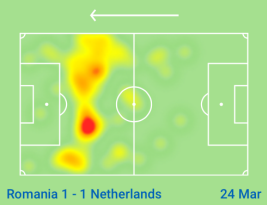 With the Belgian Pro League already up and running for the new season, Lang has been used again in a central position with the freedom to roam into wide positions – a tactic that is already paying dividends.
In the Brugge derby this week, Lang demonstrated this once again – getting the assist for his side's only goal and setting up another that was deemed fractionally offside after a consult with  VAR.  Here we have the build-up to the home side's goal with Lang the architect from the off. 
The Dutchman picks up the ball midway into the opposition's half with time on the ball he takes a  quick glance up plays it out wide. He jogs forward before catching scent of a potential opportunity.  One quick dart forward and a cry for the ball brings Lang deep into the penalty area, with options around him he has only a split second to take a look and execute the pass.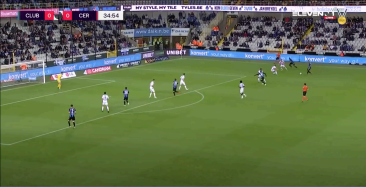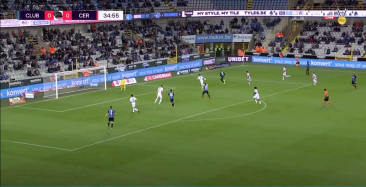 Lang provides a delicate ball back to Ruud Vormer, tricking the defence with a slight cut-back left  everyone wrong-footed – proving again that the 22-year-old is one of the finest young talents in not just Belgian football, but Europe as well.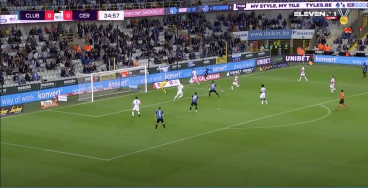 A goal created from absolutely nothing and one that is a credit to the hard work Lang has put into his trade. Elegant on the ball, Lang oozes confidence in possession and keeps calm when needed to pick out a  killer pass.
It's become known that Noa Lang would be available for a fee of around €25 million with a release clause said to have been included in his contract. Life under Marcelo Bielsa, or any Premier League manager for that matter, would be a step up from what he's used to but if he's able to put in the work then that price will look a steal in years to come.
By: James Cohen / @jamescohen1998
Featured Image: @GabFoligno / BSR Agency – Getty Images