Player Analysis: Youri Tielemans
Club philosophy has become a buzz term in modern football. It's been used to describe how clubs wish to play, brand themselves, and operate. In recent years, Leicester City have emerged as a historic club defying all odds in their magical 2015/16 Premier League campaign. Since then, they have done well in an attempt to establish themselves as regular competitors for the European competition spots. However, this came as a result of encapsulating the idea of a club philosophy.
In this sense, Leicester are an extremely well-operated club, often bringing in large profit by selling off established players to bigger clubs. Danny Drinkwater, Riyad Mahrez, Harry Maguire, and Ben Chilwell are all recent examples they have cashed in on. Nevertheless, their success lies in not their ability to upsell such players, but to effectively replace them simultaneously. Their recruiting department is one of the best in the world at identifying young talent, and the club themselves do an effective job in nurturing and developing this talent, preparing them for big money moves in the process.
Harvey Barnes, James Maddison, Çağlar Söyüncü, and perhaps most famously Jamie Vardy are all examples of Leicester's competency in this regard and have shown themselves capable of replacing elite talent with undervalued targets. However, in the summer of 2019/20, Leicester opted to make a permanent move of the loan deal with AS Monaco for Youri Tielemans, making their record transfer fee at $49.50 million.
Tielemans is a Belgian international, who from a young age started playing senior-level football for his hometown club of Anderlecht. In 2013, at just 16 years old he made his debut for the club and picked up numerous young players of the year awards. In the 2016/17 season, Tielemans won the league with Anderlecht, and that summer made a $28.82 million move to the reigning champions of the Ligue 1.
Unfortunately, in his first year in the principality, he struggled to adapt and truly make an impact, and in his second season at the club, Monaco were collapsing and decided to loan him out in the winter window of the 2018/19 season to Leicester. It's safe to say that since joining Leicester, Tielemans has refound his form and displayed what made him such a talented young prospect in the first place.
With Leicester having moved on from Claude Puel in February 2019 for Brendan Rodgers, Tielemans clearly had made a positive enough impact to seal his move over to the English club as there were promising signs under the new manager for the club. We'll be taking a further look into the talent of Tielemans and why Leicester felt he was worthy of their most expensive transfer. The analysis will overview his position and role in the team, display in-game video examples of his strengths, as well as an in-depth statistical analysis covering many facets.  
Team Setup and Positions
Leicester have undergone some change in their playing style in the past couple seasons, primarily after the switch from manager Claude Puel to Brendan Rodgers, Under Puel, Leicester City played more compact and defensive-oriented and focused on a counter-attacking presence to carry them offensively. However, Rodgers came in and immediately looked to sharpen Leicester's attack.
They've evolved into a team that is much more comfortable in possession than previously so and have also improved their ability to pressure opponents with more aggression. These were new additions to Leicester's style of play however, even with a more aggressive and expansive style of play, they remained strong in transition by forcing more mistakes of their opponents higher up the pitch, and defensively solid through structural changes and an effective press. 
Rodgers last season primarily utilized a 4-1-4-1 last season while occasionally using the 4-3-3 and 4-2-3-1 as well as various other formations. In the 4-1-4-1 Leicester looked to create with both their fullbacks in Ricardo and Chilwell, as well as their 8s, Maddison and Tielemans. Wilfred Ndidi remained as the defensive anchor which allowed Maddison and Tielemans to push further up in possession.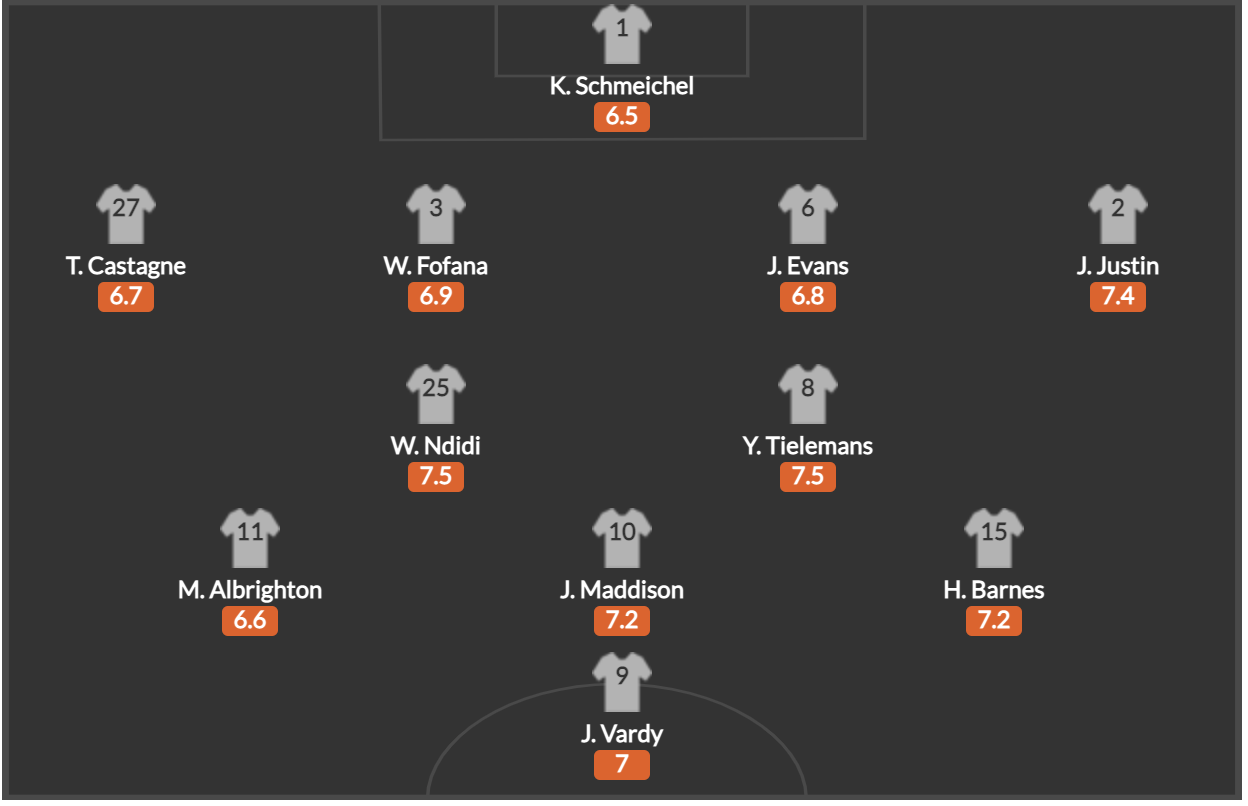 Photo: SofaScore
This way, Leicester was capable of stretching opposition defenses horizontally using the width provided by their fullbacks creating gaps for Maddison and Tielemans to exploit. In possession, they would often look to play Vardy through with threaded passes in the channels. In transition, however, their focus was speed, and as a result, Maddison and Tielemans were allowed to make forward runs to progress the attack and exploit the gaps left by the opposition defense.
So far this season, there have been slight variations to the way Rodgers has set up. He opted to line up in the 4-2-3-1 this season, with Tielemans now being pushed further back making a double pivot with Ndidi, while Maddison occupies the traditional #10 position. 
The midfield pivot players are heavily utilized to build from the back in possession and remain ready to win the ball back as well as provide support in transition. Ndidi remains as the defensive anchor while Tielemans is still allowed the freedom to progress more than his partner, however this season his contributions have generally come from deeper starting positions.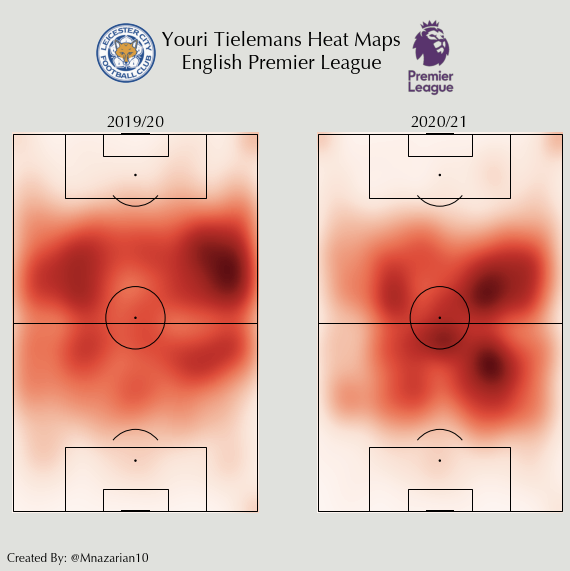 As we can see depicted in the heatmaps above, Tielemans actions were more regularly in higher positions on the pitch. Not only is there a new presence of actions in deeper areas, but also his width on both the left and right side seemed to be more limited this season due to his new role. As a result, this has obvious implications on the frequency and effectiveness of certain in-game actions, which we'll further evaluate later. 
When the ball is won off the opposition, Leicester looks to progress forward quickly, with many attackers making quick penetrating runs, Tielemans becomes the optimal focal point to provide the pass. With the tactical setup and his role in mind, we'll delve further into his skillset and profile as to why he suits Rodgers' plans and is effective in doing so.
Profile and Tendencies
Tielemans is a highly intelligent and technically gifted playmaker, with many nuances to his skillset which make his impact to be both exceptional and distinguished. Tielemans does many things which prototypically fit the mould of a top-class playmaker, so we'll look to examine granularly the different facets of his game that display the truly amazing talent he is and the depth of his quality later. 
Broadly speaking, Tielemans can influence the game in a number of ways. He's a player who looks to optimize space and possession but is skilled in progressing the ball in passing and dribbling if need be. His versatility and effectiveness are exemplified not by his quality on the ball or physically, but by his intelligence. His awareness and ability to stay composed in high-pressure situations allow him to execute his ideas consistently at a high level.
His vision and passing are skills that are obvious to note, and he's geared in vertical passing which makes him an asset in progressing the ball for his team as he constantly sees and exploits gaps in opposition defenses. He's not only skilled on the ball, but efficient. He's able to provide himself as an outlet in linking the defense to the attack through minimal touches and an effective plan of action with the ball.
Finally, he's exceptionally strong with both feet and his striking technique of the ball is not only key in his passing, but also in his ability to shoot from distance. As aforementioned, the how and why of the quality he possesses are filled with nuances we'll explore further during his in-game examples. Although his role this season is not as advanced as the previous, he's used in a variety of different phases and ways during Leicester's games.
In the team's build-up play, he's tasked with linking up play from defense to attack, as he's quite capable of retaining possession and evading opposition pressure through a combination of his skill and passing. He's become the focal point of the team from deep having the second most touches per 90 of any Leicester players over 1000 minutes at 76.5, and he's also the most commonly targeted player to pass to in the squad with 58.8 targets per 90.
On top of this, he constantly looks to progress the ball coming in a variety of ways. In build-up play, he has a tendency to switch the play to find teammates in space and evade the press, which he does 2.44 times per 90 leading his team. However, in transition, he looks to thread balls into channels either on the ground or in the air to exploit high lines and gaps in the defense. In attack, he's been more reserved in his ventures this season and has taken a deeper playmaking role, although he advances more than his partner Ndidi. 
Finally, in defense Tielemans offers ample support. With intelligent positioning, he looks to capitalize on the aggression of his partner Ndidi with recoveries and efficiency in his tackles. To further represent these themes of his game, we'll look to analyze not only moments that display his strengths as a player, but specific selections which highlight the level of detail in his ability to show the how and why of his effectiveness. 
In-game Analysis
We'll be looking at multiple examples of Tielemans' skill with a focus on one topic for each, while also touching on various other distinctions. Tielemans in defense is a great example of this. Both statistically and even in-game his contributions are difficult to quantify.
He's not a high-frequency ball winner or physically dominant presence, however, he does support well in holding the team's shape and is efficient in his tackling. His positional awareness guides him well in this regard, and often as a result of his attacking contributions, is effective in his recovery ability.
In this example, we see a common example of Tielemans supporting in defense. Ndidi acts as the traditional aggressor as the opposition look to progress in Leicester's half, and Tielemans remains on standby positioned not only to cover gaps in his line but also available to assist when the moment is right.
As Ndidi forces a heavy touch of the opponent, Tielemans opportunity presents itself, and he acts swiftly to win the ball. However, the truly unique aspect of this occurrence is a result of how he wins the ball back and what results of it. After he is able to secure possession, he's capable of quick evasion and immediately progresses the ball to jump-start Leicester in attack again.
Jump-starting the attack through effective progression is something integral to Tielemans' game. Usually, as a result of his first-rate passing ability, he's able to do this effectively, however, Tielemans is also quite capable of carrying the ball and dodging opposing pressure through a series of dribbles and passing combinations.
In this example we see Tielemans opt to carry the ball forward as means of progression. In doing so he attracts quite a bit of pressure, but does excellently to deal with it, so what is this down to? Firstly, he is quite clearly comfortable with the ball at his feet even in tight situations and he displays this composure.
He's able to react quickly and manipulate his body to create difficult angles for the opposition to win the ball back from, making him unique from brutishly strong or highly agile and quick dribblers. Additionally, he's aware of his surroundings and has an obvious ability to reorient himself in each moment. In the first instance, he uses a teammate to bypass the first line of pressure, and in the second he recognizes the swarm of opponents is likely to create space from the origin of the pressure. 
What's key here is not just his ability to execute, but to think quickly on his feet. At a moment's notice, he's already understood in which direction he should look to turn even before the pressure arrives. Consequently, he does well to find a teammate and then makes a run forward himself to continue the attack and exploit the disorganized defense.
Building on the idea of exploiting defensive lines, Tielemans is well versed in his ability to do so through threatening passes. Oftentimes when he has the ball, he constantly looks ahead and is very effective in picking out channels to shape his passes through.
However, recognizing the pass to be played is only one piece of the puzzle. The other aspect of Tielemans' ability to be so threatening in his aspect is his precision; His ability to consistently put weight on his balls and accurately place passes in stride to his teammates which will be on display in more than one example.
In this example, notice quite a few different moving pieces which result in the pass Tielemans makes, the first aspect being his scan. Tielemans constantly scans ahead of him to analyze the best plan of action. In this case he's able to recognize a chance to play Vardy behind the high Watford line. However, he remains patient due to Vardy's offside position and waits for him to return onside.
Afterwards, he recognizes the Watford defender looking to cover the lane Tielemans was looking originally to pass through as a result of limited pressure on Tielemans and notices the gap the defender left behind. He exploits this and threads a ball through space perfectly in stride for Vardy to finish the chance. Although Tielemans' vision is at times so superb, that's it's even ahead of his teammates' reactions and can even trigger runs.
In the previous example, we see Vardy looking for a pass from Tielemans from the start, looking to get in behind. However, in this example, we'll see Tielemans capable of forcing runs out of his teammate because of not just how well he can pass, but because of how his scanning and vision allows him to facilitate quick and intelligent passes.
Here we see Tielemans classic look ahead as he is receiving the ball. He takes the time to see what's in front of him in order to decipher his next action before he even receives the ball. Once he does receive it, he turns his body and shapes immediately for a pass as he's noted a gap, he feels he can exploit. As a result of his quick thinking,
Maddison begins making the run just as Tielemans is passing the ball. He does well to turn into the lane and receive the ball, although the pass by Tielemans was once again excellent in placement and weight even over the distance he passed it. As we've seen, Tielemans is an absolute menace to face with his penetrative passing from deep. Unfortunately for opposing defenses, that is not the only deep threat he poses.
As previously mentioned, Tielemans' ability in passing has to do with his quality striking technique and this also makes him a threat from deep when given space around the opposition box to shoot. In addition to this, he's also very comfortable and capable of shooting with his weaker foot making him significantly more difficult to predict and defend as we'll see.
This example is unable to really highlight much more than just the sheer class Tielemans has as a player. The focal point of this should be that in conjunction with all other traits Tielemans has in technical ability and intelligence, he can still pose a threat to opposing teams in many different ways. As a result, one can imagine how much of an asset Tielemans is for any team, as he is capable of supporting or providing for the team in a multitude of ways.
For this reason, we are just now beginning to understand the depths of Tielemans quality and as a result, his effectiveness as a player. The more layers of his game we peel back, the more we recognize how they flow into one another. It's one thing to be able to do all these different things Tielemans is capable of, but it's another thing to leverage them in order to deceive his opponents.
We've briefly touched on it in the earlier section of the article, but Tielemans' ability to manipulate players as a result of his body shape is a highly nuanced and effective trait of his. Very unique to him, Tielemans is able to seemingly commit to one action, yet elegantly reorient himself and execute another action.
Much of this is helped by his first touch in which he's able to turn and set himself immediately or other times feint in the direction of the pass and cut back the other way. In this example, Tielemans shapes his body to shoot as a means of shifting the defender's shape further to the right side of the field, effectively creating more space for his teammates on his left.
Once the opposition commits, he's able to fake this motion and turn back in the direction of his support to play the ball off to. Tielemans was likely capable of shooting in this situation, however, his game heavily revolves around providing high-quality opportunities for his team. Furthermore, this decision-making aligns with his style of play, creating the best opportunities, even if they are not always the most direct.
Now we reach our final example which encompasses many of the various skills we've previously highlighted that truly represent Tielemans' game and his effectiveness as a player. The area in which he receives the ball, his scanning and vision, his touch upon receiving, his precise passing, and his ability to deceive the opponent are all on display for this example.
Tielemans once again scans the field prior to receiving the ball and upon reception drops his shoulder cuts back with his touch for an angle to pass. During the pass, he shapes and looks to pick out Ricardo Pereira, but truly intends to play Iheanacho in behind. He cuts his pass angle to be narrower and perfectly threads and weights this pass to Iheanacho, all while deceiving the Brighton defender. 
This is where the how and why of Youri Tielemans' skill lies. His technical skill and intelligence are no question, and plenty of other top players may possess such abilities as well. However, he's capable of leveraging a combination of his abilities in a number of dynamic situations to consistently produce at a high level, which is something only the most notable players are capable of doing.
Statistical Breakdown and Visuals
Naturally, a notable player is one that is capable of producing high level output on a consistent basis, however, much of this also comes down to system and team. Many aspects of Tielemans' talent which was overviewed above can't be represented in numbers, but we'll look to highlight where he does stand out.
Much of this comparison will also include his metrics from the previous year for the purpose of better representing his change in role this season in the Leicester team, so we'll see where he stands out numerically. In addition to this, we'll look at his plotted in-game actions of his across different areas of his game to get a better sense of the significance of his actions.
Beginning with the biggest difference in certain metrics year over year, we'll analyze the categories in which Tielemans' stats have either risen or fallen as a result of his change in role. Starting with the first couple categories from the top and moving clockwise, we see his shots on target percentage, and shots per 90 stats differ year over year.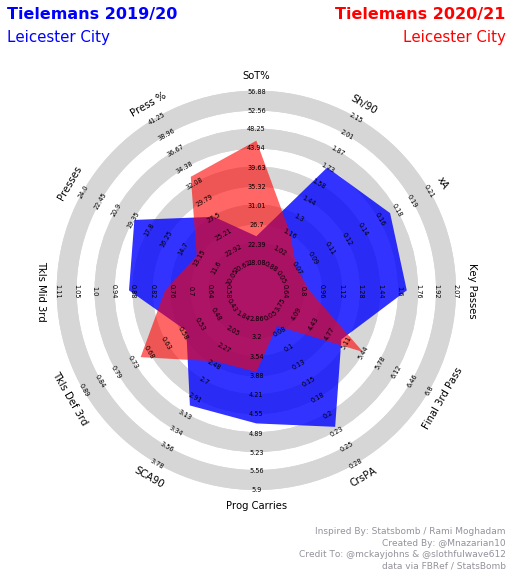 What's particularly interesting is his shot volume has decreased by about 0.5 shots per 90, while his percent on target has significantly improved. This is likely representative that Tielemans is less frequently moving into advanced positions to take shots. However, this season he has looked to focus on higher-quality opportunities that test the keeper more whether that be better openings from distance.
The next few categories from xA to SCA per 90 highlight an array of his chance creation and progression metrics. Many of these metrics have decreased year over year except for his passes into the final third. Most of these metrics are actions revolved either directly or close to the opponents' box, which we've seen Tielemans have less involvement with this season compared to last.
His passing into the final third being the only stat to improve also checks out in this regard as his role as a deeper playmaker is more prominent, and he most commonly plays passes from the mid into these zones. Finally, moving into a review of a few defensive metrics are indicative of not only his frequency of actions, but efficiency.
Firstly, we see that Tielemans is obviously contributing defensively to deeper positions more regularly, as his zone of tackles between the defensive third and midfield third have flipped year over year in frequency. Next, we notice a similar trend in his pressing figures as we did in his shooting. Last season, likely as a result of being further up the pitch, Tielemans was tasked with being more aggressive in winning the ball back and pressing more often.
However, this season, he presses about 6 times less per 90 but has seen almost a 7% increase in his success rate. Obviously, in deeper positions, Tielemans is more likely to win the ball back than in higher areas of the pitch. However, it's likely that in addition to this, being paired with Wilfred Ndidi who is an astute defensive aggressor, Tielemans has likely benefited from working alongside him as we saw in an example earlier.
Moving onto his standout stats for this season, Tielemans stats revolve around the top 15 when compared to his peers in the premier league of over 1000 mins. This comparison was conducted only using players who operate as primarily midfielders according to FBref.com, but did not include those who also play as forwards, such as a player like Kai Havertz. After discussing the overview stats for each metric, we'll inspect the details of each metric category using visualizations of Tielemans' in-game actions of the season so far.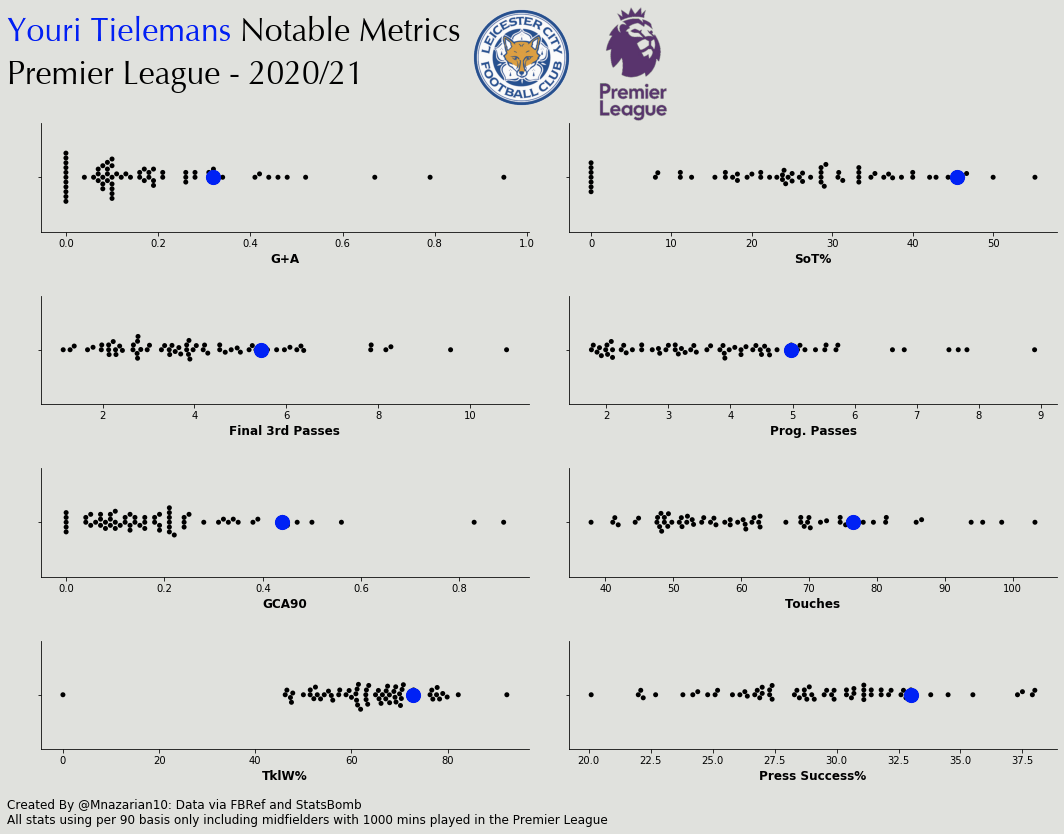 Shooting
Looking holistically, we can identify Tielemans has a few areas in which he really stands out and others where he still remains as a top producer in the given metric but is not necessarily one of the best in the league. His combined goal and assist contributions to highlight this theme, as he's 12th among midfielders with about 0.32 per 90.
However, as we noted before for his SoT%, we see he is among the top midfielders in the league in 4th place with 45.5%, highlighting his consistent accuracy as a shooter. We've seen Tielemans is a lethal shooter and capable from distance on both feet, but where exactly do most of his shots come from? The graphic below can help visualize and answer these questions a bit better for us.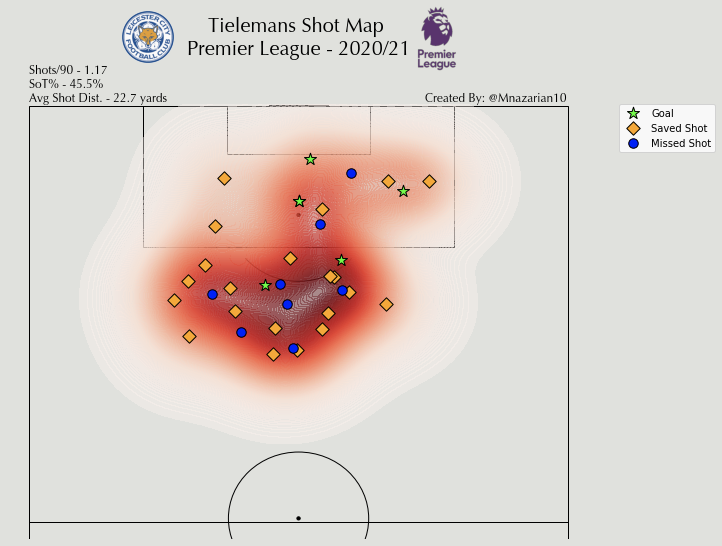 We see from the heat map that the large majority of his shots come from outside the box with a distribution of his goals being almost split even between shots inside and outside the box. Many of these shots, particularly outside the box, are evenly spread, and 9 of his 34 shots were on his weaker foot. Additionally, what's important to note is that the majority of his shots are forced saves rather than missed shots, if not resulting in goals.
This along with his SoT% represent the lethal ability that Tielemans has to test keepers. Alongside an average shot distance of 22.7 yards, this better explains the video examples above of why he's so capable of deceiving opposition defenders, as they're aware of Tielemans as a threat from distance and he takes advantage of this knowledge, making it unpredictable when defending against him.
Passing
Moving onto his passing and chance creation metrics, we see a reflection of Tielemans role in his squad and output as a result of this. For passes into the final third, he's 13th with 5.44 per 90, and his progressive passes per 90 are 4.98 sitting at 14th in the league. Additionally, his goal creating actions per 90 total 0.42 at 7th place and analyzing the makeup of this metric more granularly, shows us that 0.35 of his 0.42 GCA90 is made up of live passes.
This further represents his dynamic playmaking ability in the game as goal-creating actions encompass the two offensive actions leading to a goal which include dribbling, passing, or drawing fouls. In the live passing category of this makeup, Tielemans is 4th in the league, emphasizing that his chance creation is largely based on the quality passes he's able to execute in-game. 
Furthermore, Tielemans passing stats relative to the Leicester squad as a whole are all the more impressive. He's first for pass attempts amongst all teammates and he also leads all midfielders of Leicester in total and progressive passing distance per 90. This is likely due to the fact that he often switches the ball and attempts long passes.
Tielemans is in 3rd for attempts per 90 with 14.2 attempts, behind Kasper Schmeichel and only 0.2 off of Jonny Evans, their goalkeeper and central defender respectively. Finally, Tielemans is also a player who regularly wants possession of the ball and makes himself available in the build-up. He's 11th in the league for touches and 3rd in his squad, with 75.4 per 90.
We've covered the fact that Tielemans often switches the ball, but in what areas does he like to play switches from, where does he end up switching the ball to usually, and how successful is he in this regard?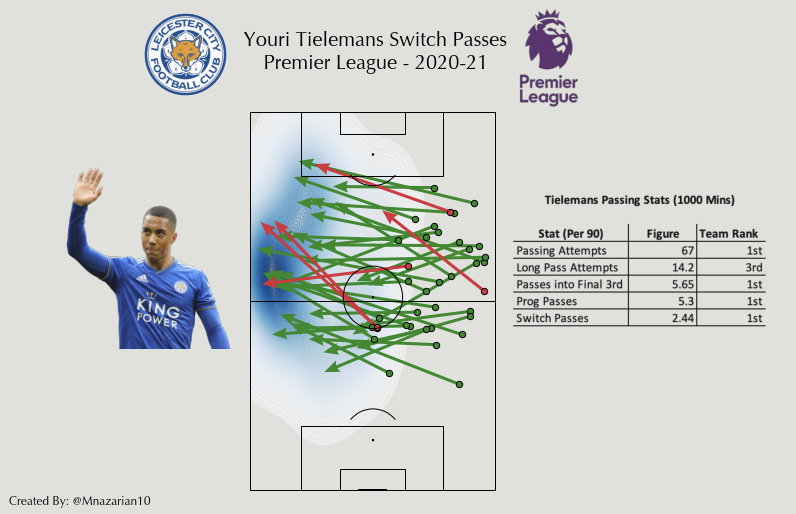 Here we see firstly that Tielemans is quite successful in his switch attempts. Often, his switches seem to be directly lateral or forward with a few exceptions. In addition to this, many of these passes begin in the midfield third of the pitch from the right side and end just after half on the left flank. This tendency of his benefits his team in possession by picking out a teammate in space to further progress the attack, and as a result further boosts his figures as seen in the table of the graphic.
It's clear Tielemans is a top playmaker not just in midfield, but for the entire Leicester team, capable of adding value and progression in the build-up in addition to goals and assists. Although goals and assists are often the focal measures of team contribution, this can often overlook much of the work and credit a player such as Tielemans may deserve for setting players up to assist or plays that result in a goal. 
Therefore, we'll look at Tielemans' most common clusters of passes throughout the season which add a threat to Leicester's attack. What does this mean? Essentially, we'll use a model called Expected Threat (xT) made by Karun Singh (@karun1710) which measures any given passes' added probability to result in a goal within the next 5 actions.
Without going into too much detail, the model divides the field into multiple bins, with each bin calculating this probability based on historical data. Therefore, areas of the pitch furthest from the goal have the lowest probability of a goal occurring, while areas close to the goal have much higher probabilities. As a result, the value of any given passes' xT, can be calculated by the xT value in the end position of the pass, subtracted by the xT value of the starting position of the pass (Net xT = Final xT value – Initial xT value).
An example of a pass with high xT would be one that has a starting position in midfield and is completed to a teammate in the opposition box. This is because the xT value and likelihood of scoring from midfield is much lower than it is from inside the box, therefore moving the ball from a worse scoring position to a better one with a pass will result in a high net xT value. Below, we can see Tielemans' most common examples of these value-added passes.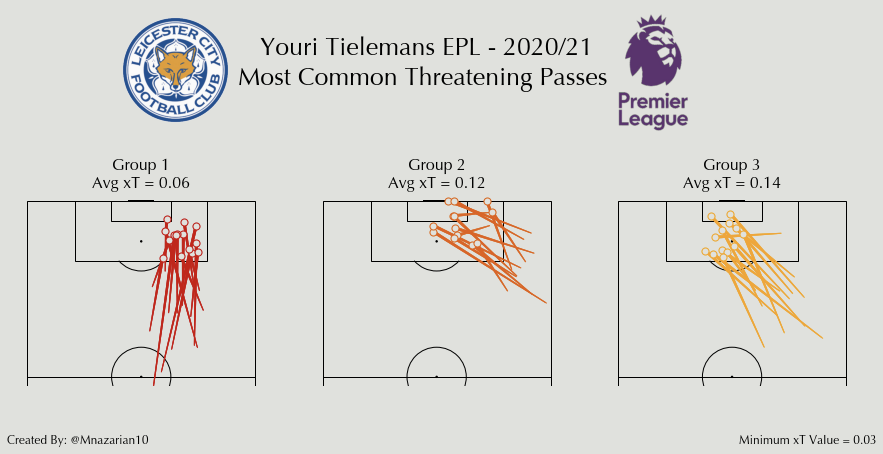 Here we see his 3 most frequent clusters of passes that have a minimum net xT value of 0.03, with group 1 being the most common of the 3 and group 3 being the least. Additionally, we also see the average xT value of each of these clusters, and reasonably so, we see that the lesser frequent clusters actually produce more xT on average than the more common ones, as it is naturally easier to produce passes with lower xT values than higher xT passes. 
In group 1, we notice Tielemans most frequent cluster shows passes from deep, just after midfield reaching to areas on the edge of the box or deep on the right. Many of the passes are represented by his threaded balls on the ground or passes over the top of the opposition to find teammates making runs in behind.
In the next cluster, we see these originating from wider positions on the right flank and ending deeper inside the box as well as in central areas. These are his crosses into the box from when pushed out wide looking to service teammates for chances on goal. Finally, we see his most threatening cluster of the passes in group 3, with most of these passes originating from the deep right half-space.
These are his most threatening group of passes, as they take the ball from a wider deeper position and end in a central location directly in front of goal, which is less commonly seen with the other clusters. With these clusters, we can gain a more detailed insight into the themes of Tielemans' play which we already knew. Here we objectively see where exactly he most often adds value in attack with his passing, as well as what kind of passes he plays.  
Defending
Finally, looking into his defensive efficiency, we see Tielemans' metrics in areas of tackle success rate and pressing success rate both stand out amongst the league midfielders. His tackle win rate is 72.83% ranking 12th in the league, while his press success rate is 33%, ranking 8th. These figures have both improved year over year for Tielemans, likely to do with his deeper positioning this season and playing alongside Wilfred Ndidi who acts as the anchor in the partnership providing cover.
However defensive metrics often don't tell the full story of what types of duels and in which areas players most often thrive. Additionally, numbers themselves can deceive at times as they can overvalue teams who lack possession, and therefore players of those teams commit more defensive actions. Therefore, similar as to what we saw in his passing analysis, we'll look at where Tielemans is most frequently successful in his defensive duels and what kind of duels each cluster is composed of.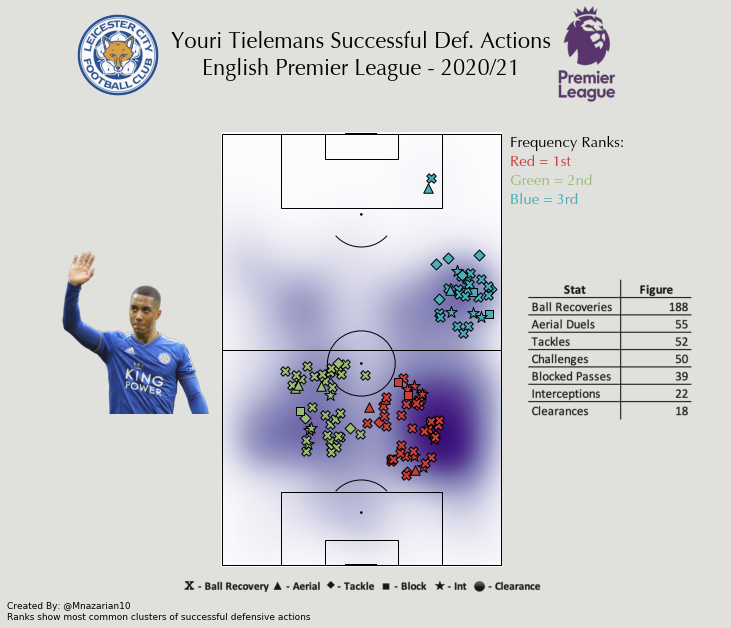 As we can see above, Tielemans' most frequent defensive action occurs in midfield in Leicester's half as further displayed from the heat map. We see that the overwhelming majority of his action are ball recoveries, while aerial duels and tackles lag behind.
Although all his clusters mostly consist of recoveries, he does exhibit quite a few interceptions and tackles in his most advanced area of defensive action where he is assisting his team's press and cutting passing lanes or looking to challenge opponents aggressively to win the ball.
With clusters 1 and 2 we see most of Tielemans actions come in deeper and more central positions as expected. However, in the higher areas of the pitch we see a more diverse composition of his defensive actions and the heat map shows these tend to be in the wider areas of the pitch as well, representing attempts of ball-sided overloads in Leicester's pressing patterns.
Conclusion
With all this in mind, there's no doubt Youri Tielemans is a superbly talented player who truly improves the quality of this Leicester side. With the excellence of Leicester's scouting department, they were quickly able to recognize his ability. Even after a generally poor run at AS Monaco and managerial changes at Leicester themselves, just after a January loan, the club were confident enough from what they saw to make Tielemans their record transfer. 
This season has seen his role slightly change from what we've seen from him before, but it's complemented Leicester. As they look to become a more possession dominant side, Tielemans has proven to be an excellent outlet in build-up, assured on the ball and capable of progressing play very well. Generally speaking, his high-level technique, intelligence, and versatility make him an asset to any team.
However, we've seen his game is much deeper when recognizes the how and why he is actually effective and what makes him special. Much of this is derived from the unique traits of deception and skills with both feet which he leverages in combination in order to manipulate space for him to execute his often-perfect passes. 
Tielemans' ability and contribution are undoubted, evident in Leicester being a favorite to finish in the Top 4 (per Sports Betting Dime), and at the age of 23, he's lived up to all expectations the Foxes could've asked for as a result of his transfer. However, with consistency in his performances over the next season or more, it's only a matter of time before he attracts suitors from even bigger European competitors.
Leicester have made a habit of developing and selling talents for large profit margins, as well as only selling one key player per summer; 2016: N'Golo Kanté, 2017: Danny Drinkwater, 2018: Riyad Mahrez, 2019: Harry Maguire, 2020: Ben Chilwell. Tielemans, having started 9 of Belgium's last 10 matches, will be looking to drive up his value even more with a breakthrough campaign for the Red Devils in this summer's European Championships.
His contract currently expires in 2023, and while it seems likely that the 23-year-old midfielder will remain put at the King Power Stadium — especially if the Foxes seal top four — he could be tempted to seek a higher wage at a bigger club. Seven years after bursting onto the scene for Anderlecht, Tielemans has rid himself of the "promising youngster" tag and established himself as one of the most dynamic midfielders in the Premier League.
By: Michael Nazarian
Featured Image: @GabFoligno / Plumb Images – Getty Images