Player Analysis: Pedro 'Pote' Gonçalves
History is unfolding in Portugal. Sporting Clube de Portugal are on track to seal their first league title in 19 years and put an end to Benfica and Porto's duopoly. Whilst the Leões came close to winning the Primeira in 2015/16 under the management of Jorge Jesus, they fell two points short as Rui Vitória's Benfica clinched their third consecutive championship.
Since then, things started to get worse. The team wasn't playing well and the fans were unhappy. In 2018, a group of ultras invaded the academy and attacked the players. In 2018, Frederico Varandas was elected president, but things didn´t get much easier. There still was a lot of contestation against the board and also against the team.
The club even won a couple of cups (1 Portuguese Cup and 1 League Cup) but it would be Rúben Amorim appointment that would make things better. The ex-Portuguese international took the 1st team manager role in 2020, with Sporting paying €10 million to Braga. 
This year, things are going really well. Sporting are 1st with a 9-point advantage (before gameweek 22 was played) and, although Rúben still doesn´t admit they´re in a good position to win the league, the media and the fans are predicting that the 19 years drought will end soon. Many players are performing in a really good level and showing themselves to the football world. One of those players is Pedro Gonçalves, also known as Pote. 
The young Portuguese player is a Chaves and Braga academy product. In 2015, Pote moved from the "Bracarenses" to Valencia, and in 2018 from Spain to Wolves. In 2019, Famalicão was promoted. They had a squad full of youngsters with a promising manager aswell. They entered the 19/20 season full of expectations, which were confirmed. The club finished 6th, missing out on Europe for just one point and in the last day of the season.
Pedro Gonçalves, on his first proper senior experience, was one of the breakout players, he scored 5 goals, assisted 7 and was one of the best youngsters of the season. Sporting play a 3-4-3, and Pote plays as an inside forward, mainly operating between lines and in the half-spaces/inner channel. He usually pairs up with either Pedro Porro on the right or Nuno Mendes on the left.
Pote, who stands at 1,73m, which equals to 5´8", doesn´t distinguish himself for his physical nor for his technical attributes, even though he is technically really good. He mainly stands out for his intelligence with and without the ball. Before moving into specific game situations to analyze Pote´s game, let´s have a look into his stats.
With 15 goals in 20 league appearances, the 22-year-old currently sits atop the Liga NOS scoring charts ahead of Sérgio Oliveira, Mehdi Taremi, and Haris Seferović, and he has also provided three assists as well. At this rate, he could follow in the footsteps of Nemanja Matić, Enzo Pérez, Jonas, Pizzi, Bruno Fernandes and Jesús Corona, and win the LPFP Primeira Liga Player of the Year.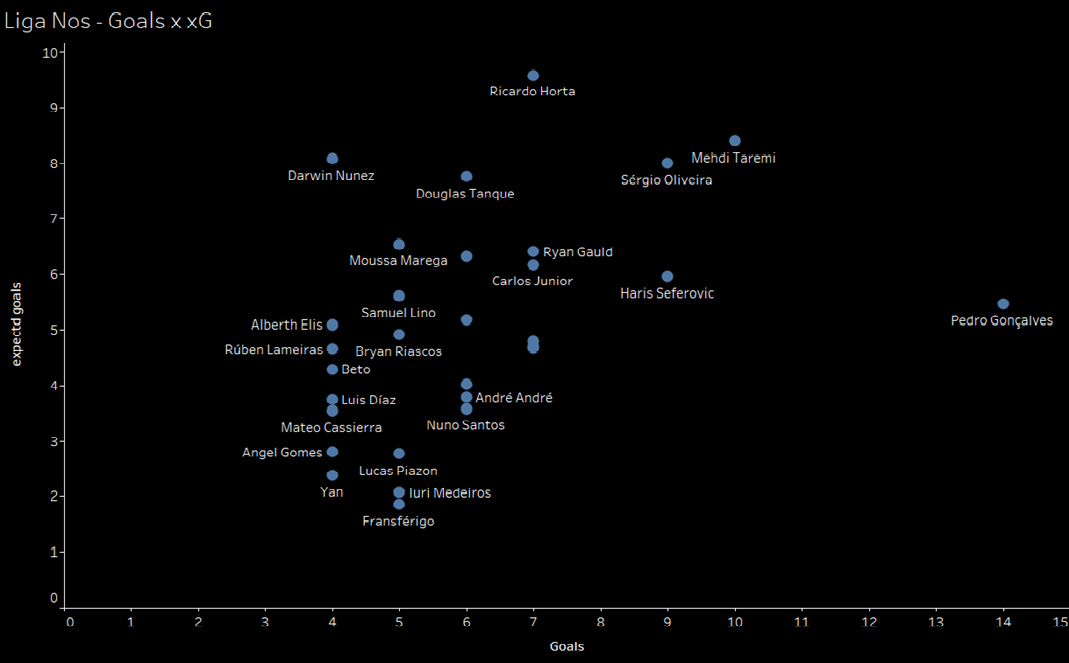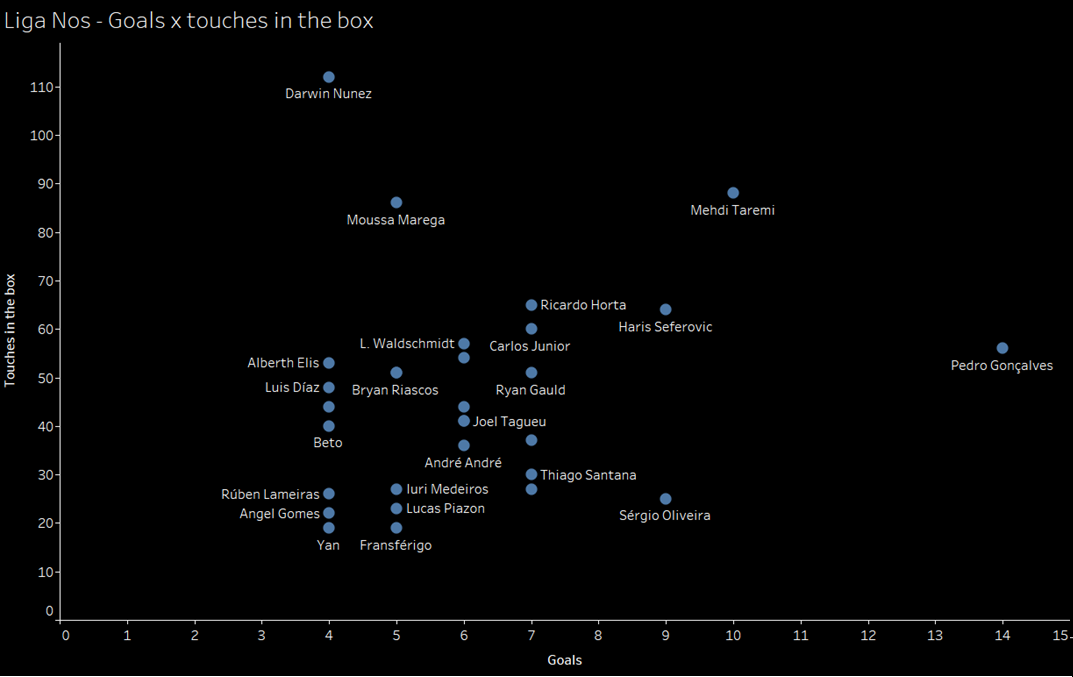 Photo: Wyscout (data up to Gameweek 22)
These two graphics show exactly that. He is the leader in terms of goals (14 before gw 22, at the moment 15) but then he has few xG numbers and touches in the box as well. This can either be translated to bad attacking movement or into good finishing. 
Well, if we take into account that Sporting sits 4th in the league in terms of expected goals with 32,89, more than 10xG away from 1st place and sit 4th, as well, in terms of touches in the box, Pote's numbers seem more normal. Pote is one of the best creators of goalscoring opportunities in the Primeira, often operating behind the striker and creating space and opportunities for others to appear and get into shooting positions, which makes those numbers even more understandable.
From that, we can conclude that Pote has a really good shooting, he is really efficient in the area, and that he is a poacher, appearing in the area few times, and scoring loads, considering he has no penalties attempted nor scored and just 4 of his 15 goals were from outside of the box, which, of course, means he has scored eleven times inside of the box. Now, let's dive into his ability to create goalscoring opportunities.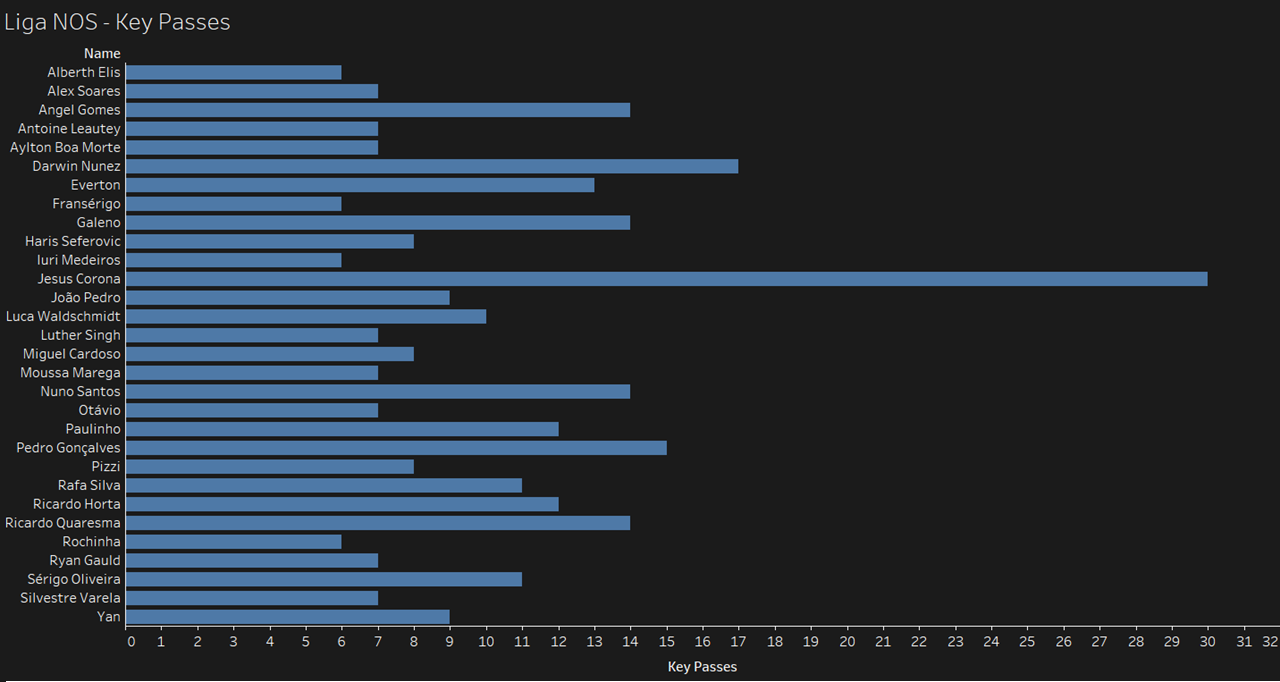 In his graphic, which only applies for midfielders and forwards (defenders were excluded) we can clearly see his ability to create chances for his teammates. He sits third in terms of key passes, just behind Jesús Corona and Darwin Núñez. Now that we already have a little sample of his stats, let´s look at specific game situations:
Shooting/Attacking Movement 
Data showed us that he overperforms xG by quite a bit and that he needs few touches on the box to score, which means that he has a good shooting ability. He also has good attacking positioning, knowing perfectly when and where he should be to score, and he also times his runs really well. So, now there are four different situations (3 of them resulted in a goal) in which we can see different actions and scenarios, that exemplify what I've just said.
On Friday, Sporting played Santa Clara at home, and the match ended up in a 2-1 win to the current league leader. Sebastián Coates scored the winner in injury time. 4 games after his last goal, Pedro Gonçalves scored again against the Azorean club, in what would be his 15th goal of the season.
Apart from that, he didn't do much the rest of the game but Sporting had a tough game, not performing as well as they know. Below there is a video in which we can truly see his excellent spatial awareness. He sees the space and occupies it perfectly. The pass is played, he turns and shoots across goal.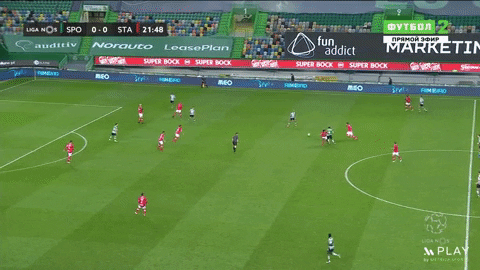 It was a fantastic goal that helps us understand why he overperforms his xG by such a big margin; a half-chance is more than enough for him to score. Whilst Rui Costa equalized for Santa Clara in the 84th minute, Coates scored the winner for Sporting in the final minute to steal the three points at the Estádio José Alvalade.
We can get another example of Pote's excellent positional awareness on November 28, as he perfectly knows where his teammates and opponents are. After Luís Neto allowed Moreirense to take the lead early on with an own goal, Pote scored his second goal of the match to lead Sporting to victory, beating Mateus Pasinato from outside the box.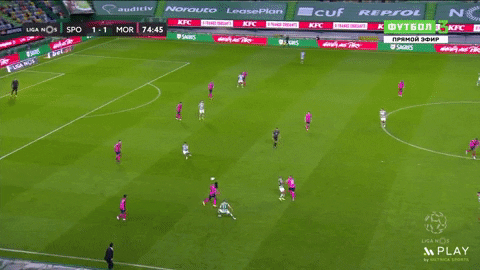 After Neto put Moreirense ahead, Sporting quickly launch a counterattack, with Nuno Mendes playing a quick pass to Nuno Santos. Pote maintains excellent positional awareness to remain onside, before latching onto Santos' cross and forcing the equalizer. While it is true that Pasinato made an error, he shows a fantastic ability to attack the backline and make perfect contact with the cross.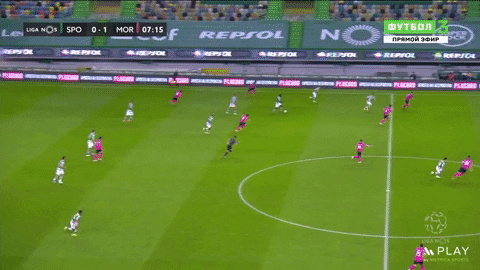 Prior to scoring the go-ahead goal, Pote comes close to adding the second goal from long-range. Nuno Santos and João Mário win the ball from Matheus Silva, knocking it to the path of Pote. The Portuguese winger dribbles forward before launching a shot from outside the box, but his shot ricochets off the top post and Steven Vitória clears it for a corner kick.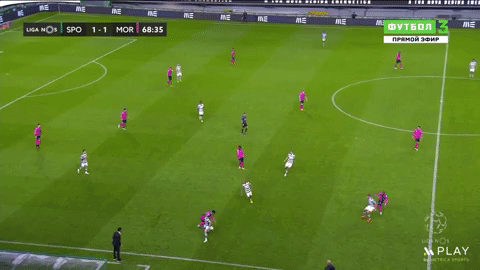 Spatial Awareness and First Touch
As I said earlier, apart from scoring goals, which I have already analyzed, he also creates a lot for his team-mates. This mainly results from his ability to get into free spaces and receiving in between lines.
Although this might seem normal as he plays in a position that specifically requires him to be in those areas when watching him play we can notice that he is constantly looking to receive the ball between lines. To complement this ability, Pote has a good first touch, which allows him to have more options and passing lanes. Below, there are three videos that perfectly exemplify what I´ve just said.
Here, Pote scans the field and offers Porro a passing lane. Pedro has a good body shape, which allows him to receive and quickly turn around to face the opposition, sends a through ball which unfortunately doesn't have the perfect weight, which is something I'll address later.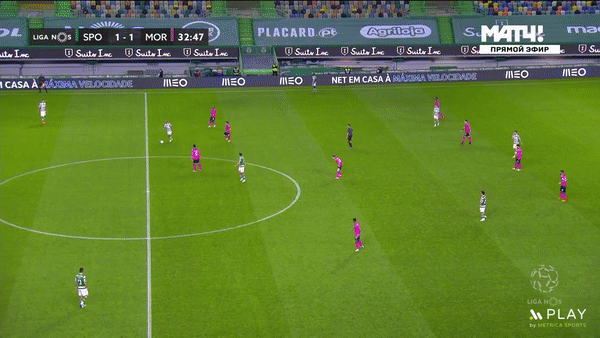 We can see a similar case below, as Pote receives a pass from Coates, offering a passing lane for the Uruguayan defender, utilizing his impressive first touch to turn and find João Mário in space.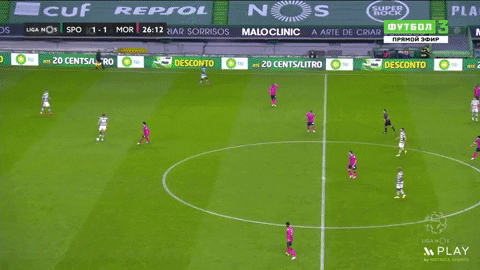 On this occasion, Pote drifts out to the left flank to allow Nuno Mendes and João Mário to form a passing triangle and evade pressure from Moreirense's Alex Soares, before receiving the ball and playing it back to Luís Neto.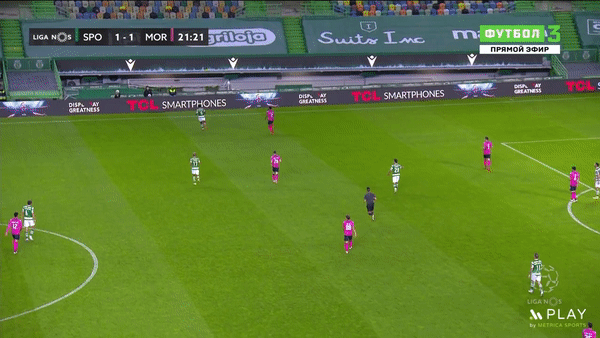 Final Ball
To complement his ability to receive the ball in between lines, he also has a good final ball. As shown above, he sits 3rd in key passes, and when he doesn´t score he still is involved in his team goals. Pote is really direct, constantly looking to move the ball forward and always looking for options to play a through or final pass.
Below, there are some examples of what I've just described, which truly shows his good final ball ability but also his capacity to play between lines and his good first touch, which I've already talked about.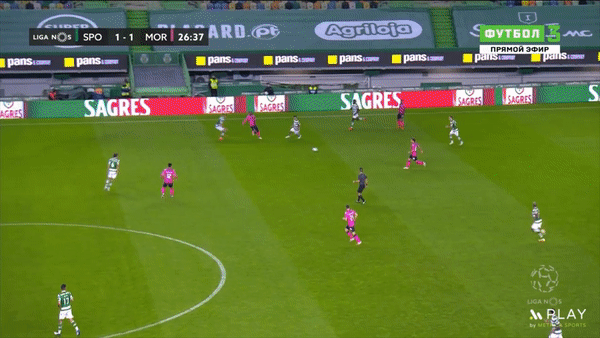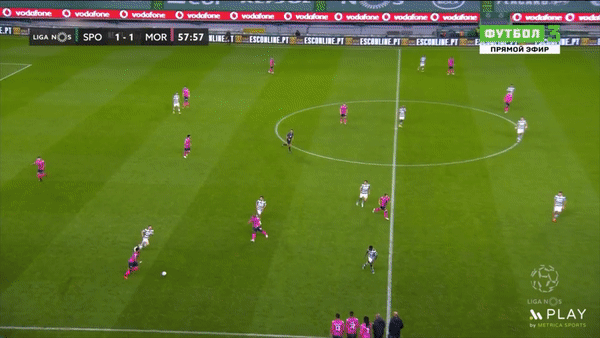 Although he is fairly decent in this area, this is one of the areas he can improve. Throughout the matches, he has opportunities to receive, turn and then decide lots of time, however, he often misplaces the passes. Normally this isn't due to direction nor to wrong timing, but due to extra power or due to the lack of it. He still is really young and has a lot of room to improve, so I believe that with time and experience, he will be better at this area and be even more dangerous when facing towards opposition defensive line.
Now that specific game scenarios analysis has been finished, let´s have a look into what areas he still needs to improve.
Weight of Pass
I highlighted his final ball ability but I also said that he often misplaces passes. This is one of the areas where he already is good but still can improve. Still, this is pretty normal considering his age and that those final balls and through balls are risky and hard to execute.
Body Shape
This applies to offensive scenarios but especially when defending, specifically pressing. While his team his attacking he is always searching for the space between lines and normally has a good first touch. Although I highlighted scenarios where he had a good body shape, often this doesn't happen and sometimes prejudices his actions, making it harder for him to receive, turn and then decide.
When defending and pressing, his body shape is also not the correct one, as seen in the video below: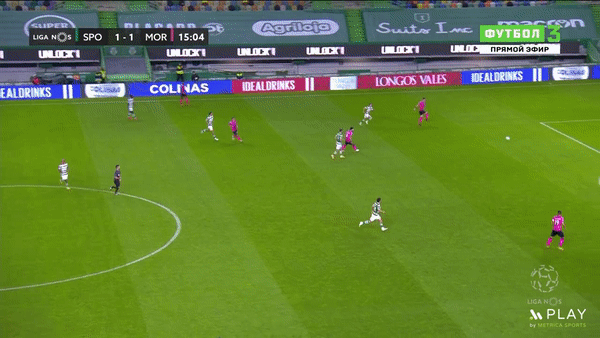 Range of Passing
Pote is really good in advanced areas and also in tight spaces. However, if he could improve mostly his passing range, he could be even better, adding another quality to himself. 
Pressing
I already touched this point above, but apart from his body shape, he also struggles to be coordinated with his team-mates, especially with the other front three members. This is an area where he can easily improve with age, experience, and, of course, training.
Above I showed Pote's wrong body shape when pressing and here I show how he still has to improve in this area. He reacts to a movement which he shouldn´t react as the passing lane in the midfield was well covered.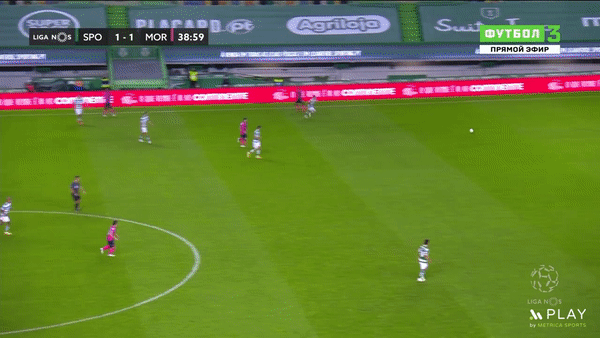 Consistency
Although Pote is a good player and has many qualities, he often "disappears" from matches for quite a long period of time. He then compensates it with important actions but it is an area where he can improve. This season, he had a small run of games where he wasn't performing as well as he knows, but maybe his superb start did set the standards too high. This is not a big deal considering it happens just a few times and taking into account his age, it is something completely normal.
Personality
Now, I'll dive a little bit into his personality. From what we can see and notice, Pote has a good and strong mentality. Focused and tenacious, always looking to do better and really competitive. In-game-wise, he is, again, really competitive, fighting a lot and also arguing a lot, with opposition and also referees. Pote plays for the team, with and without the ball, putting his club ahead of himself which is really important. 
Conclusion
To summarize, Pedro Gonçalves, as I mentioned, has a lot of qualities and is already a really good player. He mainly stands out for his intelligence, eg. vision, space awareness, and attacking movement, but also has good shooting, passing, dribbling, and 1st touch technique.
Pote has been one of the most crucial players for Sporting this season, and while he may not be able to beat out the likes of Diogo Jota and Bernardo Silva for a Euros roster spot, he will certainly be involved in this summer's U-21 Euros and could manage to win a squad place for next year's FIFA World Cup. He has done a phenomenal job replacing Bruno Fernandes as Sporting's talisman, but rather than pursue a big move to a top 5 league, he should remain in Lisbon for another season.
It hasn't been a straightforward climb to the top for Pote, who, after spells at Braga, Valencia, Wolverhampton Wanderers, made his first impact at the senior level with newly promoted Famalicão last season, and is now finally establishing himself as one of Portugal's top prospects with Sporting. It is no coincidence that, merely months after narrowly missing out on a Europa League spot, Famalicão find themselves in the relegation zone, whilst Sporting find themselves headed for their first league title since 2002.
By: Pedro Carvalho
Featured Image: @GabFoligno / Octavio Passos – Getty Images