Player Analysis: Rafa Silva
Rafael Alexandre Fernandes Ferreira da Silva, more commonly known as "Rafa" in the football world, is continuing his great run of form at Benfica for the fourth consecutive season of what is year 6 of his contract at the club. Now at age 28, he seems to have nearly perfected his game.
With 22 games played, Rafa has tallied 9 goals and 5 assists but his impact on the team goes far beyond his ability to get on the scoresheet. Rafa is, according to Goalpoint, the league leader in 'Liga BWIN' at successfully attempting high value attacking passes (passes ofensivos valiosos), dribble attempts, and successful dribbles, at the time of this article being written.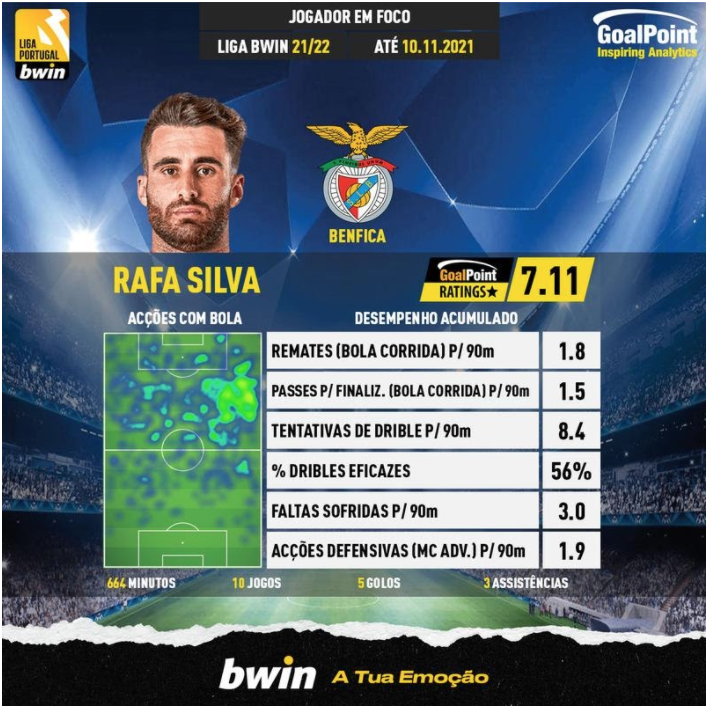 Goalpoint also has Rafa as the league's MVP for now and whether you are team Rafa (like me) or team Luís Diaz/Pote there's just simply no way to deny the impact the star winger has had on Benfica's team this year. I delved deeper into Rafa's Champions League stats for this season, and I didn't find anything worthy of a mention besides a few defensive statistics. 
Rafa has 4/8 successful tackles and won back possession 14 times, unfortunately, I couldn't find a way to compare these stats automatically using UEFA's website, but I wanted to compare him with Bruno Fernandes and Bernardo Silva; Rafa leads the winning back possession stat (albeit by just 1) and only trails Bruno Fernandes that has 2 more successful tackles in 11 attempts. 
It's worth noting that Rafa has more minutes than both, but I just wanted to illustrate the point that even if he isn't contributing on offense, he's always able to help out the defense even comparing him with two of the best Portuguese players at the moment (while one of is an actual midfielder).
Drifting away from statistics this is also something that a simple viewer can understand by just watching the game as Rafa is, alongside Nemanja Radonjic to an extent, the only Benfica player that is not only capable of firing head-on against the defense but also dribble past them and create goal-scoring opportunities, to put it quite simply, if Rafa is on then Benfica is on if he isn't then the whole team's offensive abilities collapse. 
Of course, Nicolás Otamendi will still command the defense like a true leader and Julian Weigl still wields that midfield with João Mário like no other duo but if Rafa is not up to his usual standard then it's not uncommon to see Benfica struggle and most of that is, because, despite being a winger Rafa has been lining up everywhere for Benfica as he's as true of a vagabond as one can be during this age of football.
We've seen him line up as a left and right winger but also as an offensive midfielder or "second striker" if you rather but the hardest thing about marking Rafa isn't where he's lined up to start the game but rather where he is on every single offensive play because with every attack you can see him line up wherever the open space is on the defense and that's what makes him special.
Sometimes a player thrives playing on the left, right, or center of the pitch but hardly ever can a player be as efficient and as important to the team in three different positions; Rafa's versatility alongside his speed and dribbling ability has proven to be Benfica's biggest weapon as not only does he benefit from his gifts but other players benefit from his play as well. 
The prime example of that is Alex Grimaldo that has a great connection with Rafa, easily playing one/twos between each other to get open, he's allowed more space on the wing as well leaving him open for crosses or even goal-scoring opportunities but what I'm writing about Grimaldo I can also write about Darwin Núñez, Roman Yaremchuk, and even João Mário or Weigl when they join the attack.
It wouldn't be correct of me to fail to mention the fact that Rafa caters to Jorge Jesus' needs and not the other way around. The speedy winger is used in several different ways and also thrives when he gets played through with a long ball into the vacated spots between the center back and the full-back but he truly thrives in diagonal passes which is something that Benfica simply doesn't do with him.
It's a shame because as much as a through ball is effective it still leaves Rafa with having to cut back inside while letting him run across the left side of the field into the heart of the defense leaves him dead center of the pitch and the players vulnerable to his speed and dribble. To sum up, what Rafa does for his team: he creates, he scores, he opens space and he defends. 
Yes, it's something that I haven't touched upon yet, but Rafa does indeed defend, and he does it well. Most wingers aren't good defenders, but Rafa is a very willing player to come down the field and help defend as his pace is especially important in counter-attacks, but his defensive workload doesn't start and end with counters as he's the best player to back Grimaldo up on the left side of the defense for longer periods. 
He has vastly improved his timing to attack the ball, his patience while on defense, and his overall defensive positioning and marking but that's not to say that he won't get beat badly by a great attacker (I.E Luíz Diaz a few "clássicos" ago) or that he will be a world star defensive forward but he's simply a player that isn't a liability on defense and can help plug whatever holes Jorge Jesus' tactics might leave open in whatever side of the pitch Rafa is in which is a pretty big upgrade comparing him to his counterpart in Everton. 
Luis Díaz continued his excellent form for Porto by scoring an equalizer in a 2-1 win against Vitória — no player in the Primeira Liga has more than his 10 goals in 12 matches.

It begs the question: is Luis Díaz the best player in Portugal today?https://t.co/21t14r0Y2S pic.twitter.com/S8zaed052m

— Breaking The Lines (@BTLvid) December 2, 2021
Rafa's future remains uncertain to most, I think that he has everything that it takes to be successful in England, France, Spain, and even Germany but his game style suits the Premier League better than any other aforementioned league. I believe that he has proven to be consistent enough to make the jump.
At the end of the day, he has two options: either Benfica ties him down to a new contract showing him he is the main player of the team, or he makes the jump and shows his worth somewhere else.
As a Benfica fan, I would be delighted to see him end his career with us because even though his speed is a massive part of his game, it's not the only tool that he has (and although we have seen in other sports players carry their speed until the end of their careers, it's not common in football) as his dribble, short passing and overall veteran savvy continues to improve as it already shows.
Much like Jonas used to, Rafa can find spaces in the defense and ask for the ball while still in midfield and pass it around into a goal-scoring opportunity, it's not just his pace that gets other teams in trouble but the overall toolkit that continues to polish him into an extraordinary player but that's not to say that his work is done.
Although his finishing ability has become a lot better, especially when cutting inside from the left into the middle, he still has trouble with his decision making but even the best in the world do! The fact that I must point that out as Rafa's biggest flaw comes to show how much he has grown over his time at Benfica since leaving Braga for a fee of €16 million in 2016 after winning the European Cup with Portugal. 
Something that also needs to be discussed is the fact that Fernando Santos has constantly been underutilizing Rafa. While, yes, he isn't the best winger on the team he still provides a particular set of skills that are extremely useful in today's game with his pace and dribbling.
Rafa could be used in situational moments where Portugal needs to attack a higher pressing defense or simply needs a player that works best at finding open spaces and taking what the defense gives him, not to mention the fact that he can just be a very good backup that can easily start games and keep providing you value on offense and defense, something that other Portuguese wingers cannot do.
I hope that whether it's Fernando Santos or another national team manager that they take the best out of Rafa during his national team run as he can be a steady change of pace from Bernardo Silva, Jota, and even João Felix, among others.
But what makes it even more criminal to not play Rafa is that three of those players could easily be on the pitch at the same time with all their versatility to play anywhere on the attack so there's no reason to provide Portugal with the attacking threats they deserve and not the poor defensive football that they must play every single game. But what should we expect from Rafa until the end of the 2021/22 season and onwards?
Well, I trust that he can continue to be one of the best, if not the best player in the league because Rafa just brings fearlessness into every play, every game, and every moment.  I know that most Benfica fans are unhappy when he misses a goal or makes a wrong decision, but they must also recognize that he is the one that even makes those plays possible.
I believe that we are talking about a player that if everything went right in his game could be one of Portugal's best of this current generation even at age 28. 
He doesn't need the fancy dribbles or the rabona goals to be at the top of his game, if he can just keep playing consistently as he is and keeps working to improve his decisions in front of goal, he can become a player that nets any team 15 goals and grabs 20 assists per season much like he did (in terms of goals) back in his 2018/19 season.
By: @SportsWithPeter
Featured Image: @GabFoligno / NurPhoto