Player Analysis: Sardar Azmoun
In Mike Newell's 2010 action fantasy film Prince of Persia: The Sands of Time, we follow a long-haired, tall, athletic, and dangerous Iranian who is respected by all and revered by most. Dastan's footballing exploits are left unexplored; however, I like to think that if he were afforded the opportunity to have a ball between his feet that he may be reminiscent of his countryman Sardar Azmoun.
An intelligent marksman possessing physical capabilities beyond what is required, as they say, life does imitate art. Though Azmoun is undoubtedly appreciated by Iranians and the greater footballing community, a man of his capability and temperament could have been of use in several different eras of Persian history. Though trivial to hypothesise, Azmoun, a warrior on the pitch with a never say-die-attitude, may have been useful to the Sassanids in the 630s, as they did battle with the legendary armies of Khalid Ibn Walid or as his countrymen fought the early Greek city-states in the Greco-Persian Wars.
However, I am sure Azmoun is happy to be where he is now, a high-profile footballer enjoying the lifestyle that accompanies, and has little chance of being forced to war, though the words of Charles Dickens, "Never Say Never", seem more apt than ever. Though Persian history is fascinating, Azmoun's footballing history is far more pertinent. Azmoun was born surrounded by the second largest wall on the planet, "The Great Wall of Gorgan."
Despite the convenience, Azmoun has yet to replicate the Sasanian-era system's defensive qualities; however, much of his childhood and identity foreshadow his footballing career. The name Sardar translates literally to "headmaster", though Azmoun currently is not in charge of any schools, he is very handy in the air. This was perhaps due to his lengthy youth volleyball career, where he learned to navigate in the air with a former Iranian national team player as a father. However, Sardar eventually chose to focus all of his attention to football.
His first experience within a professional environment came at Isfahan's Sepahan FC, with the u19s. International opportunities soon followed as Azmoun stepped forward to represent the U-20 national team. Despite limited first-team opportunities in central Iran, Azmoun was courted by a plethora of clubs, with Inter Milan and Rubin Kazan most keen. Azmoun chose the latter and ended up arriving in Tatarstan on his 18th birthday.
Under the tutelage of Turkmen coach Kurban Bedryev, who has a lengthy role in his footballing life, Azmoun took to life well in Russia's second-largest republic, managing 9 goals and 3 assists in his first full season at Rubin. The following season was less forgiving and saw Azmoun spend his first of a few years on the banks of the Don River whilst on loan at FC Rostov. Azmoun's exploits in Rostov were okay, not concerning, however,  far from outstanding. After less than a year as a permanent resident in Rostov, Azmoun returned to Kazan on a free transfer.
His homecoming was far more successful than his initial stay and saw the Iranian under the spotlight of several transfer rumours. Azmoun eventually left Tatarstan, he headed for the bright lights of St Petersburg, with Zenit his new employers, who paid Rubin a hefty £10.8 million for his services. Whilst in Russia's once capital, Azmoun has impressed and beefed up his trophy cabinet. Whilst playing for the country's premier club Azmoun has forged an impressive partnership with strike partner Artem Dzyuba and Brazilian star Malcom.
One thing that cannot be said about Azmoun's time at Zenit is that it has not been entertaining. Arriving in the midst of the AleksandrKokorin scandal as his replacement, and enduring his strike partner, Artem Dzyuba's' humiliating sex scandal. However, his stay in St Petersburg may soon come to an end. With his contract expiring next season and seemingly talent beyond the Russian Premier League, Azmoun has and will continue to be the subject of a number of rumours linking him away from Russia, with good cause.
Positioning and Tactical Responsibility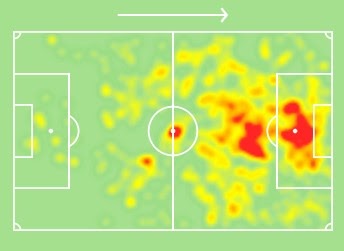 Photo: SofaScore
Azmoun is an out-and-out striker and has limited ability to deviate from his central position, as seen in the above heat map. Though he likely can do a shift outside of the striker position, he has limited exposure to non-striker duties. However, this shouldn't be a stain on his ability, as he is effective at what he does.
At both club and international level, Azmoun often plays alongside another striker, whether Artem Dzyuba for Zenit or Mehdi Taremi for Iran, quite unusual in the modern-day, however, undoubtedly effective when done correctly.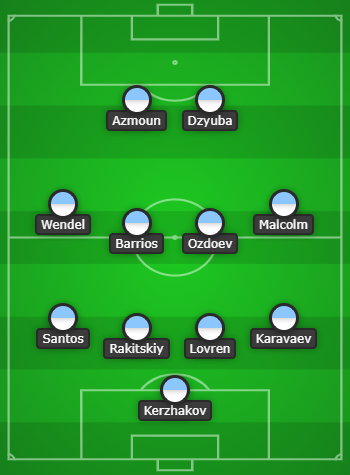 When playing in a 4-4-2, Azmoun is usually found on the left side of the two; however, he does stay quite central, providing wing space for Zenit's wingers and fullbacks to occupy. Width is king for Zenit. The central midfielders often afford the fullbacks the liberty of attacking by covering the area, allowing the fullbacks to get high. Whether it be from the foot of a fullback or winger, Zenit crosses the ball a lot, which suits both of their strikers.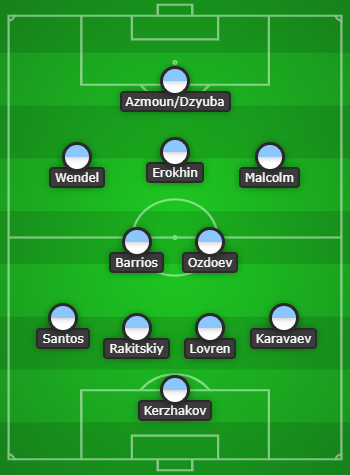 However, the wings are not the only area in which Zenit play it high and long; with Yaroslav Rakitskiy at the back, Zenit has a willing passer in the back four which often sees several long balls played to their anchors up top, which again suits Azmoun.
Azmoun, alongside his strike partner Dzyuba and winger Malcom, have developed a deep understanding of one another, which comes in handy in the opposition half. The three have extensive interplay with each other, with Azmoun usually being afforded the area outside and in the penalty box, perhaps Zenit's own "Three-Headed Goat."
Azmoun and Dzyuba take turns acting as a link between the midfield and the two, with one expected to come short and receive while simultaneously one operates around the penalty area. When Zenit prefers a lone striker, usually in the form of a 4-2-3-1, the system remains similar.
Out of possession, Azmoun is expected to be the figurehead of any sort of press as Dzyuba is rendered ineffective due to the job being physically taxing. Azmoun's primary partner changes from his strike partner to the most progressive attacking midfielder of the 3. His all-around game is key to how Zenit operate as he is tasked with several tasks throughout the 90.
Finishing and Attacking Movement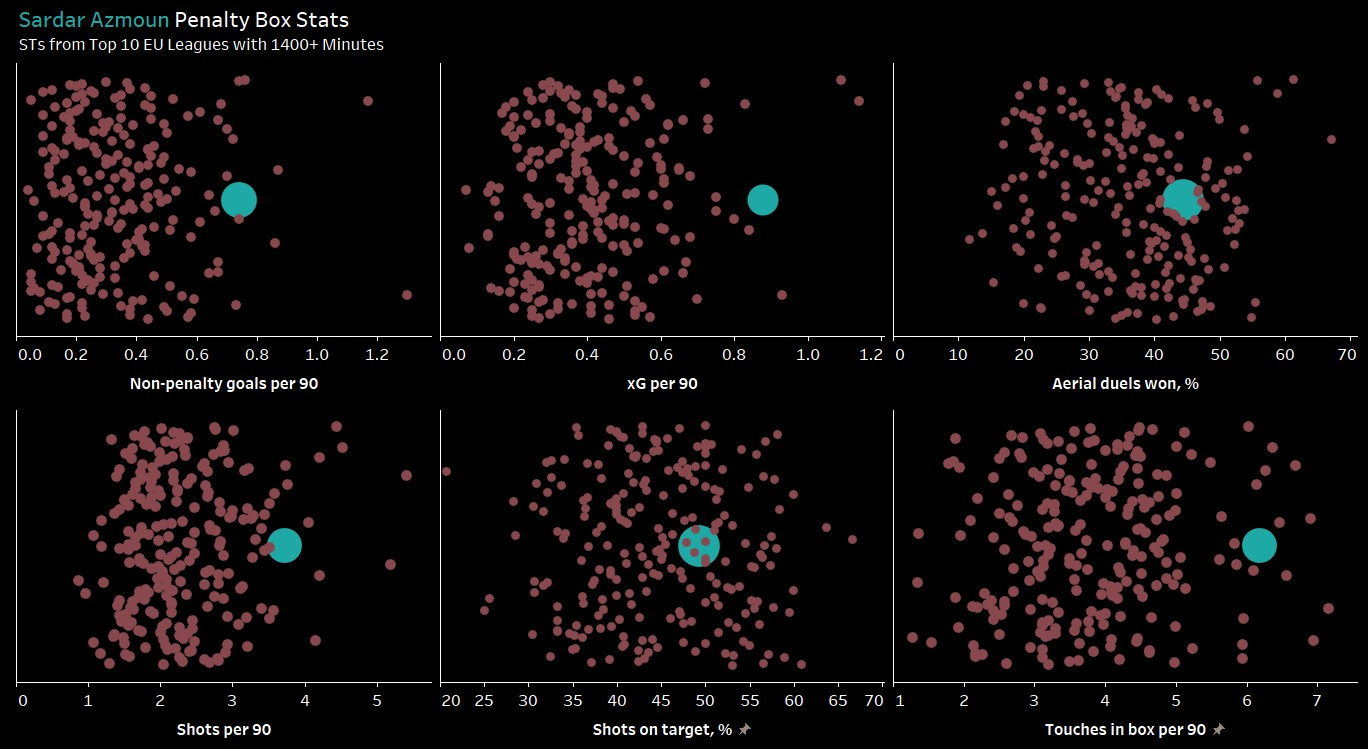 Azmoun is a fine example of a striker who can play around the pitch but does his best work exclusively in the penalty box. He offers a multiplicity of skills outside the box; however, when it comes to goalscoring, the primary responsibility of any striker, he does his best work close to goal. This is seen in the shot map below, which shows that, even after many years and multiple clubs, Azmoun effectively scores only in the penalty area.
This shouldn't be a slight on Azmoun's ability. A host of legendary strikers were limited to the penalty box, though it may limit his ability to perform within different systems; Azmoun should score when the ball is close to the opposition's goal. When it comes to penalty-box affairs, Azmoun averages over six touches in the box p90, an impressive number irrespective of level. The exciting aspect is that these touches materialise into footballing gold, shots and goals.
Azmoun continues to check out when it comes to the statistical component; as evidenced by the chart above, he gets shots off and scores goals at an elite level, in fact, at a level only matched by the game's giants. In the penalty box, Azmoun is a giant; he wins aerial duels at an impressive rate, these often translating into attempts on goals or shot-creating actions for teammates.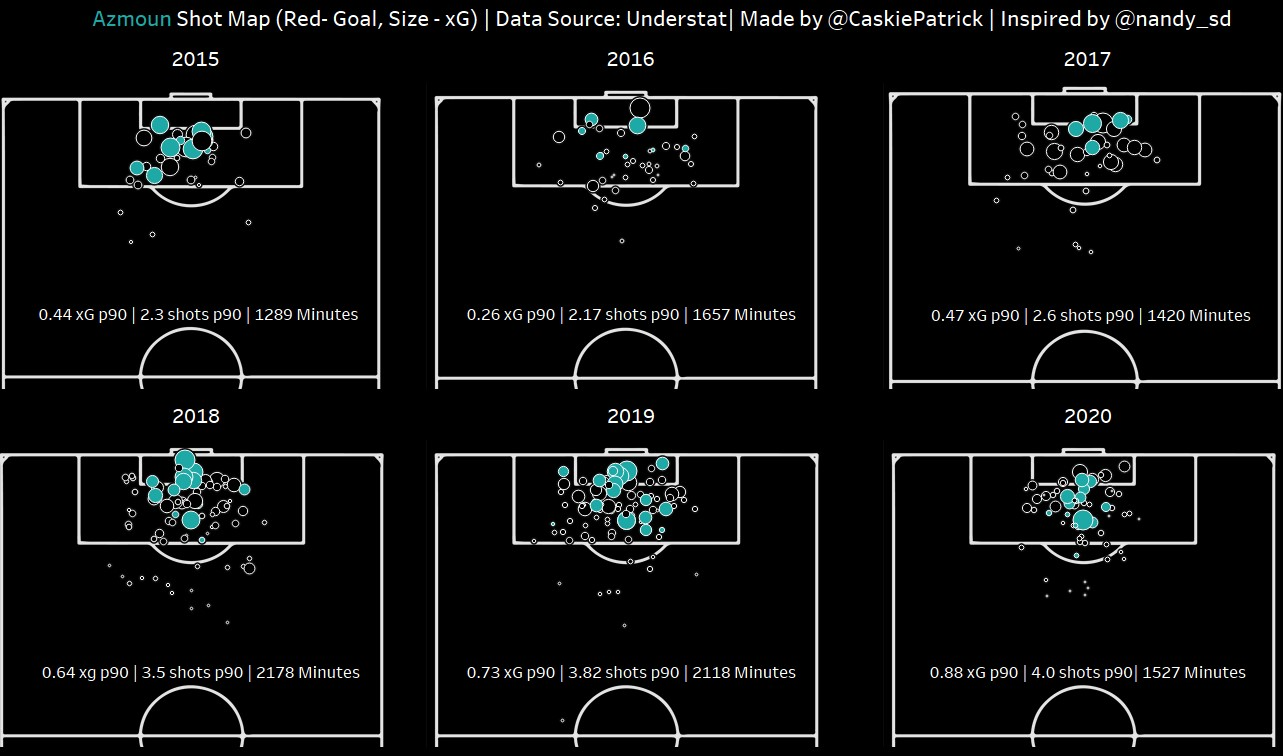 Though not pigeonholed as a target man, Azmoun is mightily effective when the ball is in the air. A mix of his impressive physique and intelligent movement means that more often than not, Azmoun is leaping towards a cross with only a single thought on his mind; this is seen in the clip below. In this clip, Azmoun cleverly stays put whilst the defence is preoccupied with teammate Malcom; understanding this, Azmoun prepares himself for the inevitable cross.
He stands perfectly between the two defenders hoping to generate confusion for the Ural centre-backs. When the ball is played back and eventually crossed, Azmoun is in prime position to nod it in, which he does, with an excellent header that nestles into the left-hand corner of the net. A mix of Azmoun's intelligence and an inch-perfect cross results in the Iranian having a free header inside the penalty area. 
Credits & Source: Metrica Sports
Azmoun's ability to read and react to crosses is not exclusive to the aerial kind; he is equally effective at running to and finishing driven crosses, whether the first time or not. His close control and intelligence are shown off in these situations as, again, his movement is efficient and his finishing calculated. This is seen in the clip below, taken from a match against Sochi.
With the ball wide, Azmoun understands that it will eventually make its way to the centre. Additionally, he recognises the line of the back four, realising that for the time being, he has to remain patient and wait for his teammate to get to the byline. Once this occurs, Azmoun understands that the defence will react to him; he waits, and then with a quick burst of pace, makes his way to the near post, meeting the ball and placing it in the back of the net.
Credits & Source: Metrica Sports
Azmoun's knack of getting on the end of driven deliveries is on show again in the clip below; however, in this example, the penalty box is crowded, and Azmoun given limited space to manoeuvre. In this clip, Zenit has just initiated a short corner routine, playing the ball into a near post runner who then forces a defensive rotation from CSKA.
With the defence awkwardly placed, Azmoun identifies an open area of space behind the penalty spot. Azmoun makes the run and is met by a perfect ball, then slots the ball home despite many bodies in front of him. This clip shows his ability to find space despite the box being crowded and his ability to finish even within an inopportune setup.
Credits & Source: Metrica Sports

Inevitably a lot of focus will be placed on how a striker is when it comes to finishing opportunities; however, equally as important is their input in creating opportunities when out of possession; a striker's movement is as important as their finishing. Though effective at progressing the ball whilst at his feet, Azmoun is far more effective in moving without it.
His dribbling numbers are mediocre, both in terms of quality and quantity, as evidenced in the chart below. This is largely down to the fact that Azmoun is not tasked with beating men on the ball; if asked, he would most likely be fine at it as his good pace and touch would assist; however, he would be unlikely to excel.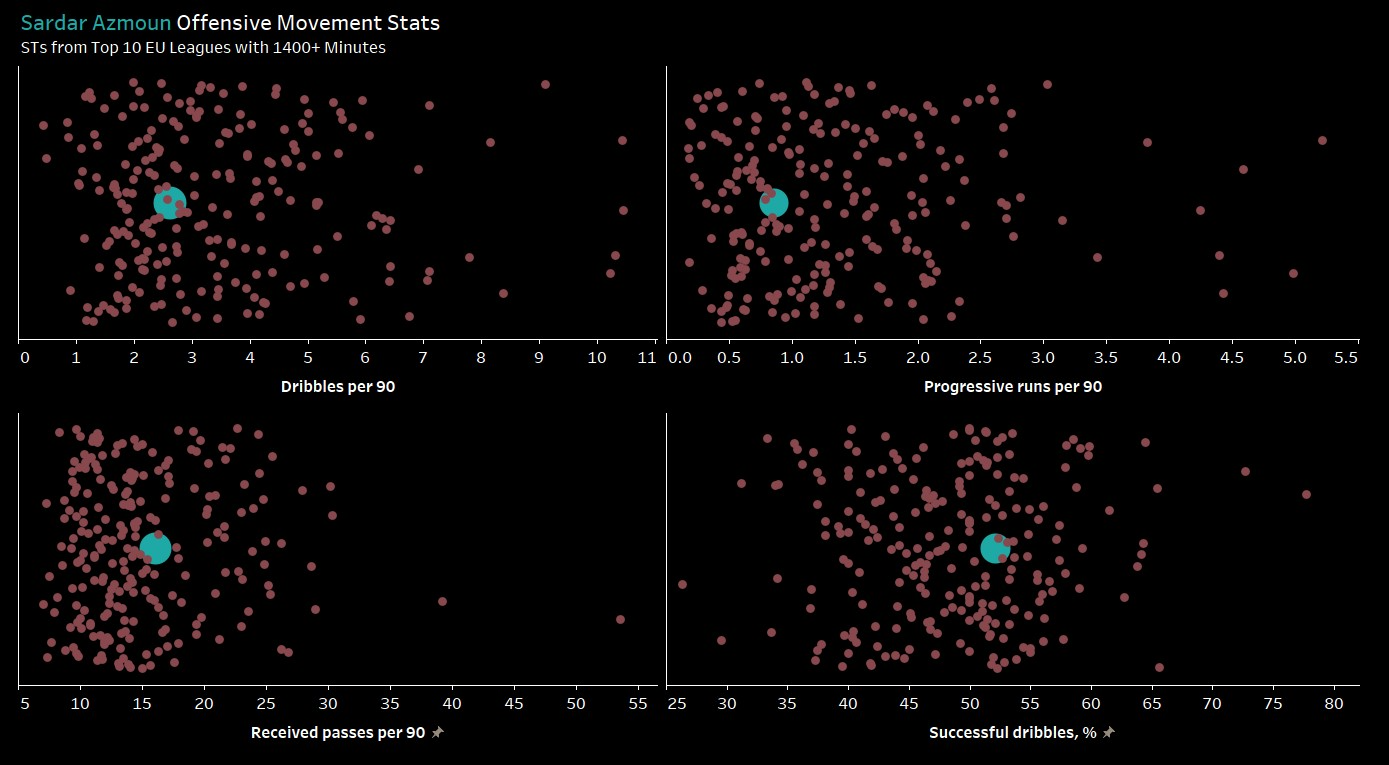 Despite his lanky frame, Azmoun is effective when forced to  operate in tight spaces, especially when provided with a partner to work with. Whether that be Dzyuba or another Zenit forward, his intelligent movement and soft feet enable Azmoun to manufacture shooting opportunities for himself and teammates, a dangerous scenario for the opposition.
His ability on the ball and his finishing exploits are evident in the clip below. Once the one-two has ended, despite being under the pressure of multiple Ural defenders, Azmoun, in stride, is able to quickly shift the ball to his strong right foot and then dispatch the ball past the keeper to the opposite corner of the goal.
Credits & Source: Metrica Sports
Azmoun is an able finisher and should be able to continue to find goals at any level. Moreover, his clever movement should translate to any level that should see the Iranian in and around the goals if he were to step up. There is a universe in which Azmoun fits seamlessly into a new system and country, and his goalscoring exploits translate well.
However, there is also a universe in which Azmoun finds a potential step up a step too far despite his attacking exploits in the Russian Premier League. He may find himself in strikers purgatory, too good for Russia but not good enough for the elite.
Passing / Link-up Play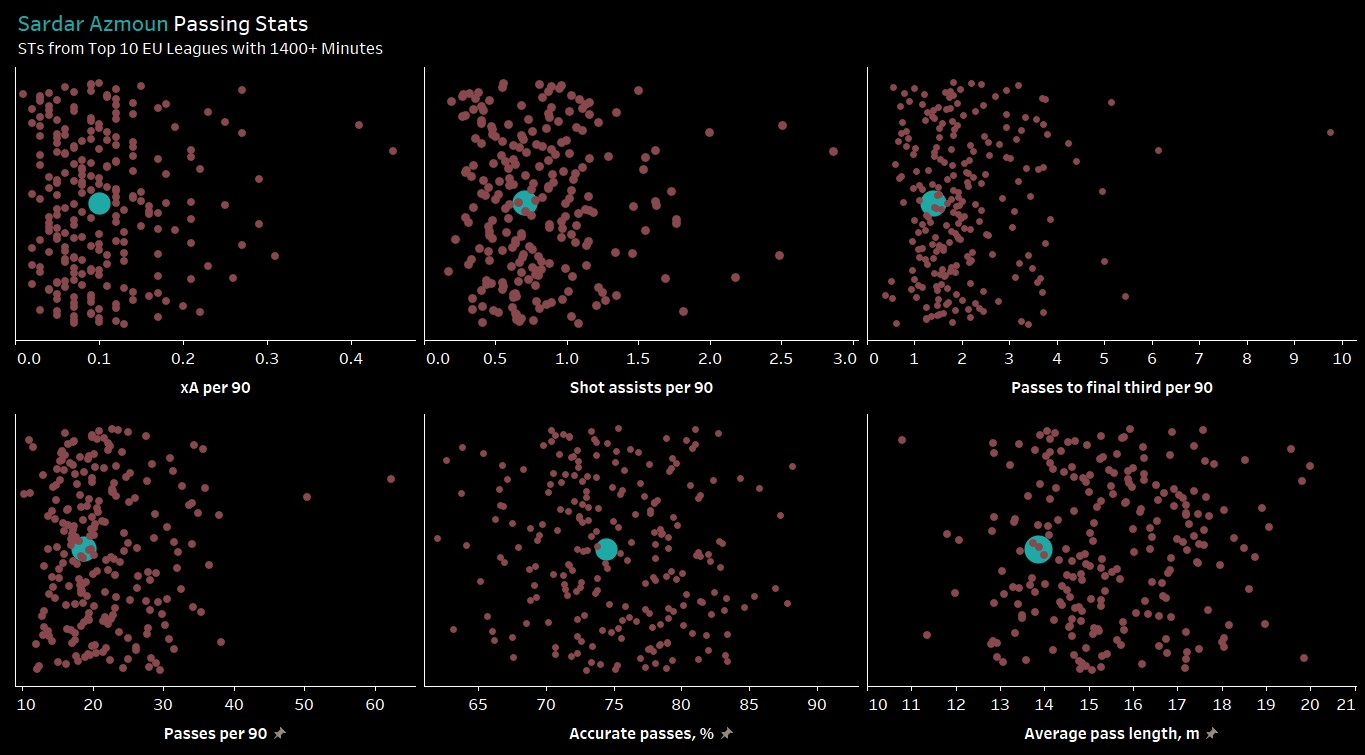 There is a case that even if Azmoun's goals were to dry up for Zenit that he would still be worthy of a starting berth. This is primarily down to his intelligent and effective link-up play, which equally utilises his head and feet. Azmoun is an able passer, especially when it comes to the short variety, as seen in his average pass length.
He will not split defences like a knife through butter or play marauding long diagonals, but he doesn't need to. The stats above show in terms of quantity that Azmoun is nothing special, which is accurate; however, quality is king for the Iranian. The forward's best work is at worst unnoticed and best underappreciated. 
The most common form of Azmoun link-up play is him being used as an anchor for Zenit to gain territory. His polished hold-up play is crucial for Zenit, especially when outmatched in the UCL. This can manifest itself in two ways: a link in a chain of creation or a deciding shot-creating action. Below is a perfect example of the first. The clip below shows off both Azmoun's acumen but also the effectiveness of his partnership with Dzyuba.
Credits & Source: Metrica Sports
Both of them are often used as targets from Zenit goal kicks, which is true in this clip. Mikhail Kerzhakov kicks it long, hoping to meet one of their heads. Azmoun doesn't meet the ball first; however, he is first to the second ball, leaping in the air and nodding into acres of space for runners to chase. This skill is invaluable as it provides Zenit with a constant Plan B, a direct option.
This option is not always utilised as an immediate chance creating machine; sometimes, it is used to get Zenit out of tricky situations. This runs true in the screenshot below. Though not often in the RPL, when Zenit come under immense pressure, they can again kick it long and expect their two up top in some form to find the ball.
It is not necessarily expected for Azmoun to create a chance in these scenarios, but when he does, all the better! In this example, they do manage to make something out of it. After a hopeful kick upfield from Rakitskiy, Azmoun manages to play it first time to Malcom, and from there, Zenit springboard into a dangerous counter-attack.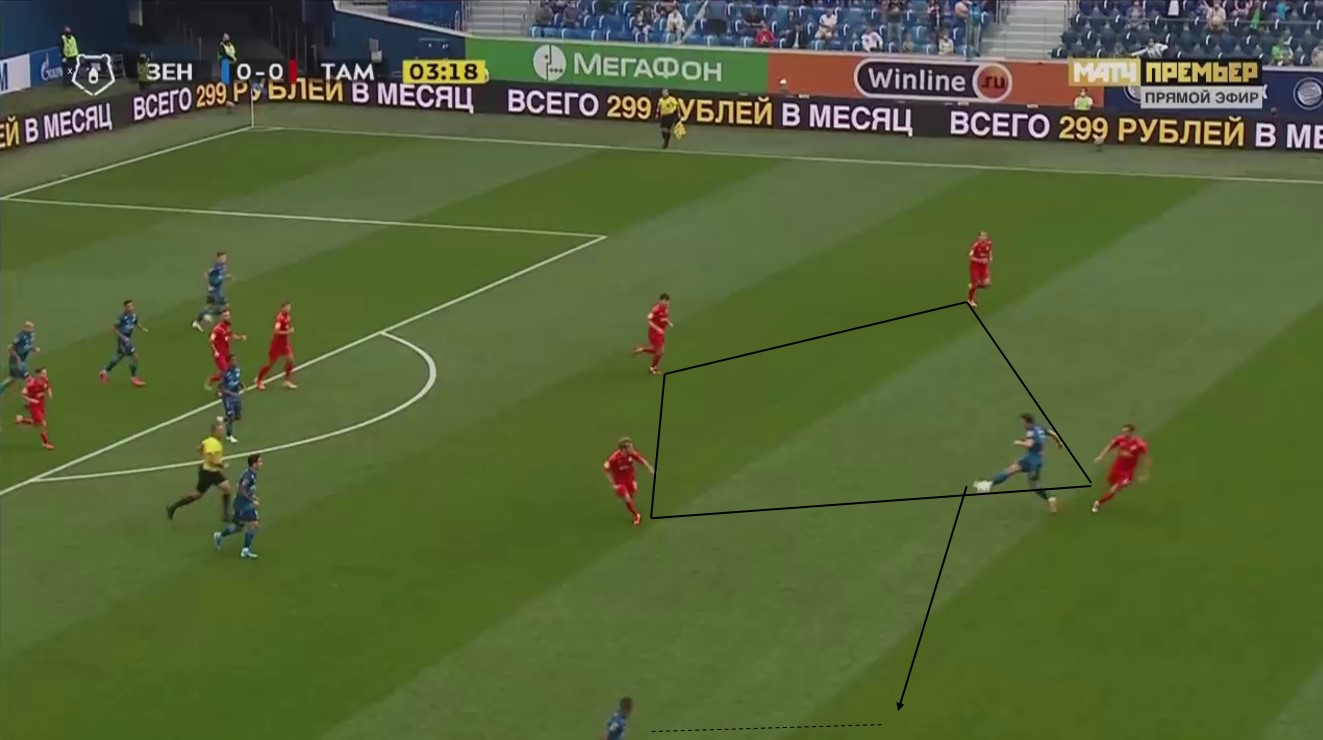 Most of Azmoun's work is done in this fashion; however, every so often, Azmoun is the architect of a genuine goalscoring chance. Usually, this takes the form of Azmoun beating defenders and then slotting a teammate in, though he is also capable of the odd wonder-pass. The following two clips are examples of each. The first clip below sheds light on Azmoun's most common form of chance creation, effective on the ball movement leading to an easy pass to an open teammate.
This picture shows just that against Club Brugge in this year's UEFA Champions League group stage. Azmoun, the target of a searching ball, manages to take control of the ball whilst on the break. Brugge work to overload bodies and limit Azmoun's shooting options; however, Azmoun patiently delays a decision, waiting for the incoming runner.
With attention still on Azmoun, he slips a ball into the vast space around the penalty area for his teammate to pick up and shoot. Though this generated little success, Azmoun manufactured a gilt-edged chance that should have been converted.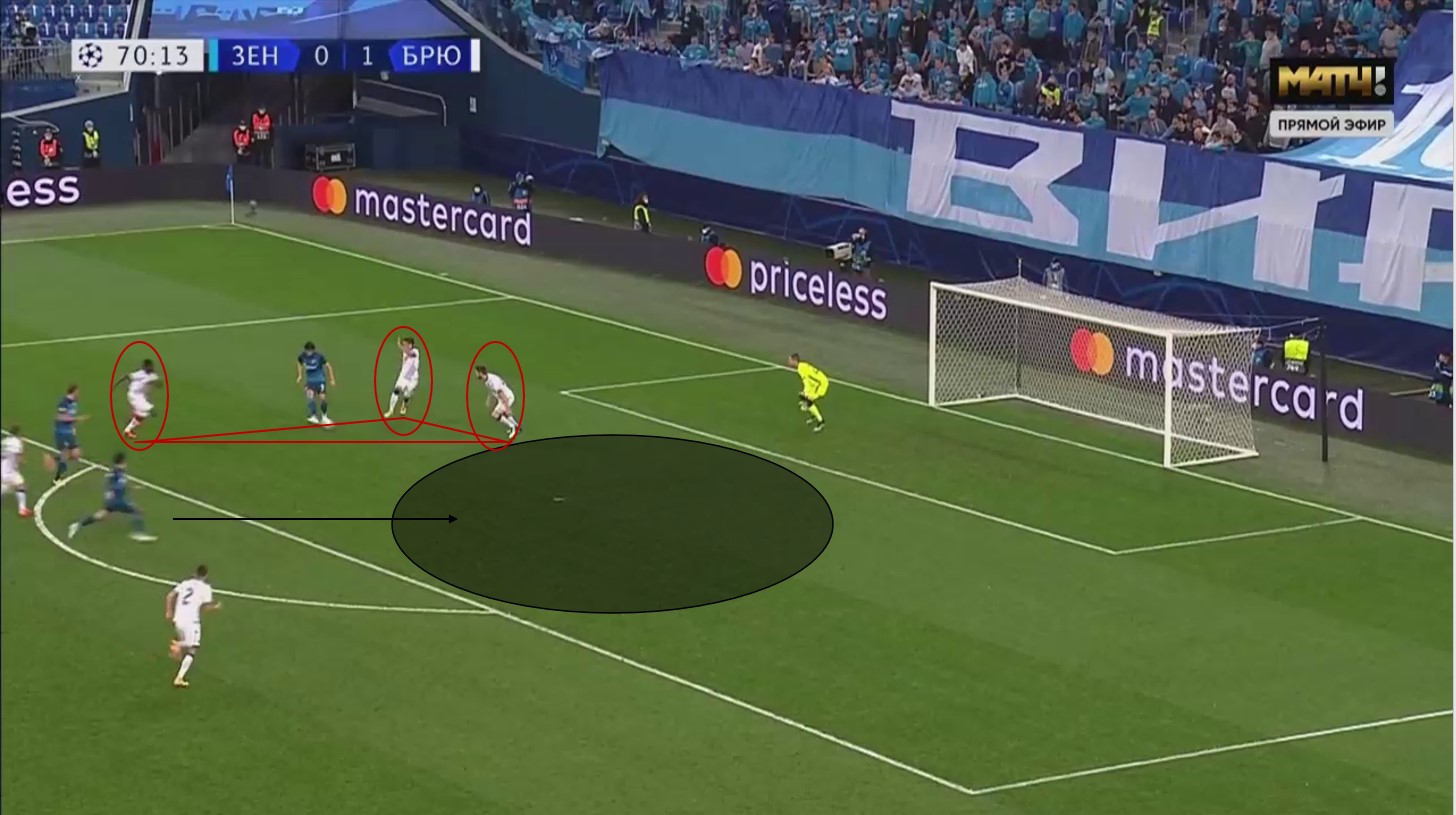 A further example of Azmouns chance creating ability comes in the clip below, from an international friendly vs Uzbekistan. The picture shows off a less prominent feature of Azmoun's game, though nonetheless important and effective. It shows his "ambitious" passing game, passes that on their own lead to chances. Azmoun identifies an area of clear space and, with an onside runner, a potential teammate to fill the space if given the correct service.
With several bodies between the ball and space, Azmoun successfully chips the ball over the opponents with a trajectory akin to the sloped iwan in his once hometown's Blue Mosque. Azmoun is not one to stand and admire his skill; rather, as soon as the ball is played, he heads straight for the box to provide an option to his teammate. 
Credits & Source: Metrica Sports
When you isolate Azmoun's passing and link-up play, it's exciting, however much like its role during the 90 it's best as a supporting facet of his game. He may not be the likes of Atalanta's Josip Iličić, who could still maintain their standing in the game if their goals disappeared; however, he remains of value when not finding the net.
Defensive Contribution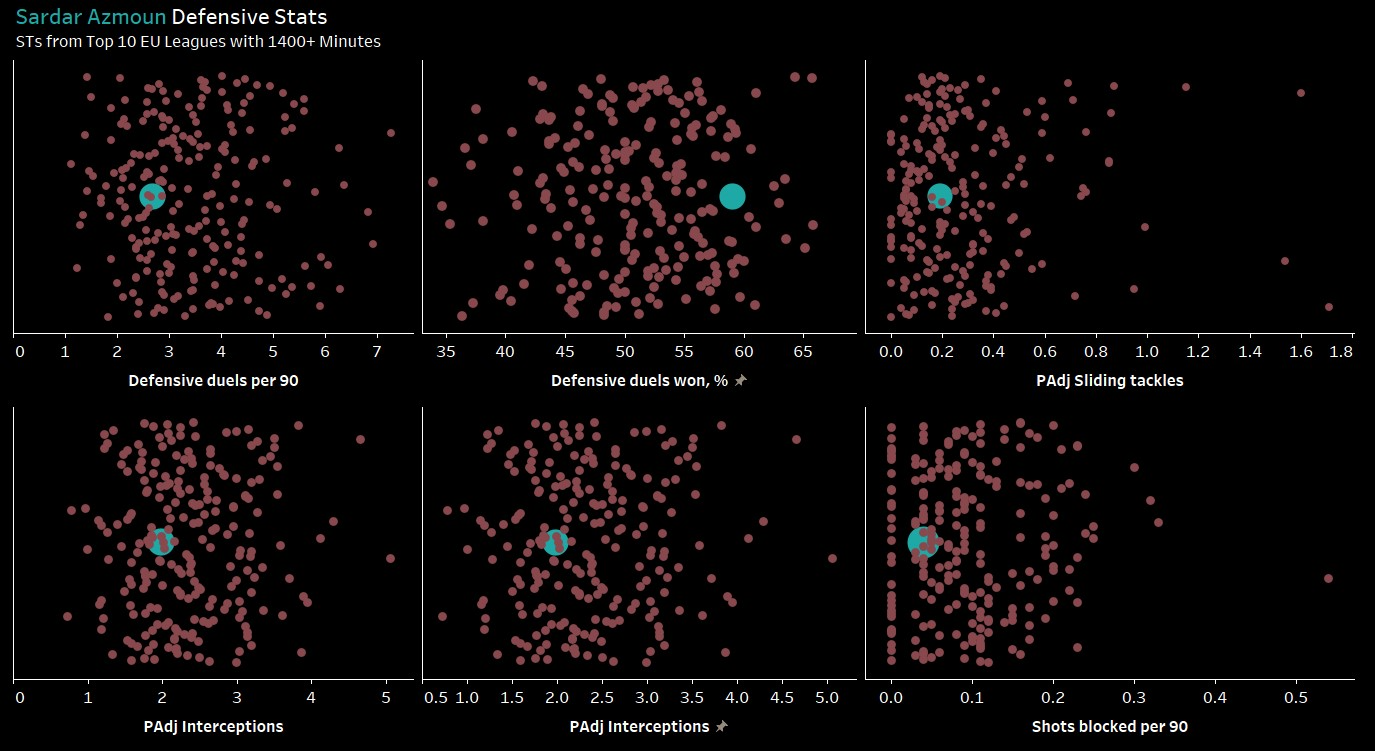 Like all strikers, Azmoun earns his money as a result of his final third exploits. Nonetheless, a striker or any player for that matter is expected to contribute when their team is out of possession. More of a result of Zenit's system, Azmoun is not tasked with any sort of taxing pressing or intense defensive responsibilities; this also a result of Zenit controlling possession for long swathes of the 90.
Regardless, Azmoun still manages to contribute defensively. Maybe it's his long legs or his physique, but the Iranian does lots of good work in defensive duels as well as what I call a "blind-side pickpocket". The clip below shows this. Azmoun, in the peripheries of the opponent, rushes in and wins the ball in an advanced area.
This is effective two-fold, as they win possession back, but also the ball is won back in an advanced position with the defence caught off guard. With Azmoun taking up such an advanced area of the pitch, when he wins the ball, it generally leads to a series of exciting possibilities.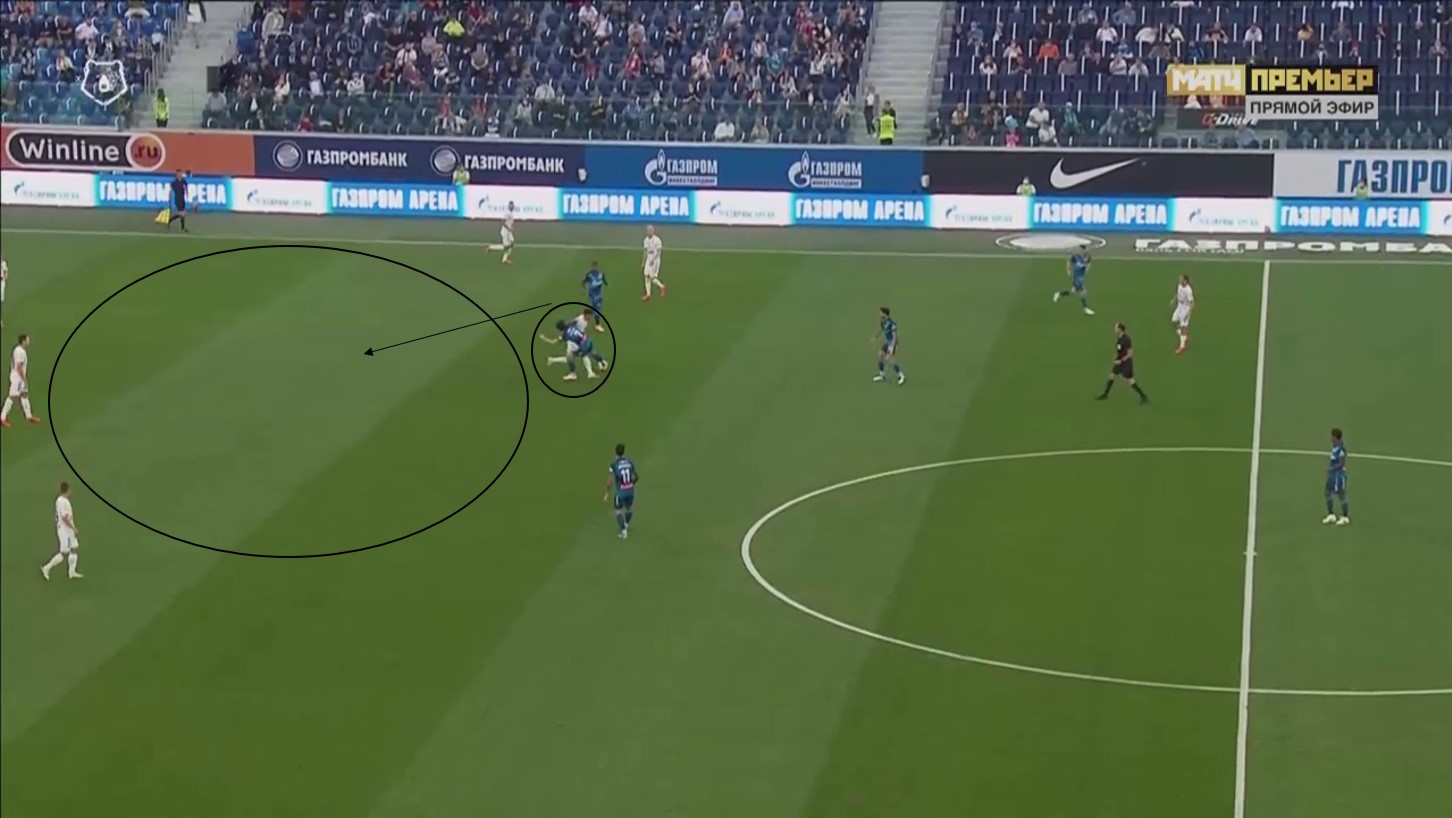 Comparisons: Fair and Unfair
Azmoun is a talented footballer and one who represents a nation that has been starved of a talisman since the legendary Ali Daei retired in 2006. The forward has not been spared when it comes to the hyperbolic comparisons that every country's star player, regardless of quality, is subject to. When coming up as a youngster, comparisons began to develop between Azmoun and some of the greats of the game.
As mentioned in my previous piece on Ryan Gauld, comparisons with football's crown-prince Lionel Messi more often than not are detrimental. Azmoun, like Gauld, has been likened to Messi, being called the "Iranian Messi." One has to assume that the comparison is not born out of stylistic similarities; rather, Azmoun being a top-level talent from a country that sees few.
You can see below that even Azmoun, in his best season to date, is still lagging behind Messi's exploits, which is no dig at the Iranian, rather showing that few players to ever walk this earth have merited comparisons with the Argentine.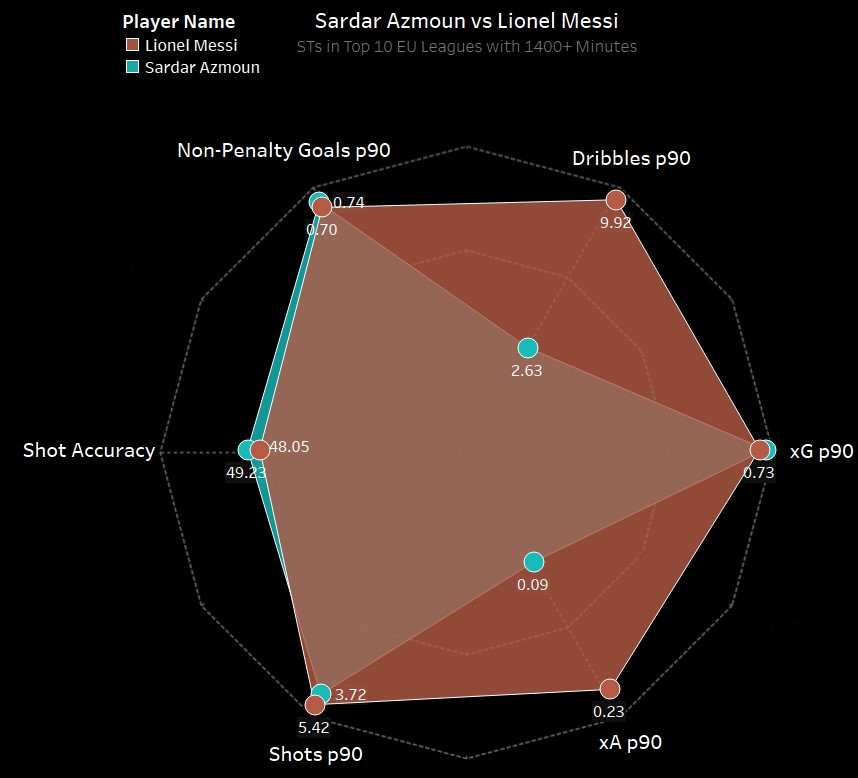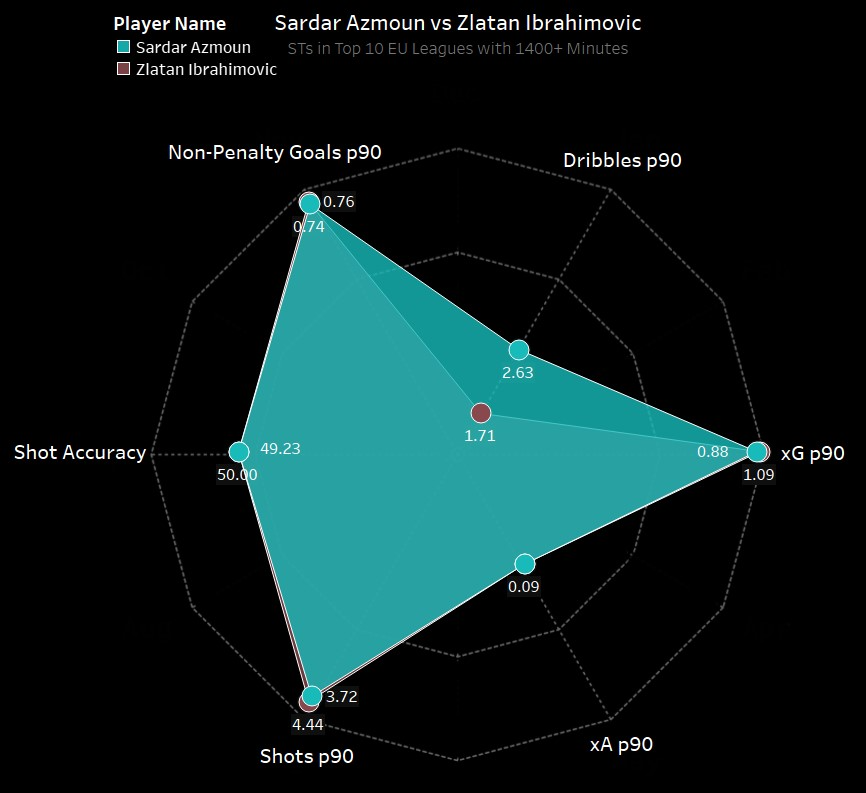 A perhaps more rational comparison though still flattering for Azmoun is that of him and Zlatan Ibrahimović. The Zenit striker has even come out publicly praising Zlatan, commenting on how he admires the Swede's game, especially his aerial prowess. When it comes to output this season, as seen in the chart above to the right, Azmoun and Ibrahimović are almost identical.
Though this just proves their output is similar, when you watch the two, you begin to understand the comparison—both skillful and tall strikers who terrorise oppositions. However, it would be irresponsible to say that at 26 that Azmoun has either the accolades or the time to match the Swede's legacy.
Azmoun's Future
There are more questions than answers when it comes to the future of Sardar Azmoun. Countless b-list tabloids claim that the striker is soon going to end up on British shores or in the streets of Italy; however, up to now, nothing has materialised. Which team is an interesting question but perhaps more pertinent is, does he want to leave? Regular Champions League appearances, good money, domestic stardom, and St Petersburg, there is little more anyone could want.
Azmoun has a turbulent yet envious history with Iran's Melli team. When he plays, he scores; however, a brief self-induced spell in the wilderness has led to some questioning his commitment to Iran's NT. However, Azmoun in 2021 appears fully focused on the NT and the prospects of WC 2022 firmly in the sights.
For this Iranian operating in St Petersburg, who is wanted by the Brits (perhaps a disconcerting overview of Azmoun in 2021), moving to the UK would undeniably be beneficial to those on the island and perhaps Azmoun alike; however, do not be surprised if he sees out the best of his career in Piter.
By: Patrick Caskie
Featured Image: @GabFoligno / NurPhoto