Player Analysis: Seko Fofana
Seko Fofana played a pivotal part in RC Lens' progression in the 2021/2022 season. The French side recorded an impressive 7th place finish where Seko contributed well by ranking 2nd in the top-scoring charts for the club.
This piece will be a review of the midfielder with the use of data from sources such as Wyscout & Soccerment and see if he has the potential to make a return to the Premier League or even earn a place at a bigger club in France. 
Biography
Name: Seko Fofana
Age: 27
Height: 185cm
Nationality: Ivory Coast (Born in France) 
Position: Centre-Midfield
Team: RC Lens
Preferred Foot: Right
Born and raised in France, Seko started his career by playing for the FC Lorient youth set-up before being promoted to the B team a year later in 2013. Manchester City came calling for Seko who initially placed him into the U21 squad before loaning him to Fulham in 2014 & then to Bastia in France in 2015. 
Udinese in Italy came calling and signed up Fofana for a deal worth 2.5M in 2016 as he struggled to get into the Manchester City first team.  The French-born midfielder appeared to have found his permanent home by getting regular game time at the Italian side for a few seasons before RC Lens snapped Seko up in 2020.
The French team wanted to bolster their side for a competitive Ligue 1 season where Fofana has remained ever since and had a much improved season in the 2021/2022 season which we will cover in more detail. 
Percentile Rank – CMs In Top 5 Leagues Compared To Fofana: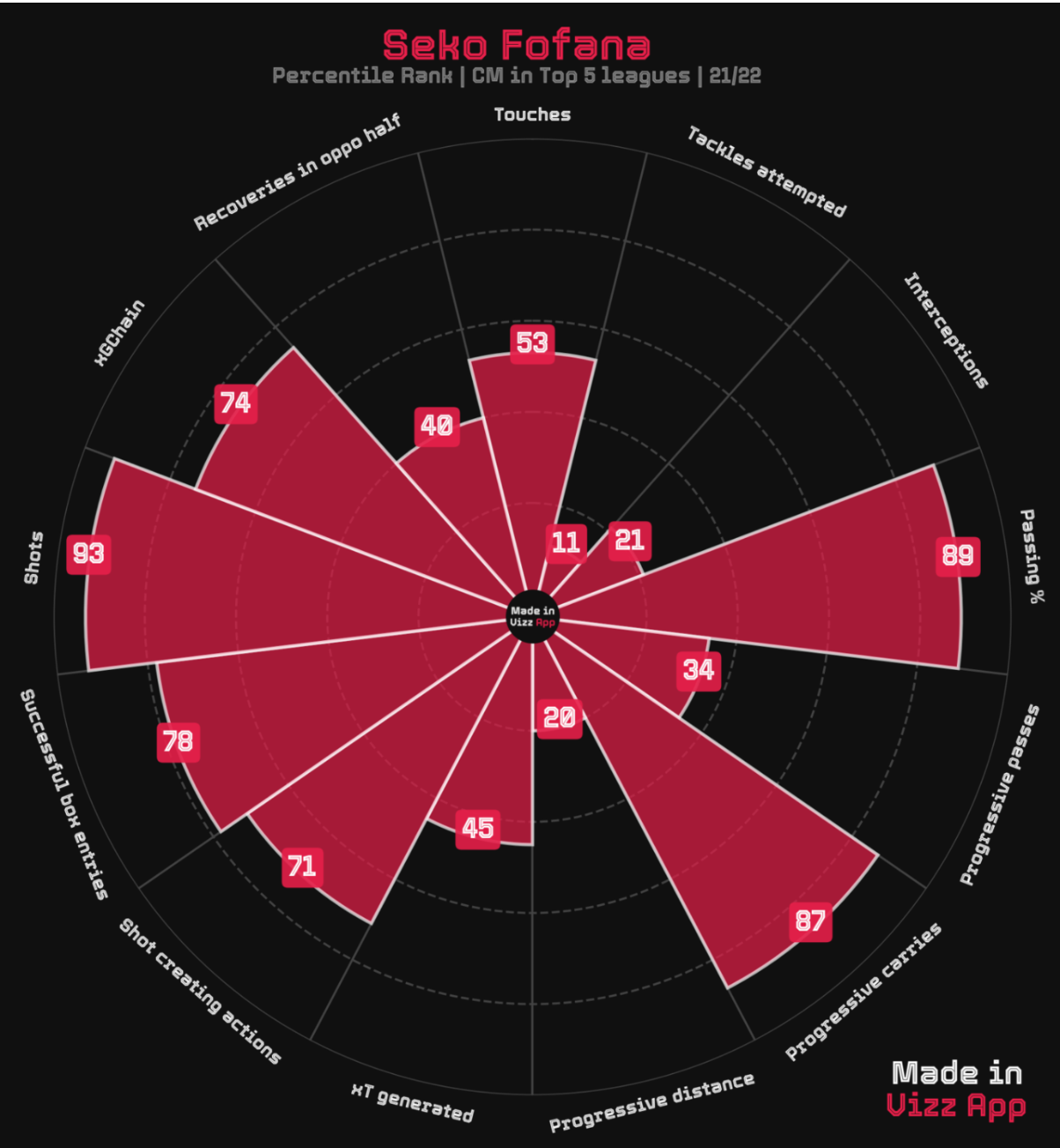 Seko appears to stand out in terms of his shots, passing % along with progressive carries which would suggest he is more of an attacking midfielder. According to the data presented, this is backed up further where his interceptions and tackles attempted are quite the opposite to the previous stats mentioned.
We will discover as we go through this analysis how this does not quite paint the full picture and that there is more to Fofana's game than what the graphic above suggests. 
Fofana – Seasonal Stats: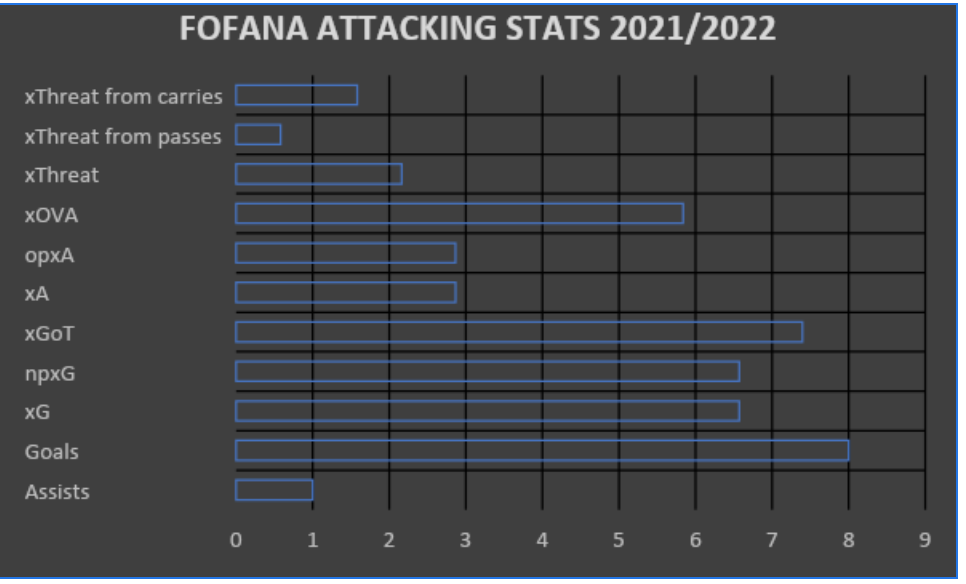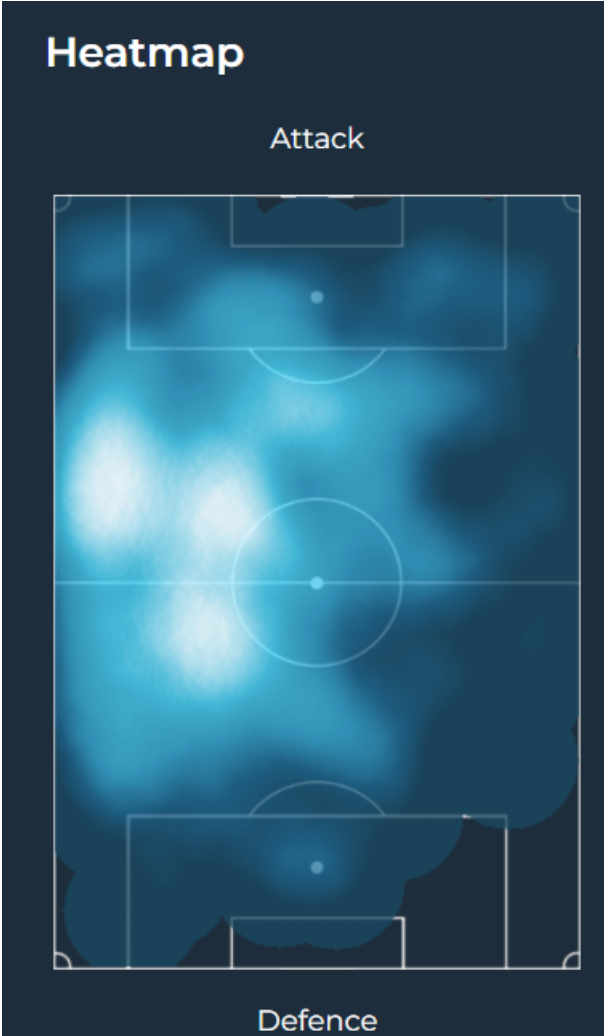 Firstly, we can see that although Seko was not much of an assisting midfielder, he certainly sparkled when it came to his own attacking stats mainly by bagging 8 goals in the season which as mentioned was the 2nd highest for RC Lens last season. 
Also, reviewing the heat map, it appears that Fofana does cover a lot of distance all over the pitch and likes to draft out to the left-hand side. We will be discovering what type of player Fofana is positional wise along with a few other elements. 
Comparing Fofana To Other Central Midfielders
In this section, we will be reviewing statistical data of Fofana and comparing metrics of his with central midfielders within the same league as well as a comparison with centre midfielders from the top 5 leagues.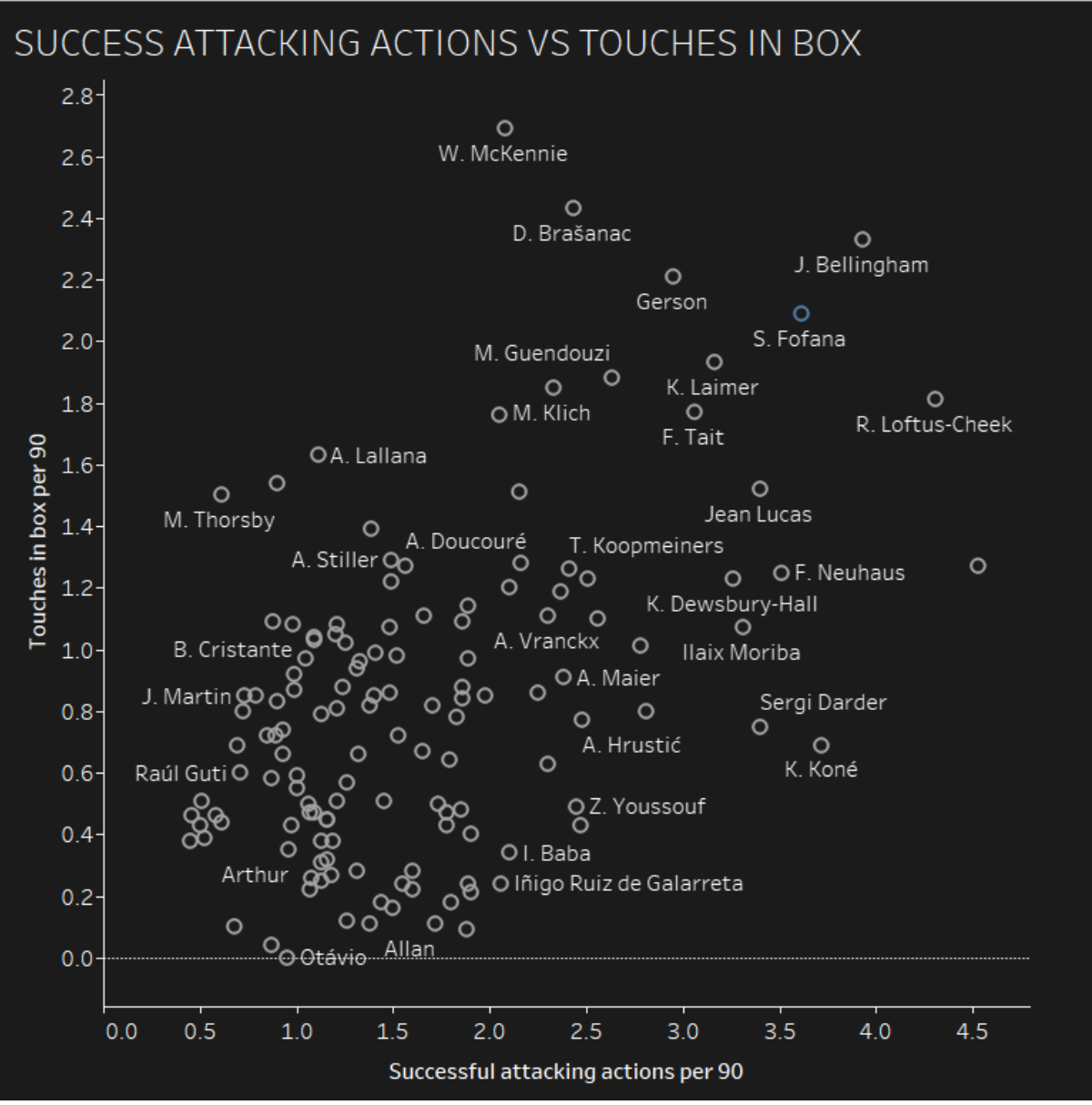 We already established that Seko is more of an attacking-minded Central Midfielder. The above graphic verifies this again as he is placed high in terms of successful attacking actions along with touches in the opposition box. Scoring 8 goals can be justified with the above graphic displayed, as it appears Fofana puts himself in goal-scoring positions more than the average central midfielder. 
Again, according to the stats below (this time comparing Seko with Ligue 1 CM's), the RC Lens player dribbles more with the ball and makes a high number of progressive runs per game which links up well with the above metrics.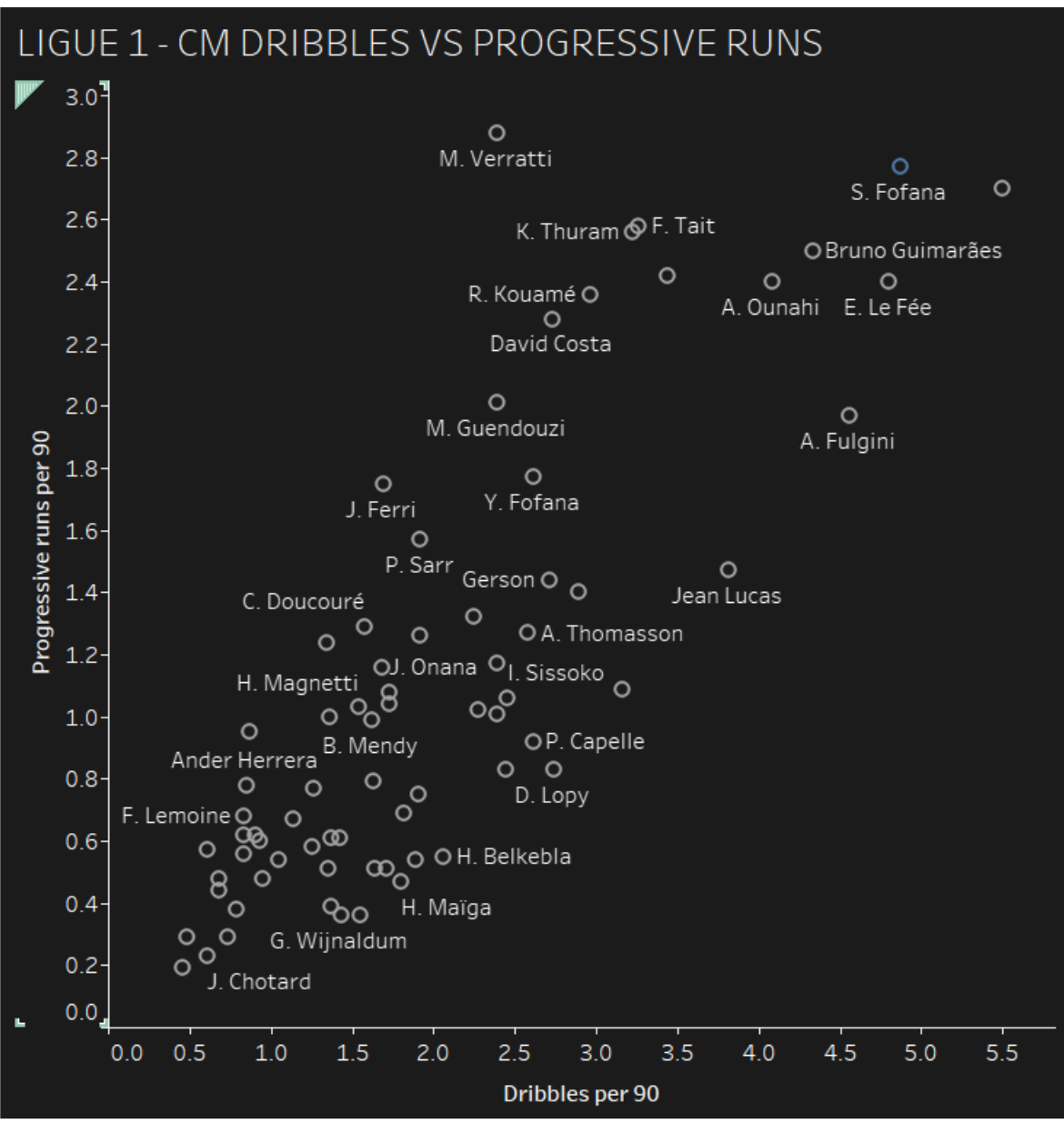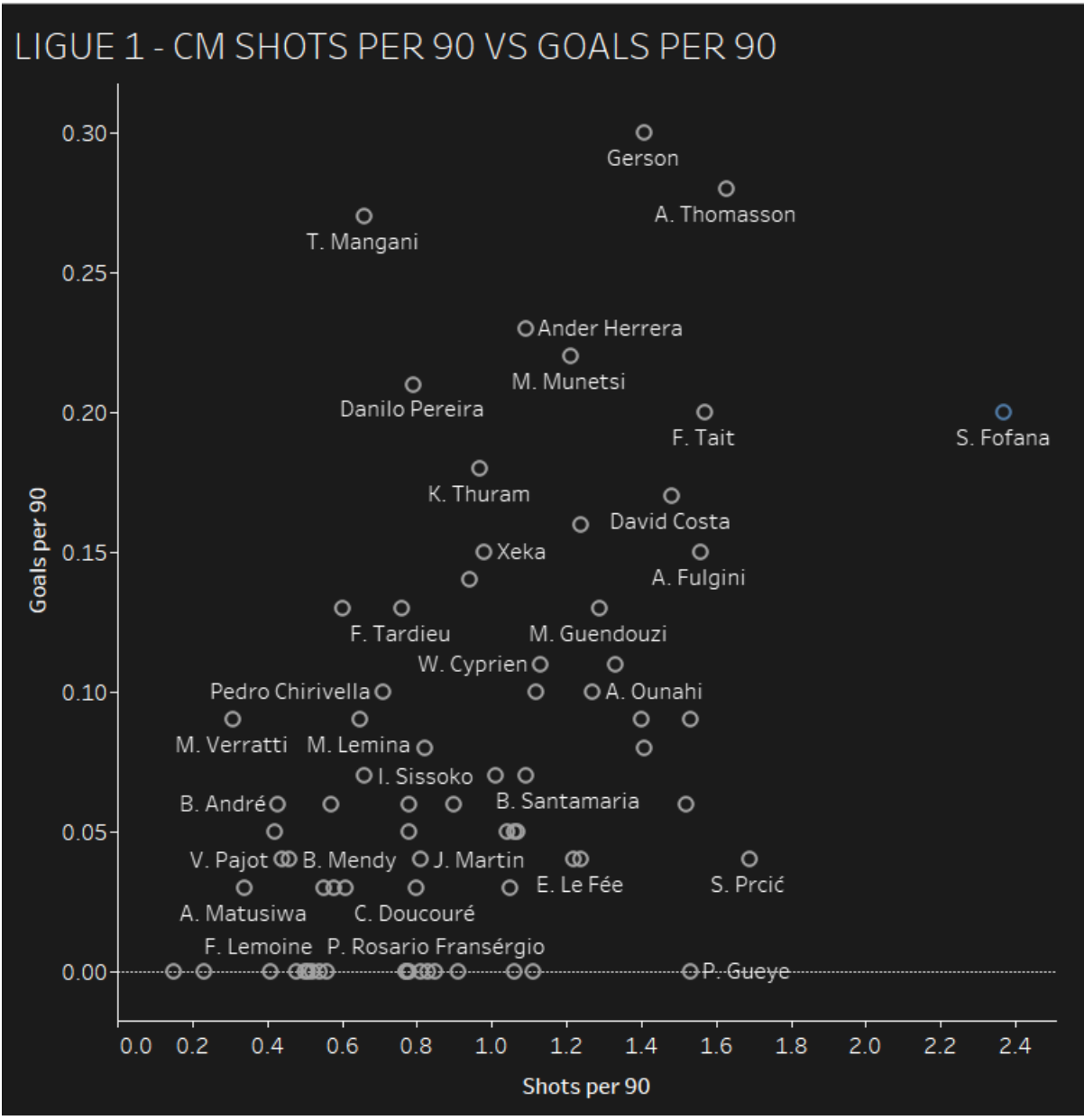 Another example above displays Seko's attacking abilities. This data would suggest that he does opt to shoot on goal more which makes sense with his goal output in comparison to assist to a level. With regards to the goals per 90, there is not much in it between the players positioned higher as Gerson scored only 1 more goal but had fewer shots per 90 which could suggest that Fofana is just not as clinical perhaps. 
Again, we review shots/goals per 90 but this time, we use a comparison with the central midfielders in the top 5 leagues. A very similar picture is drawn here, Fofana loves to attempt to have a shot on goal but there are players in the same position who can convert their lesser chances into goals.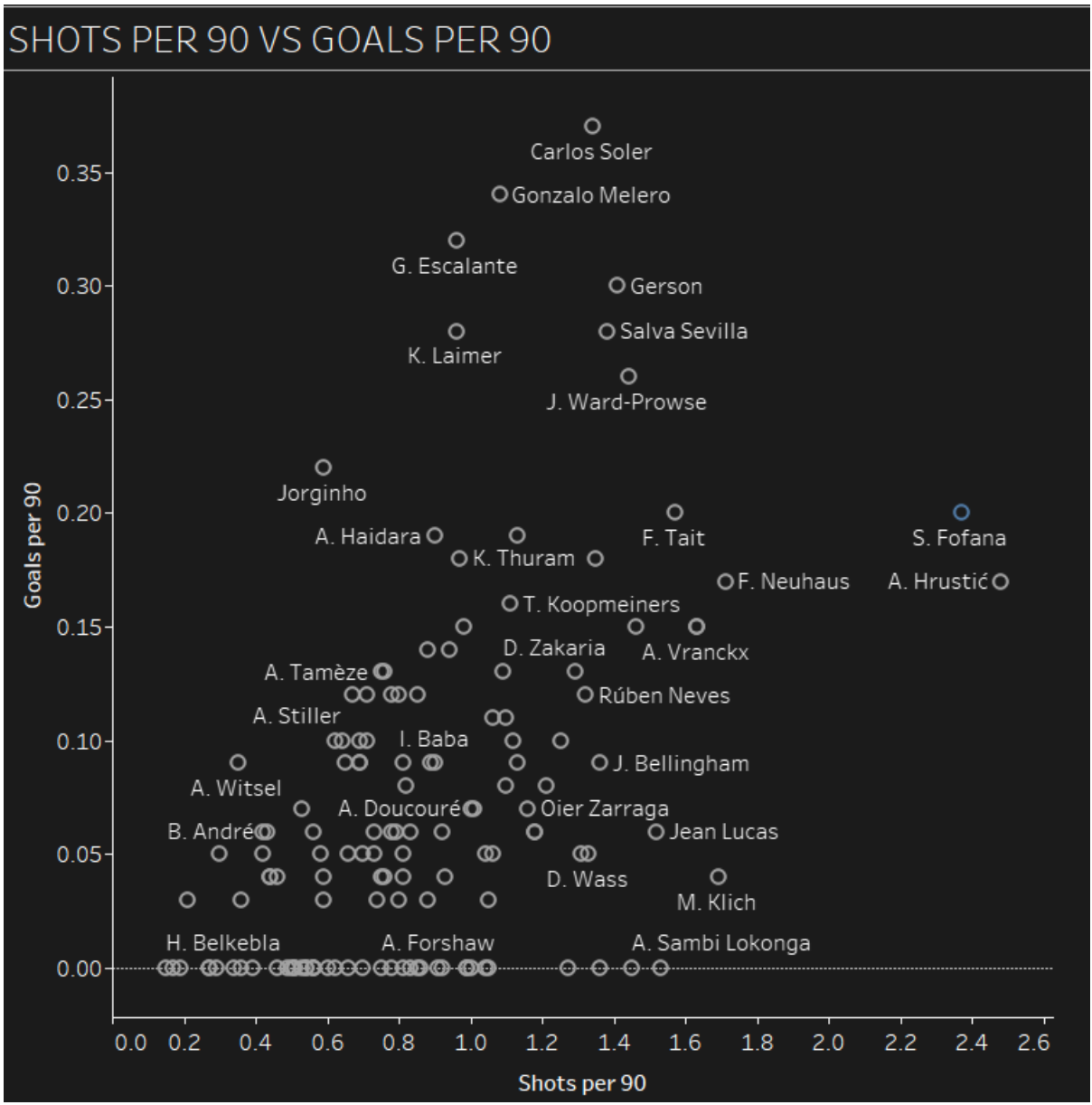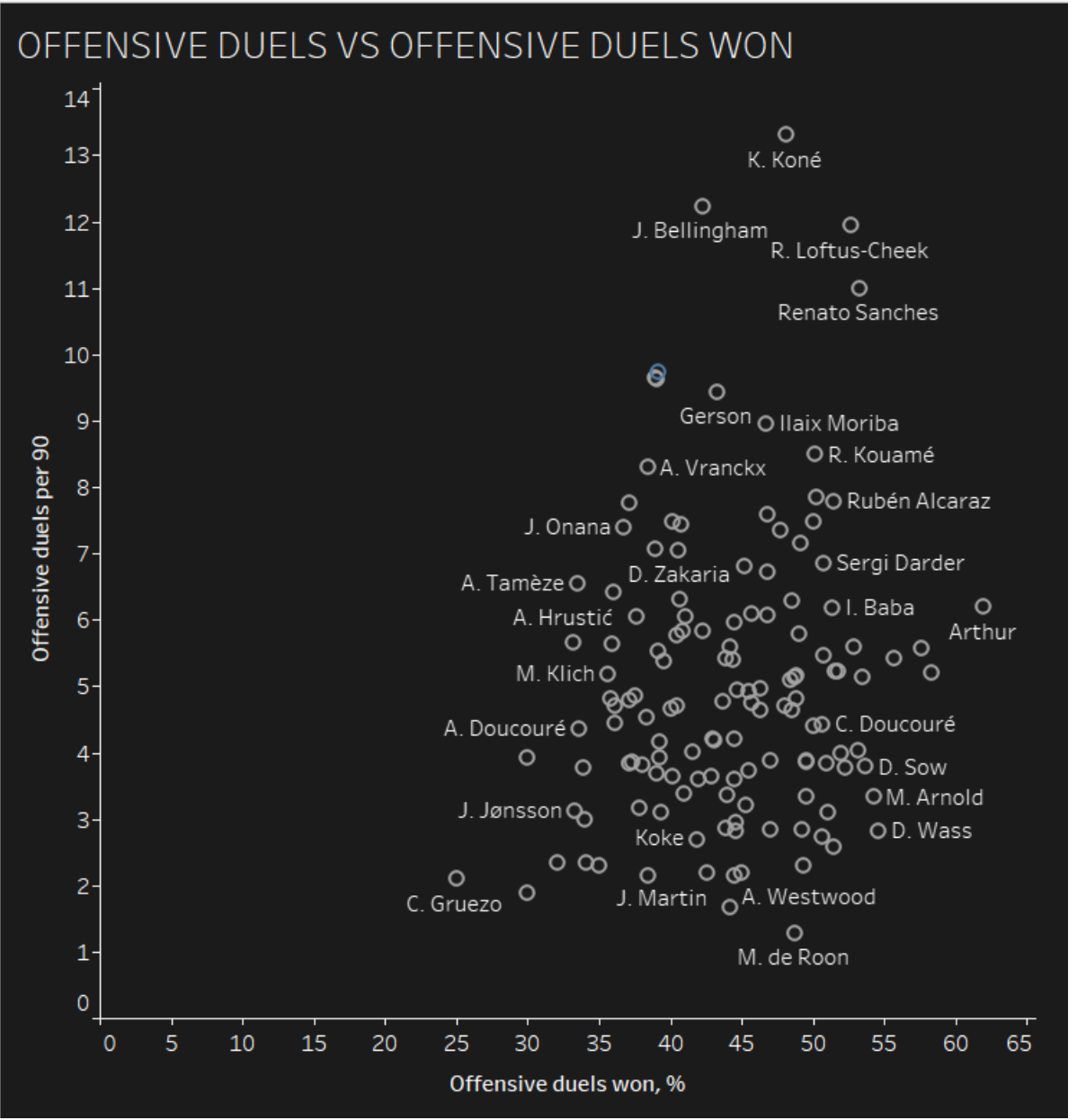 In the above graphic, we can see that Fofana is ranked well in terms of offensive duals which suggests that he presses the opposition and as well as playing an attacking role in the team, he is willing to win the ball back.
This again is backed up well with the heat map shown earlier on in this article. When it comes to his defensive duties, despite covering distance across the field, which we will show some in-game examples, Seko is not as defensively strong.
As per the pizza chart earlier on, he is not as defined in the tackling or intercepting department. This could not actually be negative for instance if he is playing in a midfield with 3 players, he has the license to roam around. Whereas if he was playing in a midfield 2 this would be classed slightly differently and could leave his partner in the midfield isolated. 
Fofana In-Game Analysis
In this final section of the analysis, we will be analysing several key parts of in-game action which display his strengths as well as weaknesses in his game.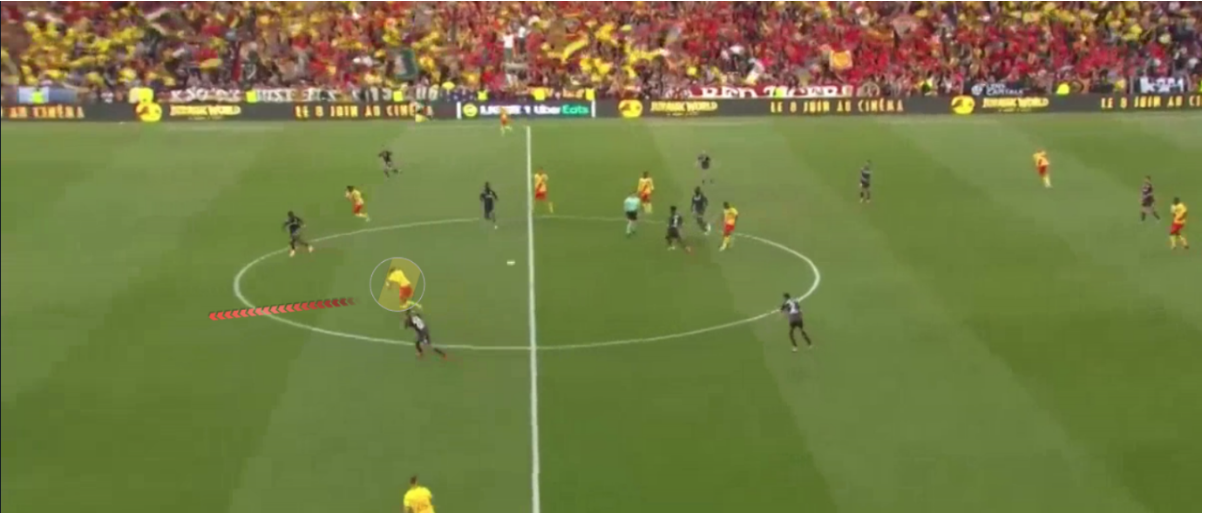 Firstly, here is an example of where Seko's attacking duties are well displayed. A great forward proactive run into space where he can break towards goal for his team. This matches up well with the data we had seen earlier in terms of progressive runs and successful attacking movements. 

Here is a snip from where the opposition hit RC Lens on the break and Seko made a recovering run back to a slot in for his left wing-back who was higher up the field. Despite not being someone who is known for his tackling or intercepting qualities, he is a driven player who will work hard for his team. 

Another example above work Fofana's work rate. He was higher up the pitch initially and as the opposition was on the attack, Seko came charging back to make up for the numbers in defence for his team. 

For all his great work, there are some weaknesses in his game. Here is an example where Seko was put under pressure and misplaced his pass which allowed the opposition to counterattack, luckily RC Lens recovered the ball back quickly.
After reviewing a few games, this is a common pattern where he is not as composed as some of the other midfielders in the league. Seko does remind me of Adama Traore in some ways but as a central player rather than a winger. He can be such a threat to the opposition and get into some great positions but at times he's balance and passing can be inaccurate at times.
Conclusion
From what we can see, Seko is a player who is clearly a hard-working midfielder who contributes well towards his team's efforts, especially from an attacking phase. He does also have some weaknesses in his game but on the whole, a player who can be an asset for sure. 
Finding the Best Championship Centre Midfielder Purely From Data
For Fofana to progress and make a move to a bigger club, it would totally depend on the system that the team plays. For example, it would not be a wise move to have Seko in a central midfield role in a 4-4-2 formation where the midfield is required to be more solid and less fluid.
Whereas a good system for Fofana to slot into could be a 4-2-3-1 for instance and playing as the CAM or in a straight 3 in the middle but playing the free-roaming role. The French-born player was linked with a move to Newcastle in January however, Newcastle opted to go for Bruno Guimarães which at present, seems to be the smarter move. 
Overall, Seko is a player who in the right system can be a great asset but he is at his peak, so if someone wants to go in for him, they need to do this sooner to get the most of him. 
By: Dhillon Gill / @FMGegen
Featured Image: @GabFoligno / Franco Arland / Icon Sport