Player Analysis: Sérgio Oliveira
Throughout Futebol Clube do Porto's history there has been a lot of memorable and heroic moments, from Rabah Madjer's backheel against Bayern in 1987, to Costinha's goal against Manchester United in 2004, to Kelvin's 92th minute goal against Benfica in 2013, to name a few, and most recently Sérgio Oliveira's free-kick goal against Juventus, which made Porto go through the quarter-finals, being the only team outside of Europe's top 5 leagues to advance to that stage.
FC Porto's most important strength is the people, the fans. The "Norte" – North region, where Porto is located, is made of hard-working people who are really passionate about their club, and a lot of their happiness is dependent on Porto victories. Porto had a tough period after Vítor Pereira's departure, in which Benfica won 4 consecutive titles, but apart from that, their mentality and charisma was gone, the famous "Mística," which is a bigger thing than every Porto trophy, even than the two Champions League won in 1987 with "Rei" Artur and in 2004 with José Mourinho. 
From José Maria Pedroto in late 70's and early 80's to João Pinto, Paulinho Santos, Jorge Costa and Vítor Baía from the "Penta" seasons, and then to still Jorge Costa and Vítor Baía, as well as Costinha, Maniche and Deco in 2004, to Pepe, Sérgio Oliveira and Otávio in 2021, Porto has always had strong and charismatic teams.
Sérgio Conceição's arrival would change everything. Porto won the league in 2017-18, preventing their biggest rivals from winning five titles in a row – "Penta", which makes Porto the only team to have achieved it in the Portuguese League history. He didn't only win the title on two separate occasions, he also brought that "Mística" back, which is an even bigger achievement. Many players helped to build that mentality again, one of them being Sérgio Oliveira. 
Born in 1992, in Paços de Brandão, a small city 30km away from Porto, Sérgio Oliveira moved to Porto academy aged 11, where he completed all his younger years. Aged 17, Sérgio made his debut for the senior squad under Jesualdo Ferreira in a 4-0 win against Sertanense "Taça de Portugal" (Portuguese Cup), playing alongside Hulk, Cristian Rodríguez, and Fernando, now at Sevilla. Making him the youngest player to play as a starter in FC Porto history, beating the two-time European Golden Boot winner Fernando Gomes.
However, Sérgio didn´t won a place in the senior squad and was loaned in the following season, 2010-11, to Beira-Mar, in the 2011-12 season to Penafiel and then to the Belgian League to KV Mechelen. He then returned to the B team and a year after he moved to Paços de Ferreira, where he made his first proper steps in the Portuguese 1st division. 2 years passed and he returned to Porto. 
At the time, the now Portuguese international was 23 years old but still didn't win his place in the senior squad. In 2015-2016, Sérgio wasn't a regular starter but still played 18 matches in the league, scoring 3 goals. However, in the following year, he moved to France, to play for Nantes, where he would first meet Conceição as a manager. They then came together to Porto to successfully stop Benfica's Penta and to win Porto first championship in 4 years, the longest league title drought since 1984. 
Although Sérgio was regularly having game time, in the 2018-2019 winter transfer window, Sérgio would move on loan to PAOK, where he would help the Greek club win their third league title, the first in 24 years. He then came back to Porto and now is one of the key players, being a small extension of Conceição in the field.
Player Profile
"Jogas tanto Oliveira" – "You play so well Oliveira" is a common chant in the Estádio do Dragão and it says a lot of Sérgio Oliveira's quality and personality on and off the field. Porto mainly plays in a 4-4-2, with Matheus Uribe and Sérgio Oliveira as the midfield duo. While the Colombian midfielder is more defensive midfield and is more of a cover type midfielder, the latter is more offensive and distinguishes himself on the ball. 
Nevertheless, even though Sérgio's main strength isn't the defensive work, he still is decent, being an active and hard-working player, a much-needed characteristic to play for Porto. On the ball, the Porto academy graduate is able to play at different heights. It is really common to see him drop between lines, to occupy the full-back position, to play between the opposition midfield line, or making late runs into the box.
Sérgio's main qualities are his offensive capacity and intelligence. Apart from technical and tactical attributes, Sergio's mentality is one of his best characteristics, being one of the main reasons for his success. Not only has it seen him rise up the scoring charts with 19 goals and 7 assists this season, but it will also likely see him win a roster spot in this summer's European Championships for Portugal.
Data Analysis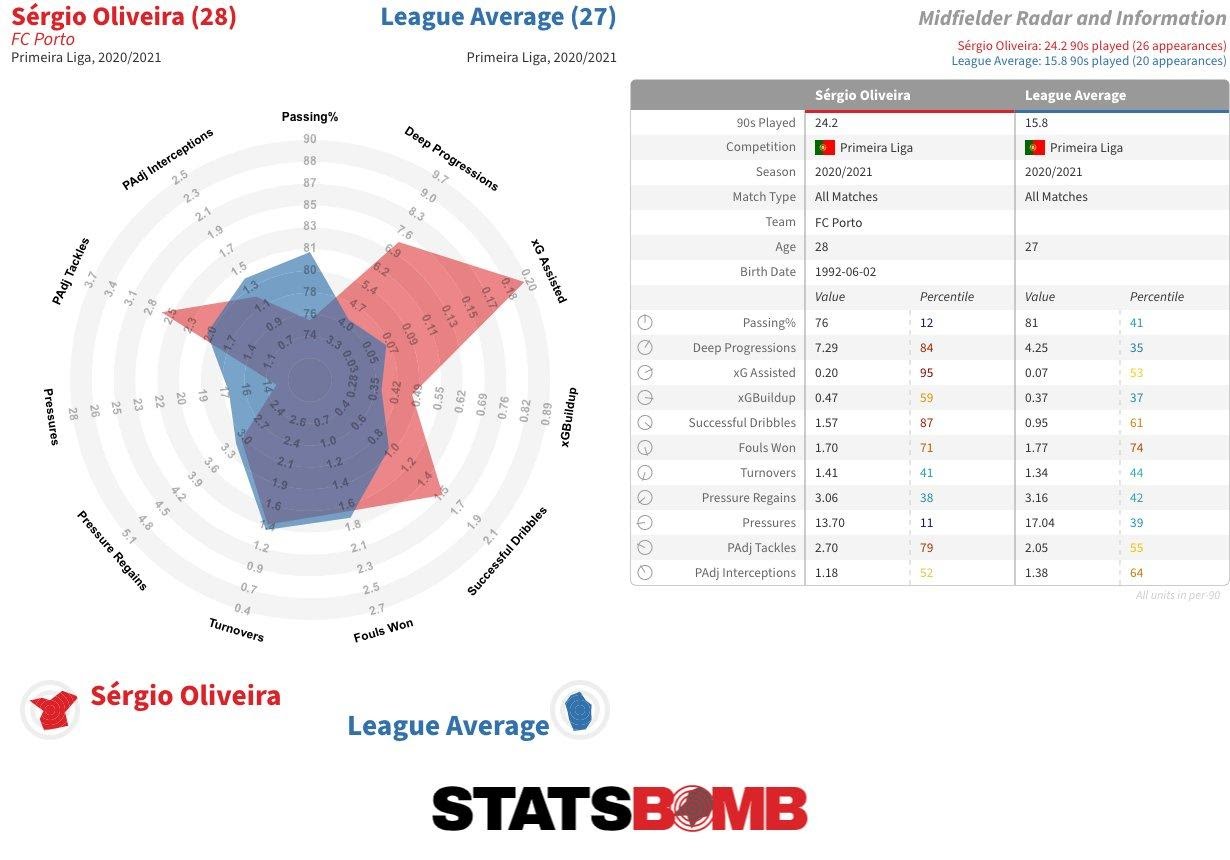 Photo: StatsBomb
The above graphic from StatsBomb helps to confirm Sérgio's strengths and weaknesses. Sérgio isn't the best defensively, he is average, but offensively he is really strong. He has great "Deep Progression" and "xG buildup" numbers, as a result of his characteristics and abilities, which I'll address later.
Defensive-wise, his numbers are far from good, especially the pressing metric, however, I believe these numbers are due to 1. Porto system and 2. Uribe's defensive capacity, which gives Sérgio more offensive freedom and allows him to be "sloppier" without the ball. Now that I've already profiled Sérgio Oliveira's play style and utilized data to prove and compliment my idea, let's have a look into some of his best characteristics. 
Technical Ability
Sérgio doesn't stand out for his technical ability, but he is really strong in this area. He has really strong ball control and is superb at escaping the press in tight areas. To compliment that, Sérgio has a good balance, space awareness and is really intelligent, which makes him a good ball carrier and press escaping player. Below I'll address his passing and shooting technique.
Passing
Above anything else, one of the most important traits to evaluate when scouting a midfielder is his passing. Sérgio is able to play and perform at different heights and it is common to see him dropping in between the center backs, but mainly occupying the full-back spot, a dynamic Porto utilizes quite a lot, which allows Wilson Manafá and Zaidu Sanusi to exploit more advanced areas. As a result, we often see him making line-breaking, incisive passes from lower zones, but also the so-called final balls in more advanced zones.
Shooting 
This season is Sérgio Oliveira's best goalscoring season with 19 goals in 45 appearances between all competitions. Although 12 of those have come from the penalty spot, Sérgio has also scored open-play goals. Sérgio has a big influence on Porto's offensive game, not only in the set-pieces but also in open play, being a constant threat for the opposition with his outside-of-the-box shooting and also with his trademark late runs into the box.
Set-Pieces
Under Sérgio Conceição, Porto have had a lot of success with their set-pieces, however, Alex Telles' exit to Manchester United has had a major impact in these in-game situations, especially on corners. Nevertheless, Sérgio isn't a bad corner taker, as he swings the ball well and has a tense and precise cross.
However, compared to the Brazilian left-back, now at Manchester United, the numbers have dropped considerably but Porto dynamics in the box have also worsened, which is the main reason why Sérgio Conceição's team isn't as good as they were in the previous years.
Free-kick-wise, Alex Telles departure didn't affect Porto as much. Although the Brazilian was a good free-kick taker and has a precise and tense shot, Sérgio is also really good, and probably has had even more success. The freekick goal against Juventus is the pinnacle of his goals and certainly is one of the most memorable goals of his career.
Mentality
Above I mentioned Porto is a special team and their main and best characteristic is the so-called "Mística". Born a few kilometers away from Porto and having joined FC Porto academy early on in his development, Sérgio embraces that mentality really well. To a certain point, Sérgio Oliveira is a small extension of Sérgio Conceição, the manager, on the field. Hard-working, brave, really focused and composed, and above anything, a leader.
Alongside Pepe, Otávio, Uribe and even Agustín Marchesín, Sérgio's personality drives the team forward in tough situations, where the club needs it the most. Throughout his career, Sérgio has gone through challenging periods. He made his debut at a young age for Porto, however, he didn't progress as expected. He then went through several loan spells, which sometimes is fatal for a player's motivation and development.
With his resilience and desire to be a key player for Porto, Sérgio worked hard and now is one of his boyhood club's captains and one of the best and most important players, having also won a place at the "Seleção" – the Portuguese national team. 
Sérgio is a complete, all-around midfielder, however, a player can always be better at certain aspects of their game. His main flaw probably is his defensive ability. It's not an attitude problem and a part of it comes from the Porto system and Uribe's defensive capacity, but the Portuguese midfielder can and should be a little bit more active but especially more effective and intelligent defensively.
Conclusion
2020 and 2021 likely won't be remembered fondly in the history books, however, even though it also has affected Sérgio to a certain extent, these years have been his best years. Collective wise, Porto has won the league, the Portuguese Cup and the Supercup in 2020, and although the 20-21 title is on its way to Sporting's stadium and museum, Porto's run in the Champions League, and especially Sérgio's winning goal will be a moment to remember in the future. Sérgio also is a contender to make the Euros 2020 squad, which could be a memorable achievement as well.
His Champions League performance certainly gave him some hype and probably some clubs' interest. However, Sérgio renewed his contract until 2025 just five months ago, and financially-wise, Porto would ask for a lot of money, so in this regard, I don't see him leaving Porto anytime soon.
Nevertheless, if some club was open to paying for him, I believe Sérgio belongs to Porto and Porto to Sérgio Oliveira. Sérgio is a key player and one of the captains for his boyhood club. The fans also love him and he loves the fans. With all this being said, Sérgio matches perfectly with Porto's mentality and culture, and so, I expect him to stay in Porto for many years, being a marquee player.
By: Pedro Carvalho
Featured Image: @GabFoligno / Fran Santiago – Getty Images