Player Analysis: Sofiane Diop
The best sides tend to exhibit a perfect blend between the youthful exuberance of their youngsters and the experienced heads of their veterans.
It displays a good balance for the squad, with a reliable support system the youngsters could benefit from. But things inevitably start falling apart when the experience starts showing signs of expiration – leaking mistakes and costing sizeable goals.
Suddenly, the reliable becomes unreliable, and doubts start to tinker in the minds of many with apprehension manifesting in the dressing room.
This is when you'd see the phrase "thrown in the deep end" start circulating around the media, as teenagers without prior senior experiences are entrusted with the responsibility to turn things around. This was the predicament Monaco found themselves in back in 2018/19.
Many of their youngsters were showing great potential but were certainly not ready to hold the status of a key player, especially in the face of an unlikely relegation battle. One such player who experienced such baptism of fire was Sofiane Diop, who is amongst the 7 players that remain from that season.
Monaco eventually dodged relegation by a whisker, as they finished 17th. Nonetheless, Diop still found himself playing in Ligue 2 with Sochaux on loan, after failing to impress.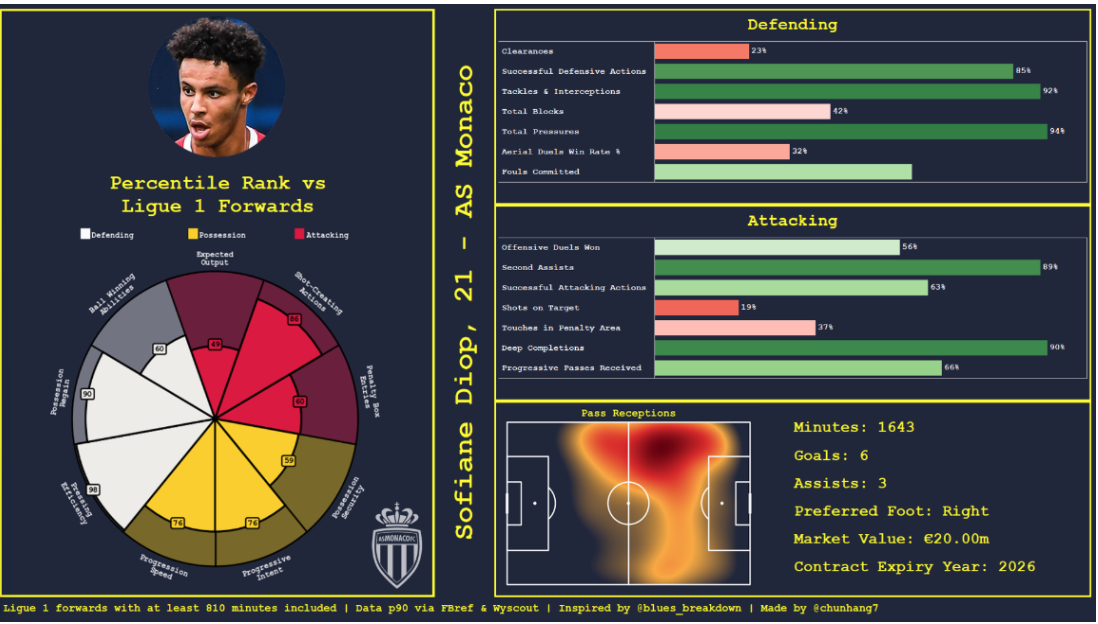 A fairly dull loan spell ensued, where the Frenchman completed less minutes than he did on his debut season, which left the hierarchy unconvinced of his ability in the top-flight. Hence, the decision to have him train with the reserves whilst finding a buyer for his services.
Thankfully, new manager Niko Kovač opted to give him another shot of redemption, and this time, Diop was never letting it go to waste. 
As I write this piece, Diop has matured into an integral figure at the Stade Louis II, but that's an understatement to his influence on Monaco this season. This analysis will cover the Frenchman's performances with his club this season. All figures below are based on performance per 90 minutes played, according to StatsBomb via FBref.
Diop's Redemption Arc
Despite possessing excellent technical abilities with the ball, Diop's slight frame was the root of his issues in his first season at the club.
Barely standing at 6ft tall meant Diop was an obvious target for the opponents, which made light work of Diop whenever he tried to carry the ball forward. In his debut season, he was dispossessed 3.66 times per 90, more than anybody else in the club. 
Rejuvenated under the tutelage of Niko Kovač and now Phillipe Clement, Sofiane Diop mainly operates in the left half-spaces as a left winger.
That said, his playstyle is more akin to a wide playmaker or the modern inverted wingers, as he'd prefer the drives infield to play balls in behind or cross-field passes to unlock defences with his stronger right foot, rather than crosses near the byline.
A look into his deep completions pass map shows he is adept at finding players from deeper areas of the pitch, as well as pulling the strings from the half-spaces regularly.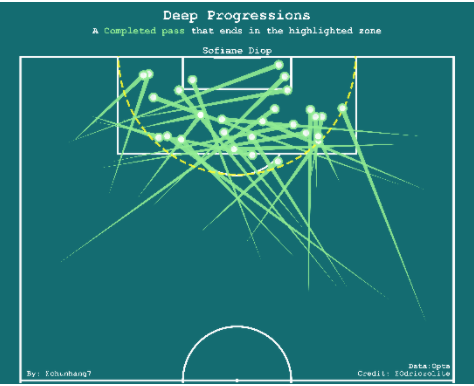 Once taken out from the equation of a physical battle, Diop would have the luxury of space and time as he receives the ball. He'd subsequently be progressing play from the half-spaces more often, whilst maintaining a respectable turnover rate.
In fact, Diop has accumulated 9.93 Progressive Actions with a very respectable turnover rate of 30.85 per 100 Touches, which betters most Ligue 1 forwards this season.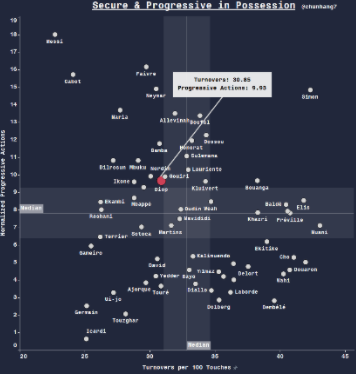 Nevertheless, Diop has shown the willingness and bravery to drop deep into central areas, showing for the ball.
This particular trait of his is extremely helpful in the way Monaco progress play, as it not only helps manufacture overloads – creating numerical superiority around the pitch, but his movements drag defenders out of position for his teammates to exploit the space left behind.
He'd make aggressive runs towards the ball, with the objective of attracting players towards him. Once that's accomplished, he'd look to relieve pressure by passing it near to his teammates. By then, the space behind has been vacated.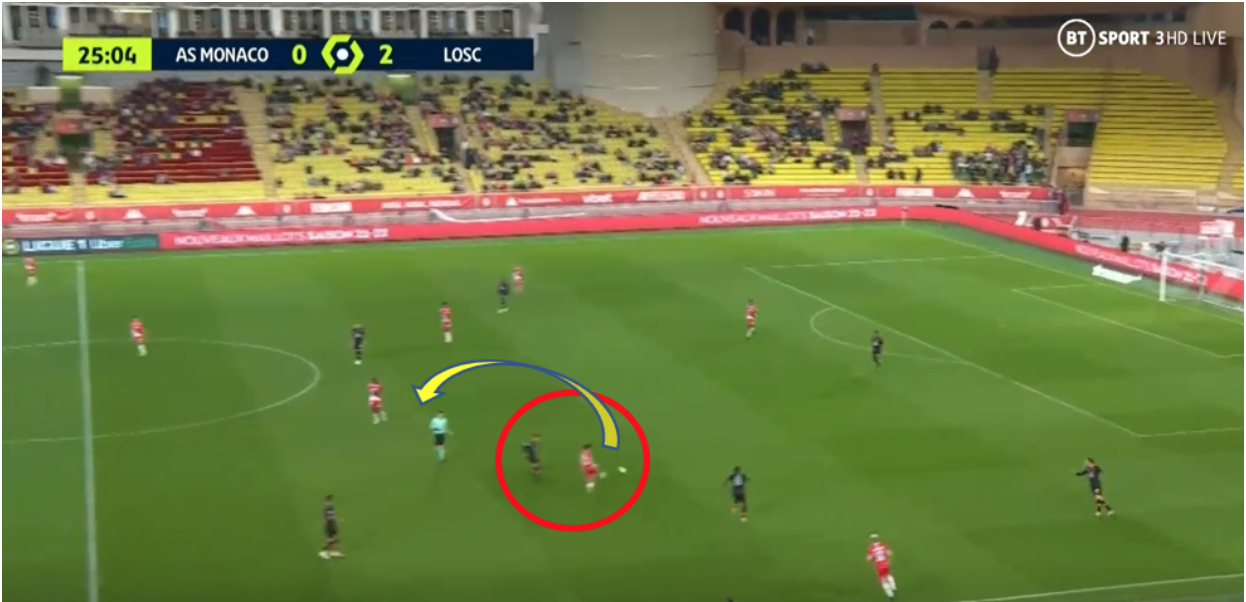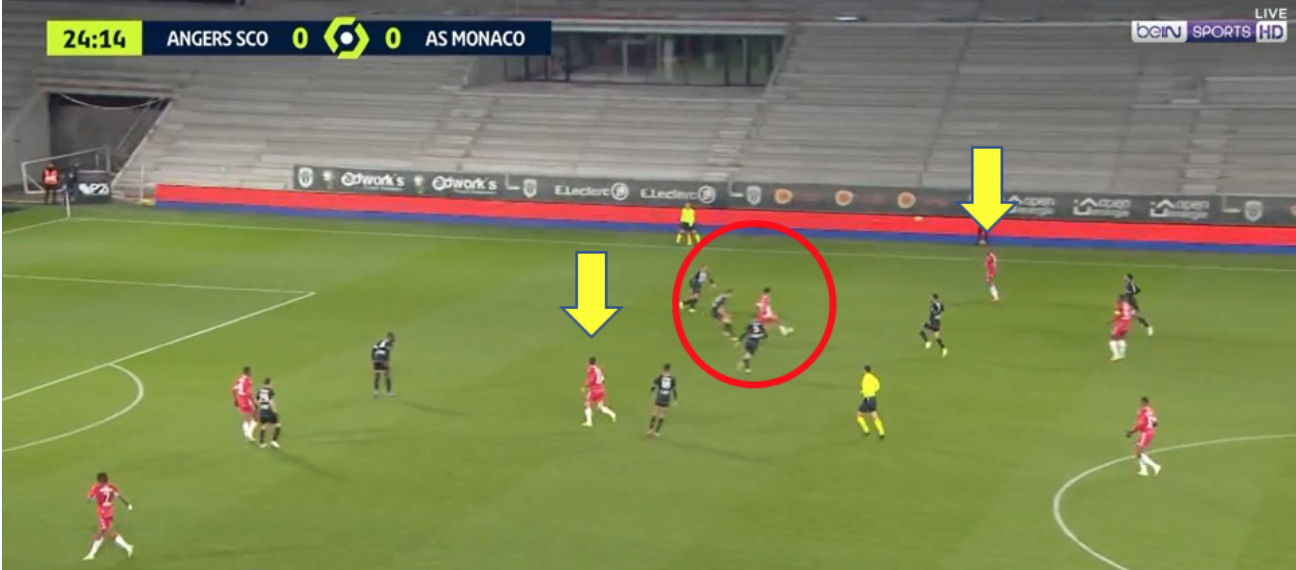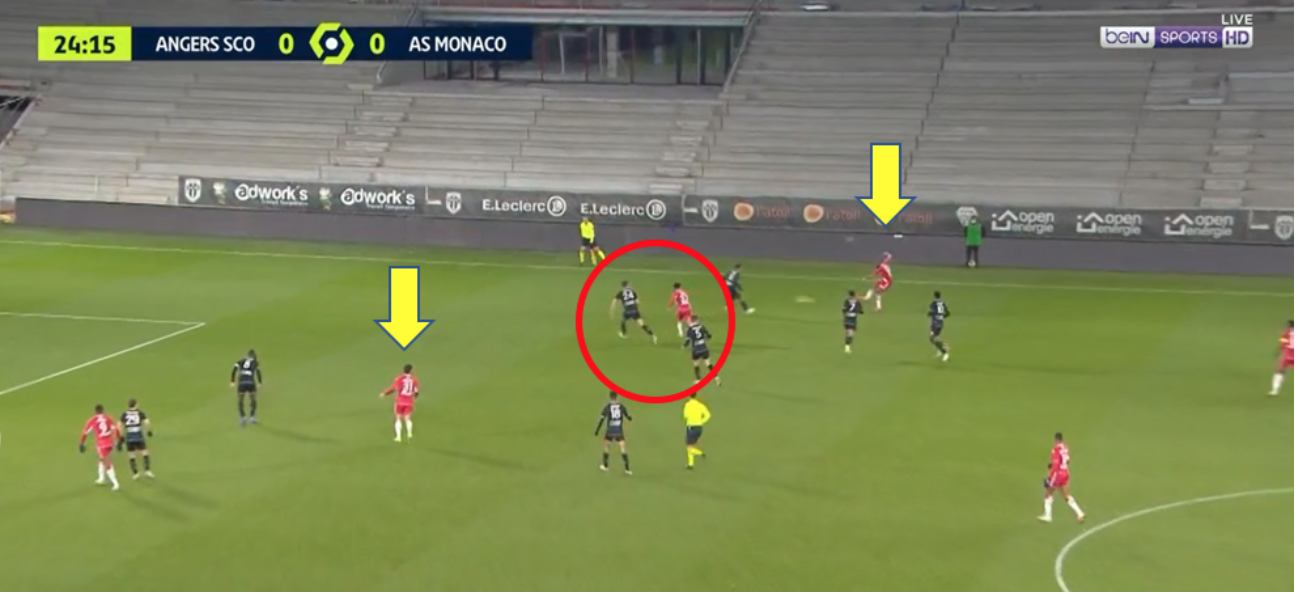 Diop's showing for the ball helped Monaco progress play by dragging multiple players out of position, opening up spaces for teammates to exploit.
Offensive Fulcrum
Under Kovač, Sofiane Diop's been given the license to roam around the pitch, acting as the fulcrum of Monaco's offensive charge in the build-up. He'd regularly come centrally to receive passes in between the lines, with the intention of breaking the next.
Much like his tendency to come deep, he'd very often make himself available to receive the pass in between the opposition's defence and midfield.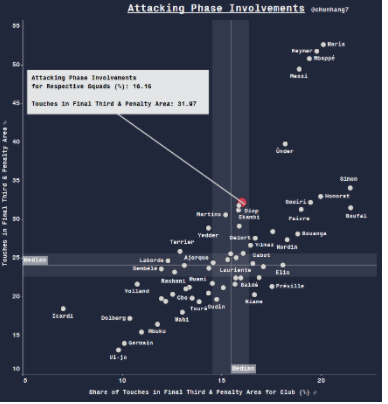 This trend continues under Clement, who clearly sees the positives Diop brings to the team in the final third. This season, the diminutive forward has accumulated the most Touches in the Final Third and Penalty Box for his club, with 31.97, which tabulates to approximately 16% of Monaco's Total Touches in the respective areas.
For context, only 7 other forwards have more touches compared to Diop, and the top 4 are of the Fantastic Four employed by the Parisians. Being statistically the most involved forward for his club signifies the Frenchman's importance in Monaco's attacking phase.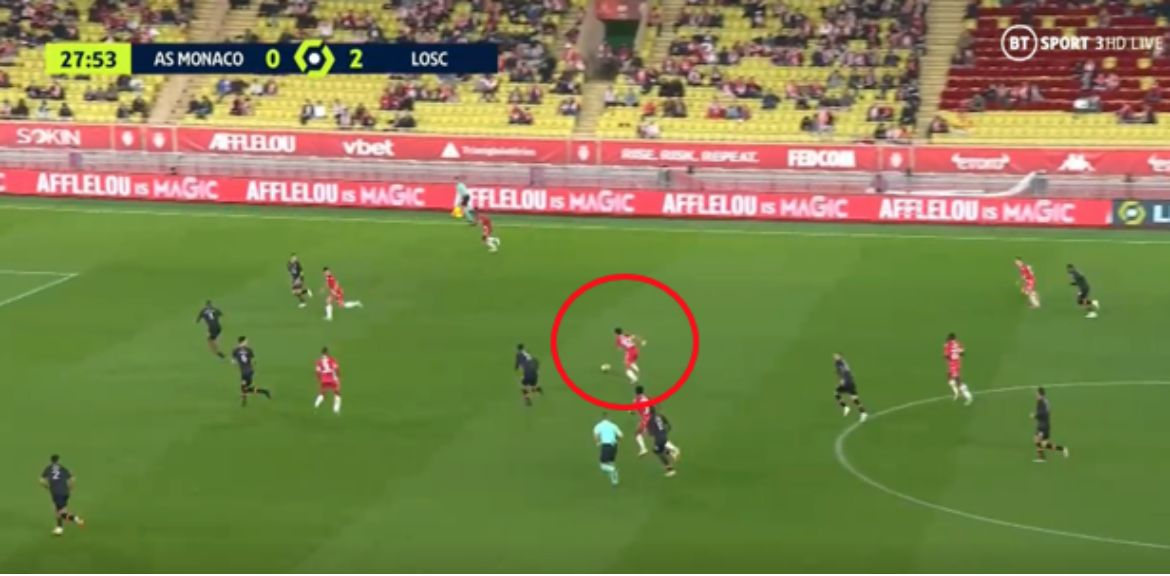 Diop coming centrally to receive the ball between the line, before looking to progress it forward.
Diop's tendency to receive between the lines is a testament to his improved spatial awareness, as he'd constantly scan his surroundings to obtain a mental picture of what he'd do with the ball next. One common trick he'd do, to create separation between the ball and his opponents is his signature "bounce touch".
Upon receiving the ball whilst under pressure, Diop would stop the ball by gently pushing his sole against the underneath of the ball, causing a minor bounce before knocking it away from his marker, thus manufacturing the space for him to work his magic.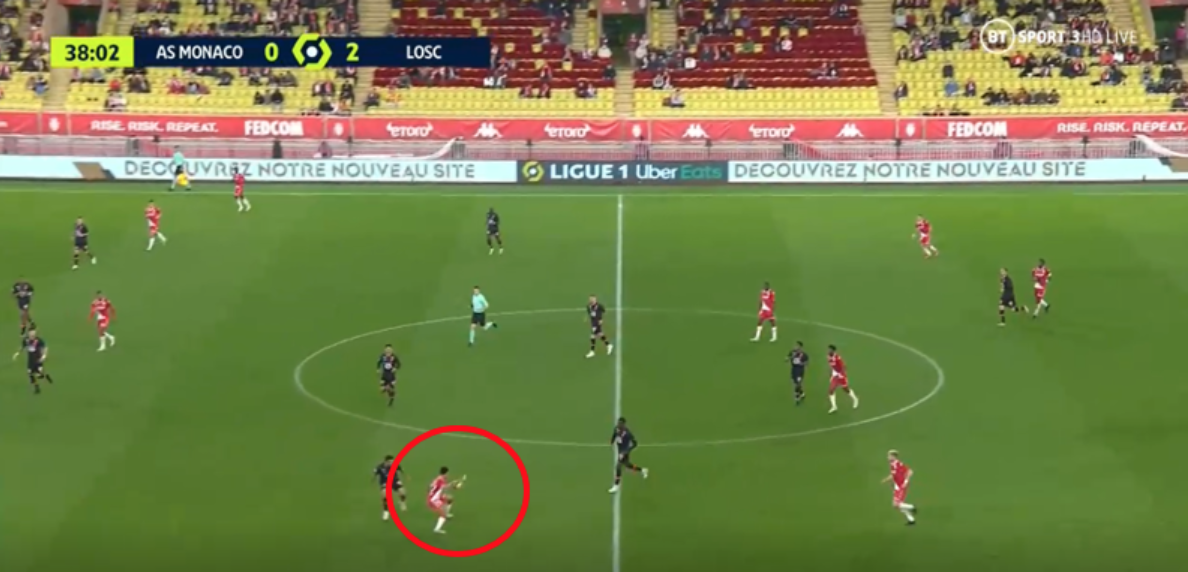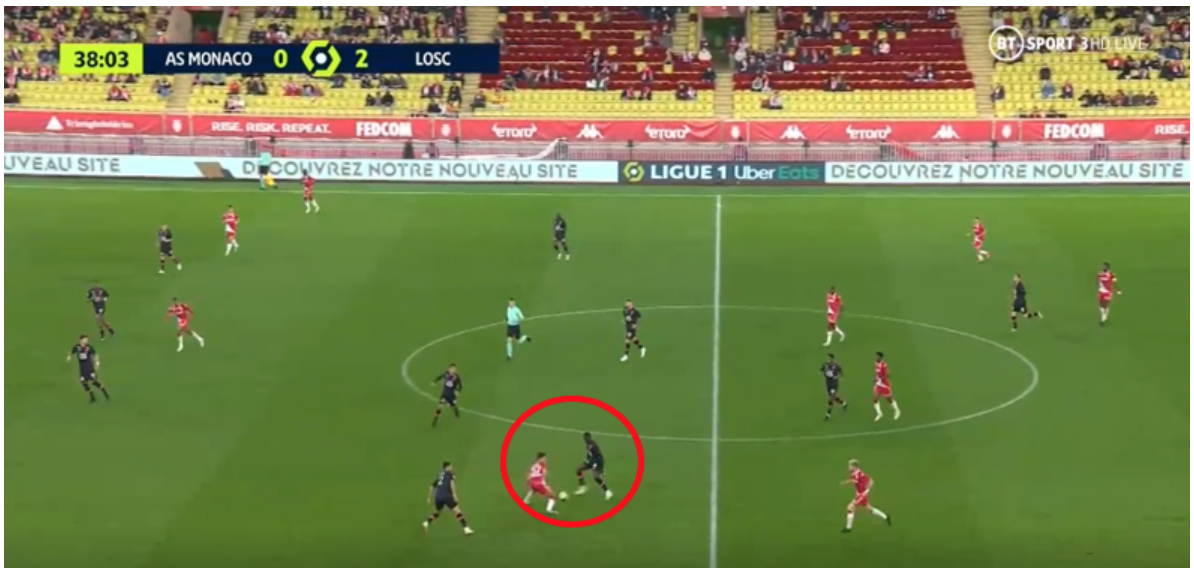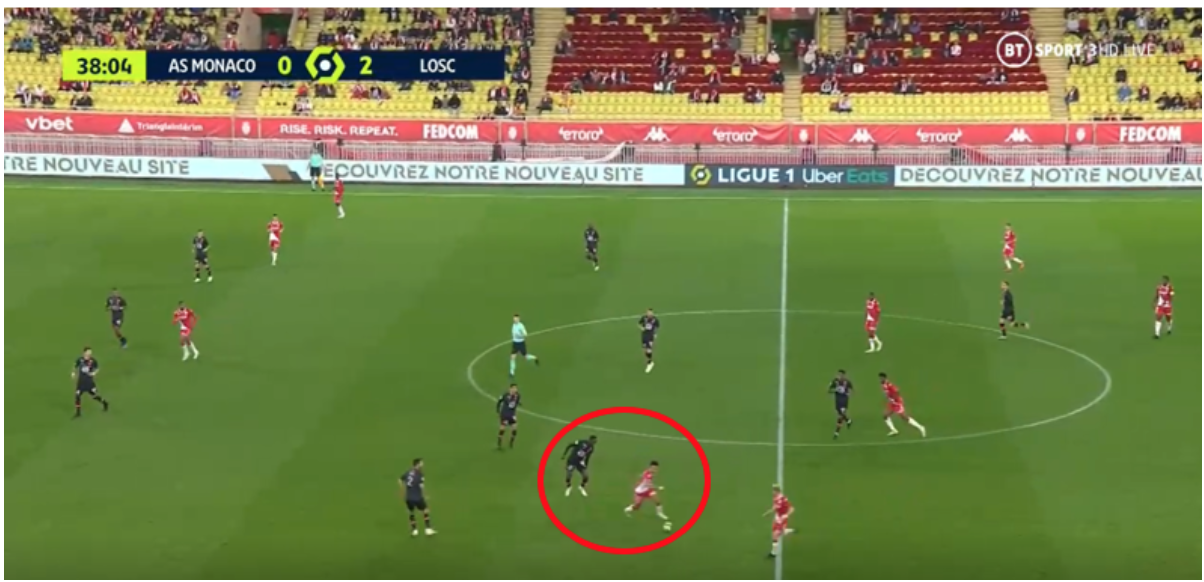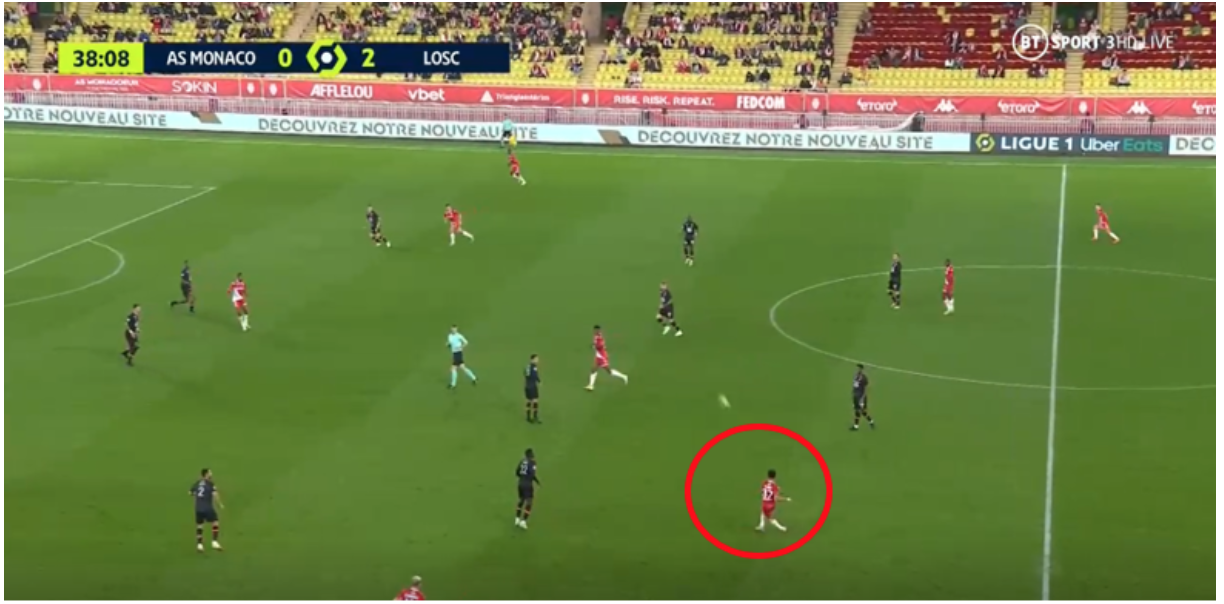 Fabregas Esque
"I watch Cesc (Fabregas) a lot, mainly because he's so good at passing. I look at his positioning too. He's always able to get himself into open spaces. He covers the pitch excellently. I really like Cesc. When I trained, I was a good scorer, but passing is what I do best"– Sofiane Diop.
Unlike your usual forwards, Diop prides himself with the array of passes he delivers over the shots he's made. In essence, he is a "pass-first" player who is constantly on the lookout for runners in behind the defence.
Therefore, it's no coincidence that he has started modelling his game based on one of Europe's best playmakers in the past decade or so. With the pair sharing the same dressing room for multiple seasons now, we might even spot a tinge of Fabregas in the passes Diop makes. 
Having the benefit of starting most of Monaco's games this season, Sofiane Diop has accumulated 2.68 xT (Expected Threat) from open play passes so far, which is the highest amongst any other player for Les Monégasques.
Understandably, this could be filtered and scaled in a per90 basis for a more accurate reading. Nonetheless, it does showcase the forward's threat in his distribution, proving to be adequate in filling the creativity void left by the aging Fabregas.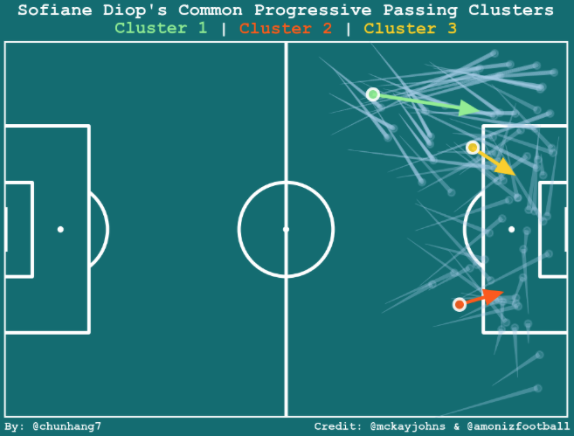 A deeper analysis on his Progressive Passes shows us that he is constantly looking to play passes in behind the defence from the half-spaces just outside the penalty box. His most common progressive passing cluster seemed to feature overlaps from his teammates.
This is most likely Caio Henrique, considering the two maintain a strong chemistry on the field, with the pair combining a total of 182 times so far. His second and third common passing patterns involve passing from the half-spaces into the penalty area, once again signifying his influence and eye for a pass in those sorts of areas. 
Diop registers 2.32 Shot-Creating Actions from Live Passes per90, ranking him as the 87th percentile amongst Ligue 1 forwards this season. His Progressive Passes per90 this season also see him rank highly in the 87th percentile, with 3.74 completed when scaled to the league average.
The underlying numbers prove the Frenchman's ability in unlocking defenses with crisp technique and impressive vision.


The following presents a gallery of Diop's arsenal of passes throughout the season: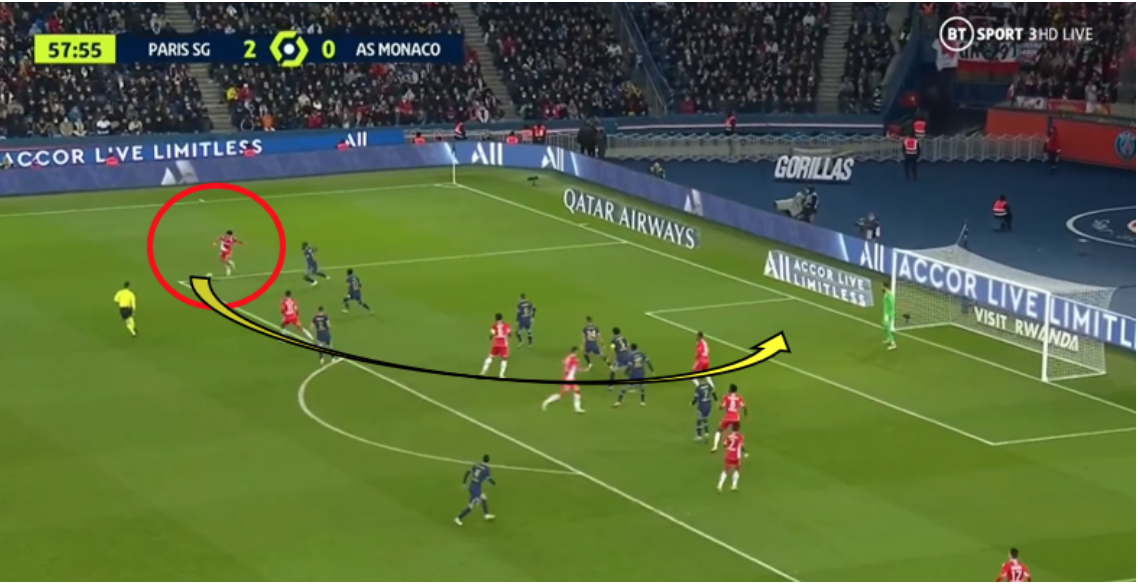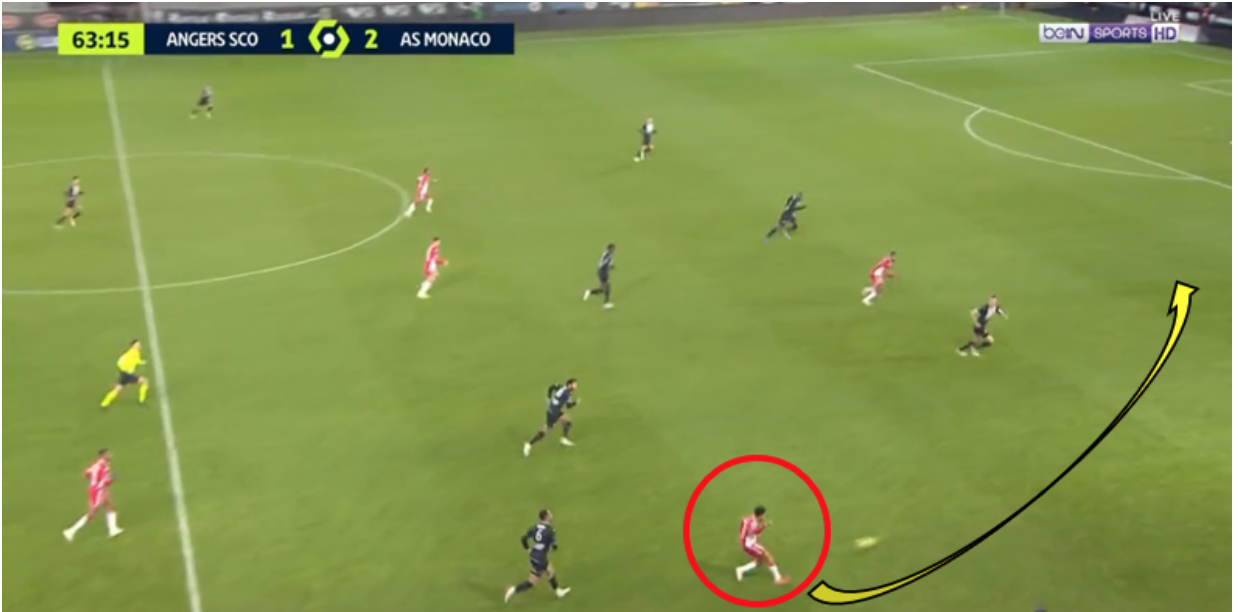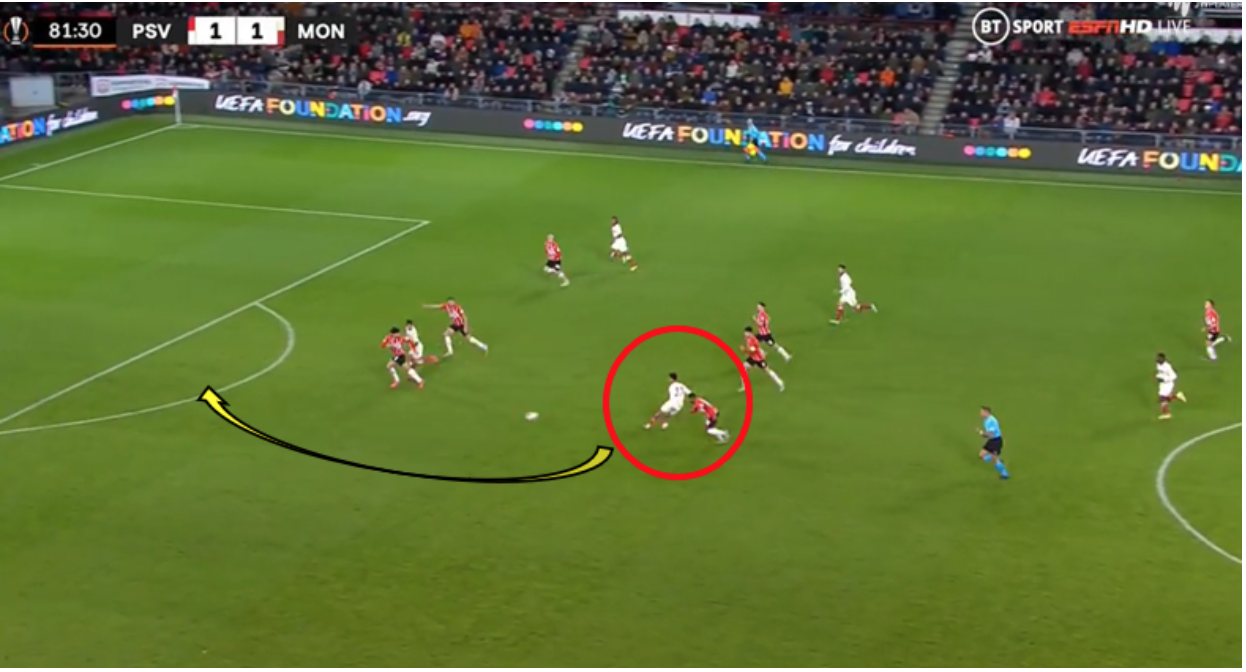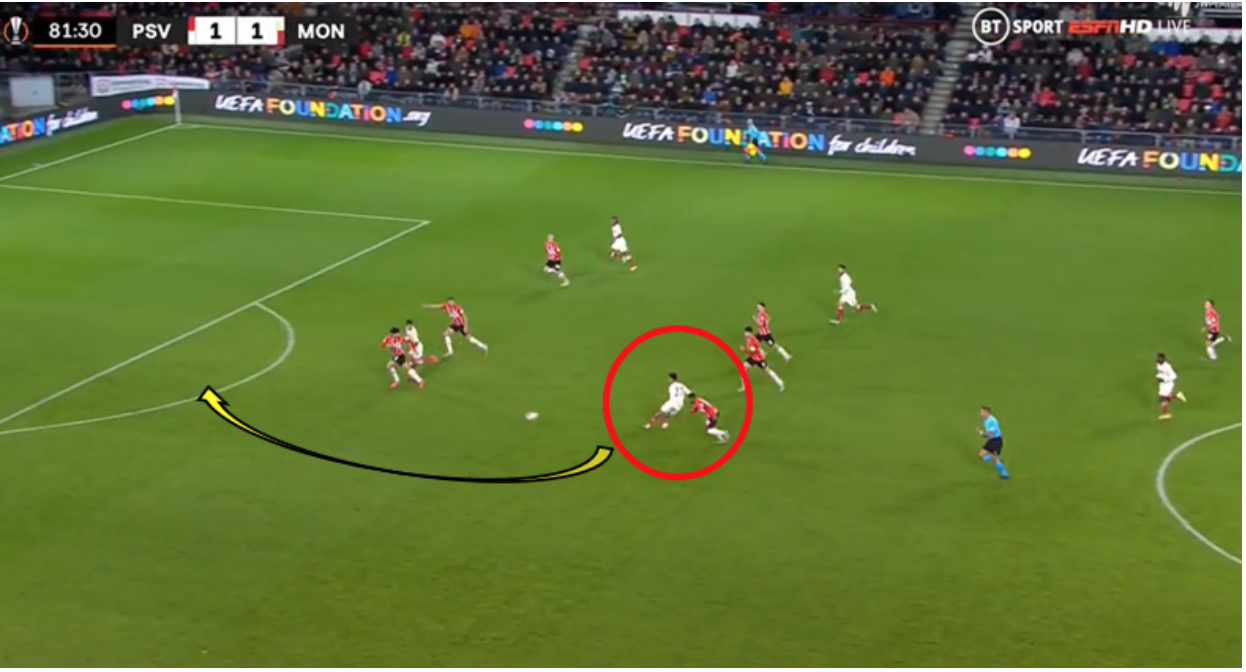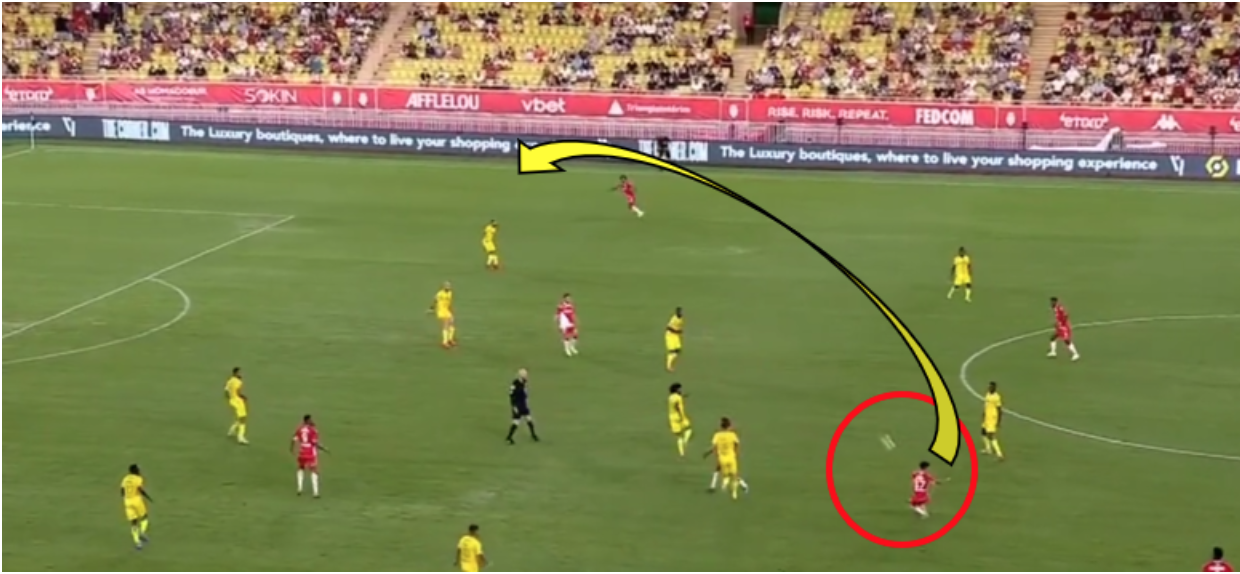 From in-swinging crosses, long-range passes, defense-splitting through balls and diagonal switches, Diop can do it all.
Nimble Feet; Swift Dazzle
Despite the aforementioned worries with his physical stature, it's come equipped with its own set of benefits. Unlike many, Diop possesses a strong core and blessed with a low center of gravity due to his height.
He'd ride off challenges without compromising his balance, whilst sending defenders down on their bottoms. He'd twist and turn away from markers, manipulating the ball with a slight shift in his gears, beating men from all areas of the pitch.
That said, Diop is unlike your Adama Traores who relishes spaces to drive into; Diop prefers the ball to feet and receives to solely create opportunities, rather than becoming a one-man chaos agent.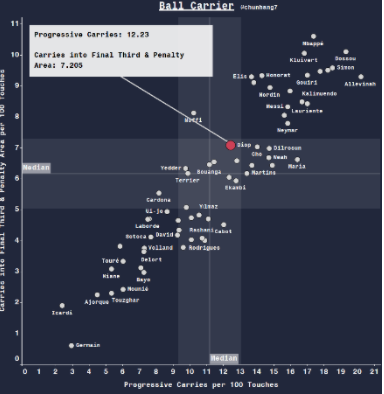 This season, Sofiane Diop has registered 12.23 Progressive Carries per 100 Touches whilst maintaining a respectable 7.2 Carries into the Final Third & Penalty Box.
Perhaps a much more efficient passer, his numbers show that he is an adequate ball carrier, as he is placed in the same quadrant as the likes of Lionel Messi and Neymar. Regardless, it strikes as a player eager to get on the ball, driving Monaco upfield to influence a change.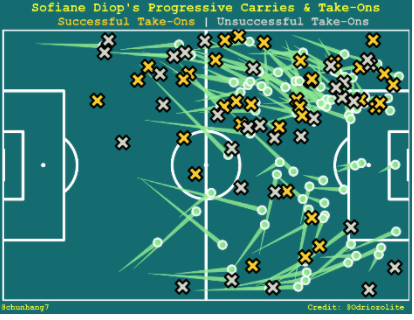 His Progressive Carries & Take-Ons reflects the position he occupies on his heatmaps, with preference to drive infield from the left flank, ultimately utilizing his right foot to thread passes through.
It is also worth mentioning that Diop maintains the ability to sustain control of the ball rather than relying on raw pace itself, which indicates a refined ball control that has played a part in the Frenchman's 60% Dribble Completion Rate this season.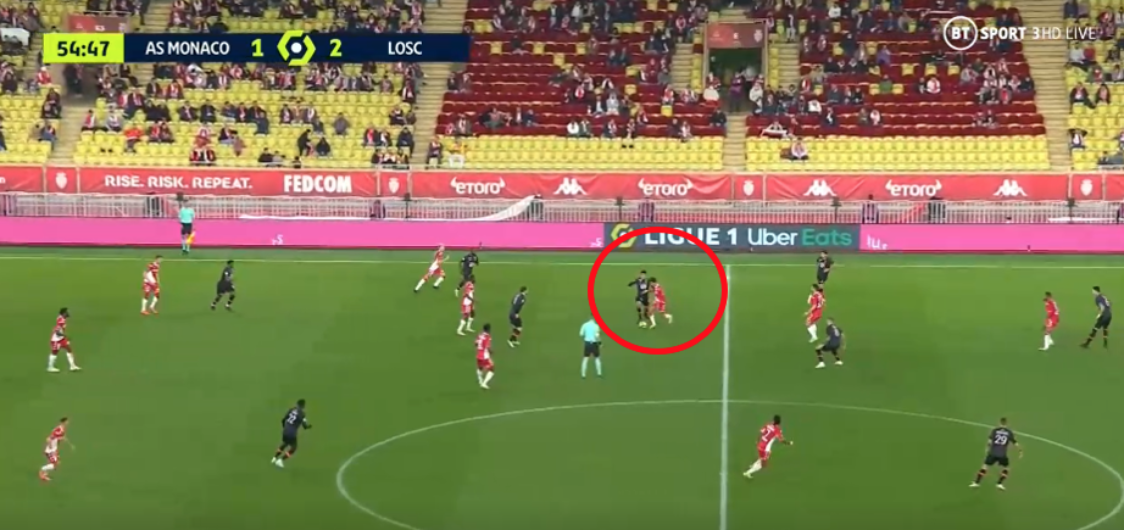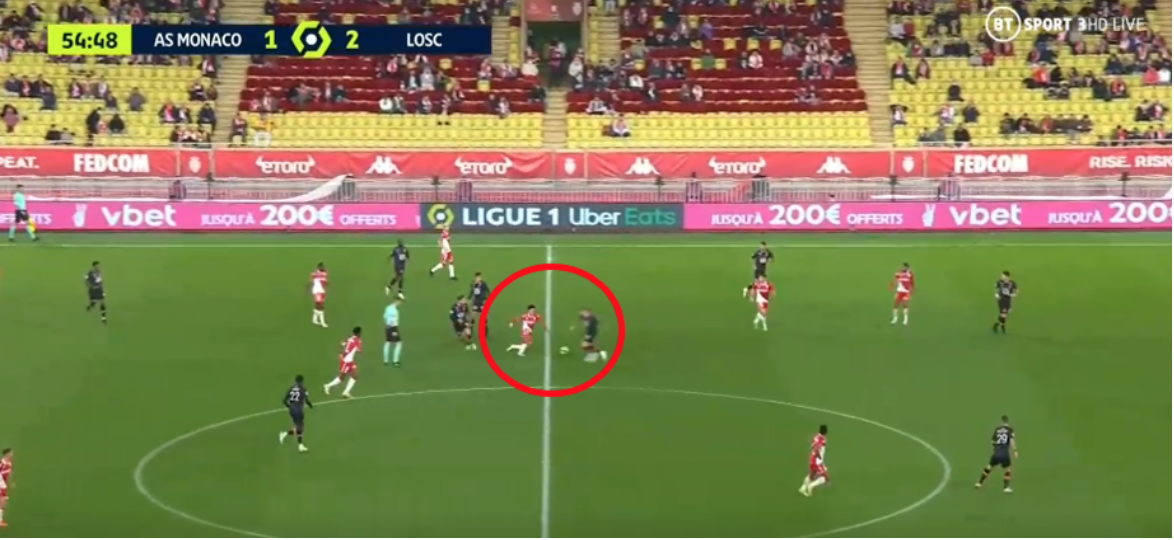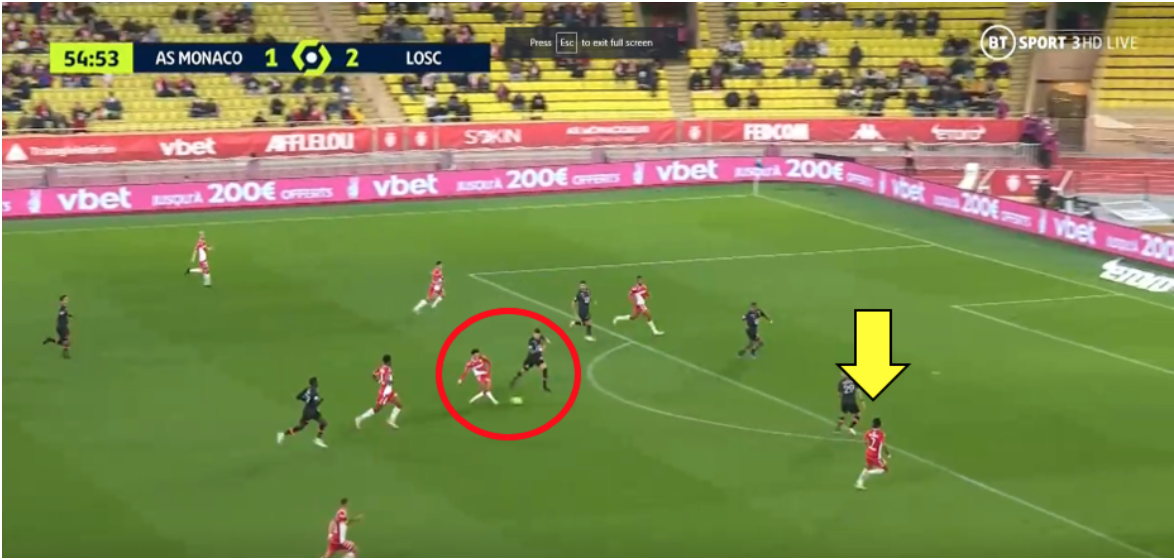 As Diop receives the ball under pressure, his nimble footwork allows for a quick change in pace to beat his marker, before shifting the ball forward to beat another defender. He'd drive through the space and attract one of the defenders, before passing it on.
Defending From the Front
Diop has not looked out of place defensively either. When out of possession, Monaco drops back into banks of 4 with Diop occupying the left flank, alongside Henrique.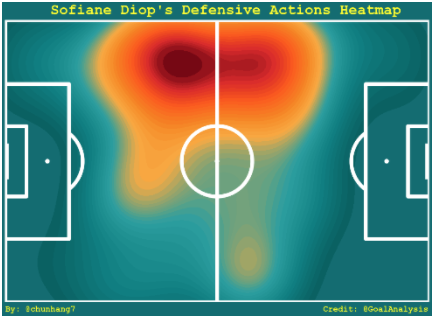 He'd put a shift in, with most of his defensive actions occurring just inside his own half. Diop demonstrates a great desire to put in tackles whenever necessary and is amongst the best tacklers amongst forwards in the league, boasting 2.12 Tackles per90.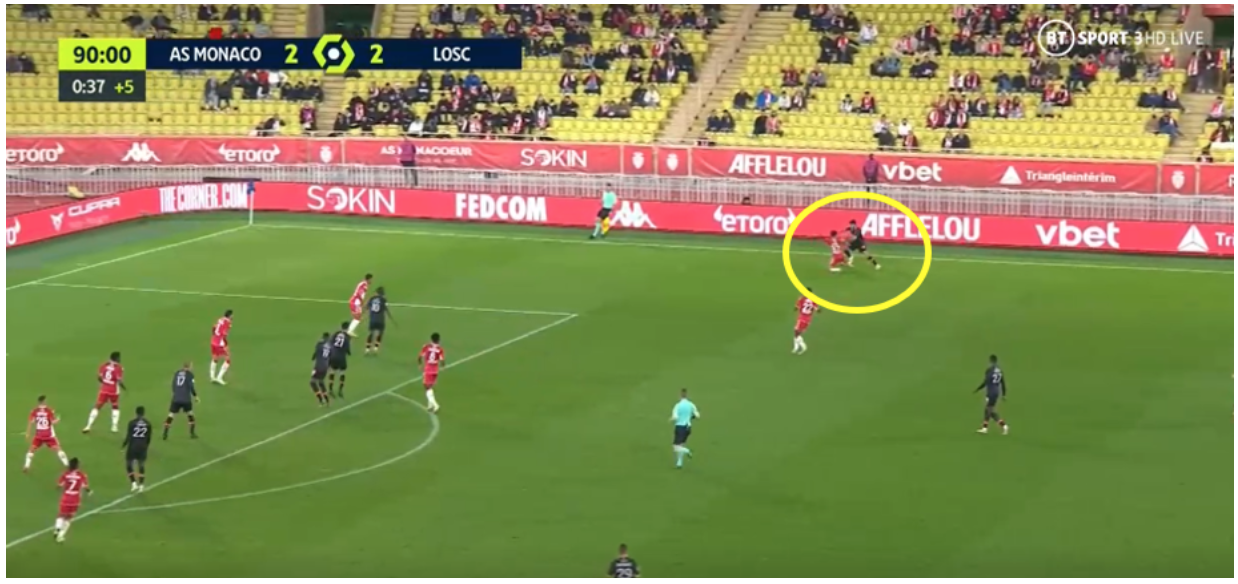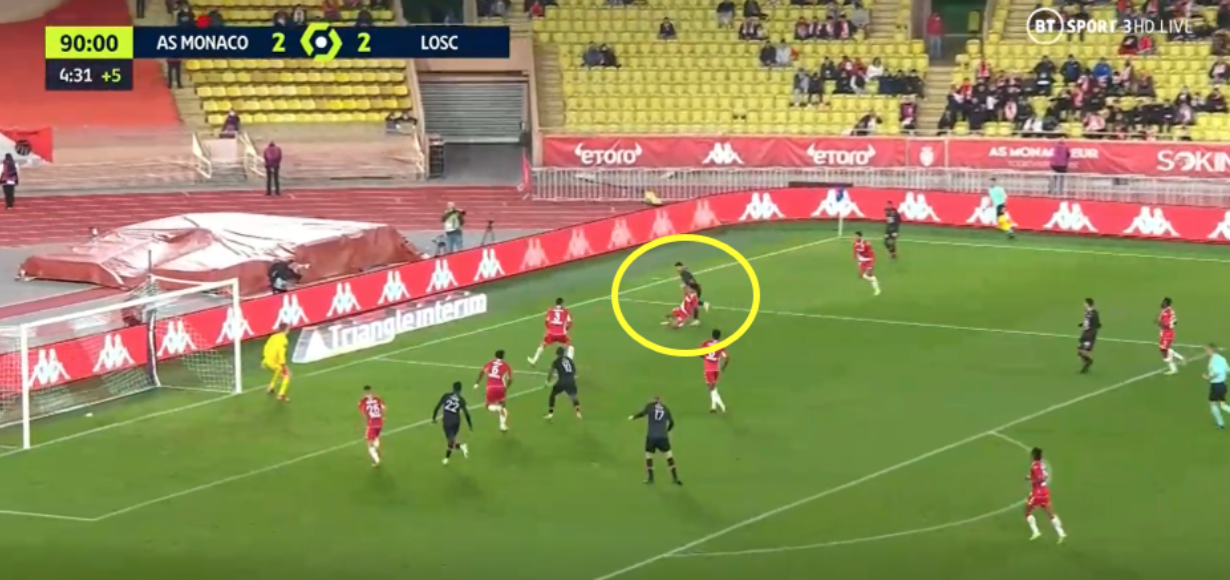 Diop tracking back to put in tackles at the end of games.
Symbolic of the high-pressing system Monaco adopted this season, Diop presses high up the pitch constantly.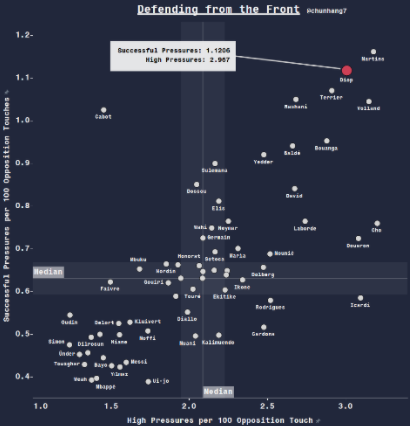 This season, the Frenchman is registering 2.97 High Pressures per 100 Opposition Touches, as well at 1.12 Successful Pressures per 100 Opposition Touches.
He is only bettered by his teammates Gelson Martins, whilst Kevin Volland and Wissam Ben Yedder rank up highly as well, symbolizing the pressing intent cultivated by Clement.
Complimentary of that is his brilliant positional sense and anticipation, forcing pressing traps which leads to high turnovers, as he did here against Lille.
When the center-back brings the ball out looking to play it out wide, Diop recognizes it and blocks the passing lane with an aggressive press towards the fullback. This forces the center-back to compromises but ends up losing the ball in the process.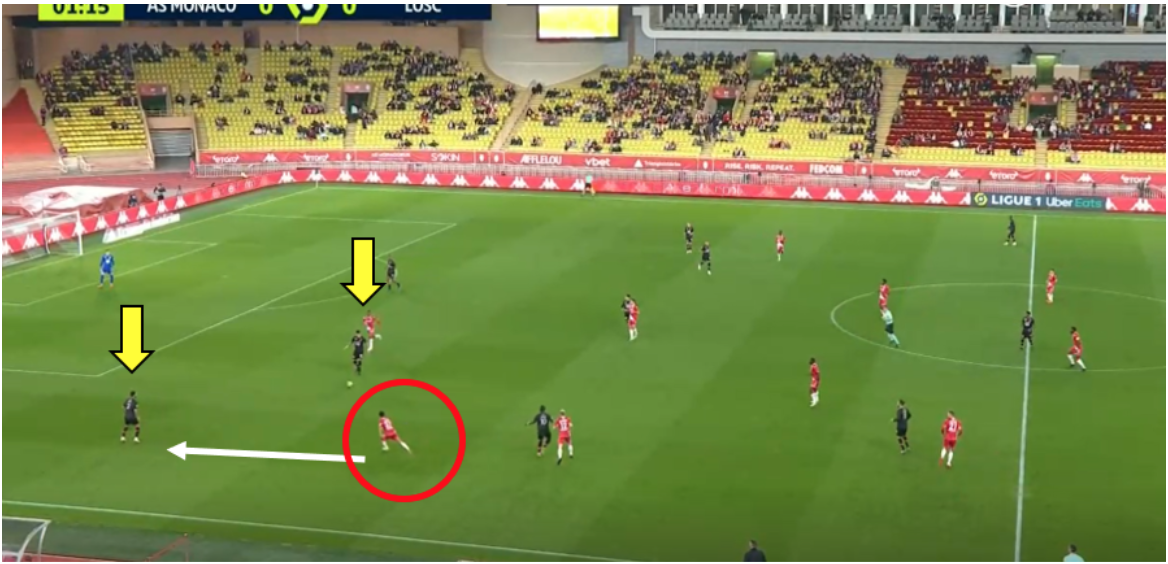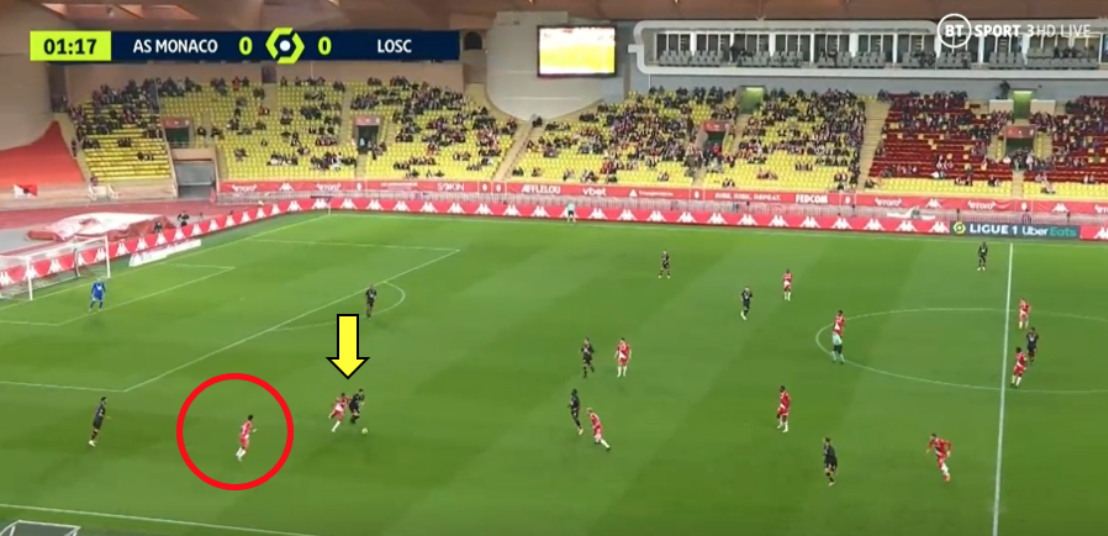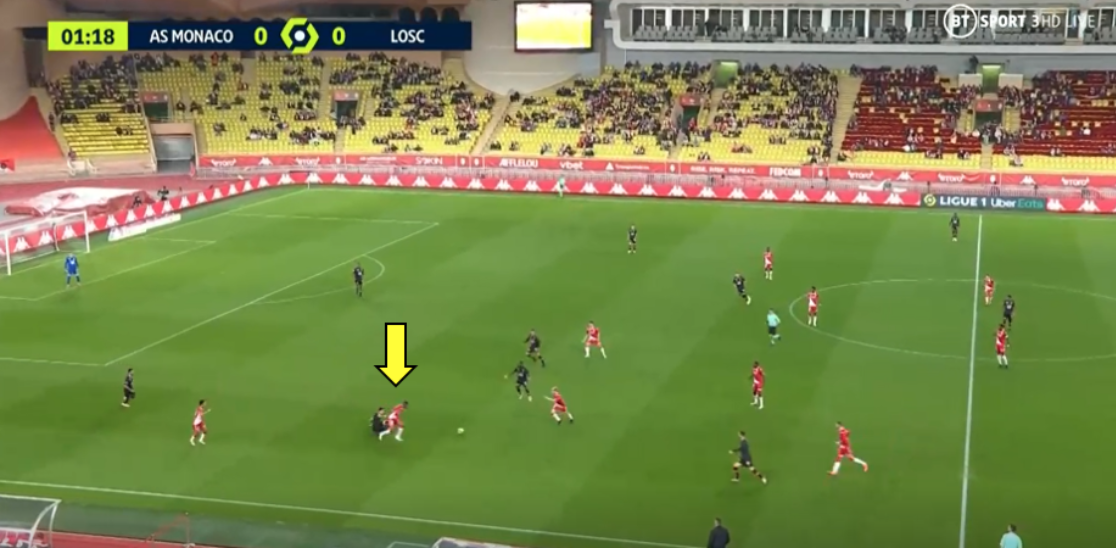 Diop forced a high turnover with his pressing to close down the passing lane.
Penalty Box Threat
With 6 goals to his name, Sofiane Diop is only 1 away from equaling his best efforts last season. Much of it is a credit to his clinical finishing prowess alongside a great anticipation for passes.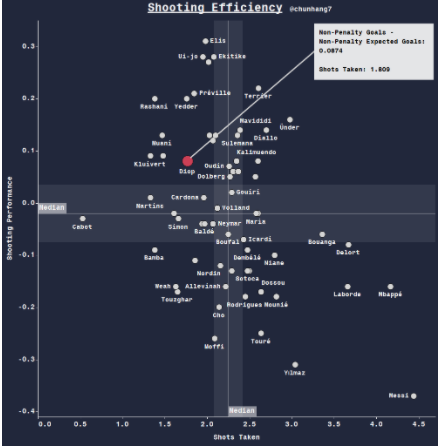 This season, Diop has taken 1.8 shots per90, which is considerably low amongst forwards. This supports the claim of Diop being a "pass-first' forward mentioned earlier, for he values the quality of passes rather than the shots he makes.
Regardless, he has outperformed his Expected Goals this season with 0.0874, which means Diop has been clinical whenever presented the opportunity.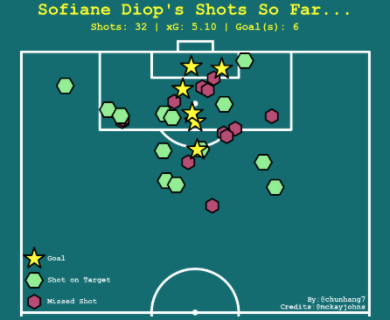 A further look into his shot map shows a player that is constantly meeting the ball inside the penalty box. Sofiane Diop has proven to have great instincts, as he gambles on every opportunity to burst into the box preparing for a shot at goal.
His quick burst of acceleration often catches defenders out as he anticipates passes coming into the penalty area. A combination of his movements along with his predatory instincts in the box has made him an efficient goalscorer for Monaco.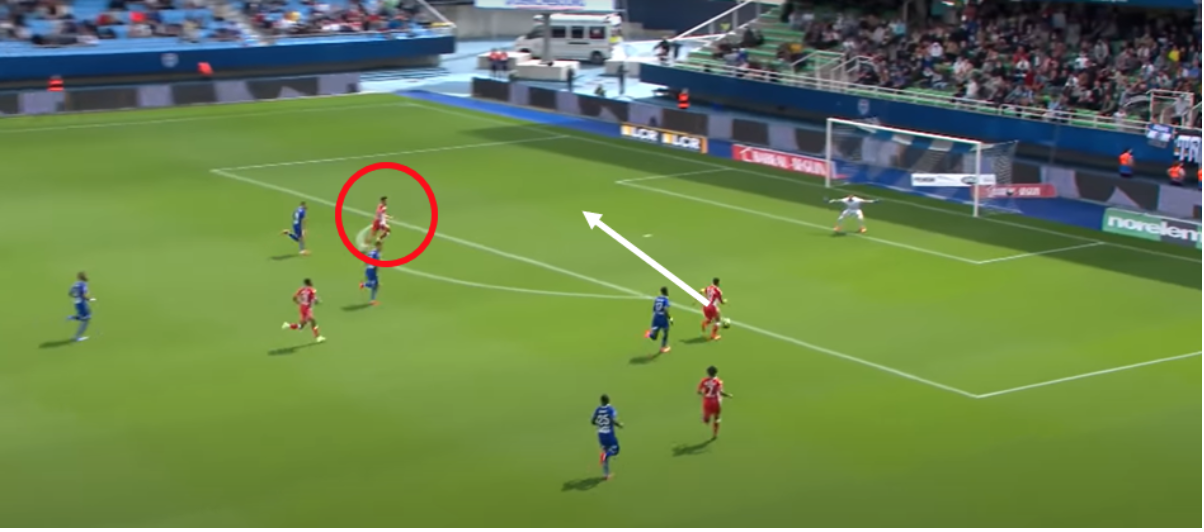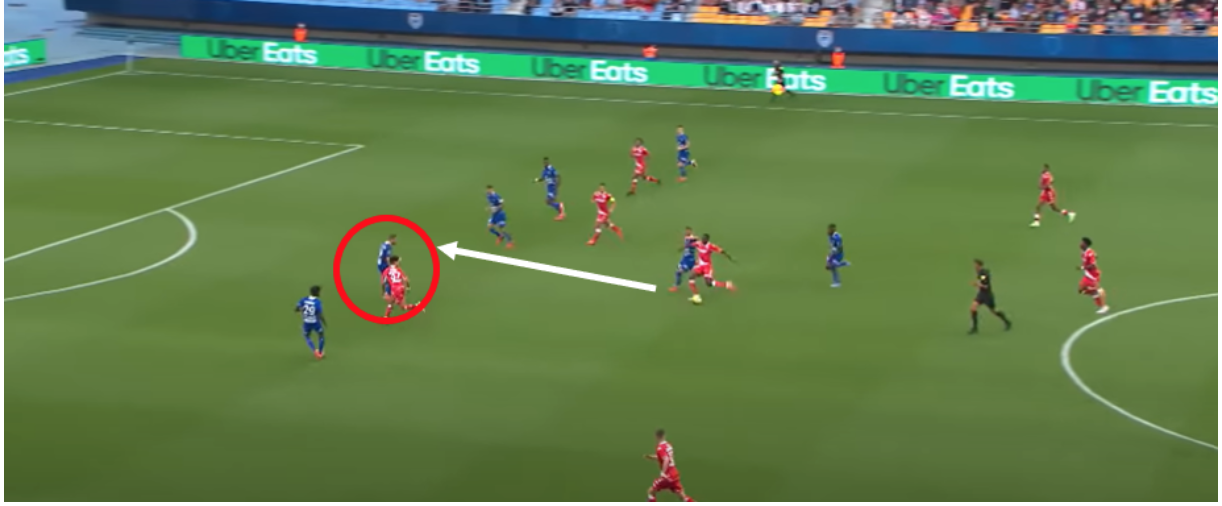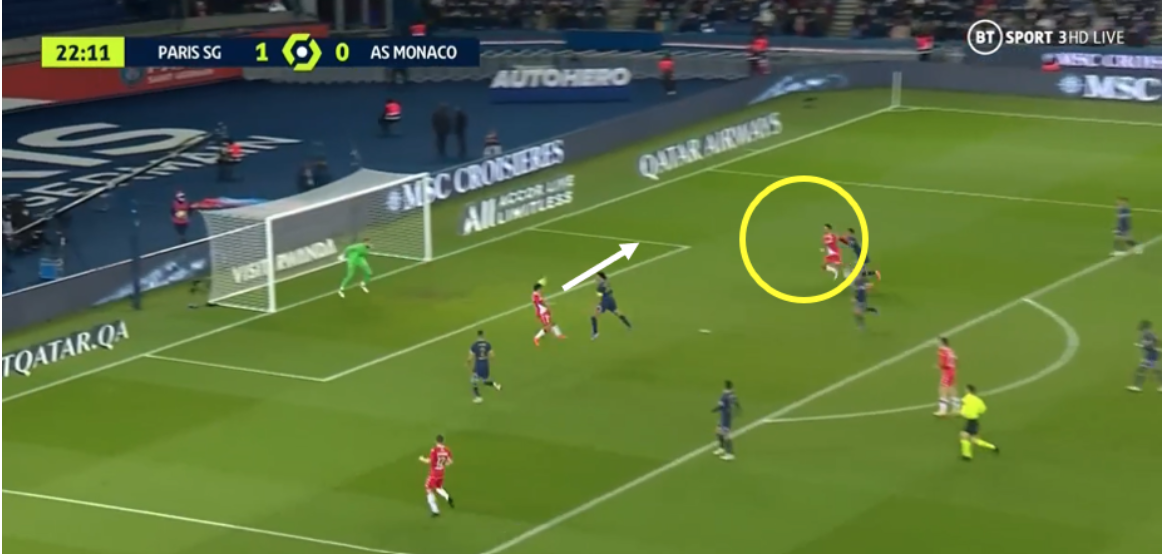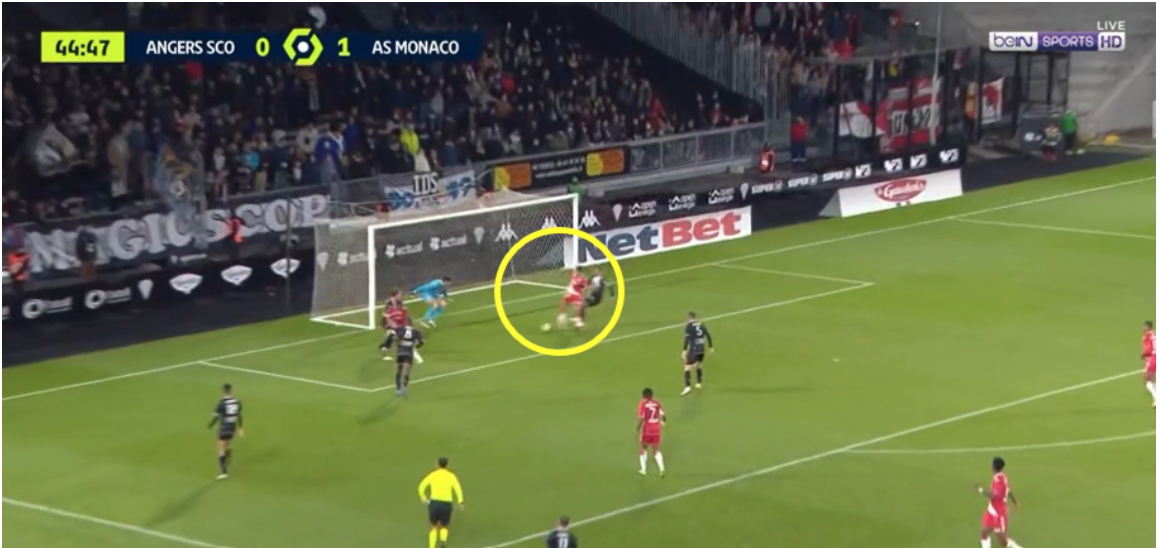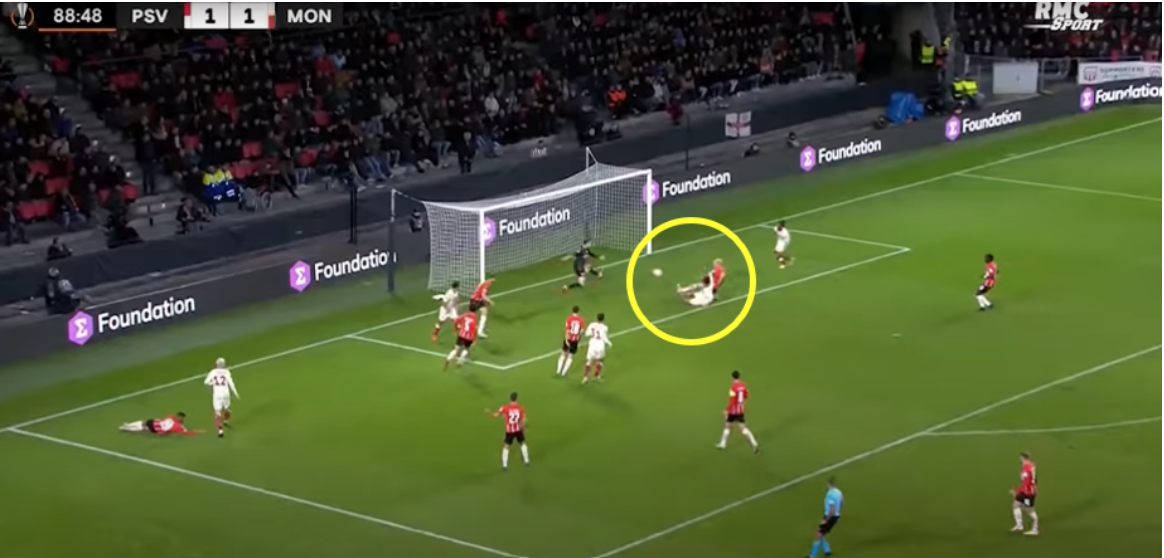 Diop shows his desire to get into the box and at the end of passes at every opportunity
Destined for Greatness
When asked whether he'd like to remain in Monaco for the foreseeable future, this was Sofiane Diop's reply:
"Definitely. When I arrived here my goal was to play with professionals. When I was loaned to Sochaux, I swore that I would come back here and make a name for myself. The next step is to show that I can be even more decisive. I know that I have it in me, I can work on my mistakes." – Sofiane Diop, 2021
The statement not only served as a testament to his mental fortitude – showing resolve to turn things around, but also humility as he candidly acknowledges the need to improve and work on his flaws. Today, Diop has established himself as one of Ligue 1's exciting forwards, making himself a household name amongst the fanbase.
Ask anybody who they'd fear losing the most and the second most popular answer would be Sofiane Diop, for his importance and quality in the final third would be difficult to replicate.
Nevertheless, his performances will no doubt come under close inspection from Europe's elite, but the optimism remains for Diop to continue illuminating under the lights of the Stade Louis II.
By: Lee Chun Hang / @chunhang7
Featured Image: @GabFoligno  / Johnny Fidelin / Icon Sport
All visualizations made by the author