Alexander Nübel: The Heir to Manuel Neuer's Throne?
For many, loans often provide a chance to hone one's craft away from the limelight. Alexander Nübel's two-year loan to Monaco doesn't afford him that luxury.
The German is considerably more scrutinised at the Principality club, than he would have been if he had remained as Manuel Neuer's understudy at Bayern Munich. However, after a difficult start, he is regaining his confidence, positing himself as a genuine – albeit alternative – candidate to succeed his compatriot. 
Brought in from Schalke to act as an understudy to the indisplaceable Neuer in 2020, Nübel understandably found his chances limited at Bayern Munich, notching up a solitary appearance in the Bundesliga in the 2020-2021 season. However, at the age of 24, he was no longer a youth prospect; he needed game-time, and urgently. 
Monaco were seemingly the perfect host for a goalkeeper that was looking to prove himself on the European stage, with the prospect of gaining Champions League experience away from the Allianz Arena.
This, however, didn't manifest, and Monaco's play-off elimination was a significant low-point in what was a difficult start to Nübel's loan spell. "The first five matches weren't great, not as good as people expected, but also not as bad as some newspapers wrote."
The German looked shaky with the ball at his feet, converting a meagre 50% of his attempted passes in their ultimately unsuccessful attempt to qualify for the Champions League in their play-off match against Shakhtar Donetsk in August. The coming weeks would further highlight Nübel's deficiencies with the ball at his feet, 
His distribution would continue to prove problematic, displaying a particular inability to pick out passes against teams who liked to press. He would complete only 34% of his passes against Real Sociedad, and in the reverse fixture he didn't figure much better with a 45% accuracy, whilst a 43% pass completion rate against Lyon displayed his deficiencies on a domestic stage. 
Nübel confessed himself that he does have a nervous streak, and that lack of self-confidence in the early stages was infectious, spreading to his defensive partners within whom little confidence was instilled.
"It is true that in the past I have had a tendency to be a very nervous player, and in the end the situation was not so easy, so I know how to handle situations like this." 
The German keeper, within unfamiliar surroundings, needed to stop the rot, and he would do so, albeit in incremental fashion. The source of his renewed confidence was not imparted by the coach, but was a much more personal, family affair. "I built my confidence back myself. I talked to my family as well about the pressure I was feeling, and they helped me a lot to deal with the situation."
Nübel doesn't possess Neuer's undeterrable confidence, dismissing any notions that he came into his loan spell over-confident, "My confidence wasn't so high when I came here that I was flying through the locker room!"
Benoît Badiashile and Axel Disasi: The Best U-23 Defensive Partnership in Europe?
In order to replicate Neuer's career trajectory, he knows that this is something that he must improve upon, starting with being more vocal on the pitch. "I can be more vocal for sure, but my body language is very good. I speak a lot with the defenders, but maybe not as much as other keepers, but I think they hear me."
The language barrier is of course something that he has had to overcome, and although far from fluent in French, he is at least capable of communicating with the Francophone players (Benoit Badiashile, Djibril Sidibe, Axel Disasi) in their mother tongue. 
His efforts to adapt haven't been in vain, and he is now reaping the fruits of his labour, putting in the types of performances that made him so sought after during his time at Schalke; his shot-stopping and confidence on the ball returning to the fore.
Only a week apart, Nübel provided unequivocal evidence of his progression in both departments. Item one: a nonchalant chip to break an intense Clermont Foot press in the closing stages of their 4-0 victory. Although the game state meant that Nübel could afford to take such a risk, the fact that he took it is nonetheless indicative of his progress. 
With an on-rushing forward just a couple of yards away, and two other Clermont players committed to the press within the Monaco penalty box, blocking all passing channels, Nübel took the aerial option, picking out Youssouf Fofana who could progress the ball unpressured. 
Item two: A spectacular double save in the defeat to Montpellier. The initial strike from long-range was well parried by Nübel, who was at full stretch to his right.
The second displayed a brilliant shift of momentum, not only diving to the left, but also generating forward impetus to smother the shot. His balance and ability to make rapid changes of direction have stood out in recent weeks, never more so than against Montpellier. 
The 25-year-old is therefore beginning to show those more tangible, technical abilities, complimenting a growing mental resilience and presence as a leader of the backline, staking his claim to Neuer's throne. Should Nübel succeed his fellow German, Bayern Munich would, however, be getting a different profile of goalkeeper. 
Nübel, as well as currently being a much less vocal goalkeeper than Neuer, doesn't carry out the defining function that made the latter such an elite keeper: the ability to sweep.
The marauding Neuer is often found way out of his goal, snuffing out threats from balls in behind and retaining the ball under pressure from opponents. Visually, Nübel plays much deeper, and this is backed up by a comparison of their respective heat maps from this season.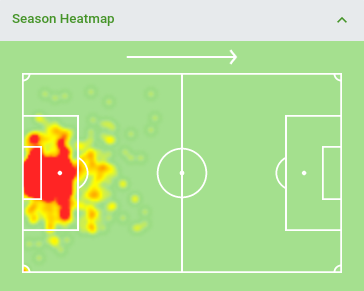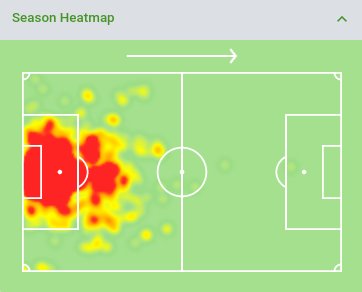 Photo: Nübel's various heat maps [SofaScore]
Nübel's long-distance distribution is still one of his weaknesses. Often resorting to longer passes, when under pressure, he doesn't provide the same level of accuracy as Neuer, who has a long pass completion rate of just over 73%. Nübel's 51% rating in long pass conversion shows the work he must do if he is to become as progressive a passer as Neuer. 
In terms of shot-stopping ability, Nübel wouldn't represent a downgrade from Neuer. Based on PSxG this season, the former has outperformed the latter, displaying an above-average ability to stop shots.
His double save against Montpellier lingers most in the memory, but his ability throughout the season to position himself well, and adopt technically solid body postures is indicative of a player with a rounded shot-stopping technique.
The sheer quantity of close-range stops dispels any notion of coincidence, pointing instead to a well-drilled keeper, who knows which positions to assume. 


Photo: Nübel's underlying statistics [FBRef]
Nübel therefore represents a different style of goalkeeper than Neuer. If he is to return to Bayern Munich as the new number 1, it shouldn't be assumed that he would be a like-for-like replacement, but nor should he be considered a downgrade. They are simply different.
The style of play at the German champions may have to be adapted in order to accommodate a keeper who offers less in building from the back, and who doesn't offer the same range of distribution. They would, however, be getting a well-rounded shot-stopper, who, as he develops is certainly becoming more comfortable with the ball at his feet. 
In making the move to Monaco, Nübel has done one thing that Neuer never has – plied his trade in a foreign league.
In doing so, he has displayed some of those intangible qualities that are so important for goalkeepers, namely a confidence to adapt to a new challenge, and an ability to bounce back from a poor run that, if not for his character, could have manifested into an incessant downward trend.
The experience acquired will stand him in good stead for when he returns to Germany in 18 months time, as he tries to wrestle the number 1 jersey off one of the greats of the game.
In the meantime, Nübel is only thinking about the Principality side, and leading them back into the Champions League places. "My focus is on AS Monaco, on playing well, and on improving my skills. What is happening in Bayern isn't my thing at the moment." If he continues on his current trajectory, it may soon be.
By: Luke Entwistle / @LukeMonacoLife
Featured Image: @GabFoligno / picture alliance