Player Analysis: Wilfried Singo
Football management is a weird job. A job so egotistical, that a contrast in playstyle indicates a clash of ideologies. Managers tend to mold their teams into the image of their greatest inspirations; a game of football may look as simple as people kicking a ball into a net, but managers see it as a battle of philosophies on the pitch.
Clubs are essentially a canvas to paint their identity, with every team put out a reflection of the gaffer's personal influences. Hence, the great pride & ego accompanied with every win at every conferences.
Managers who've had their genesis beyond the technical area, often quote the influences of their previous managers. In that respect, Torino manager Ivan Jurić developed his taste for 'Heavy Metal Football' under the tutelage of Gian Piero Gasperini.
The pair not only share a bond from working closely for several years, but also the desire to instill a high-pressing and intense playstyle into the teams they manage. His tantalizing style of play appeals to II Toro, who's seen a complete 180-degree change in direction. A club once flirting with the notion of relegation is now sitting comfortably at midtable, with the 5th best defensive record in Serie A.
Many of the players benefitted from this change in approach, especially the younger crop whose athleticism is favored for the high-intensity running required of Jurić. One such beneficiary of this system is Wilfried Singo.
As I write this article, Singo has developed into a vital figure at Turin, with athleticism unlike many others in Europe. That said, his technical abilities cannot be understated, for the influence he's had on Torino is massive. This analysis will cover the Ivorian's performances with his club this season. All figures below are based on performance per 90 minutes played, according to StatsBomb via FBref.
Bull on the Wings
Born on Christmas day, it wasn't until 2019 when Wilfred Singo received his greatest gift of all – a contract at Torino. He was applying his trade on home soil for AS Denguélé when his physique and technical prowess pique the interest of then sporting director Gianluca Petrachi. It's the same qualities we now associate with the 6'3 ft wingback.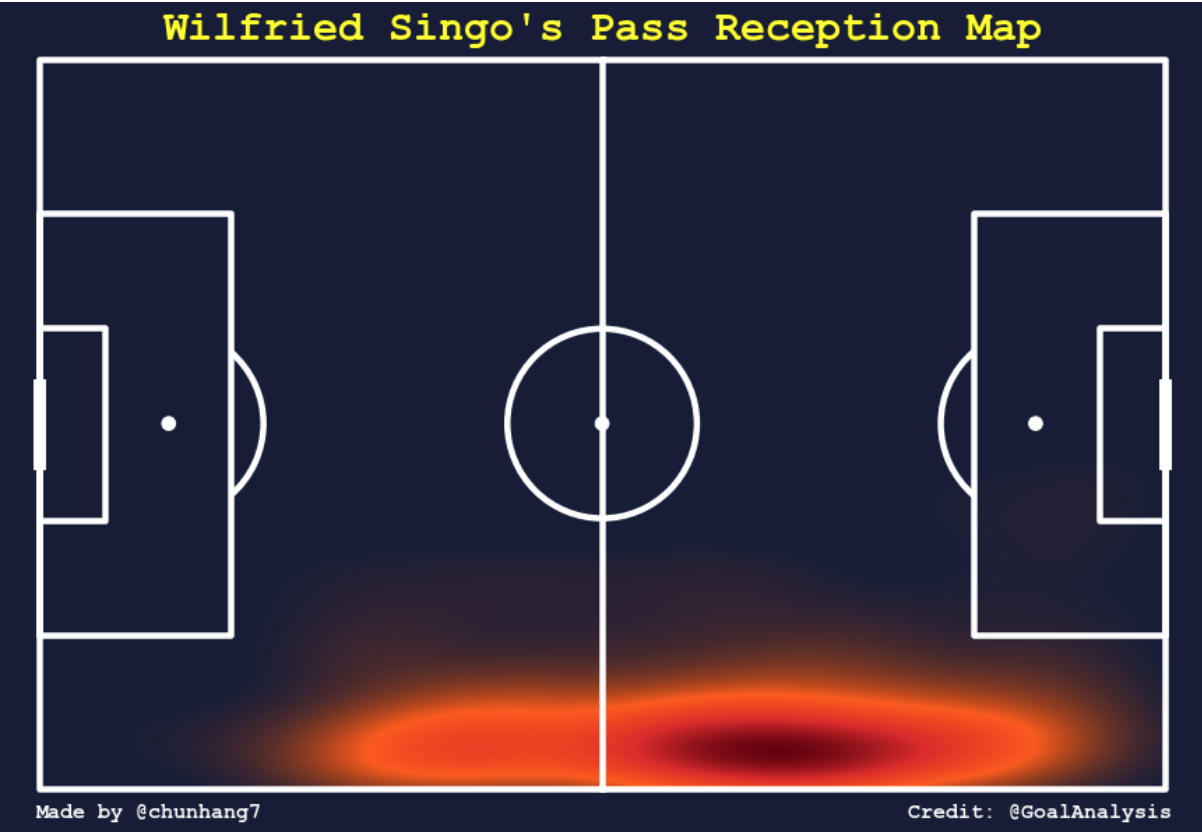 Torino sets up in a 3-4-2-1 formation, with the Ivorian as the right wingback. His primary responsibility is to stretch play by holding width, isolating opposition fullbacks as often as possible. His Pass Reception Map also proves his role as Torino's primary width holder, as he receives most his passes high and wide on the field. In theory, this wide positioning grants him the space and time to carry it forwards.
He is blessed with great straight-line pace coupled with aerobic capacity capable of maintaining the tempo for long. With a knack of taking players on and exploiting spaces in-behind, it would be unreasonable to have Singo elsewhere, without the same degree of freedom to attack.
His lung-busting run from his own penalty area to Sampdoria's box showcases his stride and stamina, which culminated in him scoring a brilliant goal.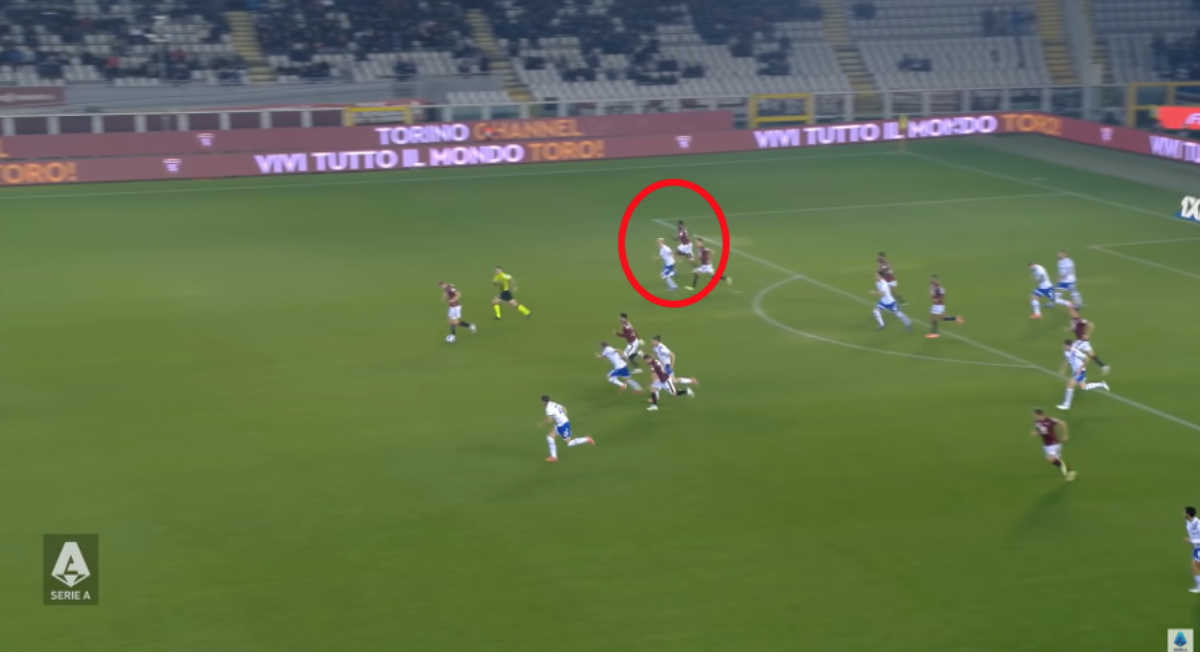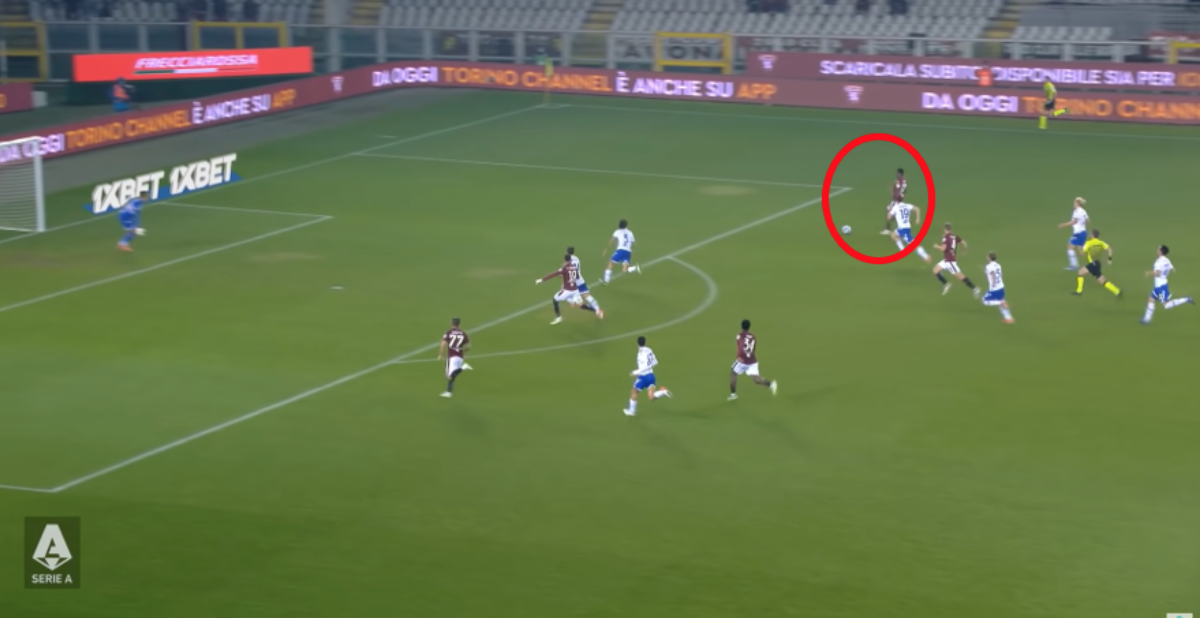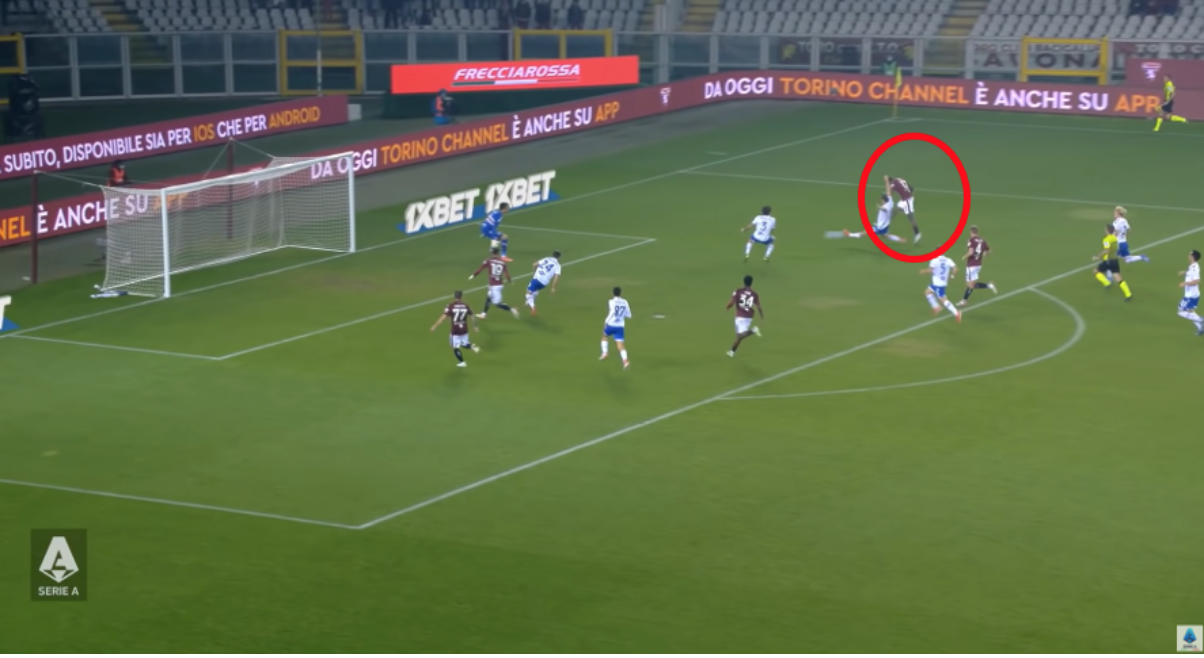 I've teased his desire to get forward whenever possible, as he not only acts as his team's main outlet in transitions but also as a means of progression. With that, comes his inclination to be involved further up the pitch. When compared to his wide counterparts in the league, only 7 other players accumulated more Touches in Final Third & Penalty Area than Singo.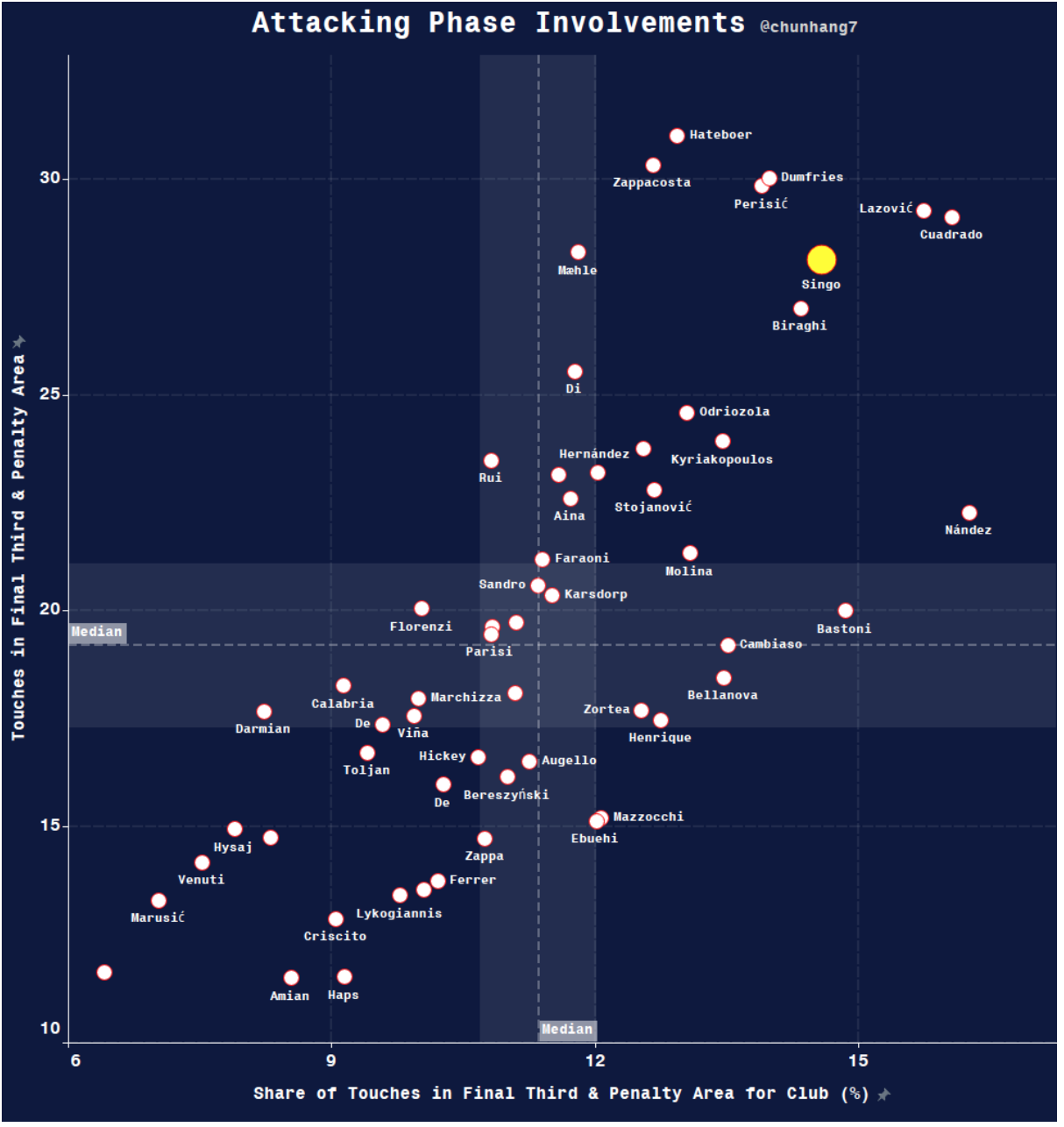 Nevertheless, Singo's 28.13 Touches in the Final Third & Penalty Area represents 14.6% of Torino's Total Touches in the respective areas. It is not unusual to have your wingbacks see majority of the ball but amassing the highest number of touches in maroon, proves Singo as an influential member of Torino's attacking play. 
Agent of Chaos
With the insurance of a covering defender behind him, Singo's starting position is unusually higher compared to the average fullbacks (as shown in his Pass Reception Map). He is constantly teetering on the shoulder of defenders, anticipating every pass forward.
His teammates recognize this and look to leverage on his positioning, by sending long balls forwards down the right channel for Singo to run onto. His strong physique and tall frame provide a strong foundation to ride off challenges, making him an agent of chaos whenever he accelerates.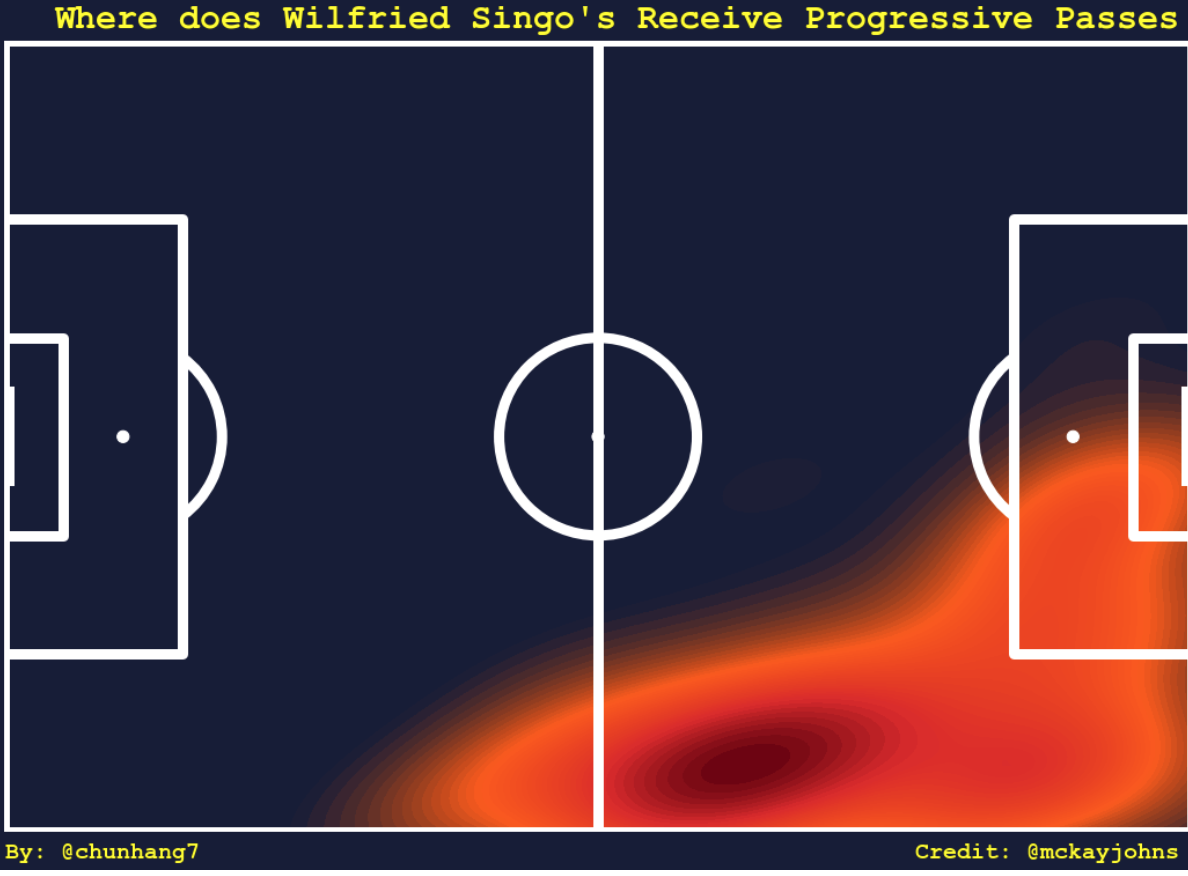 A look into the area he receives Progressive Passes from teammates, shows he's been getting onto dangerous through balls down the right flank regularly. He's also managed to breach defences and receive inside the box too.
This is accurately depicted in his assist claimed against Venezia. As Djidji launches the ball forward into space, Singo gets into gear and burst past his markers to receive before carrying it towards the box and pulling it back for the goal. His tendency to ride off challenges is also indicative of the sheer strength of his.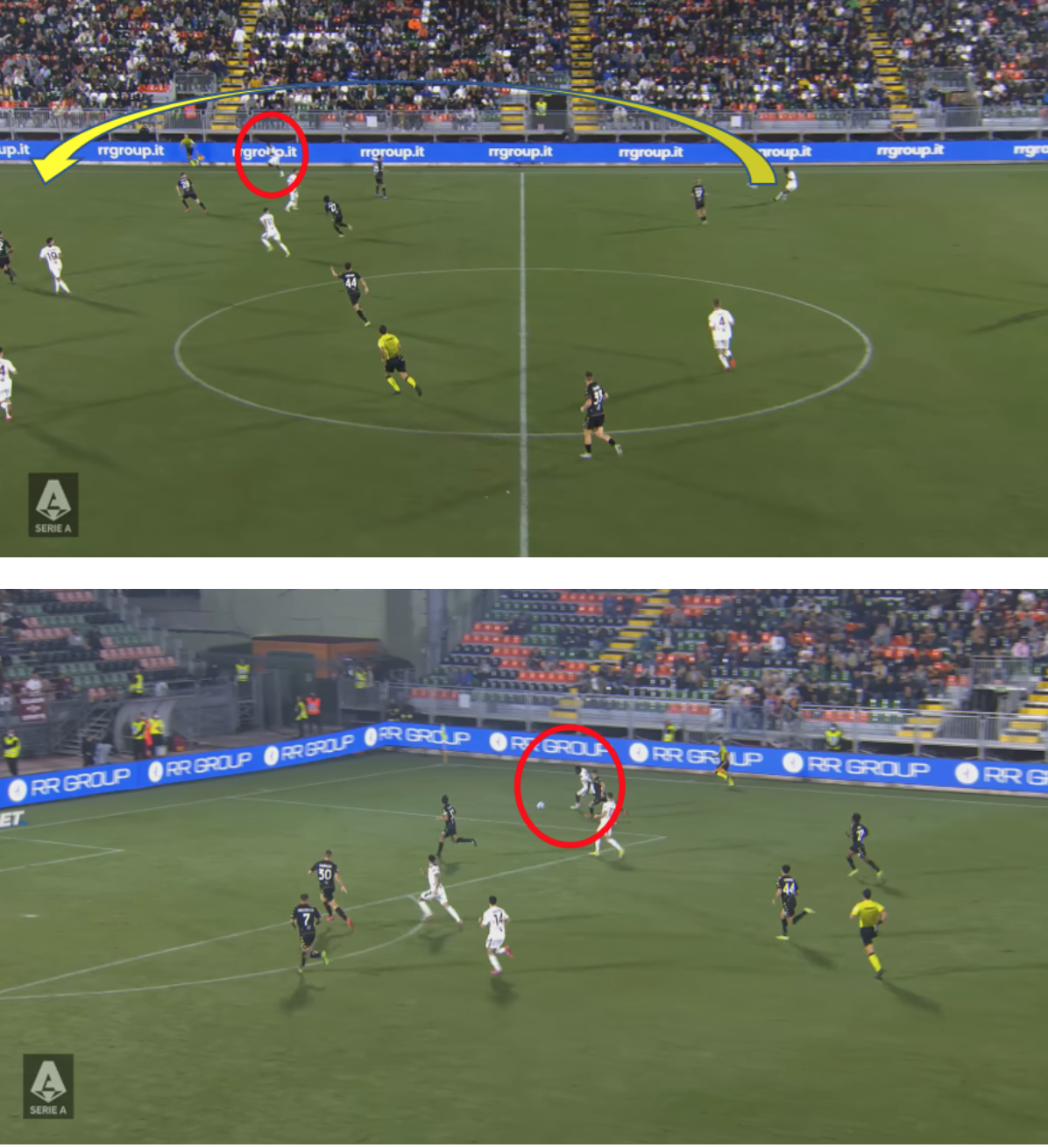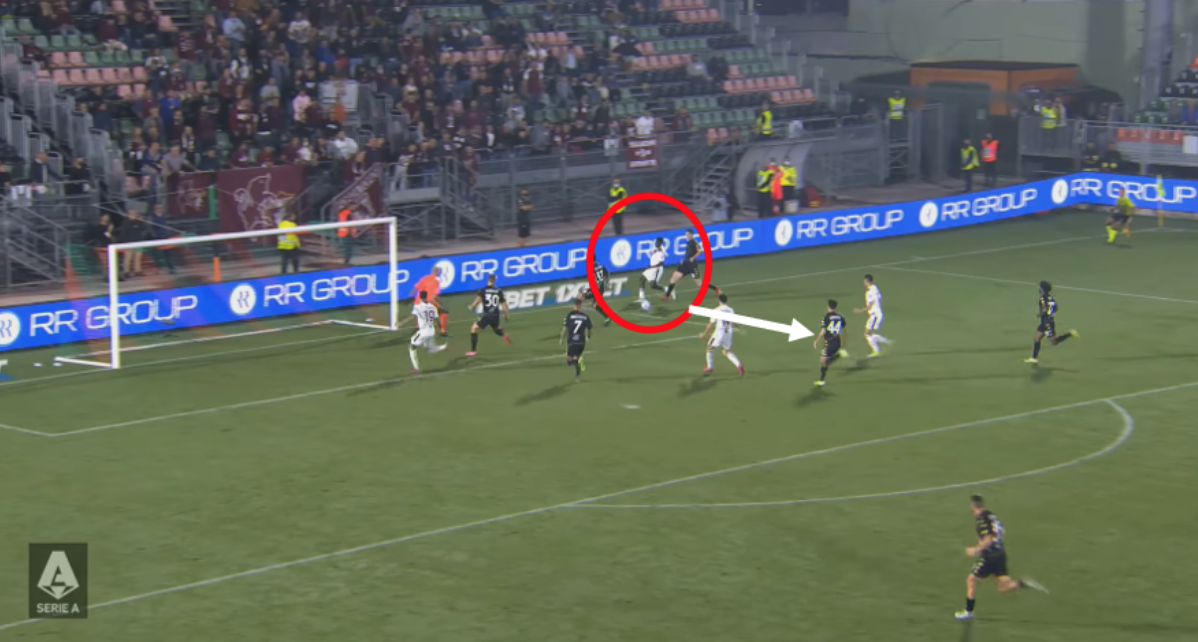 The intensity of his acceleration provides Singo an avenue to exploit in the overlap. When support is provided, Singo combines with his teammates for a one-two, utilizing his speed to burst forwards into space, often seeing his opposite number collecting dust as he receives the return pass. It's come in handy in situations when Singo's being tightly marked with little options to progress.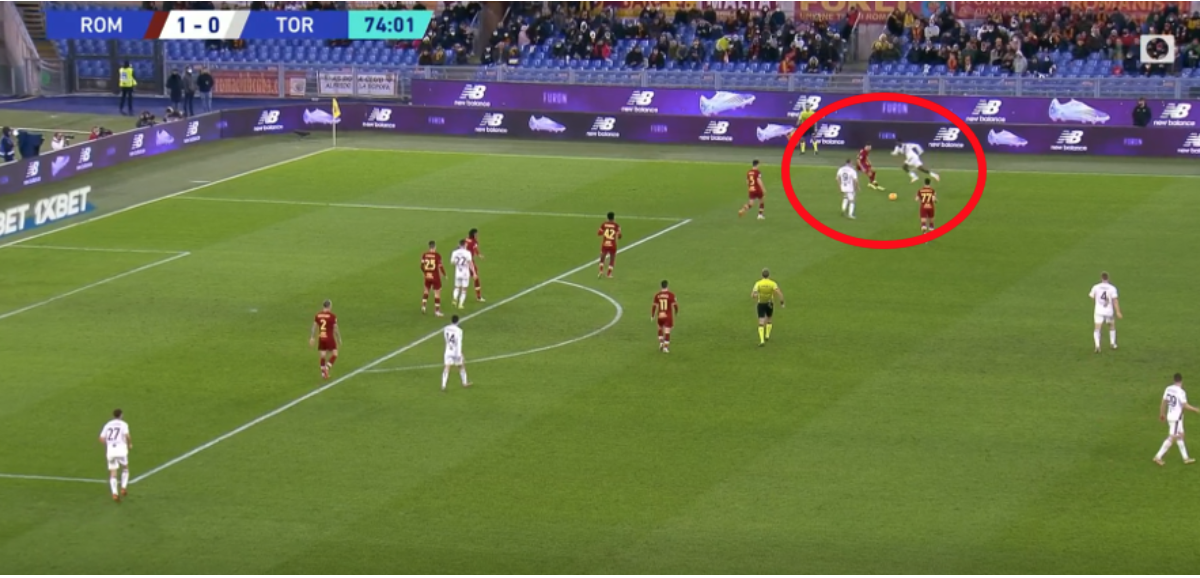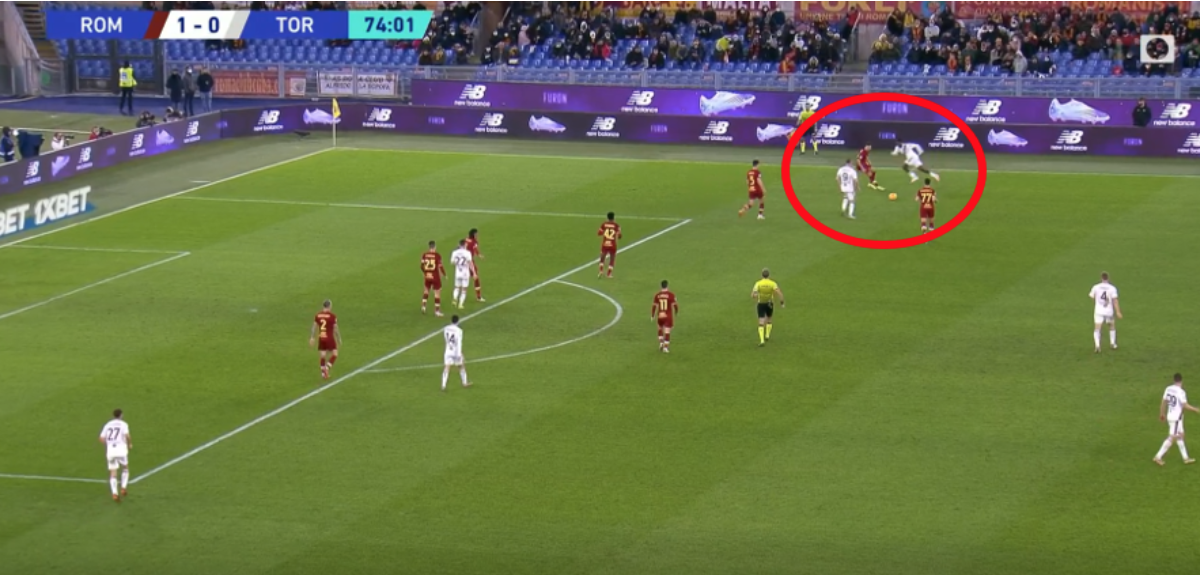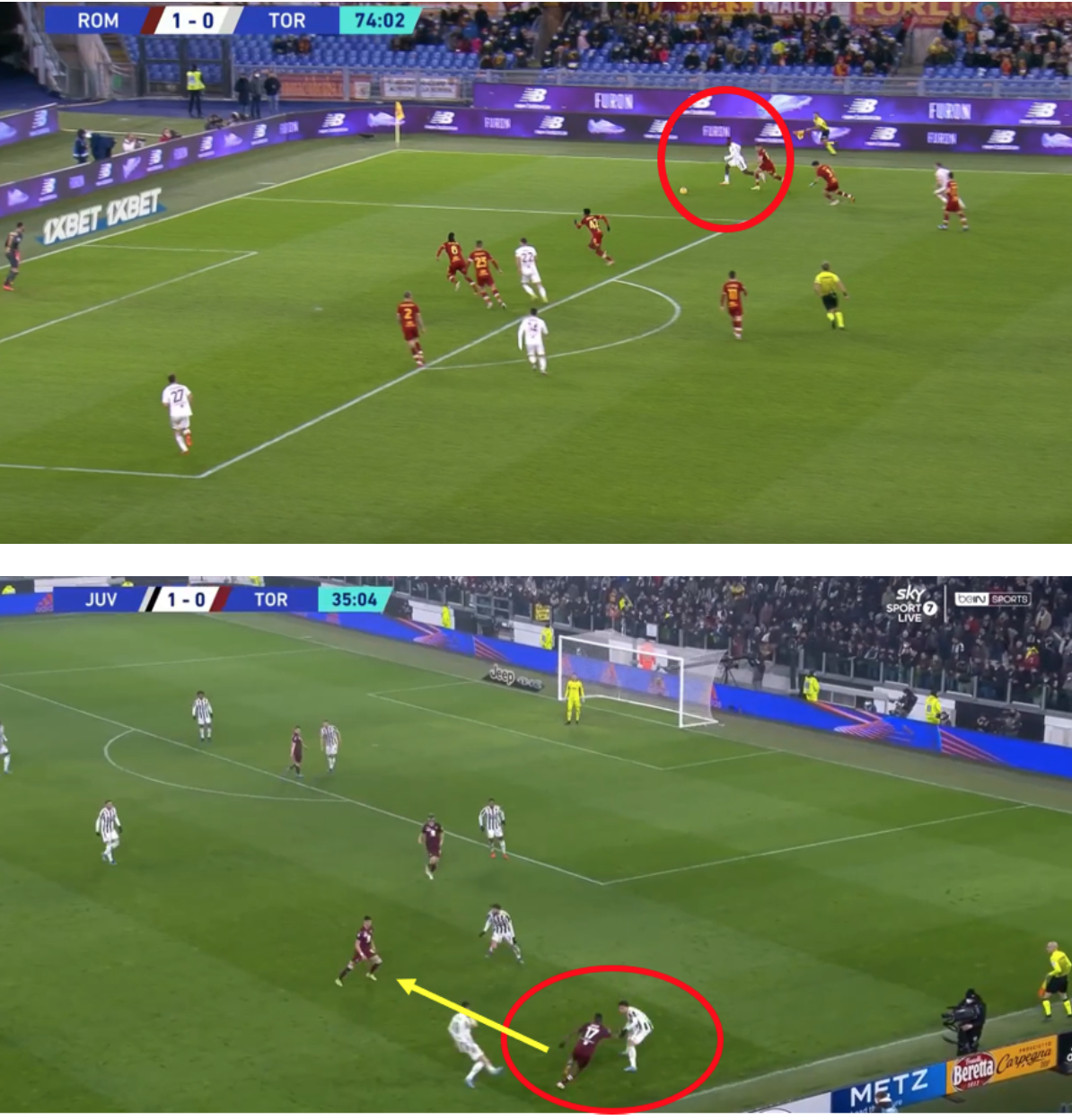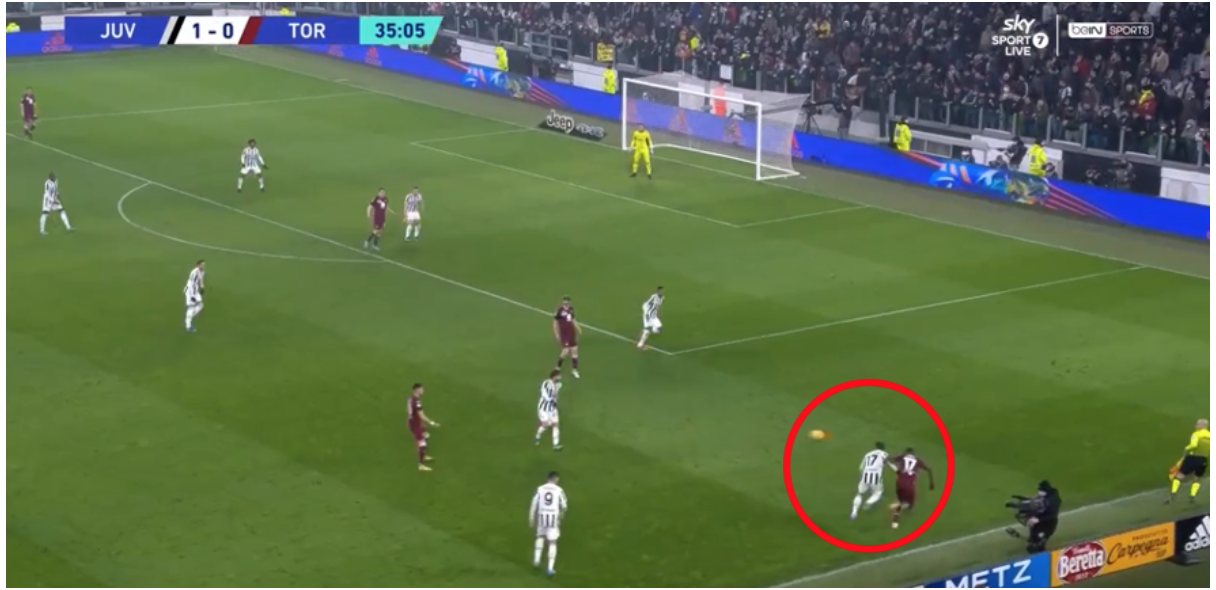 Ball Carrier (?)
If you were to walk up to any Torino fans right now and ask them what they'd think about Singo, many would associate him for his ball-carrying abilities and rightfully so. But if we were to compare his raw numbers to his counterparts, the stats may show a different story all together.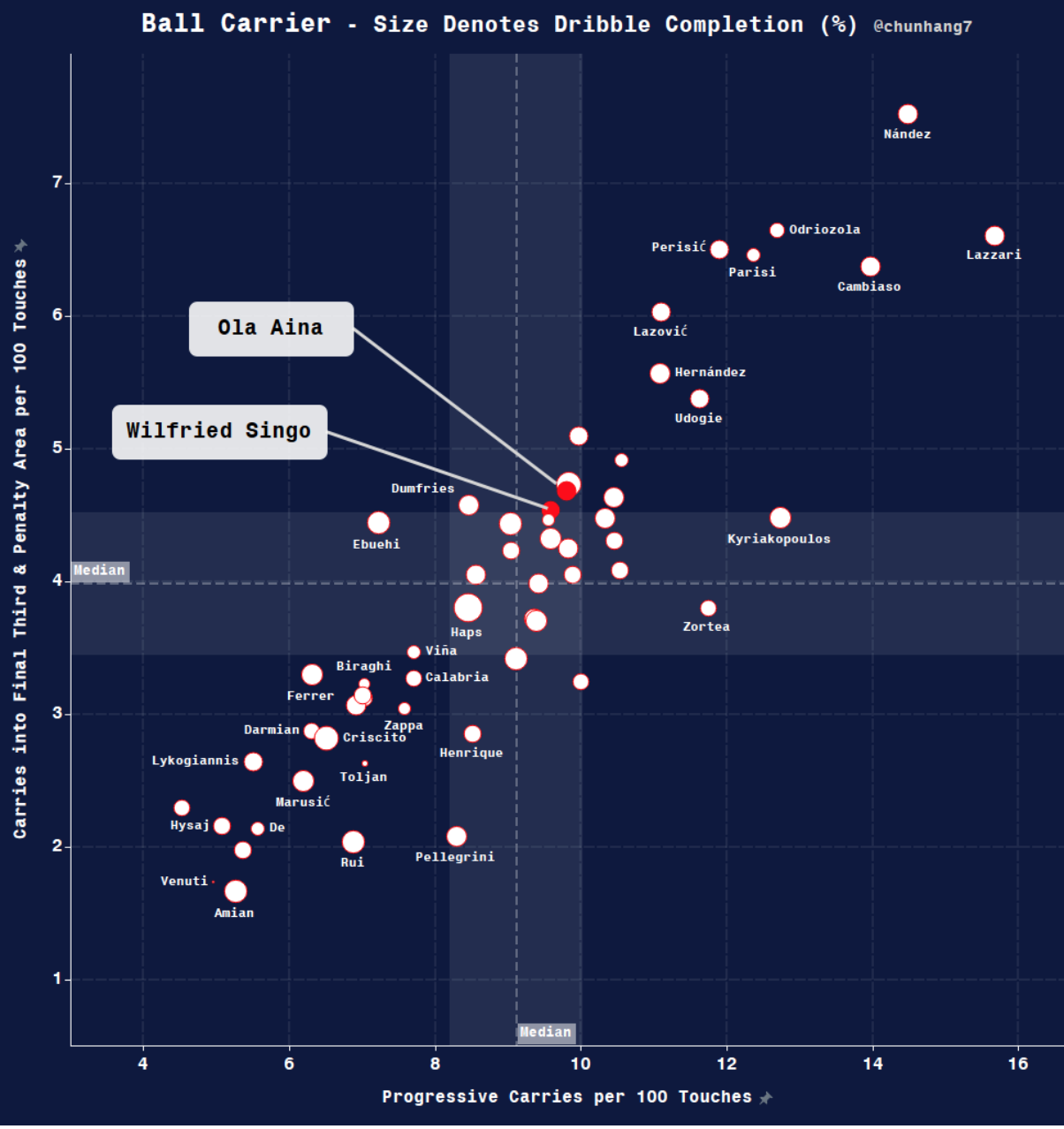 This season, Wilfried Singo has completed 9.59 Progressive Carries per 100 Touches and only 4.54 Carries into Final Thirds & Penalty Area per 100 Touches. This ranks him only about average in the league, with multiple players achieving more Carries with the same number of Touches. Perhaps what's most surprising here is that he's only got a 46% Dribble Success Rate.
For a player highly touted as a ball carrying machine with reasons I've just mentioned, you'd expect more from Singo. So, what's wrong here? To get a deeper understanding of his dribbling numbers, we should inspect the position of his carries this season.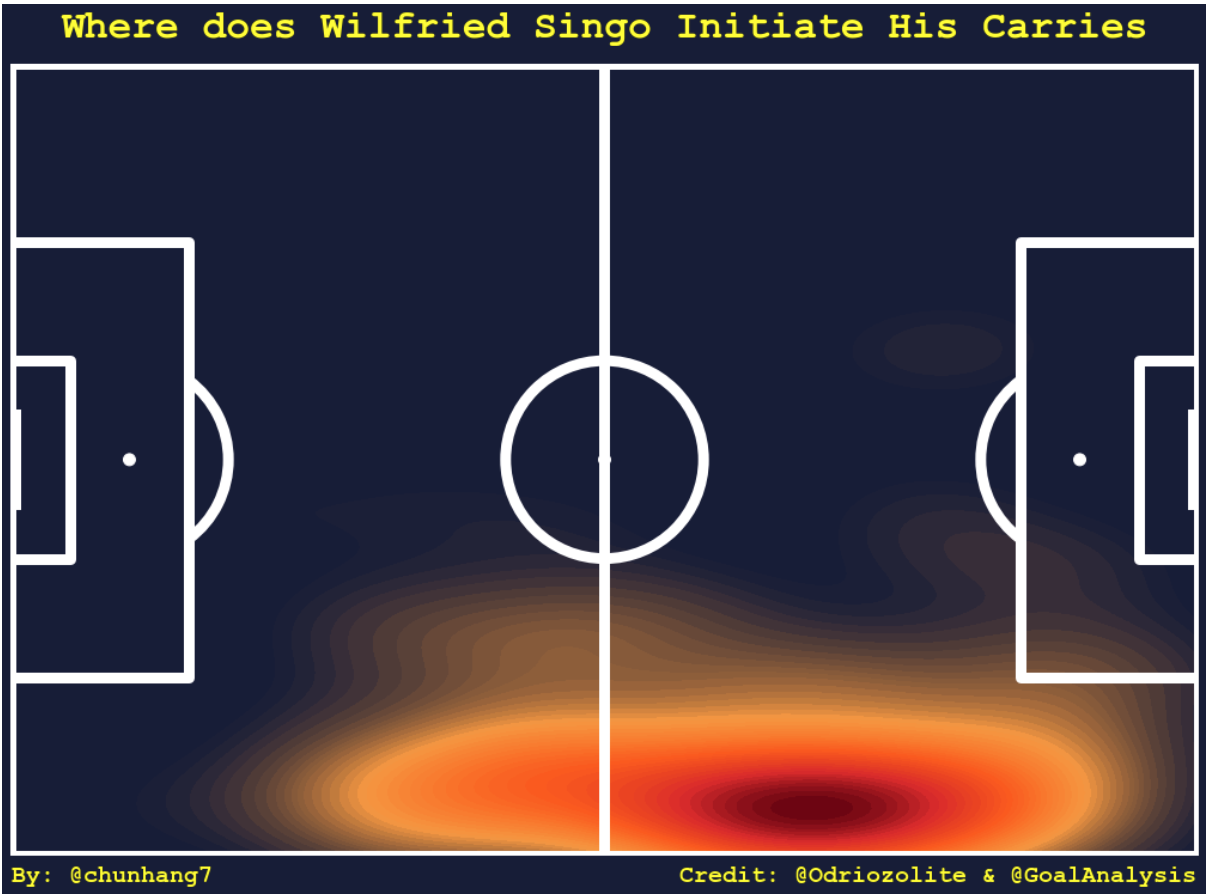 Thus far, Singo's been initiating his carries right around the attacking thirds of the pitch as indicated by the concentrated area on the map above. His high positioning does jeopardize his raw numbers as it'd suggest the amount of space available for him to progress the ball forward is reduced.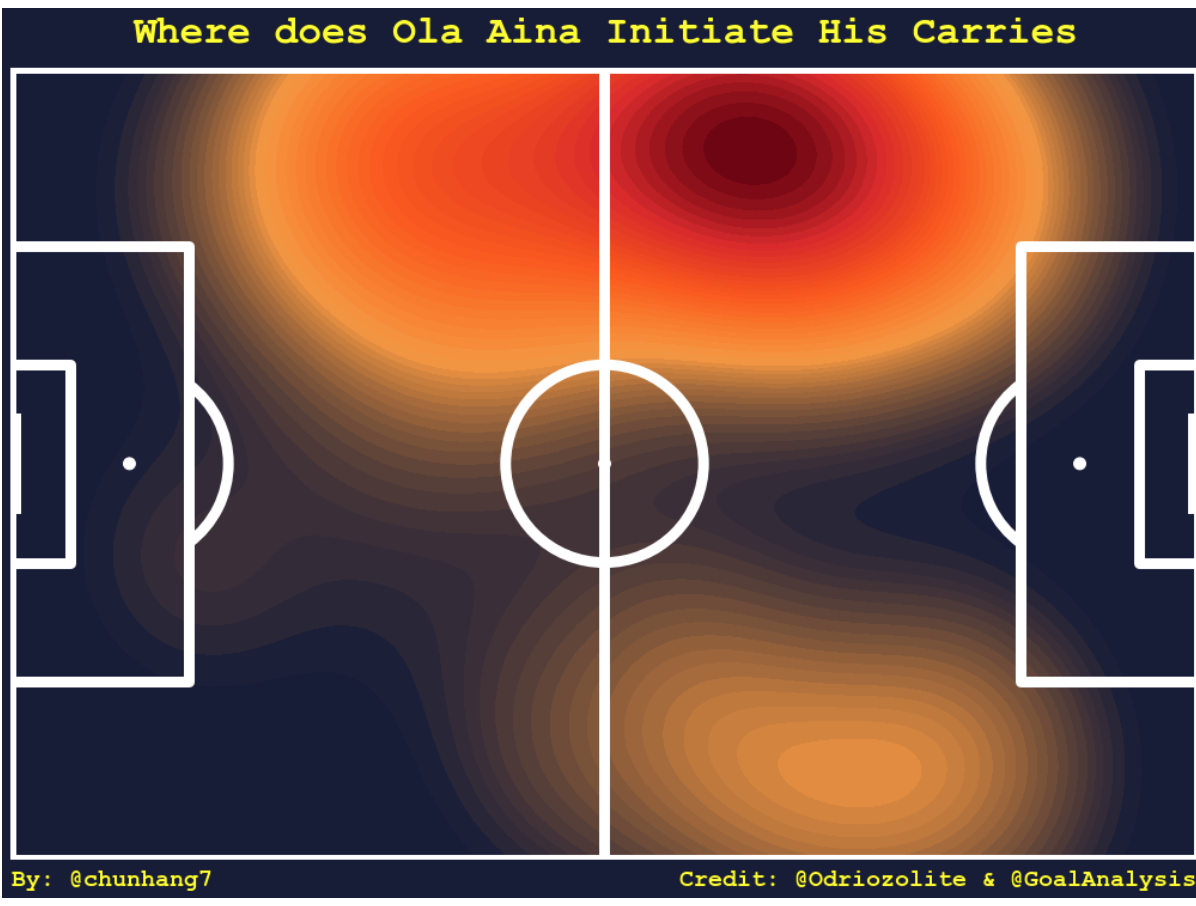 In comparison, we can take a look at Aina's starting position when he carries the ball forward. It is also important to note that Aina has accumulated 9.81 Progressive Carries per 100 Touches and 4.68 Carries into Final Thirds & Penalty Area per 100 Touches.
Both metrics greater than of Singo's. Now, if we take a look at where he'd normally start his Progressive Carries, we find that his starting position is deeper, hence being afforded the more space to move the ball forwards, at the same time more opportunity to boost up his raw numbers. 
This is not to say Singo's a misunderstood ball carrier that's not favoured by the stats, rather a reminder that context matters in the discussion of statistics. 
Bull at a Gate
One thing's for certain, Wilfried Singo's dribbling technique can be rather predictable. The Ivorian plays his football almost on instinct – whenever confronted with defenders, the first thing in his mind would be knocking it into space, and surge forward like a battling ram. 
It should also be noted that the pre-cursor to his marauding runs is the classic heavy touch. Knocking the ball forwards into space with the intention of catching defenders off guard, as he gets a head-start in collecting the ball.
We've seen the likes of Daniel James and Adama Traore do it frequently in the past, we can now add Singo on the list. What these players have in common however, is frightening pace that not many can rival. Nonetheless, Singo has been too reliant on this trick and is culpable of losing possession multiple times.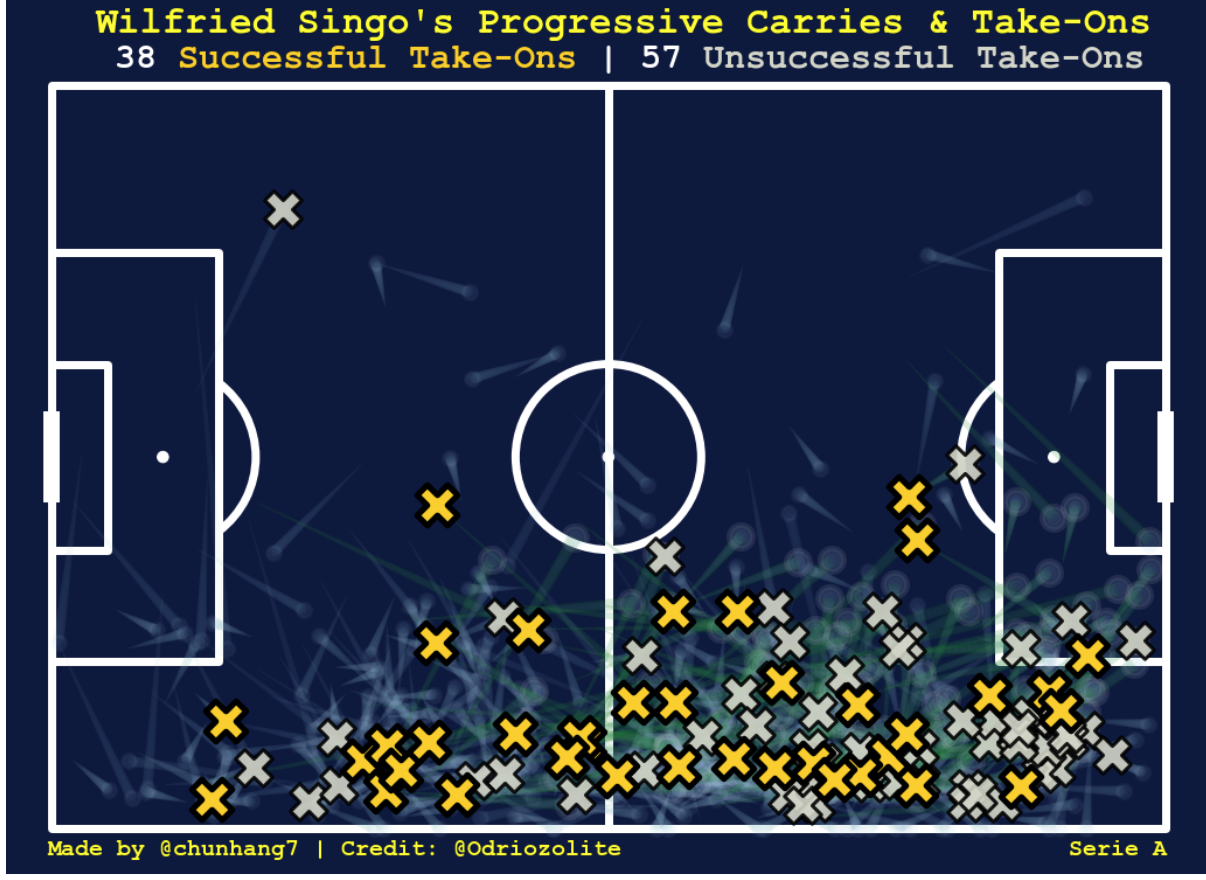 A look into his Take-ons Map illustrates the wingback's performance when confronted in a 1v1 duel. In truth, this shows a player running out of ideas as he enters prime crossing area, with multiple failed duels across the flank. Defenders have been dealing with such threat astutely by anticipating the knock, since it's unlikely Singo would look to invert into space infield.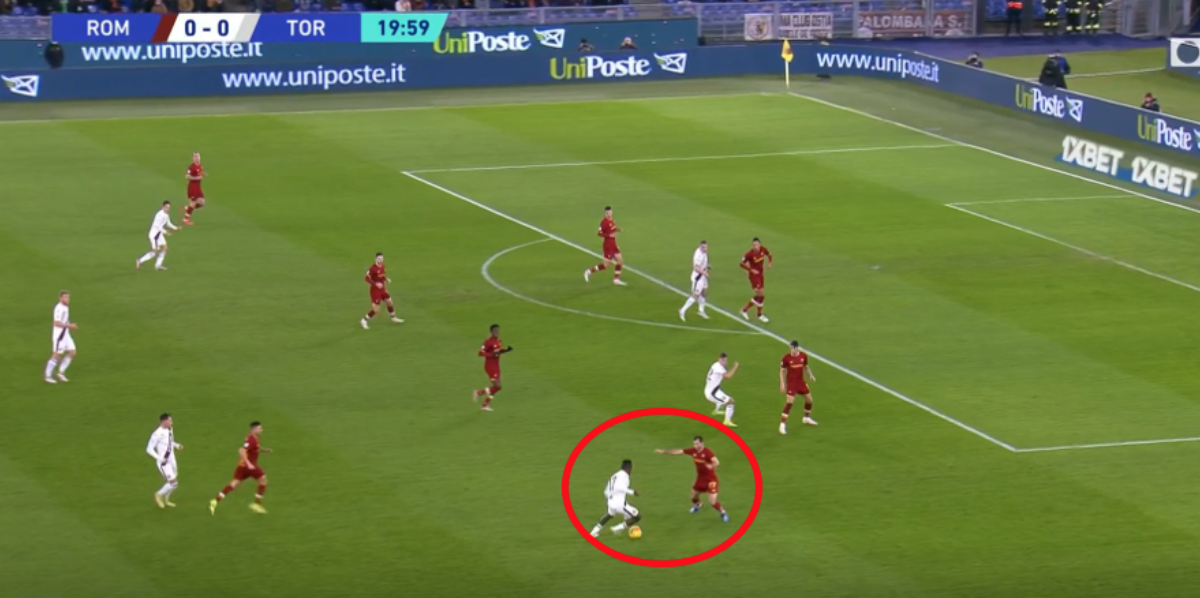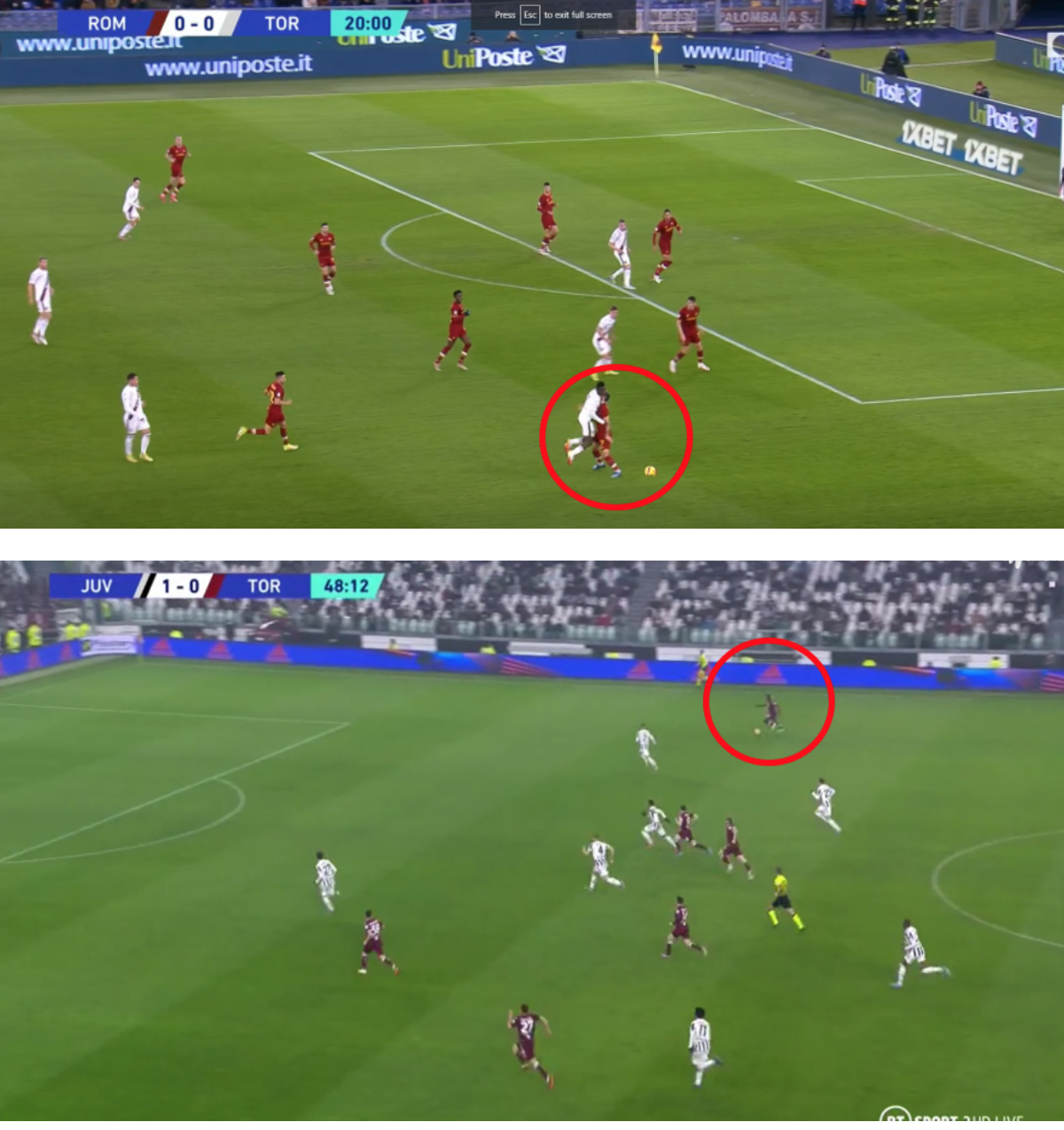 Denying any sort of space for Singo to run onto is another way of keeping the Bull quiet. Once the space is denied by a covering defender, you might see the 21-year-old slow down as he contemplates his next phase of actions.
As it happens, doubt shimmers in and he starts running the ball into trouble, with hopes of a ricochet might fall in his favour. Force the run outwards towards the touchline, and Singo may very well run it out of play.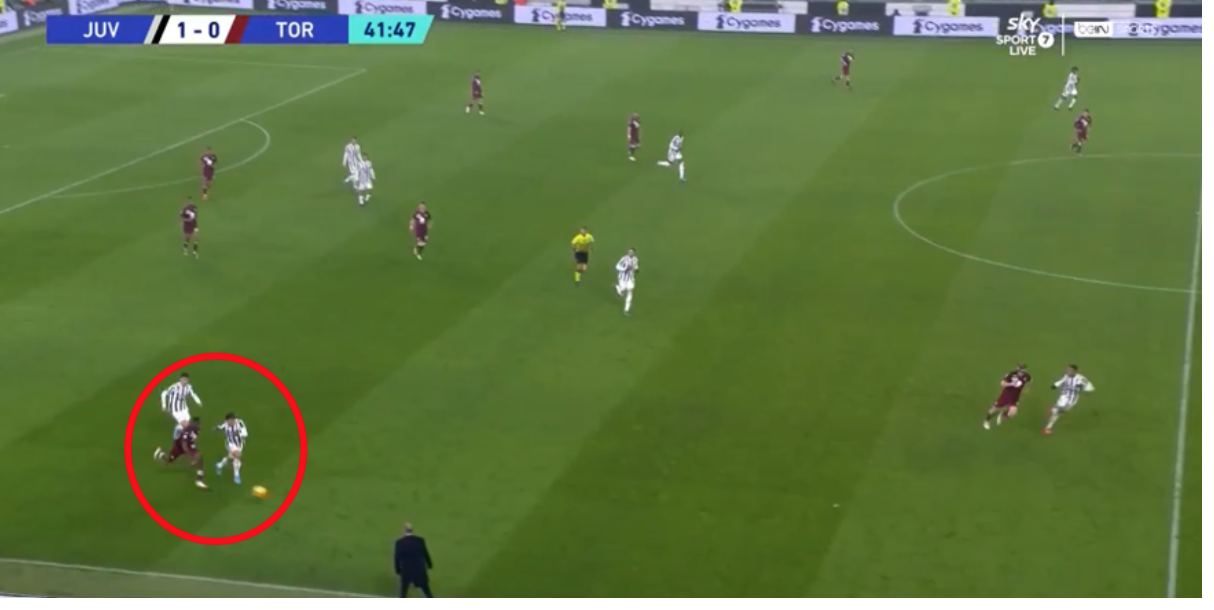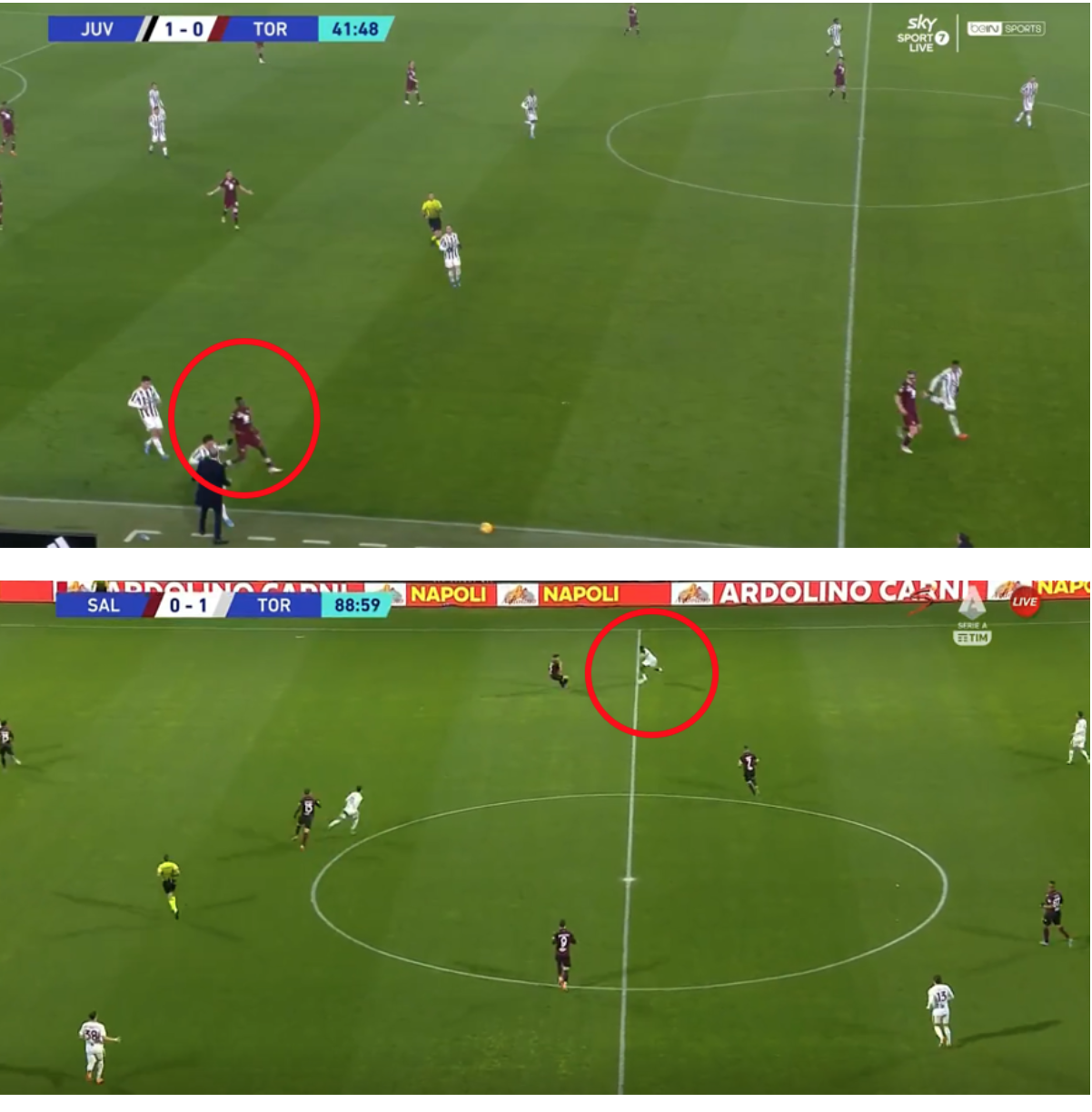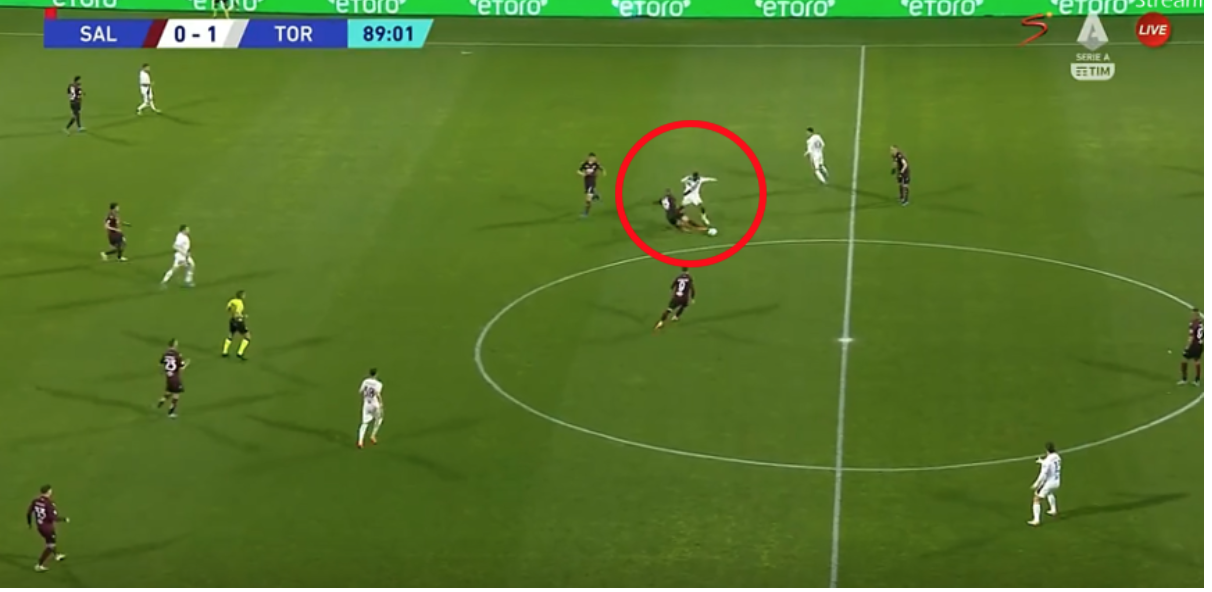 Wing Play
Being the sole width provider for Torino, Singo has to shoulder the creative burden from wide regions as well. The wingback tends to float one in with power, ensuring sufficient pace in the cross he sends over. However, the power applied in his crosses does mean he tends to overhit crosses closer towards the penalty area. In fact, the passes he makes inside the opposition box this season have been poor.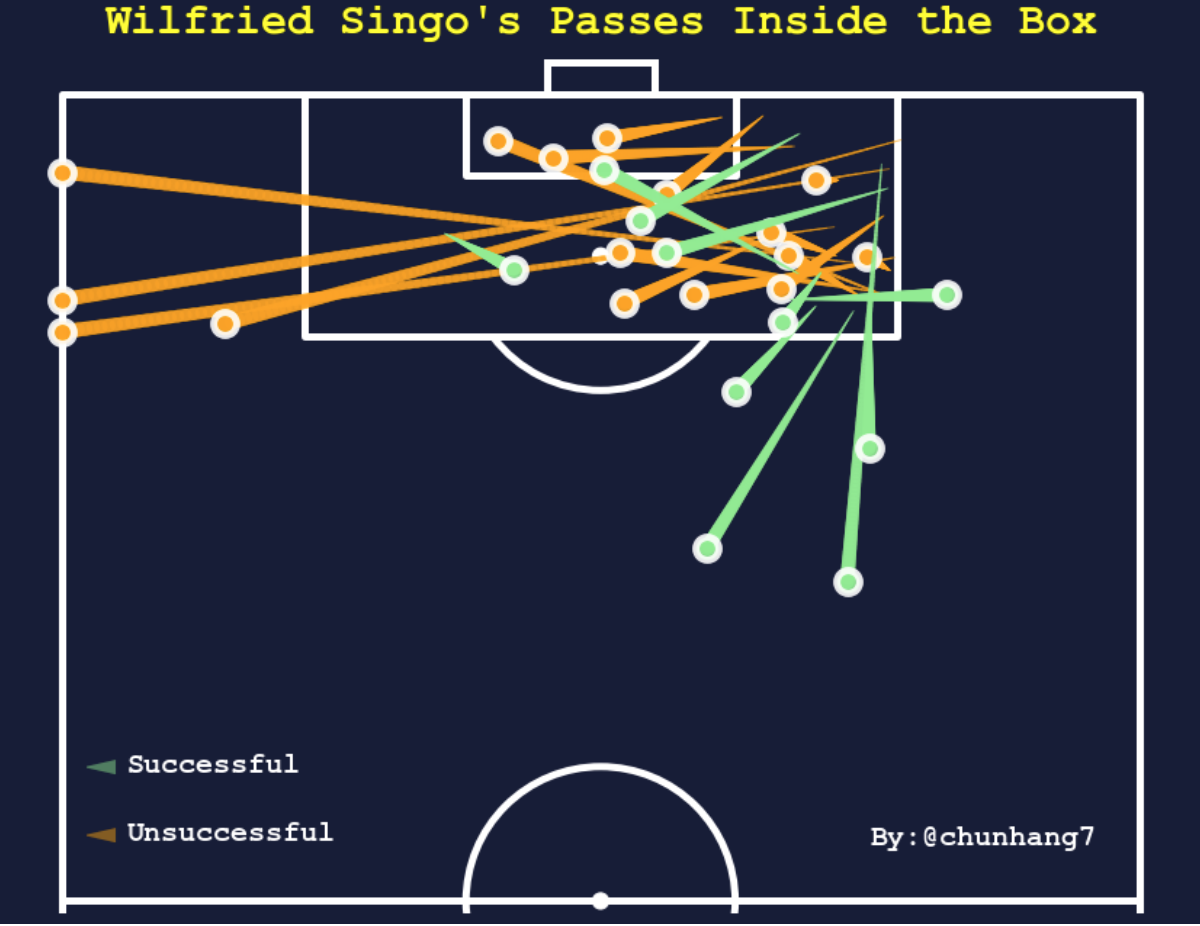 Regardless, a look into his Deep Progression Map indicates he's been far more effective at delivering crosses from wider regions (or rather the area he would feature more often), where the power he puts in his crosses are somewhat subdued over the distance.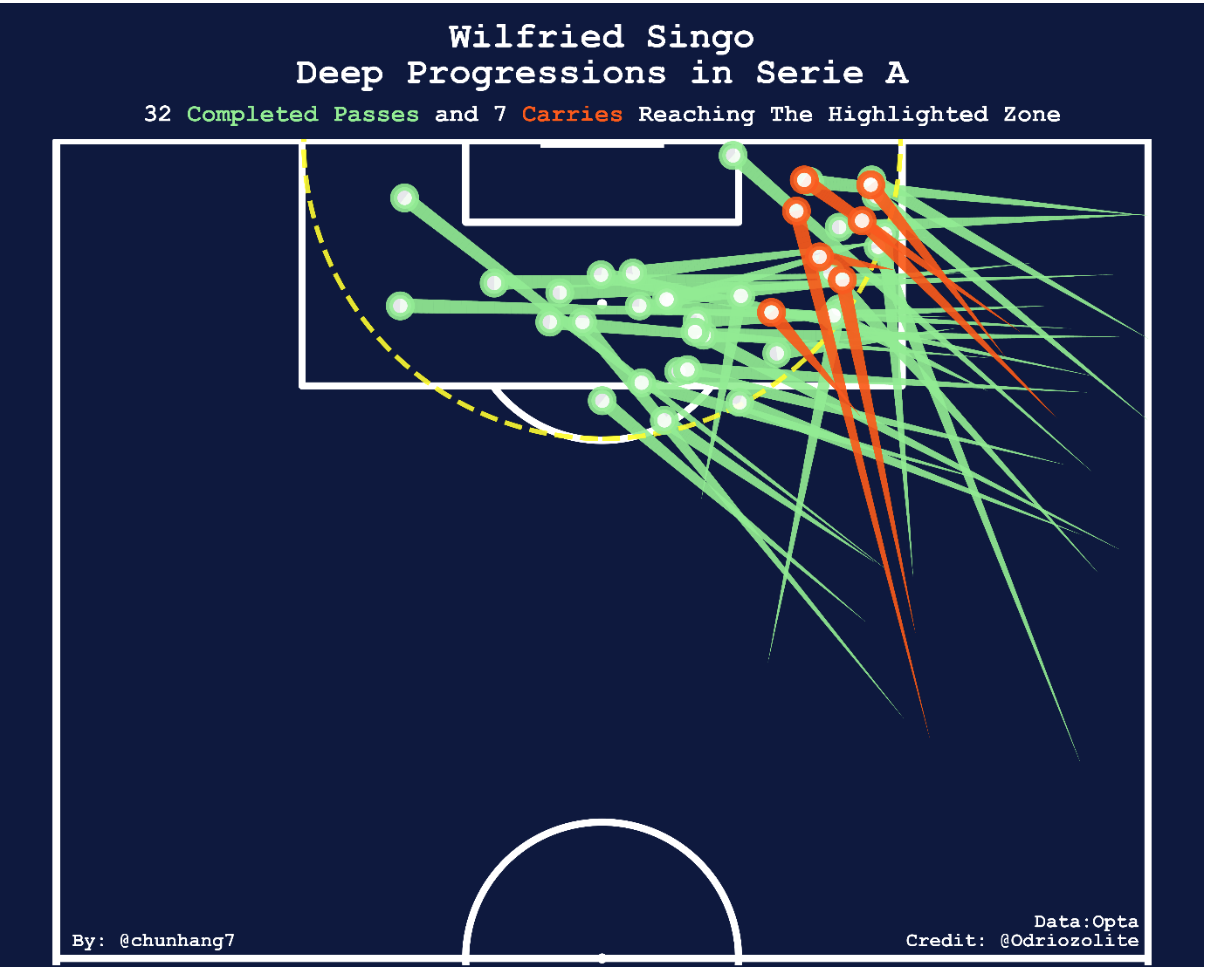 With 32 Passes (and 7 Carries) reaching the highlighted zone above, Singo ranks first for Deep Completions ahead of Josip Brekalo with 26 for Torino this season, once again highlighting his importance in Torino's attacking phase.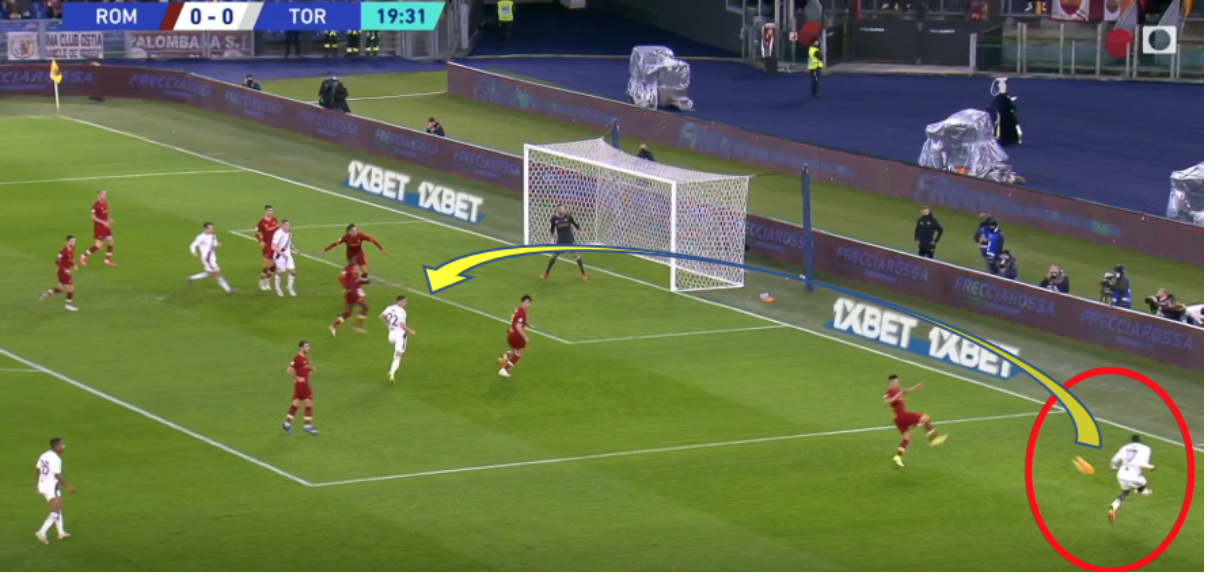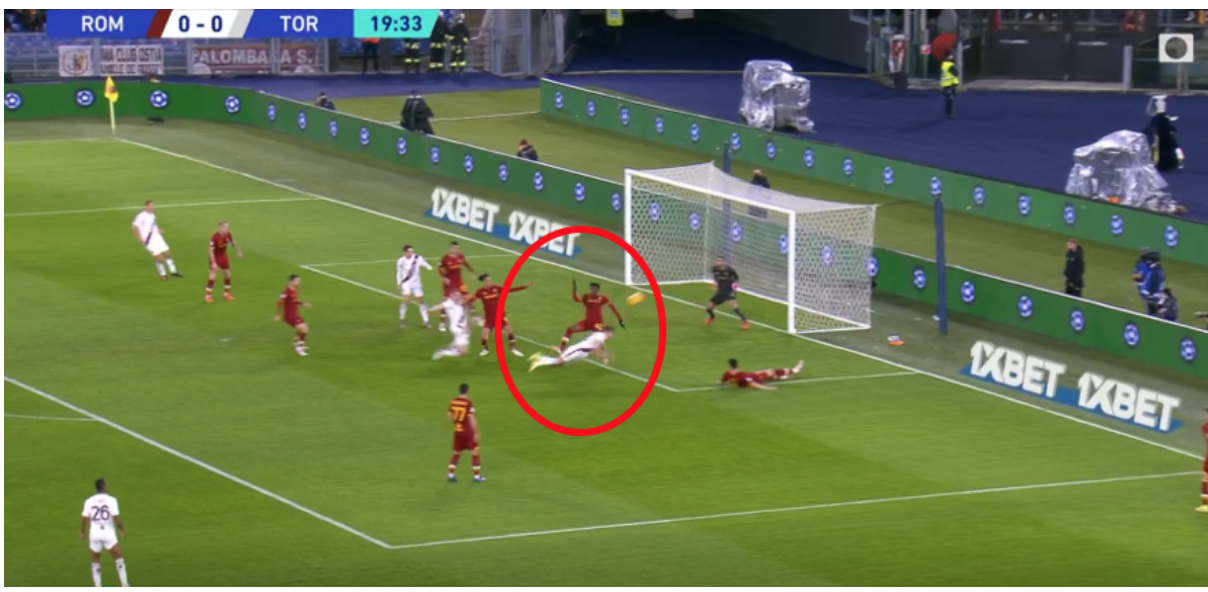 Shot Creation
Singo's creativity is not limited to the crosses he puts him; The Ivorian has been pulling the strings from deep, instigating attacks rather than getting at the end of through balls. By observing his Shot-creating Passes this season, there's a couple of passes set up from deep in his own half.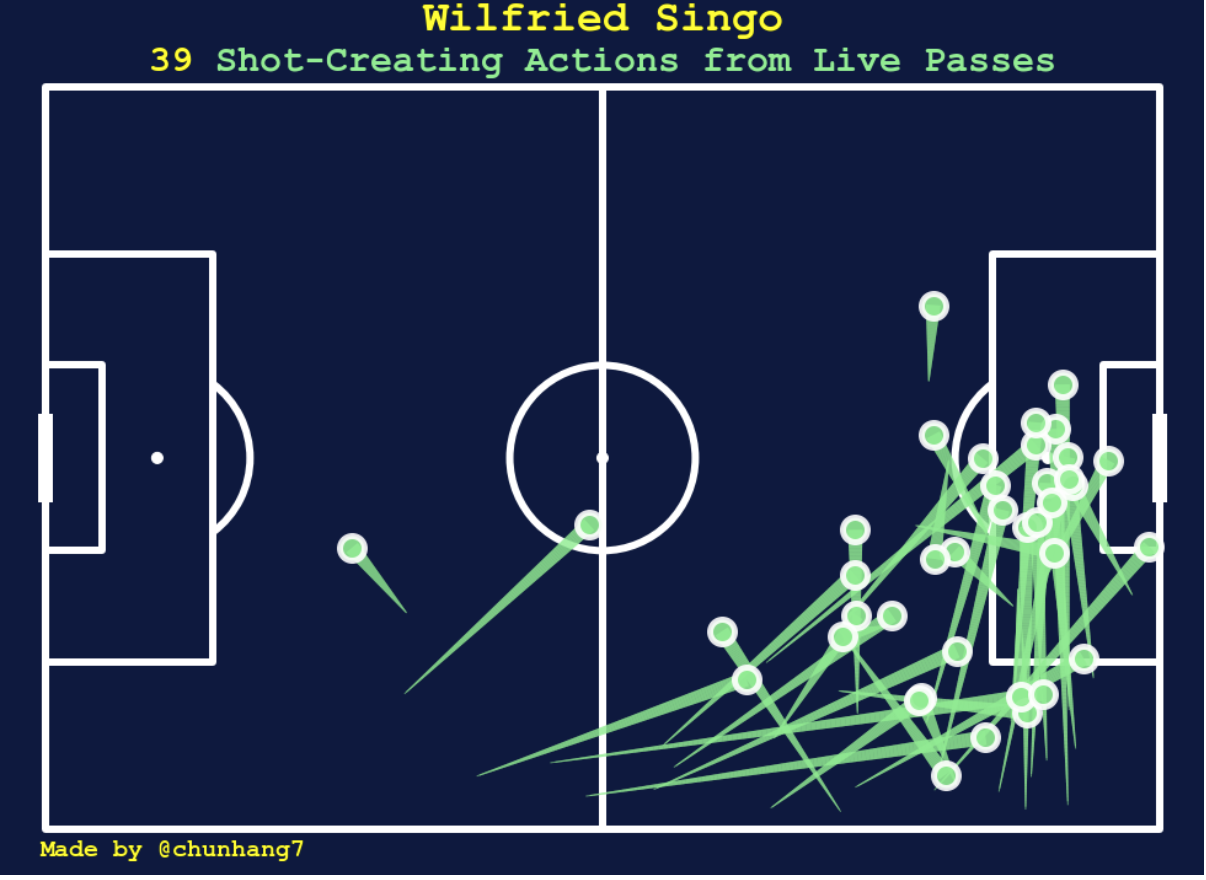 Apart from the many crosses he puts in, Singo is also capable of unlocking defences by funnelling passes down the right channel for his teammates to chase, almost as if the roles are now reversed. More importantly, this is essentially how he progresses the ball forward into the final thirds via passes.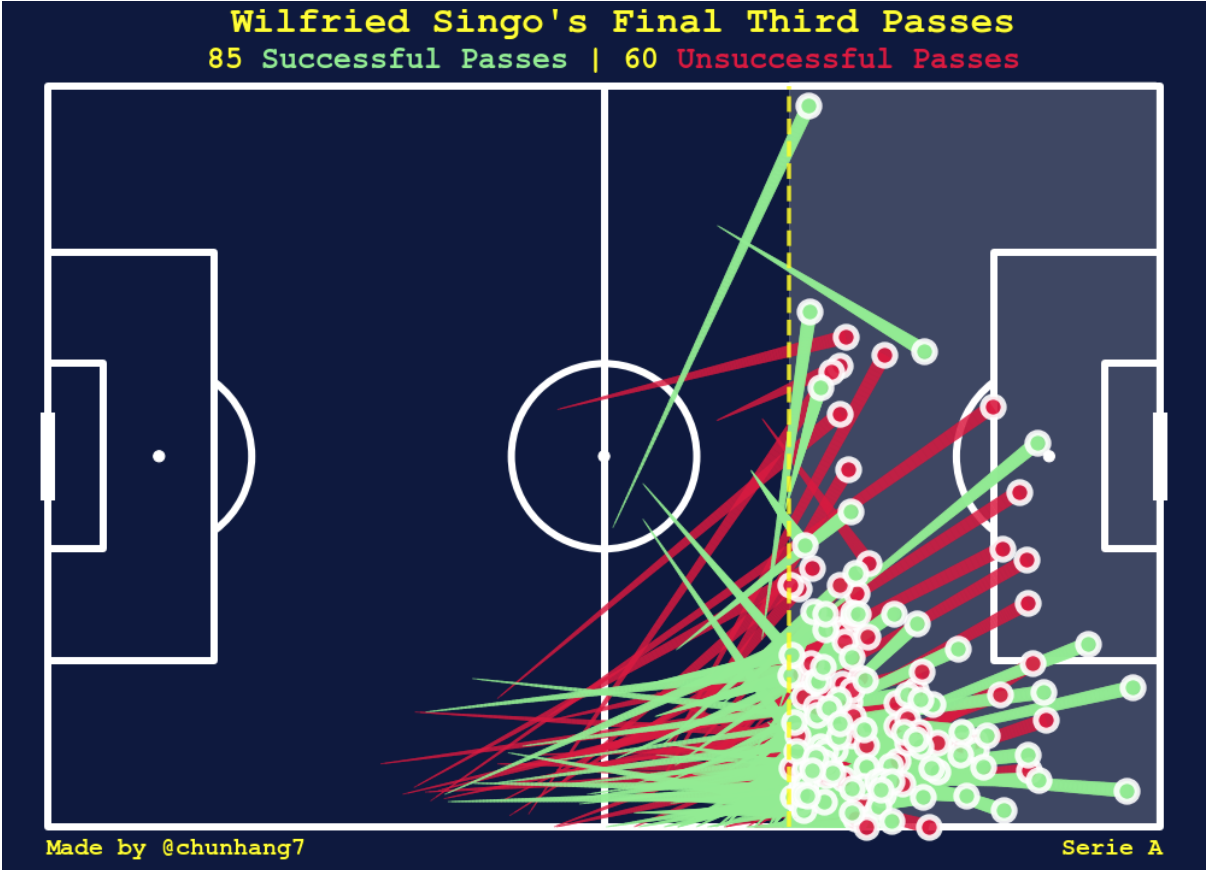 As we take a look at all his Final Third Passes this season, he's certainly found more success at sending balls down the right channel, compared to switching play across or directing passes centrally.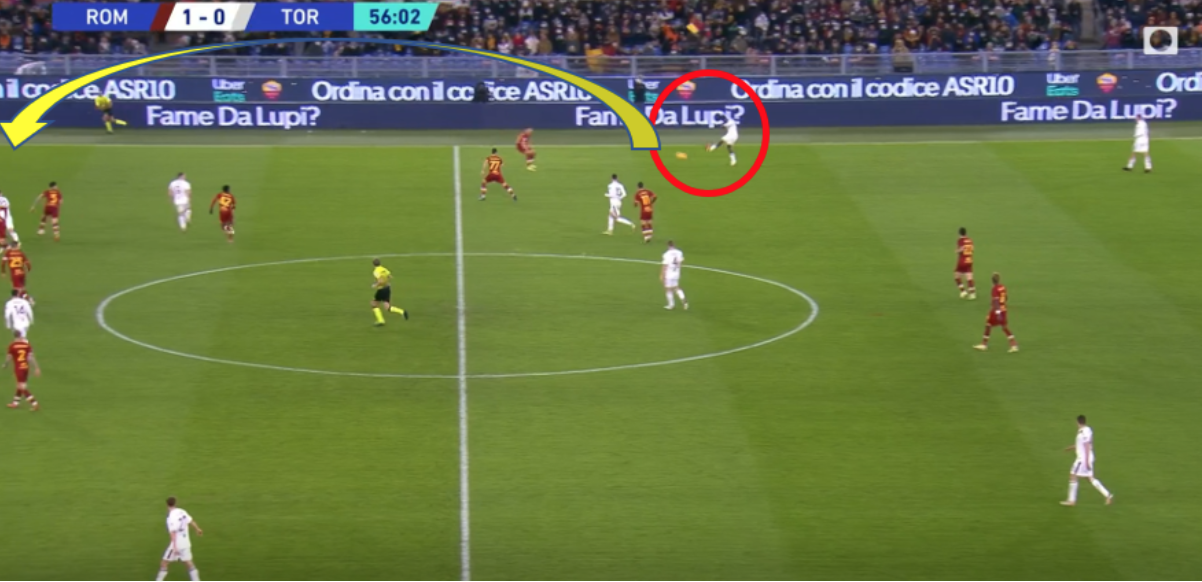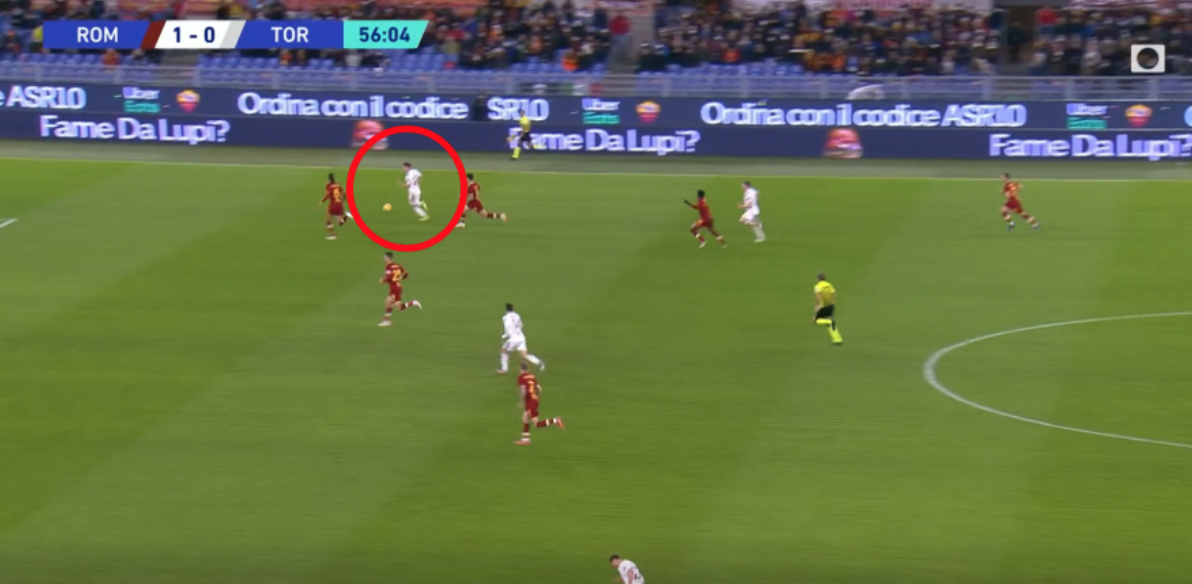 Nonetheless, there are times when concentration or fatigue has played apart in poor decisions made by Singo. Simple passes may go astray and lead to a loss in possession in build-up.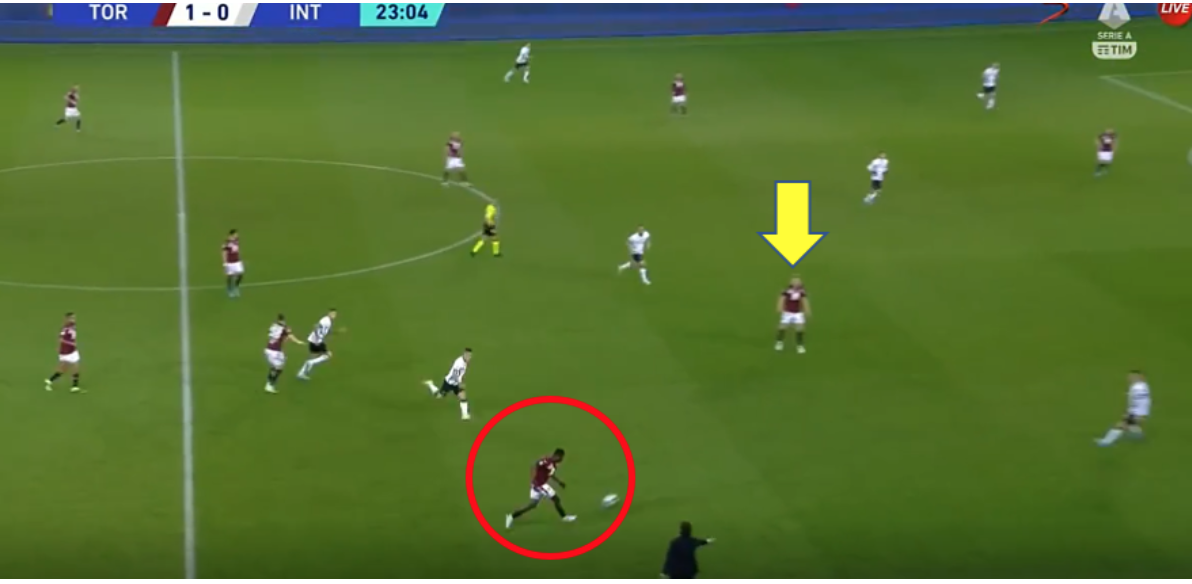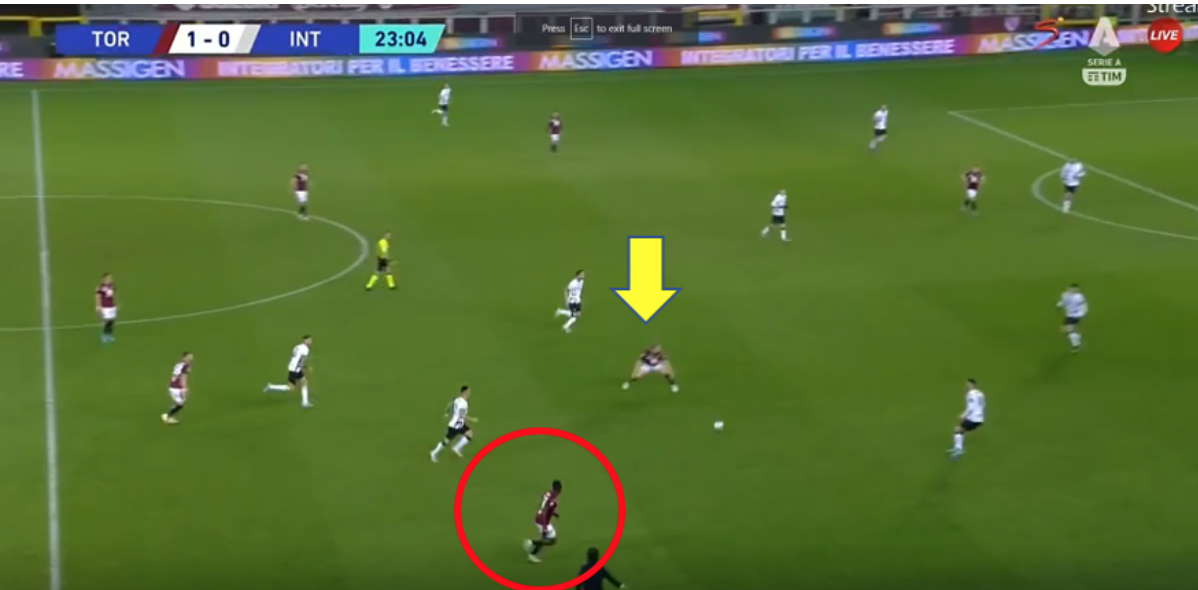 When The Bull Sees Red
Symbolic of the Heavy Metal Football playstyle Ivan Jurić adopts, Torino is the best pressing team in Serie A this season, with a PPDA of 7.62 this season. At the heart of it is their intense man-marking system that sees players pressing tightly on their opposite numbers. Jurić has his men push up to win turnovers, capitalizing on the chaos that follows. Wilfried Singo is one who thrives in the midst of chaos.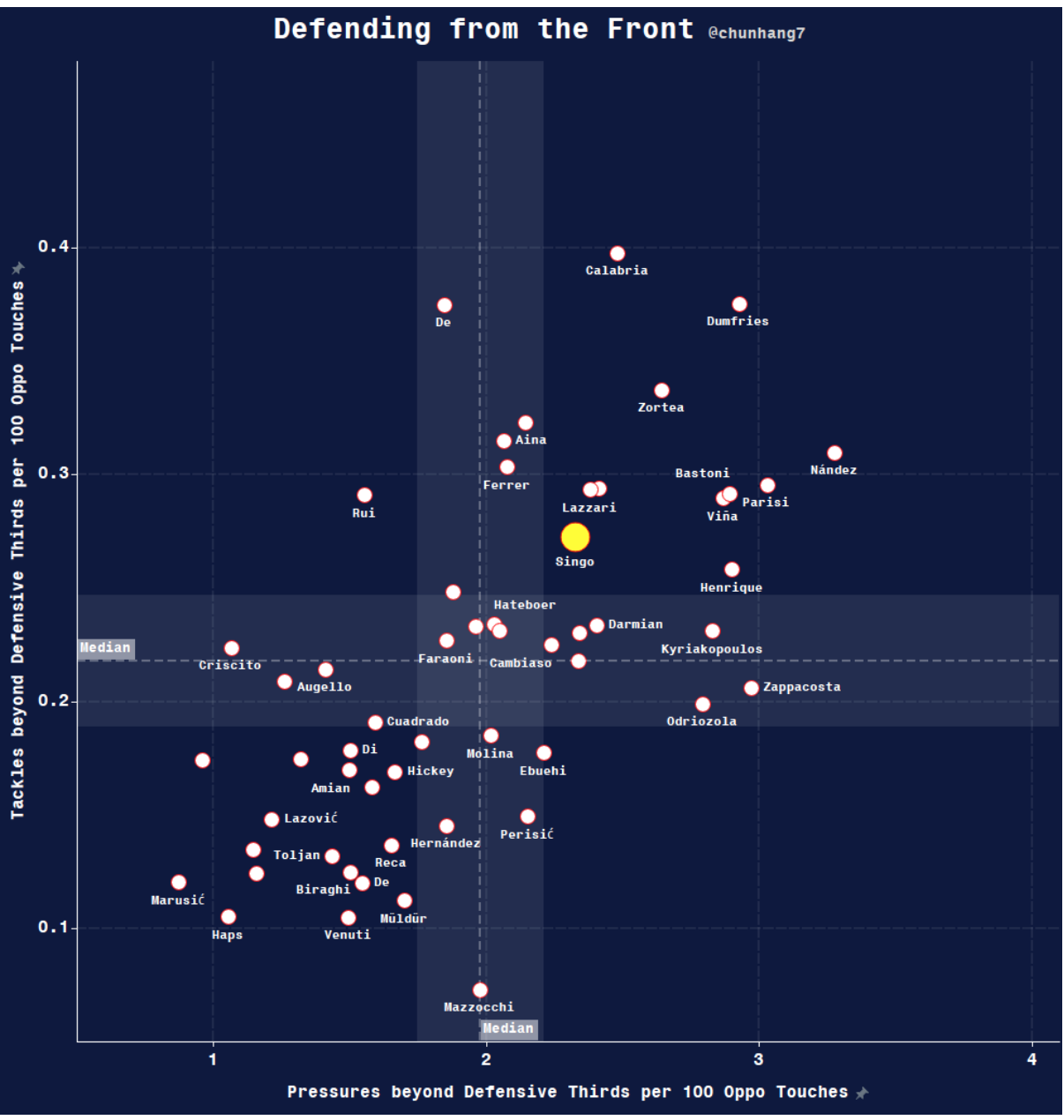 When compared to his counterparts, the wingback ranks amongst the most active defenders beyond the defensive third. This season, the Ivorian has 0.27 Tackles beyond Defensive Thirds and 2.3 Pressures beyond Defensive Thirds. A further look into his True Tackles Map shows us he's been actively denying opposition the opportunity to build up with heavy challenges up the field.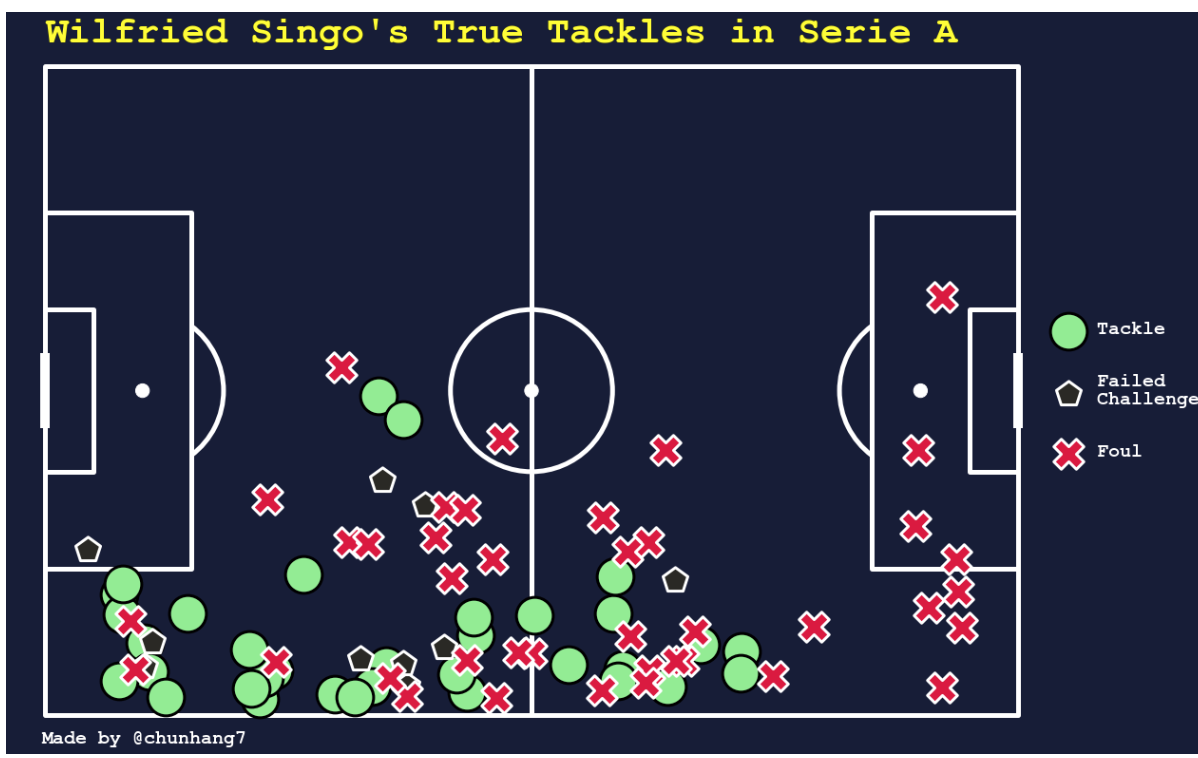 These challenges may give away fouls but it's essentially a great tactical instruction to disrupt momentum upfield.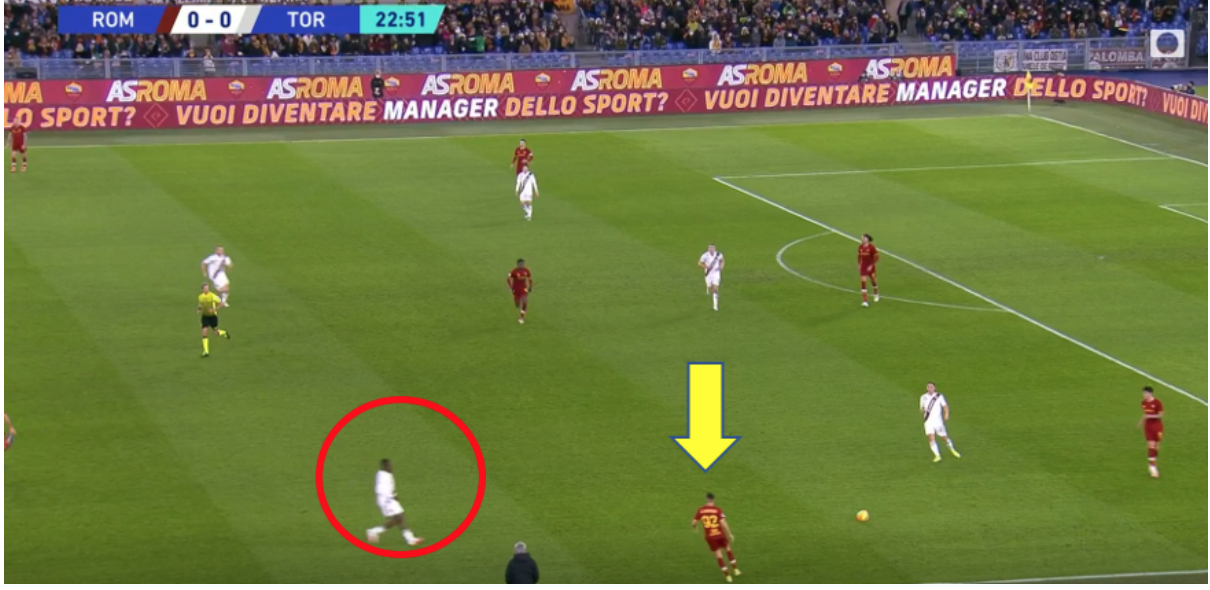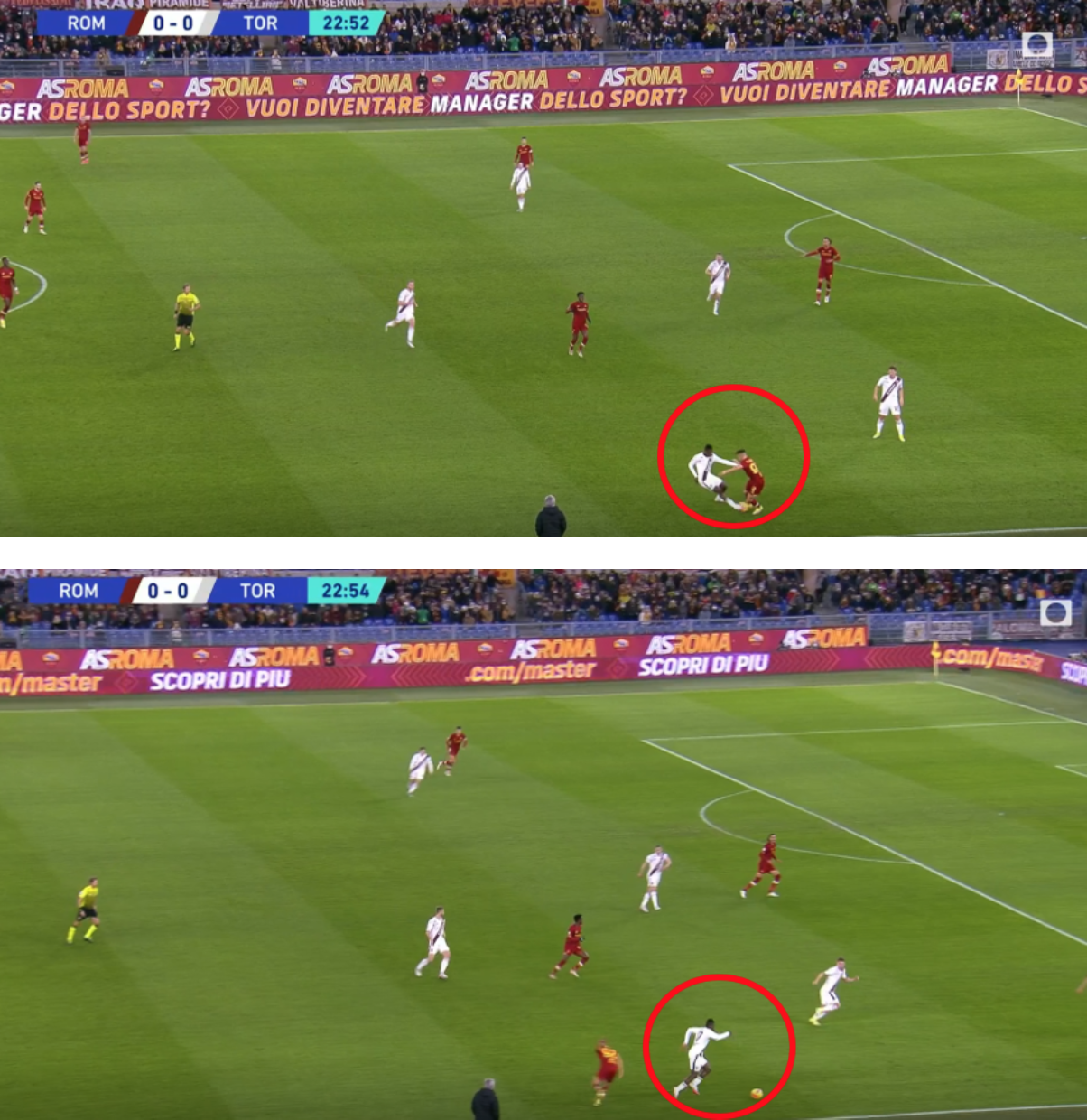 Not to mention, Singo's recovery speed has bailed Torino out in numerous occasions. Though, it's becoming apparent that he doesn't always track back with the greatest of desire to win the ball back. This is likely due to fatigue considering the amount of sprint he does throughout the match, but the lack of defensive awareness can be worrying to watch.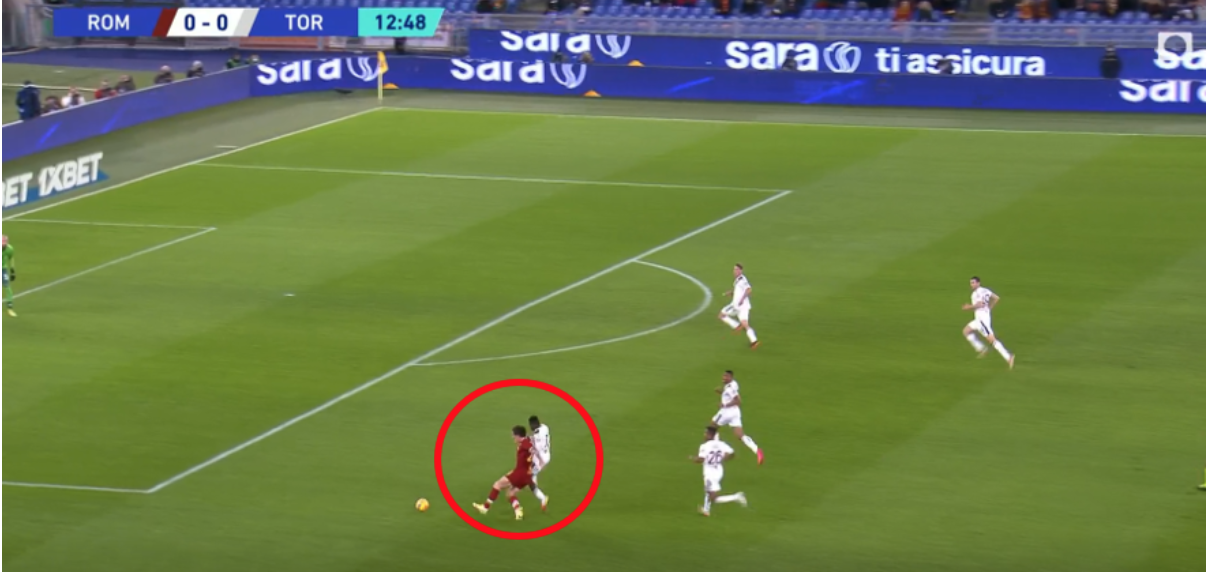 Bullseye
You'd probably never meet any wingbacks as domineering as the 6'3ft long-limbed Ivorian; He towers all with his massive leap during set pieces, but never looked likely to score with poor heading technique, seeing the ball bounce upwards rather than goal-wards. 
Regardless, it's worth having him attack the penalty box when play develops on the opposite flank. Singo would frequently make darting runs towards the far post, hoping to get onto the end of crosses with the giant leap of his.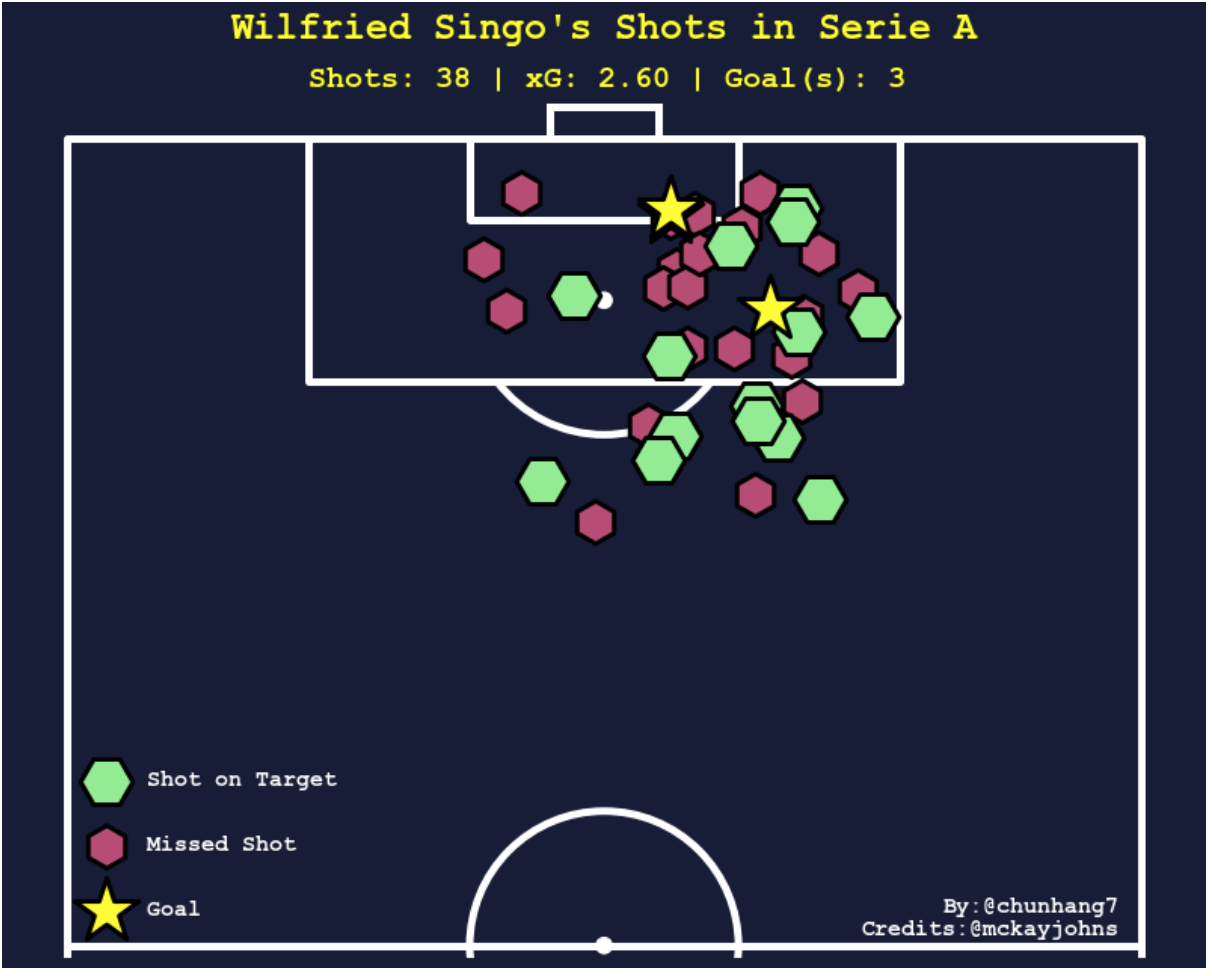 His Shot Map this season does show his dominating presence in the back post, chipping in with a few goals from situations as mentioned. Sure, he doesn't seem to hit the bullseye a lot, but for a player of his stature, it is definitely worth sending crosses towards the Ivorian.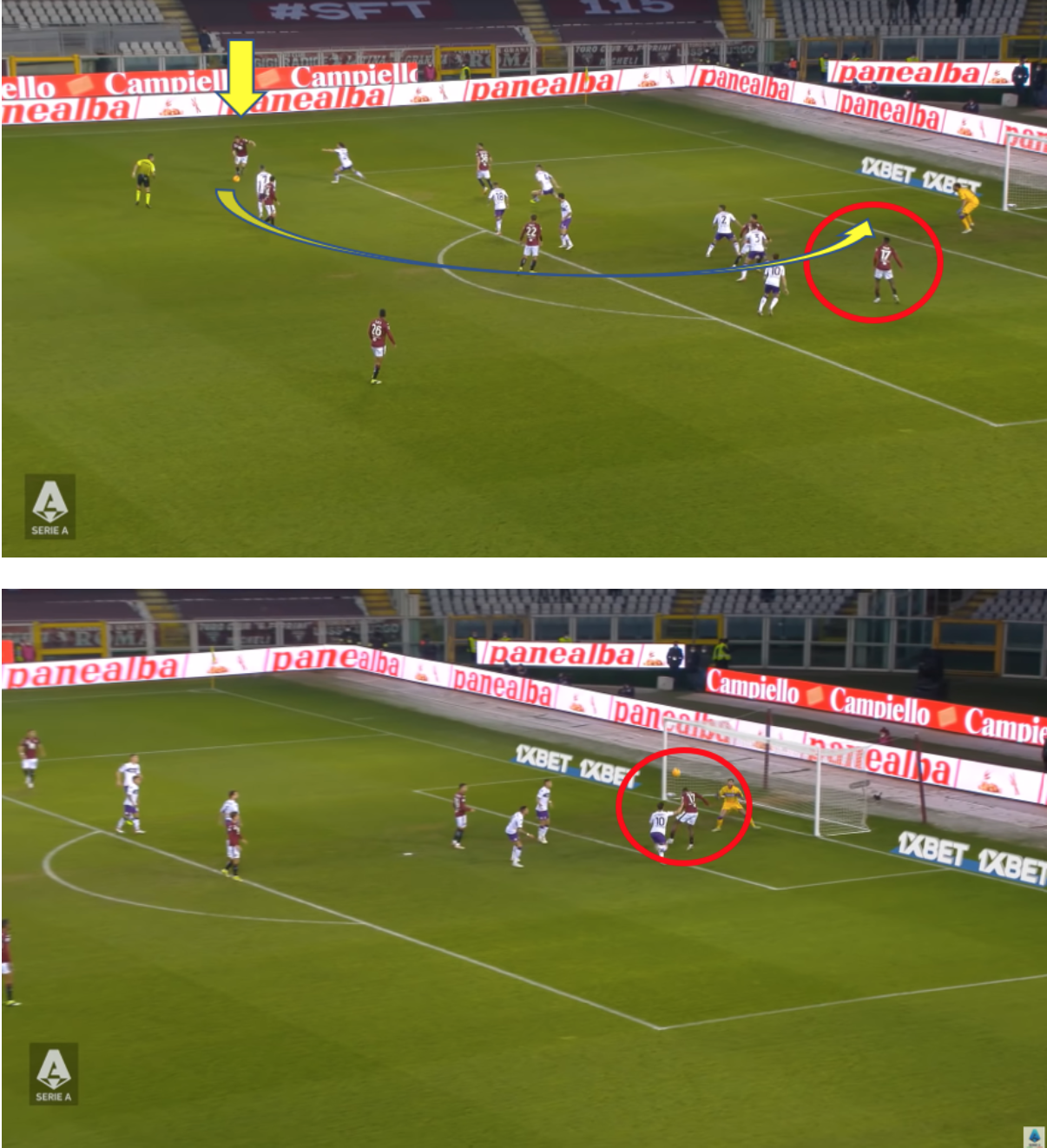 And That's What Good Scouting Can Do
When he signed his last contract extension in 2020, this is what he had to say about his time at Turin.
"I am working to carve out space among the starters. It's not easy, but with self-belief, l I can do it. At first, it was difficult, but now you can see the fruits. I hope it will happen. I feel good as a central defender and as a right-winger, I feel good in all roles. Coppitelli, Mazzarri and the other coaches have helped me, all have given me excellent advice." – Wilfred Singo 2020
The quote gives us an idea of the sacrifices he's willing to make on the pitch – a further testament to his determination, that now sees him bear the fruits of his labour, with consistent links to Premier League giants in recent months.
The fruits may blossom further if a transfer materializes. Nevertheless, this only serves as a further compliment to the season Singo's been having with II Toro, for whom he has been a vital player for. No doubt a figurehead of the Heavy Metal Football endorsed by Ivan Jurić. But whether Singo is all ears to the sweet melody of the Premier League, remains to be seen. 
Article & Graphics Done by @chunhang7
Featured Image: @GabFoligno / Valerio Pennicino / Getty Images