Player Profile: Okay Yokuslu
Okay Yokuslu is a 6'3" defensive midfielder from Turkey, currently playing for West Bromwich Albion. He began his professional career at Turkish side Altay before spells at Kayserispor and Trabzonspor earnt him a move to Celta Vigo. His time in Spain started off well but managerial change and the signing of Renato Tapia led to the mutual termination of his contract in 2022. 
His first loan move was to his current employer West Brom who, at the time (January 2021) were battling against relegation in the Premier League. Despite him impressing in his short time in the Premier League, West Brom were relegated and lacked the funds to sign him permanently.
This and a lack of interest elsewhere meant he would remain in Spain for the 2021/22 season. He spent the second half of that season on loan at Getafe but struggled to impress, which,  combined with Celta not being able to afford his wages allowed him to leave  "sunny Spain to play down Halford's lane" (as his chant at West Brom puts it).
Yokuslu plays best in a midfield two alongside a more energetic and mobile player. He fits the traditional description of a defensive midfielder and excels in all facets of defending. His biggest strength is his ability to read the game. His positioning is excellent and allows him to make interceptions and clearances frequently. This allows him to defend his box excellently.
West Brom faced what seemed an impossible task in stopping an in-form Middlesborough scoring away from home recently but came out with a 2-0 win.  West Brom went 2-0 up early on which allowed them to sit in a mid-block and defend. When attacking a block Boro are patient and looked to overload wide areas to create cutback opportunities.
They did this all throughout the game but couldn't get through. This is in big part down to Yokuslu's positioning. Every time Boro played a cutback, he seemed to be there to either intercept the pass or block the shot. He dropped into the last line of defence frequently and helped in what turned out to be a routine win for West Brom. In this game and throughout the season he has showcased that defensively he can do it all.
His tackling is excellent and he seems to have mastered waiting until the right moment to jump in. He seems to slide into his challenges, which could sometimes lead to problems, especially given his tendency to get back if play gets too far past him. However his long legs allow him to win the ball in places he shouldn't when sliding, often coming from behind and getting a foot on the ball. 
His ability in the air is incredible and a big reason why West Brom are amongst the best defensive teams in the EFL Championship. When teams set up to go long and play for second balls it is almost always Yokuslu who makes first contact, he has the perfect blend of aggression and physicality to dominate in the air and him being in the 99th percentile for aerials won should be no surprise.

Yokuslu is excellent at winning the ball high up the pitch. He is first to most loose balls and stops counterattacks before they happen which is a valuable trait as it allows his team to sustain pressure. His lemur-like ability to sense the weakness of his opponents is what led to his second goal against Preston North End.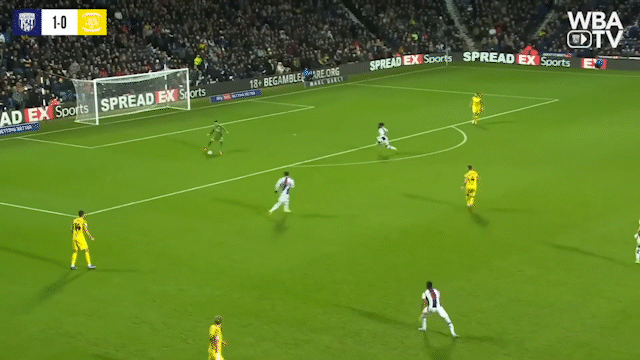 In the past Yokuslu has been trusted to be the midfielder that would receive the ball off defenders and look to progress the ball in the build-up. However, due to him being poor at receiving the ball when facing his own goal as he doesn't scan often enough, it is clear he isn't capable of this.
As well as that his limited passing range means it's hard for him to progress play even when in space. Despite this, he isn't bad technically and is certainly capable of being impactful on the ball. Take his first goal vs Preston North End for example: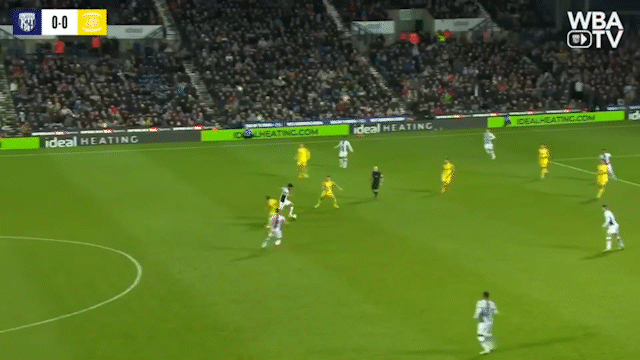 This goal shows how effective he can be in transitional moments. He wins the ball back, beats his man and shoots within a few seconds. His instincts in transition are good and it is in these moments he makes his best decisions. He has quick feet for a man of his stature which combined with his powerful nature makes him a force to be reckoned with when space presents itself. He is more than capable of beating his man and can at times provide moments of magic.
Conclusion
If Yokuslu was just slightly more refined on the ball there is no doubt he would be starting in the Premier League right now. But at the moment it looks as if he's going to have to earn that second chance at the Premier League the hard way.
West Brom are currently seven points outside the playoffs in the EFL Championship playoffs with a game in hand on most of the teams around them. It is no doubt a tough ask but if Yokuslu and co can keep up their good form they could find themselves back where they belong come next season.
By: Ricky Lee Griffiths / @rickyleegriffi2
Featured Image: @GabFoligno / Adam Fradgley / West Brom