Raoul Bellanova: Cagliari's Buccaneering Right Back
Raoul Bellanova has had a merry-go-round experience in the early years of his professional football career, moving from club to club in search of stability and consistent minutes.
After spending more than a decade in the AC Milan youth system, the Italian right-back was acquired by French club Girondins de Bordeaux in January 2019 and since then, he has spent loan spells at Atalanta, Pescara, and Cagliari.
His current stint with the Isolani has been an important one for the 21-year-old. Although he is still raw, Bellanova has displayed the ability to play first division football and he has impressed with his attacking play on the right flank for the Sardinian club.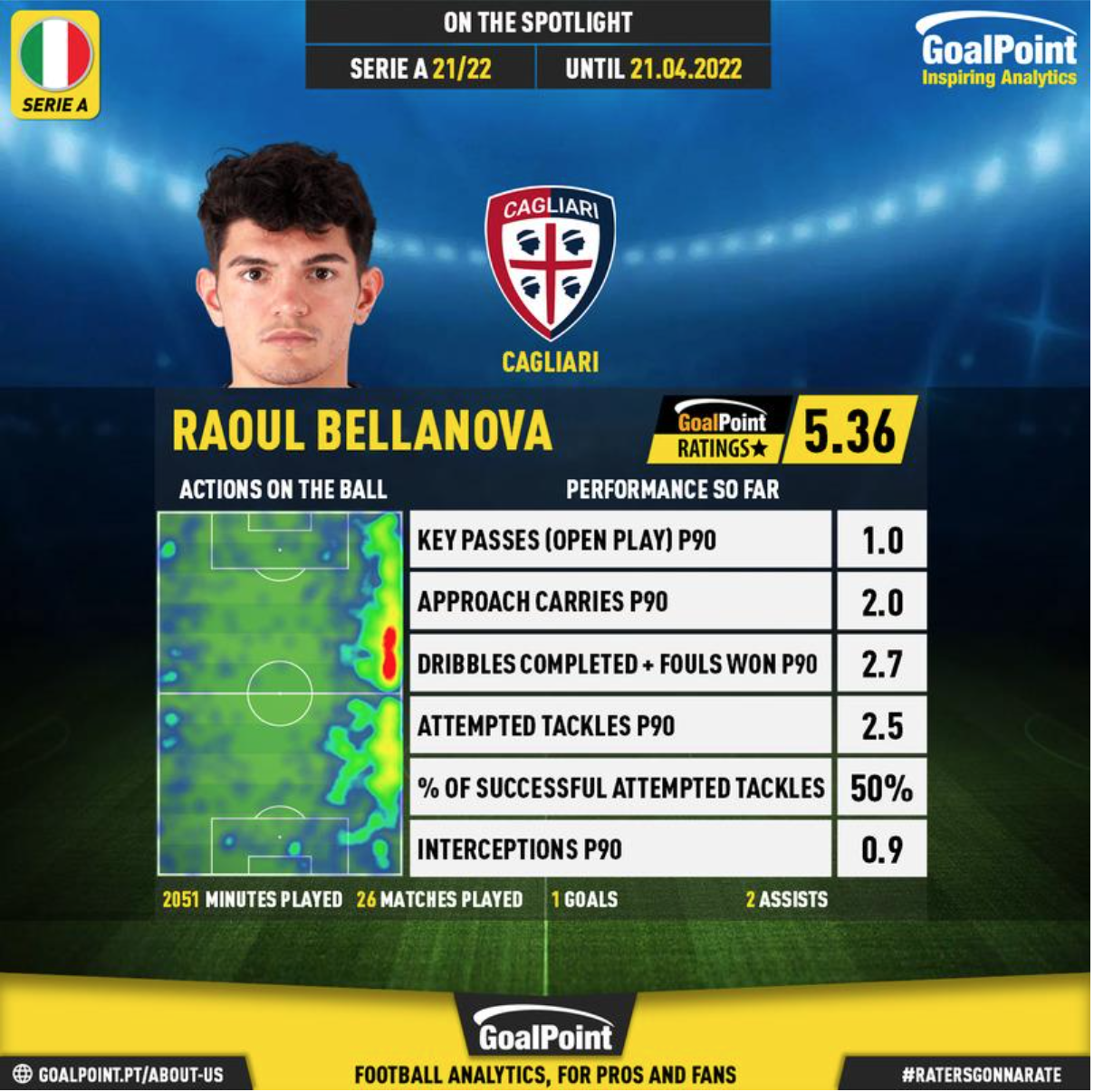 Photo: Goalpoint / @_Goalpoint
In 26 matches so far in the 2021/22 Serie A season, Bellanova has scored once and provided two assists. According to GoalPoint, he has averaged 1.0 key passes in open play, 2.0 approach carries, 2.7 dribbles completed, 2.7 fouls won, 2.5 attempted tackles and 0.9 interceptions per 90. Bellanova also has a successful tackle rate of 50 percent.
The statistics show that he is a footballer who is confident on the ball and can make an impact offensively. However, he has an average rating of 5.36, which is due to ineffective ball use at times such as misplace passes in his own half or wasted crosses.  
Under Leonardo Semplici and then his replacement Walter Mazzarri, Cagliari has predominantly played with a back three throughout the 2021/22 campaign. Bellanova rarely played under Semplici, but he has been a regular since Mazzarri took over as coach, operating as a right wing-back.
Playing as wing-back allows the 21-year-old to focus more on attacking than defending, which suits his strengths. He is a fast and physically strong player, and he is direct in his approach. Bellanova will use his pace to beat opponents, and he has the confidence to run down to the corner, then supply a cross. 
With the tall center-forward Leonardo Pavoletti having started just 11 times in Serie A this season, there has not been much need for Bellanova to put high crosses into the box and low crosses often suffice.
Cagliari had a horrible start to the campaign, having won just once in the first half of the 2021/22 Serie A season. After the Christmas break, the Sardinians won three out of five league games to climb off the bottom of the table and out of the relegation zone.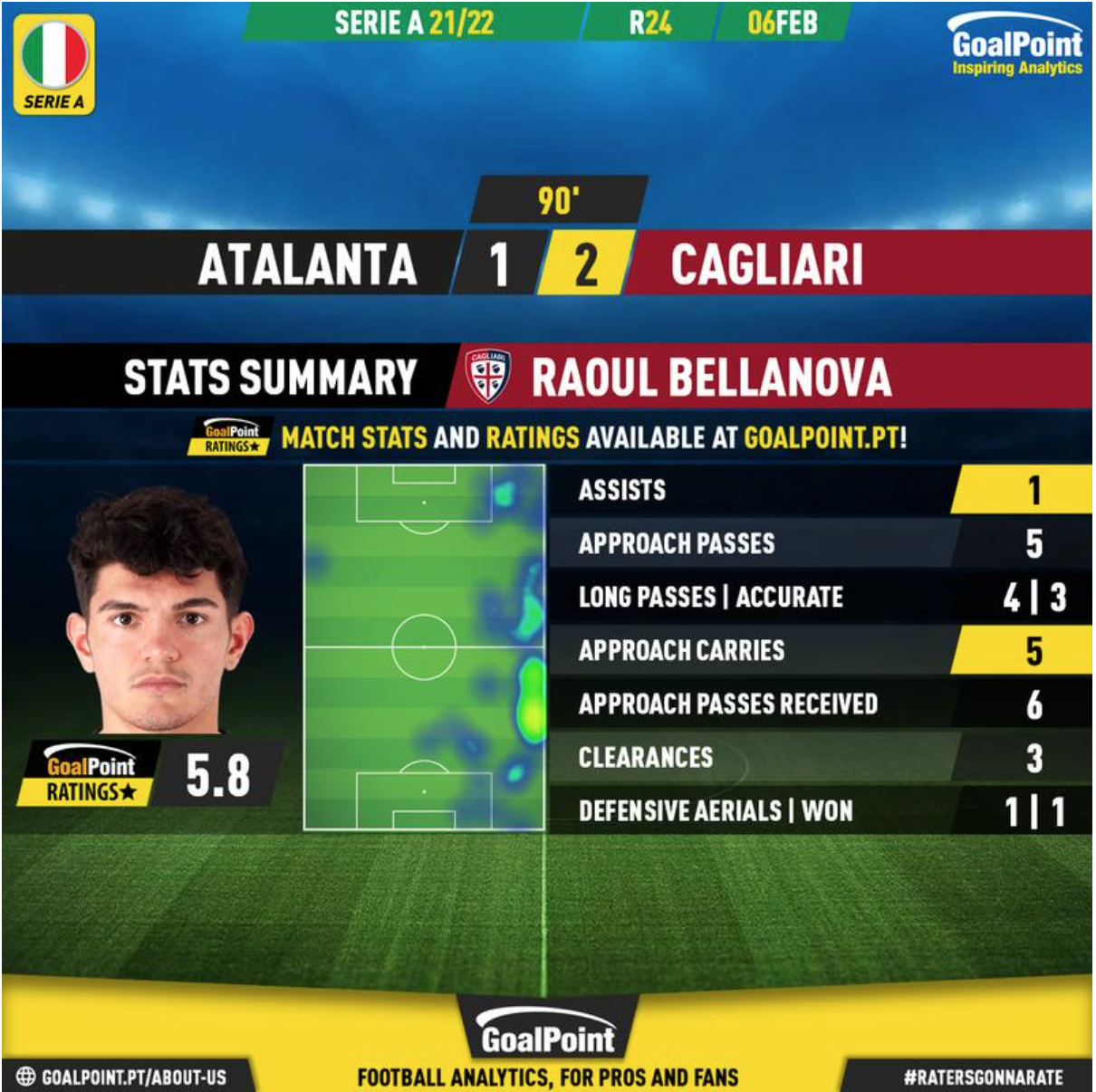 Photo: Goalpoint / @_Goalpoint
The third win in that spell was a 2-1 victory away to Atalanta in Bergamo and Bellanova played an important part in the Isolani's attacking play. He completed five approach passes, three out of four long passes were successful, made five approach carries, and received six approach passes.
It is evident that the 21-year-old will make the most of any space that is in front of him and he will make marauding runs forward. He showed against Atalanta that he can play a part in his team's attacks, and based on the approach passes received, his teammates look at him as an attacking source.
All the goals came in the second half of that Serie A fixture and Uruguayan midfielder Gastón Pereiro scored twice for Cagliari. Bellanova was involved in the build-up for Pereiro's first goal, and he then supplied the assist for the winner with a dashing run on the right before providing a cross for the Uruguayan at the far post.
Bellanova still made an adequate contribution defensively, completing three crosses and winning one defensive aerial duel.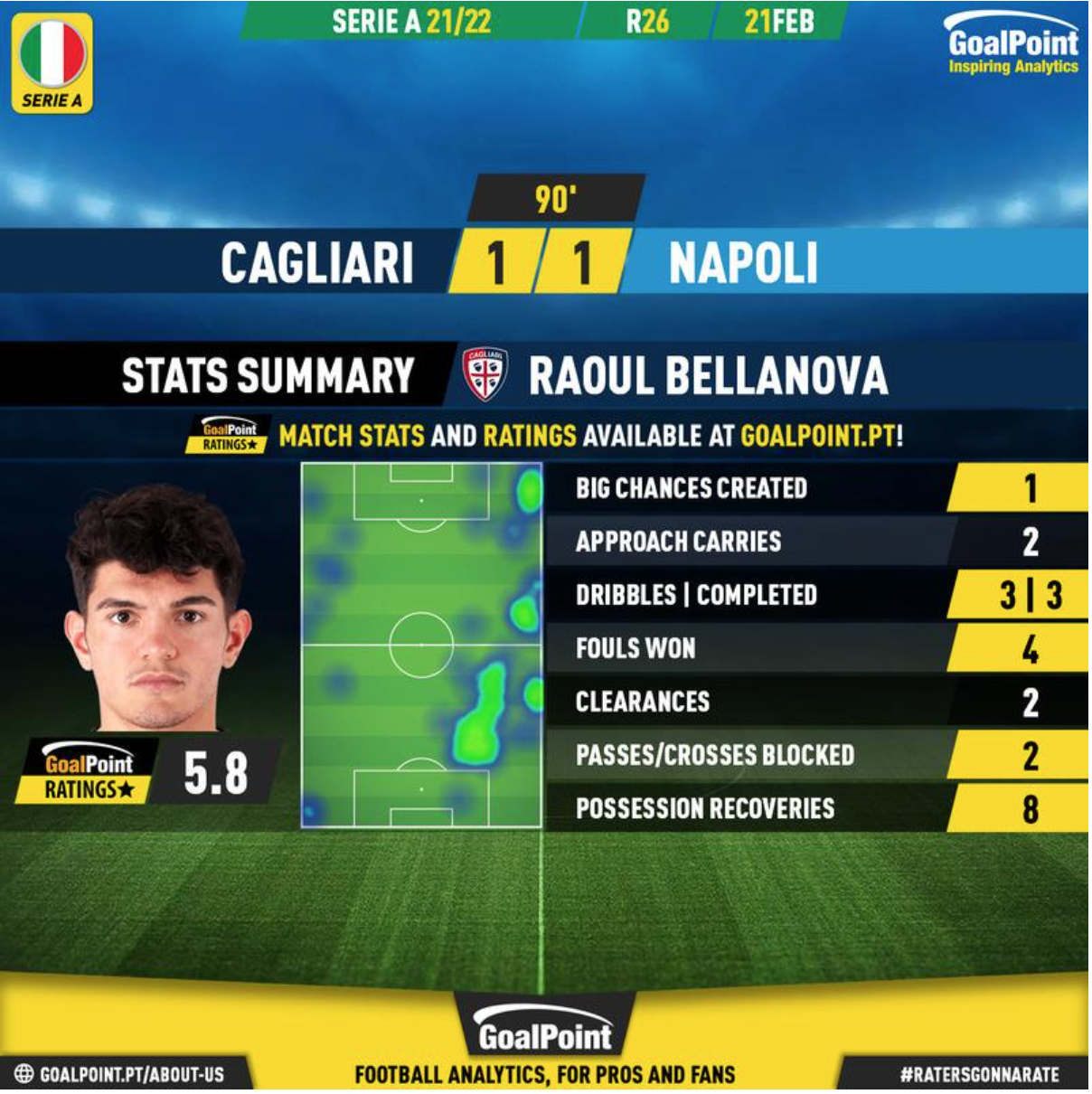 Photo: Goalpoint / @_Goalpoint
Another impressive result that Cagliari has registered this season was a 1-1 draw at home to title contenders Napoli in Week 26. It was a solid performance from Bellanova, who was in his own half more than in the opposition one. The 21-year-old made two blocks, two clearances, and he also made eight possession recoveries.
He still had his moments going forward, making two approach carries, completing three out of three dribbles, and winning four fouls. Arguably the most interesting star was the one big chance he created.
Cagliari had taken the lead against Napoli with a Pereiro strike that caught Partenopei goalkeeper David Ospina unsighted. The Sardinians could have sealed the win when Bellanova supplied a fine cross for Alessandro Deiola.
However, his diving header forced a splendid save from Ospina and Daniele Baselli blasted the rebound over the bar. It was a chance squandered as Napoli eventually equalized through star striker Victor Osimhen.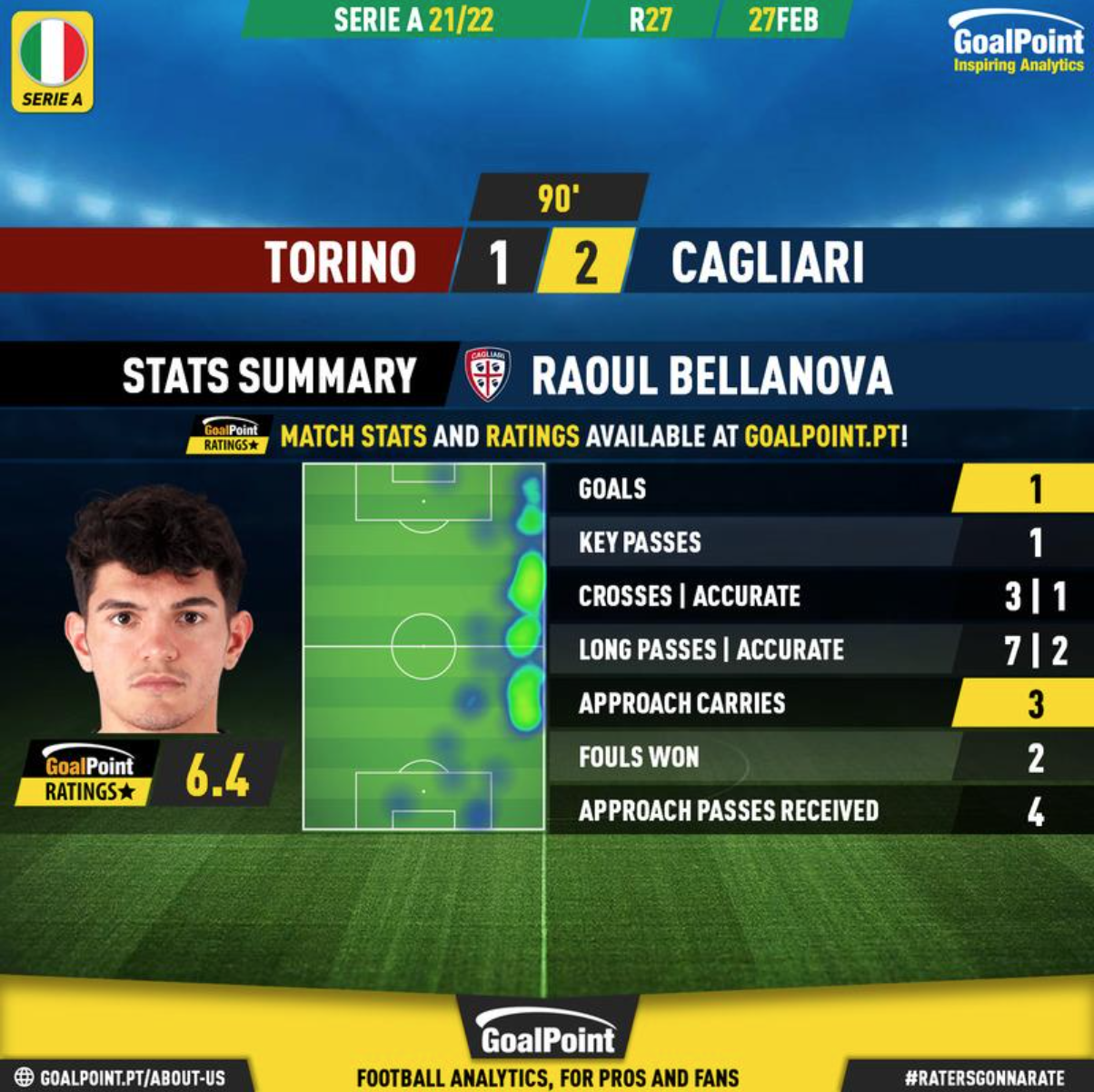 Photo: Goalpoint / @_Goalpoint
Following its draw against Napoli, Cagliari travelled to Turin in Week 27 to face Torino and the Sardinians earned a 2-1 victory. Although Bellanova in particular was not at his most effective, he was nonetheless decisive in certain moments.
His distribution was not the best in this game, with one cross out of three and two long passes out of seven being accurate.
However, he received four approach passes and made three approach carries. The heat map also indicates that his presence was significant on the right flank so although his ball use was not great, he still worked hard on the wing.
Bellanova's greatest contribution though was the opening goal of the game, which also turned out to be the defender's first-ever Serie A goal.
Dalbert threw the ball from the left and found central midfielder Alberto Grassi. Grassi sliced the ball across goal and Bellanova, who made a late run into the box and was unmarked, put the ball into the net with a low angled drive.
The 21-year-old also played a part in the winning goal for Cagliari as well. As he was sprinting down the right-wing, he hit a long pass for Leonardo Pavoletti to chest down to the ground. Alessandro Deiola controlled the ball with his first touch, and with the second, he hit a firm low shot into the net with his left foot.
After 33 rounds, Cagliari is 17th in Serie A with 28 points and it is six points above the relegation zone. However, the Isolani still have to be wary of Genoa and Salernitana, who have been collecting some points towards the end of the season.
In what has been a tough campaign for the Sardinians, Bellanova has been one of their bright spots. The right-back has also represented Italy at various youth levels and he is a regular in the Under-21 squad with 14 caps to date. 
Before that, he featured for Italy when it lost to Portugal in the 2018 European Under-19 Championship Final, and he made five appearances at the 2019 FIFA U-20 World Cup as the Azzurrini went on to finish fourth at the tournament.
Although he still needs to make improvements to his game, Raoul Bellanova has shown that he can be an exciting player when in full flight. If he can become more effective in his ball use, the young Italian can be an excellent right-back for a club higher up the Serie A table.
By: Vito Doria / @VitoCDoria
Featured Image: @GabFoligno / NurPhoto