Renato Sanches and Paul Pogba: Two Midfield Titans
The group of death delivered. In a helter-skelter final group matchday France, Portugal, Germany and party spoilers Hungary tussled for qualification to the last 16 of the Euros. Questionable penalties, goalkeeper errors and midfield masterclasses were some of the subplots on Thursday night as the curtain was brought down on highly entertaining fixtures of group matches in the delayed tournament.
France-Portugal was earmarked as the game of the tournament, rightfully so boasting a galaxy of stars and individuals one could manufacture as two ultimate 'dream teams' of the current footballing world. The football wasn't exactly dazzling nor actually that fluid or creative to watch but a fascinating, entertaining spectacle none the less epitomising the relentless gladiator style of football we have seen in the tournament so far where we have seen both teams no matter which one considered 'inferior' fight withall their might.
In the end the duel between the two teams commonly billed as 'favorites' heading into the competition was a tale of two midfielders for different reasons. The performances of Paul Pogba and Renato Sanches may be the discernible highlights in displaying France and Portugal's necessities as well as what they require to build on if they are to go further in the knockout phases. Pogba and Sanches could be the two midfielders that both teams build around to match the lofty ambitions both countries have.
Pogba is France's Most Dangerous Weapon
Of course we know Kylian Mbappe is French and Didier Deschamps noticably called in Karim Benzema out of the cold after a six-year shutout from the national team, but Pogba has been the lynchpin of everything creative about this team so far in the tournament.  He is a completely different beast in this national team, more settled and irrevocably reliable when given yards of space Pogba is the man that has delivered the good for France thus far.
He could as yet make a claim for being Player of the Tournament in a France side that has only scored thrice from open play. Of these three goals Pogba was heavily involved in two of them; A Terminator-like pass given to Lucas Hernandez against Germany leading to the Mats Hummels own goal, and similarly vs Portugal an eye of the needle pass as Benzema made a run in behind on the shoulder between Ruben Dias and Pepe to slot home. 
In both instances we as an audience didn't even see the runs of Benzema and Hernandez in picture, Pogba did and picked them both out. Give Pogba space and he will hurt you, especially with the pace of Mbappe. Sanches throughout the game made it a point to recognise that it was criminal to give the French dazzler space, whenever he did have it he threatened to pick the lock for France. 
Pogba on the ball and the runs in behind from Mbappe will be France's most likely route to goal if they are to complete a Euro and World Cup double not done since the iconic Spain team of 2008-12. Portugal should've smelt the smoke before the fire came, as the sequence of Pogba playing it through for the forwards running in behind was something France were doing before Mbappe's run for the dubious penalty occurred. With Mbappe running in between Dias and Pepe but Pogba overhitting the pass. 
Pogba also hit an inch perfect through ball for Mbappe to go one on one with Rui Patricio only to for the finish to be hit straight at the keeper. Mbappe made this run from the left channel capitalising on lackadaisical awareness from Nelson Semedo, and all that was lacking was the finish with the PSG forward not yet scoring in the tournament.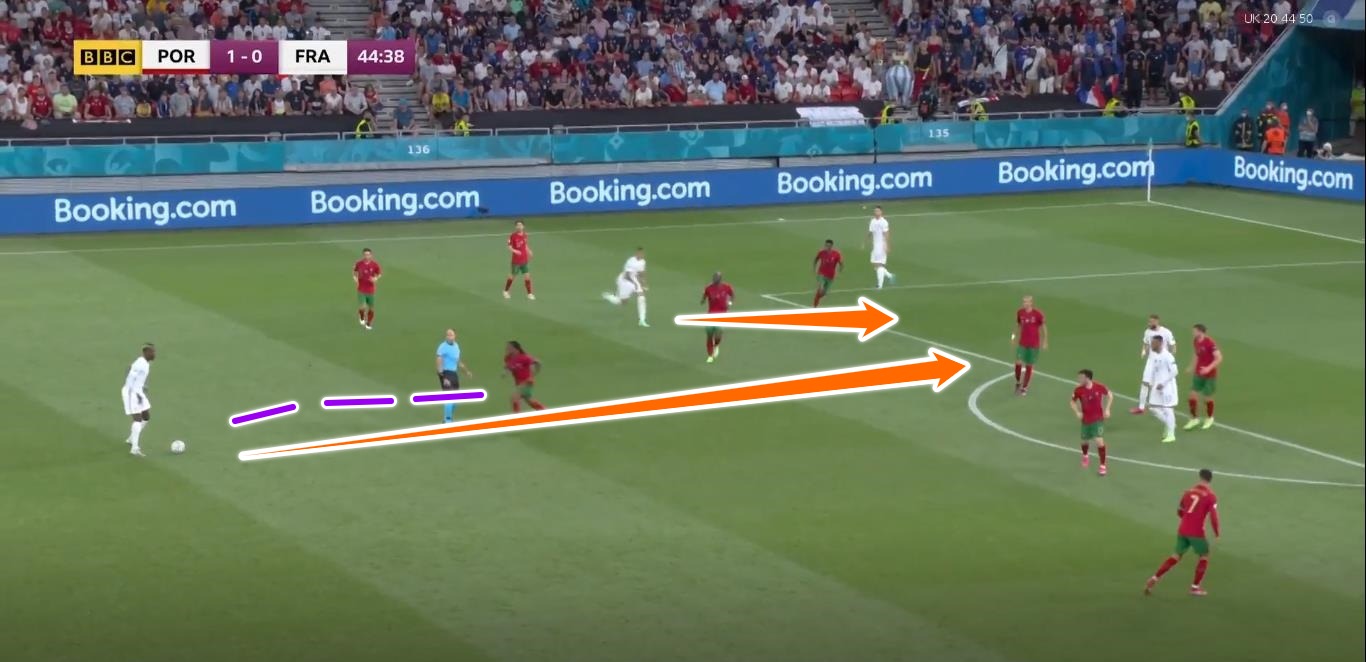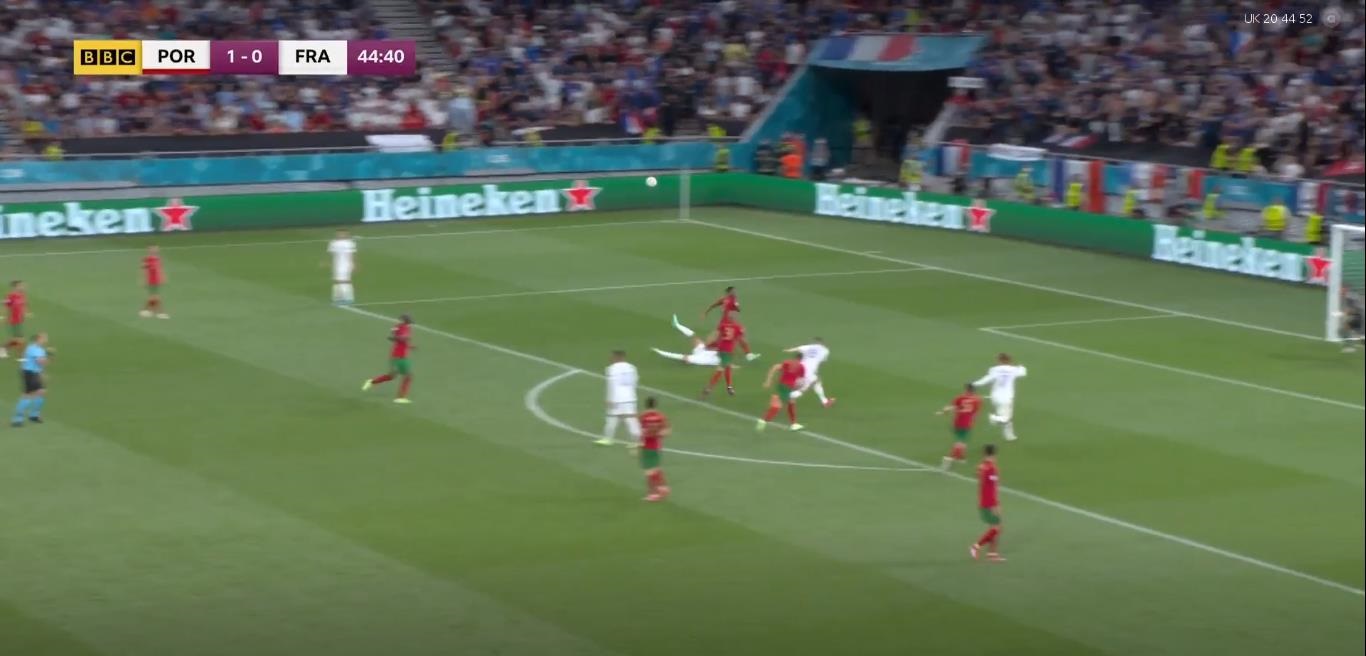 For France's extremely soft penalty it was Mbappe surging past Semedo again with a ball from Pogba over the top, now it has to be said that the penalty was fortuitous for Les Bleus, but the blistering pace when you have someone who can put the ball on a six pence is the real salient point to be made here, Sanches as you can see is a good few yards away from Pogba which allows him to dial into his arrow of accurate passes that cause danger, evenually resulting in the penalty.
It wasn't just Mbappe making runs in behind and syncing with Pogba's thoughts on the ball. Benzema latched onto the end of a search ball from the Frenchman too. In the first picture this was Benzema making the run and not getting the ball because Pogba was hesitant to play it but just 30 seconds late Pogba did this time make the pass as the Real Madrid forward finished the assist off the post.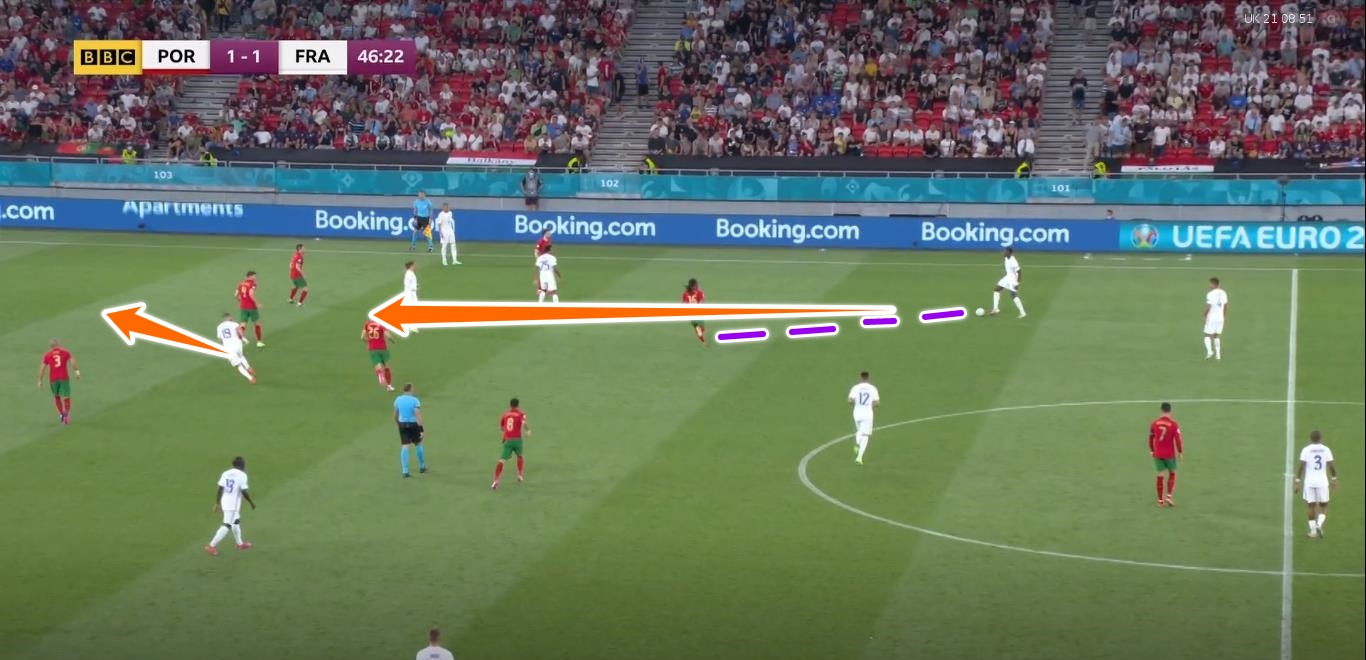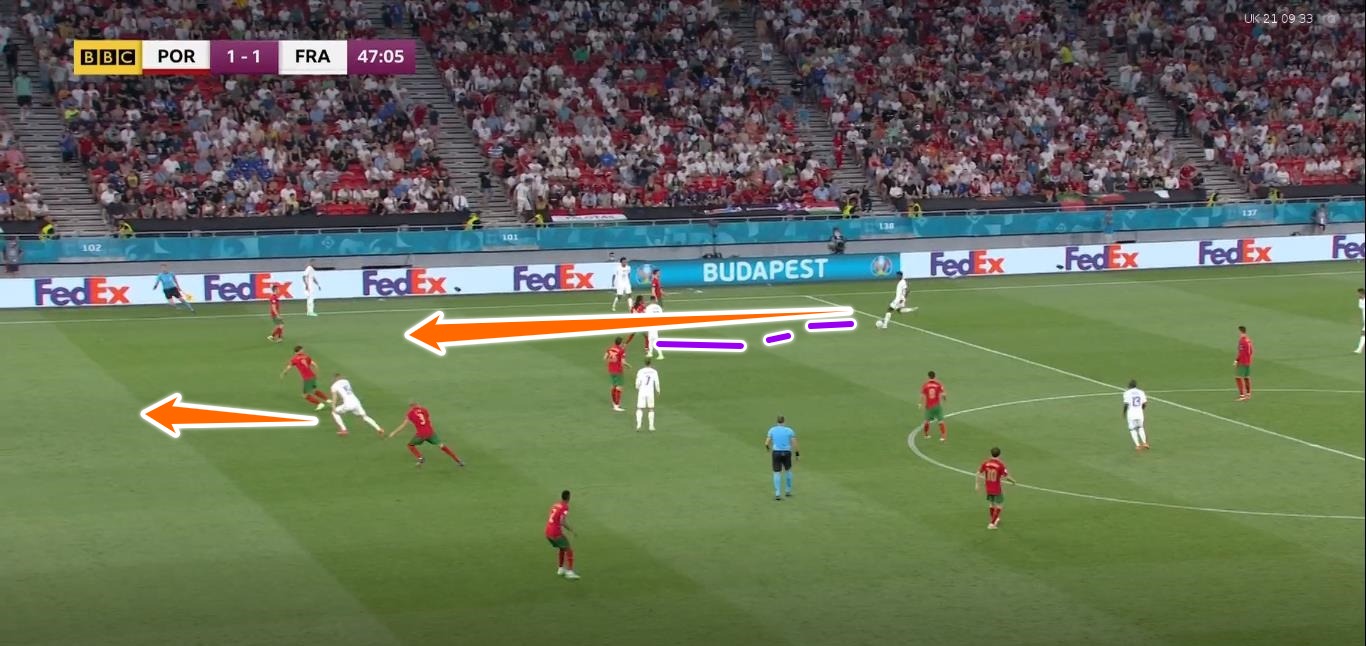 I have had to use an image of the replay because Benzema isn't even in the picture when Pogba passed the ball just like with the goal against Germany, even the commentators feel dumbfounded at how the Manchester United's pass gets through, like the Portugal defence it isn't anticipated.
If the run is made, somehow Pogba will get it through, but also because there is no one tight on him or closing him down. His passes for France in the tournament have been like Homing Pigeons, no matter the distance, or angle they will reach there eventual target.
Doubt for Deschamps
Can France rely on Pogba? Absolutely, will Deschamps want this to be their only or best way to goal? No way. It is an extremely hard-fought tournament, and teams must be looking at the games thus far and instructing one of their midfielders to stick with Pogba at all times or at least when he is in the opposing third, because from nowhere he can carve defences apart.
In the Hungary game, they out-fought, out-muscled and niggly picked at France and Pogba, though they should've scored in the first 45 they were effective in the 2nd half which resulted in Pogba being heaved off. A better more, astute defensive midfielder or coach could nullify Pogba, or it may be a case of what happens in the league where Pogba looks effective for at least 10 games in a season but also struggles when teams play a low block and play ten men behind the ball to limit space, which is what we may see against Switzerland for France in the next round.
Sanches Provides Stability
Portugal were humbled against Germany and particularly couldn't cope with Robin Gosens as a marauding wing back who tormented Semedo all game. This was a key underlining factor for Fernando Santos who seemed to prioritise trying to smother France rather than attacking with even Bernardo Silva and Diogo Jota tracking back often on the left and right. Portugal ostensibly started as a 4-3-3 but it was more of a 4-5-1 at times when France had the ball with the midfield tracking back.
Bruno Fernandes was the headline exclusion with the playmaker looking leggy and wasteful in possession as Santos shored things up in midfield with Danilo joined by Joao Moutinho and Sanches. Sanches in particular was the midfielder asking for the ball constantly from defence and battling with France's midfield. It was a frequent image seeing Sanches constantly holding players off, actually, more shoving them off using his immense power to recover the ball, be tenacious in the tackle and try and keep Portugal moving.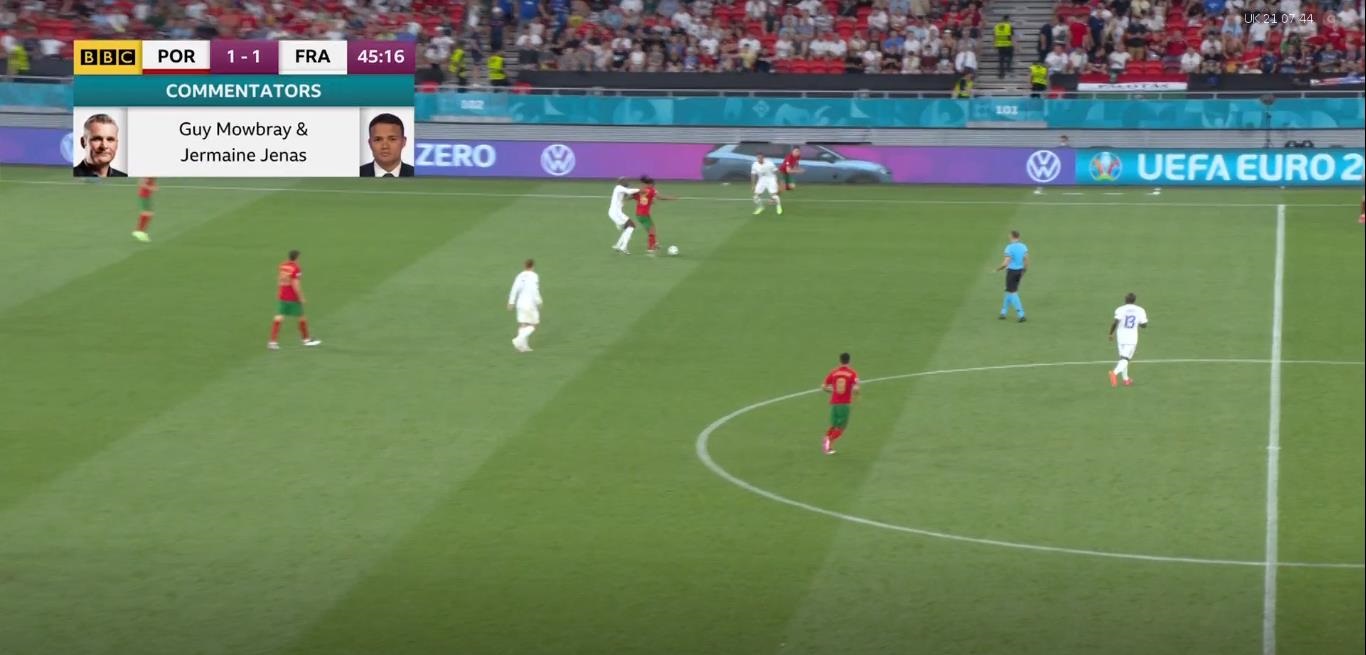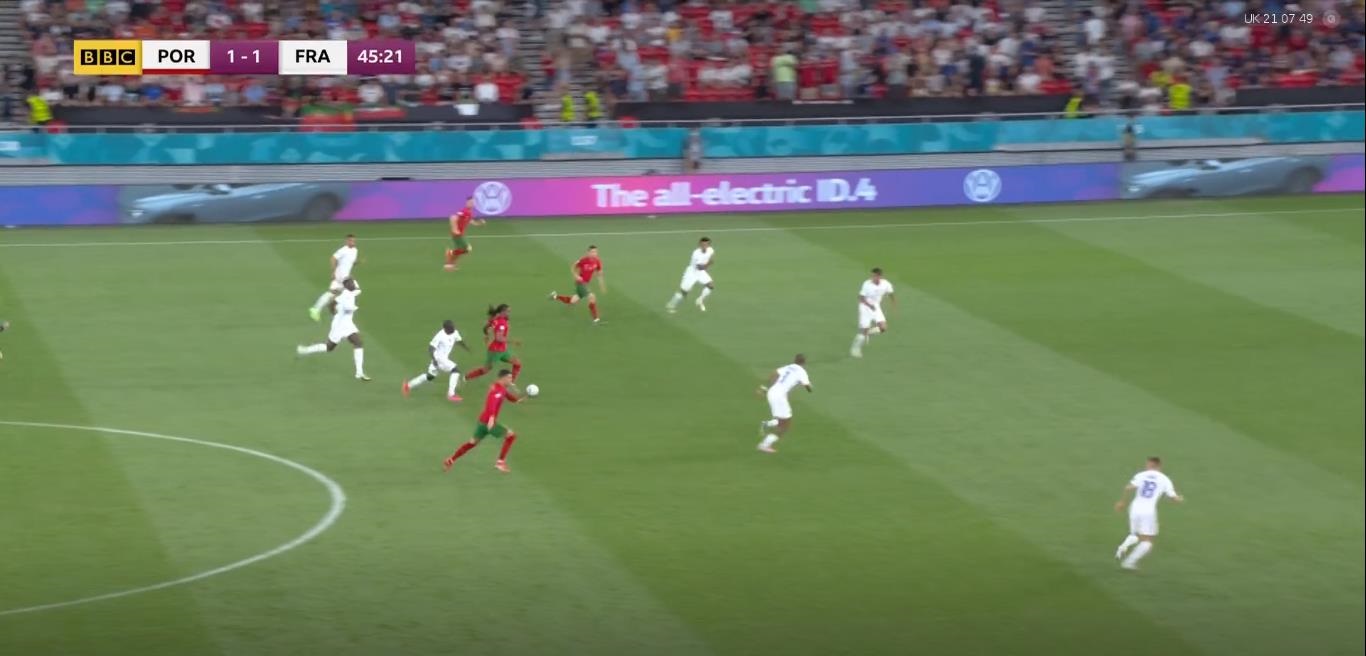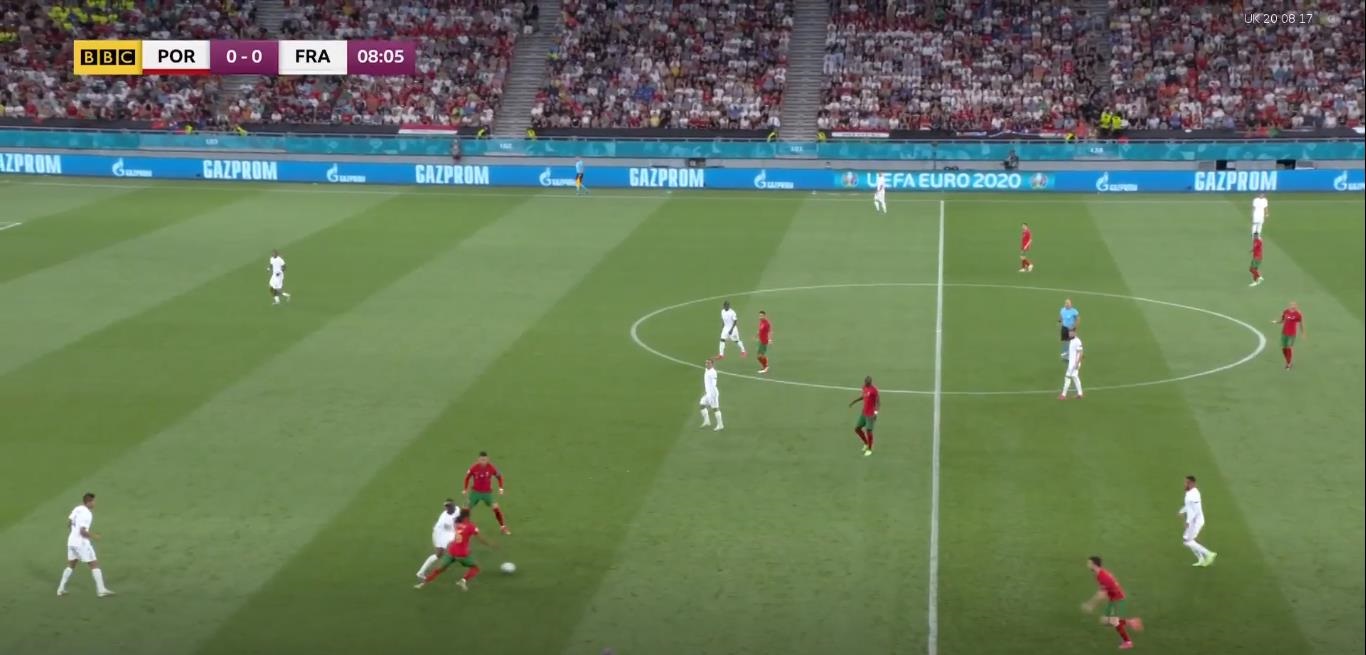 Sanches was a powerhouse, rather poetically it was Pogba he was frequently wrestling with and winning in the 50/50 challenges. Portugal looked more steady with him in midfield as he tracked Pogba and ensured security in front of Portugal's back four.
In the first image he drives and runs at three french players emerging with the ball which is what Santos is hoping will happen more often if he is to play more as the knockout games conclude, because Sanches definitely offered Portugal more robustness in midfield but you felt there was never really a threat from central areas, only when the full backs pushed up past Silva and Jota was there really a threat. 
Even if Sanches lost the ball, he was quick to retrieve it or provide that extra touch here and there to thwart France, meaning it was left to only when Pogba had space did France look like scoring. It just looked impossible to shake him off the ball, his bulky stature and almost constant body position of having his arms stretched out to bustle players away in trying to recover the ball and when France had it was salient.
The problem with a performance like the one against France is quintessentially, Portugal had to rely on two penalty incidents to get into the game and rarely threatened. So much so that even Cristiano Ronaldo recognised the need for Portugal's doggedness, as he was seen tracking back and recovering the ball without much of an urgency to go forward.
To sacrifice Bruno Fernandes is to sacrifice a risk element in both facets of play, you are less susceptible to waste the ball but you are also less likely to make something happen with a player whose function is to play with incivility and a scattergun flurry of creating chances. Santos may look at tinkering Moutinho for Fernandes to try and get more of an attacking onus as well as not sacrifice Danilo and the defensive advantages he offers, but Sanches's performance may have offered a solution for Santos.
As the reigning champions in 2016, Portugal made the most of the below-average resources they had at the team, now he must find a way to navigate Portugal through the knockouts but with a lot more assets and some of the best players in the world at his disposal.
It is a testament to what Santos has at his disposal that a player like Joao Felix has still not played a minute. Santos feels like that film director that had a wildly successful first film on a low budget, but now faces a test to make his sequel just as good with a bigger budget.
By: Dharnish Iqbal
By: @GabFoligno / Aurelien Meunier – UEFA / Alex Livesey – UEFA