Rizky Ridho, the Mature Defender in An Immature Footballing Environment
Indonesian football still has a long way into becoming a proper football environment for its players to grow. From the federation's improper management of the league, clubs that hastily buy old players and disregard their long-term plan, lack of a clear plan on the footballing curriculum, violence in the lower football pyramid, illegal activities involving the clubs and the academies regarding youths, and many other factors, these things contributed to the stunted development of Indonesian players.
Hence, Indonesian national teams and their domestic clubs still found little success in the Southeast Asian landscape, let alone Asian football as a whole. To make it worse, some teams mostly relied on their better foreign players, which speaks volumes about the quality of their homegrown players — although playing them less also contributes to this.
However, we have seen some groundbreaking moves such as creating a systematized national footballing philosophy (Filanesia), the rise of analytics — although still in their formative years, and developmental leagues designed to give the academy players some competitive taste.
With other factors involved, we've seen a new crop of very talented players such as Witan Sulaeman, Egy Maulana Vikri, Syahrian Abimanyu, Asnawi Mangkualam, Pratama Arhan, Rachmat Irianto, and Rizky Ridho, in which the last one will be discussed in depth.
Before we continue to Ridho, we need to know that some of these players have different fates in nurturing their footballing ability. Witan, Egy, Arhan, and Asnawi managed to up their game, playing in a more challenging European, Korean, and Japanese environment.
However, Irianto, Abimanyu, and Ridho are still playing in the domestic league, in which the challenges aren't enough to mould them into far better players.
Rizky Ridho, the Proactive Defender Playing in a Passive League
To further elaborate about the failings of the Indonesian footballing system to develop their players, I would give an example of the league's level of playing. Liga 1 (the top-flight league) aren't known for solid defending, both collectively and individually.
Collectively, most of the team are messes, failing to maintain optimal distances with each other, and, more often than not, failing to proactively cover spaces in dangerous areas. Individually, the defenders aren't known for being proactive on engaging with his marker, often letting the opposition receiving the ball in the space between the second defensive line and the final defensive line.
This passivity in defending partly contributes to the unchallenging environment in the league, where the attackers have more space due to the big space caused by bad collective defending — making them unable to improve their decision-making on a more constrained situation, which also affects the defenders because they would, eventually, face the attackers that have limited skillsets.
Hence, the Timnas (Indonesia's NT nickname) players often lost to teams that have more physicality and faster, more complex decision-making (like Mano Polking's Thailand in the AFF Final).
Rotasi Thailand yang meliputi CB, DM, CM kanan, dan LB. Egy harus lebih fokus dalam mengikuti runner, dan untungnya high engagement dari Ridho membuat CM kanan Thailand merasa ragu. pic.twitter.com/GAZpAexEQr

— Irzi (@irzirzn) April 23, 2022
This doesn't imply that Indonesian players aren't talented. The ones who played in the National Team have a very high potential. It's just that their development were stunted, because of them not being challenged enough in the domestic level during their formative and prime years.
That brings us into Rizky Ridho Ramadhani. He was born and bred in the Indonesian (specifically Persebaya's) footballing system, rising his ranks through SSB (sekolah sepak bola, or footballing academy) Sumo Putro, Persebaya's internal youth competition — one of the best nationwide, and their academy.
The 20-year-old has tasted the good, bad, and ugly sides of Indonesian football. Based on this, Ridho is more likely to be a decent enough defender in the league, but not enough for competing with the upper-level Southeast Asian players. However, Ridho has proven that he's a proactive outlier in the passive world of Liga 1.
In Aji Santoso's strategic blueprint of Persebaya, he is often paired with Alie Sesay, in which his aggressiveness on engaging his marker complements Sesay's accurate positioning, all-around ability, and calm disposition on screening the defense.
This gives Persebaya, a team that implements a 4–2–3–1 system, an edge defensively, with Ridho aggressively marking the opposing player, who tried to exploit the space behind Persebaya's pivot (who got attracted by the opponent). Sesay, on the other hand, gives a sense of control by his ability to defend large spaces and contain his opponent.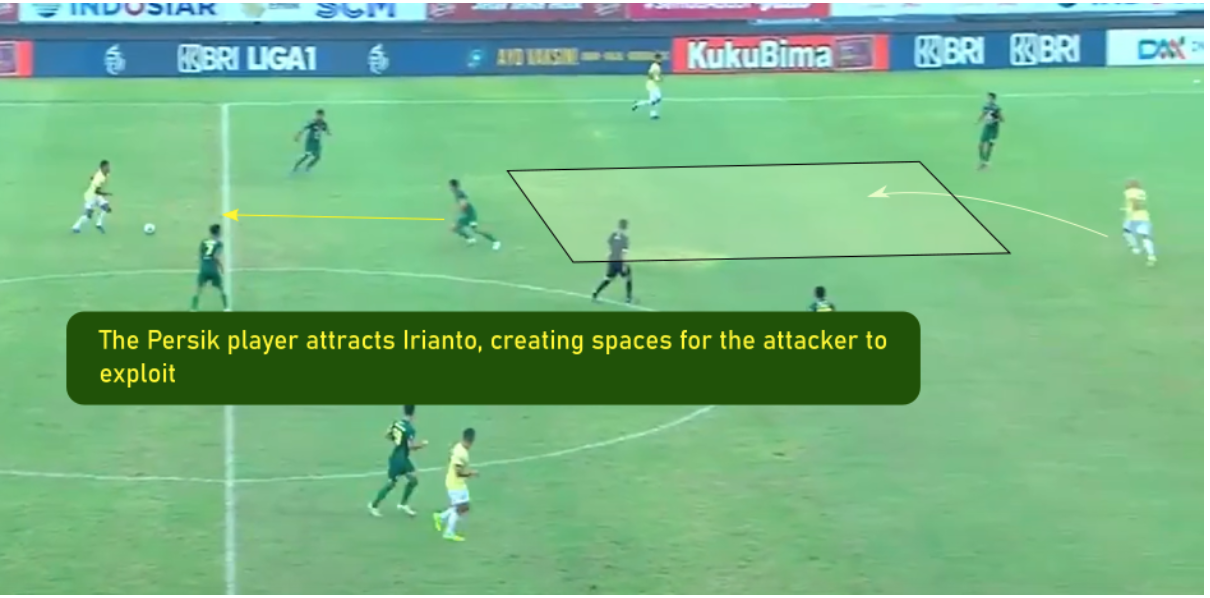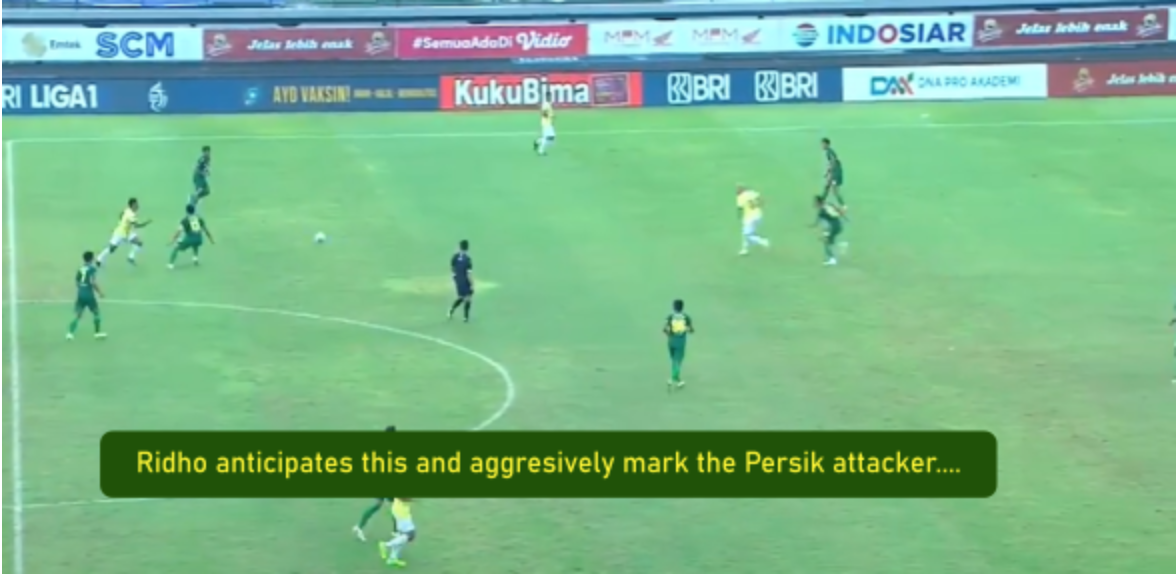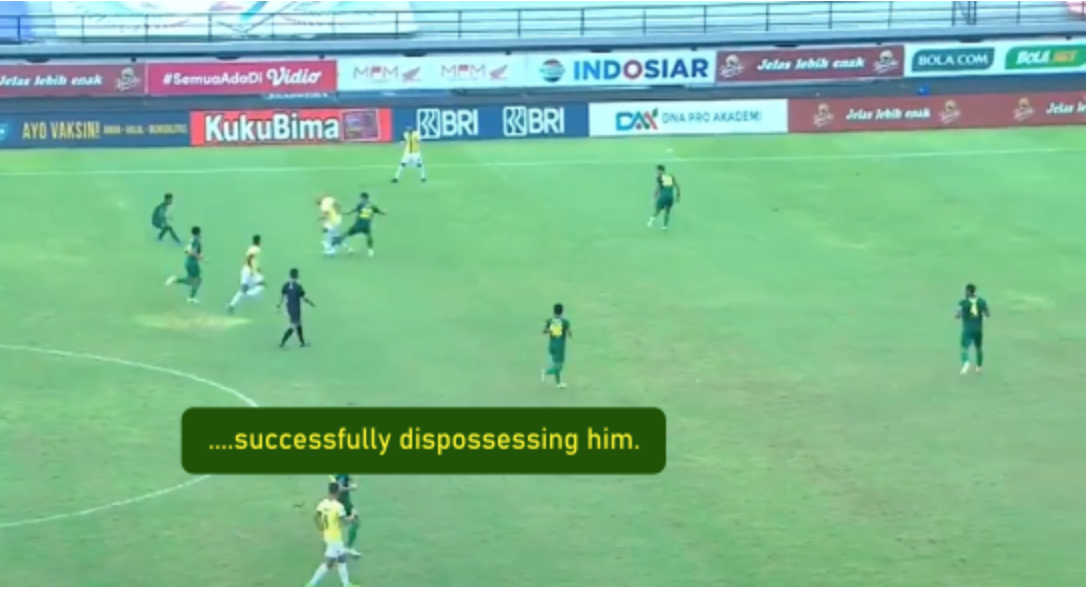 We should also notice that although Ridho's game is mostly based on his aggressiveness in stopping his marker, he's also an intelligent defender, often making the right decisions within time constraints. Ridho also has often shown that he's able to check his surroundings and act on it accordingly, making him able to switch responsibilities with Sesay.
Combining aggressiveness with intelligence when defending, Ridho is a perfect puzzle piece in Shin Tae-yong's Timnas. Tae-yong basically uses Ridho the way Aji uses him in Persebaya, as a player that aggressively marks out opposing players from the dangerous zone.
He is mostly paired with Fachruddin Aryanto. Like Sesay, Fachruddin is known for his positioning — almost always there to cover gaps left by his teammates, and having a dominating physical plus aerial presence. This duet further solidified Timnas on the defensive department.
But, how exactly does Ridho's role and ability help Timnas' performance in the SEA Games? First, Ridho is an integral part of Tae-yong's high-risk high-reward strategy. Timnas is playing a 4–2–3–1 against Vietnam's 5–3–2, sacrificing their width. To mitigate this, Ridho is tasked to defend the Vietnamese midfielder that moves inside the open space, since Indonesia's two pivots are focused to stop the nearest passing option.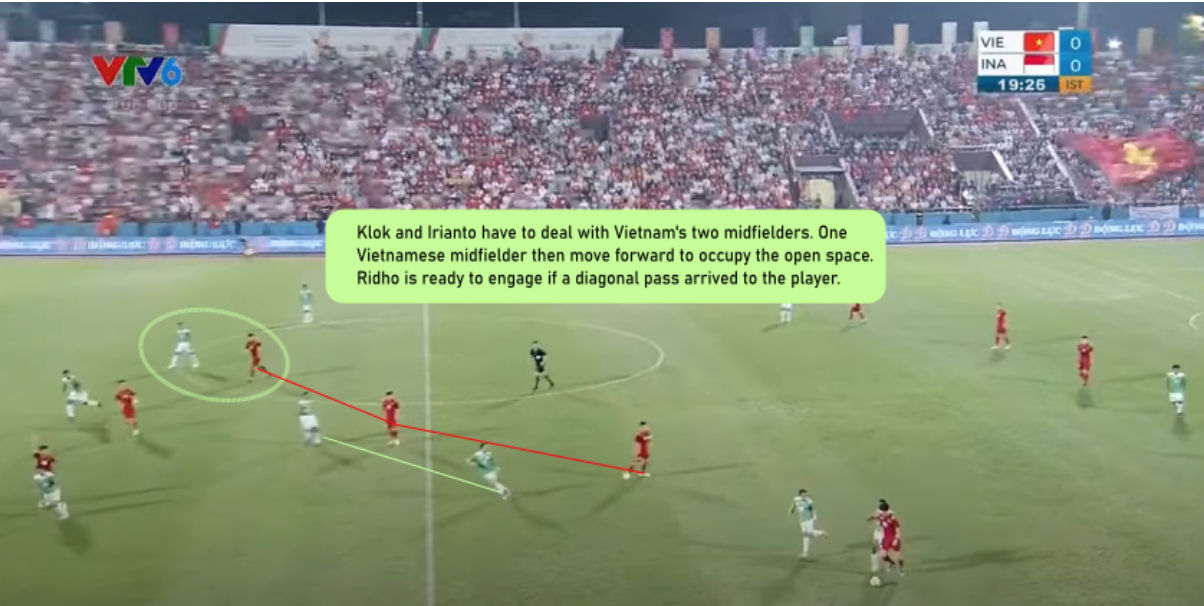 Second, we need to know on one of Timnas' biggest weaknesses: their pivots' lack of dynamism. In the game against East Timor, Tae-yong utilized a 4–2–3–1 system.
Their pivots, Abimanyu and Marc Klok switch roles between creating build-ups on the first attacking phase (where the CB+GK usually build up the ball), connecting between the pivot and the front 4, and sometimes creating overloads against the opposition's final defensive line — to put it in more detail, Klok is more into building up on the first attacking phase, and Abimanyu on connecting with the 10 plus overloads.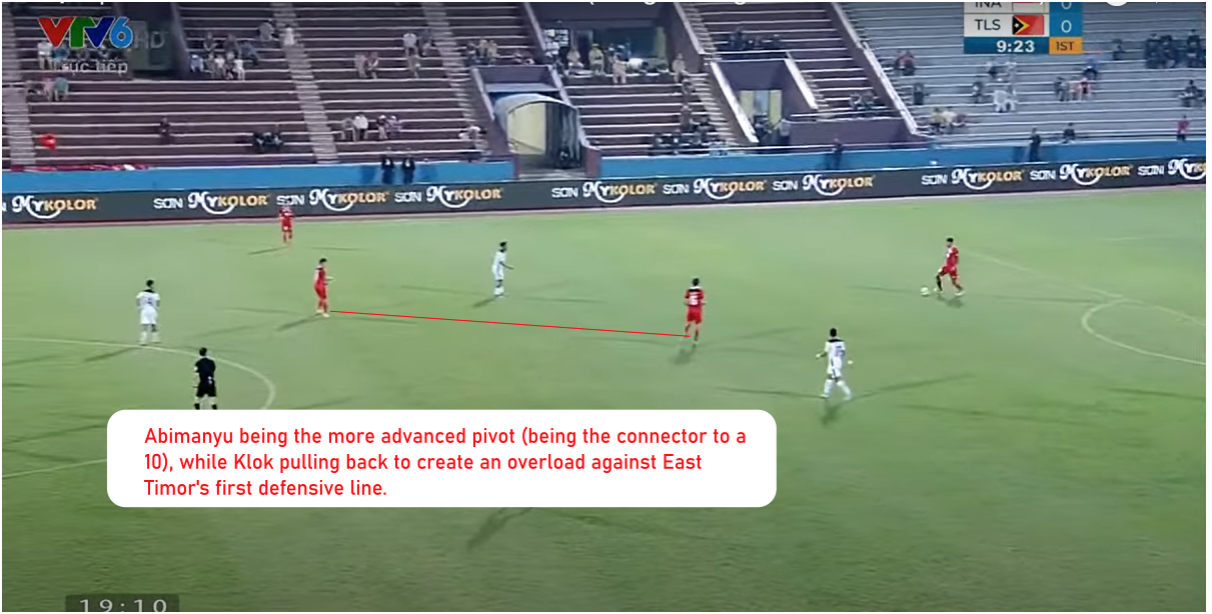 The biggest responsibility of the pivot who connects to the 10 and creating overloads when organizing the defense is to immediately get back and cover the large spaces created by them when pushing high. If they fail, the opposition then could fill their players inside that space, overwhelming the defensive unit, like this one below: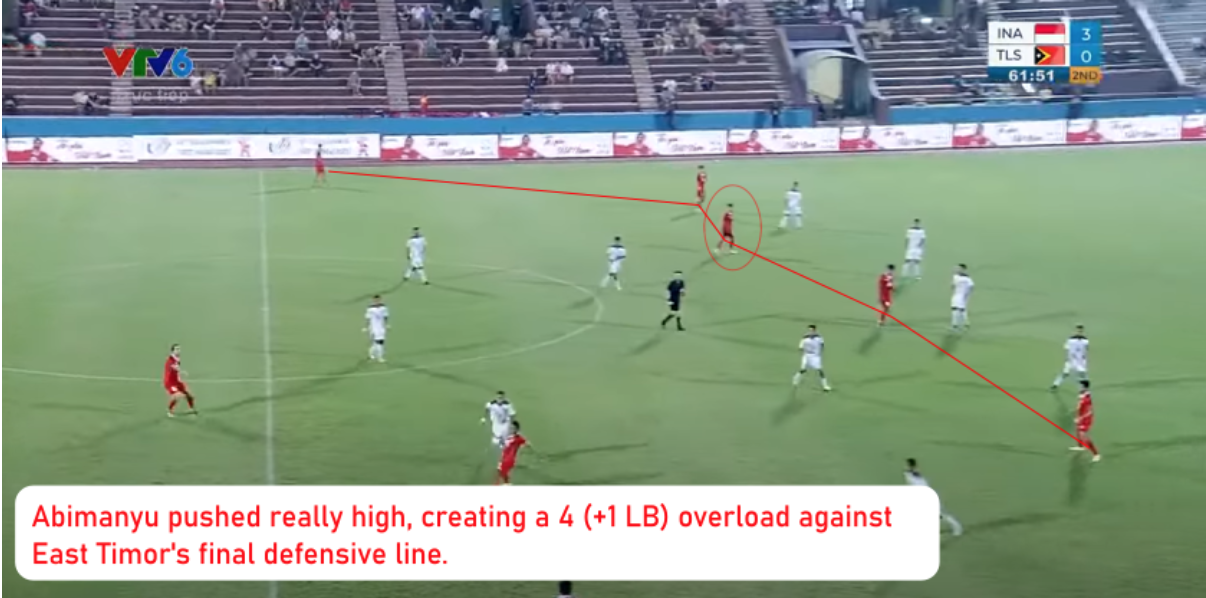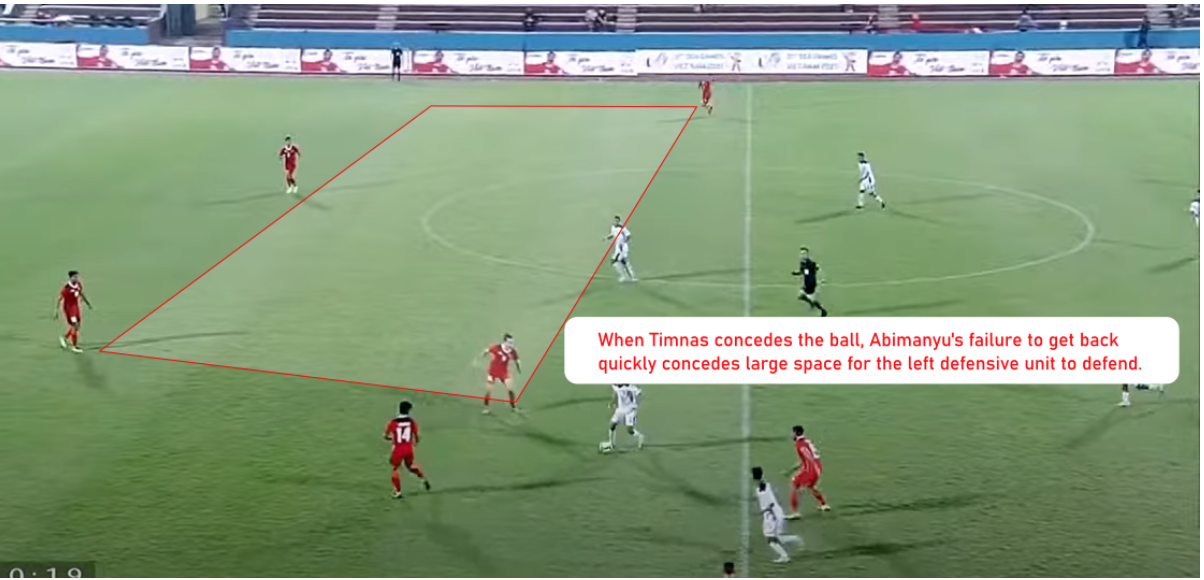 Therefore, an aggressive CB is often put behind the more attacking pivot — or the ball-far side in a single-pivot system, because of their ability to mark the opposition's players out from the dangerous zone. And to put it simply, Ridho is excellent on this stuff.
The East Timorese player managed to pass into his teammate, who is occupying the large space, but Ridho's aggressiveness and anticipation helped Timnas to regain safety.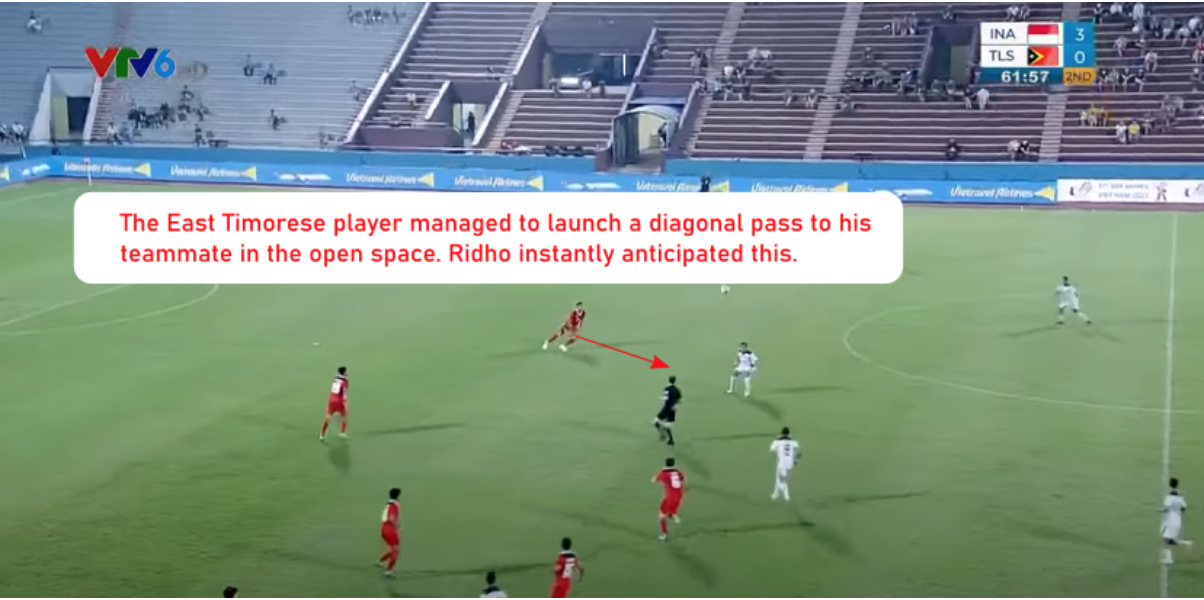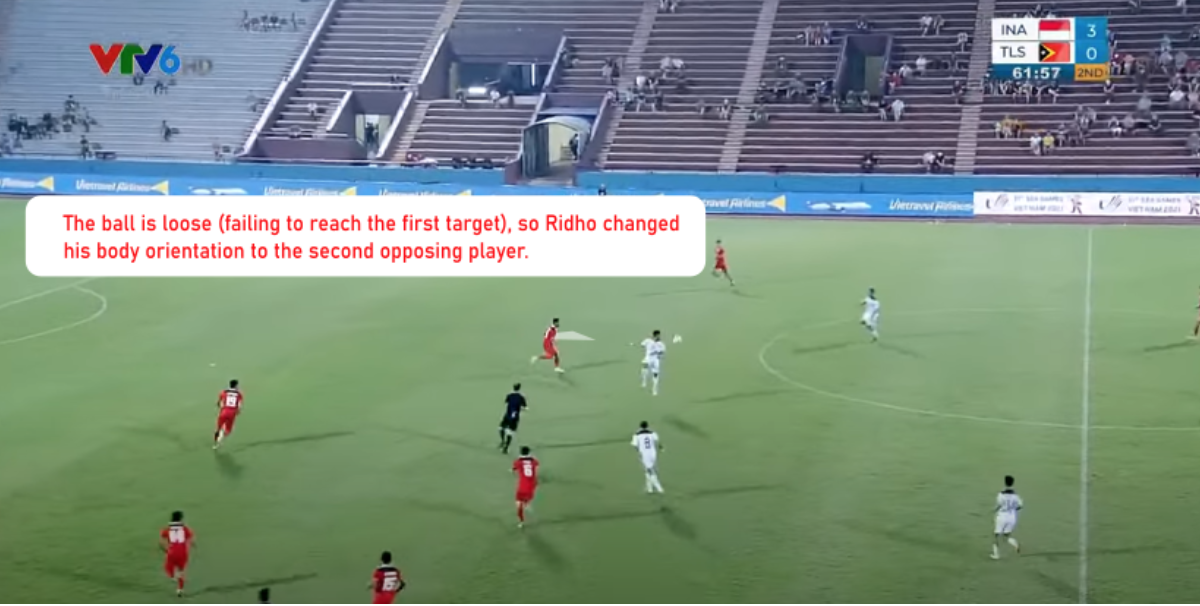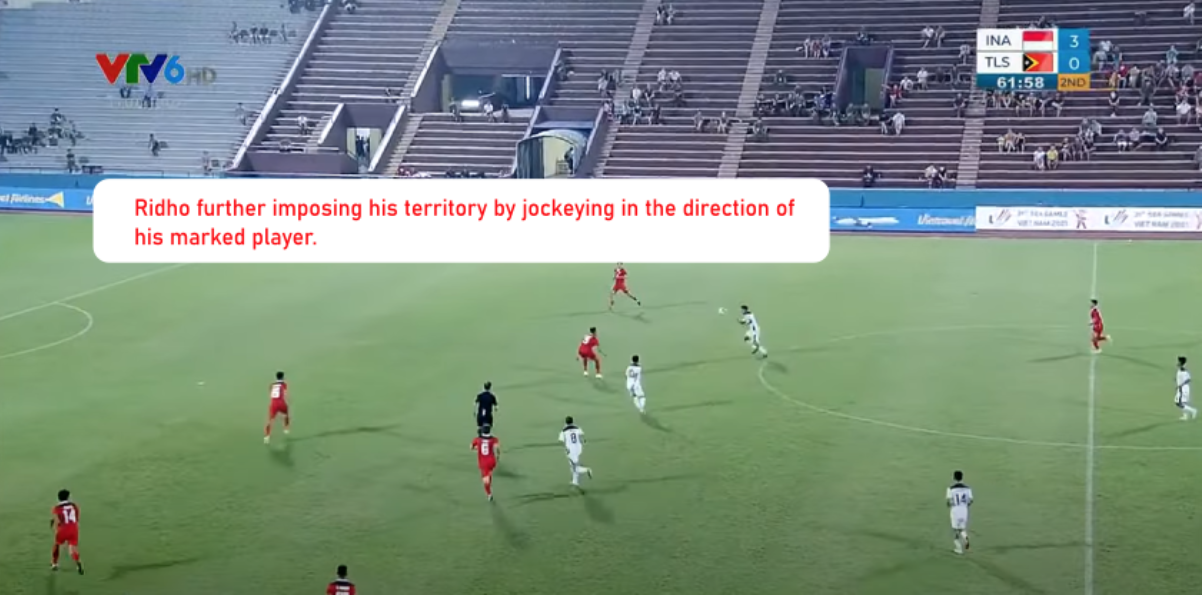 In the single pivot example, against the Philippines, in which Timnas plays a 4–1–4–1 system, Ridho manages to keep the Filipino striker from exploiting the open spaces behind the left CM. This makes Klok, the DM, able to defend the ball-near side without worrying about the exposed ball-far side.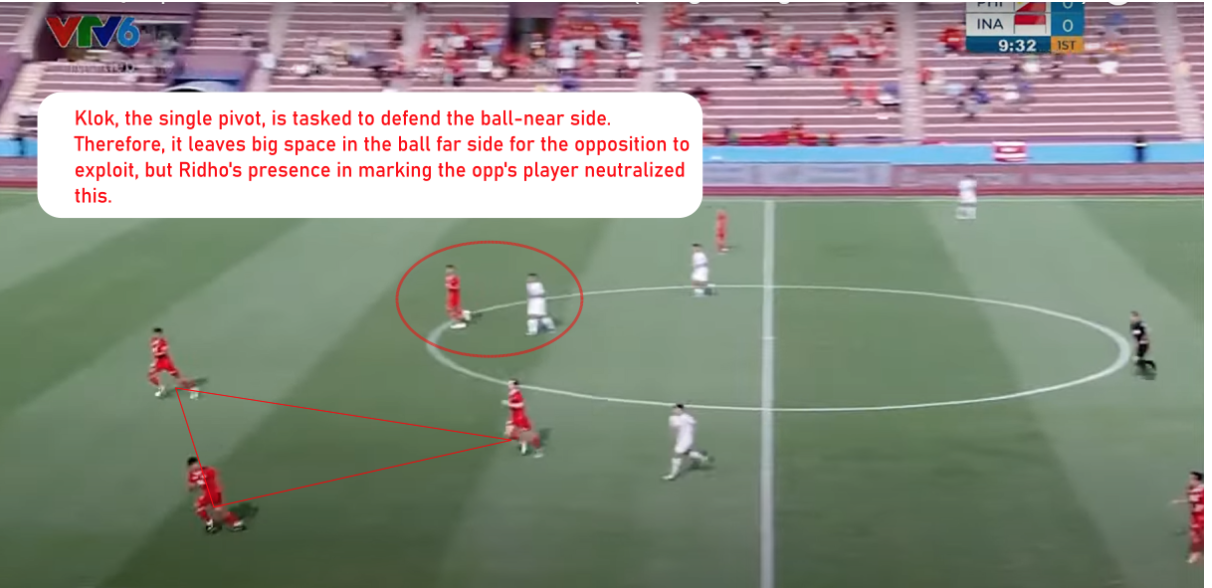 By looking at these examples, Ridho's strengths helped Timnas immensely by keeping them from the opposition's attacking threat. On the other side, however, it also exposed Timnas' inability to consistently maintain dominance in all aspects of play.
Against higher-level opponents, such as Thailand or Vietnam, Timnas players' inability to adjust their defense — especially on counter-presses and defensive organizations— in a higher-paced game allows the opponent to easily bypass them.
This is more relevant since Tae-yong's game model emphasizes verticality and high tempo, in which Timnas will inevitably face many complex situations, turnovers and, transition moments. Therefore, complex decision-making ability, alongside physicality and endurance are some of the aspects that Timnas should improve in the long run. This ensures that Timnas players' won't get exhausted quickly and able to dominate all aspects of play consistently.
Conclusion
Rizky Ridho is doing what most of his compatriots can't: combining aggressiveness and intelligence in defending. This is a bit shocking knowing that the Indonesian footballing system isn't the best place to develop these abilities.
He also brought these abilities into Timnas, able to compete with the best nations. However, Timnas' inability to maintain consistency in all aspects of play often gave an unnecessary burden on Ridho, and hinders their ability to compete at the highest level.
By: @Irzirzn
Featured Image: @GabFoligno / Officiall Persebaya Account