Ronald Araujo: Barcelona's Uruguayan Colossus in Defense
Barcelona's season is not going well at all. After Ronald Koeman's departure, Xavi's arrival promised some optimism, but by the conclusion of the season, it has become vulnerable once more.
They were eliminated from the Champions League group stage and were relegated to the Europa League as a result, eventually being eliminated from the Europa League after losing 2-3 to eventual champions Eintracht Frankfurt at home in the second leg of the quarter-finals.
Real Madrid has also put the league out of reach; Barcelona will finish their league campaign in the second position and will suffer their second trophyless season in the past three years.
Barcelona's defense is unquestionably responsible for a large part of their woes this season. Throughout the season, they have conceded a large number of goals due to childish errors by the defenders which has led the Catalan club to spend the season without a title.
The only notable exception among Barcelona's defenders is Ronald Araujo. This Uruguayan is just in his second season with Barcelona's first squad, but he has already proven his effectiveness in the Barcelona defensive line, making himself the most essential footballer among other defenders.
Araujo's defensive profile does not fit well with Barcelona's playing style. His profile is not what Barcelona is looking for in a defender: someone who can play well with the ball, attempt line-breaking passes, and maintain high defensive lines.
Despite this, Araujo has quickly become Barcelona's starting center-back owing to his outstanding physicality, agility, positioning, and defensive skills. Today, we'll try to learn further about Araujo's playing style, as well as his strengths and weaknesses.
Aggressive Defending and Compactness
Araujo's greatest strength is his ability to defend aggressively. Due to Barcelona's play style, they always maintain a high defensive line. The main issue with playing a high line is that it creates a lot of open space behind the defense; a line-breaking pass from midfield during the opponent's counter might expose the whole defensive line.
This implies that the center back's positioning sense, decision-making, and speed must be outstanding in order to defend in the high line. The main reason for Araujo's success in defending the high line is his aggressive defending and speed.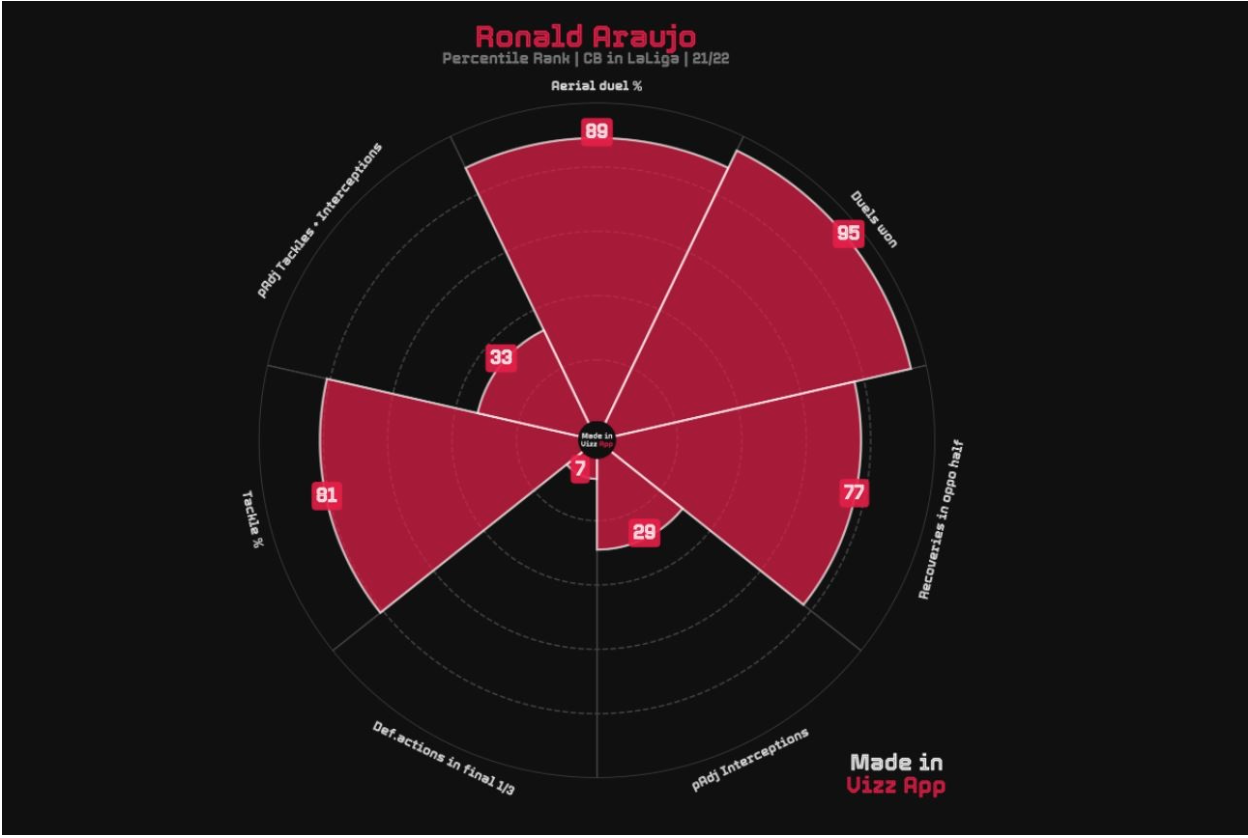 The data chart above provides a fair insight into Araujo's capability to defend aggressively. His tackling success rate, ball recovery rate in the opponents' half, and total dual winning rate all reflect how good Araujo is as an aggressive defender.
Araujo normally tightly marks his man at a very close range while defending. This is why the attacker has found a lot of empty space behind the defense. Afterward, he steps in front of the opponent and tries to grab possession of the ball, preventing the opposing forward from using the space behind the defense.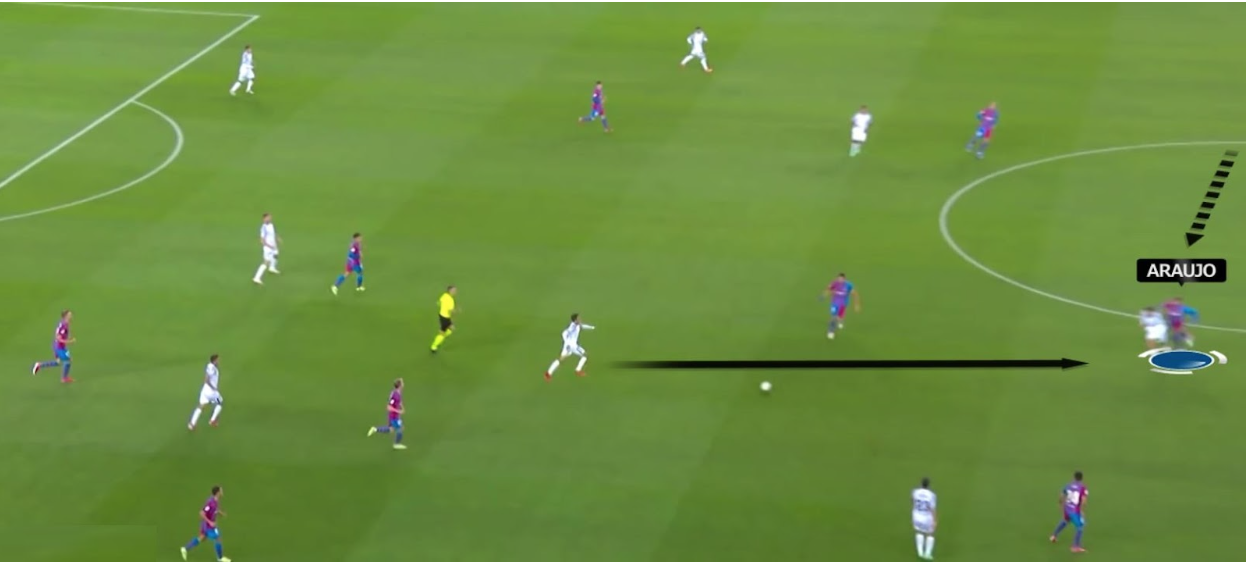 In the above scenario, the opposing forward moved horizontally to get to the midfielder's line. Araujo was also following him and tightly tracking him. As soon as the midfielder released the ball, he rushed forward and charged the receiver, intercepted the pass, and regained possession of the ball.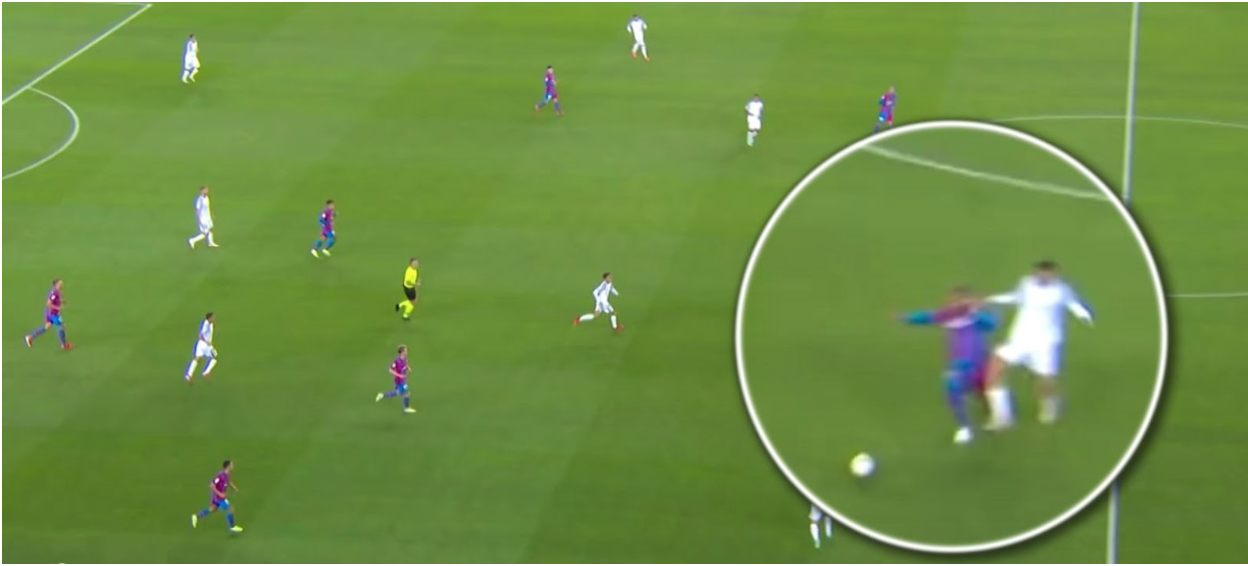 Therefore, even if the opposing striker is able to take the run behind the defense by somehow beating Araujo, he would still lose the ball possession due to Araujo's speed and aggressiveness.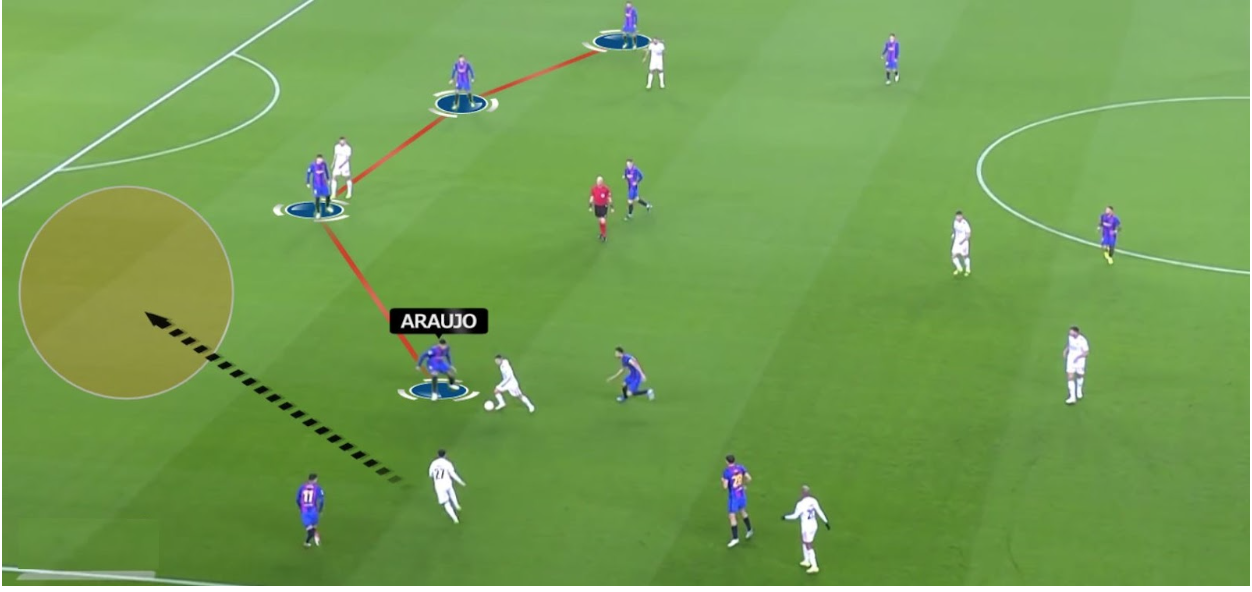 In this case, as the Benfica winger attempted to advance with the ball, Araujo left his line and came up to press him while the ball was coming up from the bottom. This opens up a lot of space in behind.
When the opposing fullback ran behind that open gap, the winger threw the ball through him. Despite this, they were unable to carry out an attack due to Araujo's rapid mobility and physical pressure.
Araujo's speed, as well as his outstanding positional awareness and depth coverage have made him an even better aggressive defender.
Because of his exceptional ground-covering abilities, even if Barcelona defends on a high line, the chances of being exposed from a long ball towards the opposing attacker in behind are substantially minimized.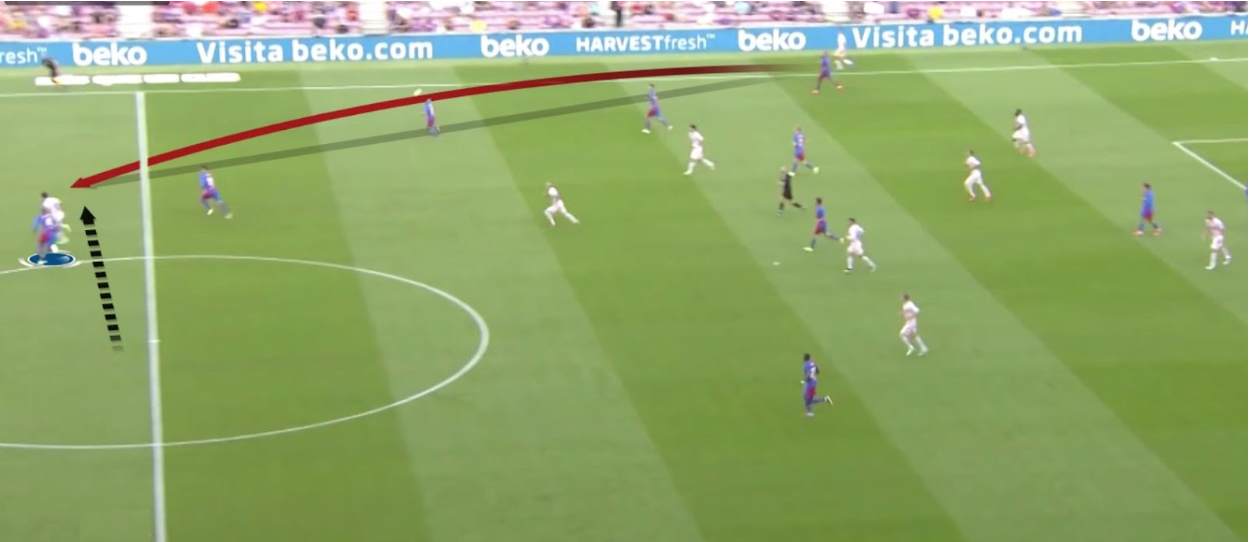 When the opposing right back made a long ball through the forward in the preceding example, the ball easily surpassed Clement Lenglet, who pushed very high up on the pitch. Araujo, who was on the right side, then made a quick diagonal run to charge the opposing striker.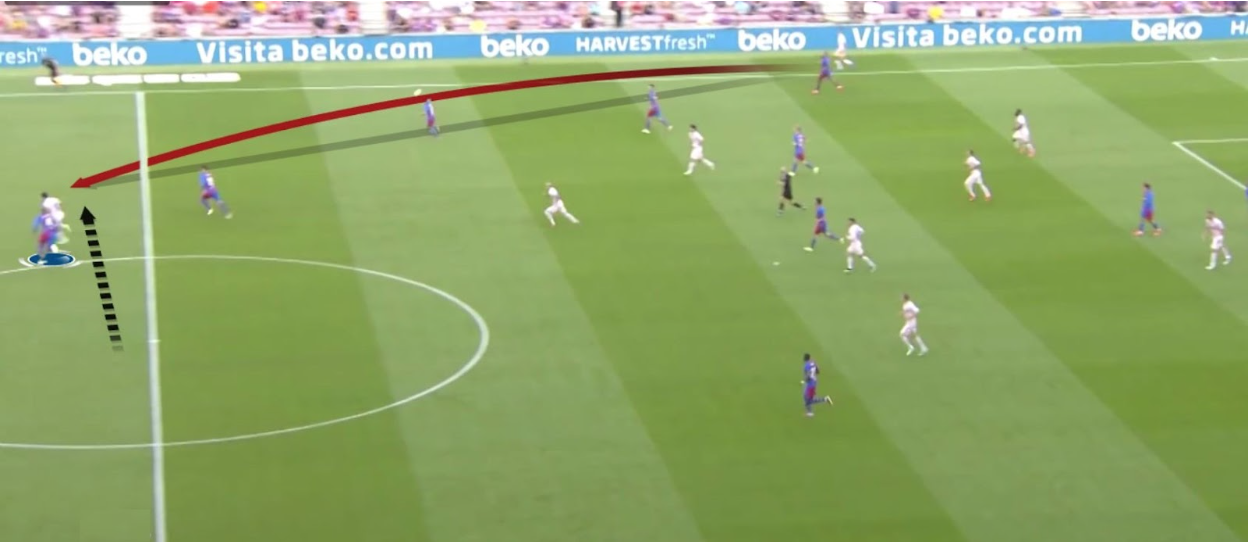 When the ball went near to his feet, he aggressively pushed past the opposition forward to reach the ball first. Araujo's aggressive defending not only effectively destroys the opponent's counter-attack, but his counter-pressing mindset occasionally allows Barcelona to go for the goal.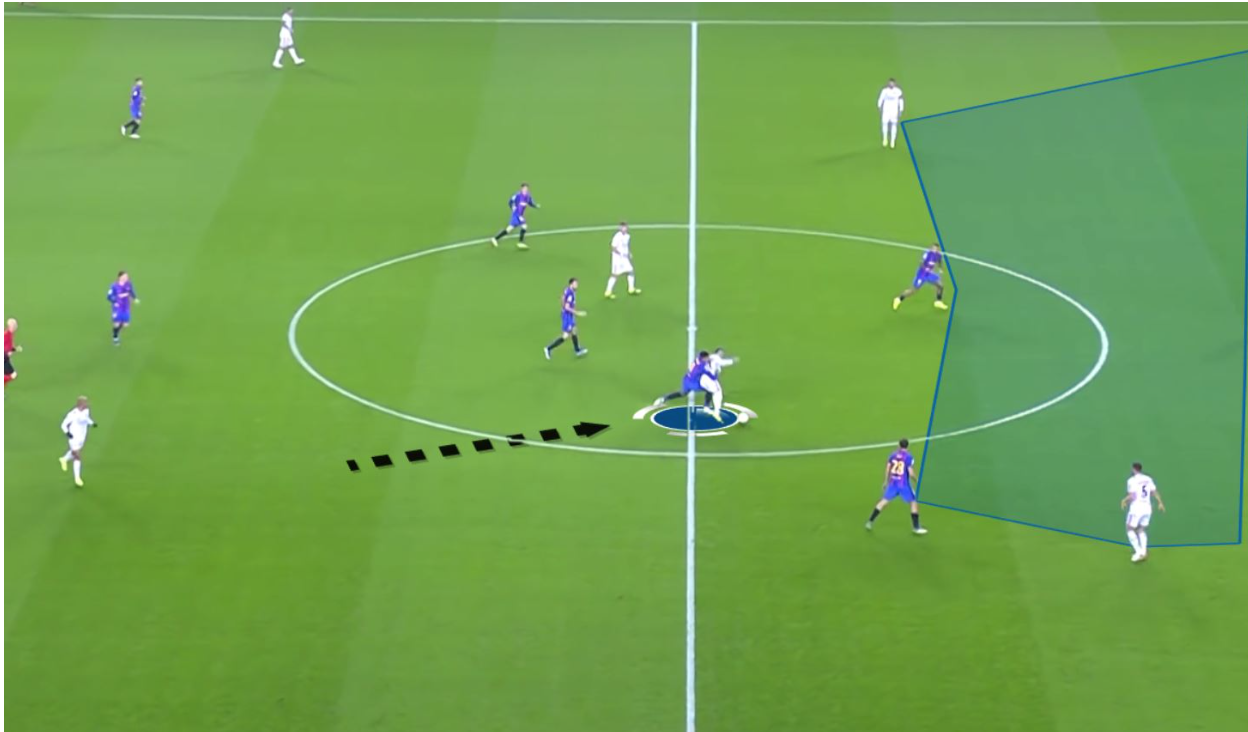 Consider the above instance. Before Benfica's midfielder received the ball, Araujo was far behind him. But as soon as the ball was on his feet, Araujo charged him, retrieved the ball, and passed it through Nico Gonzalez. His rapid aggressive movement created an excellent counterattack opportunity.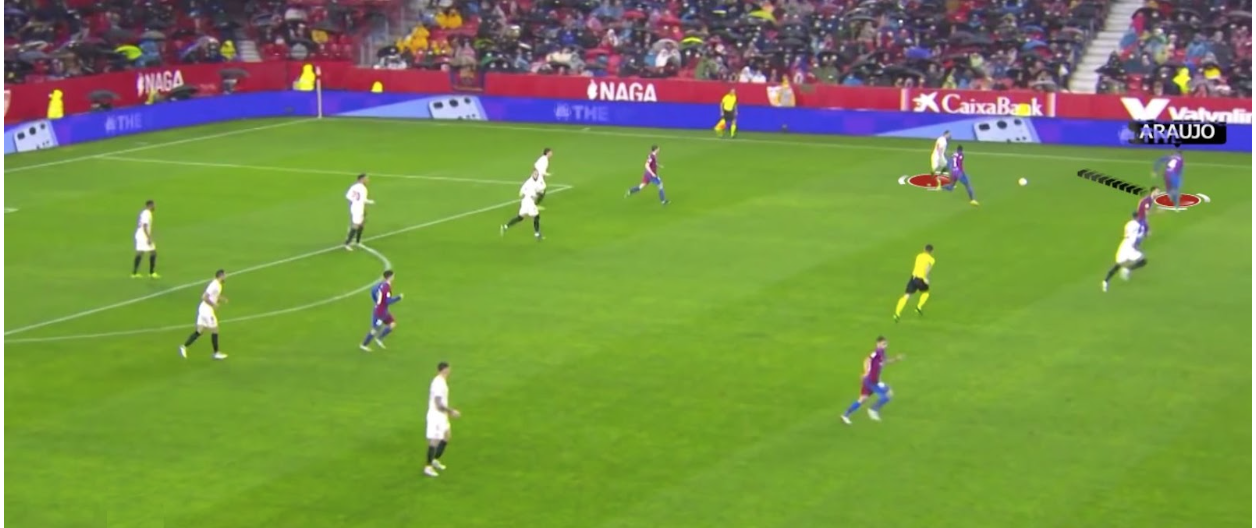 During Sevilla's counter-attacking approach, Barcelona's defensive line was extremely disorganized at that period. Ivan Rakitic pushed the ball forward through the left wing, and Youssef En-Nesyri rushed through the halfway line.
Araujo then abandoned his line and advanced into the final third, sliding down and blocking Rakitic's pass, destroying Sevilla's potential counter-attack.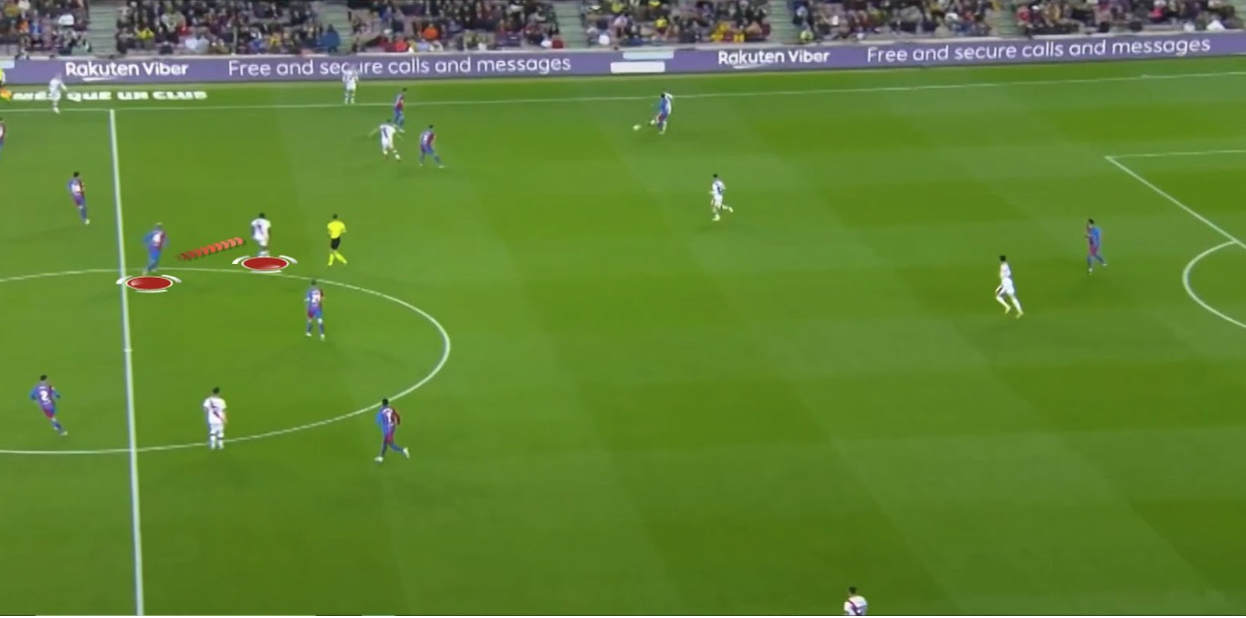 Another strength of Araujo is that he continues to charge until he wins possession of the ball from his opponent. In the picture above, when Rayo's striker dropped into midfield, Araujo marked him and advanced towards the halfway line.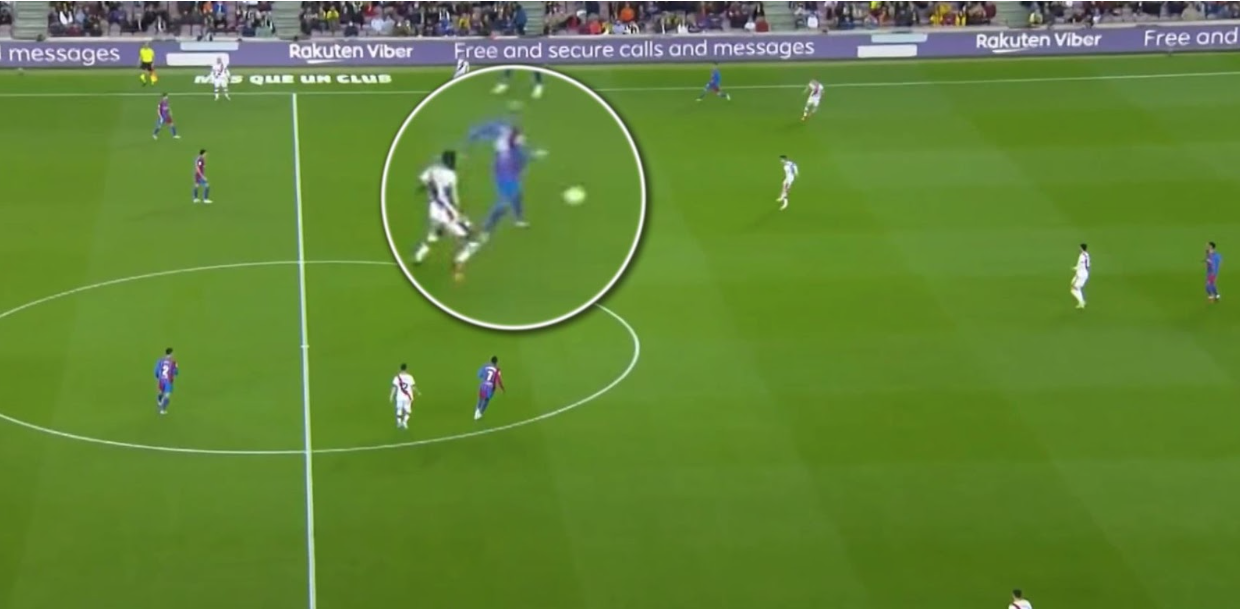 As the ball moved closer to their forward, Araujo became more close with him and aggressively charged and took possession of the ball. But even then it was not possible for him to take control of the ball. Rayo's center-back came forward to take possession of the ball, but Araujo charged him forcefully again and attempted to take the possession.
Araujo's success rate against dribblers is the most amazing feature of his profile. Araujo has taken 0.91 tackle attempts against dribblers per 90 this season in La Liga, and his success percentage in tackling dribblers is 75.9%, which is better than any other center back in the league. What is the key to his superiority against dribblers?
Although Araujo is generally an aggressive defender, he strives to anticipate the movement of the dribblers and reacts late while defending against them.
They become extremely confused when they cannot find any space in front of them. That is why it is difficult to beat Araujo in a one-on-one battle, with Araujo having a dual winning percentage of 67% in La Liga this season.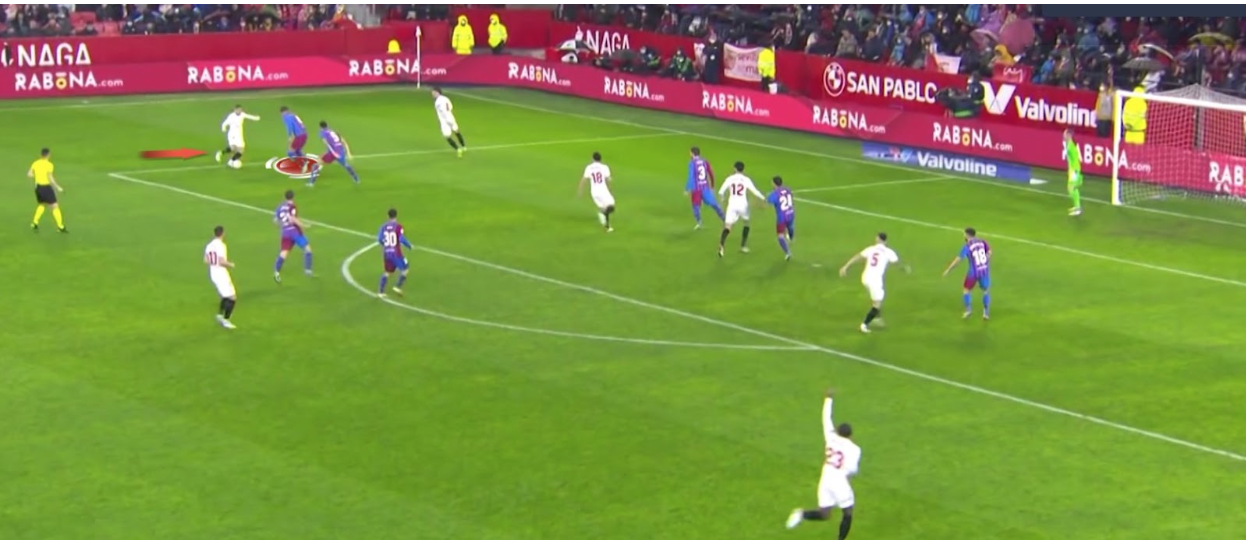 Let us take a good look at the above example. Sevilla's Papu Gomez was cutting into the box on the left wing. Araujo then moved to the front and blocked Papu Gomez's path, intending to anticipate his movement without directly pressing him.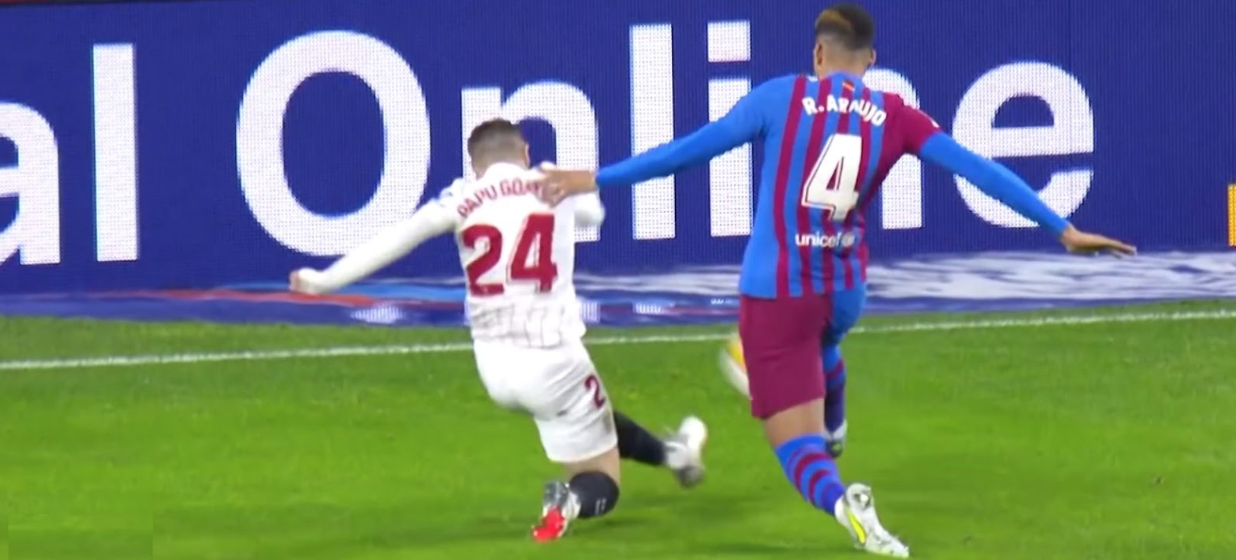 Araujo understands that Papu Gomez, who is right-footed, would try to cut inside by turning left when the ball is on his right foot. So as soon as he moved to the left side, Araujo intercepted the ball and dispossesed him.
Leroy Sane is one of the finest dribblers in Europe's top leagues, but against Barcelona at the Camp Nou, Sane lost possession every time in three one-on-one battles against Araujo.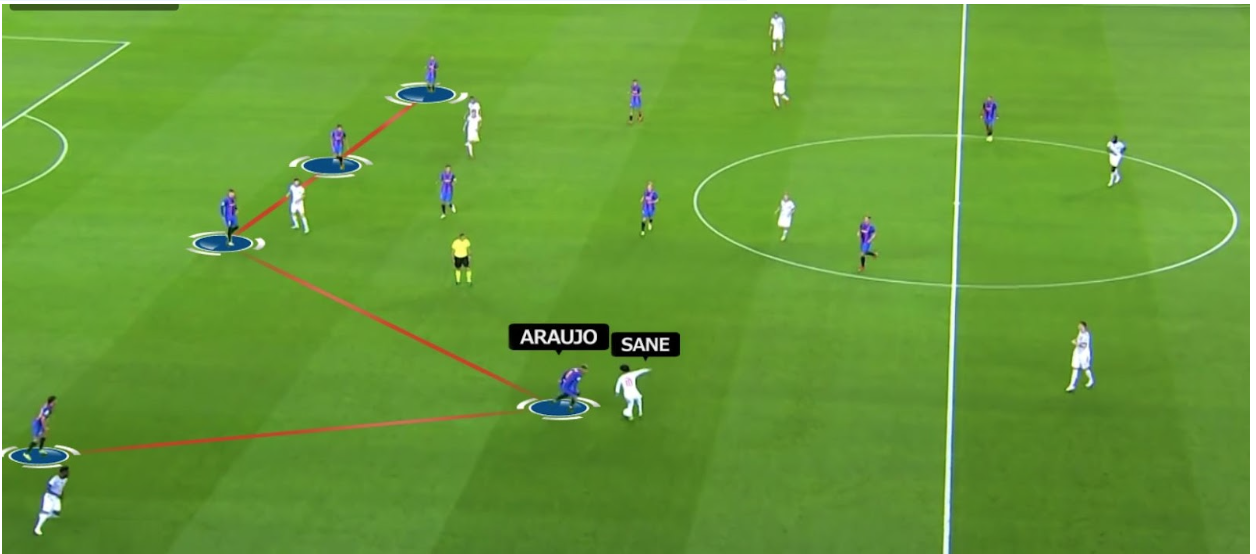 Sane left his position and dropped deeper during the buildup. At that moment, Araujo departed his line and stepped up to reduce room for Sane. When Sane attempted to dribble past Araujo, the Uruguayan won a shoulder battle and seized possession of the ball.
Last Man Defending
Araujo is naturally an aggressive defender, but he has also excelled as a last-man defender due mainly to his positional sense, smart decision-making, anticipation and ability to make a quick response.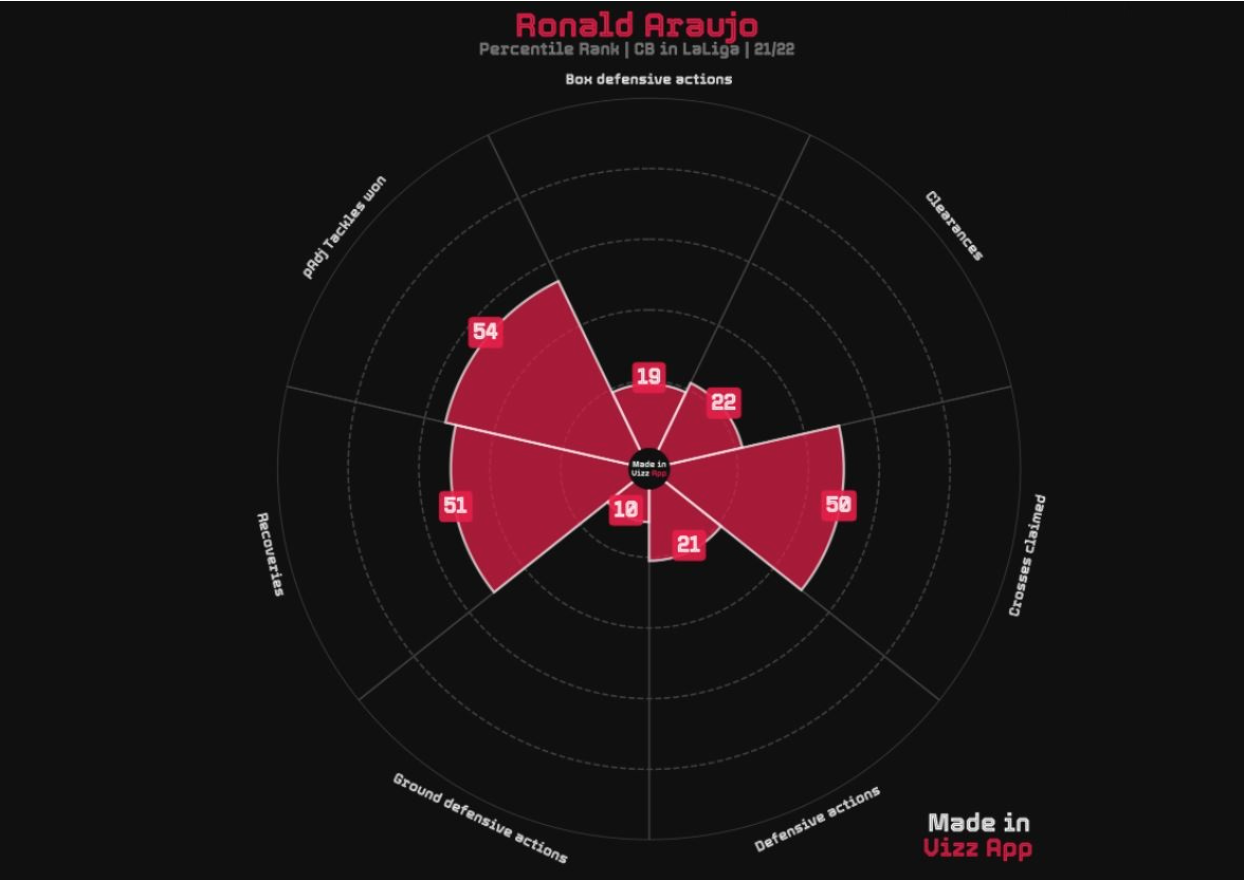 In most circumstances, Barcelona's defensive line gets disorganized as a result of the opponent's counter-attack due to the high-line defense. This allows the opposition's forward players to easily enter the box by exploiting the free space behind Barcelona's defense.
In the preceding scenario, Sane attempted a through pass to Alphonso Davies behind the left half space as the Barcelona defense line was slightly disorganized, as Davies' incisive run easily beat Barcelona's right-back Sergi Roberto.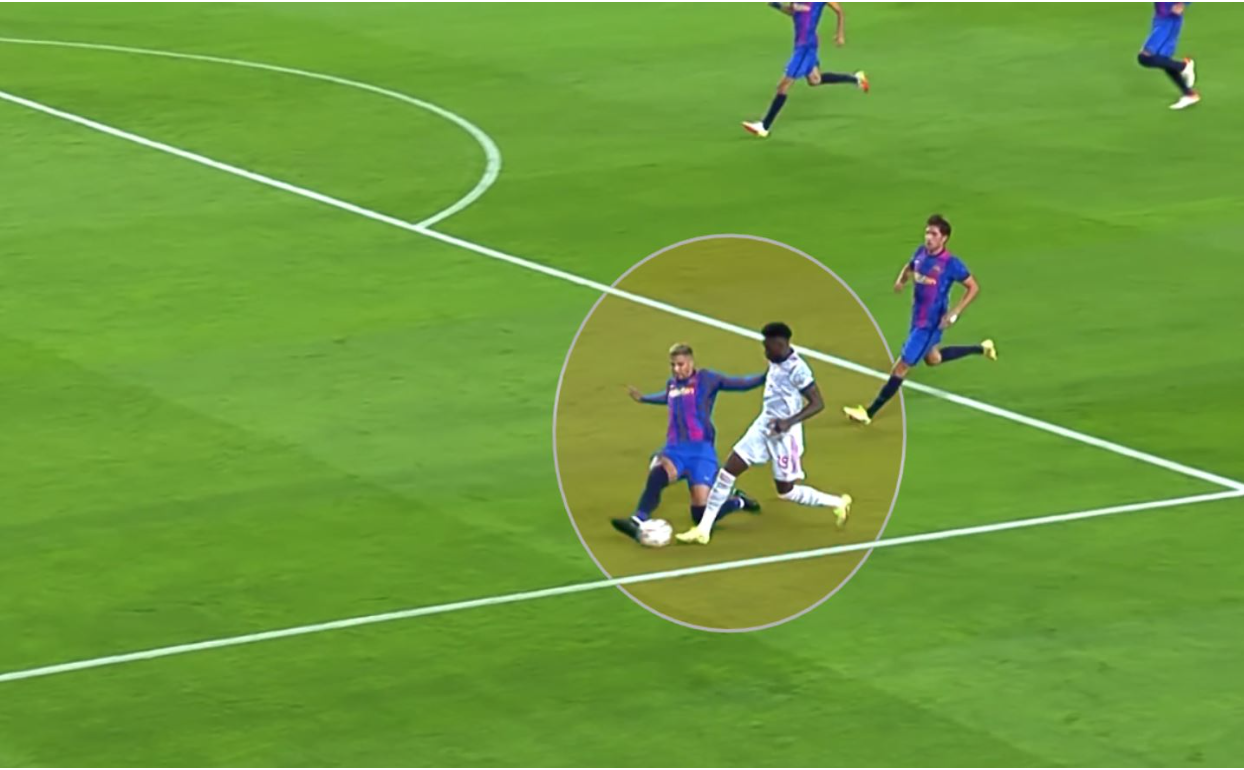 Araujo immediately tracked back and intercepted Davies's pass by sliding down, effectively shutting off Bayern's attack.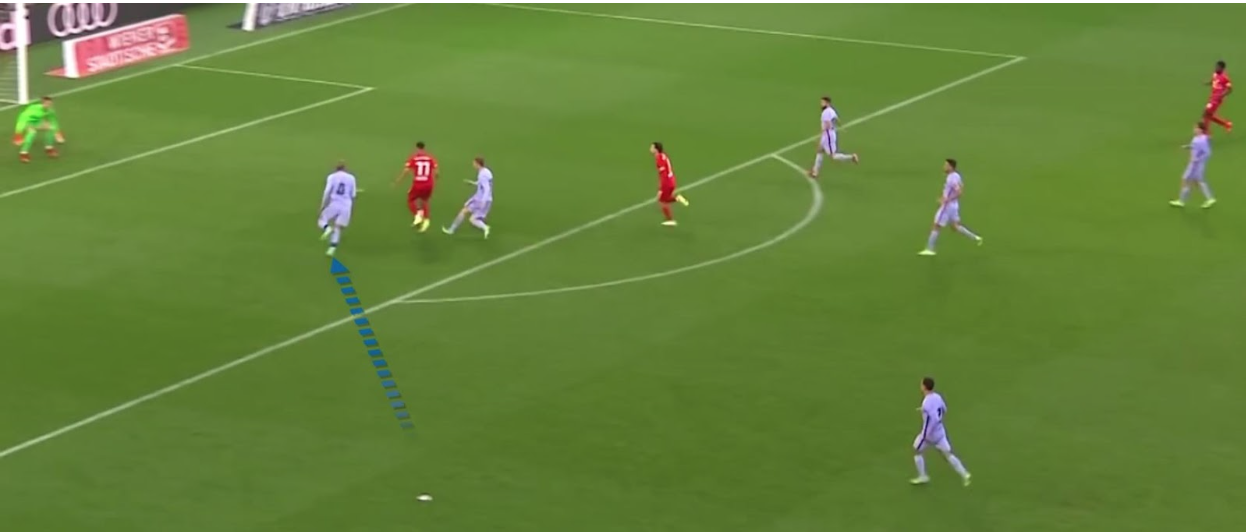 Barcelona's defensive line was completely exposed as Red Bull Salzburg's Noah Okafor received the ball inside the penalty area. Araujo then quickly tracked back into the box.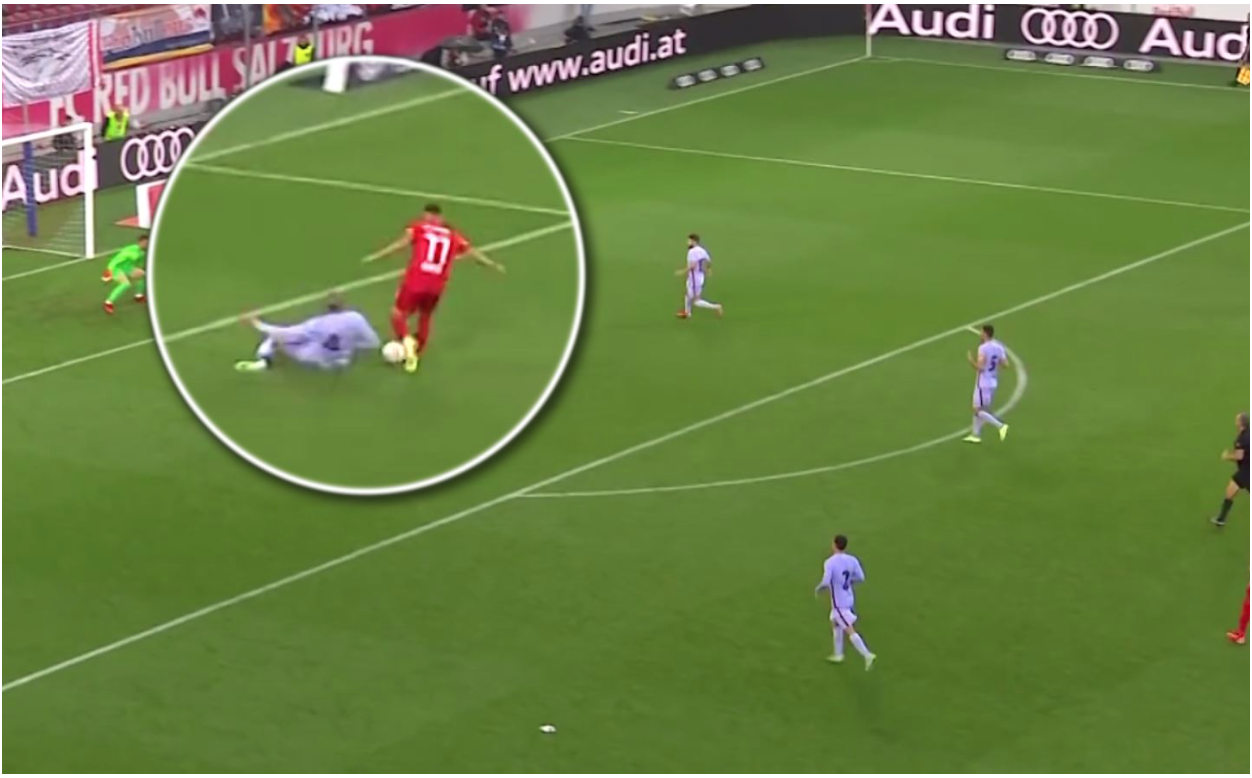 Araujo quickly dived in front of Okafor, completely sealing the area in front of him, immediately retrieving the ball from there.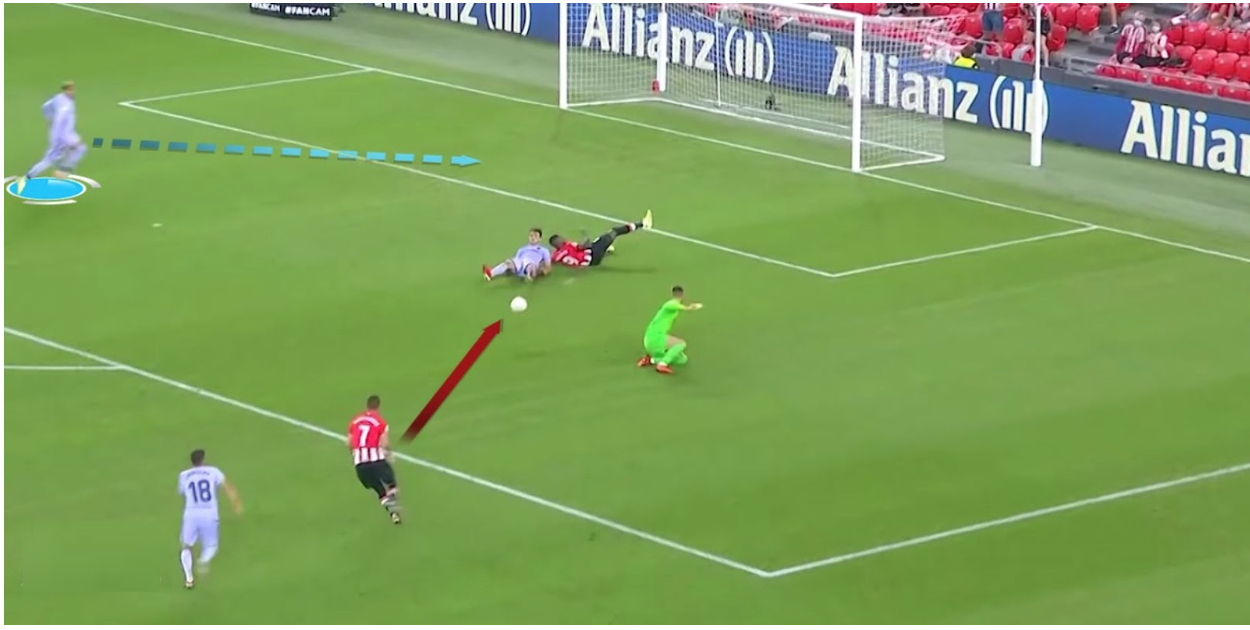 Neto failed to claim the ball after leaving his line to block Inaki Williams' shot.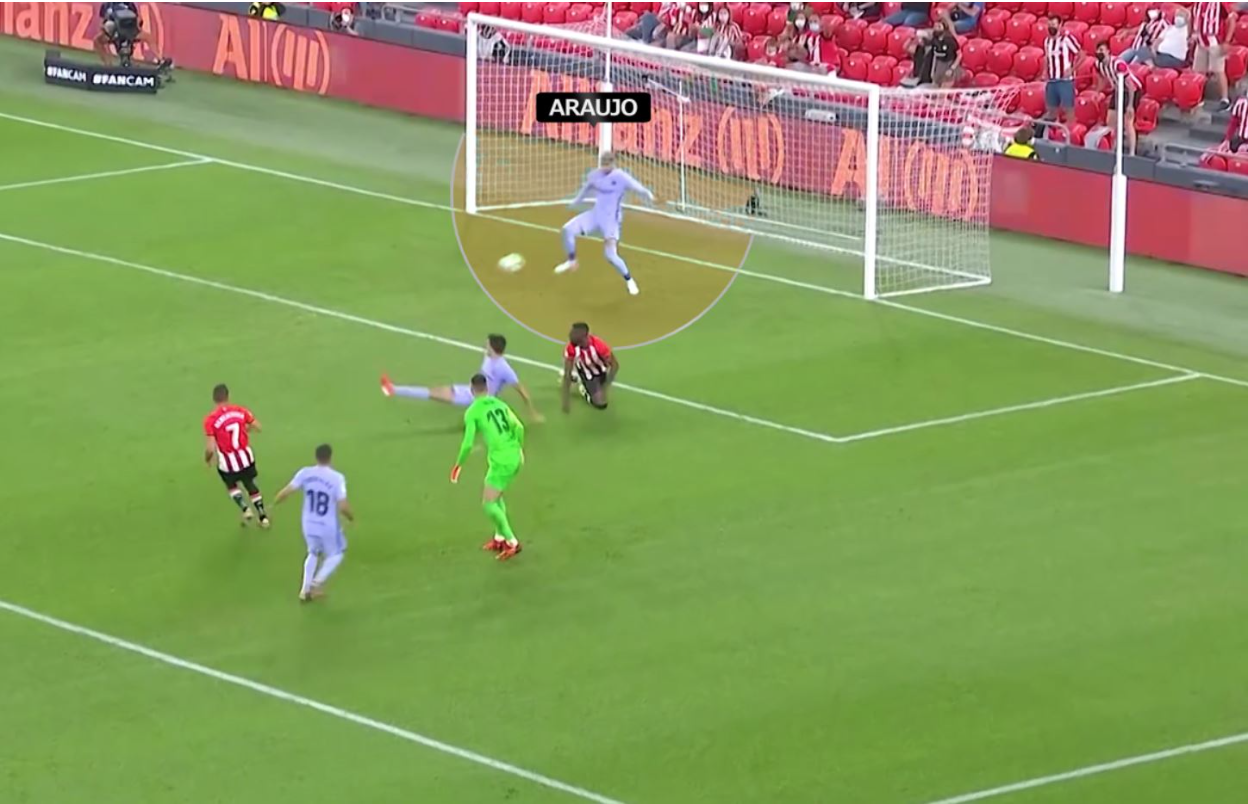 When Alex Berenguer from behind took control of the ball, Barcelona's goal post was completely exposed. Berenguer shot from his position into the empty goalpost, and Araujo arrived from a long distance to clear the goal line and prevent Barcelona from conceding.
Heading Prowess
This time, we'll talk about Araujo's type of contribution, which hasn't been seen much among Barcelona's defenders. Araujo's excellent heading ability has given Barcelona's attacking firepower a new dimension. Barcelona has scored 16 goals from the head this season, three of which have come from Araujo's head.
This season, Araujo has scored four goals in La Liga, the most among La Liga center backs. His expected goal is only 1.84, demonstrating his excellent set-piece placement and heading skill.
Opponents find it tough to win the aerial battle against him because of his powerful physicality and outstanding positioning sense. This season, Araujo's aerial success percentage in La Liga is 75%, which is higher than the league's 94 percentile defenders.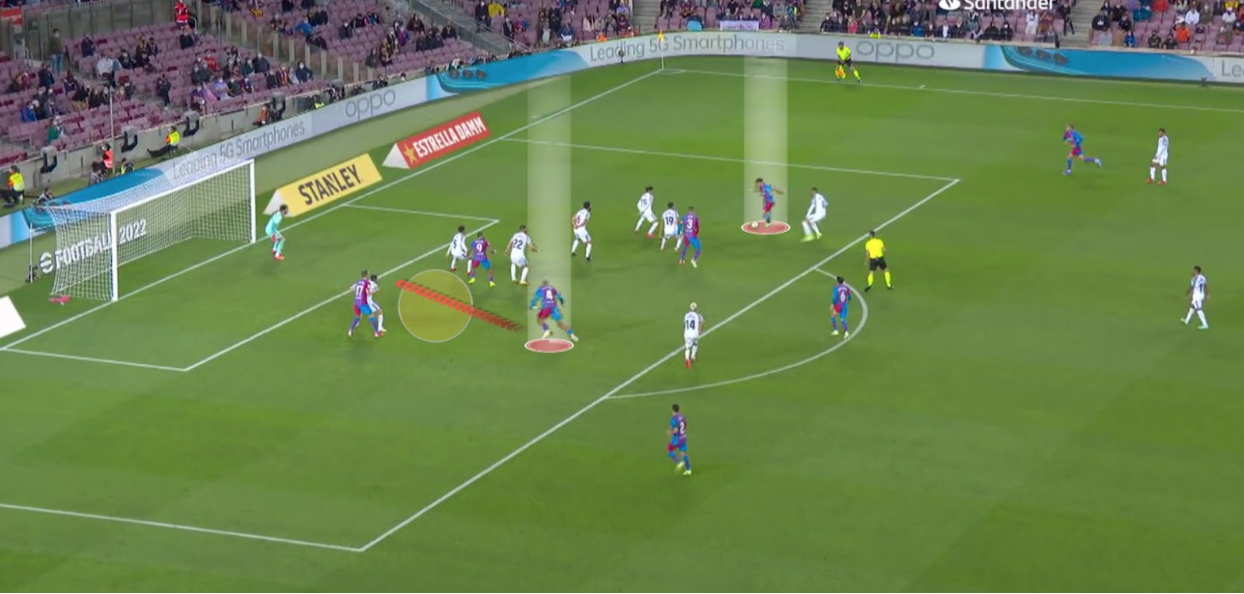 Barcelona were trailing 1-0 near the end of the game against Granada, then Araujo departed his position and entered the Granada box.
When Pablo Gavi attempted a cross inside the Granada box, Araujo was far beyond the crossing line. The main target of Gavi's cross was Luuk de Jong, who was completely blocked due to tight marking of Granada's right back.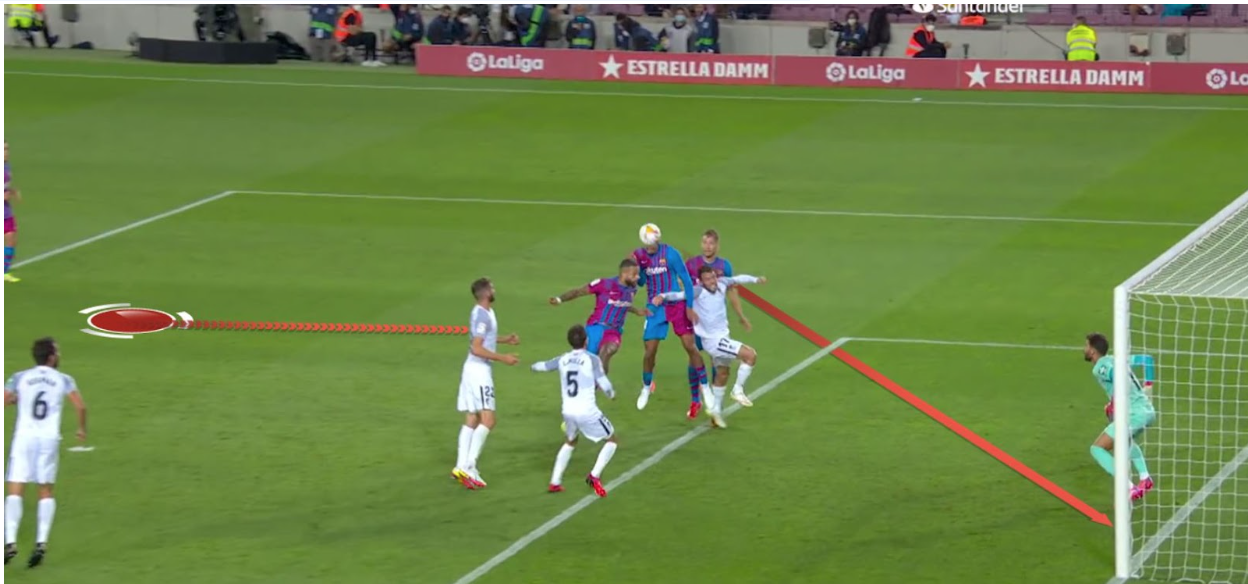 Araujo runs quickly from his position into the open space between Granada's right back and center back. Because he was in the Uruguayan center-back's blind spot, he couldn't quickly follow Araujo, while the right-back was tracking Luuk de Jong. After the ball was delivered, Barcelona scored on Araujo's head, resulting in a 1-1 tie.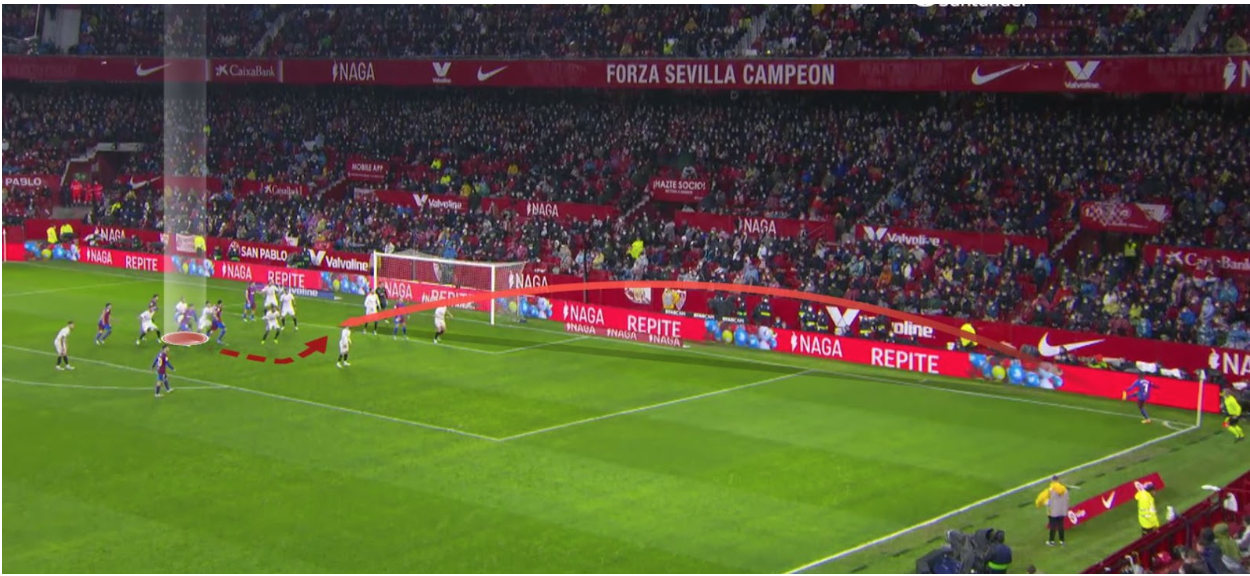 Araujo made an L-shaped run from his position to beat his marker as Dembele took a corner kick, and as the ball reached him, he leaped and out-jumped the Sevilla defender, scoring the ball into the net with a clean header.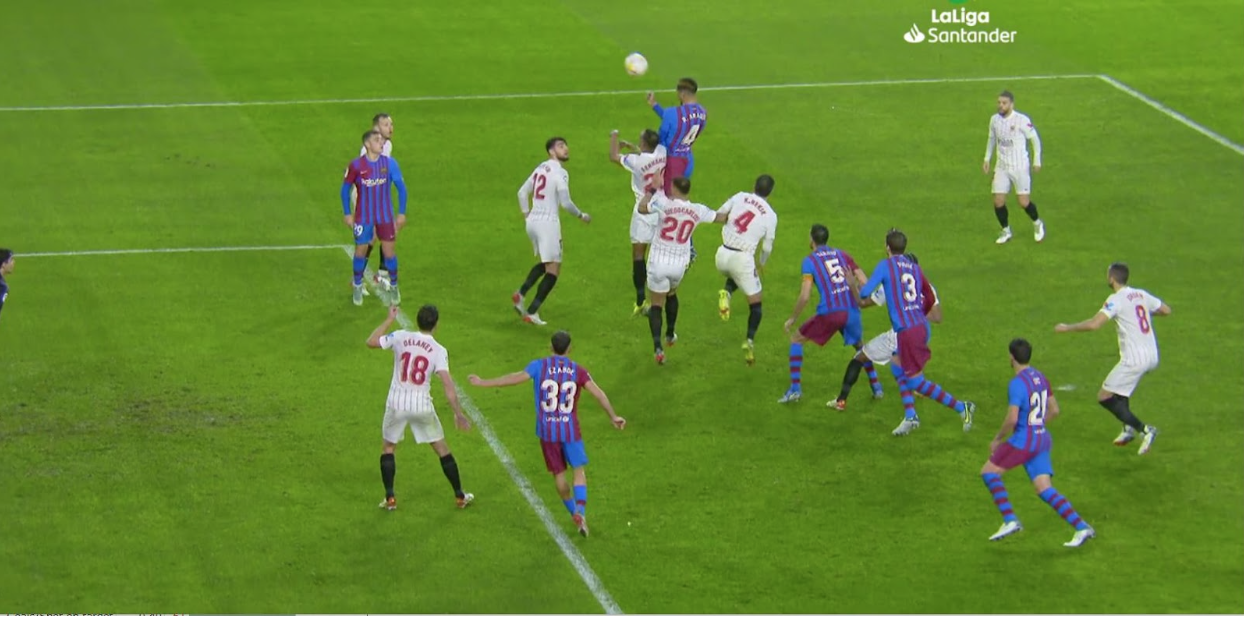 Ball-playing Weaknesses
As a center-back, Araujo is outstanding in defending, although he is not a conventional Barcelona-type center-back. Since Barcelona follow the buildup from the back system, their center-backs should be very competent with the ball; they must be capable of great press resilience, long ball switching, and line breaking passes.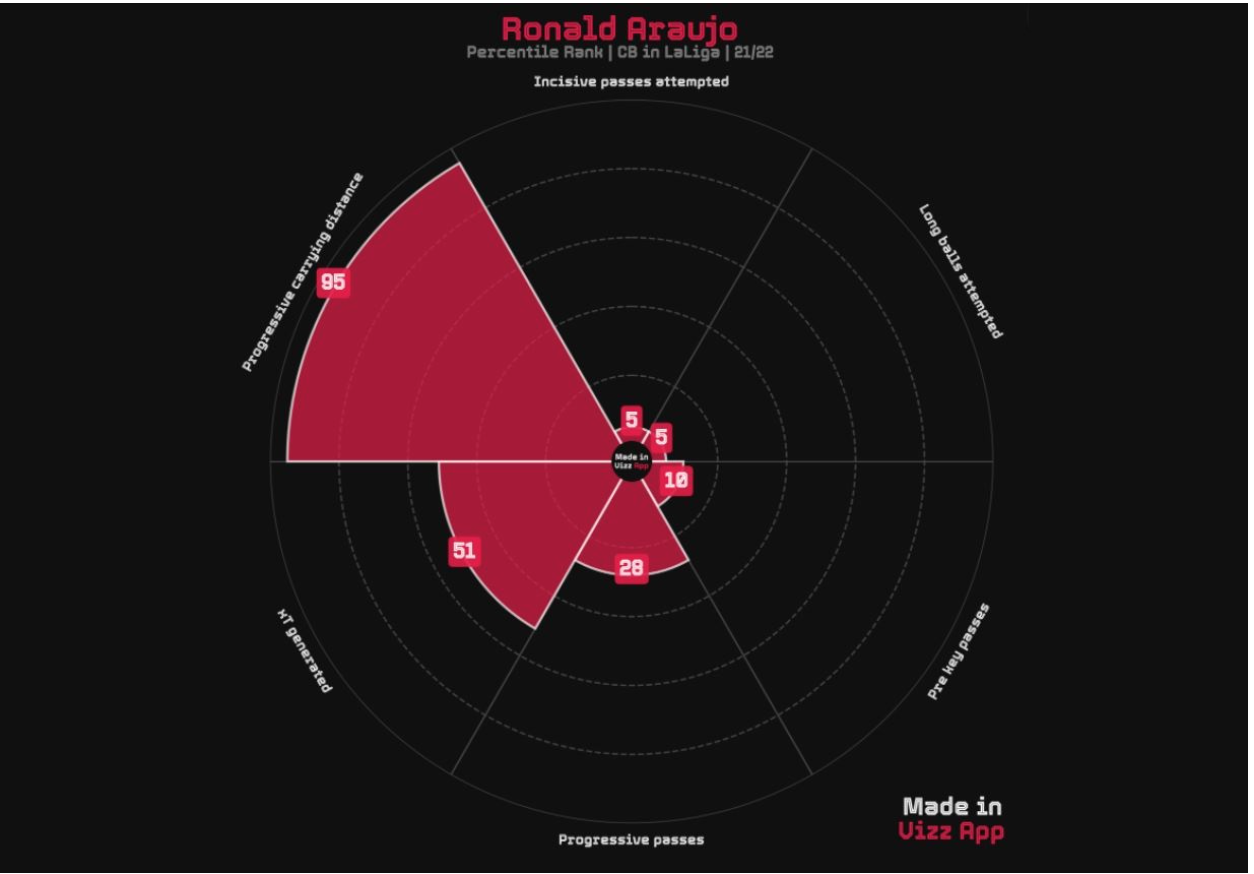 Araujo is not bad in terms of ball-playing; he can keep the ball against high-intensity pressing while bypassing the pressing zone with his physicality and moving the ball forward. His 5.44 under pressure passes indicate the same thing.
However, Araujo falls far below other Barcelona center-backs in terms of attacking through free space by switching balls during pressing or creating chances with line-breaking passes. 
This season, Araujo has attempted 3.09 progressive passes per 90, far fewer than his teammates Gerard Pique, Eric Garcia, and Clement Lenglet. He is also less likely to provide long balls than others, preferring instead to attempt safe passes to nearer teammates.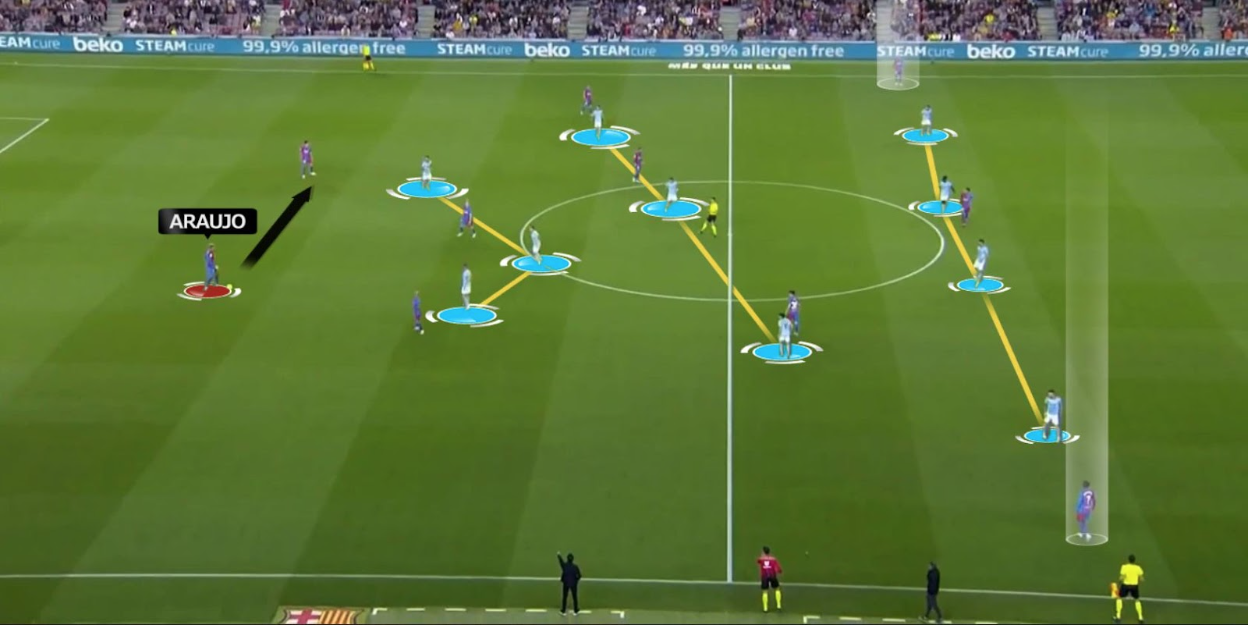 Celta Vigo's three strikers marked two Barcelona pivots rather than pushing to the center-backs to stop the ball progression. As a result, there was a lot of open space in front of the ball carrier Araujo. Due to Celta's narrow line defending, Barcelona's two wingers were man-marking free near the touchline at that moment. However, Araujo attempted a side pass to Eric, who had plenty of time to make a pass through the wingers in the wider area.
Conclusion
Ronald Araujo is expected to be the Barcelona defense's long-term leader. Though the 23-year-old center-back lacks in his ball-playing skills, his performances over the previous two seasons have elevated him to one of the top center-backs in La Liga. If this consistency is maintained, Araujo's name will be recognized among the top defenders in the next few years.
By: Amartya Das Dip / @amartyadasdip
Featured Image: @GabFoligno / Alex Caparros / Getty Images