Salis Abdul Samed: The Ghanaian Midfielder Making Strides at Lens
Despite impressing in their efforts to build a strong national team, Ghana were dealt another extremely bitter disappointment on the World Cup stage. While the team showed a great deal of fight in a tough group consisting of Uruguay, Portugal and South Korea, ultimately the Black Stars failed to make it out of the group. Upon exiting the tournament, Otto Addo – Ghana's manager – confirmed his decision to step down and take up a role at Borussia Dortmund as a talent scout. 
Former Newcastle and Brighton manager, Chris Hughton, has since taken the reigns. He was appointed on February 12th, 2023 with a view to cement Ghana's place at AFCON 2023 and, crucially, to make amends for the embarrassing 2021 AFCON in Cameroon which saw the Black Stars exit the stage bottom of their group and loses what is now an infamous game to Comoros, 3-2. 
Importantly, Ghana's squad is now in the best position it has been since their remarkable run in 2010 South Africa. With players like Thomas Partey and Mohammed Kudus, they have extraordinary flair and stability in the midfield. But to supplement this they have players like Daniel Kofi-Kyereh, Elisha Owusu and Salis Abdul Samed, all players in possession of a strong work rate and a laser-like focus. 
Since returning to Ligue 1 in 2020, Lens have finished 7th in back-to-back years and emerged as one of the most entertaining teams in France under Franck Haise.

Today, we're taking a look at the players behind the resurgence of Les Sang et Or.

BTL presents: Under The Lens.

— Breaking The Lines (@BTLvid) July 3, 2022
Intriguingly, the predisposed notion that Thomas Partey would be the irrepressible force in Ghana's midfield, linking everything together with and without the ball, likely did more harm than good to his performances in Qatar.  In fact, his midfield partner, Salis Abdul Samed, often outshone Partey at the World Cup. His stellar performances made him a mainstay in the Ghana side, starting every game in the tournament, amounting to 281 minutes. 
Through the Lens of Samed
RC Lens is one of the brightest and most exhilarating sides in Ligue 1. Despite the inevitable dominance of Paris Saint Germain, RC Lens had proved to people that they are no walkovers in the league. It is a club based in the northern region of France in the industrious city of Lens, once made famous for the dedicated workforce in coal mining. Interestingly, RC Lens is a club that has ingratiated the history of its city and made it part of its identity. They are tireless and play with a tremendous passion. 
Under the management of Frank Haise, the RC Lens has enjoyed and incredible run of form this season. Following the sale of Cheick Doucoure to Crystal Palace at the rate of £20.34 million, Lois Openda was purchased from Club Brugge at the rate of £8 million, likewise, Salis Abdul Samed at the rate of £4.5 million from Ligue 1 side Clermont Foot. These acquisitions strengthened the team for the 2022/2023 season, and they are now hovering in and around the Champions League qualification spots. 
RC Lens operate in a 3-4-3 system for the 2022/2023 season, in the system two players play as wide forward and this position is often occupied by David da Costa and Florian Sotoca who are positioned centrally to support Lois Openda who will occupy the central forward role.
Operating in the midfield of four are Seko Fofana, Przemysław Frankowski, Deiver Machado, and Salis Abdul Samed. In the midfield line, there has been a lot of ball progression along with an efficient transition from the double pivot role occupied by Seko Fofana and Salis Abdul Samed in the centre of the midfield. 
Frankowski had been impressive in ball progression alongside Sotoca. These duos have helped the attack with their line-breaking passes and the 3-4-3 system they play often provides them with opportunities to overload the wide areas. 
Loïs Openda: A Shinning Light for Belgian and French Football
This, however, would not have been possible without the emergence Salis Abdul Samed as the central cog in the heart of the midfield. Salis Abdul Samed's consistency has given RC Lens are a heightened platform for success. He is in the 97th percentile among midfielders in Europe's top five leagues for pass completion (90.9% per 90). 
Additionally, he is in the 94th percentile for Total Carrying Distance – a metric that measures the amounts of yards a player travels while in possession of the ball – in Europe's top five leagues (298.9 yards per 90). 
What Else Can Samed Provide?
In addition to all of the impressive data on Salis' playing style, he is also very young and possesses a lot of the intangible, yet desirable qualities one would want in a midfielder. Passion is a clear motivator for a lot of his successes in his career. 
Moreover, he is a tireless worker in the midfield. He has covered an average of 12.2km per 90 in Ligue 1 this season, only one player has bettered him in this metric.  His ability to affect the pace of the game with his speed in the transition from defense to attack, as evidenced by his Carrying Distance metric, is extraordinary. 
Although he has a long way to go before he becomes a complete midfielder, he is well on his way and is improving season after season. It certainly wouldn't be a surprise to see him attract some interest in the coming transfer window.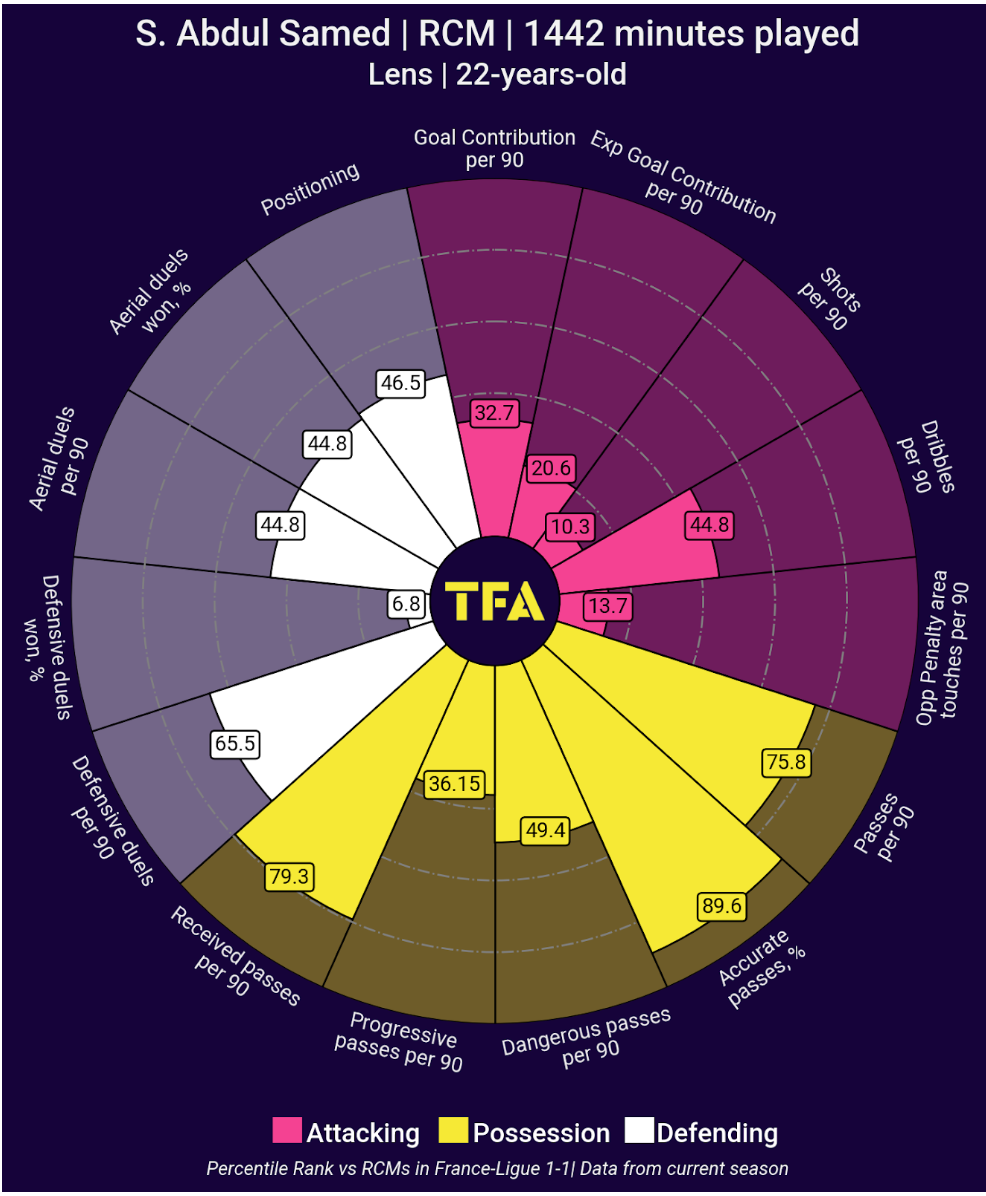 Photo: Total Football Analysis
At 22 years of age, Salis Abdul Samed has played a crucial role in Clermont Foot earning promotion to Ligue 1 for the first time in the club's history, before narrowly staving off the drop the following year. He has filled a Cheick Doucouré-sized hole in Lens' midfield, with Franck Haise's side currently sitting fourth and chasing their first European qualification in 21 years. He has played for Ghana in the 2022 World Cup, and he looks set to remain a vital cog in the center of the pitch for the Black Stars over the coming decade.
By: Ogunniyi Abayomi / @OGUNNIYIABAYOM1
Featured Image: @GabFoligno / DeFodi Images