Scouting Report: Khanyisa Erick Mayo
First name: Khanyisa Erick 
Last name: Mayo 
Age: 24 
Place of Birth: Umtata, Eastern Cape, South Africa 
Nationality: South Africa 
Position: Attacker (Left winger) 
Height and Weight : 178cm, 72kg 
Transfer Value : €450,000
Introduction 
Since hosting the 2010 FIFA World Cup, South Africa have struggled to establish themselves on the world footballing stage, failing to advance to the next three tournaments and failing to qualify for the African Cup of Nations in 2012, 2017, and 2021. However, they may just have found a young prospect who can help turn around the team's fortunes and lead them back to the promised land in Khanyisa Mayo.
The son of former South Africa international Patrick Mayo, Mayo was born in Mthatha, South Africa and began his senior career in 2017 on loan from SuperSport United, moving to Ubuntu Cape Town in the National First Division. He transferred to Maccabi the following year, making just one appearance before heading to Royal Eagles for the first half of the 2019/20 season and then moving to Richards Bay for the second half.
His performances earned him a move to Cape Town City in the South African Premier Division on July 28, 2021, where he has since emerged as a pivotal member of the squad. Having made 14 starts and 23 appearances last season, he has already made 18 starts in 22 league appearances this season, currently boasting 8 goals and 2 assists in contrast to last season's tally of 4 goals and 2 assists.
Mayo's style of play would likely see him fare even better in a team that uses fullbacks as part of the attack, as this would give him more room to run and attack the crosses and second balls. His ample repertoire could see him operate in a variety of positions from a lone striker to a fullback, but what makes him such a special talent?
Strengths 
At 24 years of age, Mayo has built a name for himself off various strengths including his off-the-ball movement, both in attacking and defensive situations. He often plays as a left attacking midfielder and constantly puts in a shift off the ball, relentlessly pressing opponents in his own half after his team loses possession. He is always well-positioned to win loose balls in the attacking third, sprinting towards the ball and ensuring that the opponent will have a tough time recovering possession.
Mayo has proven to be a skilled free taker who also stands out due to his good passing accuracy and vision. He boasts a stellar left foot and utilizes it to create goal-scoring opportunities for his team, whilst also using his pace to pull away from his fullback and create space for a cross that he can then send into the box.
Weaknesses 
There are plenty of weaknesses in Mayo's game that need to be rectified if he is to take the next step, however. He loses possession too often, and he can struggle to create separation from defenders by using his dribbles, often dribbling into crowded areas and coughing up possession. He often struggles in counter-attacks due to dropping deep when out of possession, whilst his lack of size could see him struggle to fill the 'target man' position as a center forward.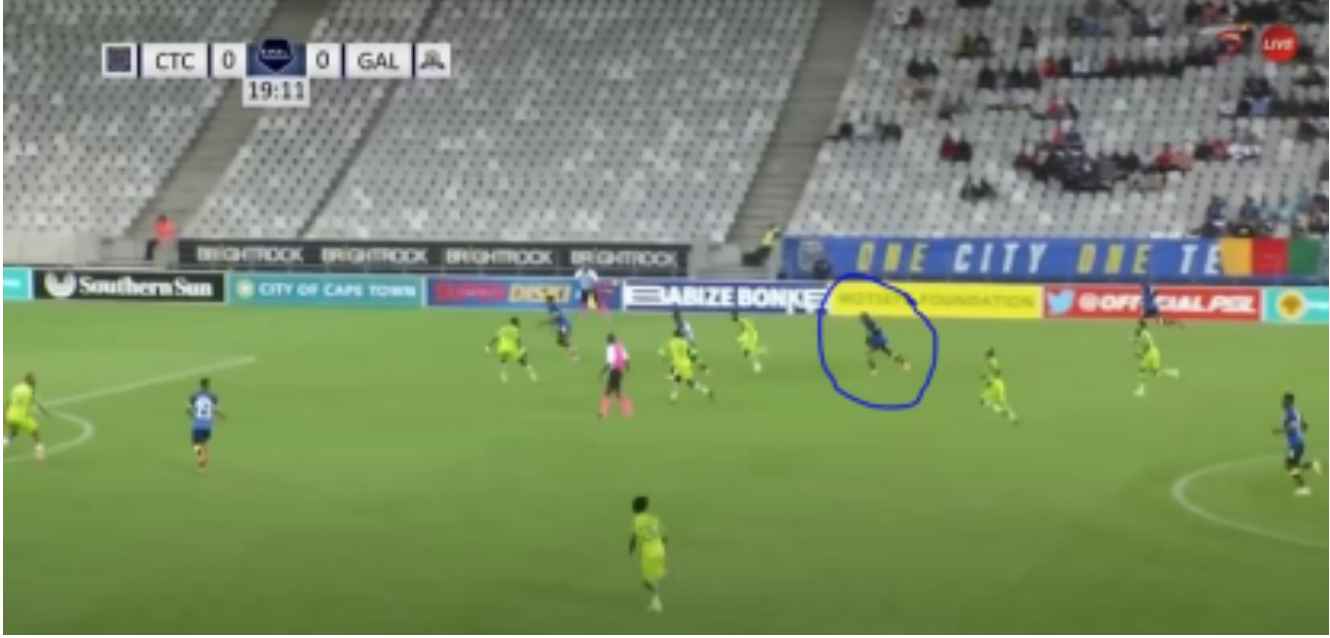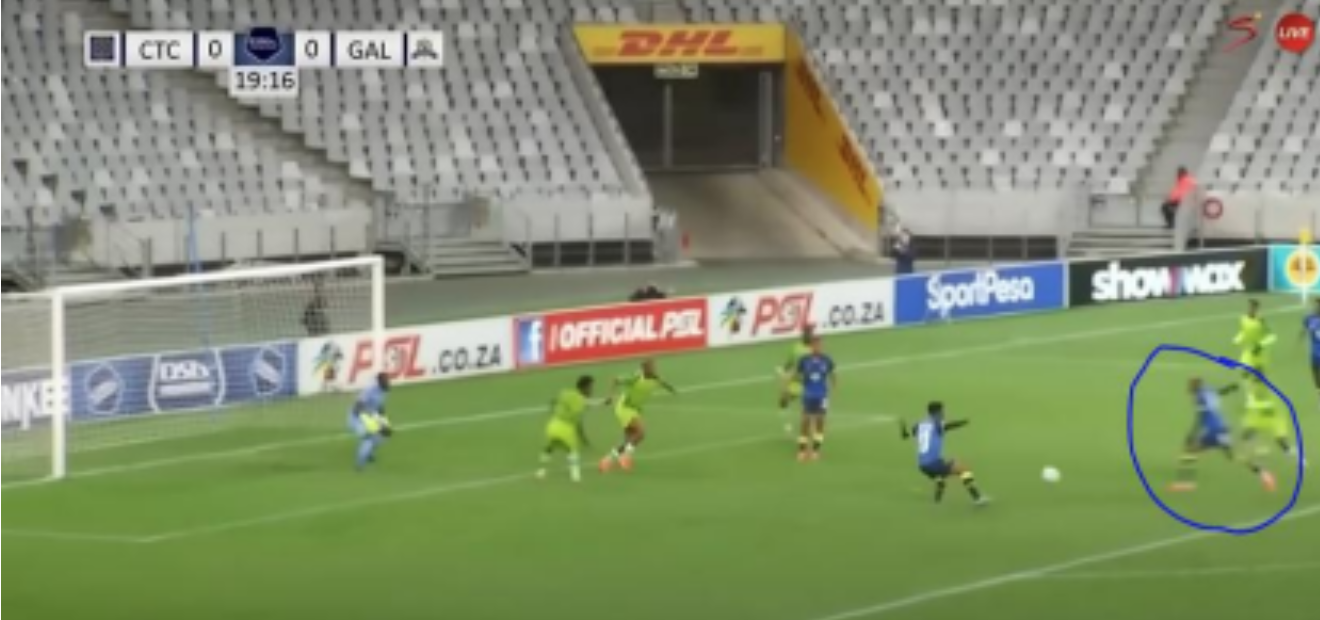 Mayo starts a run after he spots an opportunity for a rebound, hitting the shot first time, but it nevertheless sails wide of the posts.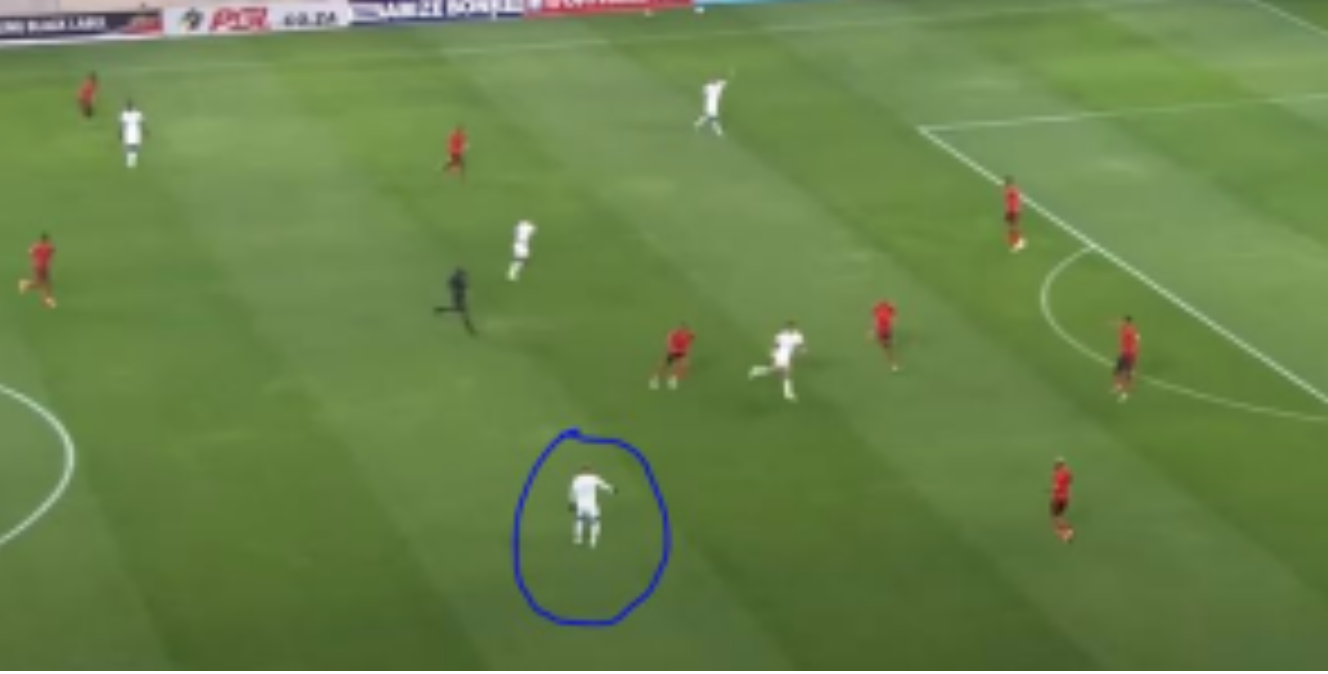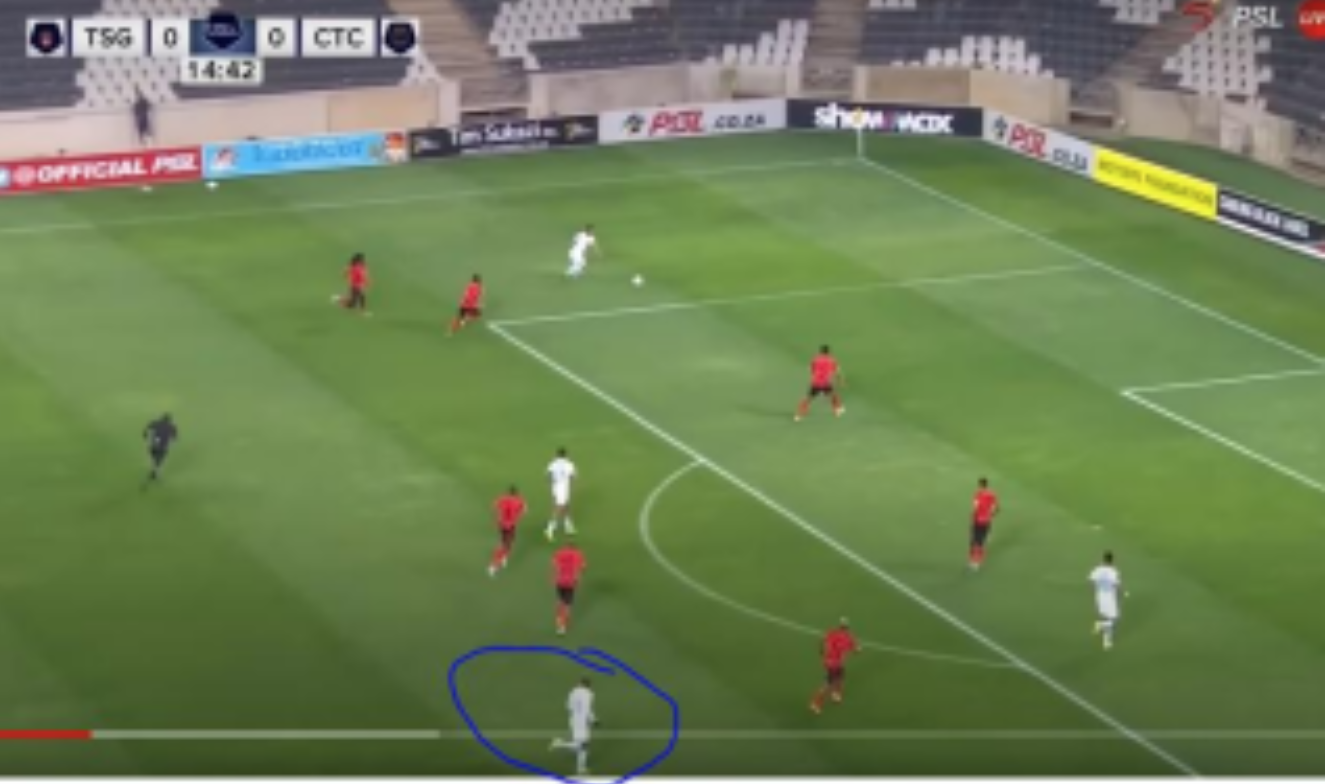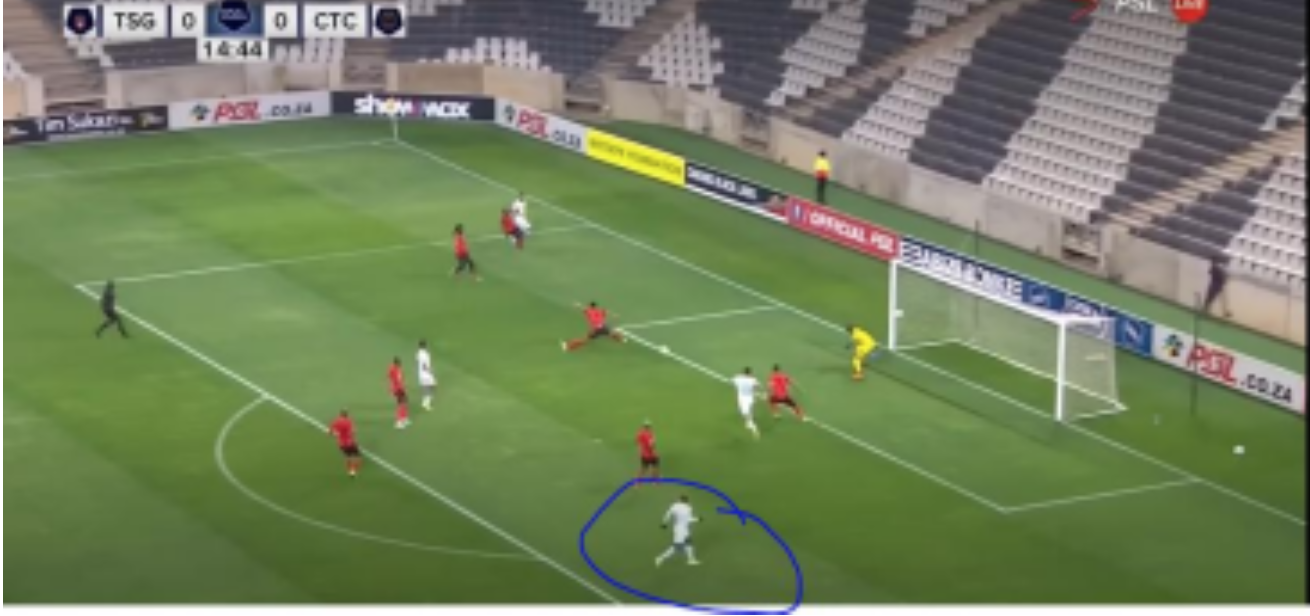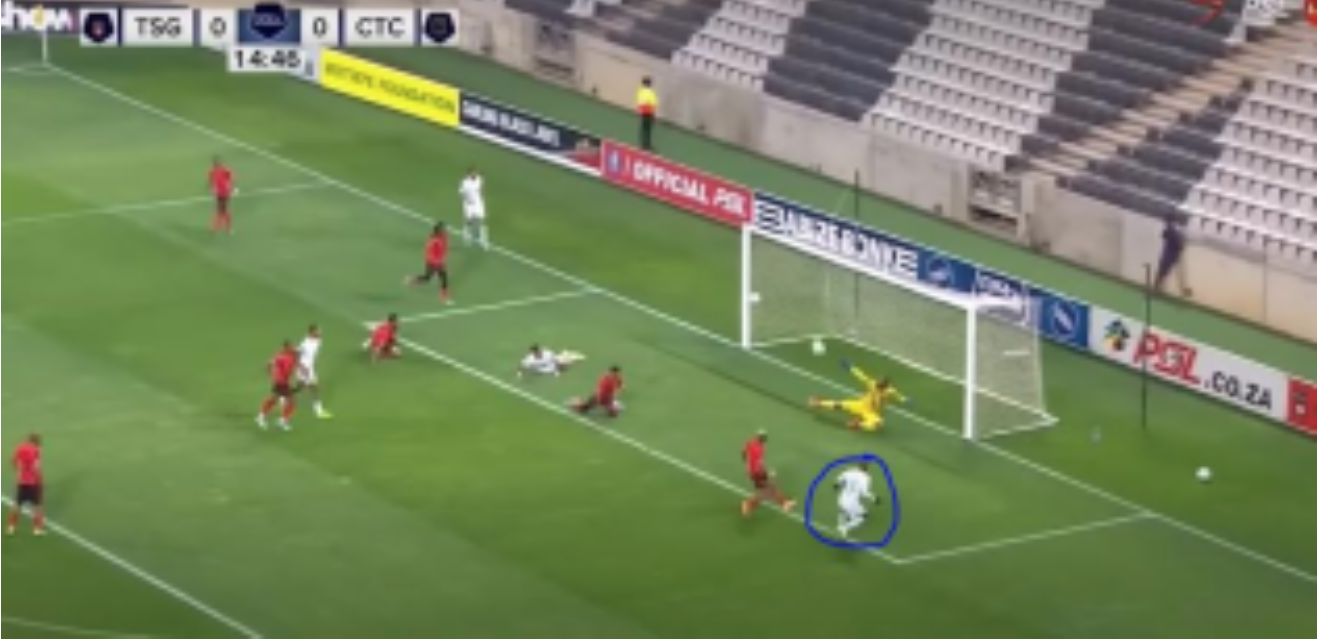 After he sets off the initial pass, he runs into position. When the striker misses, he is there to knock home an easy tap-in.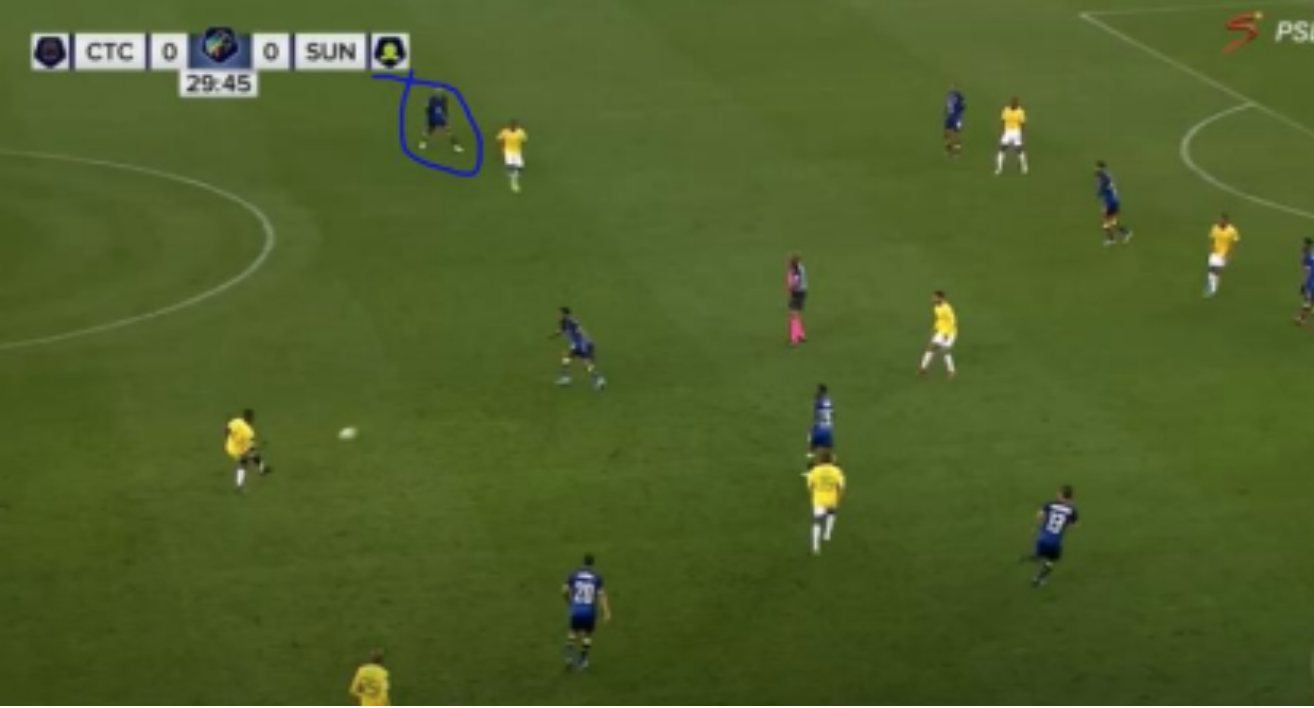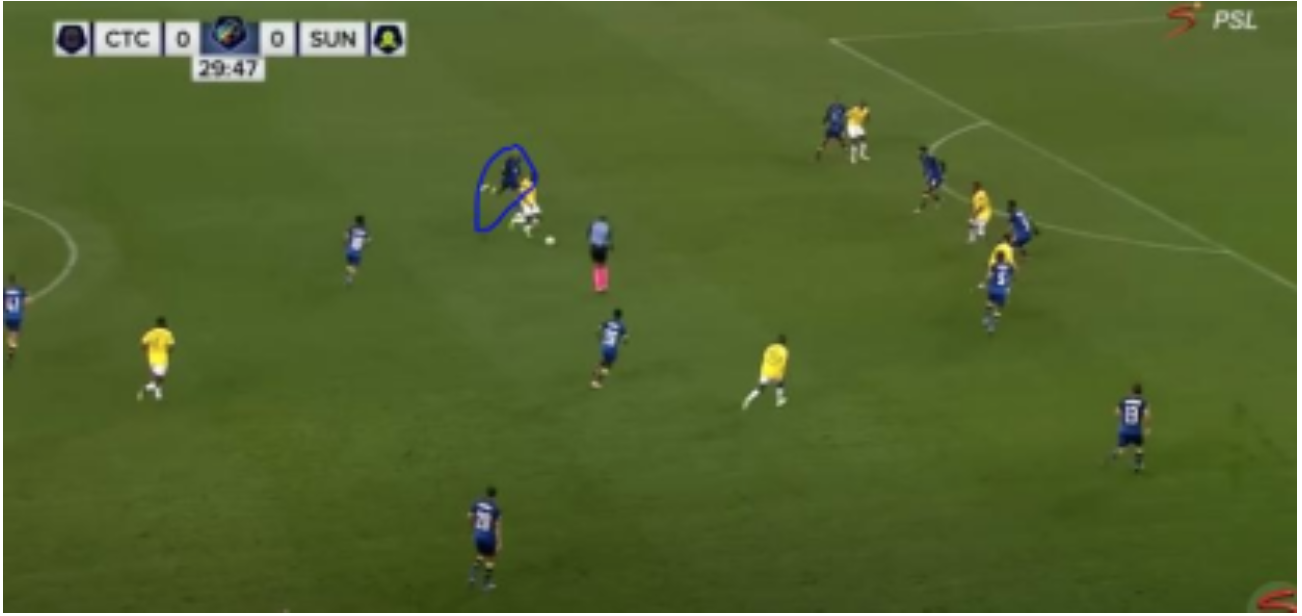 In this example, Mayo's team is out of possession, prompting him to drop back and press the attackers which forces an early pass from his opponent.
Conclusion
At 24 years old, there is plenty of room for improvement in Khanyisa Mayo's game. Whilst his first touch and passing accuracy are impressive, he does need to work on his counter-attacking positioning in order to become a suitable player for sides that regularly make use of transitions. It is little coincidence that Mayo's team struggles to create chances when he is not on the pitch, such is his ability to pick a pass and unlock a defense.
Mayo has already followed in the footsteps of his father by making his national team debut last year, and if he can continue to hone these strengths and polish his weaknesses, it won't be long before we see him playing a crucial role for Bafana Bafana in the coming years.
By: Methembe Thomas Tshuma / @MethembeThomas
Featured Image: @GabFoligno / Alex Grimm – FIFA