Taking a Deeper Look at Wesley Fofana
On October 2, 2020, Leicester City completed the purchase of Wesley Fofana from Saint-Étienne. In doing so, they filled a hole in their squad and concluded a transfer saga that had been brewing since Fofana gave a jaw-dropping interview with L'Équipe three weeks prior, claiming "I would be crazy to reject Leicester."
Leicester City have been in dire need of a new center back since selling Harry Maguire to Manchester United on August 5, 2019 for a record fee of £80 million. Whilst they had attempted to sign a replacement in the final days of the transfer window, with Burnley's James Tarkowski, Bournemouth's Nathan Aké and Getafe's Djené Dakonam being linked as potential reinforcements, their exorbitant asking prices meant that Leicester ended up not signing a single defender to replace Maguire.
Despite the excellent work done by Çağlar Söyüncü last season, Leicester have struggled with a serious lack of defensive depth. This was an issue laid all too clear after the Turk's sending off vs. Bournemouth on July 12, forcing Rodgers to turn to 36 year-old Wes Morgan, who failed to muster the same performances that saw him captain Leicester to the Premier League title four years earlier.
Ryan Bennett, who joined in January after falling down Nuno Espírito Santo's pecking order at Wolves, struggled to convince in his five appearances for Leicester, and it was no surprise when Leicester declined to take up their £5 million option that would've seen Bennett's loan turn into a permanent move. The need for a center back became even more evident after Evans's sending-off in the final matchday against Manchester United and after backup defender Filip Benković was sidelined due to hip injury.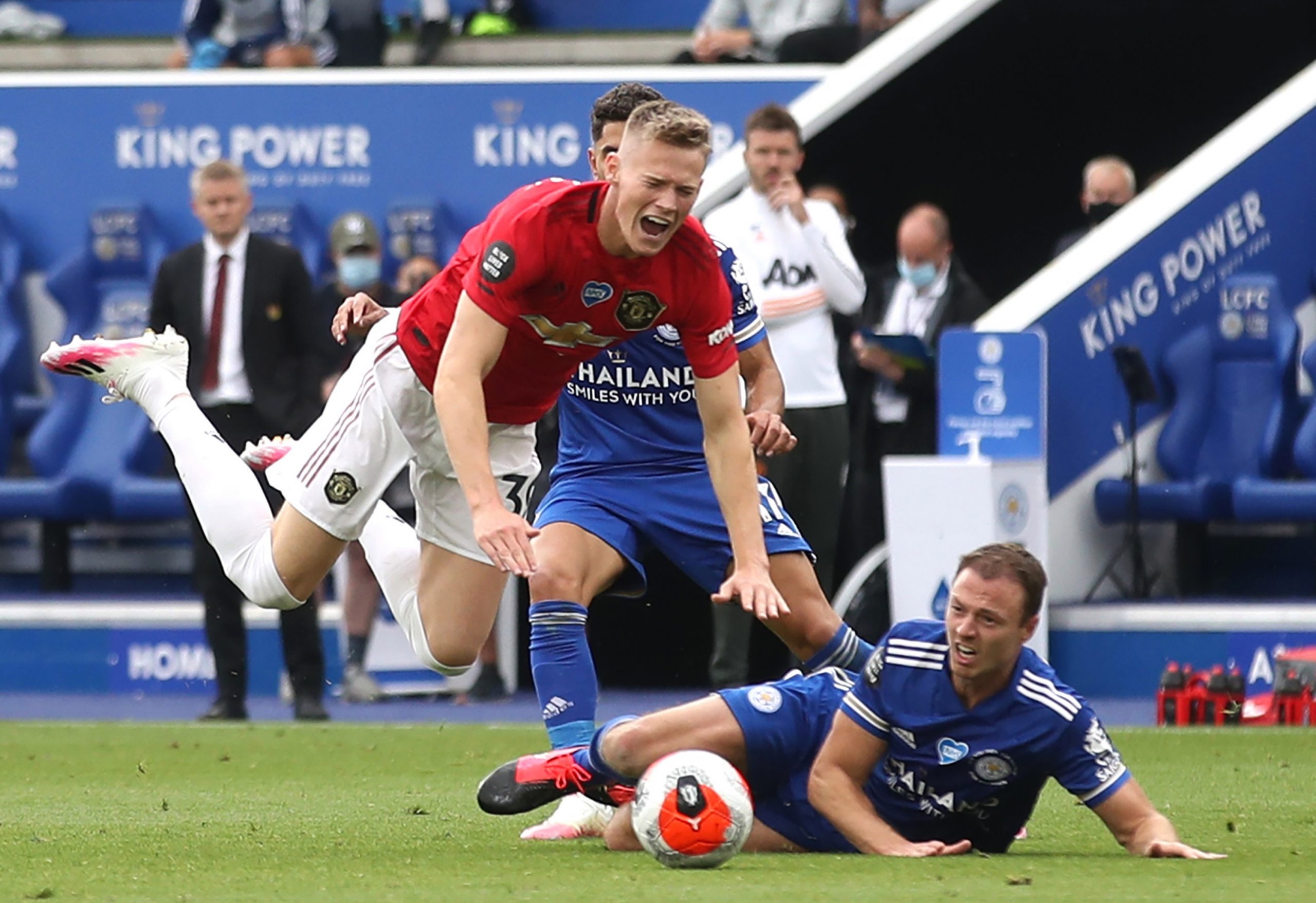 Photo: Getty – Pool
Rodgers was forced to start Wilfred Ndidi, a defensive midfielder, alongside Söyüncü in central defense for Leicester's first two matches of the 2020/21 season, but those plans were thrown into disarray on September 23 when Ndidi suffered an adductor injury against Burnley, which will reportedly keep him out of action until February. With Leicester in dire need of a center back, they signed the 19-year-old Fofana on a 5-year-contract.
Who is Wesley Fofana?
Born in Marseille to Malian parents, Fofana was the fourth of six children, growing up in the city's northern suburbs and bouncing around from various smaller clubs before joining Saint-Étienne's academy at 15 years of age. He progressed through the youth ranks in Auvergne-Rhône-Alpes before signing his first professional contract on May 15, 2018.
The following season, Fofana started in a defensive midfield role as Saint-Étienne advanced to the 2019 Coupe Gambardella Final, an annual cup competition held between the under-19 teams of French football clubs. They defeated Toulouse 2-0 in the Final, with Fofana starring in a holding midfield role.
Fofana made his professional debut against Nice on May 18, 2019, coming on as a substitute 20 minutes into the match for the injured Pierre Yves Polomat, and he held his own against Ignatius Ganago and Allan Saint-Maximin as Les Verts won 3-0. A week later, he started alongside captain Loïc Perrin — 15 years his senior — as Saint-Étienne drew 1-1 to Angers in the final match of the season.
He had to wait another five months before making his next appearance, starting on the right side of Claude Puel's back three as Les Verts defeated Bordeaux by a scoreline of 1-0. Fofana continued to shine under Puel, impressing with his speed, technical ability, aerial prowess and aggression, and earning interest from Monaco, Red Bull Salzburg, Milan, Arsenal, Everton and RB Leipzig. Upon the stoppage of football, Les Verts finished 17th in Ligue 1, whilst also defeating the likes of Monaco and Rennes en route to the Coupe de France Final.
With the other centre back option William Saliba unable to play in the Coupe de France Final after Saint-Étienne failed to reach a short-term loan extension with Arsenal, Fofana started in the Stade de France alongside Perrin, who was playing the final match in his 23-year-spell at the club. 
He was assured and precise on the ball, constantly evading his marker before finding a free man with a pass. Off the ball, he was a brick wall, stepping off his line at just the right moment to intercept a pass, imperious in 1v1 duels, and quick to clear danger while recovering on the counter. When Pablo Sarabia looked certain to have slid in the assist for a second goal, Fofana slid to the ground and gently poked it out of Mauro Icardi's reach.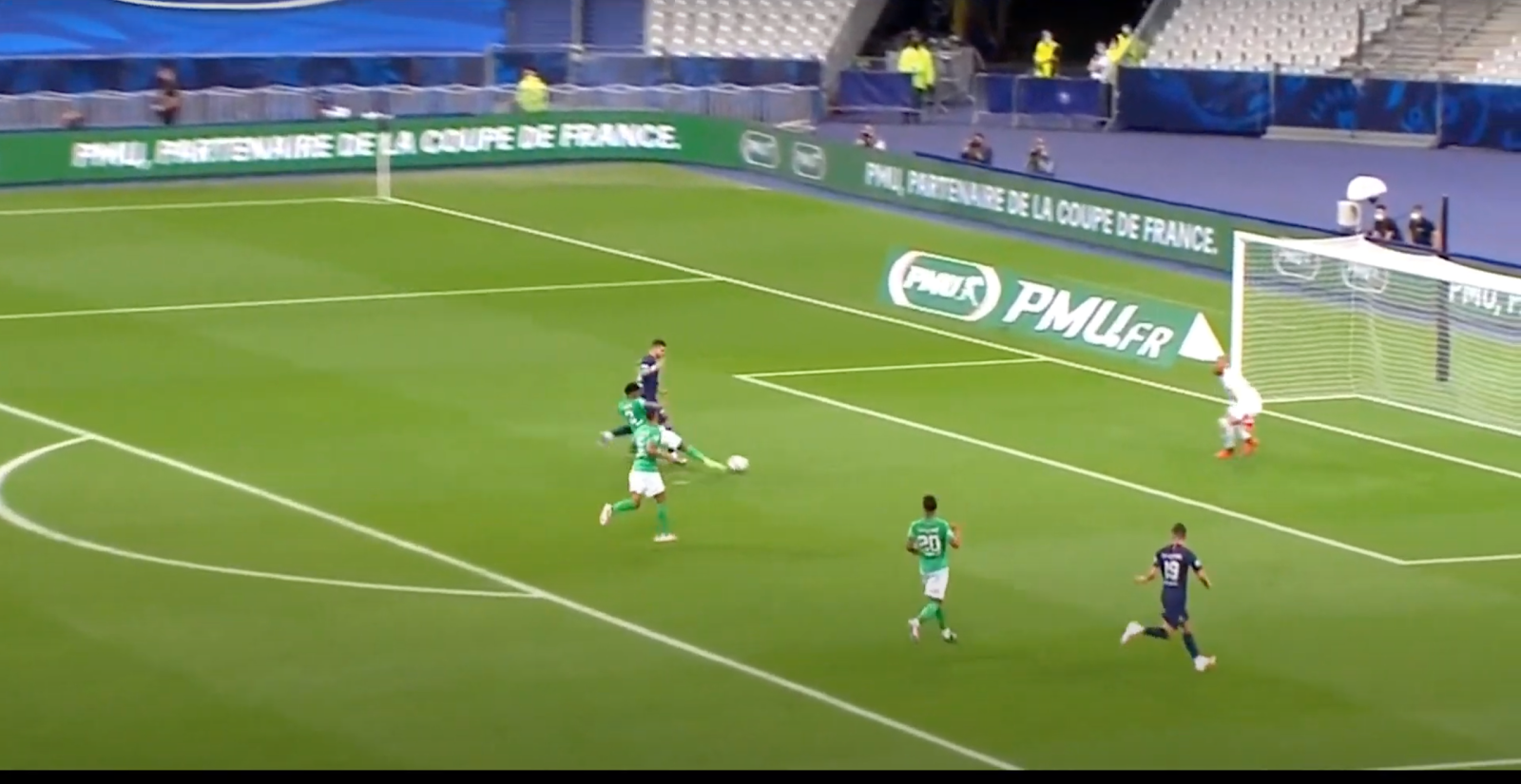 Fofana began the 2020/21 season in superb form, starring in defense alongside Timothée Kolodziejczak as Les Verts defeated newly promoted Lorient 2-0 courtesy of a brace from Romain Hamouma. 
However, on September 7, L'Équipe reported that Fofana was eager to force a transfer in the final weeks of the summer window. The reason? Whilst Fofana signed a contract extension in April that saw him earn €75,000 a month and pocket a €450,000 signing bonus, Adil Aouchiche, who arrived on a free transfer in July after making just four senior appearances for Paris Saint-Germain, signed a contract that saw him earn €80,000 a month and take home a signing bonus of €4 million.
Three days after the report was published, Fofana confirmed his desire to depart Saint-Étienne in an emotional interview with L'Équipe, stating that he had already agreed a 5-year-contract with Leicester City and pleading the board to accept the English club's initial offer of €29 million — well above the previous bids from Milan and Salzburg.
"Where I come from, the northern suburbs of Marseille and with a family that is not well off, it is not possible. I would be crazy to say no to Leicester. This contract could change my life. I need to protect my family by keeping them safe."
The transfer war waged on, with both West Ham and Leicester City tabling bids for the 19-year-old defender. Finally, on September 29, an agreement was reached: Leicester purchased Fofana for €35 million + €5 million in bonuses, the most expensive sale in Saint-Étienne history and the 2nd most expensive purchase in Leicester history.
What Kind of Center Back is Fofana? 
Despite having registered just 30 senior appearances for Saint-Étienne, Fofana joined Leicester City as one of the most exciting defensive prospects in football. Amongst players under 24 years of age in Europe's top 5 leagues, Fofana had the highest aerial success rate in the 2019/20 season, winning 5.19 out of 6.75 (72.92%) aerial duels per game. He also averaged the highest amount of interceptions amongst teenagers with 2.7 interceptions per match, whilst boasting a success rate of 67.33% in defensive duels.
Standing 6'3" and weighing 81 kg, Fofana has an ideal frame to cope with the physicality of the Premier League. His long strides allow him to recover quickly on the counterattack and stick a foot in to win possession, and he isn't afraid to go to ground to win a duel.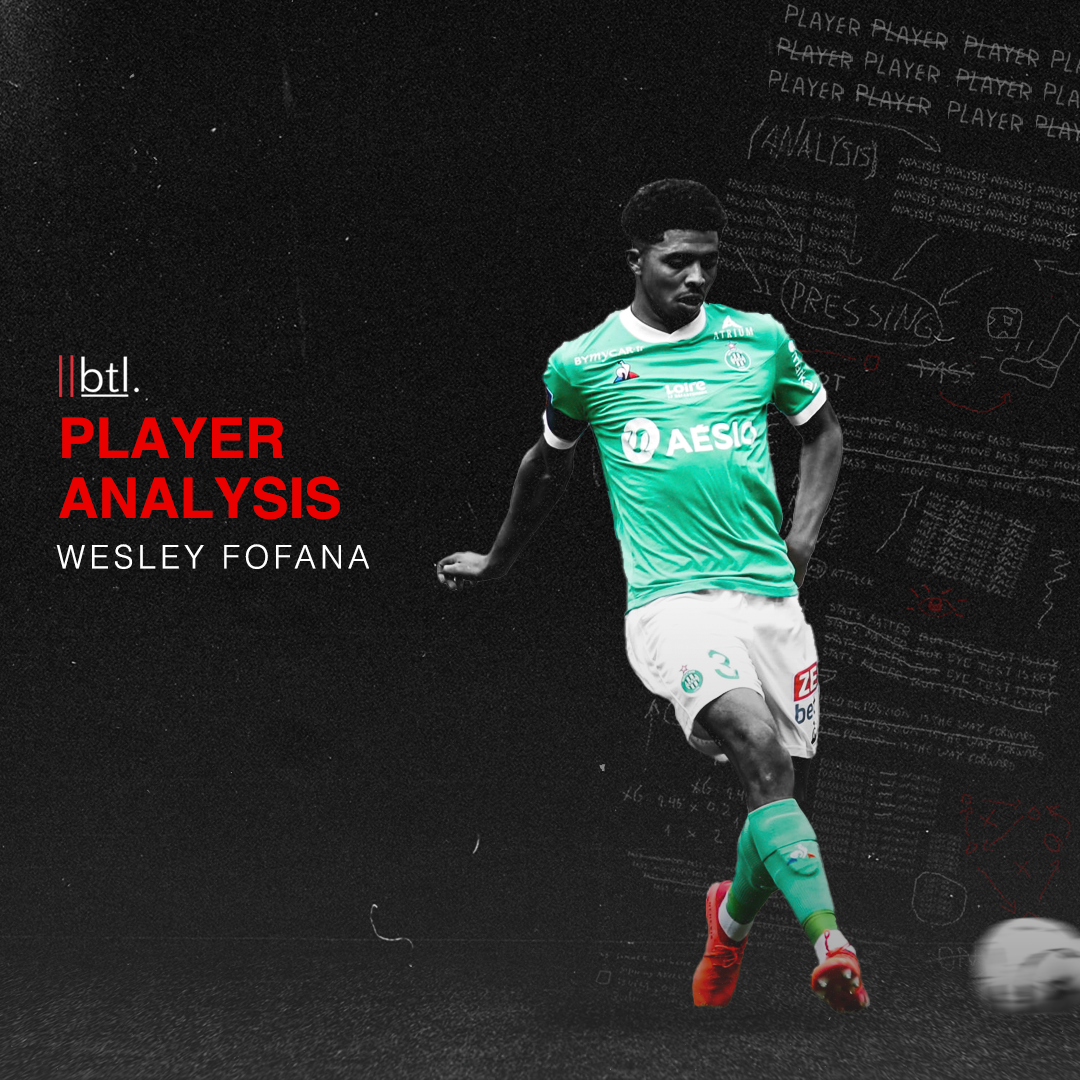 Having impressed both in a back four and a back three, Fofana is a versatile defender who can cope with bulky target men as well as nimble speedsters in attack. He combines his imposing physicality with an excellent timing in his vertical jump, allowing him to put out danger and guide the ball into safety.
Perhaps the most impressive asset about Fofana's game is his timing. Despite being fairly unestablished at the senior level, he has developed an uncanny knack of sniffing out danger, getting in front of his man, and winning the ball before the pass can reach the opposing forward.
He knows when to stay on his feet and when to lunge in for a tackle, and whichever route he chooses, he almost always comes up with the ball. His impressive 1v1 duel success rate can be explained by his physical fortitude as well as his timing in knowing when to stick a foot in, when to retreat, and where to go in order to win the duel.
We can see an example of this in Leicester's 1-0 victory over Arsenal on October 25. Fofana suffered somewhat of a shaky start, being turned inside out by Bukayo Saka before forcing a corner and generally having to play it safe in possession due to Arsenal's high press.
However, his first major intervention came in the 12th minute; whilst sticking in between Saka and Alexandre Lacazette, he spotted David Luiz making a lofted pass and shifted towards Lacazette. Whilst the Frenchman was attempting to control the ball, Fofana gently poked it away to Christian Fuchs, comfortably extinguishing a dangerous attacking opportunity.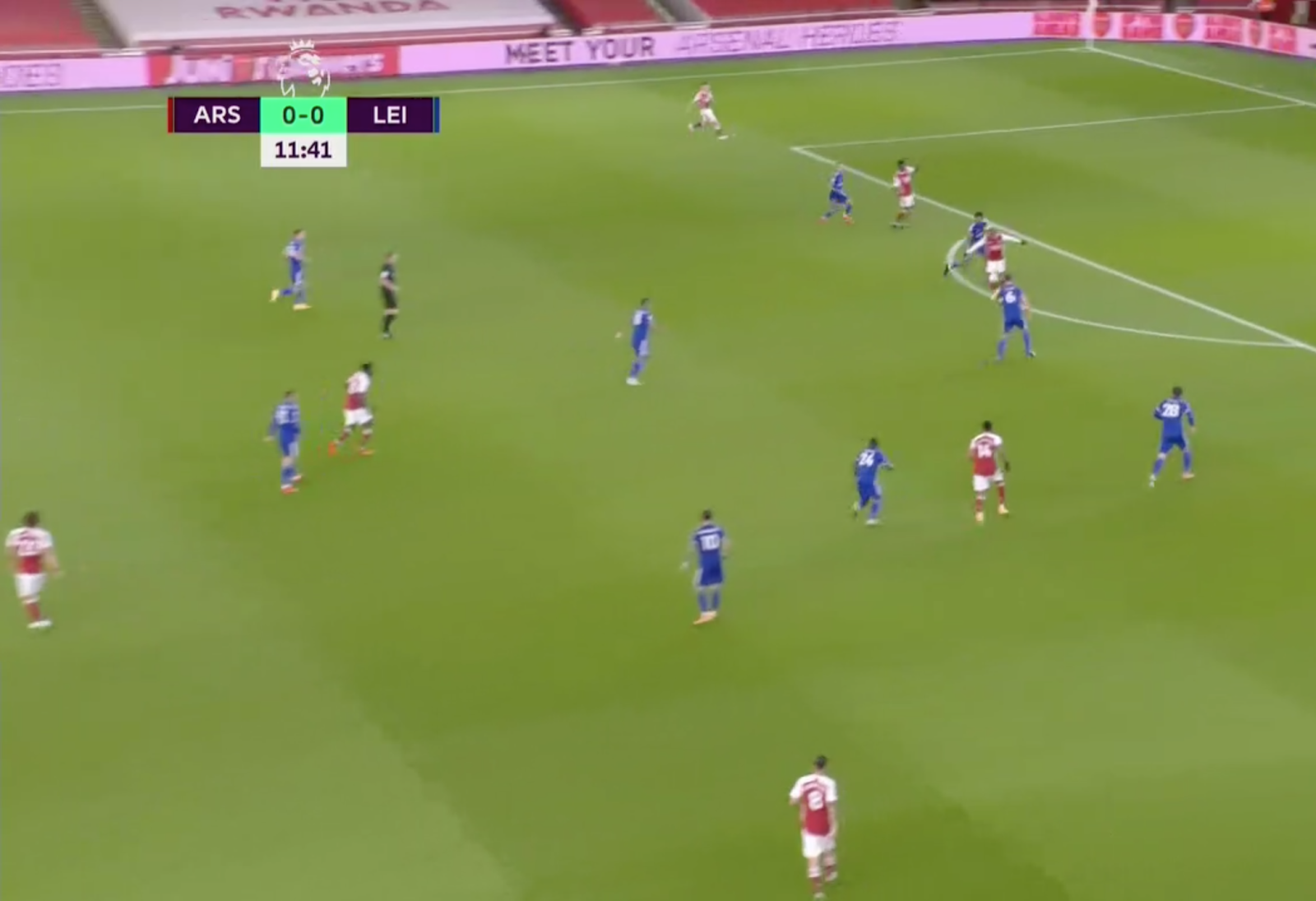 However, rather than clearing the ball out of play, the Austrian clumsily passed it to Lacazette, who controlled the failed clearance and quickly passed it to Saka. Whilst motioning to Timothy Castagne to move wide and follow Kieran Tierney's third-man run, Fofana hurriedly shifted across his line, arriving at the edge of the box, sticking a leg in, and blocking Saka's shot to force a corner.
Not only does Fofana have the intelligence to know when to stick a foot in, when to retreat, and where to position himself in order to win the ball, he also has the quick decision-making and proactive thinking to compensate for his teammates' mistakes and extinguish danger.
While he has only played seven matches so far for his new club, Fofana's ability to anticipate and prevent the opponent's action has allowed him to flourish in the fast-paced Premier League.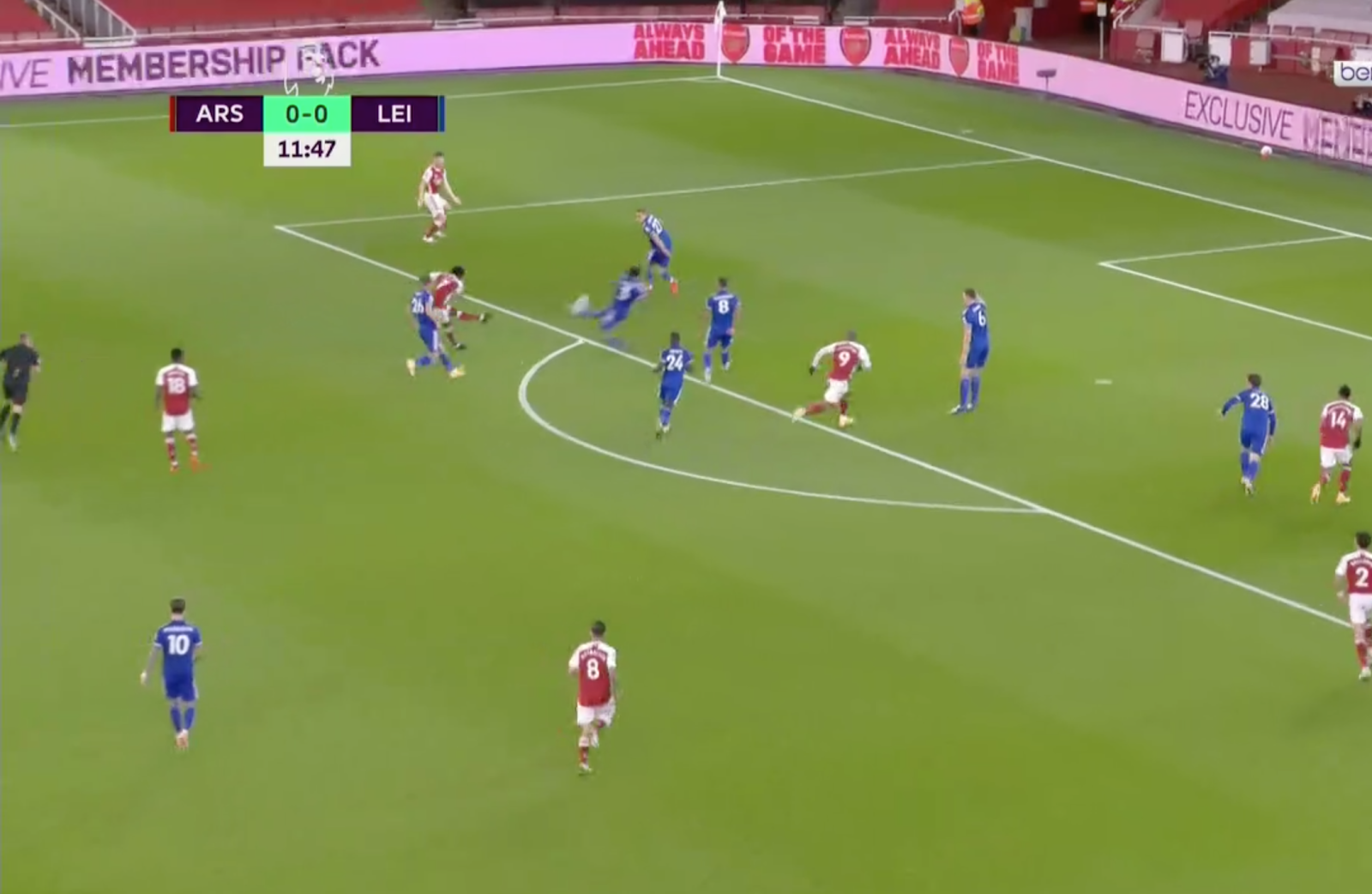 The most impressive facet of Fofana's match was his movement off the ball, whether that be marking opponents, compensating for his teammates's mistakes with timely interventions, intercepting wayward passes, or tracking the trajectory of long balls.
In this instance, we see how he tightly marks Saka, adjusting his positioning to follow Gabriel's pass, getting his body in front of the ball, and calmly trapping the ball with his chest and recycling it to Fuchs.
Whilst Arteta initially focused on targeting Fofana in the first half by allowing Luiz the freedom to push forward and find Tierney in advanced positions on the left wing, he was forced to scrap those plans due to Fofana's effectiveness in defense. The fact that Arteta was forced to abandon those plans is a testament to the teenager's ability to read the play and snuff out opposing attacks.
In this instance, Saka receives the ball on the left flank and quickly plays a lofted pass in behind the defense. Fofana, who had been focused on marking Lacazette, shifts his attention to tracking Tierney's movement, with the Scotsman beating Castagne with his blind-side run. He matches Tierney for pace and sticks his foot out to block the attempted cross, deflecting the ball for a corner kick.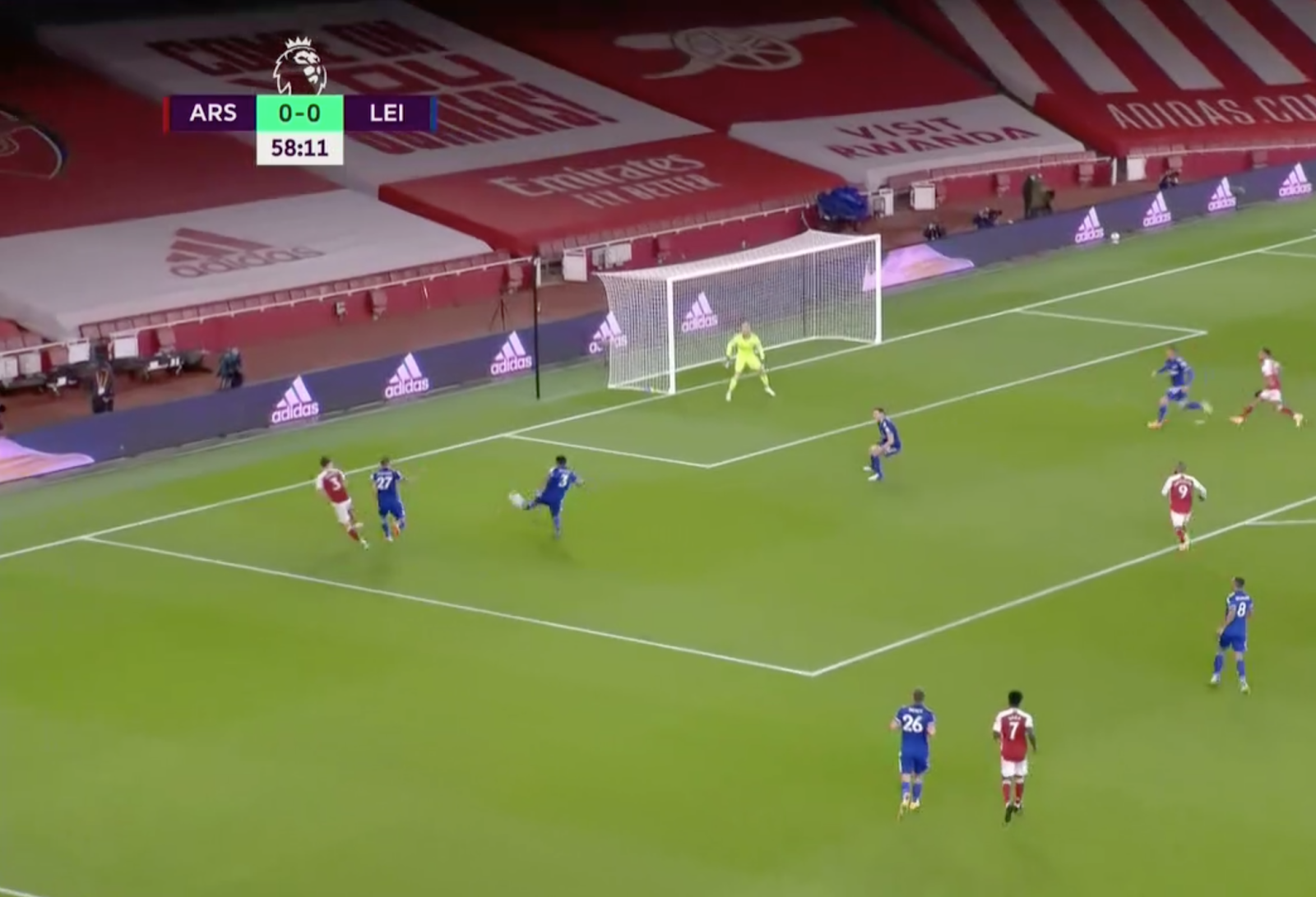 As time progressed, Fofana grew increasingly aware of spin moves and blind-side movements from the opposing attackers. Here, Lacazette twists to get to the outside of Fofana, creating separation and charging to meet Tierney's lofted pass.
However, Fofana comfortably beats the ex-Lyon striker for pace, shielding the ball with his body and letting it roll out for a goal kick. The French defender's combination of sheer pace and anticipation proved to be kryptonite to Arsenal's attacking plans.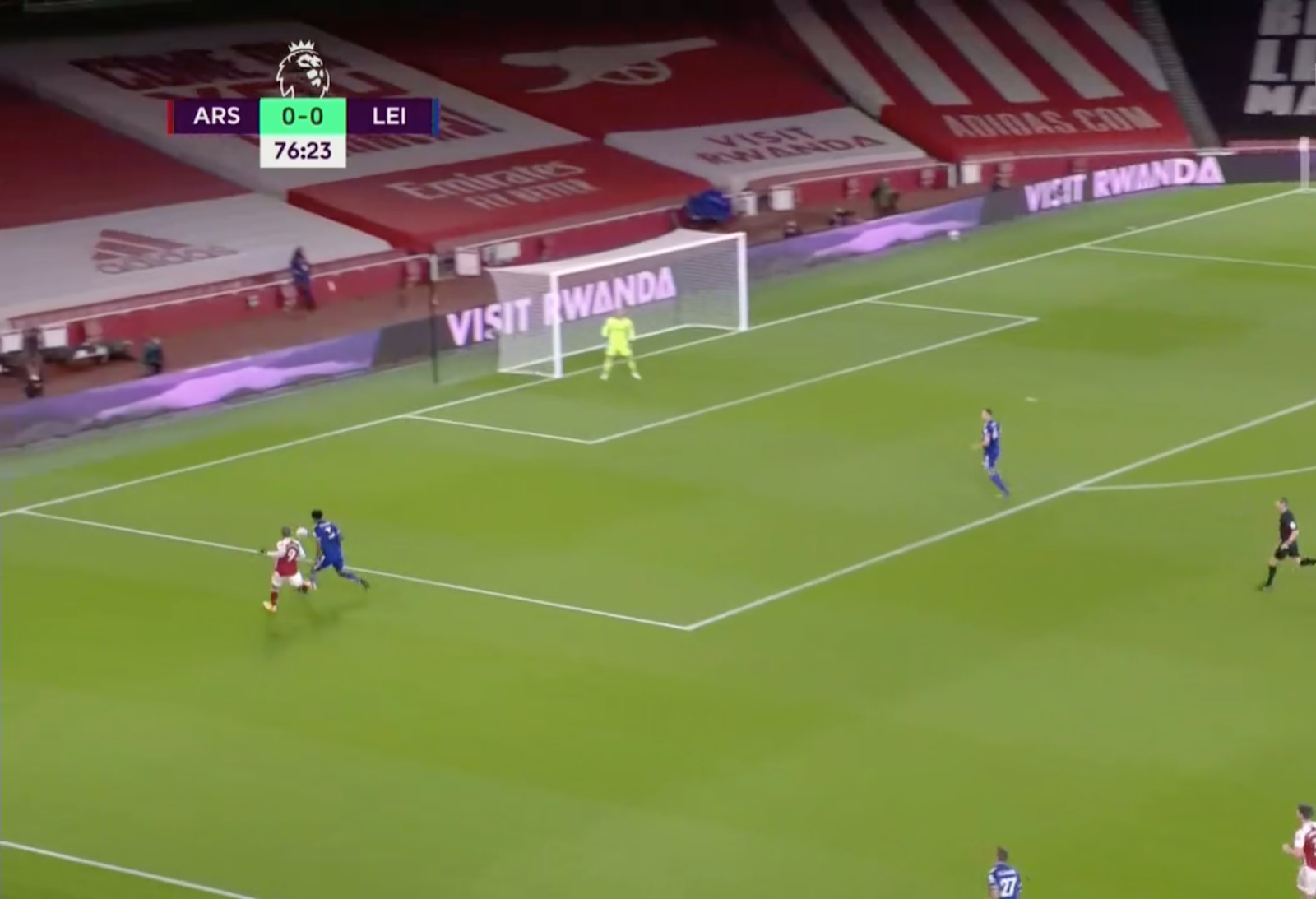 There are certain moments where his lapses in concentration or errors in judgment can cost his team. Fofana can sometimes lose track of where the ball is after a deflected shot or cross, causing him to lose awareness of the play and allow the attacker a free run on goal.
Furthermore, whilst Fofana is provided the freedom to push up and tightly mark his man when playing in Rodgers's back three, this can often leave him vulnerable to changes of direction from technically gifted attackers. In this example, Gabriel plays a fizzed ball to Saka, who, rather than trapping the ball with his right foot, turns and controls the ball with his left, evading the flat-footed Fofana.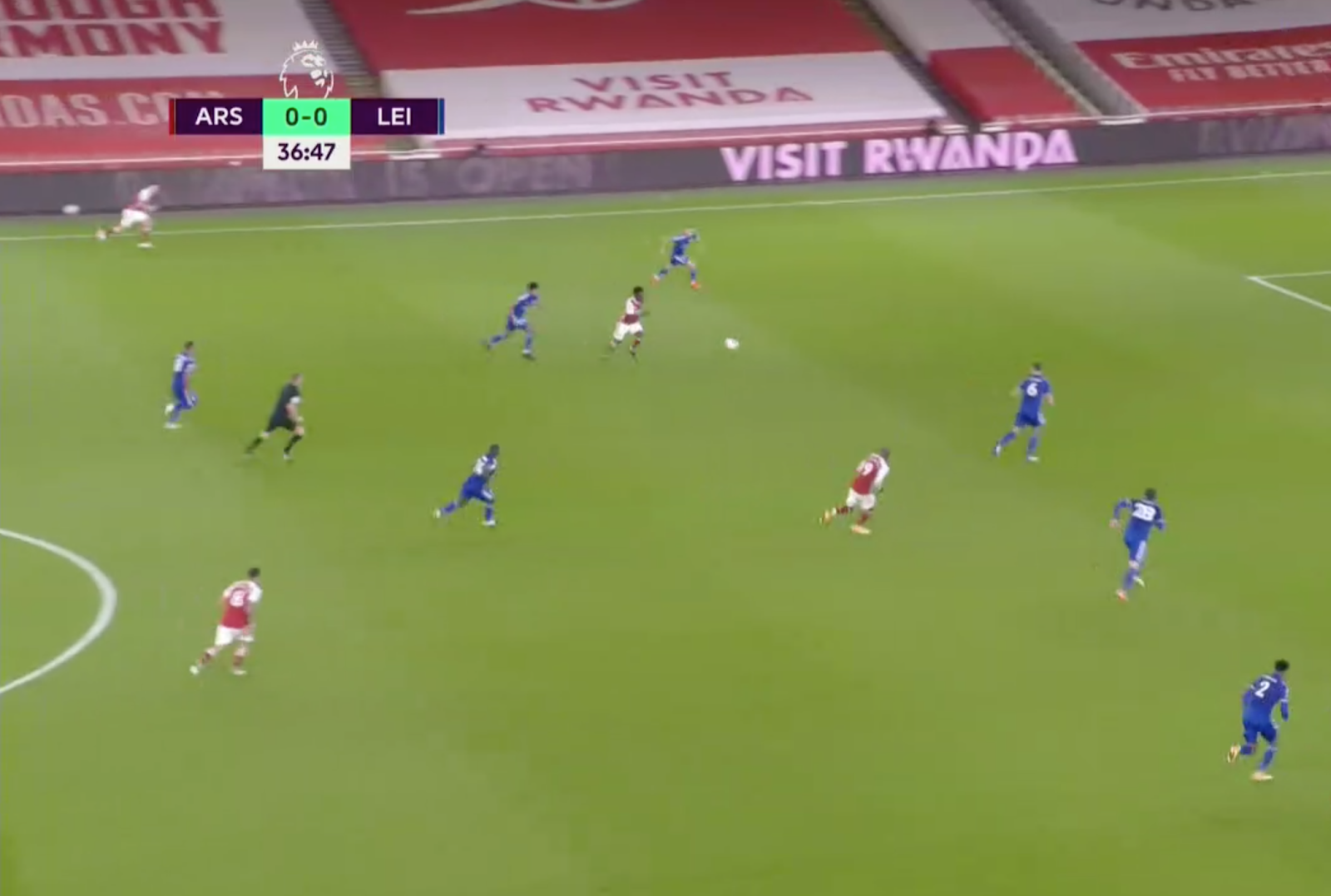 Later on in the second half, Saka tricked him with a similar move, allowing Fofana to aggressively push up in order to block Thomas Partey's pass. The 19-year-old Saka deceived his age mate by turning mid-reception and receiving on his right foot, but Fofana clipped his heels, forcing a free kick.
He was deservedly booked for the foul, and Saka was subbed off for Nicolas Pépé 13 minutes later after failing to regain the same rhythm following his knock.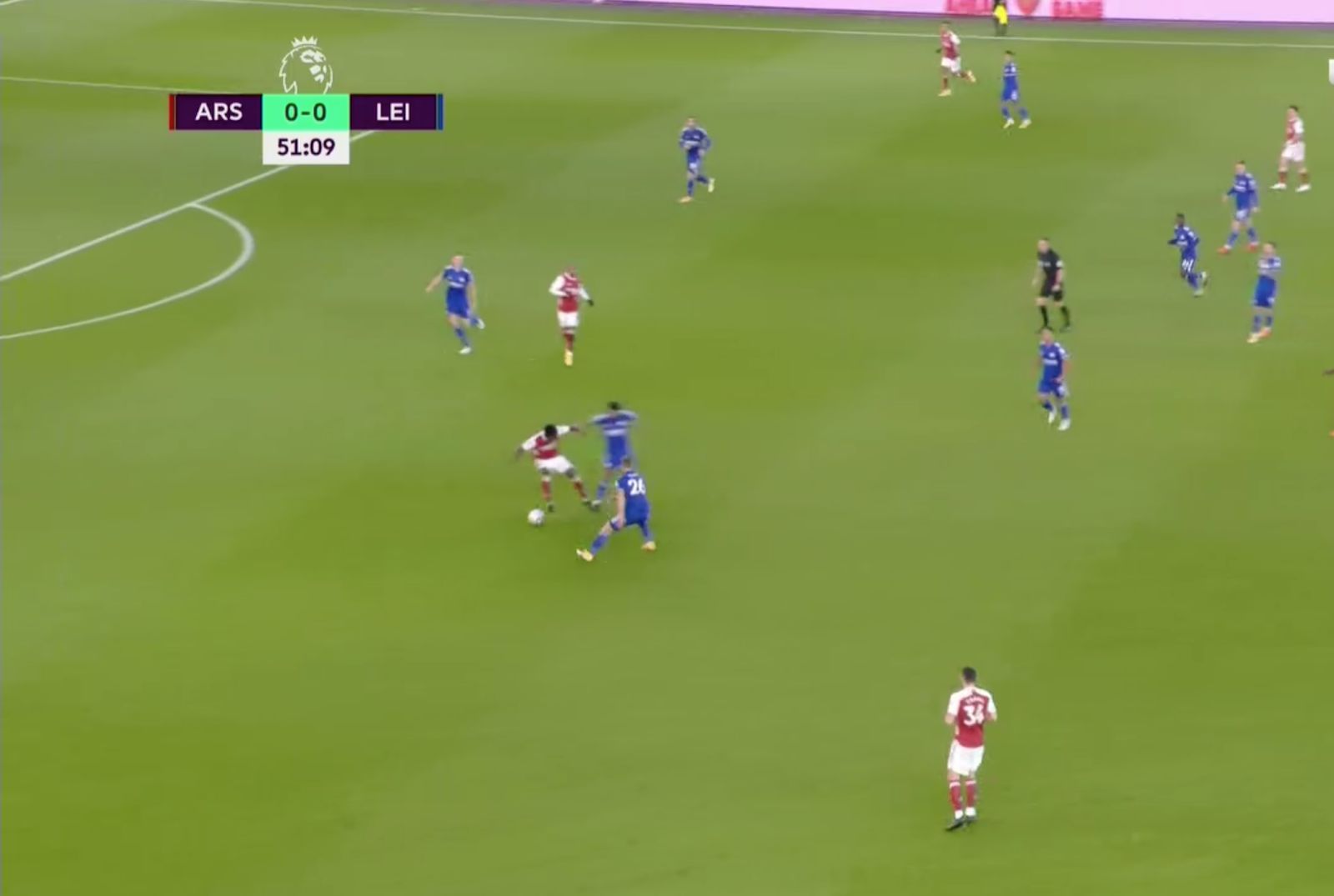 His aggressive nature can have its trade-offs, with Fofana conceding clumsy fouls or leaving plenty of space in behind for the attacker to exploit. However, due to his physical power, his positional awareness, and his remarkable reading of the game, the rewards are more plentiful than the risks. Fofana has the pace and awareness to cover wide runs and regain possession with a well-placed tackle and eliminate the opposition's attacking threat.
Moreover, Fofana boasts the physical and mental stamina to stay alert and composed in the dying moments of matches, as the opposing side searches for an equalizer. Following Jamie Vardy's go-ahead goal, Arteta subbed on Eddie Nketiah for Tierney, but it was to no avail; Arsenal rarely penetrated Leicester's organized low block, and when they did, Fofana would be there to intercept the danger.
In this example, Pépé cuts in from the left before passing it to Nketiah, but Fofana lunges in and clears the ball out of danger.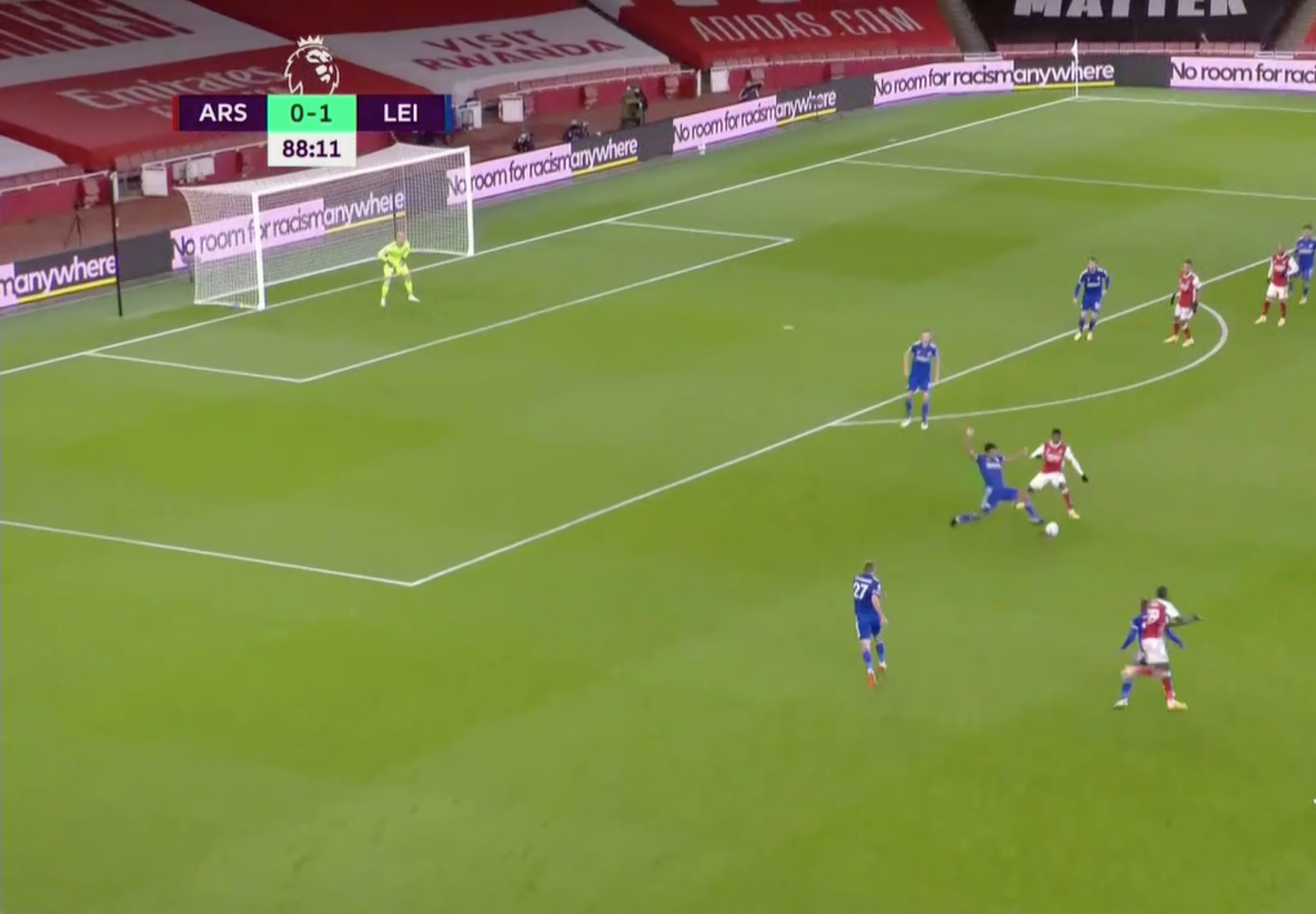 Conclusion
It has been nothing short of a flawless start to life in England for Fofana, with the 19-year-old providing an assist in a 2-1 victory over AEK Athens, keeping clean sheets in a 1-0 win and a 4-0 win against Wolves and Braga, respectively, and holding his own at Elland Road as Leicester managed an impressive 4-1 victory over Marcelo Bielsa's Leeds United. Whether playing in the middle of a back three or on the right side, Fofana has been a class above the rest for Leicester, who currently sit atop the Premier League and their Europa League group as well.
On the other hand, after winning their first three matches and keeping three clean sheets with Fofana in the line-up, Saint-Étienne have thrown away a 2-0 lead to draw against Nantes, and lost their last six matches by a combined scoreline of 13-2. Seven weeks after occupying the top spot in Ligue 1, Les Verts currently find themselves in 15th place — just two points above the drop.
After a breakthrough season in France, the onus is now on Fofana to confirm his status as one of the most promising center backs in football. Leicester is the perfect launching pad for him to compete at the highest level and develop his talent, and if he can continue his seismic progression, there's no telling where he'll end up.
The Foxes have made a knack of offloading just one key player each summer and holding onto the rest, having sold N'Golo Kanté, Danny Drinkwater, Riyad Mahrez, Harry Maguire and Ben Chilwell over the past five years. If Fofana keeps improving, he may just find himself playing at Chelsea or Manchester United in three years time.
By: Zach Lowy
Featured Image: @GabFoligno / Plumb Images / Leicester City FC