Téji Savanier: The Motor behind Montpellier
After being forced to sell Andy Delort and Gaëtan Laborde before matchday five of the 21/22 Ligue 1 season, Montpellier fans would have been forgiven for fearing the worst.
The pair had scored 51.67% of Montpellier's goals last campaign, and they'd scored five of the first nine goals of the new season. Thankfully, the board kept the next-best goal contributor, Téji Savanier.
The 29-year-old Frenchman's heroics this season have helped Montpellier to fifth place in Ligue 1, just four points off second-placed Marseille. That is as many points away from 12th-placed Brest.
Nonetheless, Olivier Dall'Oglio has done well to get 24 goals out of an attack many presumed to be severely weakened. It's certainly been helped by Savanier, who does some justice to earn the Zidane comparisons that have been recently laid upon him.
How Do Montpellier Play?
Savanier has often been listed in 21/22 as what would normally be described as a number 10 in a 4-2-3-1 formation. However, his role on the pitch is far looser than that. His heat map shows how Savanier, if anything, plays more like a deep-lying midfielder.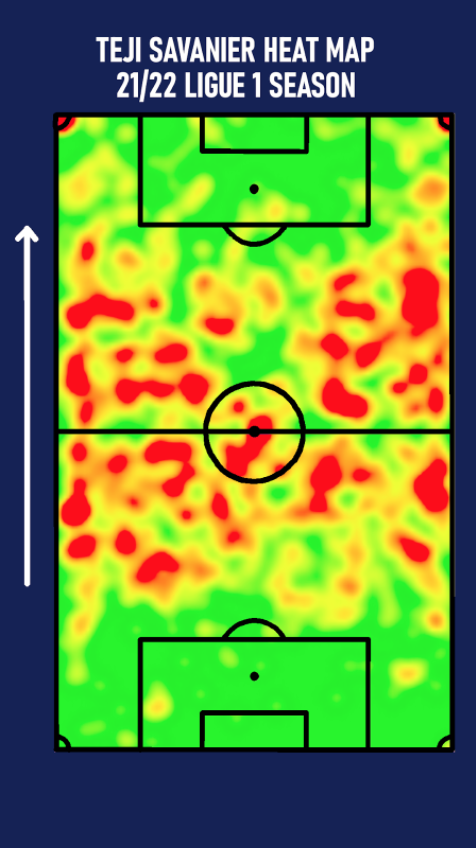 Before going further, it's important to understand the other components in the Montpellier attack. The absence of the aforementioned deadly striking duo mixed with the arrival of former Brest manager Olivier Dall'Oglio could have made for a gloomy season. Thankfully, France's fifth-highest scoring team have been excellent to watch this campaign.
Though they have the quality to unlock deeper blocks, Montpellier generally rely on counter-attacking situations. They sit off opposition teams before hitting them on the break with their talented, athletic runners.
Former Arsenal & Juventus youngster Stephy Mavididi is the club's current top scorer with five league goals. Playing at left-wing, he's often the first to run in behind opposition defences, able to come inside on his right foot. He did just that against RC Lens in October.
Le but de Stephy Mavididi ! Sur un caviar de Téji Savanier !🔥

🔶️🔷️ pic.twitter.com/E67Wkt4u3c

— Lucas34 (@lucaschampainne) October 17, 2021
Another player who has stepped up this season in attack is Sepe Elye Wahi. The 18-year-old Frenchman already has four goals in the 21/22 season, making 7 starts upfront for Montpellier. It's too early to realise what Wahi is as a player, but at 6ft tall, the early signs are good.
He has overperformed his NPXG by 2.2 [FBREF], which keeps in check with Montpellier's form this season. La Paillade have scored seven non-penalty goals more than expected this season.
Quite the nonchalant finish from Montpellier prospect Elye Wahi (18). After 3 goals in 6 games, the striker is becoming one of Ligue 1's breakthrough young talents this season.pic.twitter.com/SSa8yzlCm2

— Get French Football News (@GFFN) December 9, 2021
Valère Germain is the player who has traded minutes with Wahi, but the Ligue 1 veteran has still made a mark upfront. With four goals for himself, he adds the experience to a side with an average age of 24.7. For context, that would rank as the second youngest side in the Premier League.
Of course, in France, that's not even breaking the top six for the youngest teams in the championship; as previously established on BTL, Ligue 1 is the youngest league in Europe.
Perhaps Germain would succeed in the Premier League. Despite making just 8 starts at Marseille last season, he still acts as a wily fox in the box.
Never a true number nine, Germain operates at his best at finding space in between the lines and in the penalty area, where 86% of his shots have come this season. That is desperately needed in a side where 56.7% of the shots have come from outside of the box.
How Does Savanier Make Things Tick?
In fairness to Montpellier, 30 of the 46 shots they have taken from outside of the box have come from Téji Savanier. And in fairness to him, it's forgivable when you see how well Savanier can hit them.
Goal Teji Savanier 🔥⚽️ #MHSCFCL pic.twitter.com/fO4HmUn4YG

— Julien Moreau (@JulienMoreau06) August 22, 2021
Savanier challenges analytical logic. Only two of his shots from outside of the box have gone in, following a season where he failed to score any past 18 yards.
He should be a player listed as wasteful, a vacuum for potential opportunities. Yet from set-pieces and in open play it simply feels worth the gamble, especially when the 29-year-old Frenchman passes as well as he shoots.
His recent assist against Brest (0:28) was extraordinary. Savanier possesses ability on his weaker right foot, which some professional footballers arguably cannot reach on their strong foot.
Téji Savanier is one of the most entertaining players in the world. pic.twitter.com/OS23xCaXop

— Zach Lowy (@ZachLowy) December 13, 2021
What brings it all the way back around, is how Montpellier takes advantage of Savanier's skillset. Rather than looking to get involved in the latter stages of moves in possession, Savanier drops deep across the pitch to receive the ball.
From there Savanier will either play a perfectly timed through-ball as he did so for Mavididi in the first clip shown. Or he'll aim to carry it up the pitch himself. Only two other Ligue 1 players are completing more dribbles per-90 minutes than Savanier right now.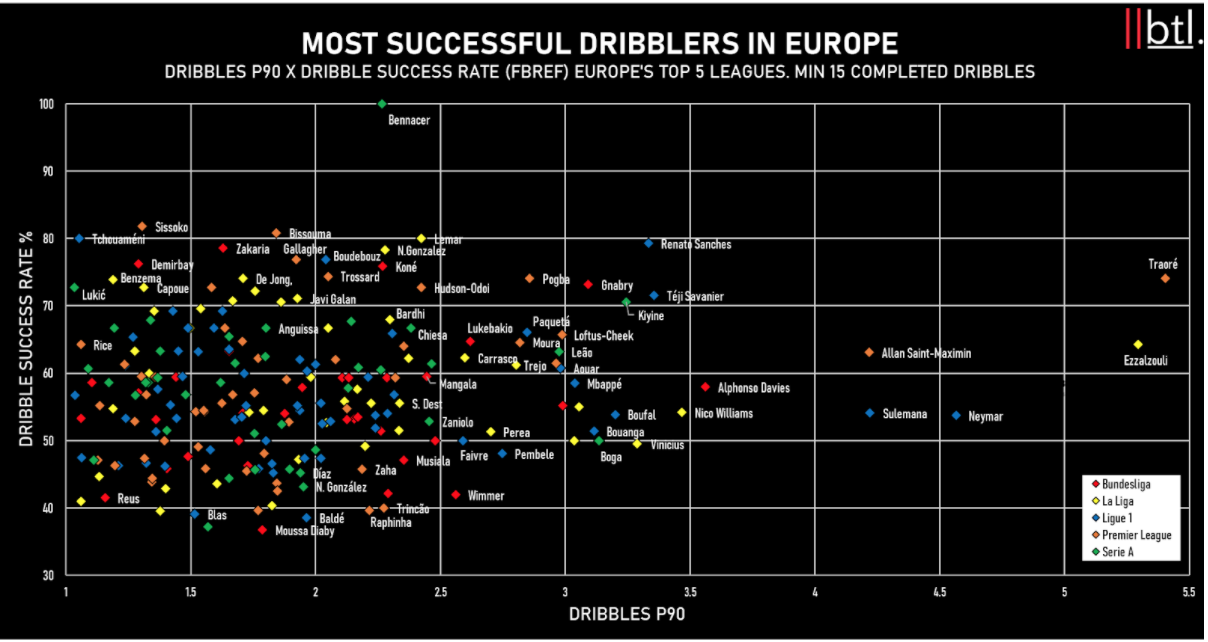 Savanier's importance to Montpellier can be measured even further. Since he joined the team in the town of his birth, Savanier has become more vital by each game.
It's now at the point where, in practically everything Montpellier does, Savanier is absolutely critical to its success. Montpellier have scored just two goals in four games without Savanier starting in 21/22, compared to 26 goals in the other 14 games he did.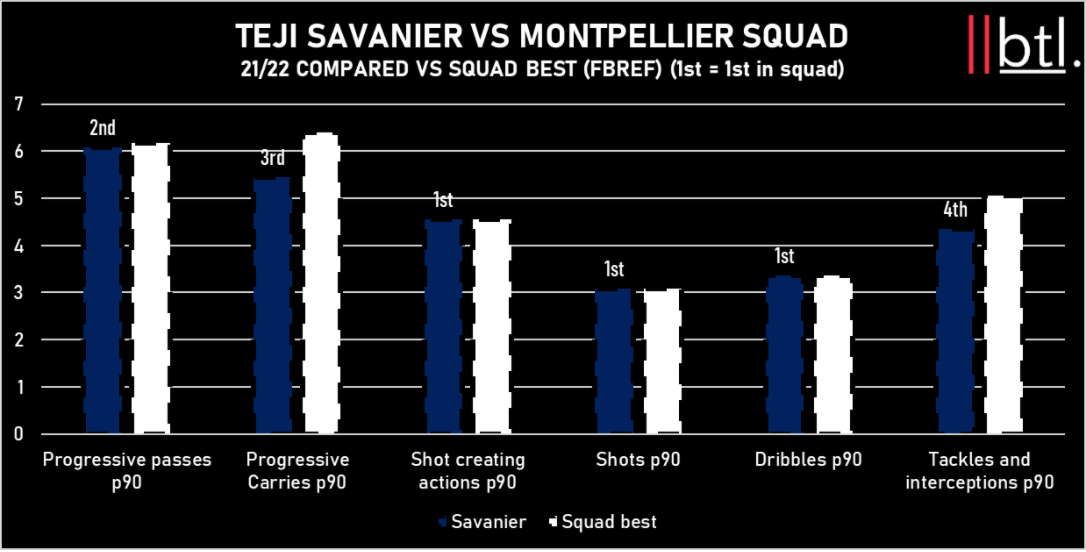 Where Next for Savanier?
The Zidane comparison that's been made by people ranging from 2021 Olympics teammate Andre-Pierre Gignac to current manager Olivier Dall'Oglio, does hold some merit. Savanier is technically exquisite. It's just a shame he's never played any form of European football, and only represented the national team at the Olympics.
Turning 30 years old on the 22nd of this month, perhaps Téji will never get to play in the Europa League or even the Champions League, especially considering how fiercely competitive Ligue 1 is. By the time his contract runs out at Montpellier in 2023, Savanier will be 31 years old.
Still, that won't take away from the growing legend of Téji Savanier. Former France international and seven-time Ligue 1 winner Jean Michel Larque recently spoke of him on RMC, saying "He has the lucidity to take out the balls, accelerate or calm the game. He is remarkable in all areas of the game."
Whatever he continues to do and wherever he goes in his career, we can only take one thing for certain with Téji Savanier. As long as he is on the pitch, fireworks are guaranteed. 
By: Alex Barker / @EuroExpert_
Featured Image: @GabFoligno / FEP – Icon Sport