The Resurgence of Leon Bailey at Bayer Leverkusen
As the final whistle blew to condemn Leverkusen to a 1-2 defeat in the UEFA Europa League quarter-finals against eventual runners-up Inter Milan, few fans expected Jamaican winger Leon Bailey to line up for Die Werkself again. With the 23-year old increasingly agitating for a move to the Premier League, going as far as to acquire agent Aidy Ward who is a notorious deal maker, the German chapter in Bailey's career seemed to be coming to a premature close.
Though Leverkusen still regarded Bailey as a huge talent, his performances on the pitch had also begun to fall off, reduced to a substitute role post restart as Leverkusen's latest young starlets Moussa Diaby and Florian Wirtz took over starting roles on either wing. Flash forward four months and Bailey has not just remained in Germany but established himself as an integral part of a Leverkusen side who trail league leaders Bayern by just two points.
With Leverkusen losing two integral attackers in the summer in Kai Havertz and Kevin Volland, few expected Bosz's side to be competing for Champions League places, let alone mounting a challenge for the Bundesliga title.
Yet the resurgence of Leon Bailey, along with the emergence of Wirtz and Patrick Schick, mean Leverkusen have impeccably dealt with the loss of their two talismanic attackers. In the knockout rounds of the Europa League and a 90th minute Lewandowski strike away from sitting top of the Bundesliga at Christmas, Bosz has planted the seeds of what could be the club's first silverware in almost three decades.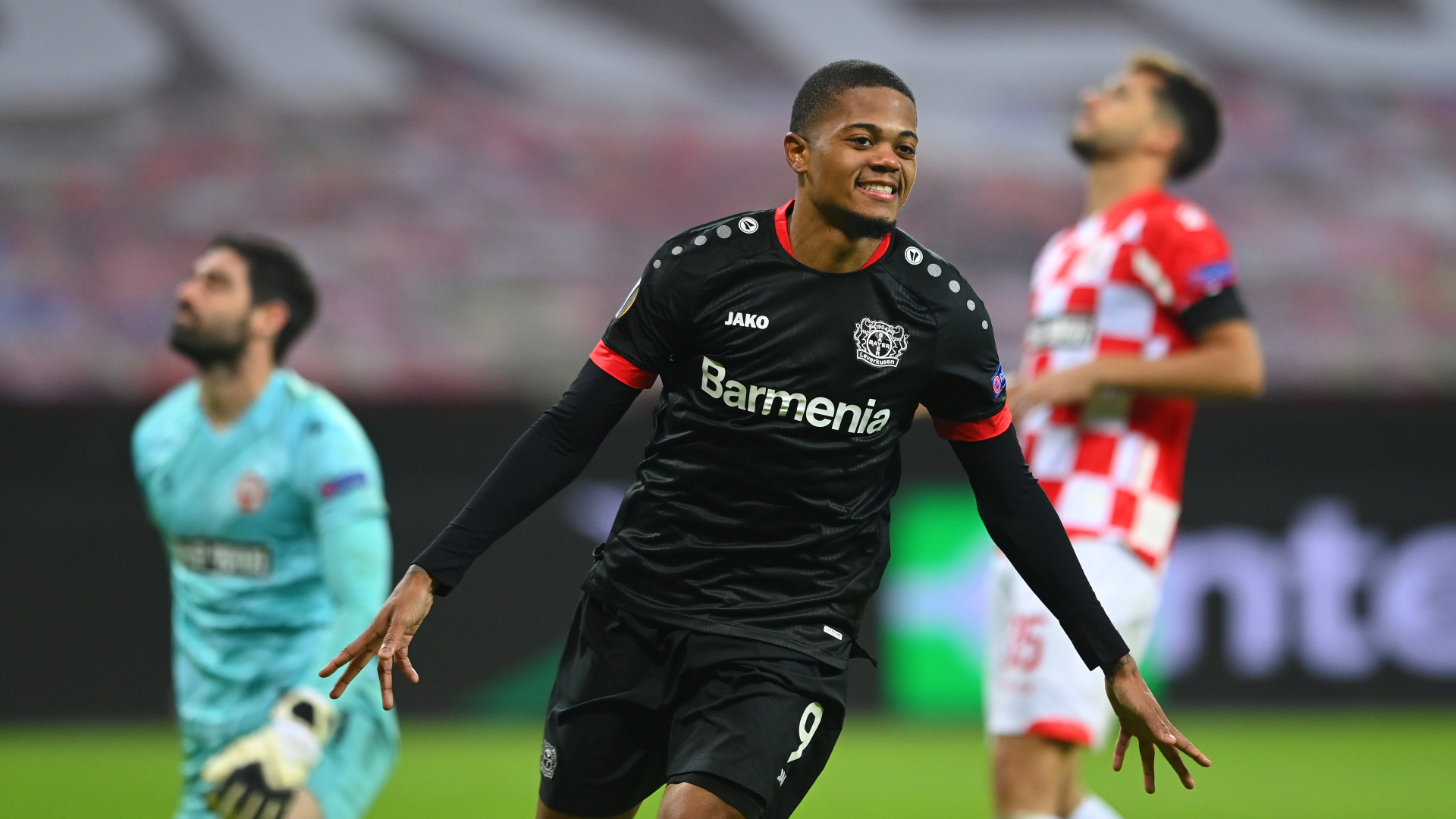 Photo: Getty Images
A Winger Alteration That Has Seen Leon Bailey Fly
Whereas last season Bosz saw his wingers as more creative outlets and a tool to unlock opposition backlines, this season the role of Diaby and Bailey has been far more simplified. This is something that the Jamaican forward is particularly profiting from.
Deployed as a right winger in all 10 of his Bundesliga starts Bailey has been able to use his pace exceptionally, perfectly timing runs in behind to catch opponents in unorganized transition moments. This has materialized itself in 4 goals and 5 assists for Bailey, a return in front of goal that has already bettered his output from the last two seasons.
Far too often last season Bailey was unable to get into the opponent's area, rather dropping deep to assist in Leverkusen's possession phases. This was further provoked in that Bosz would often line up with Bailey on the left side of a 4-2-3-1, not only playing far deeper than he currently is but also negating his strengths as a goalscorer with his stronger left foot forcing him into wide areas. On the right side this season, Bailey is able to fashion shooting chances from the wing, cutting in on his left foot and unleashing thunderous strikes.
Now on the right flank, Bailey's first reaction is to immediately stretch an opposition defense, looking to exploit the space between a fullback and center back when possession is turned over and Leverkusen can look for an immediate deep ball. This is particularly hard for opponents to defend against due to the Jamaican's starting position being very wide, giving him ample time to pick up top speed and adjust his run in order to not be caught offside.
Whereas last season when he was deployed on the left we saw him far deeper when Die Werkself won possession, now Bailey is almost always in a perfect position to immediately create a chance on goal. With a blistering pace to get in behind and a thunderous left-footed strike that can cause danger from anywhere in and around the opponent's box, Bailey is tailor-made for the inside forward role that is similar to what Mohamed Salah is excelling in at Liverpool.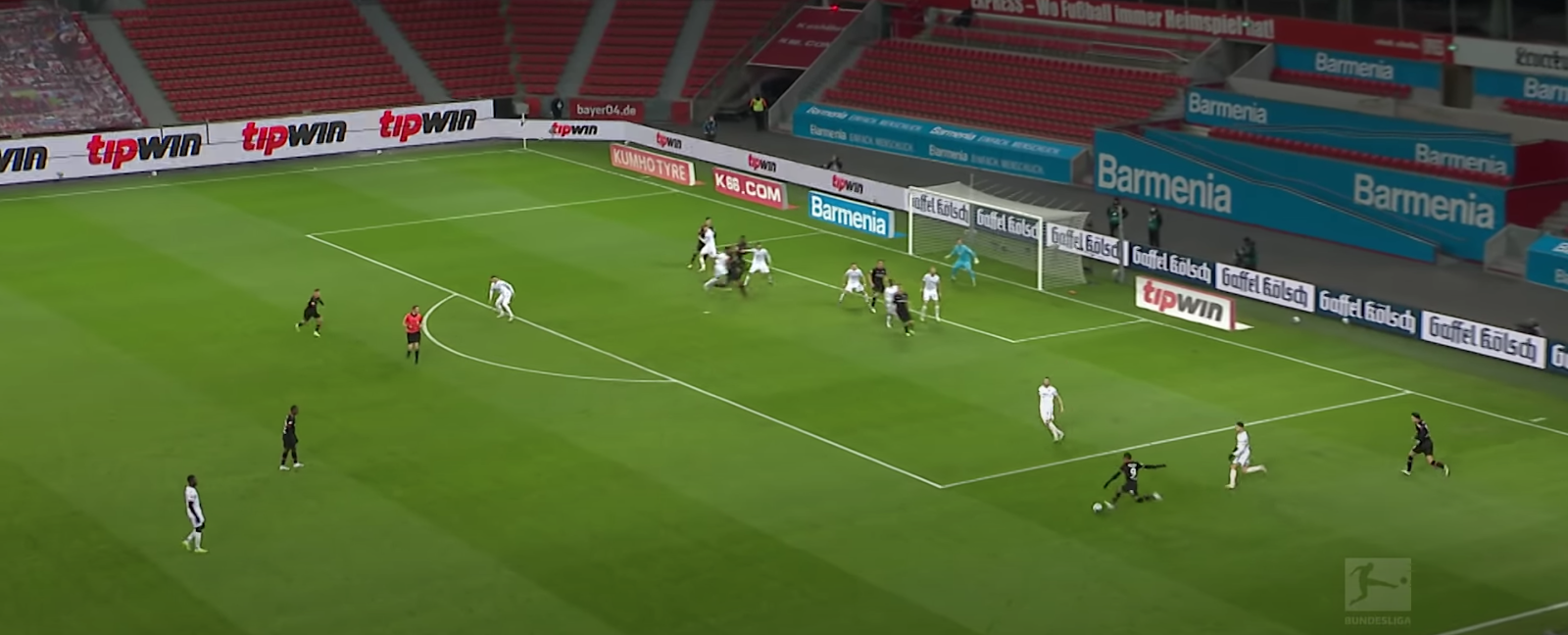 Leon Bailey has an exceptional left-footed strike, something that was on show when Bailey picked up a short corner against TSG Hoffenheim, before scoring a spectacular left-footed strike that left Oliver Baumann no chance in goal.
Whilst Bailey isn't always tracking as deep in defensive areas, staying high has caused opponents issues in possession. With Bailey always ready to pounce when possession is turned over, it also means that any poor back pass or sloppy touch will be immediately punished.
Though at the top-level these mistakes in build-up play do not happen all that often, Bailey's eagerness has resulted in a goal this season, as well as countless more moments where what was controlled build-up play from an opponent quickly turned into a last-ditch clearance up the field.

Andrej Kramarić plays a poor back pass, which Bailey is able to latch onto courtesy of his already high positioning he takes up in order to exploit Hoffenheim's unorganized backline if possession is turned over.
Edmond Tapsoba: The Creator From Deep
Although Leverkusen are pressing less intensely this season, allowing the opposition an extra pass per defensive action compared to 2019/20, when Bosz's side regains possession they look immediately forward. We already mentioned Bailey's high and wide starting position on the right side allowing him to time runs in behind backlines caught in transition moments. However, this feature of his game would be nothing without exceptional forward passers, which Bayer 04 has in abundance.
With 428 long passes completed Leverkusen have the second most of any side in the Bundesliga, only 1 behind Arminia Bielefeld who have attempted 95 more than Die Werkself. What is so impressive though is that Leverkusen are by no means relying on long passes to get up the field, with Bosz's side spending the third most time in controlled possession phases, and attempting only the 7th most long passes in the Bundesliga. Rather, they are simply extremely effective when unleashing one of their quick wingers, bringing the ball onto its target on 63% of the occasions they choose to look for a long ball.
With Edmond Tapsoba particularly flourishing as a ball-playing center back since arriving from Portugal last January, Leverkusen has the perfect catalyst to bring Bailey into dangerous positions when the Jamaican times his run correctly. The 21-year old center back's 23.76 forward passes is the third most of any outfield player in this season's Bundesliga, consistently breaking lines to either find the feet of Nadiem Amiri or Wirtz, or directly unleashing Diaby and Bailey with a ball over the top.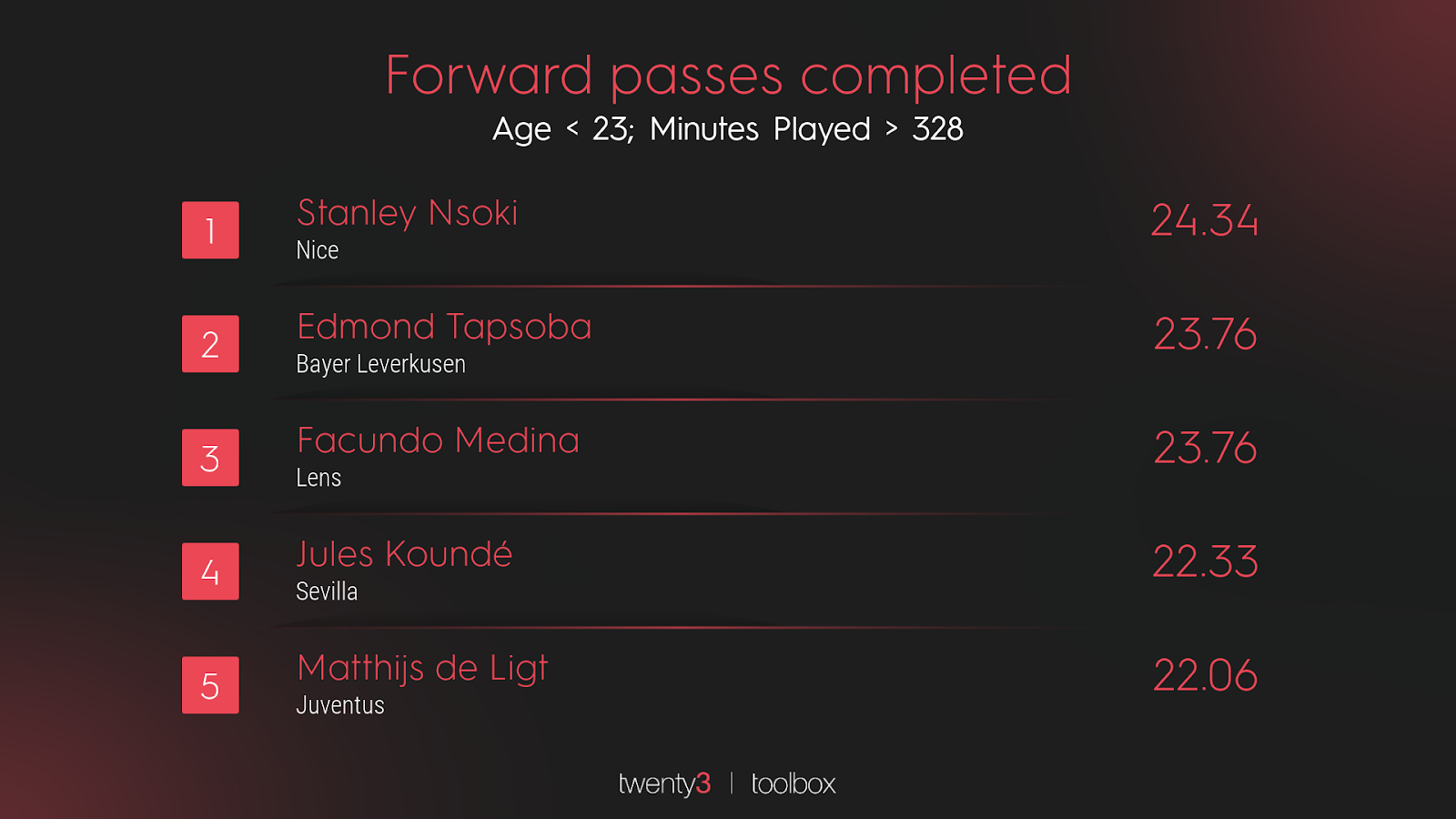 Only Stanley Nsoki has made more forward passes per 90 for all u23 players in the top five leagues than Edmond Tapsoba. Tapsoba's ability to break lines with incisive passing through or overtop opposition defences is one of the major reasons why Bailey has flourished this season. [Twenty3 / Wyscout]
A More Balanced Midfield Operation
With Leverkusen opting against scouring the transfer market to replace Havertz, much has been asked of the current squad to fill the €80 million void that the German international left. This has been achieved far quicker than anyone could have expected, with Amiri and Wirtz excelling under more demanding expectations. With the pair combining for 10 assists this season, the current and future German internationals have become the creative hub in Bosz's side, playing exceptionally weighted through balls or carrying possession in order to draw in defenders and open up passing lanes.
Though Havertz was an exceptional midfielder for Leverkusen last season, the German international's tendency to drift into the wide right channel would eliminate space for the winger to run into or quick transition moments down the right. With Havertz often wanting the ball to feet and looking to combine his way towards goal, the right winger for Leverkusen would have to bring most of his quality in controlled build-up phases, rather than transition moments which Bailey thrives off of.
As such, Bailey was often deployed on the left, with Leverkusen looking to suck in opponents on the right side and quickly switch flanks where there would now be more spaces available. However, Bailey's left footedness meant that this would at best see the Jamaican carrying possession forward down the wings, rather than fashioning a goalscoring opportunity that comes more comfortably on the right of midfield where he can cut in on his stronger foot.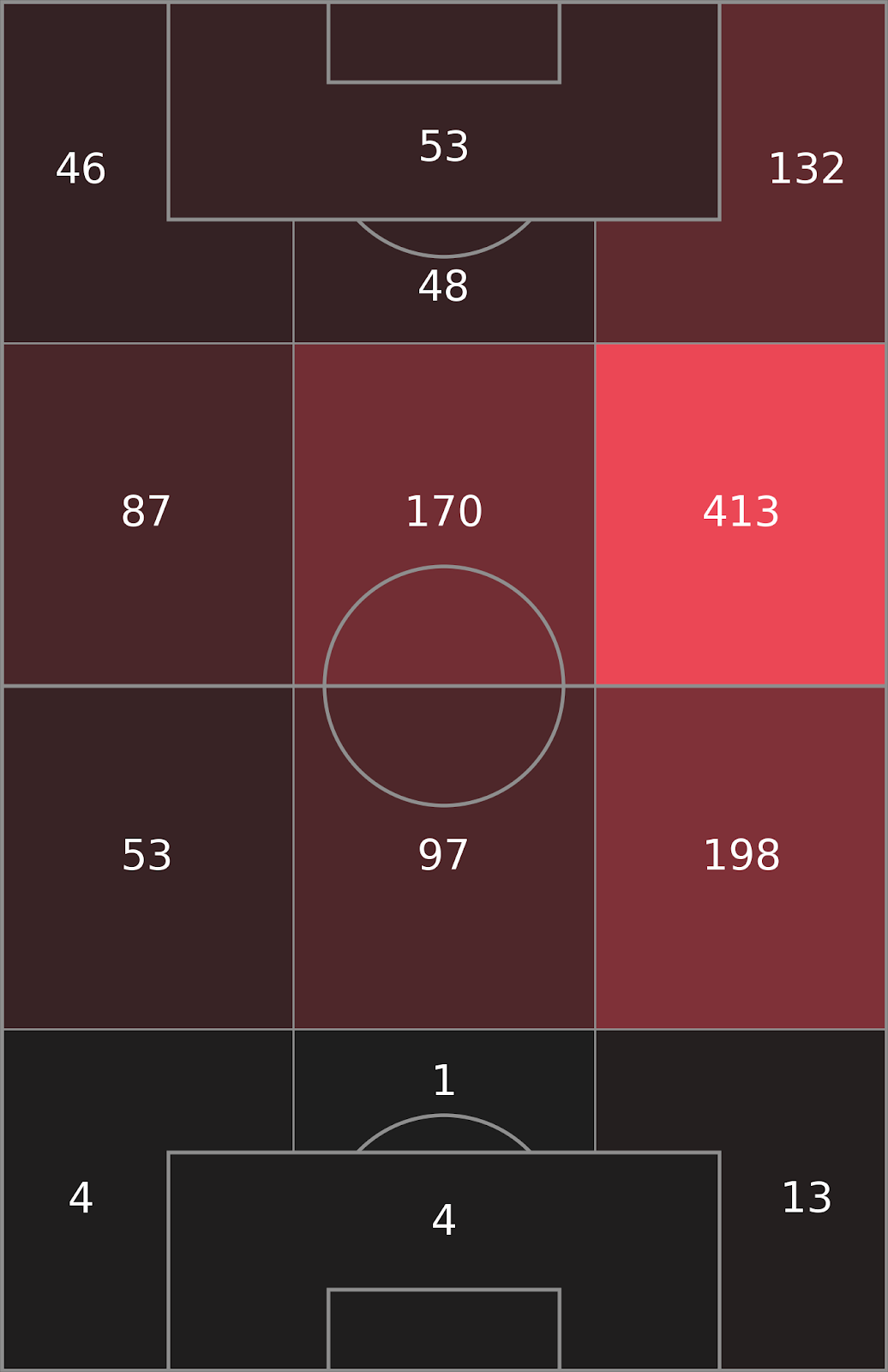 Havertz's touch map from last season shows a heavy involvement on the right side of Leverkusen's attacks, often drifting into the half-spaces where he can pick up possession and utilize his stronger right foot to carry possession or pick out a teammate. This caused Leverkusen to use the right flank for controlled build-up phases, rather than quick transition moments that Bailey thrives off of. [Twenty3 / Wyscout]
This season however Havertz's role has been split between Amiri and Wirtz, two traditional attacking midfielders. Though both are right-footed, Amiri has occupied the left half spaces whilst Wirtz is playing in a similar fashion to Havertz.
The usage of two players in the attacking midfield role means that Leverkusen have a more balanced build up in possession, using both flanks with a similar frequency. This has created opportunities to build overloads on either flank, allowing Bailey to thrive in his favored position without being restricted to a role that revolves around controlled possession phases.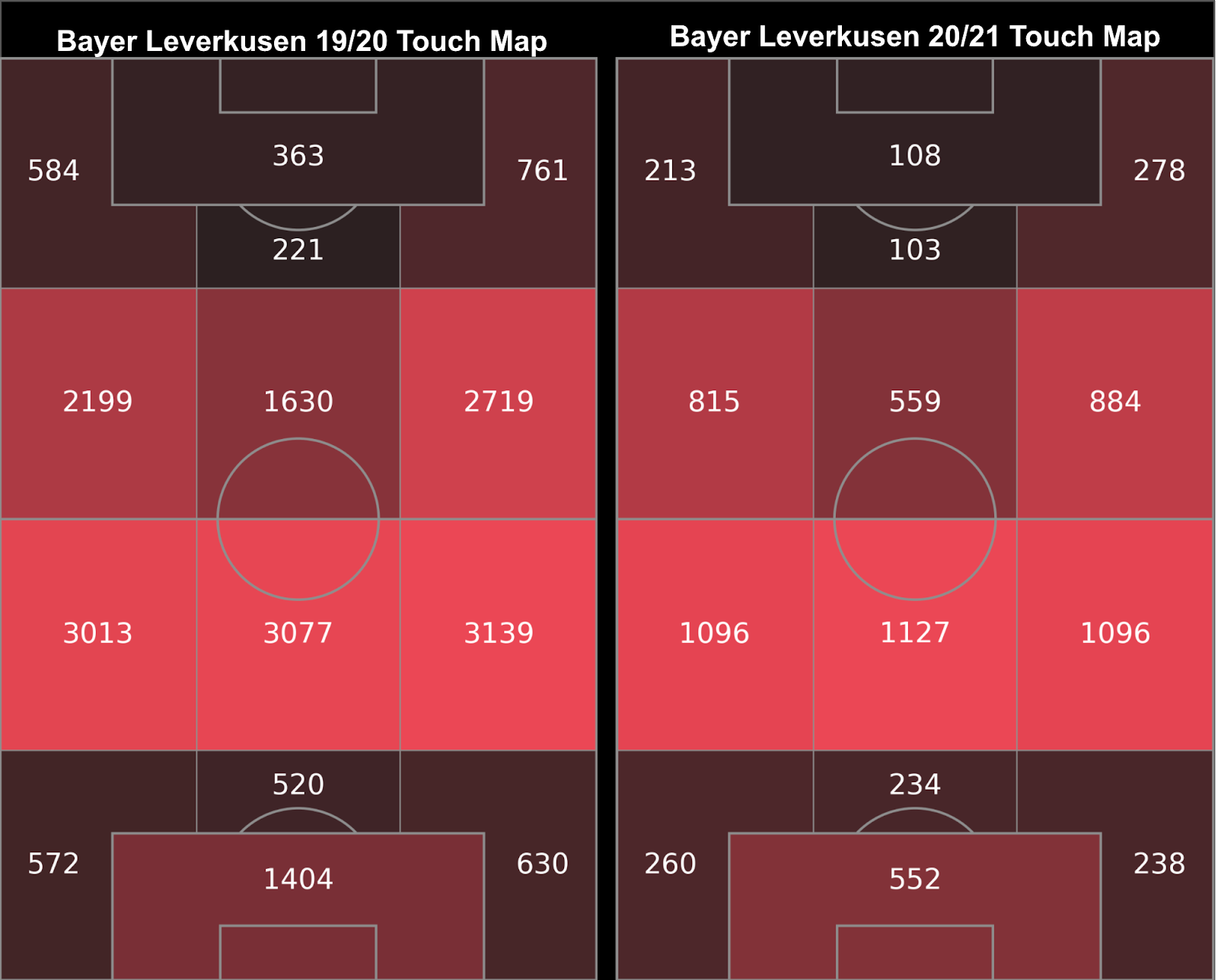 Leverkusen's reliance on the right flank in build-up has all but dissipated this season, with only 39% of their touches in the offensive part of midfield coming in the right half-space, as well as a completely even proportion of touches in the lower portion of the midfield. This has largely been a result of a more balanced midfield pairing of Wirtz and Amiri that has taken over from the sole creator Havertz last season who would often drift into the right half-space. [Twenty3 / Wyscout] 
It is easy to put all the blame on the individual when a player is going through a goal drought or drop in form. However, it is never as simple as that, with various tactics, different expectations from a manager, or even a bit of bad luck all contributing to what we in the media perceive as a drastic drop-off.
In Leon Bailey, we have seen precisely this, with the Jamaican looking revitalized in Leverkusen after a few tactical changes have seen him turn into one of the best wingers in the Bundesliga. With the allure of the Premier League still weighing heavy in the back of the 23-year old's mind, continuing to perform at this level and possibly win silverware with Leverkusen will only help his stock to rise in the coming months.
By: Adam Khan
Featured Image: @GabFoligno / DeFodi Images