The varying paths of Eintracht Frankfurt's exciting front three of 2018/19
During the 2018/19 campaign, Sébastien Haller, Luka Jović and Ante Rebić formed a 'magic triangle' which spearheaded Adi Hütter's exciting Eintracht Frankfurt side, propelling them to a 7th place finish in the Bundesliga while they made an impression on the Europa League too, only missing out on a place in the Baku's final after a dramatic Semi Final loss to the eventual winners, Chelsea.
Hütter's attacking blueprint, which was exacerbated by his utilisation of the 3-4-1-2 formation, played into the strengths of all three talismanic forwards who complemented each other in a telepathic manner. Between them, they scored 57 goals and got 25 assists in all competitions, earning them moves to bigger clubs in the summer of 2019.
Haller joined West Ham for £45 million, Jović switched to Real Madrid for €60 million, while Rebić moved to AC Milan permanently this summer, after a year on loan at the Giuseppe Meazza, with André Silva going the other way. The famed triangle has broken up, and the three have understandably had a degree of expectations thrust upon them by their respective fanbases as a result of their 2018/19 form but as individuals they have experienced varied successes since their high-profile transfers.
Sébastien Haller
That season, for Die Adler, Haller scored 20 goals and made 12 assists, acting as the central target man in the attacking unit due to his height (6"2) and powerful build. His previous manager, Niko Kovač claimed that "even a bulldozer couldn't knock him over" showing his sheer power and strength.
The Parisienne used his power effectively, often outmuscling the defender and bringing the ball down and laying it off to Jović or Rebić who tended to run in behind, showing that he was a target man with vision and passing ability as well as strength. This is displayed in his heat map which shows that during his best season, he tended to drop into a deeper role and spread the ball: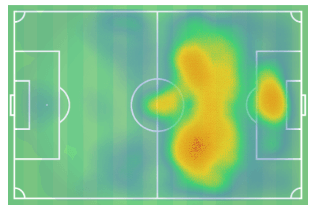 His unique yet effective style of play is reflected in the 73.4% passing accuracy and 49.9% aerial duels won (the most in the Bundesliga that season) which he obtained that season while his 3.4 ball recoveries and 1.7 interceptions every 90 minutes show that he worked hard for the Hessen Land based side and conformed to Hütter's press.
Haller was hence seen as arguably the most important member of the attacking trio, due to his hold up play and ability to bring his teammates into play. However, in the summer of 2019, when West Ham came in for the Frenchman, after missing out on their number one target- Maxi Gómez of Celta Vigo (he joined Valencia), Frankfurt had no option but to let him leave Deutsche Bank Park after the Hammers bid £45 million.
The transfer led to a huge degree of excitement from the West Ham fans as at £45 million, Haller was their record signing and the sixth most expensive striker in Premier League history. The Hammers had also signed a staggering 49 forwards in the ten years which David Gold and David Sullivan had owned the club, most of whom had been far from successful, so for them to finally spend a huge fee on an exciting centre forward from the continent who could clearly score goals was a blessing for the passionate fan base of the East London outfit.
At first it looked as though the Hammers had found a more than adequate replacement for the eccentric Marko Arnautović as Haller scored a brilliant brace away at Watford in the third game of the season which was built upon with another 2 goals and an assist in his next 5 games.
However, as West Ham's season started to stagnate, so did Haller's and he was clearly isolated due to his status as a loan striker. While it was hoped that Felipe Anderson and Andriy Yarmolenko would combine with him, they tended to struggle, and the Frenchman went goalless in 8 games before Manuel Pellegrini was sacked at Christmas.
His form didn't really improve after David Moyes's reappointment and after Project Restart, Haller was replaced by Michail Antonio in the striker position, who hit the form of his career to steer West Ham away from relegation.
Haller's season concluded with just 7 goals and 2 assists which can be argued is due to the systems he was used in: he wasn't able to bring others into play by playing as a central pivot in an attacking front three. The Frenchman also seemed to lack the potency which he had displayed the season before and was often dominated by the Premier League's top defences.
This season, Haller has acted as an understudy to Antonio, who has continued his good form. However, the £45 million man has shown Moyes why he should be given a chance by scoring 5 goals already, although 4 of them came in the League Cup against League 1 opposition. Haller's huge move has been a failure so far and unless he can get a string of promising starts under his belt this season, it is feared that he'll be sold at a cut price next summer.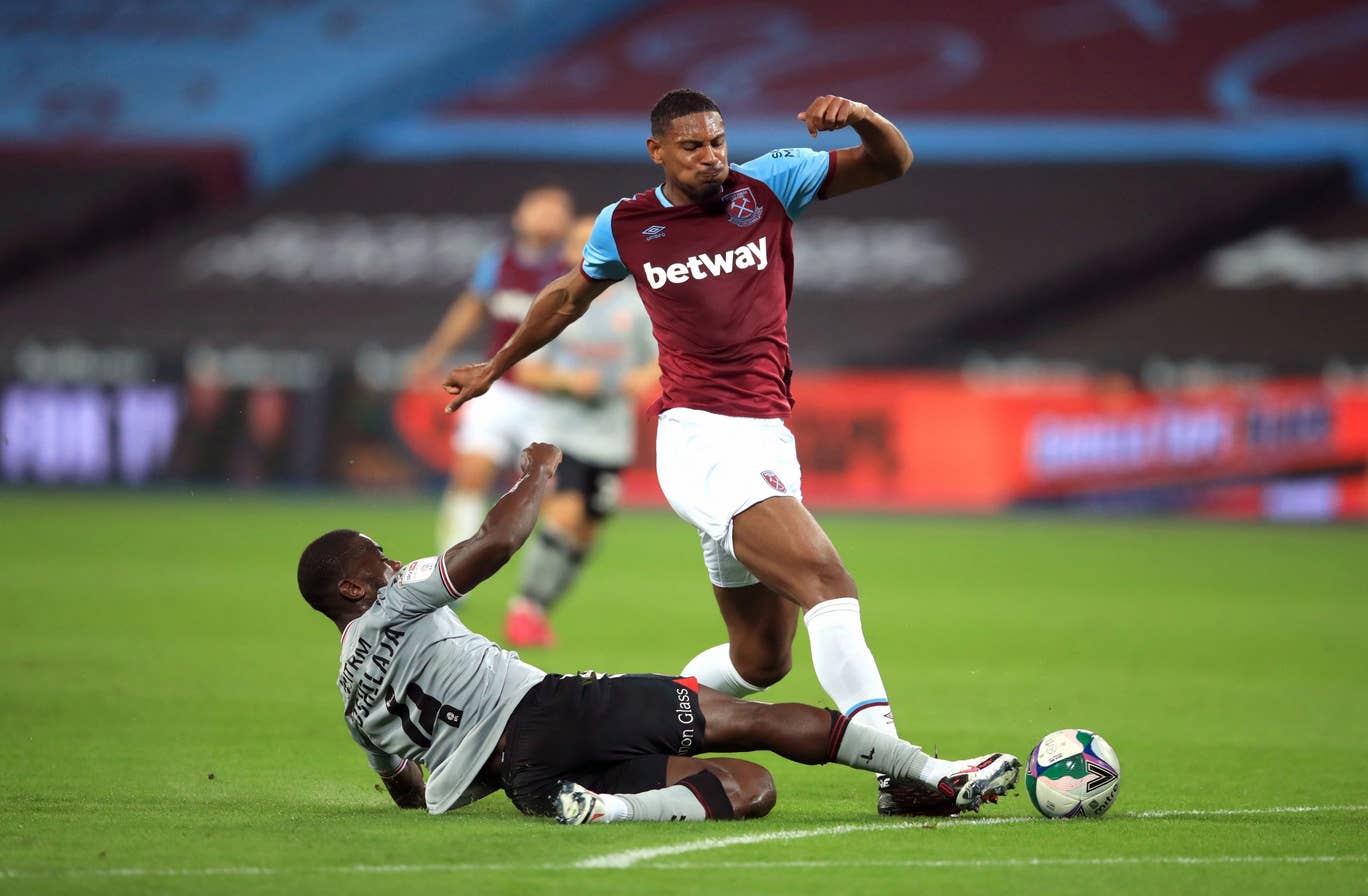 However, there's still hope that the Frenchman's time in East London could become successful as he is still just 26 and due to Michail Antonio's hard-working status and injury record, it is more than likely that he'll be sidelined through injury at some point this season, which would provide Haller with the chance to step up.
Furthermore, West Ham's recent signings of Jarrod Bowen and Saïd Benrahma will surely complement Sébastien Haller effectively and help to improve his form.
Luka Jović
During the 2018/19 season Luka Jović acted as the jewel in Frankfurt's crown by scoring 27 goals and getting 7 assists in all competitions at the age of just 21. He was the penalty box predator of the Eintracht side who showed incredible composure and technique time after time in the Bundesliga and Europa League.
The Bosnian-born Serb displayed more pace than Haller that season but proved to be deceptively strong. He scored with 4.4 of the shots he took showing the strength of his finishing while he matched Cristiano Ronaldo's top speed of 21 mph.
His fantastic season was highlighted by Frankfurt's CEO of sport describing him as "the talk of Europe" and in the Summer of 2019, he was signed by Real Madrid for €60 million after Eintracht made his loan from Benfica permanent for just £20 million.
However, Jović endured a frustrating first season for Los Blancos, scoring just 2 goals in 17 La Liga appearances. The lack of game time was down to Karim Benzema's prolific form but when he played, the Serbian international struggled with his average shots per 90 down at 0.69 (from 1.67 the season before). At Frankfurt, Jović was a striker who operated in the box, but last season he was instructed to drop deeper meaning he was less effective, got fewer shots off and the weaknesses in his game were easily seen.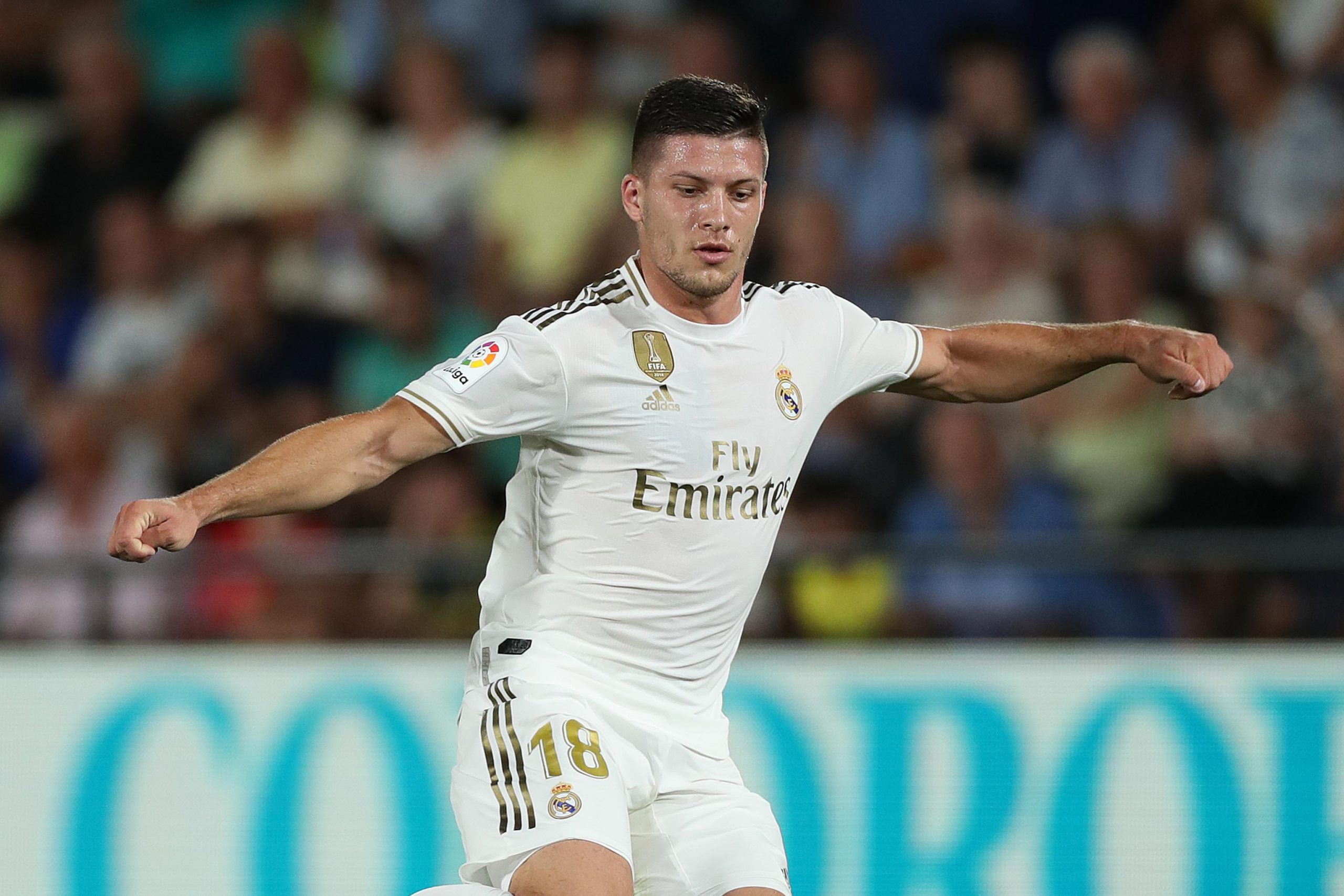 Photo: David Ramos / Getty Images
At points last season even Mariano Díaz was preferred ahead of Jović and his poor form has coincided with a number of off the field issues. He has spectacularly fallen out with the Serbian national team with the head coach, Ljubiša Tumbaković stating that "Luka Jović's problem is Luka Jović".
This was built upon when he failed to play in Serbia's game against Spain last September after being dropped for their game against Portugal. After breaking Serbia's COVID-19 rules by returning to Belgrade during the lockdown, Jović has been on the end of public backlash from Real Madrid fans and Serbians while the Serbian President publicly shamed the striker. 
Jović's fall from grace led to calls that he should be loaned out and he was strongly linked with AC Milan, Arsenal and Manchester United during the summer transfer window, although Real Madrid chose to keep him.  This season he's made 2 appearances, making 0 goal contributions, and if he fails to turn around his form, Real Madrid will likely grant him a move and they should be able to recoup most of the fee that they paid for him in 2019.
While he still hasn't met the high standards which he set in the 2018/19 season, at 22, Jović still has the credentials to make it at the top level of European football even if his career has experienced a downturn.
Ante Rebić
On the back of a fantastic 2018 World Cup, which saw him linked with the likes of Tottenham Hotspur and Manchester United, Ante Rebić acted as a crucial pillar of Eintracht Frankfurt's attacking triumvirate in the 2018/19 season.
Where under Kovač (for Eintracht) and Zlatko Dalić for the Croatian National side Rebić was used off the left, due to Hütter's use of wingback's and the emergence of Filip Kostić on Frankfurt's left flank, Rebić was used behind Haller and Jović during the 2018/19 season, acting as a third striker who burst forward making runs in behind the high lines that so many Bundesliga teams favour.
He tallied an impressive 10 goals and 6 assists though his role was based on so much more than just goal contributions. The Croat was the most athletic of the three, and against defenders he showed a frightening amount of pace and strength. This athleticism made him the lead pressing figure and he put pressure on the opposing pivots to start Frankfurt's defence from attack. He also recorded the second highest speed in the Bundesliga that season at 21.81 mph after Hertha Berlin's Lukas Klünter.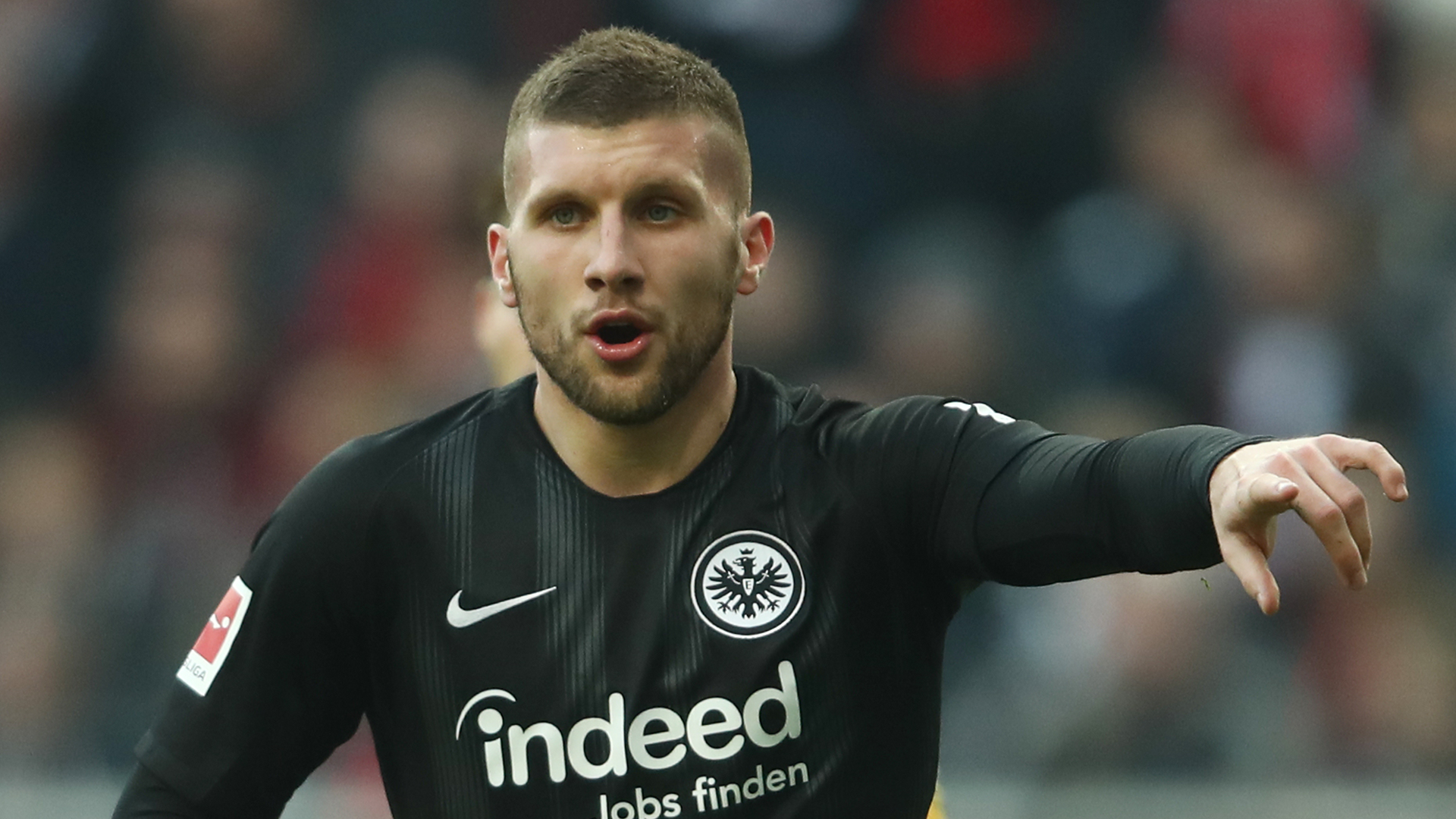 Photo: Alex Grimm / Bongarts / Getty Images
With Rebić's successes being well documented, Die Adler's board recognised that he'd be off to a bigger club soon. In order to limit the gap left behind by him and his striking compatriots, they struck a deal with AC Milan to trade André Silva for the Croat in a deal which became permanent this summer. However, in his first six months in Milan, Rebić struggled for game time, playing more minutes for his national side than his club side. 
Luckily his fortunes changed upon the turn of the year as he scored his first 2 league goals against Udinese in a 3-2 victory on 19th January. This was backed up by a goal against Brescia in a narrow victory and another in The Milan Derby as well as a goal in the Coppa Italia semi final against Juventus and another against Torino, all in the space of a month.
After the lockdown, despite a rough tackle on Juventus's Danilo which saw the Split-born forward sent off in the Coppa Italia semi final second leg, Rebić continued his fine form and finished the season with a comfortable 12 goals and 5 assists prompting the Rossoneri to exercise the €25 million option to sign him permanently on a five year deal.
Rebić's fine form last season made sure Milan had an encouraging end to their Serie A campaign and his 1 goal every 128 minutes highlights this. The Croat has been converted back to the left wing in Stefano Pioli's side but this hasn't hindered him and he shows a willingness to drift inside and go for goal.
His extreme pace also allows him to make electric runs in behind the defence, providing space for the ever-lasting Zlatan Ibrahimović whose Indian Summer has brought Milan up to the next level in the last few months. Rebic's ability to make these runs is provided through Zlatan's roaming nature, allowing Rebić to take up the central position in rotations. Therefore, of the three ex-Frankfurt forwards, Rebić has had the most successful time since moving on and could become AC Milan's frontman once Zlatan finally retires. 
Luka Jović, Ante Rebić and Sebastien Haller formed one of the most exciting attacking trios in world football during the 2018/19 season but since then, all three have gone their separate ways. Haller has struggled at West Ham and could be moved on in the near future to prevent his worth stagnating while the same applies to the still youthful Luka Jović at Real Madrid, although both are still clearly very capable players.
While Rebić struggled at first, he has now become a mainstay in an up and coming Milan side showing that the three forwards have undergone differing levels of success since their big moves away from Eintracht Frankfurt's Deutsche Bank Park.
By: George Grieve
Featured Image: @GabFoligno / TF-Images / Getty Images