Vladimír Coufal: West Ham's Czech Warrior
When West Ham lost their first 2 games of the season, many fans feared for the worst. With increasingly difficult fixtures to come, many expected the team to drop into the relegation zone by Christmas. So, massive credit has to be given to David Moyes who has exceeded expectations and led the Hammers to 4th place, conjuring an unlikely challenge for European football next season with Europe's elite. Many can't be blamed for fantasizing over Mark Noble walking out of Camp Nou and having to man-mark Lionel Messi in the group stages. 
Much of their heroics this season has come from summer signing Tomáš Souček after impressing on loan from Slavia Prague. The towering Czech International has formed a formidable duo with Declan Rice at the heart of midfield and is currently West Ham's top scorer with 8. That said, he is not the only Czech who has played a massive role for the Hammers this season.
Why Tomáš Souček Has Been Crucial To West Ham's Success This Season
For just £5.4 million, Vladimír Coufal has arguably been West Ham's signing of the season, taking the league like a duck to water with impressive performances against the divisions' top teams. Just like Souček, Coufal has been a mainstay in Moyes's side since arriving from Slavia Prague. The 28-year-old defensive lynchpin made his debut in a 3-0 win against Leicester on October 4 and has never looked back since.
Coufal's attacking output will not necessarily impress many fans, amassing just three goal contributions in 22 games, but it's his defensive tenacity as well as his aggression that has made him one of the underrated players in the league this season. Perhaps his warrior-esque attitude is what West Ham has lacked at the right-back position for some time now. The dashboard below shows Coufal's excellence this season when compared to other defenders.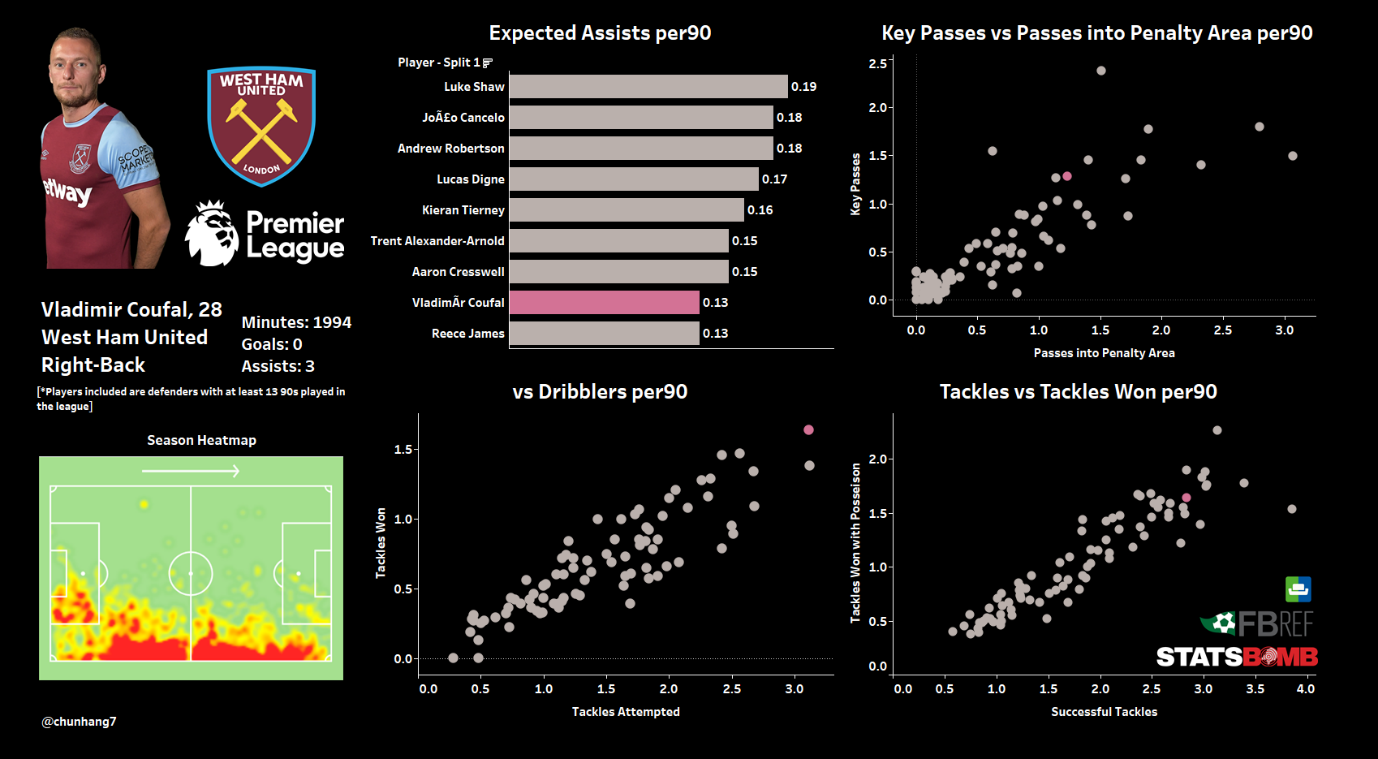 This analysis will cover Coufal's performance with West Ham United this season. All figures below are based on performance per 90 minutes played, according to FBref via StatsBomb. Heatmap is according to Sofascore.
The Hammers' Defensive Lynchpin
Coufal is a front-foot defender who doesn't shy away from tackles when presented the opportunity. According to his heatmap above, he will maraud forward when needed but is essentially more defensive in his approach, like an old-school fullback. Playing on the flanks, he is bound to be exposed to more 1v1 situations against tricky wingers in the league, but according to the stats provided by Statsbomb via FBref, the fullback has been one of the league's best at 1v1 defending.
He has attempted more tackles against dribblers with 3.11 per 90 and has also won the most with 1.64 per90. This is mainly due to his aggressive style of defending against wingers as he would not give them any time to compose themselves upon receiving the ball. He would almost immediately put a foot in to make it as uncomfortable as possible for attackers attempting to dribble past him.
This style of defending does leave West Ham expose at times and wingers do manage to get past him 1.46 per90. However, given the defensive personnel, West Ham have in midfield to help cover for him, this wouldn't be much of a problem. In terms of his tackling in general, Coufal ranks amongst the leagues' best with 2.83 tackles per90 and 1.63 tackles won per90, where he has won back possession for his team.
The Czech international is a much consistent tackler compared to the likes of Matthew Lowton who plays for a conservative Burnley team as well as Kieran Tierney, who has been Arsenal's better performers this season. In a game against Manchester City, Coufal was tasked to deal with Ferran Torres who has been a good acquisition from Valencia in the summer. Coufal was aggressive on the young Spaniard, not allowing him any time nor space with the ball.
In one instance, Coufal showed high concentration and tenacity when he challenged Torres off the ball with ease, which led to a chance for West Ham. He dominated the winger the whole game and Pep eventually had to substitute him for Phil Foden. Coufal was not phased and managed to keep the youngster relatively quiet.

Despite not being the tallest players in the squad, Coufal has an impressive 56% success rate on aerial duels so far this season. His anticipation, concentration and bravery have helped the Czech international achieved such a feat despite being only at 5'9. He never seemed to stop running to make the tackles and anticipating play way before the attacker has made up his mind.
On his debut, when Ayozé Perez of Leicester had his ball played forward to Harvey Barnes, he anticipates the play to be passed on the left side where Jamie Vardy and Timothy Castagne were unmarked in the final third. Coufal sprinted across to provide cover and eventually stopped the cross to prevent a certain goal.

Perhaps one quality many stats don't tell of the right back is his determination and mentality. Coufal seems to never want to admit defeat or even concede to an opponent on the pitch.  One moment at the end of the game saw Foden isolated with Coufal, and the Englishman initially got the better of him by knocking the ball forward, but Coufal recovered, expertly shuffling his body and tackling Foden, winning back possession for the team. This goes to show his immense quality in defensive situations as well as his determination to not get beat no matter the circumstances.

West Ham's Secret Weapon
Vladimír Coufal is unlike the modern-day wingbacks like Alphonso Davies or Trent Alexander-Arnold, where they are required to constantly push forward into the final third. Coufal is more conservative in his approach, instead opting to pass the ball out to West Ham's attackers more often. In that sense, his passing and crossing abilities are very underrated as he has accumulated an xA per90 of 0.13.
To put in context, Luke Shaw, who has been Manchester United's key player this season currently tops defenders with a minimum of 13 games played with an xA per90 of 0.19. In the meantime, he has the same number of xA per90 as Chelsea's Reece James, who plays in a system that heavily relies on wing play as well. His 3 assists this season have all come from brilliant crosses from the right flank to the penalty area for the attackers to pounce on. 
Coufal doesn't prefer taking players on, instead, he has an eye for a pass when transitioning in attack. He is having a decent return in key passes with 1.28 per90 and 1.23 passes into the penalty area per90. His numbers are actually slightly better than Everton's chief creator from the left in Lucas Digne, who has 1.27 key passes per90 as well as 1.14 passes into the penalty area. Coufal is in elite company when it comes to his vision and much is credited to his understanding of the game as well as high technical ability he possesses. 
The Czech international would prefer to stay patient in West Ham's attacking phase in transition as he examines the play and anticipates potential danger first and foremost. Once there is space cleared up for him, he would immediately burst through space and be open for an option for his team in the final third.
In the build-up to their goal against City, the right back caught Torres by surprise and burst forward to the penalty area where he receives the ball unmarked. He cleverly cuts it back to Jesse Lingard and claims his pre-assist when Michail Antonio knocks it in. This goes to show the Czech's attacking instinct when probably many don't give him enough credit for. 

Perhaps one area of his game that needs improvement is his goal-scoring rate. As of now, he hasn't scored a goal for the Hammers yet. Although his primary tasks do not involve him getting at the end of chances to score goals, he has been in decent positions this season but failed to convert.
As a right back, almost all of his chances come from the right as displayed by the dashboard taken from Understat. Although the right back does not bare the responsibility of scoring goals for the team, in fact, you would argue the most unlikely outfield player to score for his team considering the little threat he poses as an aerial target in set-pieces, scoring goals from an expected 0.9 xG would help ease the goal burden for the Hammers.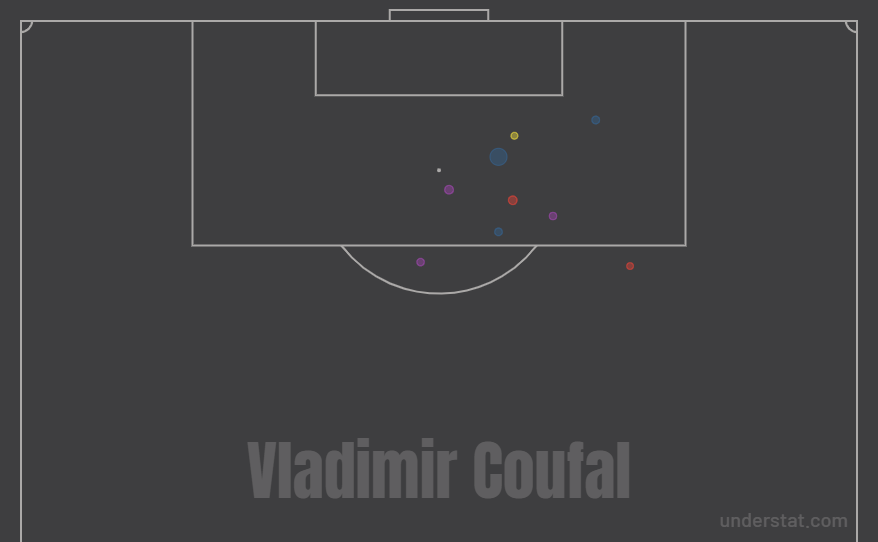 A Czech Revolution 
Coufal has undoubtedly been one of David Moyes's best signing for West Ham. With his aggression coupled with elite concentration, the fulback has proved doubters wrong prior to his move to the London Stadium in the summer. His style of play as well as his mentality has been a massive plus for the side and you could slowly see the Czech's influence within the dressing room.
One pitch incident against Villa that involved him telling off Ryan Fredericks for apologizing to Jack Grealish after a foul has left fans in admiration for the player's no-nonsense attitude. With the player at the peak of his physical shape, he is turning 29 this year and perhaps West Ham fans would've wished they had got him a few years earlier.
That said, he alongside his compatriot Souček, brings in a sense of leadership coming from Slavia Prague, the leadership that West Ham have lacked since Paolo Di Canio was at the club. With the Hammers chasing European football, they'd likely want to keep the duo for as long as possible and possibly send in more scouts to Central Europe, for these types of players are as rare as a good VAR call, in modern football. 
By: Lee Chun Hang / @chunhang7
Featured Image: @GabFoligno / Charlotte Wilson/Offside