Why Micky van de Ven Is the Ideal Defensive Mould for Ange Postecoglou To Shape
Since the summer transfer window of 2017, Tottenham have signed just two centre-backs on permanent deals. The North London side have now made that three centre-backs with the signing of Wolfsburg and Netherlands defender Micky van de Ven for £34 million. They have reportedly adopted a new data-driven approach to recruitment this summer, so let's see what the data says… 
Let's look firstly at Tottenham's well-documented defensive woes from last season. Tottenham became just the second team to score and concede over 60 goals in a single Premier League season; the last team to do so was, you guessed it, Tottenham in 2007/08.
They ended the season having conceded 63 times, more than any other club in the top 14. This was also the most they had conceded in a season since the first edition of the Premier League in 1992/93 when they conceded 66 goals in a 42-game campaign under the guidance of joint managers Doug Livermore and Ray Clemence. 
60 – Tottenham in 2022-23 is just the second time in a 38-game Premier League season that a side has both scored and conceded 60+ goals, with the other occasion also being Spurs in 2007-08. End-to-end. #TOTBRE

— OptaJoe (@OptaJoe) May 20, 2023
The decline in Tottenham's defensive stability is clearly correlated to the lack of investment in that area by chairman Daniel Levy. Since the signings of Davinson Sanchez and Juan Foyth in August 2017, Tottenham have seen a significant increase in goals conceded per season by a defence that many fans have argued has gone stale.
The biggest defensive improvement in this period came in 2021/22  when Tottenham conceded 40 goals, 5 fewer than the previous season – this unsurprisingly followed the signing of Cristian Romero. However, last season was the worst by quite a distance as their 63 goals conceded was a 75% increase from the 36 goals they conceded in 2017/18.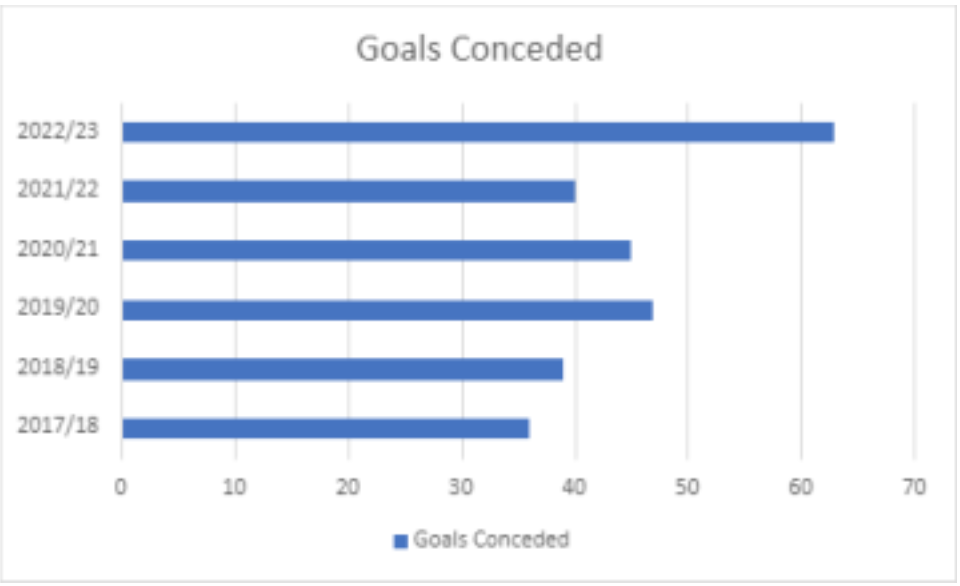 Tottenham aren't the only club who have paid attention to the 22-year-old Micky van de Ven this summer, and it's easy to see why. Liverpool were also rumoured to be interested in acquiring the defender amidst comparisons to their Dutch captain Virgil van Dijk. Bundesliga.com likened Van de Ven to the Champions League winner, describing him as "a nightmare for attacking players with his  immense strength, determination and precision tackling scuppering the most promising of forward  moves." 
One of the most impressive attributes Van de Ven boasts is his electric pace. He registered the highest speed of any player in the 2022/23 Bundesliga campaign at a blistering 35.97kph or 22.3mph. Ruben Jongkind, who worked with Van de Ven at Volendam, once recalled the youngster running a 60m sprint in 7 seconds flat after a full training session. "I worked at Ajax with fast players, but this was incredible," he said. 
Arguably Van de Ven's most impressive show of speed came in the 95th minute of January's 2-1 DFB Pokal defeat away to Union Berlin. Wolfsburg sent everyone, including the goalkeeper, forward for a  last-minute corner as they searched for a crucial equaliser. Union cleared the danger at the second attempt and broke forward to wrap up their victory.
Josip Juranovic's under-hit shot set Jerome Roussillon in on the empty net as the Wolfsburg goalkeeper seemingly gave up on his pursuit. Micky van de Ven, who had played all 94 minutes up to this point, galloped from one 6-yard box to the other in just 14 seconds and made a remarkable block on the line. 
The Dutch U21 international's speed will certainly be attractive to a Spurs side that is looking to transition away from an outfit known for "parking the bus" to a more attractive brand of football and a high line that Ange Postecoglou brings with him everywhere he goes. Tottenham's current centre-back options certainly have limitations in this department with Eric Dier and Ben Davies lacking any real pace. Davinson Sanchez is potentially the only centre-half who could play alongside  Cristian Romero and offer the pace required, but his future is in doubt after starting just 8 Premier  League games last season.
Micky van de Ven is equally competent in possession. Wolfsburg coach Niko Kovac described him as a "really good footballer" who is doing "extraordinary" things, and the data backs this up rather convincingly. With 1.30 progressive carries per 90 in the Bundesliga last season, Van de Ven ranks in the top 10% of centre-backs who have played in Europe's top competitions over the last 365 days.
He is also in the top 7% for successful take-ons, registering 0.58 per 90. He is also efficient with the ball when he does bring it forward – 0.09 successful take-ons leading to a shot per 90 is enough to put him in the top 2% of positional peers last season. [Data courtesy of fbref.com] 
Ruben Jongkind praised van de Ven's unique dribbling style as the reason for his success in carrying the ball out of defence. He claimed the former Volendam player has "such long limbs" that allow him to fend off challenges in a way that makes it "impossible to get near to him". The electric pace then comes into play, as the 6'4-man bursts away from any challenges. 
This is likely a craft that the Dutchman perfected playing as a left-back. He is primarily a centre-back,  but he featured as a left-back four times in the Bundesliga last term. It's not uncommon for left-sided centre-backs to move out to the full-back position when required – Tottenham's own Jan Vertonghen proved how useful that could be with his barnstorming performance against Borussia  Dortmund in the Champions League clash at Wembley 4 years ago.
As a left-footed centre-back, Van de Ven also fits a profile that is highly sought after in the modern game. Spurs were trying to tie up deals for Alessandro Bastoni or Sven Botman last summer but were ultimately priced out of the signings, while we've also seen Pau Torres and Josko Gvardiol the subject of big bids this summer. 
An underappreciated aspect of this signing is how well Van de Ven would fit into Postecoglou's left centre-back position with the added twist of the underlapping or inverted full-backs. Van de Ven is supremely confident and dominant in the mid-to-wide left side of the pitch, as the heatmap from Sofascore shows below.
Any left centre-back in this Postecoglou side will be expected to control this area of the pitch in possession when the left-back makes the trademark move into midfield and Van de Ven is capable of doing so. Van de Ven's Dutch football background takes hold in his movement off the ball as he often moves out wide to offer a passing option to the Wolfsburg left-back. Of course, his responsibilities in the Tottenham system will be slightly different but he has the basics required to make it work.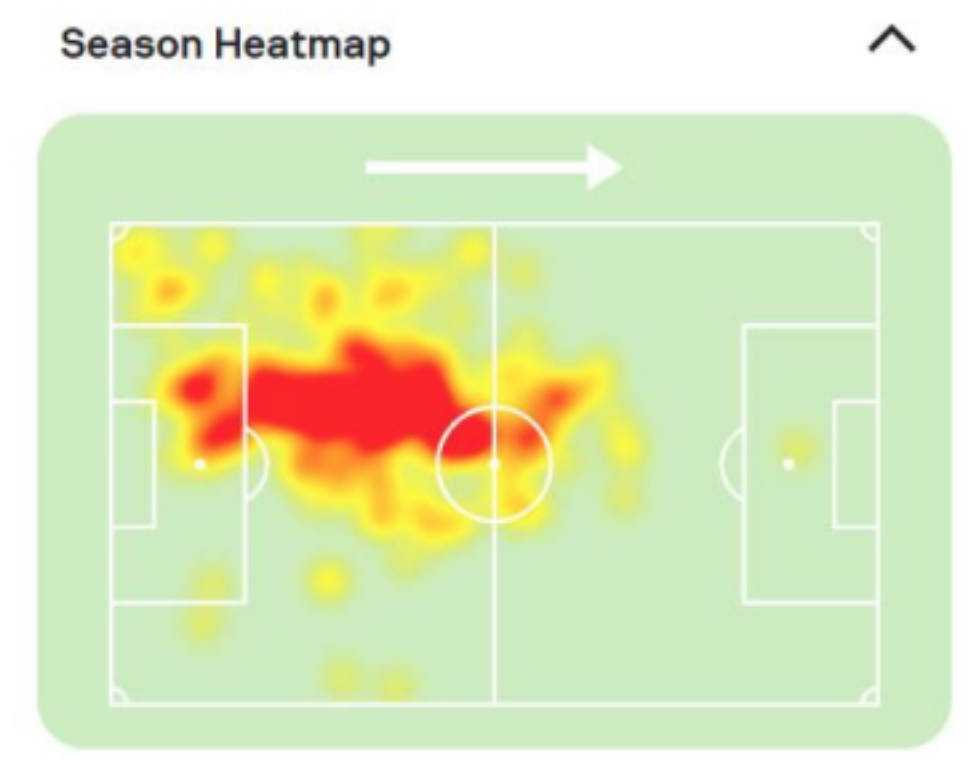 Van de Ven's passing is an area where he is proficient without excelling. He sits in the 56th percentile for passes completed (46.70 per 90) and progressive passes (3.36 per 90). Wolfsburg averaged 50%  possession in their league games last season – this is, as the mathematicians amongst us might have worked out already, right in the middle of the road amongst Bundesliga sides.
It is possible that van de Ven could take a huge leap in these areas of his game next season. Celtic averaged 72.5%  possession under Ange Postecoglou last season, so with more onus on van de Ven's ability to move the ball forward in such a progressive system, those numbers could begin to grow.  It is fair to say that van de Ven knows his ability in this area. He knows he isn't what Toby Alderweireld once was for Spurs, that is the centre-back who can play sweeping 50+ yard passes to completely transform a game.
The 22-year-old is more conservative in the way he moves the ball around the pitch. Most of his passes are classed as "medium" length passes at between 15 and 30 yards; 57% of his attempted passes and 61% of his completed passes fall into this category. It's a sign of self-awareness and a developed intelligence of his own abilities that isn't exactly commonplace in players of his age and experience. It pays off quite well for him, with his 94.4% medium pass completion rate ranking in the top 12% among centre-backs in the top 5 leagues, Champions League and Europa League last season. [Data courtesy of fbref.com] 
It's always interesting to me that I can make it 1300+ words into an article about a centre-back and not have mentioned his defensive abilities yet, but such is the modern game that it happens almost all the time. This is the point, however, where I am going to say that the stats can be dismissed. I work for Opta, so that's not something I say lightly. The best word I can use to describe his defensive ability is "raw".
There is a significant amount of talent there, aided by his physical stature, strength and pace. But defending is an art in which he has a lot of learning left to do. He can be rash and indecisive. He was protected at Wolfsburg last season by a more traditional centre-back partner in  Maxence Lacroix, but he won't have that luxury at Spurs where he would be expected to play alongside World Cup winner Cristian Romero. 
A notable feature of his defensive style, however, is his ability to delay opposition attacks without needing to be aggressive in his decision-making. He is astute in selecting his defending angles which comes with two key benefits – he can slow down the attack to allow his teammates to recover a  safer defensive structure, but he also gives himself the time to compose himself and make the most sensible decision. Quite often, this involves him chaperoning the player in possession out wide where he can use his immense strength and lengthy frame to recover and secure possession. 
Van de Ven doesn't come without a prevalent weakness, though. It's one that will be concerning for  Tottenham fans as it has been an issue for their defensive players in recent seasons – despite being  6'4, Micky van de Ven isn't strong in the air. WhoScored.com rate his aerial duels as his only weakness, and the data would also tell you that he wins just 52.2% of his aerial battles. This lands at just more than 1 per 90, which is in the bottom 4% of centre-backs last season. Tottenham fans will remember Ben Mee rising high above Cristian Romero at Turf Moor in February 2022, and it's unfortunate to say this might be something you see with van de Ven until Postecoglou can help him iron out that part of his defending. 
Despite this, I am very comfortable in saying that Tottenham will be signing an absolute gem. Van de Ven has the raw ability that you can't teach, plus quite a bit of the strength in possession that goes together with the Cruyffian footballing upbringing he had at Volendam. Ange Postecoglou will be eager to work with the 22-year-old on the training pitch, and the fans in N17 will be hopeful that their new center-back can emulate what Jan Vertonghen did for all those years.
By: Matt Hayes / @matthayesthfc
Featured Image: @GabFoligno / DeFodi Images