Yacine Adli: Milan's Next French Wonderkid
The 2021/22 summer transfer window has just closed and amongst the high-profile dealings of PSG and Manchester United, the £100 million deals made by Manchester City and Chelsea and the shambles at Barcelona, a lot of smart business was conducted by teams with much shallower pockets.
One such deal was made by AC Milan, who completed the signing of highly-rated French youngster, Yacine Adli for €10 million, before loaning him back to his original club FC Girondins de Bordeaux. For a player as highly rated as he is and with 2 years left on his contract, this has to go down as one of the best buys of the past window. 
A product of the famous PSG academy, Adli found himself having to move away from the French capital like so many others due to the lack of opportunities given to youngsters. Since moving to the South-West, he has seen his game time increase incrementally, allowing him to show off his talents. Last season he racked up over 26.9 90s worth of minutes, starting 25 games, in which he registered 2 goals and 5 assists, 16.67% of his team's total, in a side that finished in the bottom half of the table.
At Bordeaux, it wouldn't be an exaggeration to call him the creative hub of the team. Pick a random stat to do with creativity, he's in the top 3 for his team. Key passes per 90? 1st with 1.97. Progressive passes? 1st with 5.28. Shot-Creating Actions per 90? 3rd with 3.42 although he jumps to 1st if we're only talking actions from open play. Progressive carries and Carries into the final third? 3rd with 5.8 and 1.75 respectively. The point is, despite his young age, his manager and his teammates rely on him to drive the team forward. 
He does most of his work receiving in front of the opposition lines, where he can receive with less pressure on the ball and the game in front of him. From here he can do what he enjoys most, pinging long balls to switch the point of attack or play a teammate in behind. Along the ground or in the air, chances are it's going to find the intended target, well-weighted into their path.
Of the 230 progressive passes he attempted in the last calendar year, 176 were accurate and even more impressive, he completed 69 progressive passes over 30m with 89% accuracy. His technique is very good, getting a good combination of accuracy and power to drive the passes rather than float them.
This helps to maintain the advantage of the switch as the receiver can take the ball in his stride with a positive first touch to capitalise on the space, rather than receiving with pressure behind and reduced space from a floated ball.
There are improvements that will come with further experience. Naturally, the harder you pass the ball the worse the accuracy will be but the top passers in the world minimise the negative relationship between the two and this is something Yacine will have to master. 
As shown above, he's also happy to carry the ball out of pressure, typically dwelling on the ball to draw pressure before a few deft touches help him evade the tackle and he can step into the vacated space. He does lack the athleticism to really burst into space and get away from his marker which may make things more difficult against a fast, mobile defender.
He knows how good he is, occasionally to his detriment. He can be guilty of taking too many touches in tight areas rather than offloading the ball quickly and retaining possession. This shouldn't be misconstrued as him being unaware of his surroundings and making decisions once he's on the ball. Rather, he has the maturity to inform himself of his surroundings through frequent scanning so he's able to play forward quickly if the opportunity is present.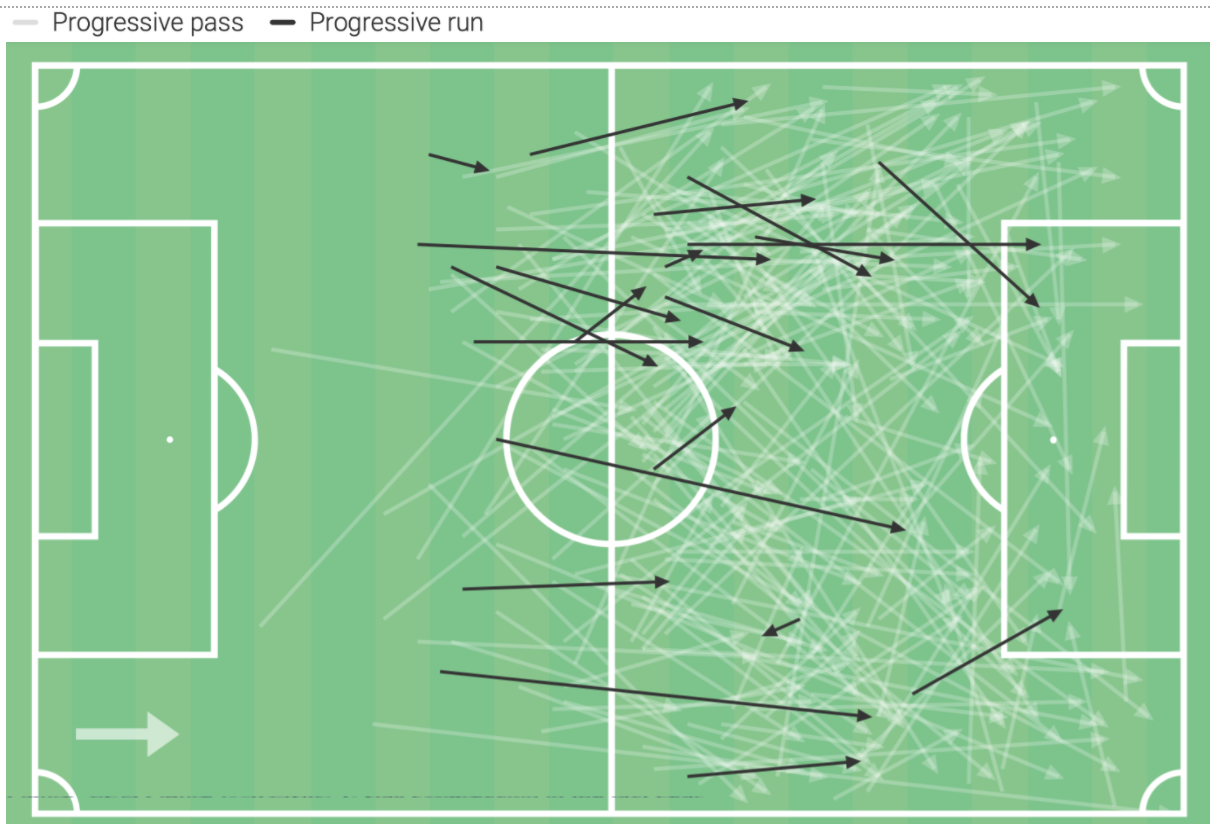 He plays well under pressure, playing quickly into players who can capitalise on the extra space afforded to them. His technical qualities and how he uses his body to shield the ball ensure he can be relied upon to retain possession in these situations.
All of these attributes make him devasting when Bordeaux are transitioning from defence to attack. Adli acts decisively and almost always picks out the correct option. In particular, using his accuracy over long ranges to get either the striker or winger 1vs1 with the final defender.
Defensively, he is no slouch either and his 2 years with Les Girondins has really rounded out his game such that he is now very comfortable playing deeper as a #8 when he was very much a #10 in his younger days. He is actually top at the club for tackles + interceptions per 90 with 4.91 and 2nd for pressures with 25.87 per 90.
While the numbers are fantastic, actually putting him in the top 10 and 20% of Ligue 1 midfielders for pressures and tackles + interceptions respectively, watching him tells a slightly different story. In general, he can seem languid and like he doesn't play with a lot of intensity. He's there to close down the opposition but he's not particularly strong enough in the duel to win it back, or quick enough to catch someone if they can touch the ball past him.
A pressure success rate of 26.8% highlights his weakness here. Often, he works better in tandem with a teammate to corner the ball carrier and nick it off him. The good thing is the attitude to press is there and with more experience and in a team who press in a more concerted fashion, he should improve in his efficiency.
Smarterscout rate him as about average compared to other Ligue 1 midfielders at ground duels in and out of possession. Despite his height, standing at 6'1, his jumping reach is below average and he doesn't have the strength to win many duels in the air. In this regard, he was given a rating of 1/99 for aerial duels in open play by Smarterscout.
He does read the flight of the ball well and times his leaps well, but his athleticism betrays him. His awareness out of possession is just as good as when he is in possession, blocking off passing lanes well and reading the passage of play to be ahead of his opponents. 
19 – Yacine #Adli is the youngest Bordeaux player able to score 2+ goals in a single Ligue 1 match (19 years 58 days): brace against Amiens in September 2019 (data available from 1968/69). Future. pic.twitter.com/8QXL3z2ND5

— OptaPaolo 🏆 (@OptaPaolo) August 30, 2021
One thing not yet a big part of his game is a shooting threat, either from arriving late in the box or shooting from distance. His averages per 90 for both touches in the area and shots are below 1. He does shoot more often from outside the box, going for power rather than precision.
He shoots firmly and with his instep to generate the required power to threaten from a distance so accuracy can be an issue. With the creativity he possesses, the addition of being a goal threat will take him among the top young midfielders in Europe.
Looking forward to this season and beyond, Adli will hope that with his future decided and no more distractions, the remainder of the system will be better than how it started, being reduced to appearances off the bench since matchday 1. At AC Milan, he would probably be playing as one of the pivots in Stefano Pioli's preferred 4-2-3-1.
Both Frank Kessié and Ismaël Bennacer have been linked with moves away from the San Siro and he could well see himself partnered with Sandro Tonali in the heart of the Rossoneri midfield. His style of play is like Bennacer's which could see a seamless transition. Neither are great box threats but dictate the tempo their teams play at.
They can progress through passes or carries and dribble effectively using touch and technique over pace and power. They are active defenders even if they're not great at it. Adli will have to deal with more pressure on the ball in Italy and a higher quality of opposition.
He has shown an ability to deal with higher standards when he moved from youth football into the Bordeaux first team and players with the strong mental and technical qualities he has generally fare well even under increased pressure.
Adli may take longer to get used to a more intense man-marking defensive system under Pioli and the key will be improving his physicality to deal with duals better and being able to turn and recover quickly if he loses his marker. Kessié, Bennacer and Tonali all make far more recoveries, counterpressures and interceptions so there will be an expectation on him to ensure there is not a steep drop-off in defensive intensity.
Yacine Adli is primed for a big future and it's actually surprising that considering his talent and the financial difficulties Bordeaux were in that it took so long for someone to buy him. He'll certainly be hoping the increased exposure will lead to chances with the French National team, although they are ridiculously stacked there and so maybe a call up to the Algerian team where he could feature alongside Bennacer would be his goal for the upcoming seasons.
By: Uche Okolo / @UcheOkolo99
Featured Image: @GabFoligno / Agence Nice Presse / Icon Sport