Youssouf Fofana: He Won't Go Under Your Radar This Time
While the footballing world spent the last three months hyping up the transfer of Aurélien Tchouaméni to Real Madrid there was less panic on the shores of Southern France than some might expect. Last season, the newly unveiled Galactico played the second most minutes in the squad, but his midfield partner Youssouf Fofana quietly had a breakout season in the shadow of Tchouaméni.
The former Strasbourg midfielder missed just two league games in 2022 and started every single one of the last 13 games of the season, in which he played the full 90 minutes in 12, and won ten times. When Carlo Ancelotti's new midfielder turns 23 years old next January, Fofana will have just turned 24, which has probably helped keep the Parisian's value and reputation within the stratosphere. That's not going to last though, as this well-rounded, physically and technically gifted leader in the middle will be sending recruitment teams raving this year.
With 107 Ligue 1 appearances under his belt and a space for him to become the main man in midfield, this is Fofana's time to shine. It goes to show the impressive work of Les Monégasques' recruitment team that Tchouaméni and Fofana were both signed in the same transfer window for a combined fee of €35m. That was in a January window too, and since they were signed in 2020 the pair's value has grown to €80m.
Fofana, who arrived from Strasbourg, is unsurprisingly worth less at just €19m. Comparing the pair's heatmaps from last season though shows that Fofana and Tchouaméni were sharing the workload in a balanced fashion.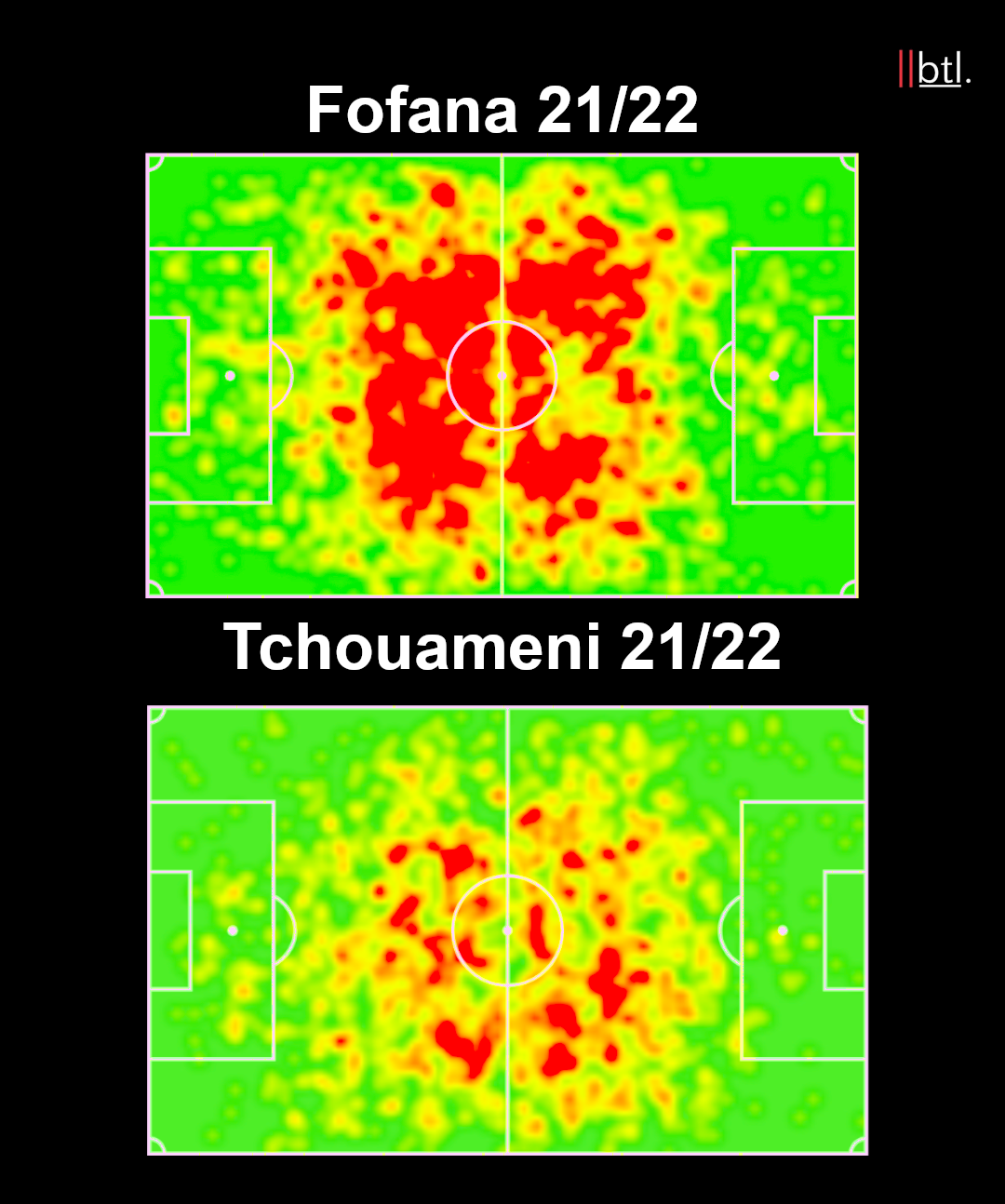 Fofana freely admitted in an interview last season that "scoring is not necessarily my main role," but there's recent signs Fofana is improving going forward.  Against PSV for example, playing opposite Ibrahim Sangaré in two legs to qualify for the Champions League group stages, the Frenchman was fantastic. Here he is nutmegging the Ivorian to take PSV's midfield out of the game.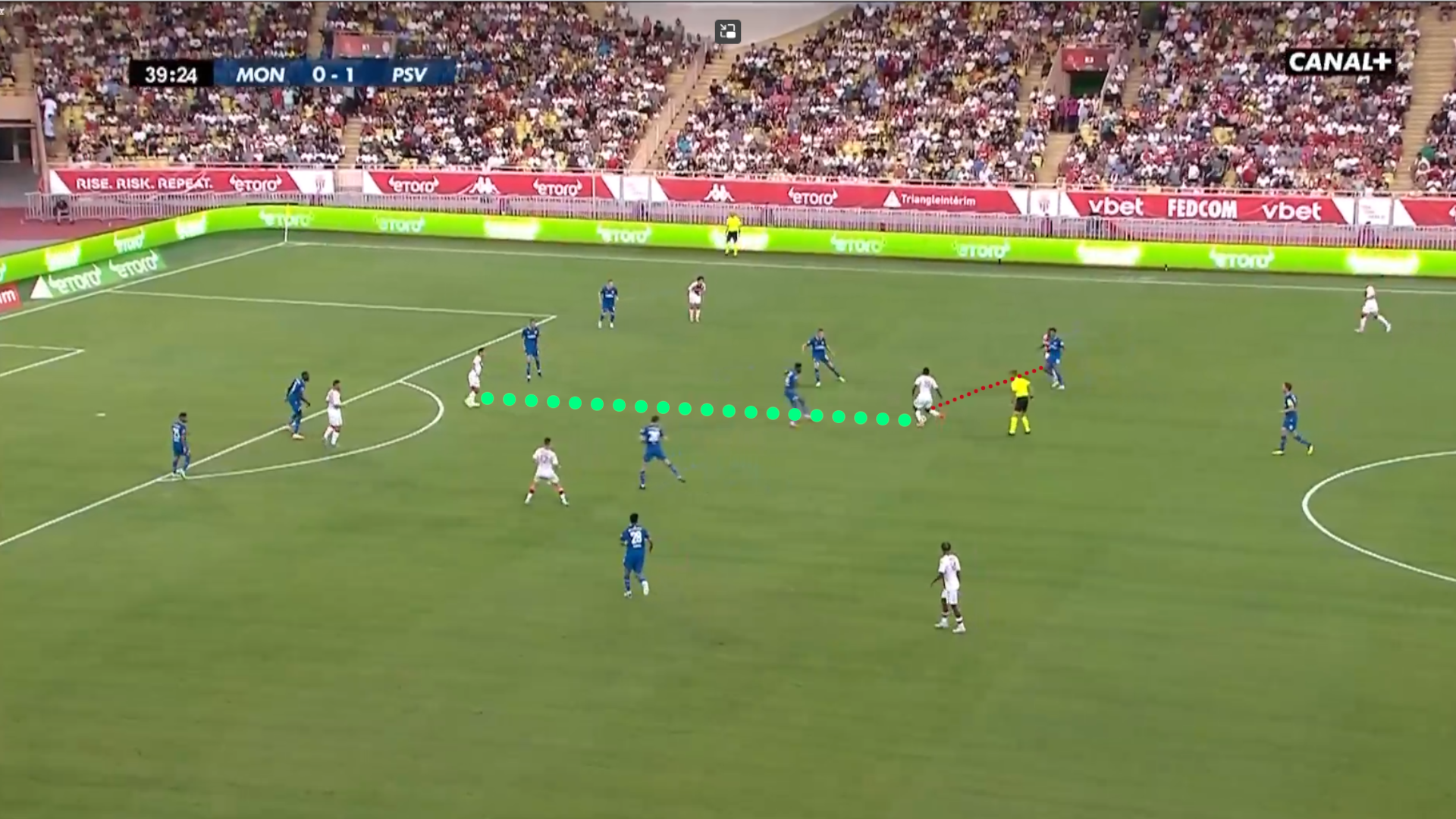 Fofana nutmegs Ibrahim Sangare to make an incisive pass forward in the first leg against PSV in Champions League qualifying.
Fofana could still work on his passing as he tends to win the ball back and make a very simple pass usually back to his defender.  He was a little braver in this game, though and was everywhere in midfield. This pre-season goal bodes well for the season ahead.
Fofana passando tranquilidade no nosso amistoso de ontem. 😜 pic.twitter.com/gJsL19sNbB

— AS Monaco BR 🇲🇨 (@AS_Monaco_BR) July 10, 2022
At 6ft Fofana knows how strong he can be on the ball and this season he has been maximising it. He's not an immobile presence though, adept at shimmying opposition pressures away. 
Interestingly, in the aforementioned interview on Monaco's website, Fofana referred to Didier Drogba as the player who inspired him when he was younger. He pointed mainly to the fact he has Ivorian roots, but with that in mind, you can see a resemblance in the way Fofana fights opposition players off the ball in a similar manner to Drogba.
The U21-French capped international has only played two-and-a-bit Ligue 1 matches after getting sent off against Rennes in fairness, but compare his numbers to Tchouaméni last season and you get an idea of how well-rounded he is.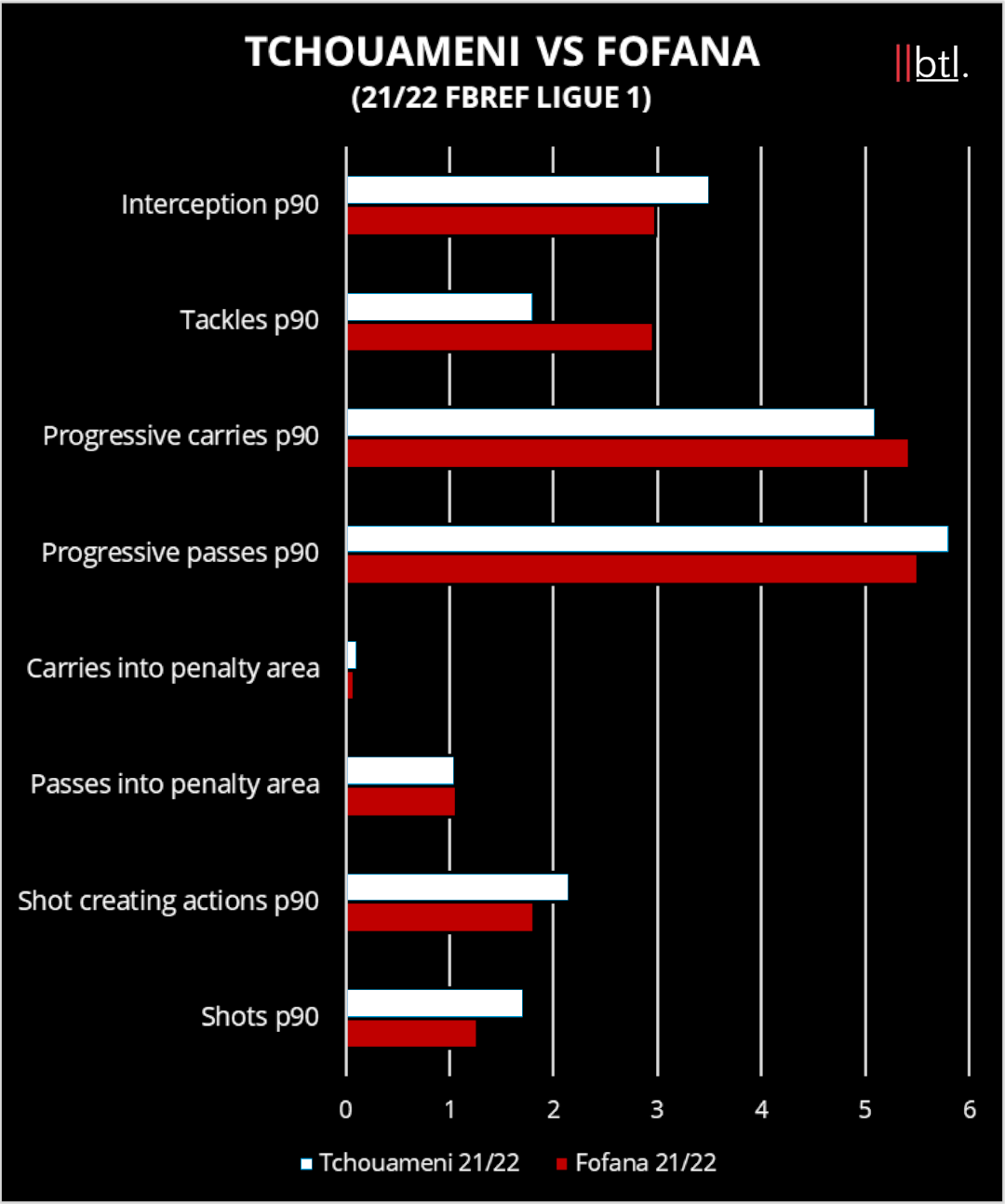 This is the output that got Tchouameni a move to Madrid so it's a good sign that Fofana is nearly equal to him in nearly every regard. He does boast a weaker pass accuracy, dribble success and aerial win rate, so he will need to grow more secure on the ball.
There are promising signs in our small sample size though, as Wyscout data states he completed 2.61 dribbles p90 last season, at a 63.2% success rate. For comparison, Cheick Doucoure of Crystal Palace had the same success rate but completed just 1.6 p90. This season, from extremely limited minutes of course, that's up at 3.77 p90.
Considering Fofana speaks French, English and Spanish and is on the right side of 23 it's unlikely Monaco will be keeping their midfielder for much longer. He's also adopted more of a senior role in this Monaco team, having been there for two and a half seasons and surprisingly being the second oldest midfielder in the squad.
Monaco have also brought in Mohamed Camara from RB Salzburg who had an excellent defensive game recently against PSG, and are looking to promote Eliot Matazo into the first team more frequently, as they seem to be preparing for a pricey exit.
Teams like Chelsea, Manchester United, and Borussia Dortmund spring straight to mind when talking about this growing starlet. He's well-rounded, with proven defensive output and reliability in possession that separates him from more narrow-minded DMs. Expect to see Fofana heavily linked to one of these clubs within the next 12 months.
By: Alex Barker / @EuroExpert_
Featured Image: @Juanffran / Icon Sport