The Improbable Rise of Junior Messias at Crotone
When Junior Messias emigrated from Brazil to Italy, football was nothing more than a pastime. Hauling refrigerators and other housing appliances during the week, he would then spend his weekends playing for Sport Warique, a team from Turin which represents the Peruvian community.
Then came an opportunity that would change his life forever. After impressing in one of the leagues organized by the UISP (Italian Association of Sport for All), he has climbed up the Italian football pyramid and made his Serie A debut at 29 years of age for Crotone. Although the Squali have struggled in their second spell in Italy's top flight, Messias has been a revelation during the 2020/21 campaign, scoring seven goals and providing three assists in 27 Serie A matches so far. 
"It's my first year in Serie A and it hasn't been easy to be accustomed to such an important league, not only in Europe, but in the whole world," he told the Serie A YouTube channel in January. "I'm happy with what I'm doing, even it is very hard to score here."
Naturally a right-winger, the Brazilian has been operating as a support striker with the Calabrian club, but he can also play as a mezzala destra or right central midfielder in the 3-5-2 formation. Originally from São Cândido, located in the state of Minas Gerais in Brazil and approximately 300 kilometers from the state capital Belo Horizonte, Messias had played in the youth academy of Cruzeiro.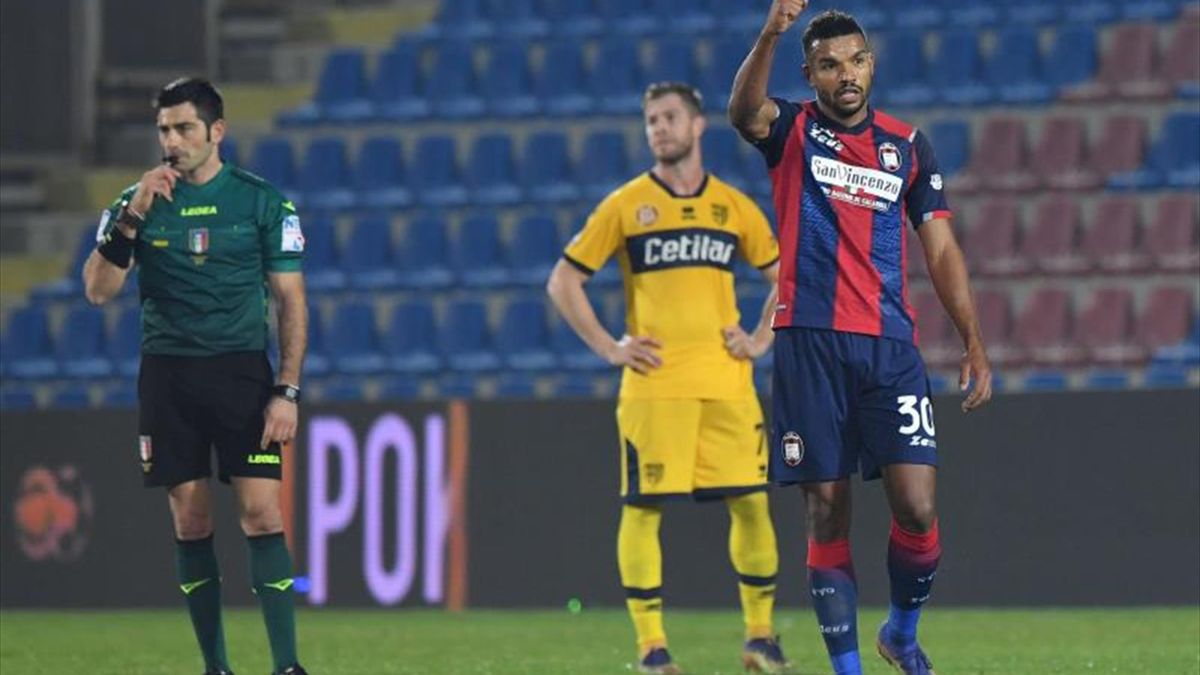 Photo: EFE
Unfortunately, he was not able to break into the senior squad, and he left for Italy in 2011, where his brother had moved to years earlier. He brought his wife and two sons to Europe and reunited with his brother in Turin. Messias tried to find a team in Serie D but prospective clubs considered him not good enough for their squads.
Living in Barriera di Milano in the outskirts of Turin, he found work as a deliveryman and also played amateur football. He would go back to Brazil for a short time to play for a club called Ideal from Ipatinga but playing professionally was still the stuff of dreams and his football future was destined to be in Italy. Messias still has fond memories of his time playing for Sport Warique.
"Football is a pleasure, no matter where you play," he told the Serie A YouTube channel.  "I had fun with the lads. I liked playing with them. Getting together at the weekend and playing football was pure enjoyment because my day job was tough. So, after a hard week's work, football was exactly what we needed. I am still in contact with my teammates from those early days."
His displays with Sport Warique caught the eye of Ezio Rossi, who was volunteering as the coach of a team consisting of refugees. A defender for Torino in the 1980s and the coach of Treviso during its only Serie A campaign in 2005/06, he advised him to go play for Fossano from the province of Cuneo but the Brazilian was not convinced.
Rossi found a permanent job as coach of Casale for the 2015/16 campaign and he brought Messias with him. It turned out to be a great season for the Nerostellati and their Brazilian revelation in the Eccellenza Piemonte-Valle d'Aosta. Casale finished first in Girone B and earned promotion to Serie D while Messias scored 21 goals in 32 league games. Fossano was not able to offer the Brazilian anything lucrative but it turned out to be a blessing in disguise.
"They were not offering me an adequate salary to support my family," Messias told Eurosport in July 2017. "I preferred to continue working but fate would have it that Ezio Rossi in that same summer was entrusted to coach Casale. I loved that place and the Nerostellati fans loved me. I scored 21 goals and the team immediately returned to Serie D."
Rossi remained at Casale while Messias went to another Piedmontese club in Serie D called Chieri, where he scored 14 goals in 33 matches in the 2016/17 season. This attracted the attention one of the bigger clubs in the Piedmont region, Pro Vercelli. The Bianche Casacche were in Serie B at the time and they signed the Brazilian for the 2017/18 campaign. It seemed that he had finally made it as a professional football after years of trying.
"I never forgot where I came from, from the village of São Cândido to the third division of the Campeonato Mineiro," he said to Eurosport in 2017. "I was playing in a team called Ideal, a team from a district in Ipatinga, where I returned for a few months, in the midst of my Italian adventure. I am an evangelical Christian and I say that for me, this is a true miracle.

It cannot be explained otherwise with my history and the fact that I became a professional at a club as important as Pro Vercelli at the age of 26. I know that I have become a source of inspiration for many young people. My message to them is to always believe in it. Even if everything seems far away, if you are convinced of your possibilities, you have to fight every inch and continue to pursue your dreams. Then sooner or later, they will come true."
Unfortunately for Messias, Italian bureaucracy crushed his dreams. Serie B clubs are not permitted to sign non-EU players who had played amateur football in the previous season. To make matters worse, Pro Vercelli was relegated at the end of the 2017/18 campaign. In the middle of the 2017/18 season, the Brazilian would remain in Serie D and in Piedmont with Gozzano, a team from the province of Novara. He scored four goals in 19 league games and then once in three play-off games as the Rossoblù earned promotion to Serie C.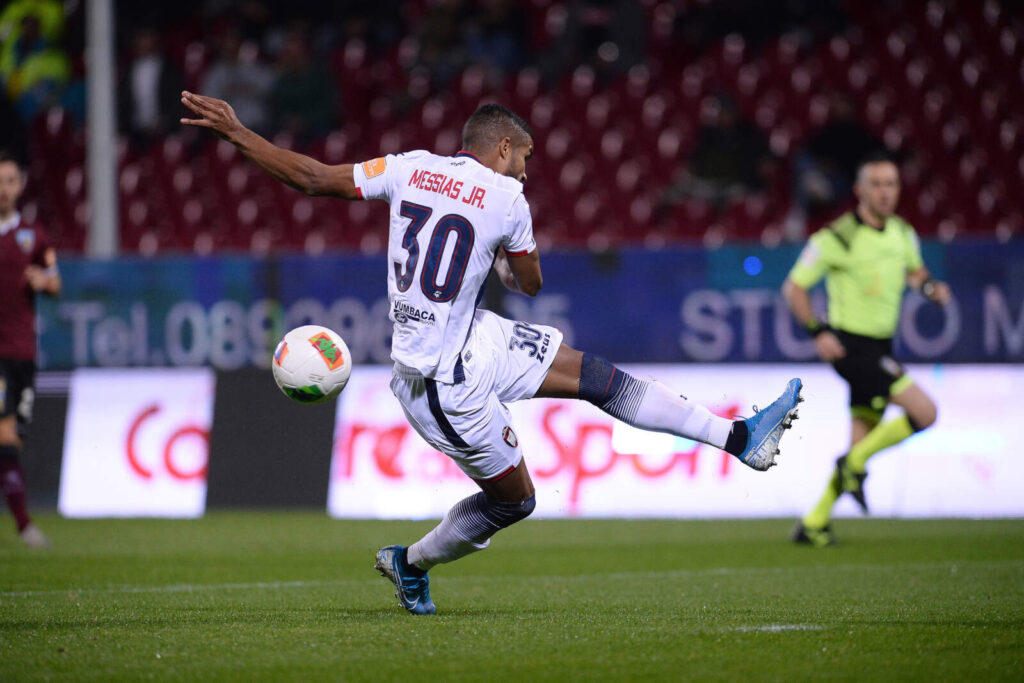 Photo: Cafaro/LaPresse
It was the first season in Serie C for both the club and the player and they were able to cope at the professional level. Gozzano finished 16th in Serie C Girone A while Messias ended the season with four goals in 32 league games. In January 2019, Crotone signed the Brazilian, but he remained on loan at the Piedmontese until the end of that campaign.
The 2019/20 season was the first that Messias would play for an Italian club outside of the Piedmont region and his impact with the Calabrians was immediate. He found the back of the net six times and provided another six goals for his teammates in 34 Serie B games as the Pitagorici earned Serie A promotion for the second time in their history.
Coach Giovanni Stroppa made Messias a mainstay in his team in Italy's top flight and the Brazilian was quick to impress. Crotone got its first point of the season in Week 4 after a surprising 1-1 draw with Juventus and Messias was considered to be the Man of the Match by the Italian press.
He scored his first Serie A goal in a 4-2 defeat against Cagliari but his next goal came in victories. The 29-year-old scored twice in the 4-1 thrashing of Spezia in Week 11 and he scored both goals for the Calabrians in the 2-1 victory against Parma in Week 14. The defeats came coming for Crotone and Stroppa was replaced by Serse Cosmi after the 2-0 defeat to Cagliari in Week 24. 
After 28 rounds, the Squali are on the bottom of the Serie A table with 15 points and they are eight points from safety. Survival is becoming increasingly unlikely but Messias is a player that will continue to dazzle until the end of the campaign. Despite Crotone's struggles, they should not dampen the remarkable of rise of this mercurial Brazilian who was plucked from obscurity and earned his way to the top. 
"I've actually made it where perhaps I had never expected to reach," Messias said on the Serie A YouTube channel. "You always have to try. The results will come through hard work and sacrifice. It's not easy to make it but you always have to try and never give up."
By: Vito Doria
Featured Image: @GabFoligno / Nicolò Campo / Light Rocket